Quick Big Brother Spoilers
Head of Household: Jared
Nominees: Corey and America
POV Players: Corey, Jared, America, Bowie, Jag, Cameron
POV Winner: Jag
Veto Ceremony: ?
Havenots: ?
Lock your ranks in before midnight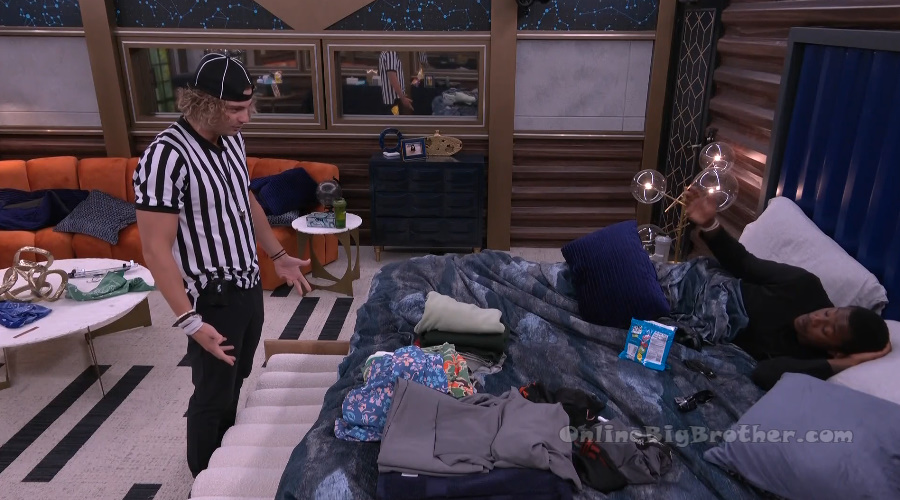 7:55pm HOH room – Jared and Matt.
Jared – what do you think we do next? Matt – Like next week? Probably just do what we did this week .. just put them (Cory & America) back up. Jared – I was thinking that but I don't think Jag is going to put up Cory. And I don't think Blue would be willing to put up America. Matt – do you think they would put Bowie and Meme up? Jared – if we put up Bowie, Bowie is going to be pissed at me and you. Matt – and everyone else. I don't think she knows who is working with who. Jared – Me, you, Cirie, Felicia and Meme are willing to put both of them up. Bowie won't want to win it. Next week, the only people who can't win ..is Cory and America. Blue joins them. Jared – I think with Cameron gone the whole vibe of this house is going to change. Obviously there is going to be another twist, there is probably going to be a double .. if there is a twist this week I would just cry. I am telling you, I would actually just cry. Blue – the most recent twist we got was the jury which affects everybody. Jared – I think the next twist before someone is safe .. it will be the double eviction.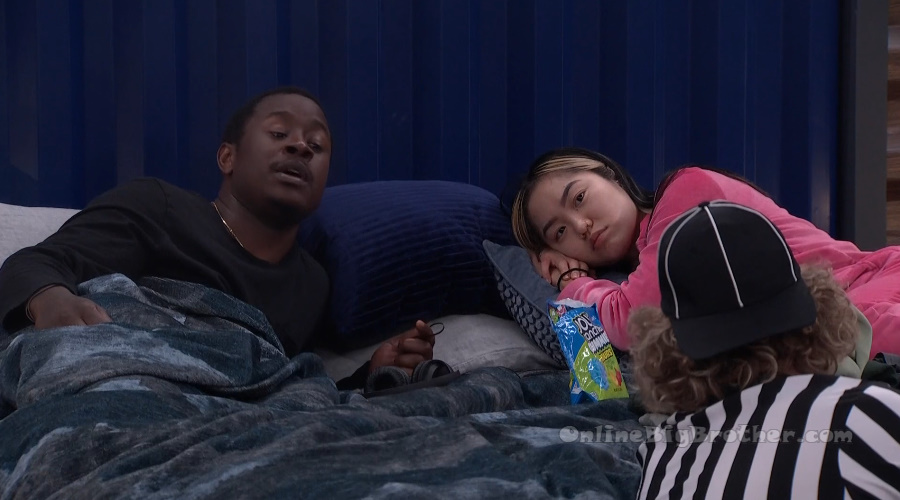 8:10pm – 8:40pm HOH room – Blue and Matt.
Blue – me, you and Jag need to throw it. But he (Jared) can't know it. Matt – we need Cory and America to win it.. if we're going to do a move like this but look what they did today. They're not doing good in comps. It scares me because they haven't won a single game yet. Blue – yeah. Matt – like today they didn't even make it close so are they going to win next week. Blue – yeah. Matt – they rely on us to win. Blue – ohhh.. this is scary! Matt – that's why I am scared because f**k what am I going to do. That's something we 3 need to plan. Blue – we need to get ahead of it. What I am nervous about is if Meme or Bowie. Matt – I don't think Bowie is going to win. She is going to throw it. She is not ready to make a move. Blue – That is true but what if Meme wins, who is Meme putting up? Matt – Meme is close to Felicia. Blue – yeah so she is not going to put up Felicia. I don't think Meme is going to put up me. Jared comes back. Matt – who is Meme close with. Jared – I don't know who she works with but she is close to America. Matt – so you know for sure she would put them up? Jared – yeah because Meme ain't stupid she knows she is not best friends with America and would never be best friends with America. matt – do you think she would put me up? Jared – no, we can sway Felicia to tell America not to put you up. Meme is going to make a smart move. If nothing else, we count on that. If Cory wins, he is putting me up. Blue – yeah and Cirie. Jared – if America wins she would put up me and Cirie too. The problem is though they would have to beat me in a veto. In Cory's mind it is probably going to be hard to get me out. So I don't even know if Cory makes that move yet. If he gets me out… then he can't play.. then he is strictly relying on America to win the following week? That's why I low key wish this was a double eviction because even though I can't play.. ya'll going to whoop his a$$! That is why for me personally Cory and America can't win next week. That is why that motherf**ker got to go because he protects them two. If Cameron made it to the end bro.. and for someone to sit next to him… I would be hard for me not to give him my vote. Matt – because as much as you were annoying you played the best game. Jared – You ain't played the best game but the fact that you survived a whole f**king season with people essentially after you is like stellar. That is very impressive bro.. but that is why his a$$ got to go!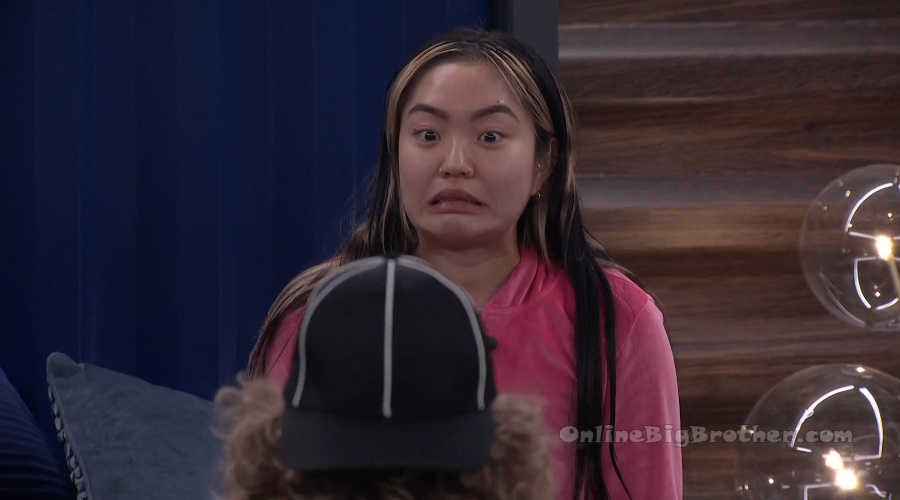 9:05pm – 9:30pm Comic Bedroom – Cirie and Felicia.
They're talking about double eviction. Cirie – we already know what we want so it will just be one of us winning HOH. Felicia – right if one of us wins that's perfect.. if one of them win it could be a probably because two of us could be up.. we just need the numbers. Cirie – that's why we need to lock down Bowie Jane as soon as possible. Felicia – Bowie Jane and Matt. Cirie – and Matt.. That's extra.. where they vote with us because if we get Bowie Jane, Matt and me, you, Jared and Meme. We will still have the numbers even if two of us go on the block. I would love to be a fly on the wall to watch Cameron talking to Jared. Does he think there is any possibility of Jared not putting him up as a replacement. Felicia – no possibility. Cirie – no does he think? BB blocks the feeds. Felicia – I know Cameron is nervous as hell. Bowie joins them.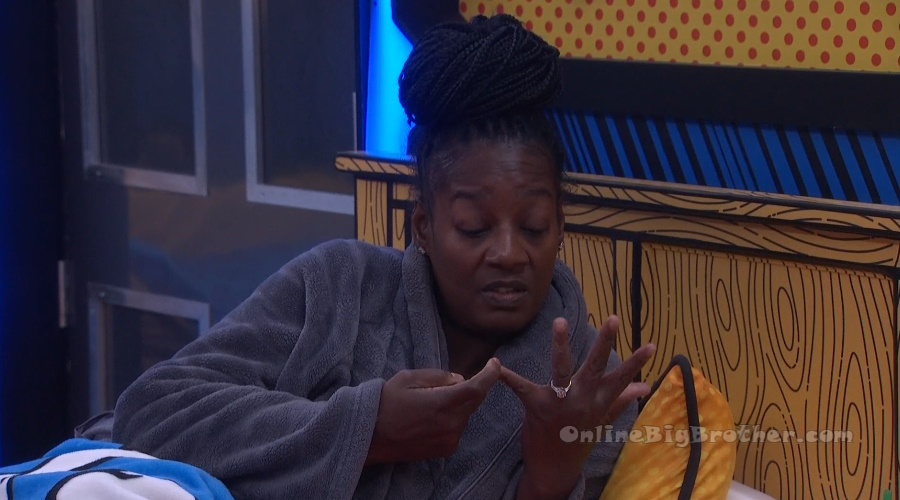 9:35pm – 10:125pm HOH room – Matt, Jag and Jared.
Talking about their lives outside of the house. The conversation turns to talking about cougars, panthers, gators, crocodiles, etc.
Jared – as Cams name got drawn for the veto.. everyone was like well he is not invisible. Jag – Even I was saying he's only human. He is but a man. And that was me trying to calm my own nerves down. I was like listen I can do this.. he hasn't won every competition. Bro (Cam) was like I think they're probably going to do something the two people that are next evicted and make jury. They'll probably do something with them. And me and Cory are sitting there and I am just like NA! Matt – NA, you done! Jag – because when have they ever done anything with two people like flip a coin and get back in there. Jared – it would be so unfair. Jag – its usually a pre-jury or post-jury battle back.
10:27pm Big Brother opens up the backyard.
10:44pm Backyard – Felicia and Meme
Felicia – Yeah so its like .. I just asked him what do you think .. we're actually hoping they take Cory down and put Cameron up next to America. Of course Cameron is going to go home .. and then next week we gonna see if they can talk if one of us wins we're going to put up .. actually thinking about..Cory and America if one of us wins. Actually if its anyone of us .. Jag, Matt, Cirie, Me, you, Cirie .. we put up Cory and America again and then if one of them comes down.. backdoor Jag. They may want to backdoor Bowie Jane. We said if we can get Bowie Jane to lock in with us and have me, you, Cirie, Jared Bowie Jane and Matt..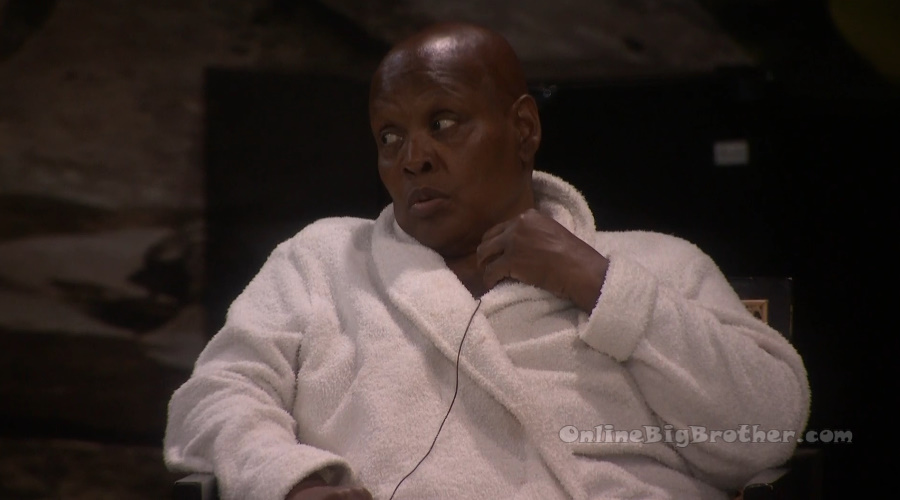 11:53pm Kitchen – Felicia, Meme, Jag, America and Cory
They making food and eating in the kitchen.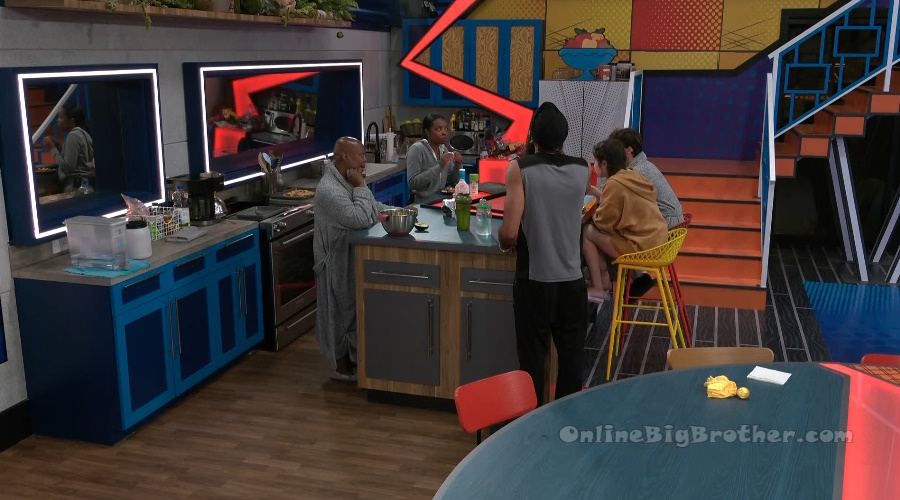 If you've enjoyed our updates this season and want to leave a tip you can do so through PayPal.
You don't even need a Paypal account to contribute. Any amount is greatly appreciated!