Quick Big Brother Spoilers
Head of Household: Matt
Nominees: Cirie & Felicia
POV Players: Everyone
POV Winner: JAG
Veto Ceremony:
Havenots: No more havenots
Lock your ranks in before midnight
The Situation: Cirie is the target now.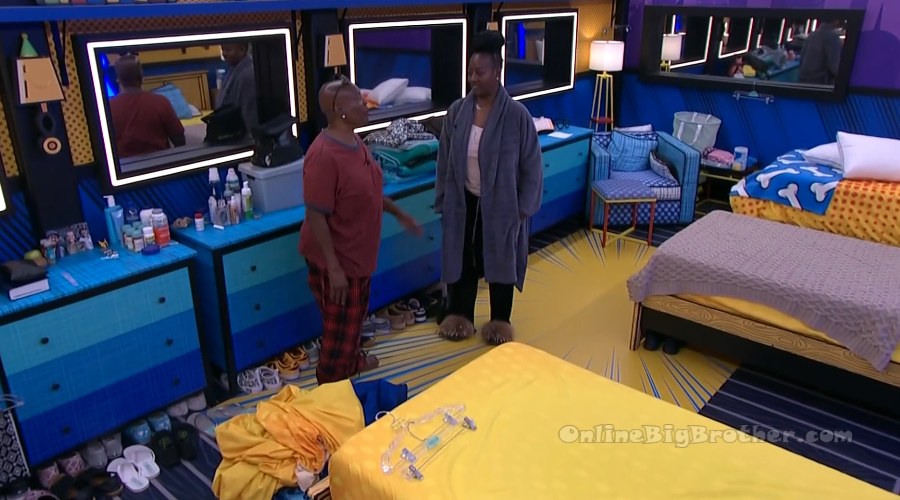 12:12pm Comic Bedroom – Cirie and Felicia.
Felicia – Jag is still thinking about it.. I said I am going to tell you what I told Matt, don't sleep on Bowie Jane. Cirie – Oh so you did get to talk to Jag? Felicia – quick because then Bowie Jane came out so then we were all three sitting there. So then Bowie Jane went in and Matt sat up and I said so what are you thinking this week coming? And he said well I am not totally sure if I am going to use the veto. And so I said Jag, I am going to tell you what I told Matt, don't sleep on Bowie Jane. Bowie Jane been hiding under the radar this whole game. I said I think you guys are underestimating Bowie Jane now. You think she will just give it to us and you'll go to the end. I said don't do that. She all of a sudden she's won two HOH's and I said she was right on your behind yesterday. I said next week whoever wins HOH .. I said if she were to happen to win HOH what is she doing because the veto person decides who stays or goes. And now you got to ask yourself what's she going to do? Now I did ask Matt that, who is she closer too? Well I don't know he said .. I am looking at how much time she's been spending with Jag. I said absolutely, she's sleeping up in that room. You guys need to think about what you're doing and again I don't know if they're keeping me or you because no one is saying nothing. Cirie – I ain't even talk to these suckers yet. She took Jag's and her sheets… So I hope Matty Ice is paying attention to that sh*t! She pulling his sheets off.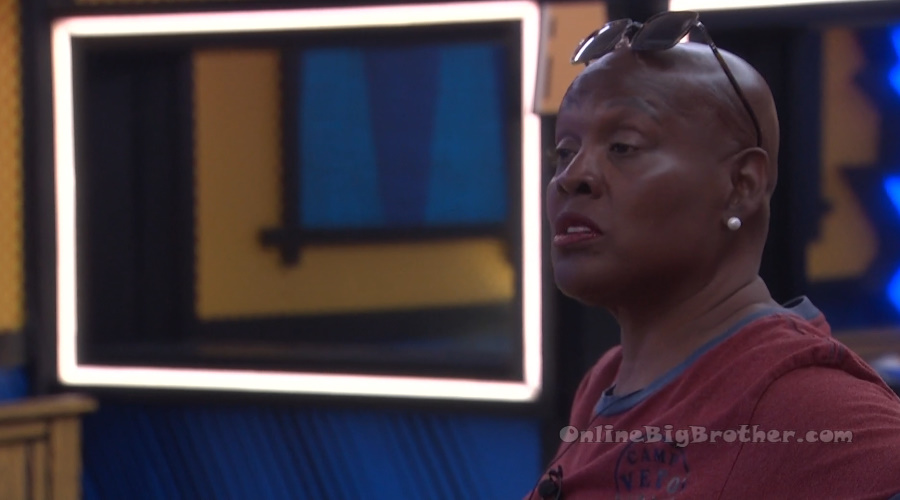 12:40pm Backyard – Cirie and Felicia
Cirie – what did Jag say when you said it? Nothing. Felicia – they both just look at you. I said just remember two HOH's, she put out Cam and she has never hit the block! Do NOT underestimate Bowie Jane! And if she happens to win HOH next week, one of you are going on the block. Cirie – MMMMmmmHHmmmm.. Which one though? Felicia – and who is she closest to? And who is going to win the veto? Better be thinking about that… and that top three she just might beat one of ya'll. She might win the first round and gets to decide who sits next to her. Cirie – what did they say? Felicia – they just look at you stupid.. because I think they just haven't resonated with all of this. Like don't think that carrying Bowie Jane to the end is your easy out. And then again .. who is she closer to? Neither one of you know that now. Cirie – they don't. Felicia – I think Matt all along thought it was him but now all of a sudden he is seeing her latching onto Jag. Well of course she is playing up to both of them because she wants to make sure they don't put her a$$ out. But who is she going to pick?! I even asked her and she didn't say nothing. Cirie – you asked her? Felicia – I sure did! Cirie – what did you say? Felicia – girl, you know me! I said if you win HOH next week, who are you putting on the block. She said you know that's a hard decision. She said there is a lot to think about because really its the veto winner. She said both of them will probably be sitting there and pick each other. I said don't be so sure about that. They know that each one of them is their worst competition. I said so which one of them are you actually close to? She said HHHmmm I hadn't thought about that! Girl, she so stupid! Cirie – oh my god! No she ain't stupid. Felicia – she never commits to nothing. NOTHING! NEVER! But I ain't mad at her because I would do the same thing. She don't feed me nothing, I don't feed her nothing. Cirie – the fact that they keep running lets me know he ain't going to use that veto. Maybe these few conversations can change his mind.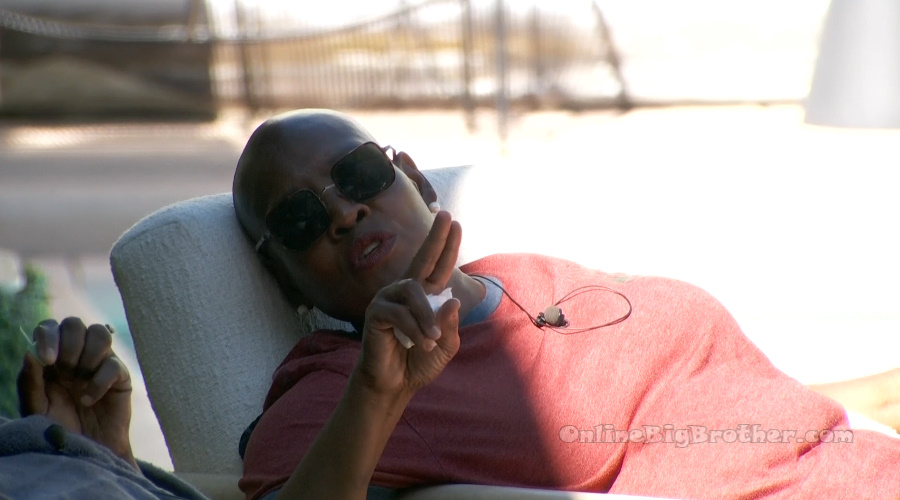 12:56pm HOH room – Jag and Matt.
They talk about finale. Jag – BRO I hope The Hitmen are there! Matt – We're The Minute Men, they're The Hitmen. Jag – that would be cool, we got to take a pic with The Hitmen. Derrick and Cory BRO! Matt – I know! We did what you guys did. Jag – yeah, that was a good season. We did exactly what they did. Me and you are The Minute men and then we have a third person who… for them it was Victoria and for us it is Bowie. Matt – The Hitmen played Victoria… We played Bowie.. Jag – like a fiddle! Matt – the minute men are clocked in. Jag – arguably we did really well recently. Matt – we made some bold a$$ moves. We made Bowie flip. Jag – that was crazy. She was not going to flip. Making Bowie flip was the turning point. Matt – and like the minute men wouldn't be here if it wasn't for the super power.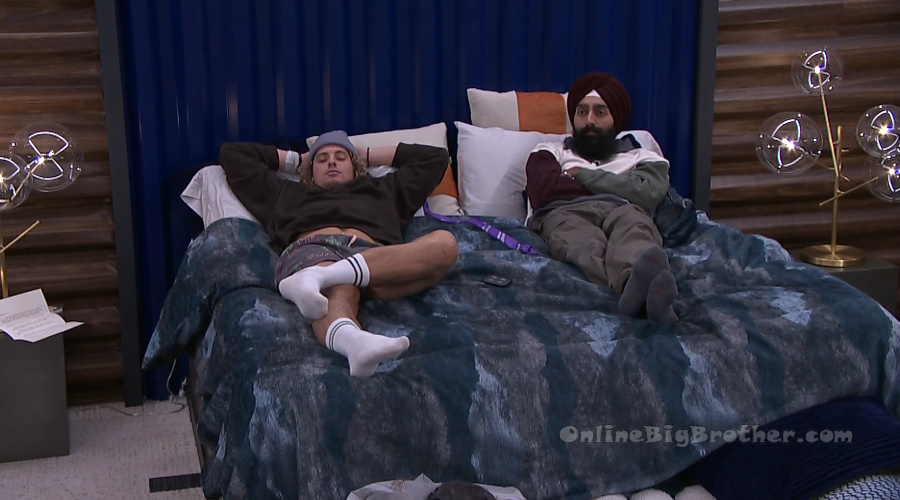 1:18pm Backyard – Matt and Cirie.
Cirie – what would Bowie do though? I know I would be going up but with who? Matt – That's what I don't know right?! I know that Jag is trying to get closer to Bowie a little bit. Cirie – I see that. Matt – non-stop 24/7. Cirie – I know. Was she always before because she used to always want to get close to you. Matt – I know. Cirie – she always told me that she trusted you. It sounds crazy but I really am rooting for you. Matt – thank you. I am rooting for you too. Cirie – I know but if it can't be me. I really want it to be you to get here. Matt – thank you. Cirie – just don't let them lead you the wrong way. Matt – just keep talking. Just keep talking to them. Cirie – I haven't really even talked to Jag or Bowie. And especially since everything is supposed to stay the same, I don't what him to think I am getting nervous. I'll check in with them and you periodically. Matt leaves to suntan.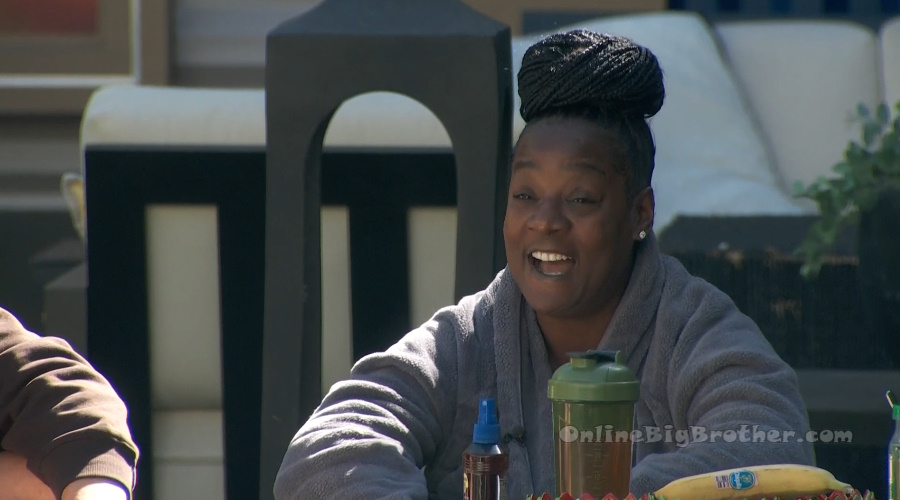 1:55pm – 2:55pm Suntanning.. Meanwhile Cirie and Felicia play pool. Bowie, Cirie and Felicia start playing a card game while sitting on the backyard couches. Bowie – this is the best thing that has happened to us getting cards! Felicia – this is something to do! Cirie – thank you to whoever's idea that was .. this has changed my life! Bowie – we just need wine and then it'll be fun. Matt joins them to play cards. They head up to the HOH room to play cards because its too windy outside.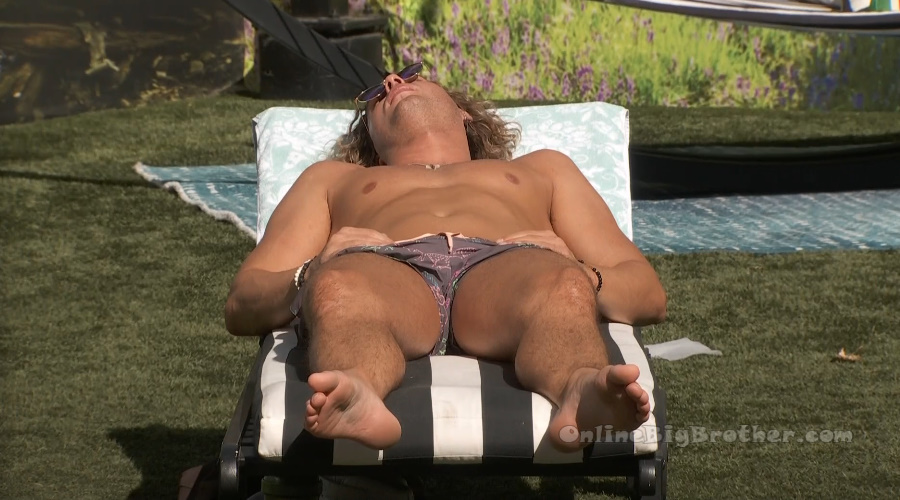 3pm – 3:58pm HOH Room – Final Five card games. Felicia makes a meat, olive, pickles and relish board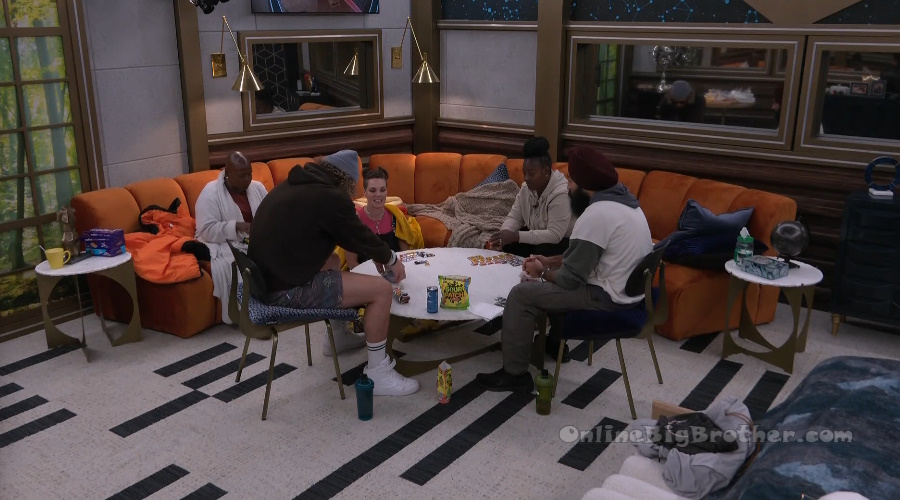 4pm – 5:12pm Bullsh*t card game..
5:45pm HOH room – Jag, Cirie, Felicia, Matt and Bowie.
Bowie gets the camera. Cirie heads down stairs. Bowie – Matty Ice coolest guy in the house what is one thing on your bucket list? Matt – Bucket list is go sky diving in Hawaii with Reilly. You know what I'm saying?! Bowie – Sir Jag what is one thing on your bucket list? Jag – One thing on my bucket list is go on a hot air balloon ride in Hawaii with Reilly…….. and Matt of course!! Matt – its a triple date! Felicia heads down stairs. Bowie – Felicia's was win big brother but don't show the boys. Matt – okay, that means she's got to go now.
5:55pm Kitchen – Cirie and Felicia.
Cirie – Girl I don't think Matt appreciated that comment. He just went .. and Reilly.. and Matt went (hitting his fist in his hand). And then kind of chuckled. People don't appreciate .. them jokes aren't funny. Cirie – Jag is getting real arrogant. Even his comments, everything he says is now real openly different. Before we were playing he said "Shut up dumb a$$" to Matt. Felicia – I don't like that "Dumb". I don't like that. Its too damn bad Matt didn't win that veto. Cirie – Mmmmhmmm. Felicia – he would have brought one of us down and put Jag's a$$ up on the block.

6:20pm Bedroom – Jag and Bowie.
Jag – if me and you f**k up this HOH.. Bowie – we're losers.. absolute losers. Jag – I am evicting myself. Don't even keep my anymore. Bowie – me too. Jag – give up on me immediately. Bowie – Felicia said to me .. you know the good thing about next week whoever wins veto comes down and will be the one voting. I said yeah that's right. End of story. I said basically it just depends on who wins. Jag – that's sad that we are standing in the way of her one bucket list item. Bowie – yeah. Jag – and I will do everything in my power to make sure she never achieves that bucket list item.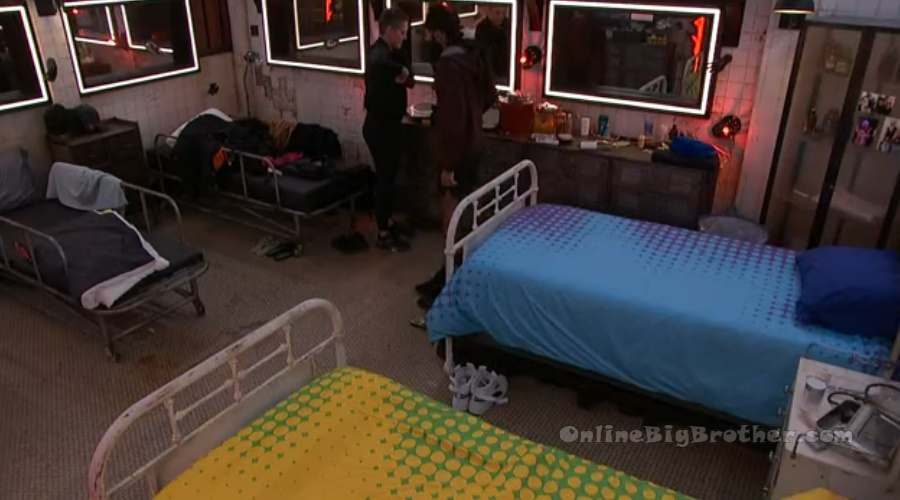 6:20pm – 6:56pm Matt, Jag and Bowie working out. The seagulls in the peanut gallery continue to squawk.
7:09pm Living room – Matt and Felicia
Felicia – Matty Ice, we've been watching them guys become very insulting towards you. Matt – they have? Felicia – Are you paying attention? Matt – yeah. Felicia – you ain't paying attention to what they're doing? Matt – what did they insult me on? Felicia – just comments, you got to be listening and watching to what they're doing. Remember I said watch behaviour? Just watch behaviour, that's all I'll say. Matt – did they say anything about me without me? Felicia – just dumba$$.. I mean just little comments. Matt – well I can't hear them that's why I didn't know that. Felicia – they're insulting you. We hear them. Matt – I know, I know. Felicia – man I wish you had won that damn veto. Bowie Jane is showing who her allegiance is to. Matt – I know. Its obvious.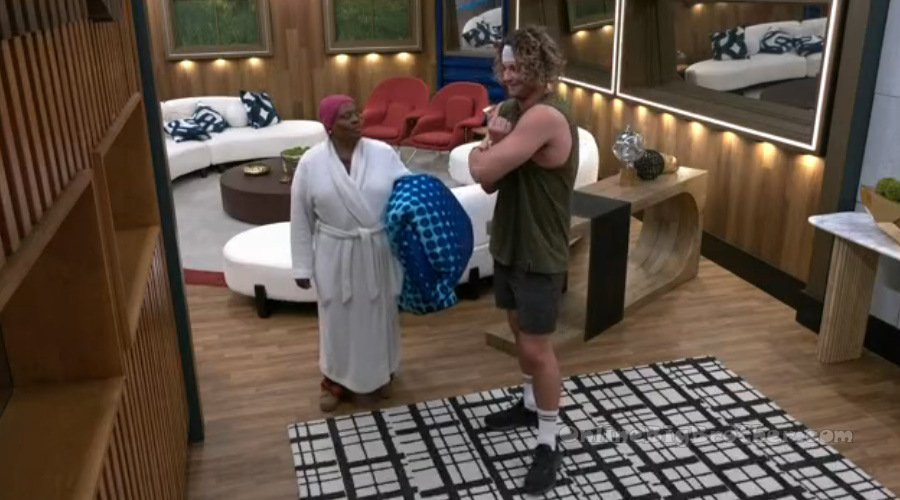 7:38pm Kitchen – Matt and Felicia.
Matt – we will need to talk at some point to plan for next week. Felicia – MMMmHmmm.. for real! He (Jag) is definitely going to carry her (Bowie) to the final. Matt – yeah. Felicia – and he may get his feelings hurt because people may say if he was goofy enough to bring her a$$ to the final, they may let her win. We got to have a strategy. I can win that damn HOH and you can win the veto. You watch, I feel it in my gut. Matt – underdogs.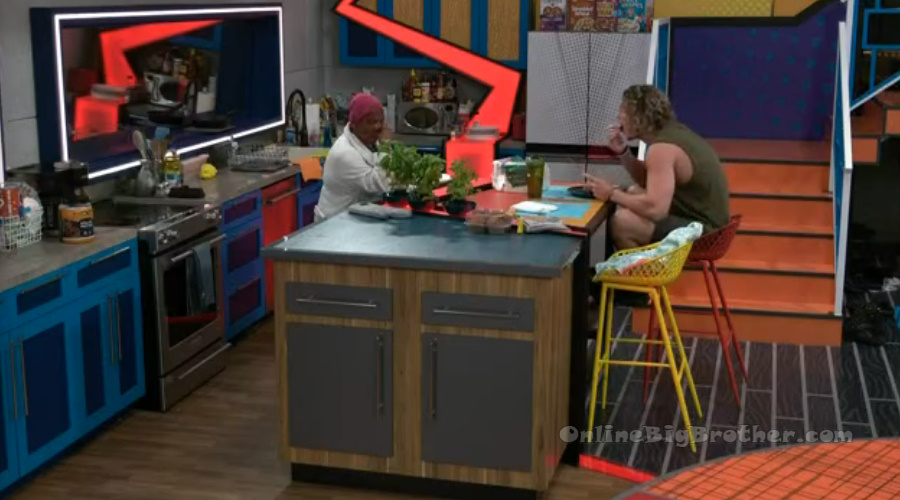 8:12pm Kitchen – The house guests are making dinner.
8:36pm – 8:50pm Comic Bedroom – Felica and Cirie.
Big Brother gave them another bottle of wine. Bowie poured split it with everyone and now Felicia and Cirie are even more salty because they know Bowie and Jag had bottles of wine from their HOH baskets that they were saving. Cirie & Felicia think Bowie should have just given the one from BB to them and not taken any.
Felicia – I am amazed at how selfish she (Bowie) is. She has a whole bottle of wine and she makes us split a bottle. Cirie – and he took some of this wine.. why would you take some of this when you have a bottle of wine? Felicia – one bottle of wine each and you wouldn't let us share a bottle. Cirie – the fact that they split one bottle of wine. Is crazy! Jag kept looking at me because I was trying to keep my face together. Why you looking? Because you know its foul. Felicia – Matt wasn't down here to say no I don't need nothing. Cirie – I thought they were saving it till we got the wine. Felicia – show who they are. Cirie – what are you going to do.. its their wine.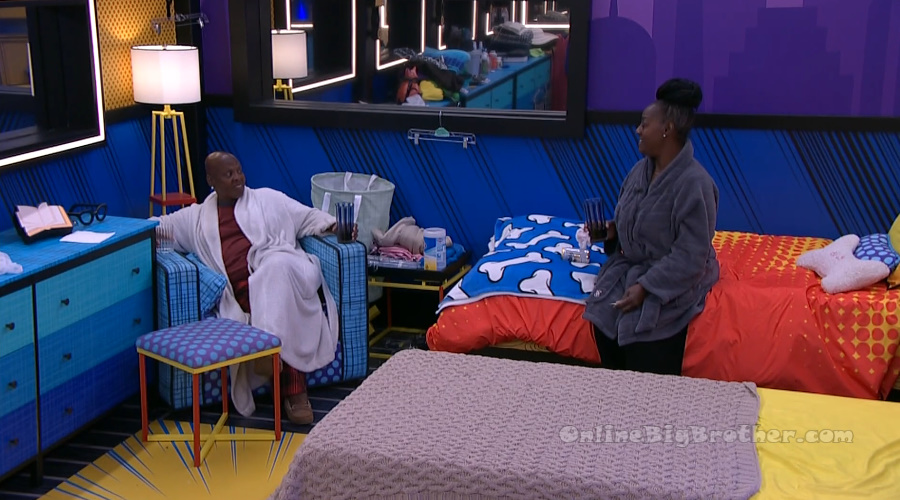 9:27pm HOH room – Jag, Matt and Bowie take selfies together.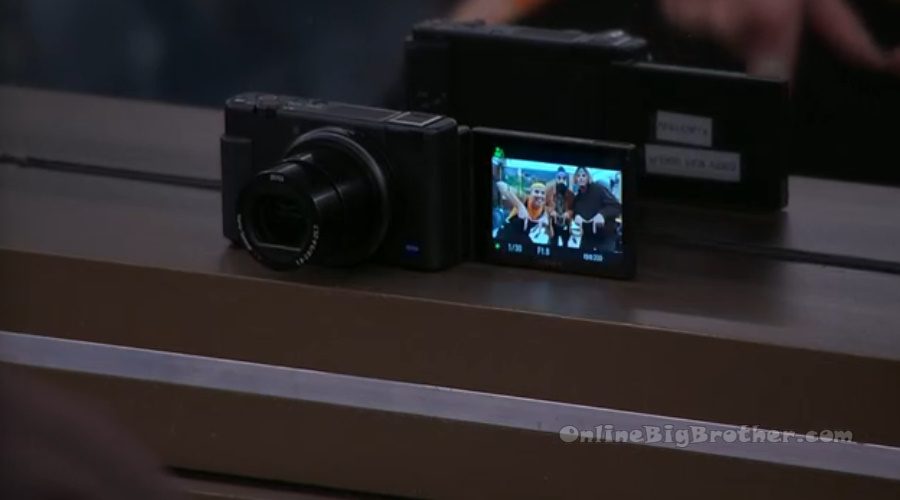 10:16pm Kitchen – Jag and Cire.
Cirie – I know tomorrow you're not using the veto. I know that's the plan and that you've got me. I know you got me. Its not that I am trying to check you out. Jag – no, no, you wanted to chat. Cirie – I know you got me. I have no desire but to see you guys its been a thing for .. even if its not me or Matt. As long as you and Matt are there. I feel like Reilly put us together and I feel like .. I can't even say like the three amigos.. but I love you guys. I know you know but I have no desire to do anything or come after .. I want to be with you guys. Jag – no I've never thought that. Cirie – I love you guys. Jag – I know. They hug. Jag – I love you.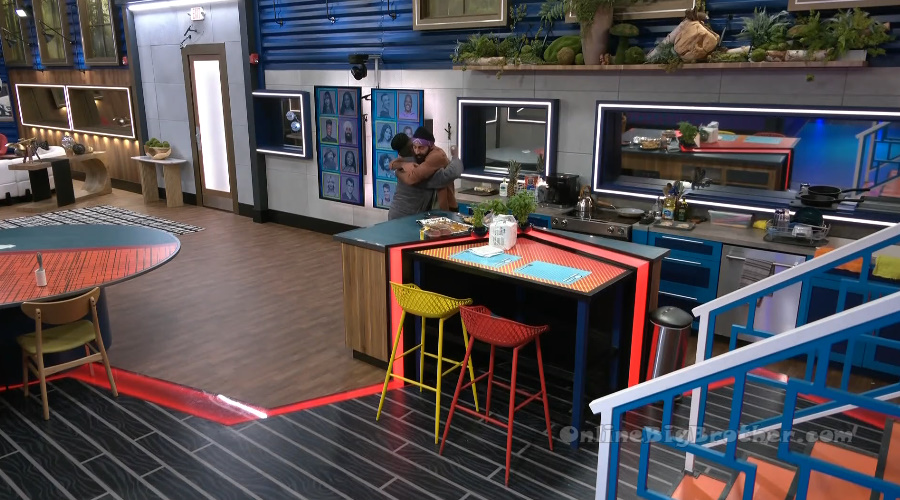 10:56pm – 12am HOH room – Jag, Matt and Bowie share their wine. They start playing never have I ever.

12:45am
Quad cam on Cirie and Felicia sleeping..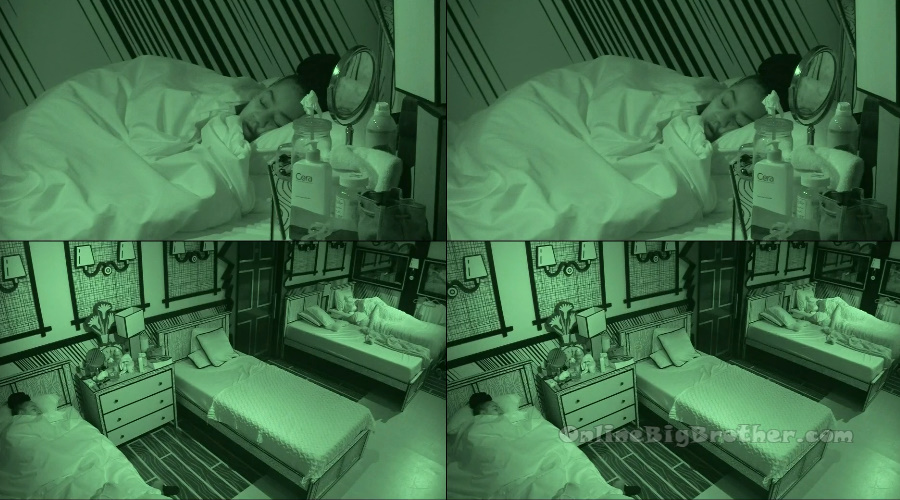 If you've enjoyed our updates this season and want to leave a tip you can do so through PayPal.
You don't even need a Paypal account to contribute. Any amount is greatly appreciated!