Quick Big Brother Spoilers
Head of Household: Matt
Nominees: Cirie & Felicia
POV Players: Everyone
POV Winner: JAG
Veto Ceremony: Veto was not used
Havenots: No more havenots
Lock your ranks in before midnight
The Situation: Cirie is the target. Veto was not used.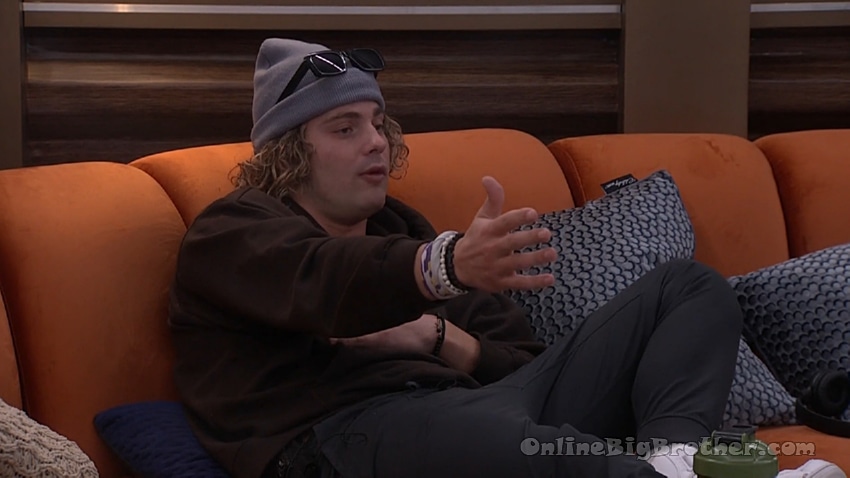 noon Matt and Jag
They're talking about how nervous Cirie is "She's never campaigned like this"
Matt – she's never had to
Jag – She's nervous.. she's bringing REilly into it. She absolutely played Reilly. Don't bring that into this.
Matt – she was good with everyone. She made them all feel good.
Matt – Reilly was only 10 days in..
Jag says Cirie was never down with keeping Reilly but she made it sound like she was.
Matt – she was never going to risk her game her early game.
Jag – Don't bring that into it.
Matt – she said to me Reilly is going to be mad if you put me up (Is this the mist?)
Jag – she knows we are both super close with Reilly and she's going to bring that into it. This is why she's got to go man.
Jag – she's smart. She's such a dangerous player.
Jag brings up Cirie saying to him Reilly will be so happy when she see what they did. (Save Cirie)
Jag – NO she'll be happy when she sees you walk out.
Matt – day 93
Jag – to be fair we took Cirie as far as we could, We protected her for as long as we could
Matt – we really did.
Jag – WOW dog she is nervous.. WOW .. It ain't going to work your little tricks ain't going to work.
Jag – they worked on survivor they worked on the traitors but it's not going to work here
Matt – not with us in here
Jag – not with the minuteman
Matt – the minuteman play Cirie like a fiddle then Felicia.
They talk about America being smart but playing dumb like she didn't know how to cook or do laundry.
Matt – doesn't know how to be clean

Bowie joins them. "Both of them just campaigned to me"
Bowie – Cirie said I'm going to campaign to you once I'm not going to chase you around the house. I just want to say we've been together since day one
Matt – she has not been with you since day one
Bowie – I know
Bowie – we're family.. blah blah blah ..
Bowie told her she has her vote.
Matt – she said Reilly's watching she's going to be so proud of us
Jag – Reilly is going to be so happy
Matt – she's using our attachment to reilly cause we love reilly..
Matt – she said Reilly would be mad if I put her up
Jag – that's what makes her dangerous player.
Bowie – makes you feel bad.
Jag says reilly will be happy when she sees Cirie walk out the door.
Bowie brings up Cirie telling her she's like family to her yet she wanted Bowie on the block.
Bowie says Cirie will be a pain this week "No remorse she's such a schemer"
They talk about how Cory wore America's one piece on eviction night.
Matt- He wore America's outfit. I was like are you bragging that you can fit in your girls clothes?
They agree the first half of the game sucked "We were getting bullied BRO"
Jag – there's for real bullies in his f**Ing game. Oh my god
Bowie – when I look at the wall it makes me anxious every single person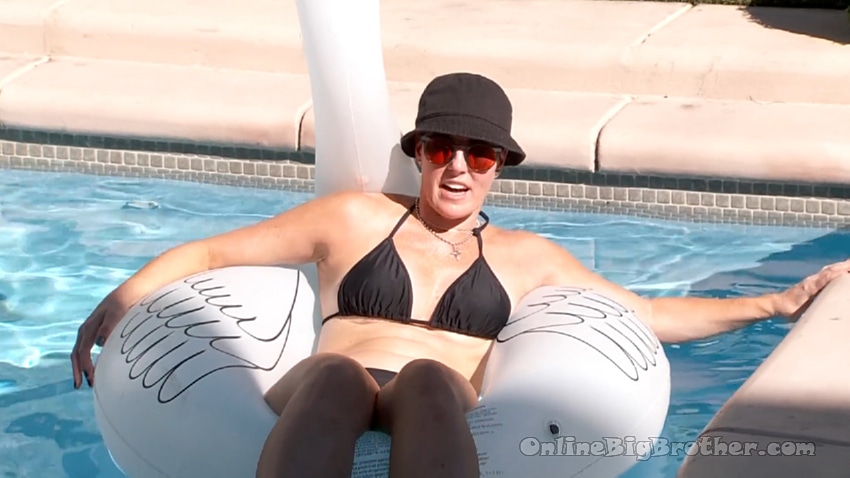 1:30 pm Bowie, Cirie, Felicia Pool time. Cirie and Felicia are off to the side. Chit chat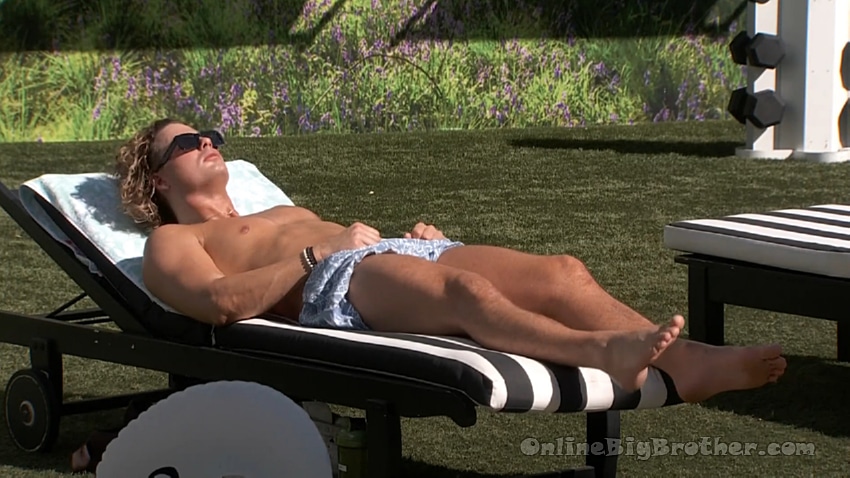 2:00 pm Sunning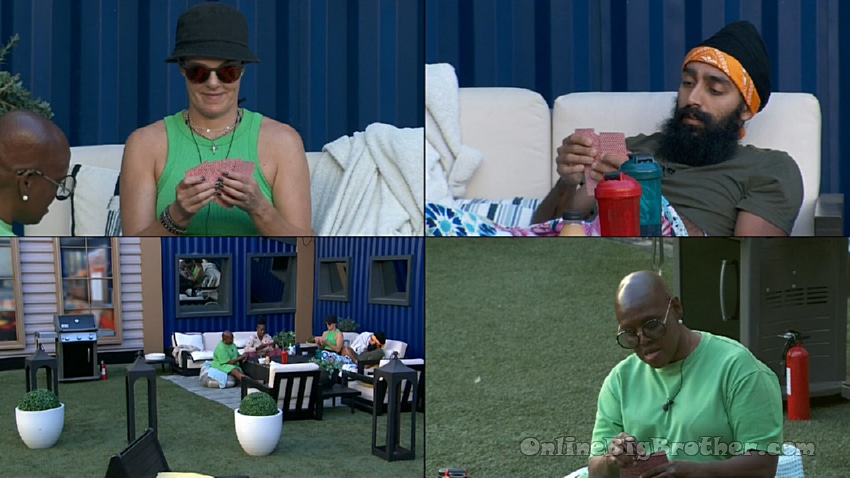 2:30 pm – 4:00 pm Cards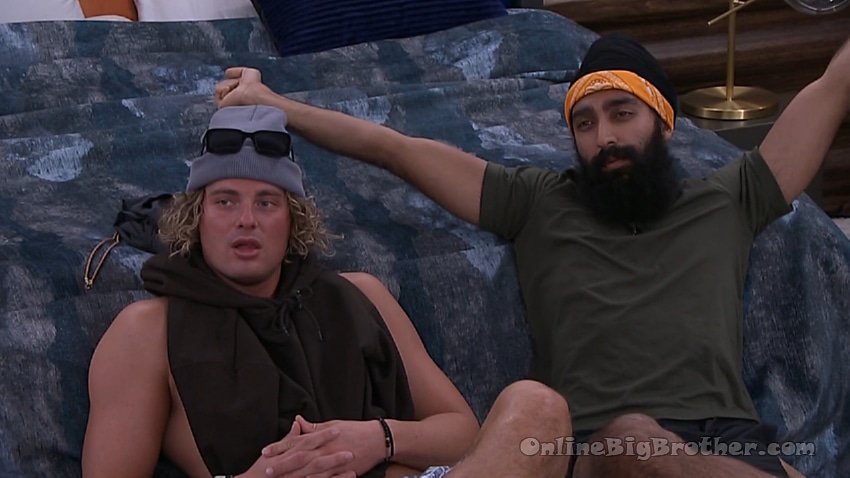 4:30 pm Jag and Matt
Jag – what do you want to do
Matt – lay here and chill a bit.. then play pool. Last day of playing Pool.
Jag – I want to hang out outside while there's still light. We should study again tonight.
Matt – I'm just tired..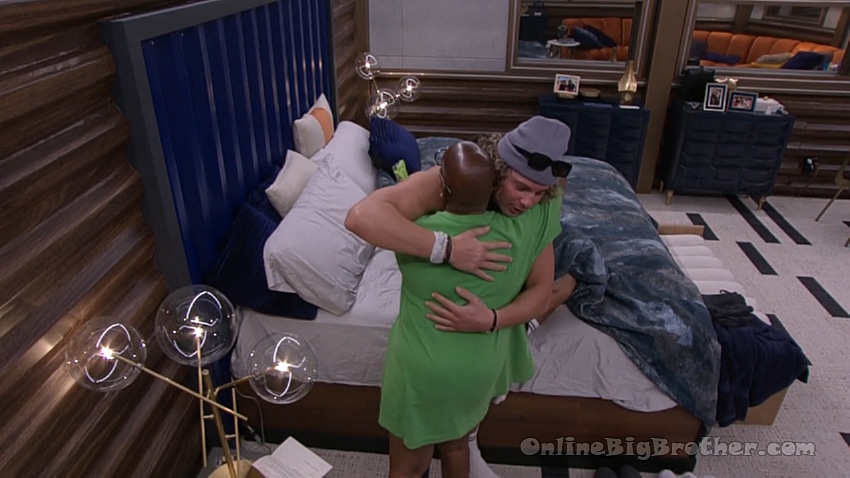 4:36 pm Felicia comes gives Matt a quick HUG
Felicia – just want to check all is well
Matt – I'm good thanks for checking on me.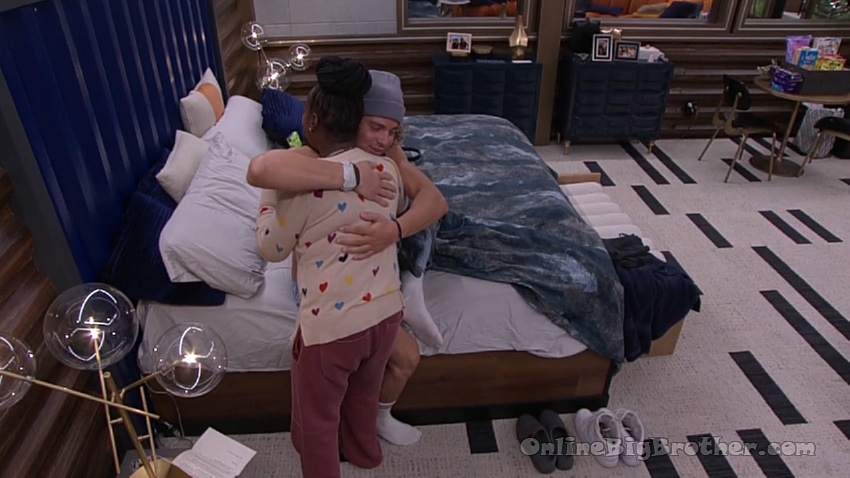 4:37 pm Cirie comes gives Matt a quick HUG
Cirie – just checking are you okay?
matt – yeah
Cirie – you sure
Matt – I'm good
Matt – thanks for checking on me
Cirie – of course I love you
(Matts got a sore stomach from stress)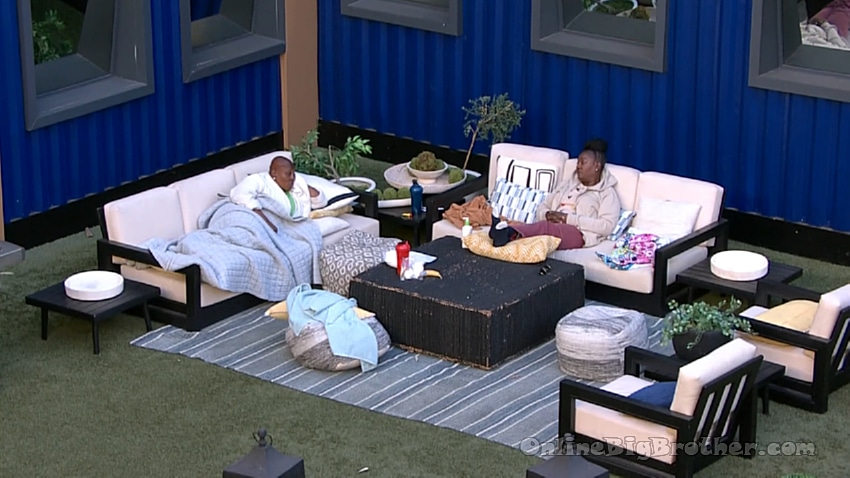 5:13 pm talking about the backyard getting closed for good tonight.
Felicia tells her Matt/Jag will take Bowie to final 3
Cirie – mmmhmmmmm
Felicia goes on about how Jag suckered Matt in every decision he made.
Felicia blames everything that went wrong this season for her and Cirie's game on jag.
Cirie – mmhmmmmm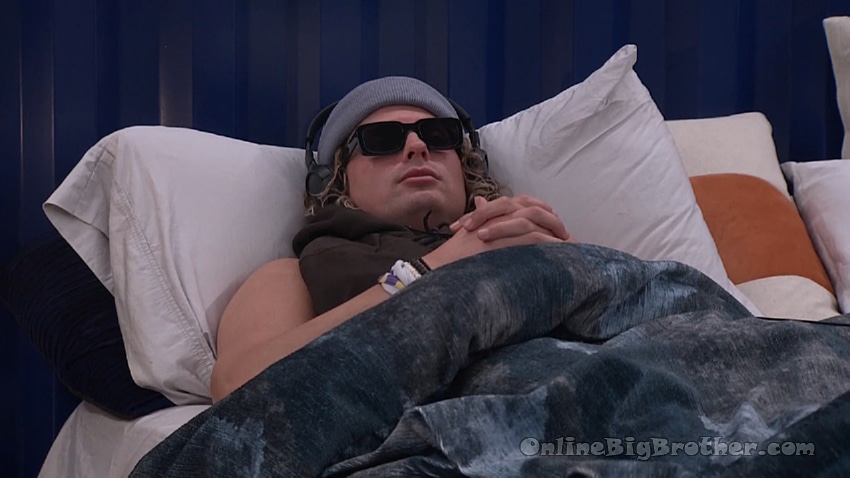 5:44 pm Matt chilling in the HOH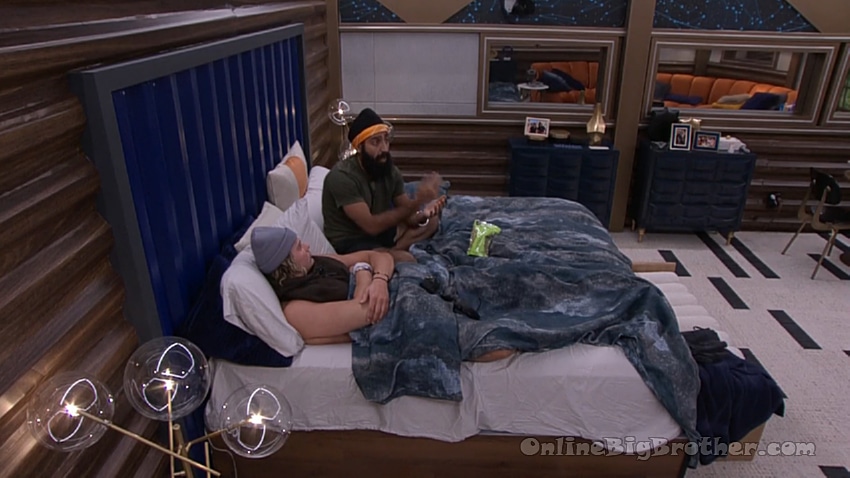 5:56 pm Jag and matt
Matt says he's stressed out about next week because he can't play in the HOH>
Talking about how cirie and Felicia are "Cooking" trying to get Matt/Jag and Bowie broken up.
Jag – there's no way I'm letting Felicia win HOH or Veto..
They agree Cirie is smarter player than Felicia. Felicia is a sloppy player.
They speculate that maybe the next eviction will be the Sunday so they only have a couple days to deal with Felicia.
Jag stresses he's not letting Felicia win any competitions, "There's no amount of studying she can do, I know everything more than she knows. She makes mistakes I will not make a mistake."
Jag points out the pressure has been on them this entire season to win competitions to save themselves. (True)
Jag – I'm going to COOK Felicia next week.
They go on about this season being the minuteman season. They go over all the times where they had to win competitions to save themselves or to take out opponents.
They joke about Felicia trying to get matt to put up Bowie.
matt – if I can win Veto and Send Felicia home that will be nice. I'll lose that jury vote
Jag – I don't give a f*** at this point. All we can control is being in those final 2 chairs. After that what the jury does or says is up to them.
matt – it's out of our control
They agree the jury is going to be pissed especially with Cirie and Felicia entering stirring things up
Matt – they are mad because they won't be sitting in those two chairs we are.
Jag – bro they will be one Big Brother 53 and people will still be talking about the minute men.
Jag – we just need to pull this off people will be talking about ohh sh1t the minutemen.
Jag brings up the hitman and how Cody could have taken Victoria to the end and won but instead he took his partner hitman Derrick and lost to him.
They agree they were struggling in the early game. Jag was Cooked if it wasn't for Matt's power. Lately they've been running the game.
They go on about the similarities between the hitman and the minutemen.
Jag brings up that Blue told him if Jared would have won the HOH other than Hisam Reilly would have stilled put Reilly up because Jared was always closer to the comic room side. Jag adds the one thing that would have been different is Hisam wouldn't have played to win the veto Blue would have won it (She was second in veto) and used the veto on Reilly.
Jag – Blue would have saved REilly and Jared would have put either me or you up. Probably me up…
Matt starts going on about how America and Cory won't last. Brings up America saying she does one night stands.
They do some light sh1ting on America.
Matt wonders what will happen with Jared and Blue. They mention how Jared played the same game as Cameron.
6:50 pm feeds flip to Felicia and Cirie talking about how much they miss home.
If you've enjoyed our updates this season and want to leave a tip you can do so through PayPal.
You don't even need a Paypal account to contribute.