Quick Big Brother Spoilers
Head of Household: Cameron
Nominees: Mecole and MOMMA FE
POV Players:Mecole, MOMMA FE, Cameron, America, Blue, Matt (Jag is hosting)
POV Winner: Cameron
Veto Ceremony:
Havenots: ?
Lock your ranks in before midnight
The Situation – Jag and Matt want to keep Corey this week and will try to steer Cameron away from that plan.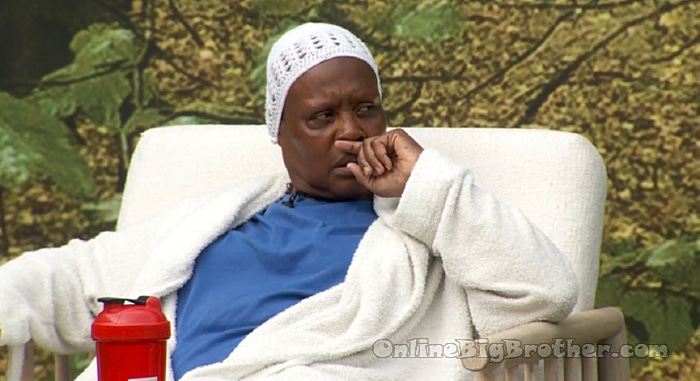 9:03 am Felicia and Cirie
Felicia is going on about how they have to take Cameron out next week. She's going to try and rally the house to do that.
Felicia – YOu should stop telling them to stop being afraid of Cameron
Cirie – you see where that got me and JAred.
Fe – what did that get you?
Cir – Jared going and me supposedly next. Remember?
Fe – that had nothing to do with Cameron.
Cir – what that had to do with then? Jared just put Cameron up
Fe – You think they were mad at Jared because he put Jared out?
Cir – I don't know I never asked.. (LOL)
Fe – when Jared was up on the block and you were trying to get us to get us to keep Jared.. that fight you had.. How come you didn't have that fight when I was on the block?
Cir – Everybody did the same thing that y'all did in the bathroom.. everyone was voting you out so I didn't say another word
Fe – you gotta stop not saying another word
Cirie goes on that the vote flipped at the last minute.
Fe – all it takes was one person to day
Cirie – I was that person.
Cirie calls Felicia out for not speaking up to save Jared.
Fe – YOu know why I didn't? because the week before you didn't
Cir – OKAY, I didn't fight for you but I didn't fight against you.
Felicia says when she was on the block Cirie and Jared changed. "All week long I knew you were in the room not fighting for me"
Cirie – we didn't fight against you.
Felicia looks at it like it's the same thing if you don't campaign to help her you are campaigning against her. Cirie doesn't see it this way
Felicia – Jared is gone because Jared didn't fight for me when he told me he would
Cir – ok, Now these people going to fight for you when they tell you they will?
Fe – I don't know, I got nothing and everything to gain I'll just see where it lands me.
Fe – if the four of us had stayed together and never wavered from that we wouldn't be where we are at.
Cir – I agree but the wavering started way before that. We already discussed all that the only need now is figuring out how you will stay.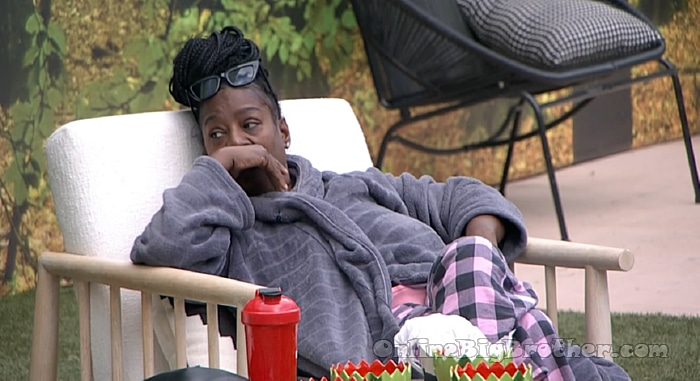 9:58 am lights on throughout the house. Cirie and Felicia still outside.
Felicia says Corey and America were up until 3 or 4
Cir – wow.. they're young
Fe – mmmhmmmm
Fe – Its funny you hear America say 'I never thought I would last this long' And we're going to let her sit her ass in this house. Corey, 21 years old, Sitting up in this damn house and never showed HIS hand they never had to play. (LOL)
CIr – nope
Fe – Bowie Jane ain't never had an opinion about shit
Cire – NOTHING
Fe – ain't never done nothing
Cir – mmmhmmmm
Fe – those aren't the people you let get to the end. Shit.. .
Cir – Oh boy oh boy oh boy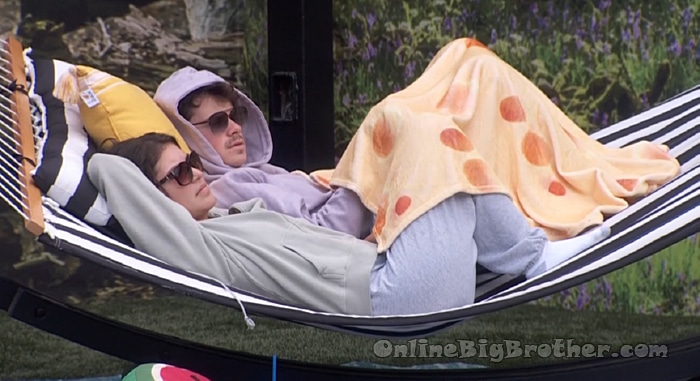 10:02 am Corey and America
Corey is going to talk to MEME and feel out Matt and Jag a little bit. If Matt and Jag give don't give him anything "We're f***Ed"
Corey wonders if he doesn't initiate game talk with Matt/JAg will they
America – you did all the talking yesterday
Corey – yeah
Corey says the main thing is they have to make Jag and Matt believe they are safe with them.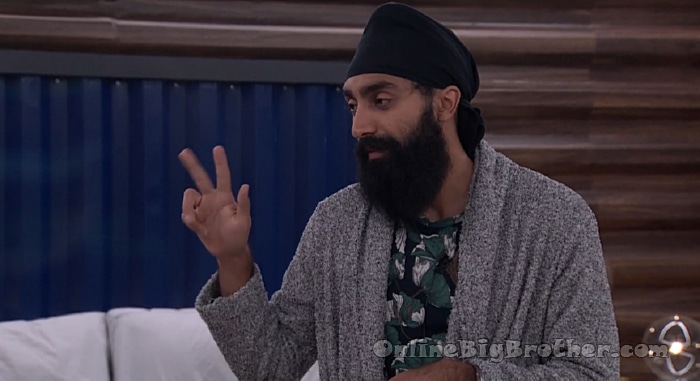 10:11 am Matt and Jag
Jag – there's so much for us to think about
MATT – I know DUDE. We're in such a good position but we won't be if we make a move
Jag – MOMMA FE has to go I think
Matt – she has to go she's after us BRO..
Jag – is there a world where Corey leaves this week and it's good for us?
MATT – it's only good if Corey leaves this week and Cameron leaves next. Then we're the last few guys then the girls will band.
Jag – We have Bowie
Matt – Blue wouldn't
Jag – Blue would Bowie wouldn't
Matt – Blue would stay ricking with us she's been with us since day one She won't go at us yet.
Matt – he lose Corey we lose the numbers
Jag – If we lose Corey… If COrey goes up next to MEME or Felicia then Blue votes him out.
Matt says IF He puts COrey upo Cameron is going to suspect you, Me, Bowie and Blue to vote him out.
Jag – America is going to think me, You, America vote to Keep.. we will need Bowie to evict Corey.
Matt – then we piss off Cameron.
Matt says if Cameron put Corey up and they don't vote him out Cameron will be "pissed as sh1t at us"
Jag – we can't have it happen.
Matt – it's almost good if next week Blue and Corey go at it.
Jag – or go after Cam.
Jag – Corey and America were nervous about me and you being up here with Cam. At some point today I want to talk to Corey and America and be like YO we were up there cause we were reassuring CAM that you guys are good with him he felt weird vibes in the room.
Matt – do we want to push COrey and America to go after CAm or BLue
Jag – for now we don't have to push anything
Jag is going to tell them they were fighting For Corey's life last night "Which is f***ing True.. Corey needs to understand time and time again we're fighting for his f***ing life"
Jag – this week all it takes is for us to say yes to Cam, Corey's a$$ is home.. we're fighting for his life..
Jag says Matt is going to have to be more vocal with Cam to not go through with the COrey plan.
They start talking about points to make to Cam why they shouldn't take COrey out.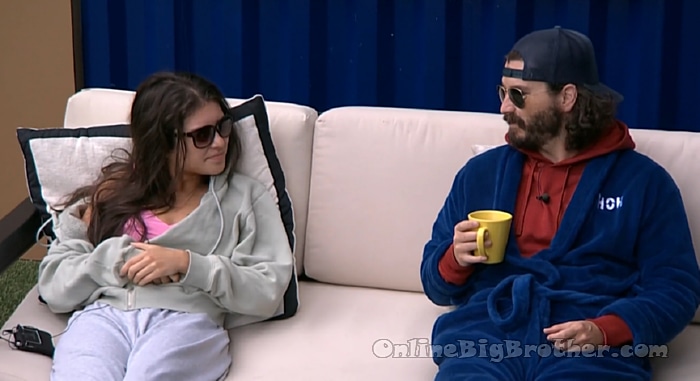 10:35 am Cameron and America
Cameron – what about next week
America – next week I mean.. In terms of targets? What are you thinking is that the question I'll tell you.
Cameron called into the Diary room
America – NOO… I don't feel super great with Blue right now. We'll talk more when you get out
Cameron – I'm shocked..
Cameron leaves..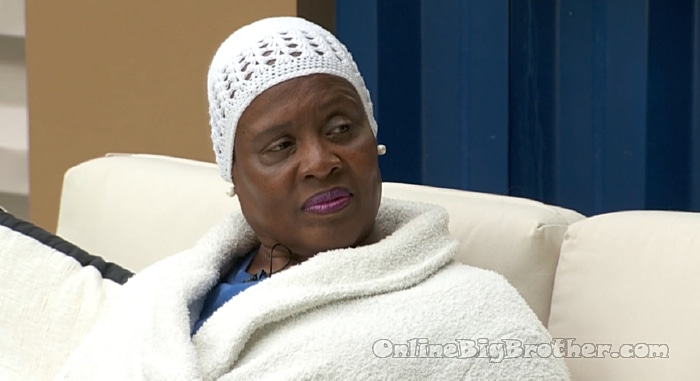 10:38 am Felicia and Bowie
Felicia asks Bowie why she's getting her out. Bowie says she has nothing to do with Cam's plans.
Felicia says Cameron wants her out because he doesn't think he'll win against her in the final 2.
Felicia is bothered that Cameron told her he doesn't want her in the jury house.
Felicia says she's not going home and will fight.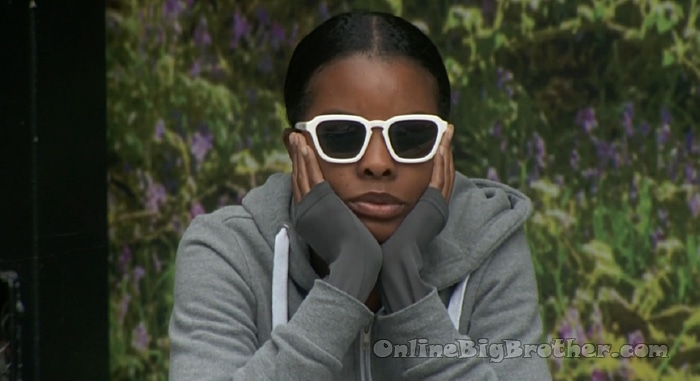 10:40 am MEME and Corey
Corey is wanting to work with MEME. He pitches a plan to form something between America, MEME and himself.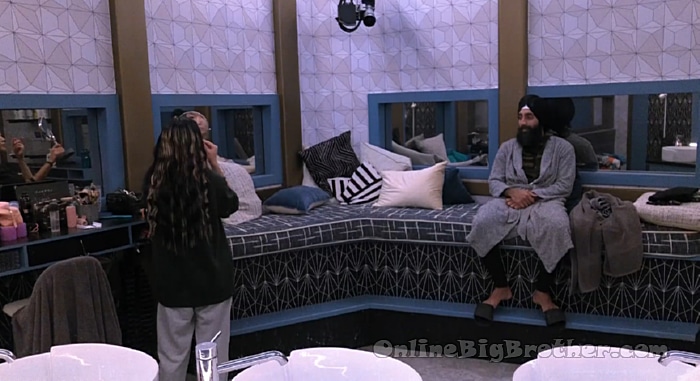 11:07 am Jag and Blue
Jag asks how she's is with America. Blue is okay "I don't have any animosity towards her really"
Jag – did you catch the Bowie jane talk last night when we were outside.. They were saying Bowie Jane is just a number she'll vote however we want..
Jag – Guys C'mon.. Poor Bowie
Blue – I know.. they were like Bowie is going to to whatever we want her to do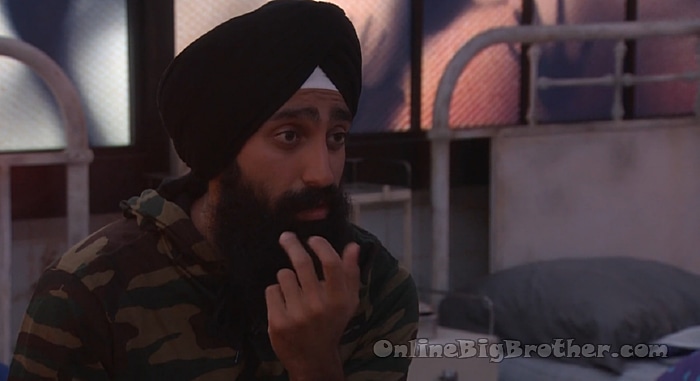 11:25 am Jag and Bowie
Jag is talking game with Bowie.
Jag – if one of the three of us wins lets say we put up MEME and Cirie? I don't know what do you think.
Jag – purely because we think we can beat them the following week if they are angry
Jag – our initial nominations don't matter as much they can be damn near anyone and we tell them it's a back door.. IF they win Veto we say f** okay we upheld our word it's a backdoor and we put someone else up. If they don't win veto then we have a decision to make. Lets say you were HOH and you put them up I win the veto and now me, You and Matt talk. Hey do we actually want to send one of them home. Probably not.
Bowie – that's right
Jag – we have the vote to send whoever home we want.
Bowie – YEAH
Jag – we need three votes to send someone home.
Jag – we take off MEME we want MEME on our good side because she's a better competitor. We put up whoever.. Pretty much Blue, Corey Cam one of those three. All we would need is one more vote. If Blue is up there you know Corey will vote her out. You know If Corey is up there you know Blue will vote to evict her. If Cam is up there you know everyone is going to vote to evict (LOL)
Bowie – YEAH
Jag – at that point if we win next week can low key make whatever we want happen.
Jag says Corey isn't that great of a competitor as they all make him out to be.
Bowie – he gets anxious
(Jag pulling Bowie in talking real game with her)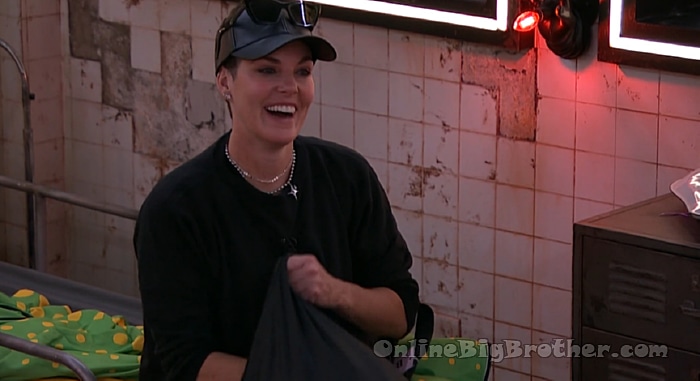 11:38 am Matt and Bowie
Matt says Felicia is campaigning to him "She wants to stay now"
Matt – she said that you wanted her to stay
Bowie – I knew she would say that that's why I said …
Matt – she's like BOWIE Jane says she wants me to stay
Bowie – No I did not say that. I said to her 'I don't know why you think that I don't like you.. I'm just letting you know twice I campaigned for you to stay and she said will you campaign for me to stay this time'
Bowie – I was like. (Shakes head)
Bowie – she said she had Cirie's vote to
Matt – she said to me she really wants me to consider it. I said I need a couple days to think on it.
Matt- we'll see we'll see
Bowie – she's never kept her word once every single conversation she's had she's told someone
Matt looks at the soup he was shaking "I'm going to make some of this"
Bowie whispers "Jag is talking about strategy"
Matt – what?
Bowie – Strategy
MAtt – stretch ?
Bowie – Strategy
Matt – Crazy ?
Bowie – Stra-te-gy Strategy
Matt – energy?
Bowie – Strategy
Matt – strategy
Bowie – I tried to do an American accent (OMG that was funny)
BOwie – who do we want to be with in the last 5. Who can we beat?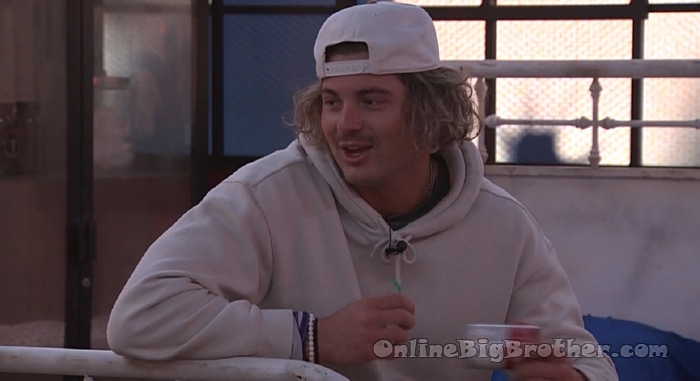 Bowie wants the final five to be her, Jag, Matt, Cirie and either MEME or America.
Matt says MEME is scary she needs to go to.
Bowie is questioning how good of a competitor Corey is.
Matt – he has everyone on his side
Bowie – he's dangerous
Without your support this site and these spoilers wouldn't be possible.
Please consider a donation to keep the madness going.