Quick Big Brother Spoilers
Head of Household: Cameron
Nominees: Mecole and MOMMA FE
POV Players:Mecole, MOMMA FE, Cameron, America, Blue, Matt (Jag is hosting)
POV Winner: Cameron
Veto Ceremony:
Havenots: ?
Lock your ranks in before midnight
The Situation – Jag and Matt want to keep Corey this week and will try to steer Cameron away from that plan.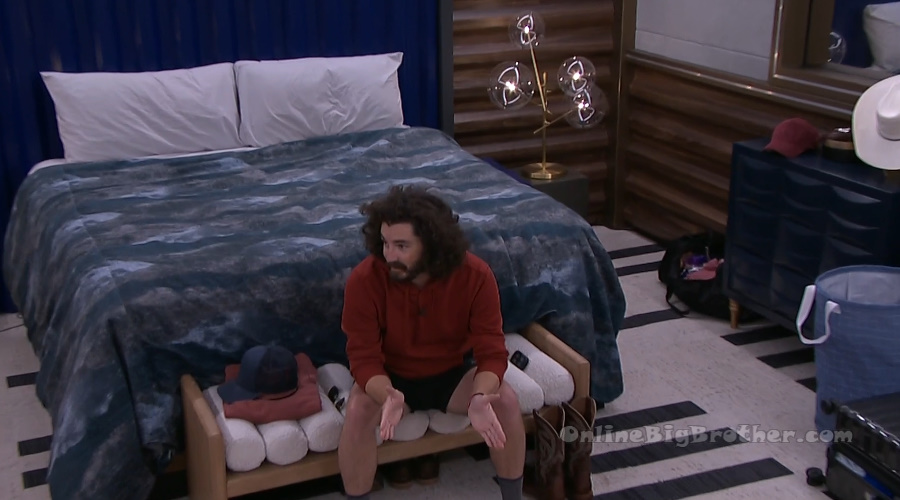 12:05pm HOH room – Cameron and Matt.
Matt – honestly the more I sit on it, the more I am on your plan. Cam – I know that sounds good but Jag is the one. You're closest with Jag. Matt – yeah I would have to convince him. Cam – its not that. If you feel in any way that he has some sort of real deal or connection of Cory to bust us up. That he is just not letting you in on, do you think there is anything like that? Because I am with the 3. Matt – Jag knows that he (Cory) needs to go. Cam – I am with the three of us. Matt – he (Cory) just had another 2 hour convo with Meme in the hammock. Like why would you need to have a 2 hour convo with you know you're going to vote to keep her as the plan right now is Felicia is gone. So he is probably wording it like I'm going to keep you because bla bla bla. He is getting nervous and I am like why are you getting so nervous about things. Cam – remember what I told you about Izzy.. when you have the power and someone gets very nervous about you doing something to them… its because they're thinking of doing it to you. Matt – yeah. Cam – period. I know you're on board and I know you're receptive. I know we would 100% have the votes but Jag is the one that we're going to have to convince. And I am not trying to convince him, I am trying to make the best decision. I am trying to make the best decision for the three of us. Matt – I think if we make this move and we get Cory out … MAYBE we lose America .. and that is fine but I don't think we will lose Blue. Cam – we don't have America already. Matt – yeah, you don't think? Cam – no. She wants to hang out with us and she is going to use us but she is aligned down there because that's where the votes are right now. Matt – we would have Bowie, you, me, Jag and we could have Blue easily. Cam – Blue is going to be happy that we pulled the trigger for her and she doesn't have to get her hands dirty. Matt – yeah. Cam – I think that Blue doesn't actually want to go after Cory because that would ruin her relationship with America. Matt – she talks a lot of sh*t about America. Cam – Blue talks sh*t about everyone in the house. Blue wants me to take the shot at Cory. We would gain Blue by taking a shot at Cory. You don't need to correct me if I am wrong but if the two of you (Matt/Jag) have a final two. I don't think I make it to final 3 with you if Cory is in the house because Jag is going to gamble that Cory is going to take a shot at me. And he will do that for Jag and Jag will feel good about it because Jag didn't take the shot at me. Jag wants to leave Cory in the game. I know the kid needs to go! Matt – I am seeing it. Cam – I am just telling you all of this because we need to make a decision as a team. I will not go against the team. I cannot trust Blue. We cannot trust Blue to have the balls to take that shot at the kid (Cory). Matt – here is the thing it will be unanimous besides America. Cam – The whole house will be happy. Matt – I am down with it! Cam – I think we just take it. Matt – I am down.. it will be a couple awkward days but f**k it! Cam – I am telling you this is the move. We just need to talk to Jag. Lets open the game up. Now lets take the shot. Its time to dance!
12:47pm Comic Room – America and Cirie
America – do you have an idea of what you would do for next week if you won? Cirie – if I win.. girl you talking pipe dreams! America – no. Cirie – I really wouldn't want to … like I would be too scared to do anything major. America – there are still a lot of us left. Cirie – there are still so many people left. I don't want to go after people, like that is not my thing. I don't want to be lumped into that like oh you did this and that. I would have conversations with people and see where to go .. I would need people to say this is what it looks like and this is where you should go. I am one person. I would need help, like what do you guys think. And I don't mean what the house wants.. what the people that have had my back and what they think. I would have those conversations. I would talk to you guys and Matt and Jag. I don't really know where Meme stands after everything. America – I don't either. She is yeah… a little more reserved where she lands. I don't know where her head is at.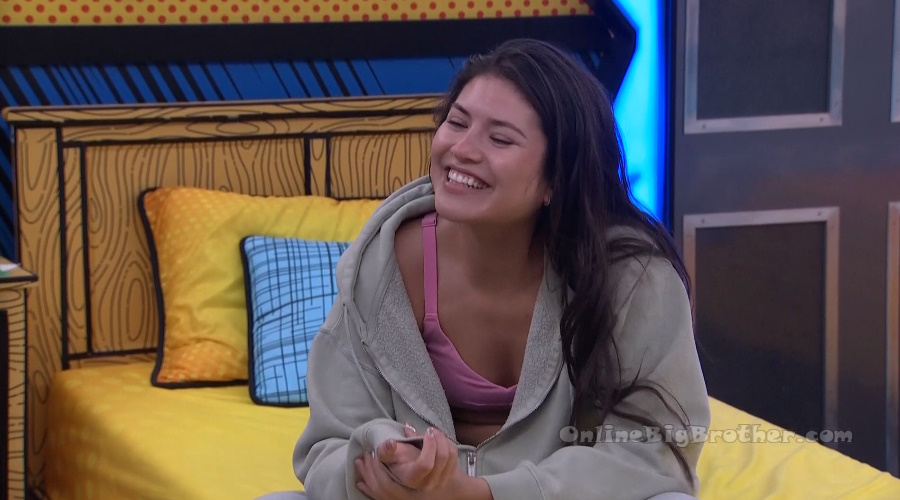 1pm Kitchen – America and Cam.
America – I got you if I win. Like you're not a target or Cory… You're not a target or a pawn. Cam – yeah I know that. I feel that. I am not worried about that. I feel good with you guys.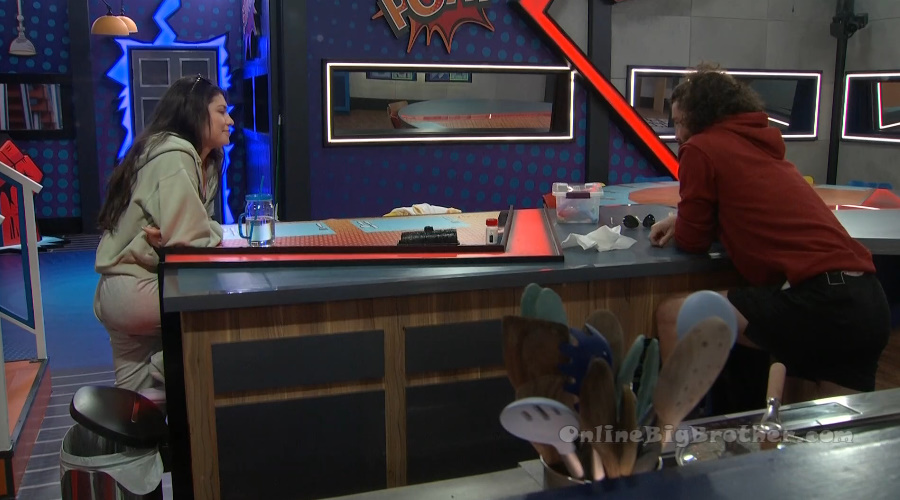 1:20pm Kitchen – Cam and Cory.
Cam – I think this is a pretty simple week. Next week, it depends on who wins HOH but lets face it there are only a couple that can't win where we would feel unease about it. Cory – even if they do I think there are ways out of it because I do think if someone is going to put you up .. straight up.. because it gets to a point where is there even a point of backdooring. Cam – right. Cory – I think most people would probably put you next to Bowie is my guess. Cam – why wouldn't they pull the same thing they did before with me.. put up Matt and Jag and then one of them wins the veto and then put me up there. Cory – I think that is terrifying because people feel more comfortable to move against you, than the three of you. The more I think about it .. if the numbers get low enough and I'm with the people I can trust.. f**k I think I am down to take the chances .. you know what I mean. Especially the nature of the competitions are more down my line.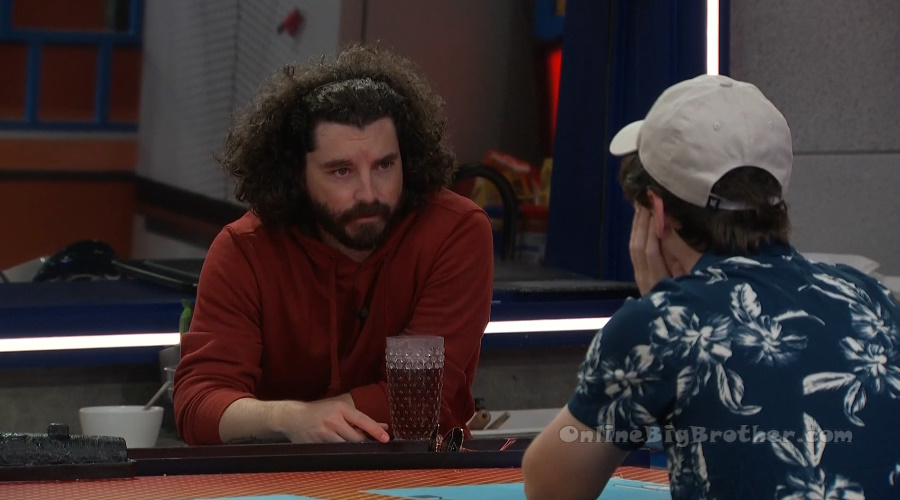 2pm Cory and America haveing a juice pack lunchables date.
Cory – Its funny because every big brother instinct in me tells me that Cam being here is good for us. He is just kind of good at competitions though. America – I like him. I wouldn't backdoor him. Cory – I don't understand you sometimes though.. because yesterday you wanted to get rid of him and the day before you wanted to.. America – and now I don't. I don't know. I was just worked up I guess. Cory – I think you were worked up because he was being a d**k. America – Maybe I should take his advice and be less sensitive .. and less emotional.

2:15pm – 3pm Backyard Couches – Jag, Cameron, Cirie, Bowie and Felicia
They're just laying out and chatting about random things.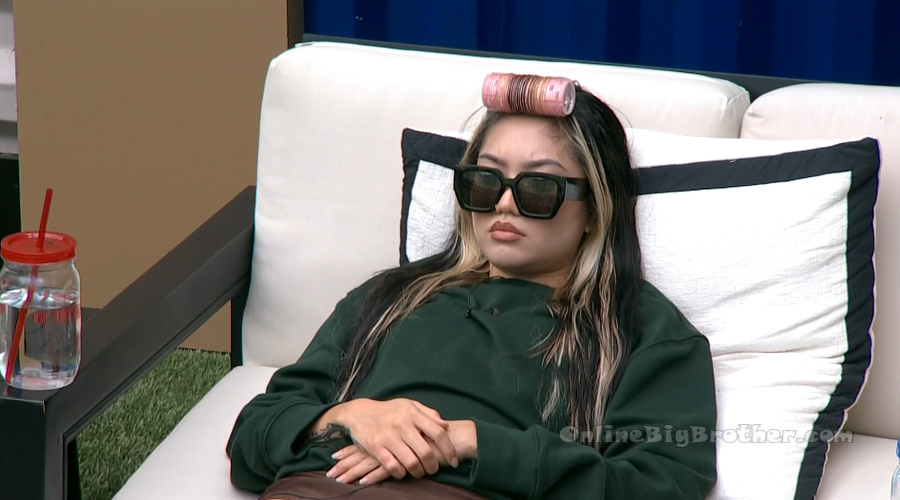 3:05pm Havenot room – Jag and Matt.
Matt – honestly I was thinking about what Cam was talking about yesterday and I think we should do it. Jag – really? Matt – Cory is freaking out a lot. He spent 2 hours talking to Meme today. He's been talking to everyone. He is panicking because he knows his plan is starting to fall a part. He told Blue that he thought he was up here and now he feels like he is here. So why did you feel like you were up here in the first place because he definitely had his sh*t covered and all that. Then I was talking to Cirie a little bit to see where she was at .. we talked about why the fact that Meme and Felicia were the targets this week… Why the fact that we had to make a final four with them last week.. and its because he thinks he is up here and now he is down here because Blue relayed the same message to Cirie. She said that she knows that Blue wants Cory out. She's been gunning for him. I think a good world me, you, Bowie, Cirie in the final four… is f**king good. Jag – you know what is funny about this.. I was talking to Bowie and said.. Matt – Cirie because she is not a competitor. Jag – and after Cirie she said low key Meme or maybe America because they're not competitors. Matt – the only thing is we have to be careful about it because we don't want to piss off Cirie too much with that decision. But if someone else takes a shot at Blue.. perfect. Jag – but who would? Cory would. That's the whole thing. Matt – yeah I see. Cory is always making sus'y comments about everyone. Like dudes a snake can't trust him. And now he is making comments to Blue saying you're playing the perfect game. Jag – if Cory leaves this week. Matt – it would be unanimous except for America. Jag – then what happens with America. Matt – if America wins next week she would put Cams a$$ up. Everyone would put Cams a$$ up. Felicia because she survives this week.. she puts Cam's a$$ up. Meme would put Cam's a$$ up. Everyone will go for Cam next week if we don't win either. Jag – Wait that's true. Matt – We got Cory out.. we got a mastermind out. Jag – that's true. Blue joins them. Matt – I think its good.. Blue – what? Matt – Getting you out! Blue – shut up.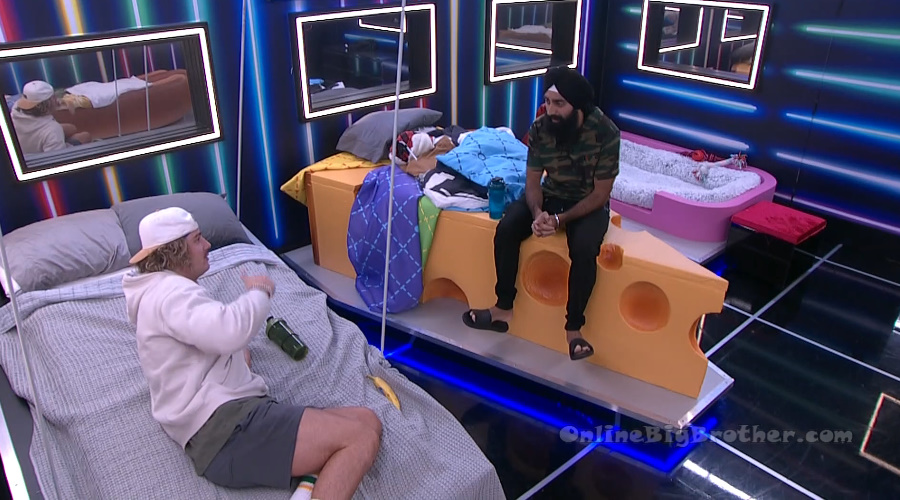 3:50pm Bedroom – Cirie, Felicia, America and Meme talking about random things like movies.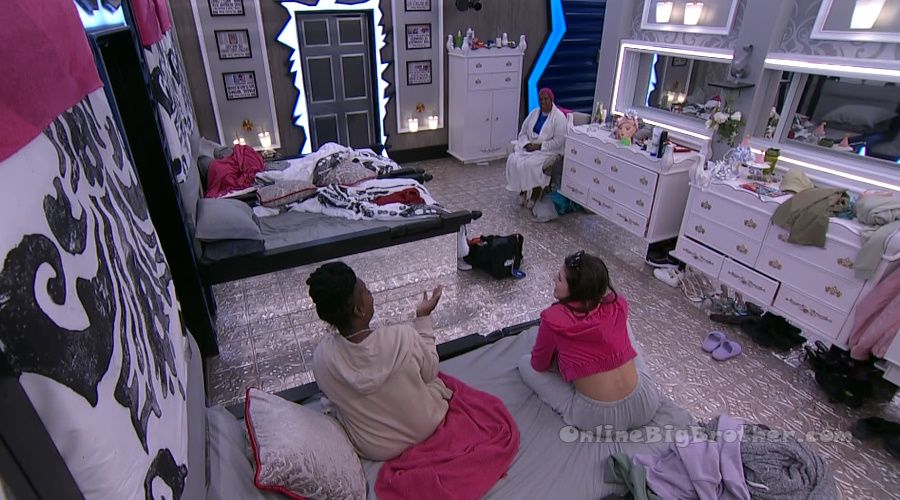 3:50pm Havenot room – Cameron, Matt and Jag
Cam – the more I think about it.. Matt – the better it sounds. Cam – we just have to get together. Matt – he's been talking to everyone today. Cam – he even took up time with me in the kitchen. Jag – how was that? Cam – cryptic. He said that if he wins next week he would put up Cirie and Meme. And I was like why? And he didn't have a good answer. I said you're full of sh*t. I said why? He said he thought it would be the best move for the house and keep everyone calm. I was like of all the thinking you've done and you think the big move is Cirie and Meme? Blue joins them.
4:15pm Bedroom – Jag and Matt.
Jag – today's conversation that we had, she (Blue) said be f**king for real everyone is here for one reason only. She said that. I am not saying things like that. So anyone that is in her way she is going to take out. She is also saying things like I am playing the best game and you're playing the best game. Why the f**k would she go to the end with me and you? Matt – if we're playing the best game. jag – why would she ever .. she is smarter than that. She is not going to take us to the end. There is no way she takes us to then end. She cuts us as soon as Cory and Cam are out. That's why Cory leaves this week. Next week Cam is going to go and then its everybody versus us. Everybody except for Bowie. Cirie is maybe with us but she is not going to win a comp. It ends up being a hard, hard battle. IF Cory stays and Felicia goes .. then its different. Cory is not going to take a shot at us because he needs us in this game to protect him. Everyone is looking at us .. we will be the targets as soon as other targets leave.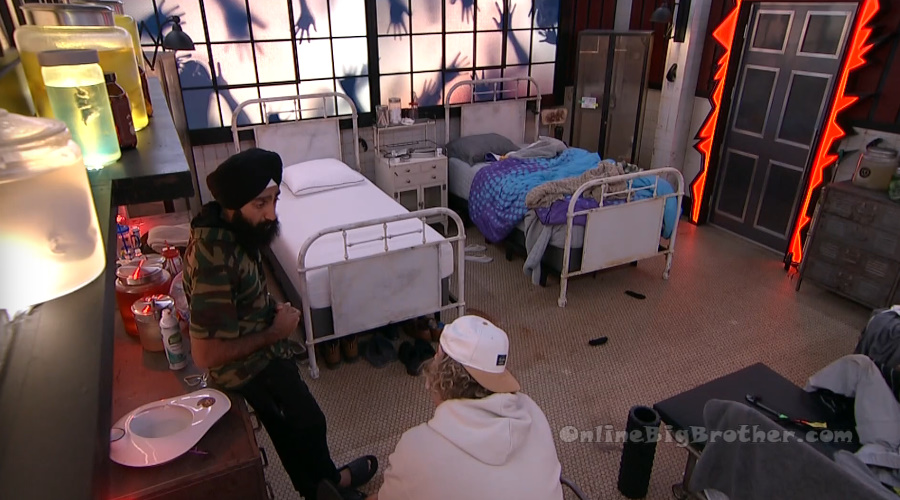 5pm Backyard Pool – Jag, Bowie and Meme while America and Cameron watch.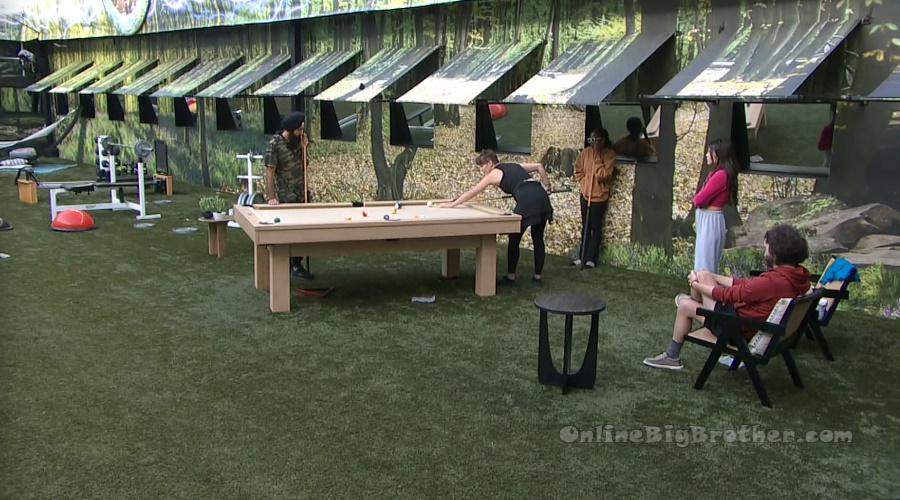 5:07pm Kitchen – Felicia and Cirie
Felicia – She said you know Cameron… he could pull somebody down and put up one of these guys. It wouldn't put it past me. Cirie – if that happens we need to f**king stick together Felicia. I am not going after you. Felicia – I am not going after you. Cirie, I am promising you from this day forward I am never coming after you. Cirie – and the same. Felicia – When we go, we go. I am telling you with all sincerity.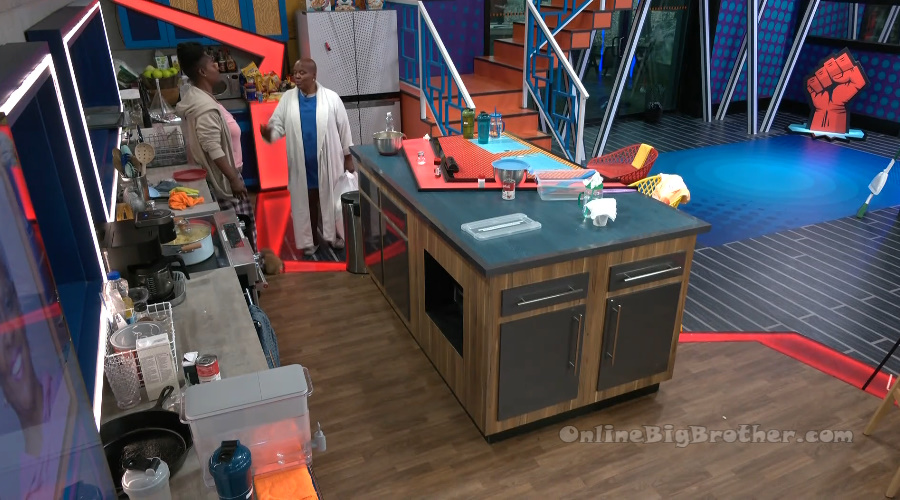 5:53pm Backyard Hammock – Felicia, America and Meme are chatting. Meanwhile, Cameron, Cory and Bowie are playing pool.
If you've enjoyed our updates this season and want to leave a tip you can do so through PayPal.
You don't even need a Paypal account to contribute. Any amount is greatly appreciated!