Quick Big Brother Spoilers
Head of Household: Jared
Nominees: Corey and America
POV Players: Corey, Jared, America, Bowie, Jag, Cameron
POV Winner: Jag
Veto Ceremony: ?
Havenots: ?
Lock your ranks in before midnight
5:45pm Havenot room – Jag, Matt and Blue.
Blue – so obviously we're using it, that's not even an issue. Jag – we're using it. Matt – Right, right. Jag – one thing is he mentioned to Jared when I make a deal I honor our deals or something like that. Matt – it sounded like they had something going on. Blue – I don't know if you saw it .. he said that twice and each time he looked at you. Jag – to me? Blue – MMMmhhhmmmm. Matt – he made a deal to get you out or something? Blue – oh I don't know about that. Jag – I didn't want to say anything because I didn't want to put Jared on the spot. Blue – Cameron kept looking at him (Jag). Jag – cause he said don't use the veto or something and Jared can attest to the fact that I honour my deals. Blue – something like that. And when he said something about you.. Like I don't go back on my word and then he literally looked at you. Obviously what he said in the past like you and him made a deal to get you off the block the second time. Jag – so you don't think he made a deal with Jared? Blue – not that I know of. What I've heard and Cam said this was … BB switches the feeds. Jag – Low key ..I f**King hate that guy. Low key what he is doing right now is he knows that Jared .. here is my theory but ya'll tell me what you think. I personally think he knows I am going to use it. He never talked to me about not using it. First convo is this convo. Boom, right!? The only thing is that Jared might not put Cam up right. If the fact of him making this remark and going out of his way to say something to you (Blue) and definitely saying it to Jared because last week Jared said oh did ya'll make a deal? No, but Bro told me that I shouldn't trust ya'll. If he told Jared that Cam has to stick with that… otherwise it shows him as a liar. That's my thing I need that dude out of the f**king house. I think what he is doing is.. he has to uphold one thing only. He has to be on the good side with me or Jared. If he is telling Jared that we did make a deal .. but if he said that to me. I would be like no we didn't make a deal… but like he has to choose one and both of us are in positions of power right now and he has to choose who he wants to .. and it has to be Jared. Blue – yeah I agree. Jag – either way I don't f**king care at this point. Blue – do I believe that there is a middle story that is true .. yes.. do I believe that Cory and Cam came up with some kind of a plan to make Jared the target, I do believe that. I don't believe it to be their mastermind plan. More like this is a good idea .. lets see what happens. Do I still believe that them three are sus.. and that they haven't told us about this potentially in the beginning was a real thing. Yes! Jag – no matter how real it was for them it continued to be an option for them as a backup option. Felicia and Cirie join them with the camera. Felicia asks them what is worse being a havenot or wearing a costume.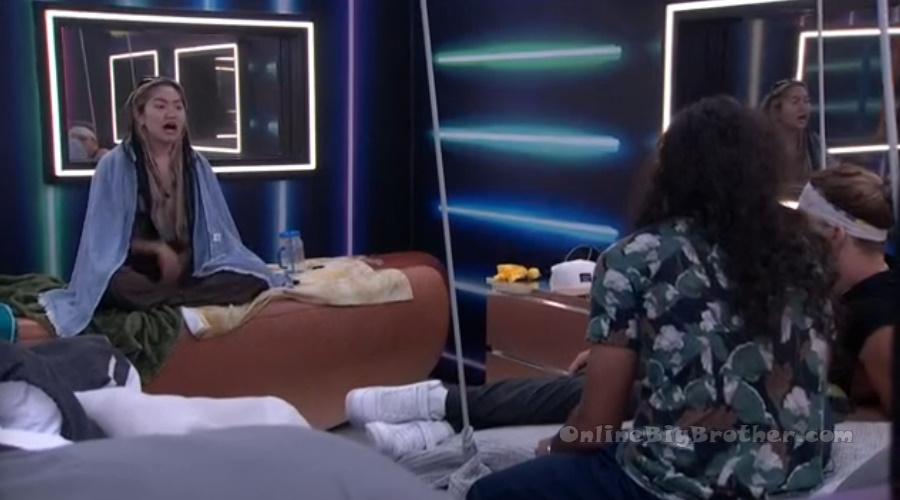 6pm – 6:30pm Backyard – America and Cory making out on the backyard lounger and then playing pool.

6:44pm HOH room – Cirie and Jared.
Cirie – I think they're coming for you. Jared – who? Cirie – America and Cory. Jared – I know they are. I am not worried about them winning like that. Cirie – but I don't think Jag and them are going to be trying. They say they are but I don't believe it. I don't believe it. Jared – I do believe that I would be an obvious one for them… Cirie – please talk to them though. Jared – me just thinking if Cory is smart, Cory is not going to take the chance of letting me play in the veto.. he is rather going to try and backdoor me. If Cory allows me to play and I beat Cory then the following week he can't plan. I think if Cory is as smart as I think he is Cory might not try to win either. Cirie – I would want to win it. The good part about it is he is feeling alone so they ain't in good standing with him. He is feeling much alone. Cirie – I don't think that alone bullsh*t is real. I just hate that Felicia is telling them everything. Like she is telling Jag that he was the thing so it makes her seem more. Her and Cory telling everything.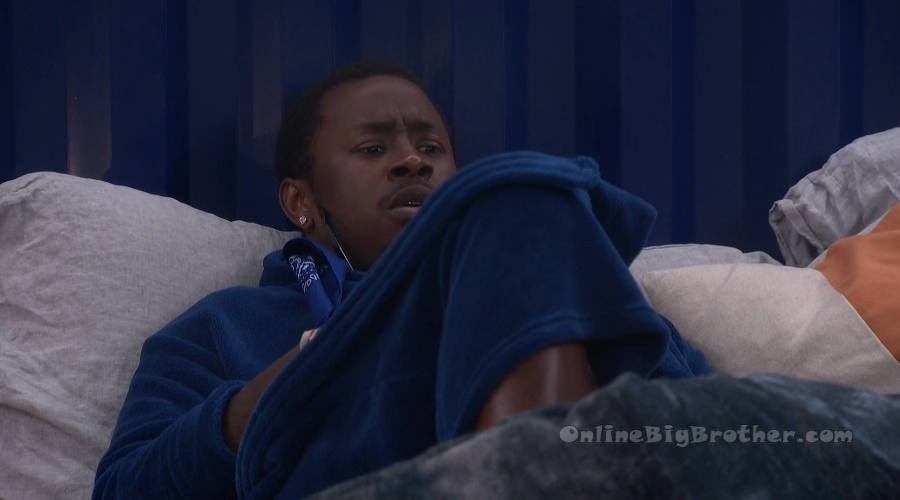 7:10pm America and Blue talking on the hammock.
Blue tells America about Cam pitch. America – but he is so quick to turn on everybody. You cannot trust him. Blue – he is just running his mouth honestly. America – he's ben running his mouth for weeks.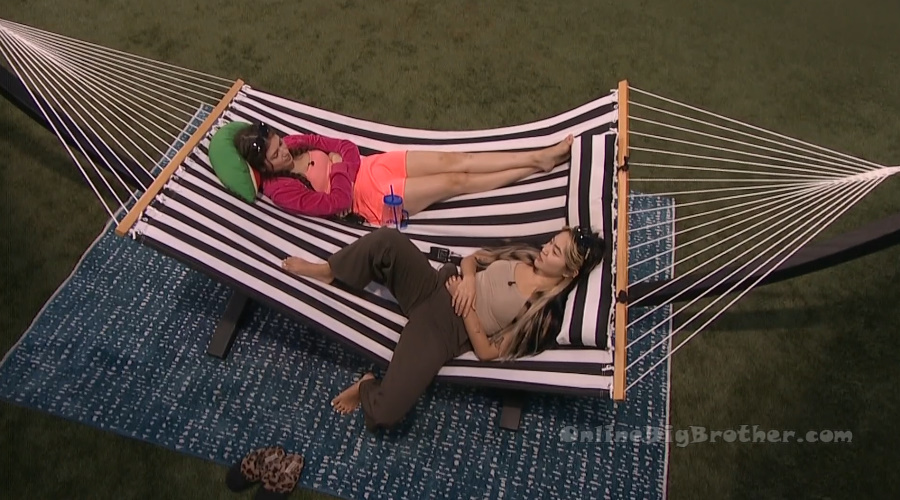 7:18pm – 7:30pm Backyard – Pool table – Jag tells Cory about Cams pitch.
Jag – He said I am a for hired gun slinger. Anyone you name the name, and they are out next week. That is the pitch. It is the craziest pitch I have ever heard. Cory – he is a mercenary. Jag – I am a hired gun slinger! I am like that is cold blooded. He said you can use my room, eat my food… like assuming he is going to win. I was like that is the coolest pitch I have heard. Cory – you have to consider it. Cory – you follow through, don't use it, one of us goes home and next week you say Cam yourself. And you know he has to follow through with it. Blue joins them.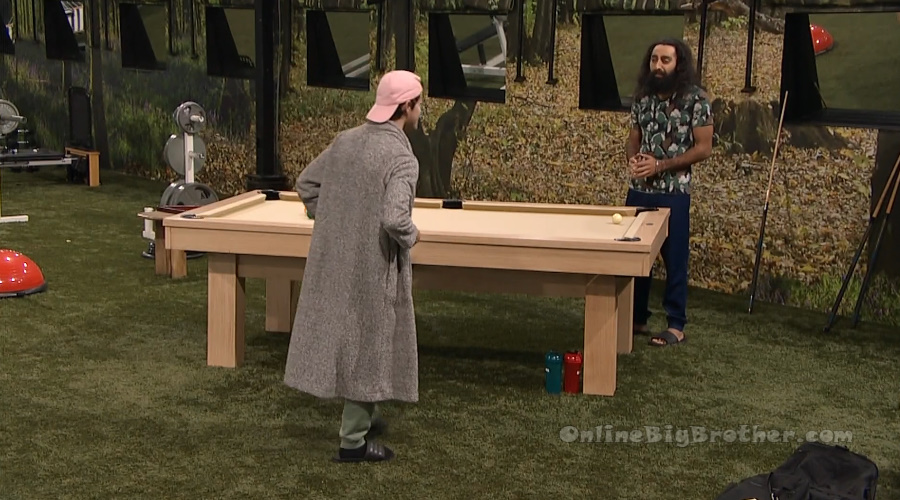 7:44pm Big Brother gave them 6 beer and 2 bottles of wine.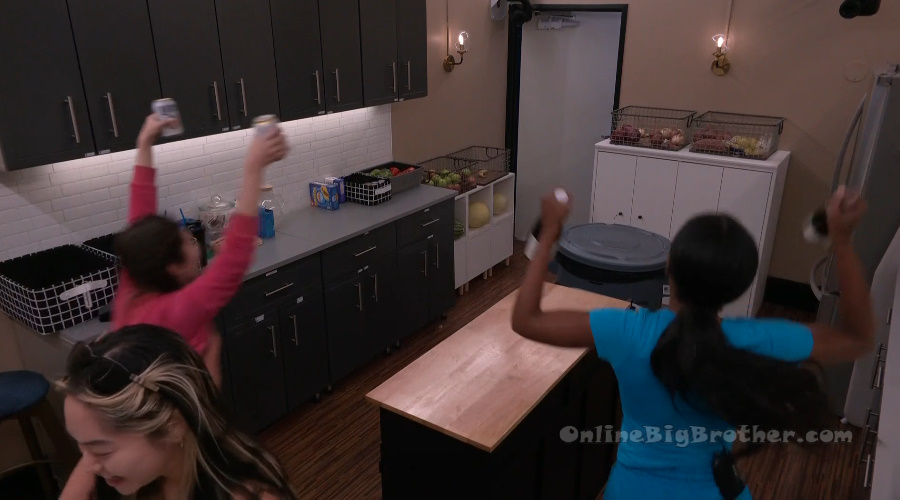 8:20pm Hammock – Jared and Blue.
Jared – here is the craziest thing you're going to hear today though… and I know its crazy so I am just saying it to you. What if I didn't put Cam up? Blue – SHUT THE F**K UP!! Who? Stop? We can't!! Because then you'll literally be public enemy number one! Jared – that's what I said to Cirie .. I said wouldn't it be wild if I didn't put Cam up? And she was like yeah. But I would make an enemy out of EVERYBODY! Blue – who? It can't be Jag. Jared – no I wouldn't do Jag right now. I was just saying wouldn't it be smart to get Cam as a body guard. Blue – Noooooooo! Jared – I know. I know its crazy. But just to entertain the idea. It would be Bowie or Meme. But only if Jag took down America because it would not be worth it just to send America home. Blue – first of all I don't need you to be public enemy number two because that ruins my game because of my proximity to you. Jared – you're f**ked.. You're f**ked. Blue – I know.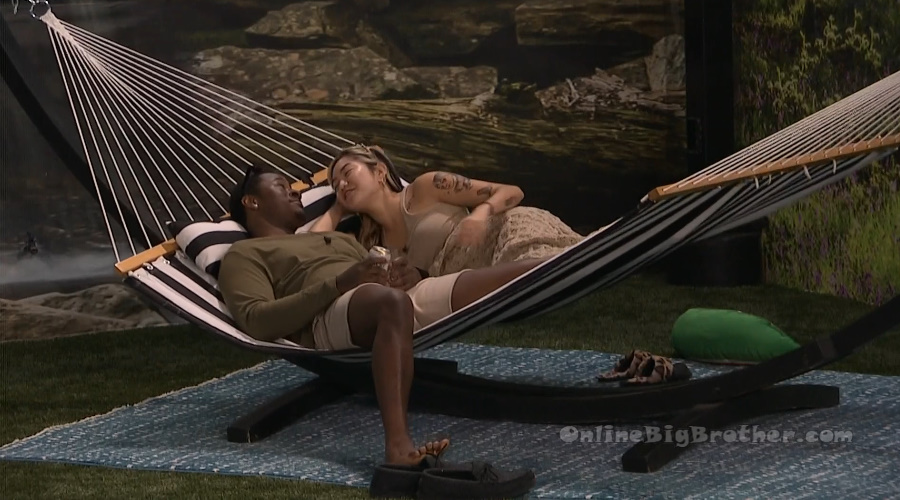 8:40pm – 8:55pm Dinner time – Burgers and hot dogs.

9:21pm Kitchen – Meme, America and Cory.
Meme – While ist just us three are ya'll boyfriend and girlfriend? Cory – Ewww.. god. Meme – why did you say EWWWW??? Cory – its deeper than that. You know what I mean? Meme – its deeper than that? Cory – yeah, we're on the same page. Meme – so what is it exactly? Cory – Cam has been saying we have to define the relationship. America – Cams been saying we have to define it. I feel like its been a week since we've kissed. Meme – so how was the kiss Cory? Cory – its been steadily improving. Meme – be honest. Cory – it was awkward. Meme – why? Cory – because you have to build up the chemistry and its on cameras and everything. Meme – so how are the kisses now? Cory – oh we don't kiss anymore. That ship has sailed. Meme – okay that is a lie. Cory – how do you know its a lie? Meme – because I've heard them. Cory – they're better. If I had to describe them in one word I would say "GOOD". America – you're so annoying. You're little woodpecker sh*t. Jag and Blue join them. America – you were begging me to come to your bed. Cory – this is slander. I will deny everything. America – And I am in there like.. I will suck his toes! They all laugh.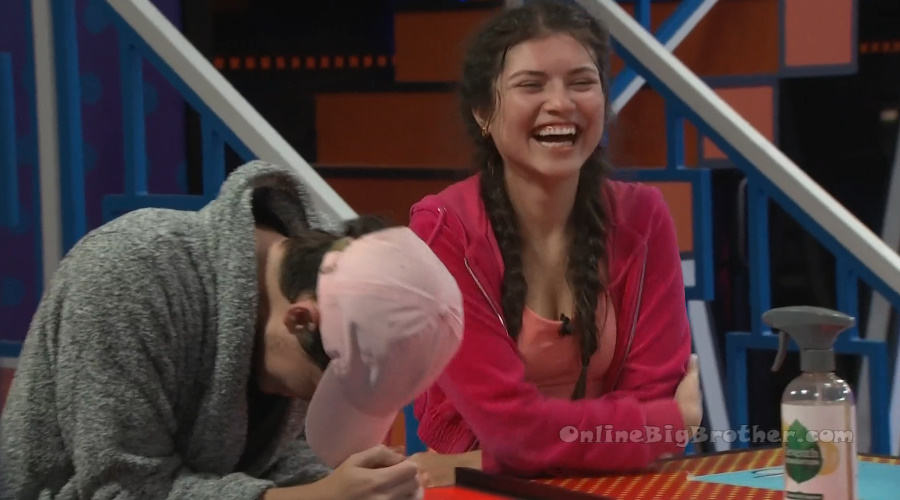 9:50pm Backyard – Felicia, Jag, Cory, Jared, Bowie, Meme, Cameron and America.
Felicia is telling stories about sh*tting her pants and bed.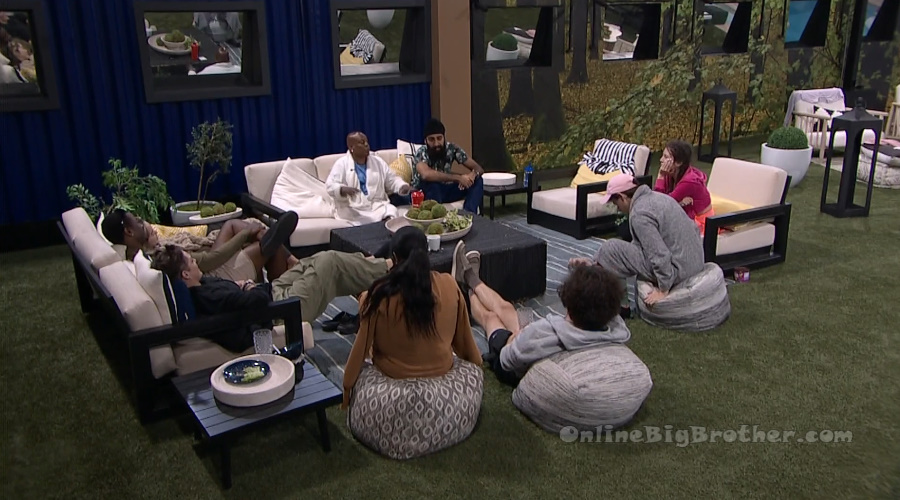 9:53pm Bathroom – Cirie and Cory.
Cirie – We made another day Skeezy but tomorrow hammock time me and you. Cory – oh yeah. At least for now I finally feel secure in the week at least.. beyond that who knows but I feel like now I have a couple days to just like talk to people and hopefully relax a bit and obviously I am worried about her but I feel okay. Cirie – I am not worried about her at all. Cory – and look I am really not either but you know on the block is not fun. Cirie – I get it… but I don't get it because I haven't been. Cory – on the block is what you would expect. Cirie – yeah just regular conversation. Cory – yeah I will catch you in the morning.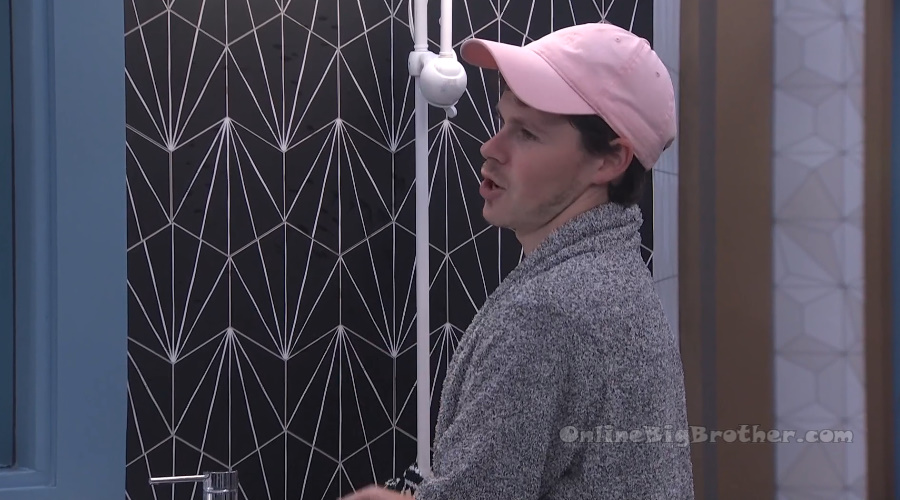 10:25pm – 11pm Backyard – The house guests are sitting around on the backyard couches chatting about different tv shows / movies.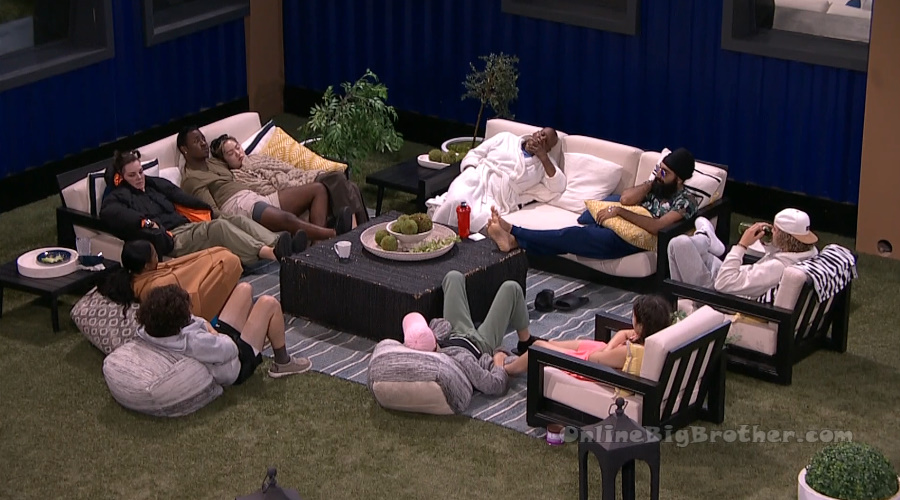 11:02pm Bathroom – Jag and Matt.
Jag – are you still trying to talk to them tonight? Matt – yeah. Jag – what do you want to talk to them about? Matt – how they're day went but I want to hear it from them directly. Like we got to make a move. You know what I mean before its too late. Because once Cam is going there are 3 comp beasts left. Jared, you and me and people see us as a duo already. So we have to take that shot before its too late. Jag – yeah, agreed. Matt – if we do that the rest is easy. Jag – yup agreed. We have to think about.. we definitely can't mention to them about throwing the comp. Matt – no for sure not. Jag – to them we're just going to be like yeah we're going for it. Matt – but then they could rely on us to win. And I'm like no YOU need to win. Jag – do you think they will rely on us? Matt – I mean look what happened in the veto. Matt – they were having fun, you know what I mean. Jag – I mean they did try. Matt – your life is on the line.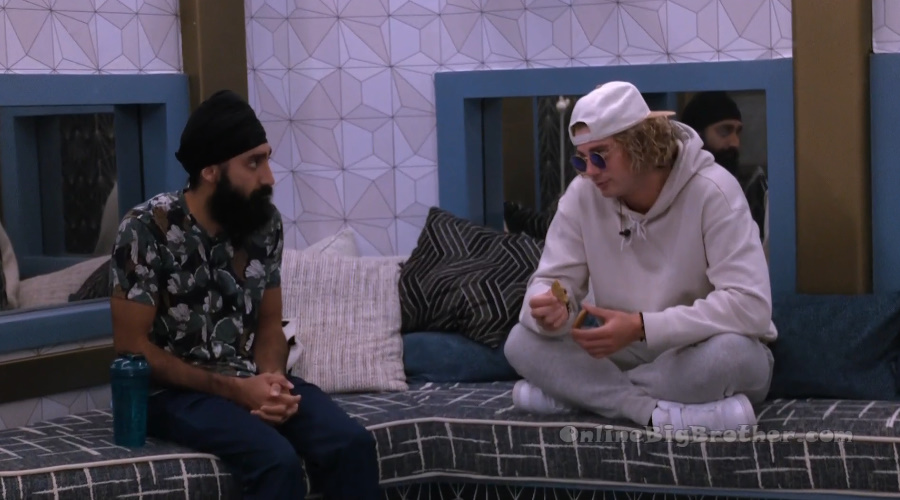 11:40pm – 12am Backyard – Meme, Jag, Cory, Matt and America continue to chat about shows and other random things.
If you've enjoyed our updates this season and want to leave a tip you can do so through PayPal.
You don't even need a Paypal account to contribute. Any amount is greatly appreciated!