Quick Big Brother Spoilers
Head of Household: Jared
Nominees: Cameron & Red
POV Players:
POV Winner:
Veto Ceremony:
Havenots: 
Lock your ranks in before midnight
The Situation: The stunt alliances appears to be unstoppable. Sigh.. Kraken time.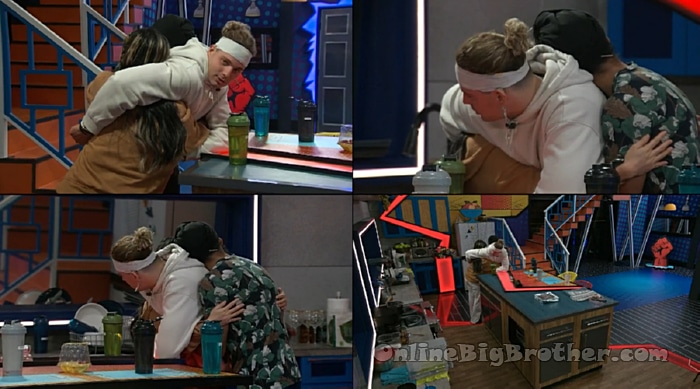 1:00 am Group hug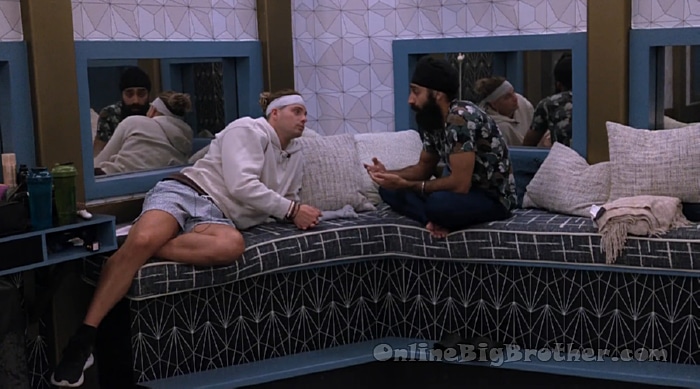 1:25 am Jag and Matt
Jag asks him how he's doing
Matt – Good
Jag – the house in general we've been here for a month now
Matt hopes they can get to the final 7 with their group. He thinks they'll get there as long as they don't create another mini alliance inside of the 7.
Matt – once this 7 start to make a 5, 3, 4 or 2. This breaks and this 7 will never make it to the final 7.
Mat t- if we start doing this now we're
Jag – F***ed
Matt – it's dangerous. If it blows up now we have no safety.
Jag – right now we're only 7 outta 13. After this week we will be the majority which is good.
Jag – we want to be as close with everyone as we can. Today I talked to Felicia and I was telling her yo.. Obviously she voted against me she didn't know about the power. I told her look I'm still solid with the 7 (After you lied to me and voted me out)
Jag says she mentioned to him that he'll pick them apart at 7 "What that shows me is that they are already thinking about how the 7 our side is going to be stronger in certain competition like physical comps"
Feeds flip to the HOH. When we're back.
Jag – in a lot of physical comps speed.. I feel confident about that you feel confident about that.. endurance we feel confident. They see that and feel threatened..
Matt – the know we'll do good in those comps.
Jag – We need to make them feel comfortable. Right now they feel threatened. As long as they feel threatened they might make the move first (Good chance you're the next one to go Jag)
Jag – they may make a move first.. right now it's 7 outta 13 by the time it's 11 which is Jury then how do you maintain a majority in the house? when it's 11 you only need 6 outta 11 for it to be a majority right..
Jag – they are thinking about this because Felicia mentioned it to me. Me yo and Cirie have our thing so I think Cirie will want us in the game longer Cirie has influence which is good. If Felicia has HOH or Izzy has HOH she'll be like don't get them they're solid. I'm loyal to the 7 you're loyal to the 7.
Matt and Jag agree "they" are not going to target Jared.
Jag – they are VERY close to Jared
Matt – I think Cirie is going to defend us.
Jag – Izzy is going to want to save Jared and Maybe even Felicia will save Jared.
Jag – Cirie isn't only close to us. She's close to
Matt – everyone
Jag – Izzy, MEME, and She's very close to Jared as well. She's close to REd she's close to everyone
Matt – if we can get REd to win HOH maybe he goes for Izzy
Jag – I don't think Red takes a shot at Izzy. He is very loyal.
Jag – we need to keep REd. Here's the thing you are close to red I am close to red this week we don't need to do much.
Jag – let's wait until after Veto to start talking. I had a great conversation with him today. it went way better than I had hoped for.
Jag – from what I see REd is very Loyal
Matt – he's playing the same game I want to play
Jag – he's playing a game that you are playing like and I am playing like (LOL)
Jag – if it's Me, you, Cirie, Red.. that would be a crazy no one would EVER EVER EVER.. me and REd working together would be Crazy
Jag – I trust you, You trust Red and I'm playing a very loyal game you are playing a loyal game and red is playing a loyal game it's just that when the split happened he was on the other end.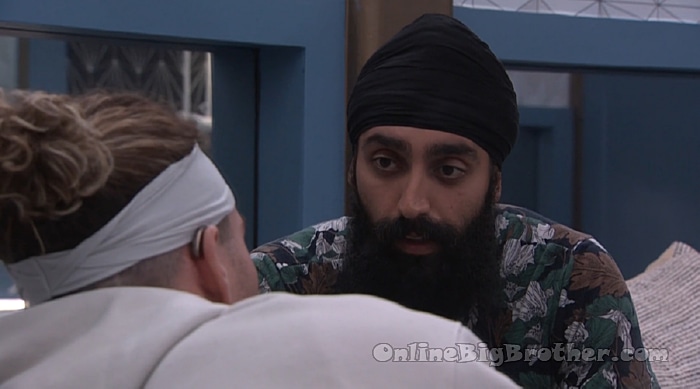 They agree for this week to just Chill with Red.
Jag says he's good with America and Corey, "are you good with Bowie?"
Matt – Bowie and REd love each other
Jag – you are good with Red and bowie I'm good with America and Corey if Cameron goes home that means our bases are covered beside MEME which I feel wouldn't take a shot at us.
Matt – MEME is close to the BIG mommas
Jag – I know.. We are in a pretty ok or good position going into next week. We have the 7 which is a majority
They agree they'll prefer to keep Red or Bowie.
Jag says he's grateful to not be on the block and stressed out about the veto. He's able to talk to people.
Jag – I am noticing who I can trust. You knew about the power Cirie knew about the power. Jared said something about it to me. That means Cirie told Jared about the power. Before the eviction she told him I don't think we should mention that to Cirie that will make her fidgety towards us.
Jag – she mentioned it to jared before the eviction. Did you mentioned it to jared before the eviction?
Matt – no
Jag says matt should just tell jared "He already knows about the power'
Jag says he doesn't feel blindsided by the people that knew about the power.
Matt says Corey and America were hesitate about the votes.
Jag – the whole time?
Matt – they back and forth?
Jag – they said they aren't going to vote for me
Matt – they said they're voting for the majority. I wasn't too worried about it. If I didn't have the power I would be pushing harder.
Matt – They were iffy, they were scared to make a move (America/Corey)
Jag – I have a question, do you know when it was me, you, corey, America and cirie in the game room when we all said thumbs up
Matt – yeah yeah that was bullshit.
Jag – after I left you and Cirie left to talk.. when you came back out Corey and America were still in the game room what happened there?
Matt says he told America she was bad at lying she said "You do what you have to do"
Matt – she's playing both sides bro I know it sucks..
Jag – I know fully not to trust America (sigh)
Matt – ok good
Jag – I know 100%
Matt – I called her out I said you looked so dumb
Jag – I don't trust her but I have to play along. What did Corey say?
Matt – corey wanted to tell you he felt bad. America didn't want to tell you but Corey had sympathies.. he came to and was like is there anyway we can tell Jag. (Sigh)
Jag – to my face she said she has nobody other than Corey and me. She's not working with Cameron and she's can't trust You and Blue
Matt – she's got to go, nobody can trust her
Jag – she's lying to everyone
Matt – when Hisam was on the block I said I felt so bad and she said 'just lie'
Matt – no remorse
Jag – she's gotta go.. Do we backdoor her? She's pretty good at comps.
Jag – we get CAm out then we get America out (Banger plan)
Jag – we'll play along with America in case she wins.
Matt – she'll put up Bowie and Red. She knows if she puts up anybody else she's next (fun season)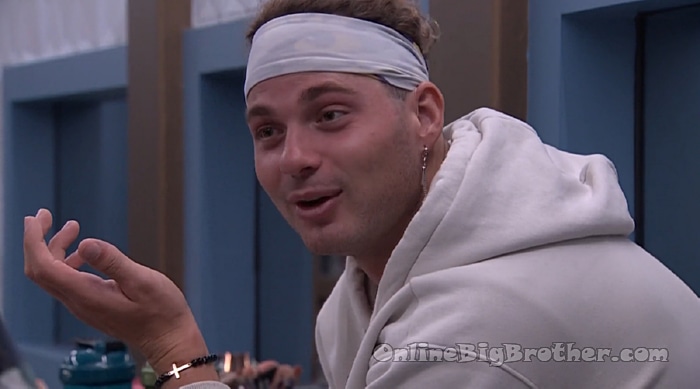 Matt – are you sure you want to pick Corey tomorrow..
jag – what?
Matt – Ohh.. Cameron pick corey.. you aren't on the block.
Jag laughs "I'm not on the block you are thinking about last week.. Dude you are so use to me being on the block"
Matt says he wants to win the Veto and use it on Red "I'll say I want to save this guy because he's being honest and integrity game. He's not going around people's back being backstabby"
Matt – and the best part is I'll say Happy Birthday Red.
They talk about who is getting picked for Veto. Matt says Izzy is throwing it.
Jag – I really don't think Izzy should throw it
matt – she wants Cam to go home
Feeds cut. When we're back everyone is going to bed.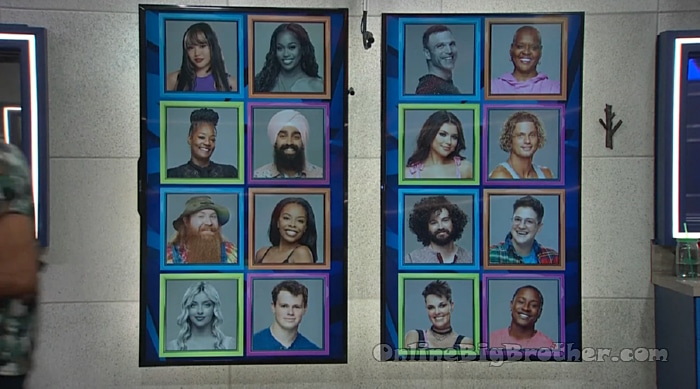 2:15 am bed time
4:47 am zzzzz
9:16 am Feeds down for veto player picks
If you like these spoilers and read this blog regularly please consider a donation to keep the madness going. We accept donations via paypal How to support OBB