Quick Big Brother Spoilers
Head of Household: Jared
Nominees: Cameron & Red
POV Players: America, Jared, Cameron, Red, Felicia, Matt
POV Winner:
Veto Ceremony:
Havenots: 
Lock your ranks in before midnight
The Situation: Kraken is good this morning.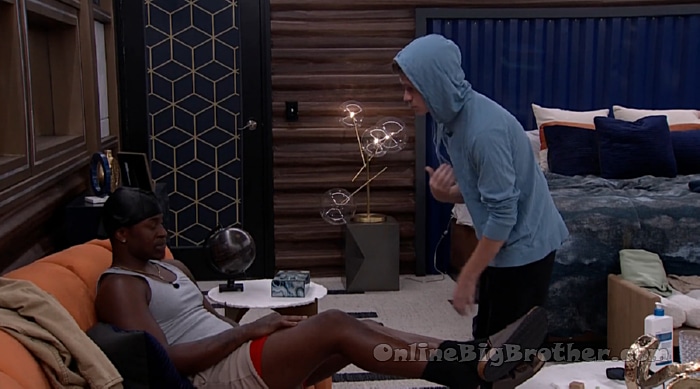 9:28 am Jared and Corey
They are going back and forth about America throwing competition. Corey says she hasn't been throwing all of them.
Jared – She can throw any other f***ign competition she wants this one I need her to f***ign play
Jared – Nobody trust her she does not have a side
feeds flip When we're back.
Jared – I don't need anybody in here that is literally threatening me and them. That's my problem it's not about her winning or losing if you don't try you are not trying to help me. You know what the plan is you know who I am trying to get out. (Did Jared throw the pressure cooker)
Jared – if you can't f***ing put your best foot forward to make that happen what is your use to me?
Corey – You are wrong that is why I am f***ing pissed off. You are freaking out at me for something that isn't going to happen. How much do you talk to America? I know you don't trust her but you trust me. I'm saying don't trust me as a person trust me as a player I know this sh1t.
Jared – you know I do
Corey – I've been running around this house dragging America's name through the mud these past 4 days I don't need you doing it to me. She's not my Final three. it's not you and America.
Jared – would you rather me not talk to you about that
Corey says he doesn't need her running off with Izzy saying you're putting her on the block
Jared – that sh1t pisses me off bro… we are leveling out now.. but you have to know that sh1t pisses me off. the moment Red picked her. I know what this girl is about.
Corey – Cam is targeting her Red is targeting her. They're putting her on the f***ing block maybe going for her specifically. I'm not asking you to trust her just look at what is happening.
Jared bros out going on about how pissed he is that America has thrown all the competitions and is now going to throw the Veto. Almost sounds like he's laying the groundwork to put her up as the replacement.
Corey – I know America I know she's not loyal and I know she's not long for this game I got that. Why the F*** is my closest ally telling me you know that one person that trust you she's f***ign gone on my HOH
Jared says what if Blue threw the veto on Corey's HOH
Corey – I would never consider it. If Blue wins HOH I will never be in danger if America wins HOH you will never be in danger. Pissed sure I'm trying to get us further in the game and we can't lose Blue and America not yet. A couple weeks sure
Jared – there's no way in hell.. There's something funky going on with America. I don't buy the whole Cameron and Red thing..
Jared says he's pretty sure America will put up Izzy and Cirie (America for HOH Please)
Corey – can we talk about the pressure cooker she was in there for 14 hours knowing the noms would be Jag and Blue throws it and everyone is saying she's inseparable from jag. She knew
jared – yeah bro that is why I don't trust her you are just reinforcing that bro.
Corey – she is not gunning for Cirie and Izzy that is delusional
Jared doesn't believe America is going after Cameron or Red.
Corey reminds him that Matt has been going around the house saying he's thrown every single competition.
Corey – If Matt throws this competition would you put him up?
Jared – yes
Corey – that would be f***ing stupid
Jared continue to argue back and forth.
Corey – coming from the guy that has been with you since day one she is not going to throw the f***ing comp
Jared – I really hope so bro.. I'm praying bro.. I just hope you are right bro.. Bro.. I cannot have her go out there and not try to win this comp Bro.
9:40 am
Corey – do you get why that sh1t with Izzy pissed me off?
jared – I get it I understand and I apologize for it already I told you that's my fault I shouldn't have approached you in front of IZZY I should have pulled you in here. I completely agree with you I Don't think she's the R word I slipped up obviously I was angry about it I am willing to admit that.
(If the R-word is a forbidden word should Jared be removed for saying that word?)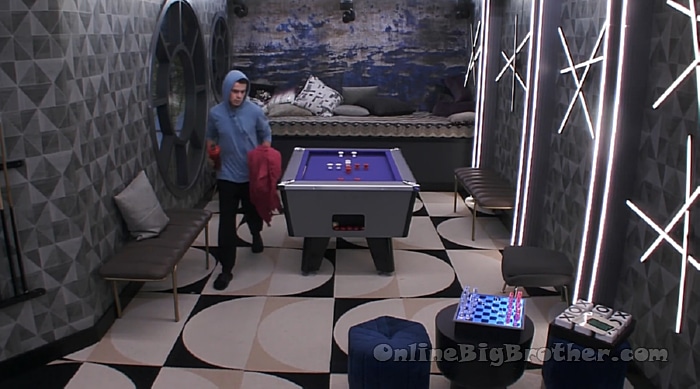 9:42 am Cory leaves on his way out says "F***ing moron"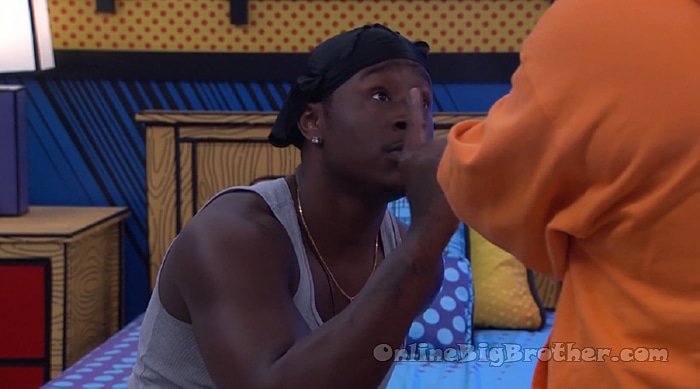 9:49 am Izzy and Jared
Jared continues to whine about America throwing the veto.
MAtt joins them. Jared tells him they have to win the Veto. After Matt leaves Jared continues to complain about America.
Jared – Bro that sh1t pisses me off Bro.. That's why I'm like Cory Bro..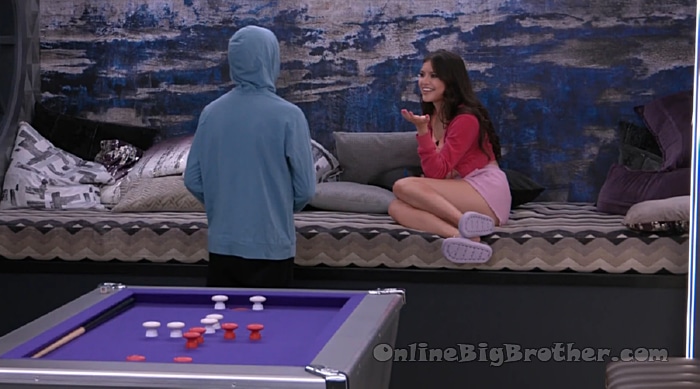 9:55 pm America and Corey
Corey tells America she needs to try extra hard even overdo it in the veto because people in the house think she's throwing comps and having a hissy fit about it.
America – Why would I be throwing anything it's not like I am in a comfortable position.
Cory – that is what I'm f**Ing saying
America – I wasn't going to throw it at all.
Corey – I'm not saying you have to try you have to Visibly try
Corey says "they" don't believe that her and Cameron are enemies "when I say They I mean just Jread I haven't heard this some anybody else"
America – Do I need to have a big fight with CAM
10:20 am Waiting for the Veto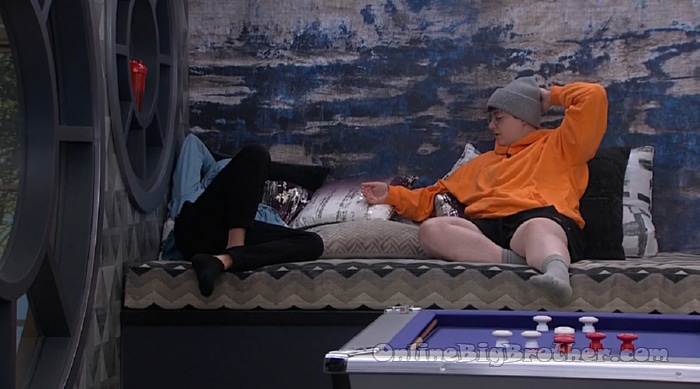 10:46 am Izzy and Cory
Corey says America's boot order would provided Cam is gone would be Red, Bowie then Felicia.
Izzy says she agrees with Corey that this shouldn't be the week America goes.
Corey points out that Cameron (And REd) was campaigning to get America on the block and America knows that. Why is Jared thinking she is working with Cam?
Corey – isn't this a major f***ign factor we're not considering?
Corey called into the Diary room.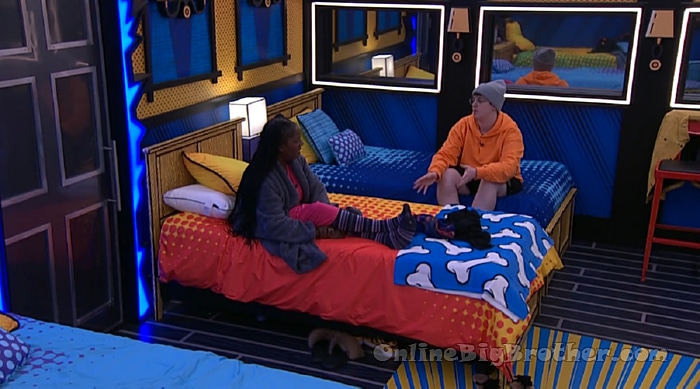 11:02 am Izzy and Cirie
They talk about next week Red and America going on the block. If Veto is played Jag goes up. (Kraken)
11:05 am Waiting for the veto.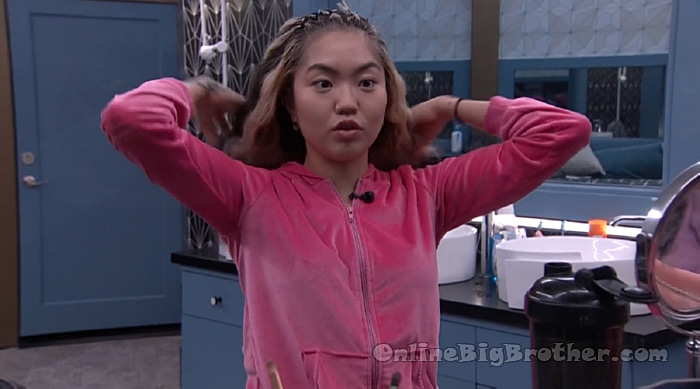 11:23 am Blue and America
America – I want to win I need to win. We haven't won..
Blue – I feel you girl
Blue – honestly this is not a competition you need to win at least save that for HOH (LOL)
America – I know I know I know. I'm not endanger and I trust you and Jared. just the way people are talking
Blue – Yeah you want to prove them wrong.. I feel you miss girl
11:38 am Matt's Veto hairdo
Red – you look like a dinosaur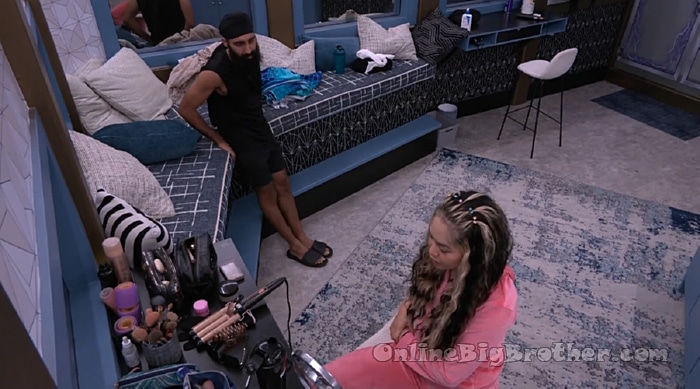 11:39 am Blue and Jag
Jag – I can't say I fully trust her but I can say she wouldn't take a shit at us
Jag – Low key I think she needs to win. People think she's going to throw it no matter what and that further enhances her fire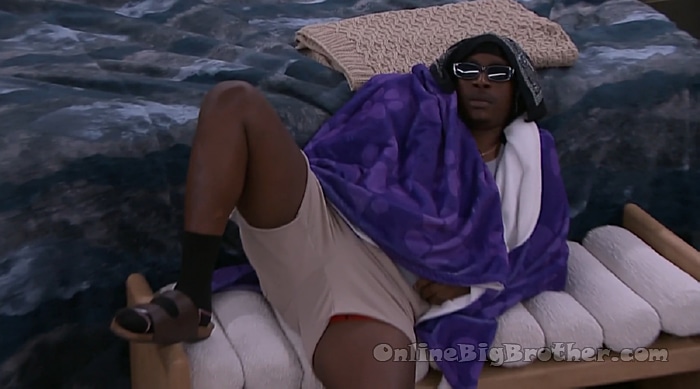 11:42 pm Jared and Izzy
Jared groans about Red and Cameron coming into the comic room when they were hanging out.
JAred – i am annoyed this is the time we need to get together to discuss sh1t and everyone
Feeds flip then cut. When we're back.
Jared – Ideal final 5, Me, you, Moms… and ..
Izzy – Blue
Jared – F*** not Blue, Bowie.
Izzy – you think bowie over Blue?
Jared – Bowie is someone easy to beat. She's somebody I don't worry about
Feeds flip when we're back.
Jared continues to whine "I'm tired of playing with these people and entertaining their stupid a$$ ideas"
Izyz – this is going to get easier and harder in different ways. I'm ready for the hard that it will be later on.. I just can't
Feeds flip then cut.
(Production is hyper touchy with the feeds. Almost like they don't want to take any chances with Jared or Izzy saying something that could get Them in trouble)
When we're back Jared is saying that Felicia and America didn't ask him what they should do with the veto.
Jared – I want to wake them the f** up
Izzy – Felicia is doing too much
Jared – f** that nice guy sh1t I have no feelings
Izzy – have no feelings with the rest of them.. I'm mad at the rest of them.
Jared – If I win that sh1t I'm going to scare the sh1t outta America
Izzy – You going to pull Red down and put her up
Jared – I dunno.. no,… I just want to have that conversation and let her know and be like I'm not going to lie you haven't been helping me at all.. Just to be honest you gotta start doing things that make me want to trust you
Izzy – you're just going to scare her.
Feeds cut then Flip then Cut and finally flip to the living room where everyone is waiting for the veto.
12:06pm The feeds are blocked for the power of veto competition.