Head of Household Winner: Nicole
Nominations are:
Power of Veto Players are:
Power of Veto holder:
Power of Veto Ceremony:
Grab your live feeds —-> BB21 Live Feeds Subscription Link
Rank your houseguests —-> Big Brother 21 Ranking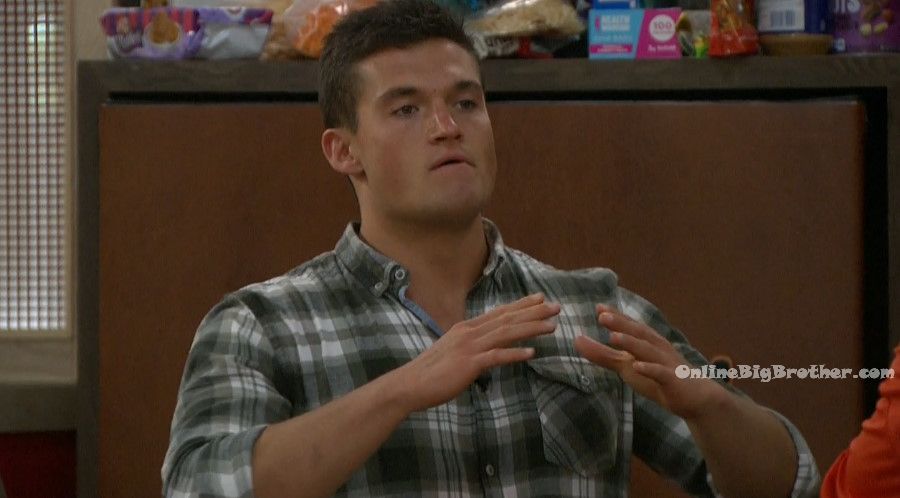 8pm Kitchen. Cliff and Jackson.
Jackson – I know where you are more likely leaning. Cliff – yeah, you know. Jackson – she (Nicole) is going to finale night. Cliff – MMMmhhhmmm.. and she had so much fear of that. Jackson – I know. Cliff – I had to just keep telling her they are going to keep their word. They're honest. And thank you. Jackson – 100%! I knew she was going to fall. But I think her pride was like I can't just fall off first. Cliff – I know. We will talk about other stuff later. Jackson – I don't know what will happen after the veto. I've voiced things and that was ever before my fate was in y'all hands. Cliff – I know. Jackson – we can talk more about what you would do if you won. Cliff – I think you would know what I would do. You've got my handshake on what I would do. Because it wouldn't seem fair otherwise if you didn't stay. If we make it to final 3, then we duke it out there and its best man.. but until then I won't screw you over. There were commitments made and I am honoring those. Jackson – likewise.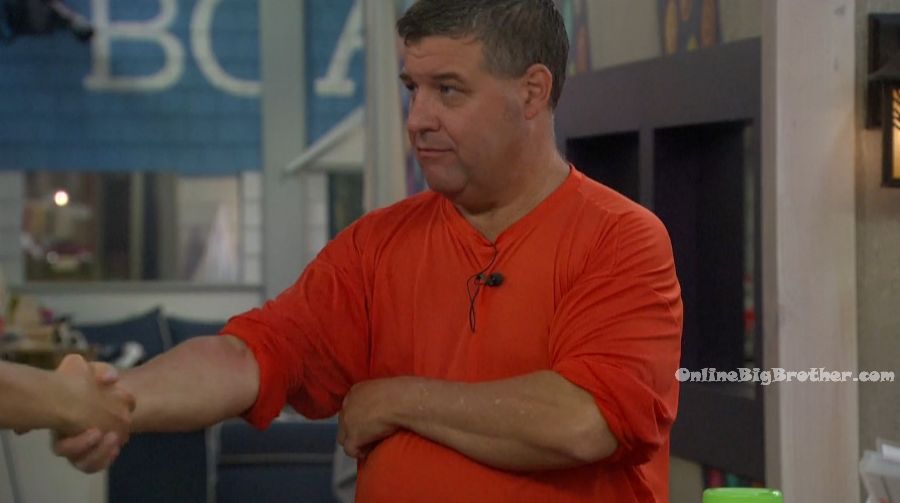 Kitchen. Cliff and Nicole.
Cliff – I have given a commitment that I am going to final 3 but I am not sending him home if I was to win the veto. Nicole – okay, that's fine. Cliff – its him, me and you. Nicole – that's fine. Cliff – I don't want him thinking that I could turn around and flip or something.. so he goes with me and you. Nicole – okay. Cliff – we fight it out there. Nicole – okay, lets do it. This was proof enough.. and yeah like Wow! Yeah! Okay. I have a lot of trust issues Cliff and I wasn't expecting that to be honored. Cliff – I looked him in the eye and I knew it was going to be honored. Nicole – that's what I say in this game I go with my gut and my gut didn't know… and I sensed that your gut was valid. Cliff – I think that I would be amazed if there was a surprise to it. He and I will talk in a little bit. May the best man or woman win.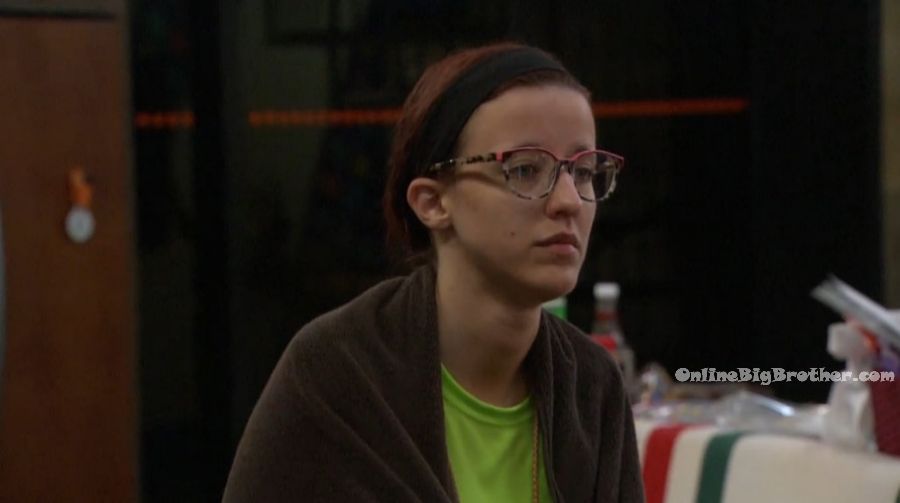 8:06pm Bathroom. Jackson, Cliff and Holly.
Jackson apologizes for losing his cool earlier. I just feel bad because I didn't want it to look like I was being a Nick. Nicole – the fact that you were just sitting there drinking .. Jackson – I love you all. I really do love y'all! Cliff- we sat down right after in the kitchen and Nicole said I a not buying it he is not acting the way he would if he was really mad. Jackson – and I was trying my best not to let myself spew. Especially when he (Tommy) said that I don't deserve the money.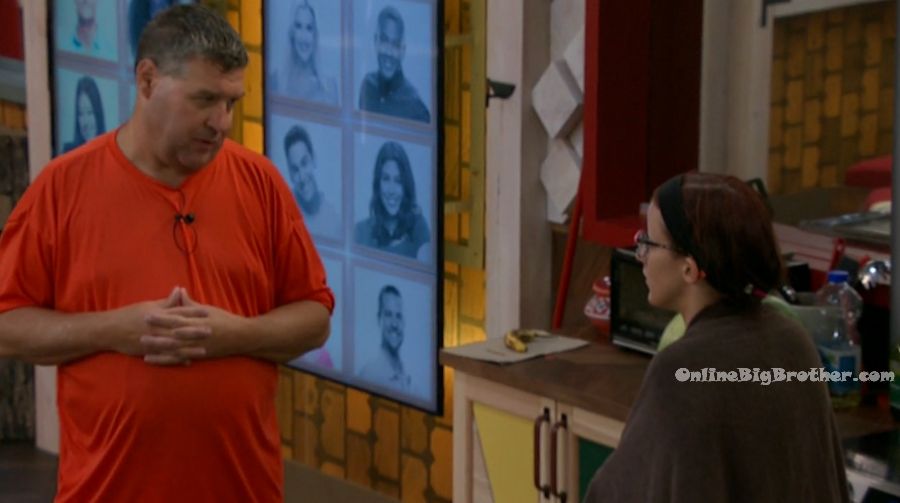 8:15pm Jackson and Cliff. Jackson – we all do whatever we have to in this game .. we fight but I don't want to fight against you. If I am fighting for my a$$ in this game. Cliff – if y'all were going to screw me you would have. ANd I knew you wouldn't. Jackson – we all do what ever we have to in this game. I will fight but I don't want to fight against invoice.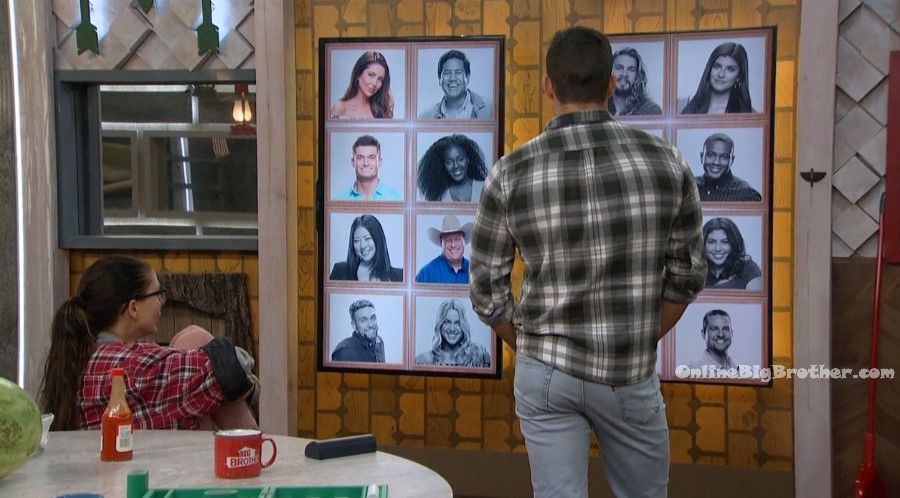 9:36pm – 10pm Nicole, Cliff and Jackson chat about how close finale Night it. Holly is in the living room doing her makeup. Bathroom. Jackson and Cliff. Jackson – if I lost to anyone in the house it would be ok. If I lost to you, I would be honored. Cliff – you know where I am headed … I would love to see you and me up there in the final.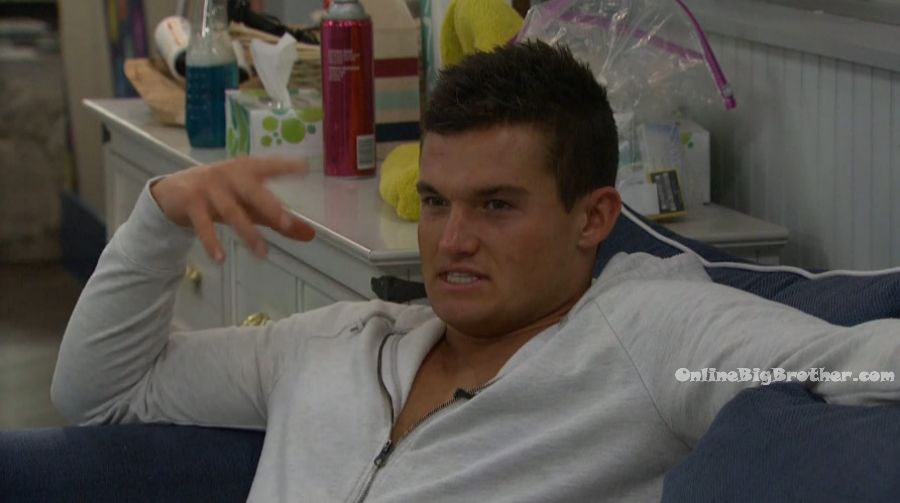 10:08pm Bedroom. Nicole and Cliff.
Cliff – I locked in and they're promising to take me, that means that I have to take him. Nicole – okay. Cliff – I maybe could have held out but I was just so worried about it, I went in and did it. Nicole – that's good, that was smart. Cliff – it was me only which means if I win I will probably honor it and take him. But it would be me taking him to the final 3 as opposed to Holly. Nicole – okay. Cliff – I am kind of .. on that. Nicole – I would say maybe cross the bridge when it comes. Cliff – I would probably do it, I would probably take him. You don't have that agreement. If I won the veto, I would take him and send Holly home. Nicole – I didn't make any agreement. Cliff – I was specific saying this is me only. And I did it just to guarantee a final 3. Are you okay with that? Nicole – yeah, its fine. Cliff – I just feel bad I did it without checking with you. Nicole – its okay. I assume down the line if he wins he would probably take you but that's okay. Cliff – maybe. I don't know. I just want to make sure you're okay with it. Nicole – yeah its fine. I am just so grateful to be in the final 3. Cliff – I feel like I was in a rush and maybe I shouldn't have committed to it. Nicole – I think its fine.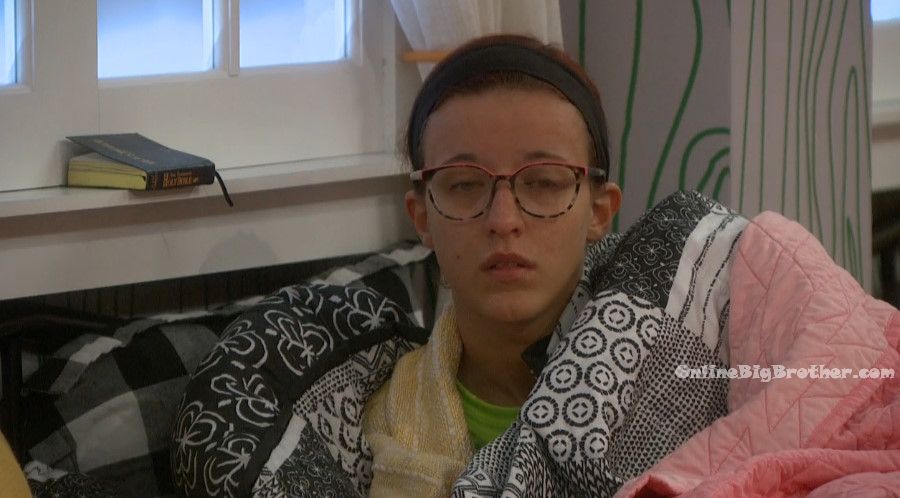 10:43pm Nicole gets his HOH room. They all head in to look at her HOH photos. They check out her HOH basket and then she reads the letter from her sister. They all hug about making final four. Nicole – Noms are tomorrow. Holly jokingly asks should I campaign?!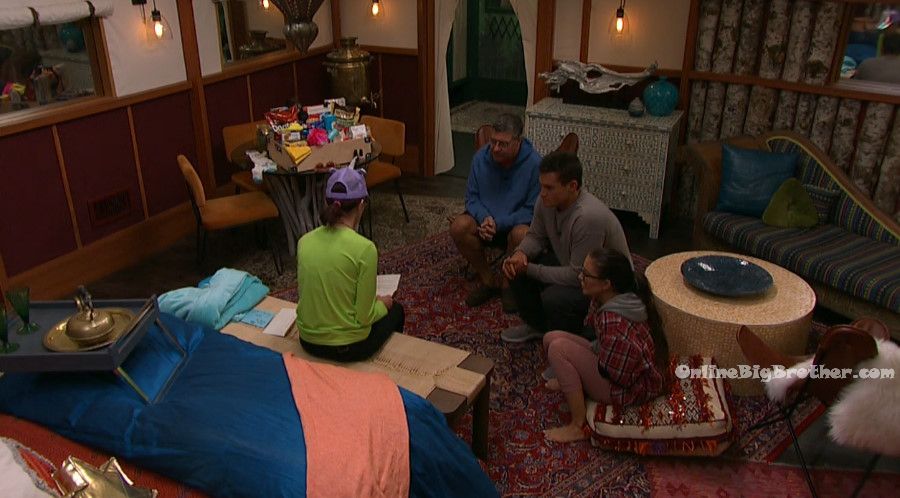 12:20am Bathroom. Jackson and Cliff talk about the stress and struggles of the living in the house.
1:56am Bedroom. Cliff heads to bed and talks to the cameras.
Cliff – Tommy is gone. Holly is still here. We bounced back and forth multiple times Nicole and I. There are probably people out there saying how wishy washy we are and maybe that's true but it was us trying to make the best decision based on the information that we were given and that information kept changing. I don't know if Tommy was telling the truth or not. I suspect that something was said and it was blown up into even more than it was so there might be some blame on either side. I don't know. I trusted Nicole's intuition to some degree but I also saw some of the looks from Michie and Holly and in the end its not that I won't break agreements in this game if necessary for my game but there are different rules in here versus real life and I would do some devious things as needed but I would not do it lightly. And if Holly agreeing to throw an HOH and Michie agreeing that Nicole and I go to the final 3 with him .. those guarantees negated any advantage going with Tommy might have offered. I've sat down with that initial agreement and extended it to the point that Michie is agreeing me final 2 if he wins in the final 3 position. Nicole is guaranteeing me final 2 as well. I am taking Nicole to final 2 .. with that in mind if I make it to final 3 .. I should then be able to make it to final 2. Which means I get to argue my case in front of the jury. If its Michie and myself how I do in front of the jury.. I don't know. There are some upset people. I may not have a chance but I think I could convince people. That is worst case. Going with Nicole, she has some victories that would make her have a strong argument but I think I could argue against her as well. There are no guarantees. The fact that I haven't won more competition but I am looking like final 2 .. call it a win in my book. And Tommy, I love Tommy. I respect him as a player and as a man. Was he running a lot of attacks and targeting me .. probably. Water under the bridge. He is not here. Regardless I sure as hell don't think he will be voting for Michie to win. Or Christie. Sis? Nicole? Kat? Jessica? I don't know. I see some possibilities but all I want is my chance to argue my case in front of the jury. Crazy night! And I hope I made the right choice. I didn't want to sway Nicole too much. In the end I think she was differing to me .. that is scary when making the wrong choice could hurt my game and hers. Holly dropped off and now Nicole is final 3. I am proud of her.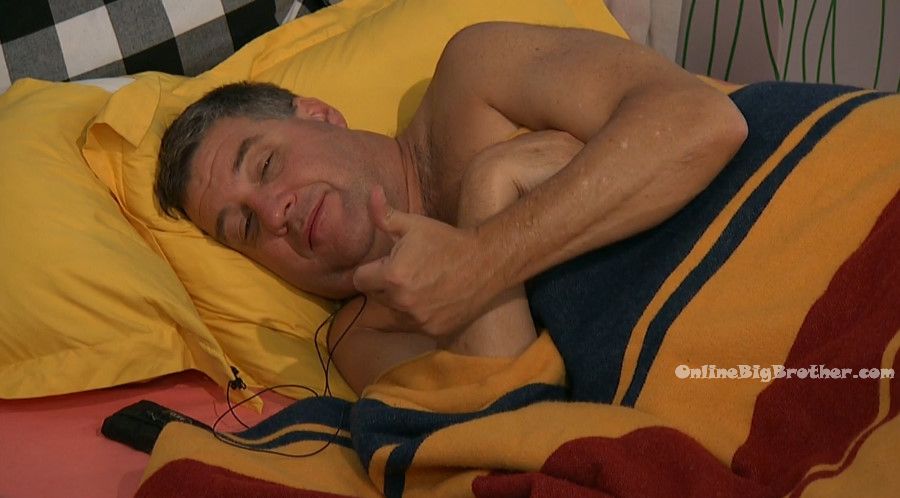 2:30am Cliff goes to sleep.
Show your Support for all the sleepless nights Simon and I have put in for the last 82 days straight. Help keep the lights on, this site costs us a considerable amount to maintain. As an added bonus we also wanted to give a little more to those that donate: Click here for more information.
Any amount is greatly appreciated! Thank you so much in advance!