Head of Household Winner: Nicole
Nominations are:
Power of Veto holder:
Power of Veto Ceremony:
Grab your live feeds —-> BB21 Live Feeds Subscription Link
Rank your houseguests —-> Big Brother 21 Ranking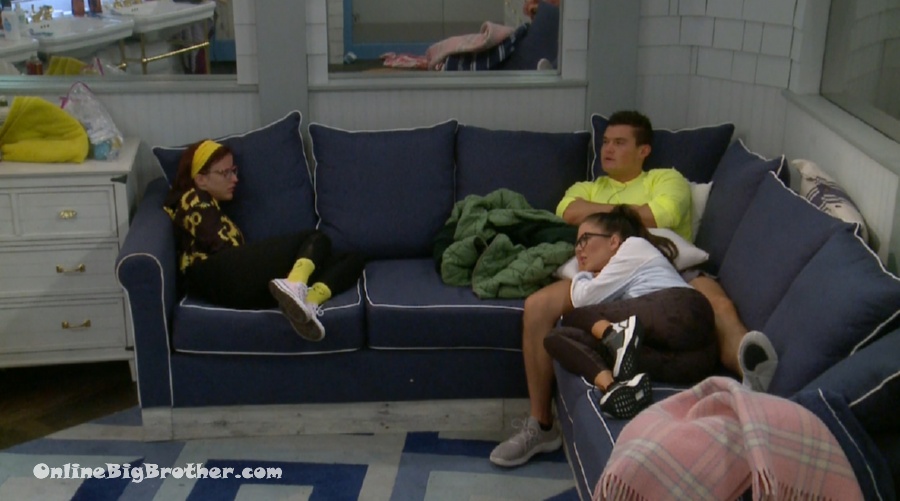 1:30 pm final 4
Feeds have been down for about 4 hours for a luxury competition. Chit chat. Cliff gets called into the Diary room
Jackson says he really feels bad about winning the money in the competition.
Nicole says there's nothing wrong with that.
Jackson – I just feel bad. He's got a family wife and kids.
Jackson says he wasn't planning on winning it "I feel sick to my stomach"
H – Jackson, you also have bills and you don't have a car
J – I know but still. It's me being me. I don't like seeing myself succeed while leaving others behind
H – Nick wasn't fretting over his 5K kat about her trip to Hawaii. Sam about his trip to Fiji don't worry about it
J – he needs the money.
Jackson goes on worrying about Cliff being pissed at him "I feel guilty"
H – If you hadn't won I would have
Jackson – biter sweet but more biter than sweet
J – it's visible that he's upset not that I won he didn't. I'm upset I took that from him
Nicole and Holly try to comfort him. "he's burning out, He's tired"
Nicole points out that it's getting to him that he's losing all these competitions the HOH wasn't for him and then this one "he rang in last"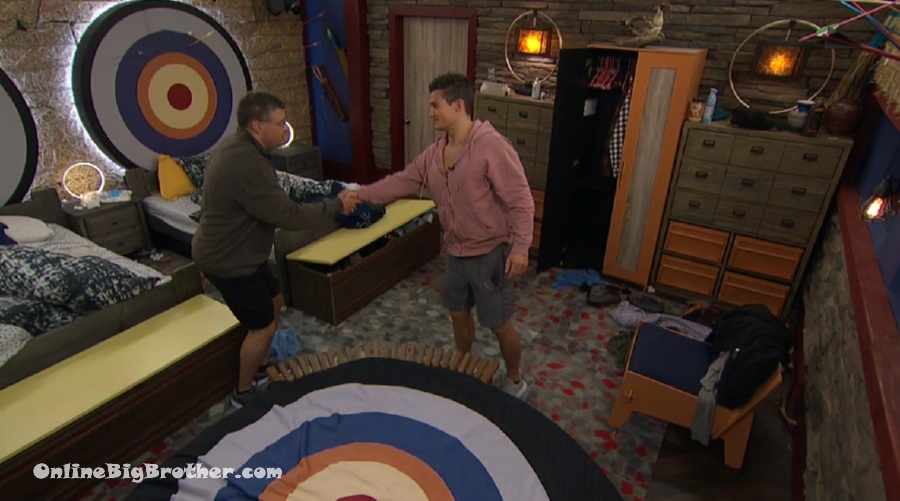 2:40 pm Michie and Cliff
C – I want to talk about the agreements we made yesterday. Just man to man. I want to make sure you understand everything I was flustered we were rushed around
J – I can tell when you're thinking. I thought it was about the money
C – no I don't care sure I care about .. BUT
Cliff doesn't want them to be in a situation where down the road it "creates a division between us"
C – I would rather make sure we know what we know now
C – Before the vote, we agreed Holly would throw the comp and you were going to take either Nicole or myself or whoever will make jit it to the final 3
C – we followed up that conversation with If I took you to the final 2. IN exchange you would take me to the final 2
J – Yeah yeah I don't want them to hear that
J – My personal relationships are different than my game
C – here's the deal. that was not reciprocal. I made a promise to Nicole I would take her to the final 2. It's been killing me all night long. when you agreed to take me I wasn't agreeing to take you. I thought that was understood
J – I thought you were saying yesterday if it was down to three you would take me
C – NO that's why I want to clear it up
J – gotcha
C – I promised Nicole and I'm not going to promise two people
J – I get it. I appreciate the apology
J – I'm just glad 1) you don't feel guilty any more and that you aired it out 2) this is a game and if you made a promise to Nicole I get it so don't sweat it.
C – I want to make sure we're clear
J – If me you and Nicole are in the final 3 I would want to take you
C – okay, I made a promise
J – I understand. It's all good. FLush it. It's all good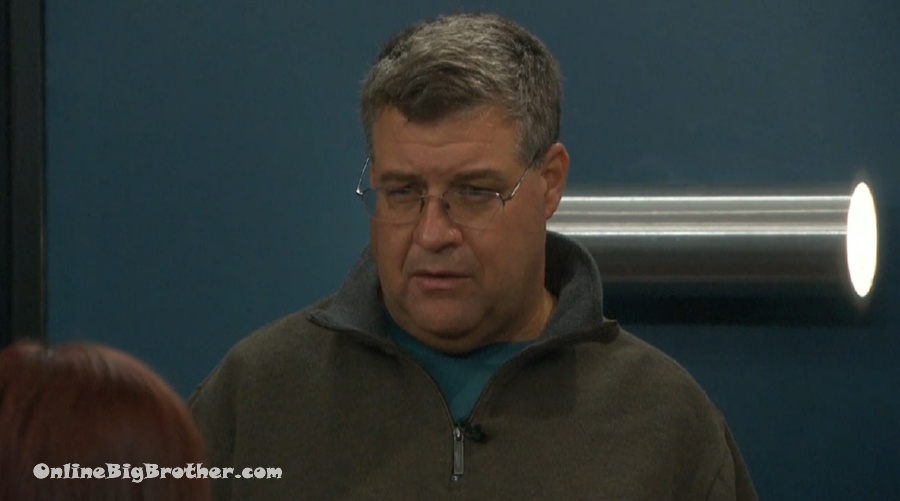 2:45 pm Cliff and Nicole
C – I talked to Michie I said Michie I want to make sure there's no misunderstanding that yes you've agreed to take me but there's no agreement for me to take anyone but Nicole. I said I've sworn to take her. I'm not changing that promise if the whole deal goes away so be it.
C – he said no it's cool I was surprised when I thought that maybe you wouldn't
C – I said it was one way only and he said fine there are no issues
C – you and I are still perfectly
N – Holly wants to talk to you.. she's like I want to figure out what's best for my game vs what's morally right
N – I think it's funny how they said they would never question.. now she's questioning. that's what we went through last week
C – she said she would throw the veto I think if she's willing to do that. If she doesn't want to do it it's fine.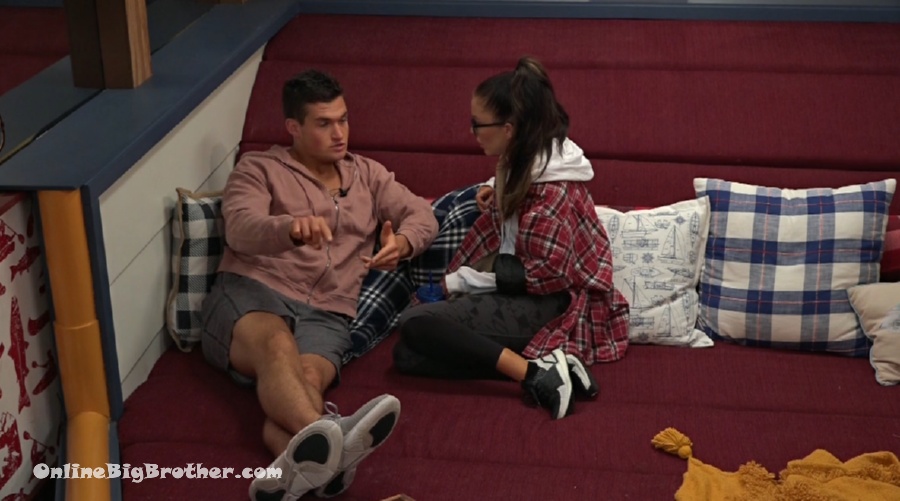 2:45 pm Jackson and Holly
J – last night Cliff told me if it were him, me and Nicole in the final 3 he would take me to the final 2. I said that's fine I will take you to. He just told me he did not mean it to be a two-way street.
J – He said he will take Nicole to the final 2
H – he's expecting you to take him
J – and he would take Nicole
J – he's setting himself up for a final 2 no matter what
H – why didn't he just tell you that
J – dunno. It doesn't change anything not like I would pick him over you
Holly says he came to her this morning and said he doesn't think it's fair that Holly doesn't play in the HOH or the veto
H – I was like umm great. they said we think you should be able to compete in the veto but if you should win the veto you take Cliff.
H – He said if you guarantee you take me keep me safe to the three I'll let you compete (AHHAHAHAHA f*** Cliff is losing it)
Jackson says they asked him if he wins the veto would he use jit it to keep Cliff and he said Sure "but I'm not. You've never turned your back on me"
J – the way I see it is this. I love Cliff I think he should be here but they did us dirty and now they are setting themselves up for 3 and 2 based on their deal with us
J – we've already been screwed once not going to get screwed twice
Jackson – If I win the veto I'm sending Cliff home
Holly – same
Cliff joins them.
2:55 pm Jackson and Holly
Holly is wondering if she wins the veto she would go back on her word with "them"
Jackson – I would have not gone back on my word at any point until they were about to do it to us. At any point of this game but after this past 4 days.
Jackson – the gloves are off. My loyalty is to you
J – they almost screwed us on the back of a 5 week deal. I love them but they have no right to break their word push us in a corner and strong arm us into making new deals that's not cool
H – making a deal with me yesterday then making a new deal with me today
J – making a deal with me yesterday then making a new deal with me today. I'm sorry. I think Cliff is panicking and I think he's scrambling
J – right now we're weirdly similar it's almost like he feels he's starting to lose grip and he's scrambling
J – he doesn't act on emotion. he doesn't act quickly or irrationally. he doesn't make these decisions he's been making these past two days. He's not making Cliff decisions he's making deals Left and right he's getting messy he's getting sloppy
J – that's not cliff he's we'll execute, Calm Cool and Collected. This Cliff is a different Cliff this Cliff is an exhausted Cliff
J – he's making deals left and right messily with 4 people in the house. Does he not think we're going to talk
J – they are playing it off that they were going to keep you in case I win the veto to not take retaliation
J – Sorry y'all I love you as people however I am not abandoning Holly she has been in my corner when no one else was. I thought y'all were the same way (Cliff/Nicole) until these past 4 days. I had to play a game I'm not proud of just to keep Holly in this house and now you are going to strong-arm us into a corner and make take new deals on top of new deals
J – oh we will ALLOW you to play in the veto but you have to take us to final 3. what the hell
H – saying they will allow me. C'mon
J – you don't get to tell us when we can or can't compete
Holly – it's making me so sick I didn't win that. really I'm tearing myself up about this. That might have been a 500 thousand dollar mistake I'm sick about it.
J – tomorrow when we play in this veto it is essential we get it done.
Holly doesn't know if she should keep up the ruse that she'll throw the veto.
Holly – I think I should take the deal that way they think they have all their bases covered
J – over these past 2 months I would have NEVER considered going back on my word with Cliff but because of their actions these past four days it's made me realize they ..
J – I said yesterday in the bathroom So I guess words and deals and promises don't mean anything and they went GEUSS NOT or something like that.. don't quote me on it
H – I should have just hung on there
J – this whole situation is f*ed but we can fix it by winning tomorrow
H – we just have to win otherwise that's it. We're going to bed at 10 o'clock
Jackson – I got 10 grand today
H – i'm so pissed.
3:51 pm Pre nom meetings
4:22 pm Holly and Jackson
J – she knows about me and Cliff and if t comes down to the two I'm leaning towards him
HOlly says she told Cliff and Nicole she would take their new deal. "Cliff was like should we tell Michie. I was like ohh ahh.. sure I guess"
Jackson – about what
H – if I win the veto I would evict you. he wants it to be out in the open. I was like I don't want to hurt him
H – he said you realize he's going to take us right and not you. I was like
J – he threw me under the bus
H – I was like ohh I didn't know that. He was like Ohh I thought it was out in the open based on the conversation in the bathroom
J – Dammit, you should have acted like your mad cause now it looks like I would take you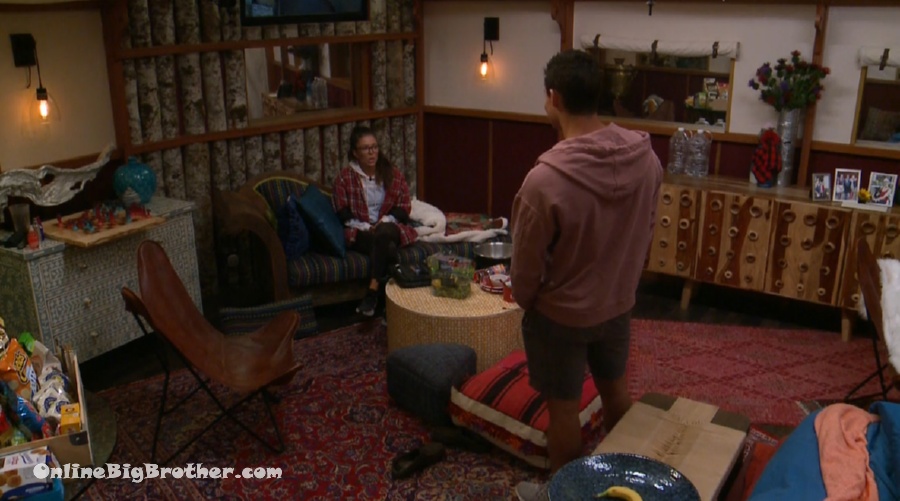 4:48 pm