Head of Household Winner: Nicole
Nominations are: Jackson & Holly
Power of Veto holder: Jackson
Power of Veto Ceremony:
Grab your live feeds —-> BB21 Live Feeds Subscription Link
Rank your houseguests —-> Big Brother 21 Ranking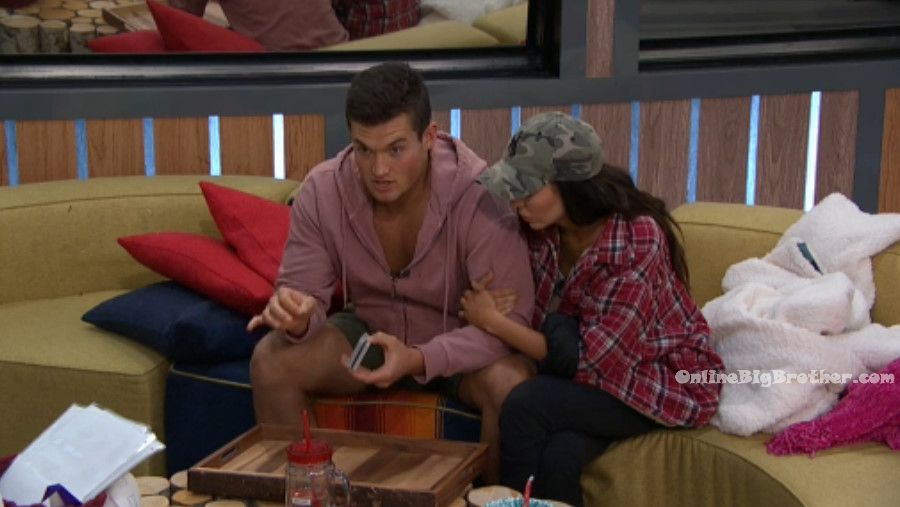 8pm Living room. Holly and Jackson.
Jackson to Holly – I fought to f**king hard to get here and to sit there and dangle half a million dollars over me like a little carrot. You'll going to lose our votes. You're going to lose this game if you don't … F**King. I am so f**king pissed! Holly – He is trying everything that he can. He tried strong arming and dealing. And when that didn't work he tried talking about our strengths and when that didn't work.. he tried threats. None of which are respectable moves. That's not okay. Jackson – I'm going to light this house on fire with my speech. Holly – ditto. Jackson – I am so f**king mad! I would never tell someone or threaten someone that has busted their a$$ and worked their a$$ off in this game… you will lose half a million if you don't take me. Holly – I know, its not fair. Jackson – respect of the game.. my f**king a$$! Respect the game. Respect the game! Its not respect of the game! Actions speak louder than words .. your words tell me that you would keep me safe .. that you would always be there for me. Your actions last week showed me otherwise. My actions showed that I've been HOH three f**king times and could have put any of y'all up and got any of y'all sent home. MY actions show that I have been loyal! And my actions show that I deserve to f**king be there on finale night… not my words. Your words have gotten you here. What have your actions done!? Almost going against me and Holly!? Bullsh*T! I'm not going to sit there and have someone threaten me! You sealed the deal BUD! ARE YOU F**KING KIDDING ME!?!?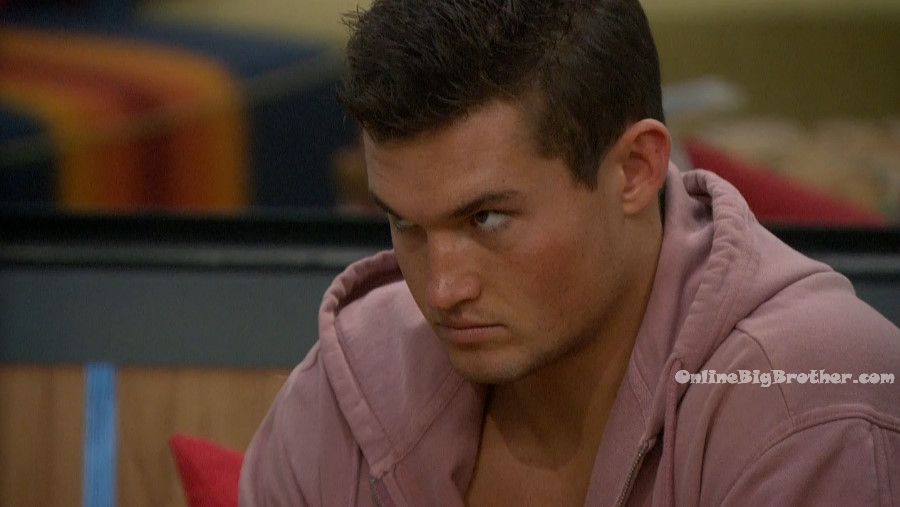 Holly – I'm proud of you. Jackson – That's a low blow! You don't take half a million dollars away from my family especially when I fought to be here! When I am taking someone that's been loyal to me. Over my own damn family, that's f**king bullsh*T! OH I AM SO F**KING MAD! I AM SO F**KING LIVID! I COULD BLOW A F**KING GASKET! That could single handedly send me over the edge. Holly – I know I'm sorry. Jackson – It makes me sick to my stomach. Holly – You get a second chance to say something. You know his tactic.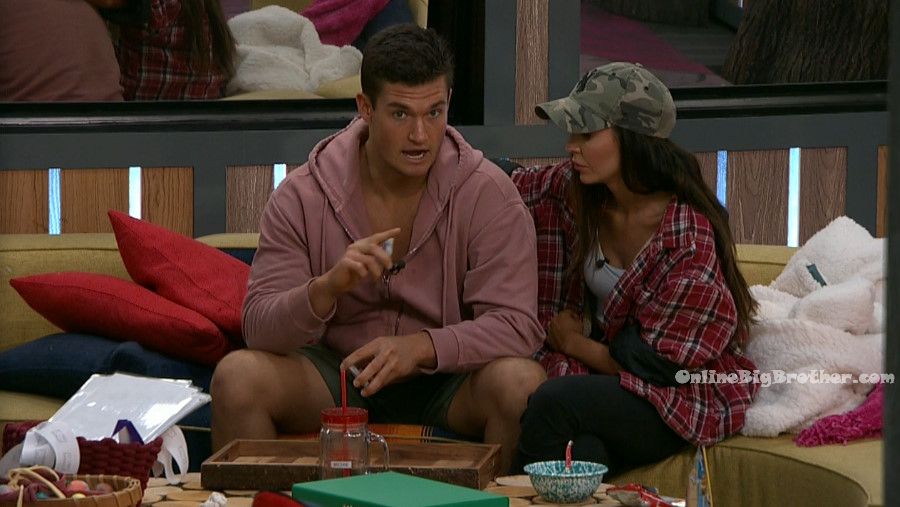 8:12pm – 9pm Nicole Holly and Jackson. Holly starts cooking dinner. Jackson moves to the kitchen as well and starts ranting. Jackson – Threatening me and strong arming me into a corner to take him and if not that will cost me half a million dollars. And that is just the big brother I did not want to play. Its not what I wanted this final four to be. I didn't want us to have to make deals to get here. We had one deal and one handshake and we shook on it five weeks ago and that is the big brother I wanted to play. Then we compete and then the other three of the four go and then two out of the three go. And this is bullsh*t! And I would never threaten somebody for money that could affect their lives or their families lives. To do something or take me farther in this game that would benefit myself. And to hear that come from his mouth .. someone that preaches so much .. about do what is best for your game to hear him jeopardize money that could change my families lives .. to change my parents live, and then people that I care about the most. The whole reason why I am here .. to hear him threaten me with that and jeopardize it away from me if I don't do what he wants is NOT the big brother I came here to play! Nicole – I hear what you're saying but in his head, to play devils advocate he is in a spot where his is jeopardized. We're all in the same spot. Jackson – yup, I would just never sit there and threaten someone but that's just me. I didn't sit there and threaten y'all if y'all didn't take Holly… then I will not vote for you if you're in the final two. I didn't threaten anyone in this game to lose my jury vote. I want people to play what is best for their game and I will do my best to let that benefit my game as well but if it doesn't I am not going to threaten someone with it and I am not going to push them into a corner. And pretty much say its either me or you're losing half a million if you're there… pick one! That's just my personal opinion. Nicole – no I hear what you're saying. Jackson – but everyone is entitled to their opinion. Nicole – that's the funny thing about this game there are different opinions and different ways of looking at it. There is no way of knowing what type of jurors people will be. Jackson – nope .. it just contradicts everything he said about being a bitter juror but that is whatever and neither here nor there. And I know he wants his family there and I know he wants to even just make it to third and I am doing my best to make sure that happens and that is all I am saying. Makes me question .. but I'm still going to do it. Different strokes. Nicole – my advice is look at it from every different angle and do what is best for you. Jackson – I am. Hearing those words come out of his mouth sealed the deal for me. I will not have anyone threaten me or push me into a corner or bully me into making a decision ever in live. I've had it happen before and I have never let it happen again. It is very, very disheartening that he took it to that level and I am very disappointed in him.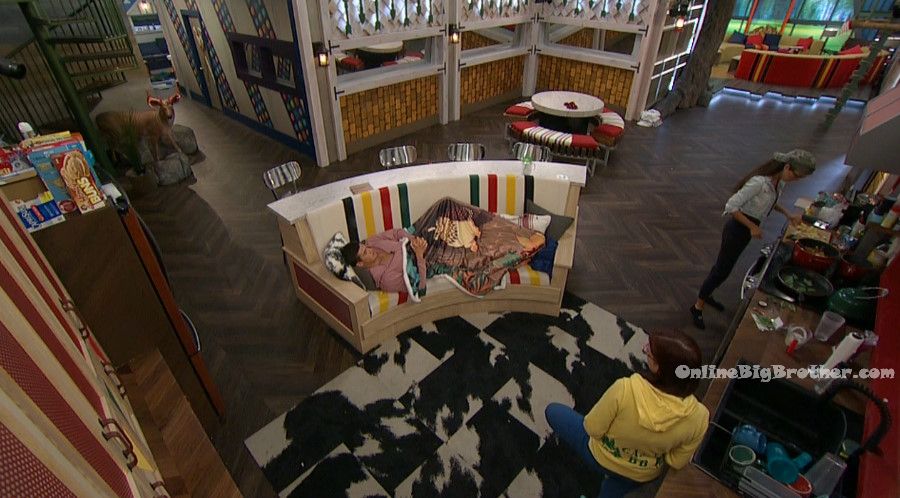 9pm Storage room. Nicole talking to the cameras.
Nicole – I don't mean to laugh. That's mean .. I really don't but Michie has done those things. He has strong armed people. He has threatened people. He has told people about his financial situation. He complained to me about his financial situation in the hopes that I would take him to final two. He is the biggest disher-outter but not taker. He is a big baby! It is funny! It is so funny. He looks for excuses and reasons and justification as to why he is doing things. So that he looks like the martyr and the one that is bullied and the one that is backed into a corner. I am over it .. so over it!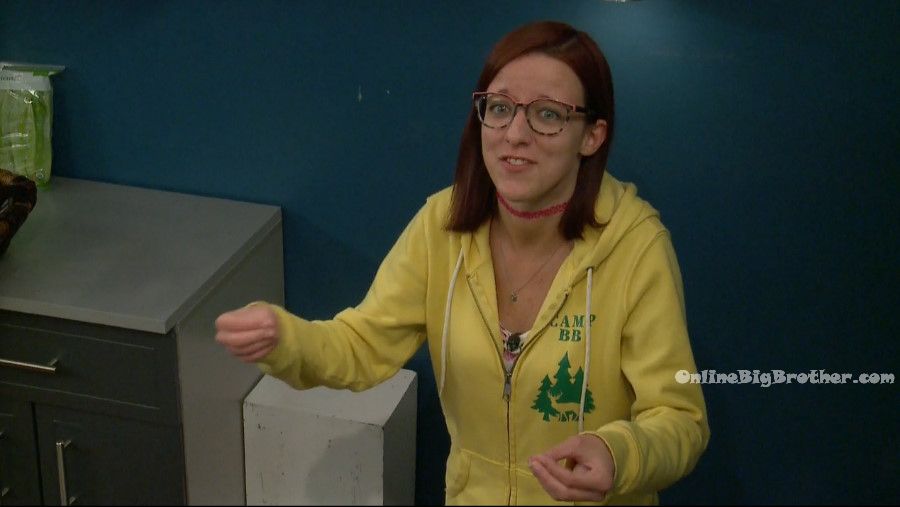 9:50pm Bedroom. Nicole and Cliff.
Cliff – is he pissed? Nicole – yes. Cliff – good let him stomp around. Nicole – I will be damned if I let someone bully me and strong arm me. And that is not the type of game I want to play. I would never expect that from Cliff… how dare he!? Dangle 500K in front of my face like a little carrot. Cliff – right. Nicole – jury management is a part of this game. He's like he made it personal. Cliff – Whatever, I told him I would do whatever it takes to stay in this game. He lied to me and if I need to threaten with a little jury vote in exchange .. then so be it. I doubt he will change his mind. Nicole – he is holding his sh*t together because he wants to flip out on you .. and it is coming! Cliff – I don't care. I will just smile and say okay Michie!
9:52pm Cliff to the cameras in the other bedroom. Cliff – so isnt' that interesting. Apparently Michie is very upset that I told him he would not be receiving my vote in jury if he lies, breaks a promise and boots me out of the house. BOOOO HOOOO HOOOO! Whatever .. what are you going to do!? You're already booting me out of the house you A$$! And I will have 6 days to talk to the jury and let them know what I think about you. I did not dangle 500K like a carrot! Mutually assured destruction .. you want to boot me out of the house, I will boot you out of the 500K prize. We can both play the game Michie. You lied to me so that you could boot me out of the house and keep your showmance girlfriend. If you don't want to honor deals, why should I vote to give you the money?! We will see what happens tonight or tomorrow. Breaking your promise leads to repercussions.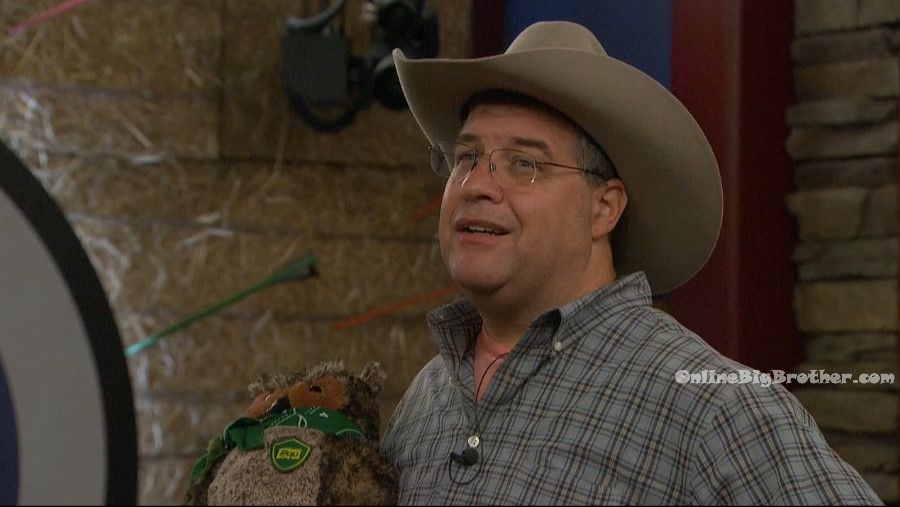 10pm – 10:47pm Holly, Jackson and Cliff sit down to eat dinner. Nicole comes out of the diary room and sits at the table to chat and eat.
11:30pm Nicole and Holly doing their nails at the kitchen table..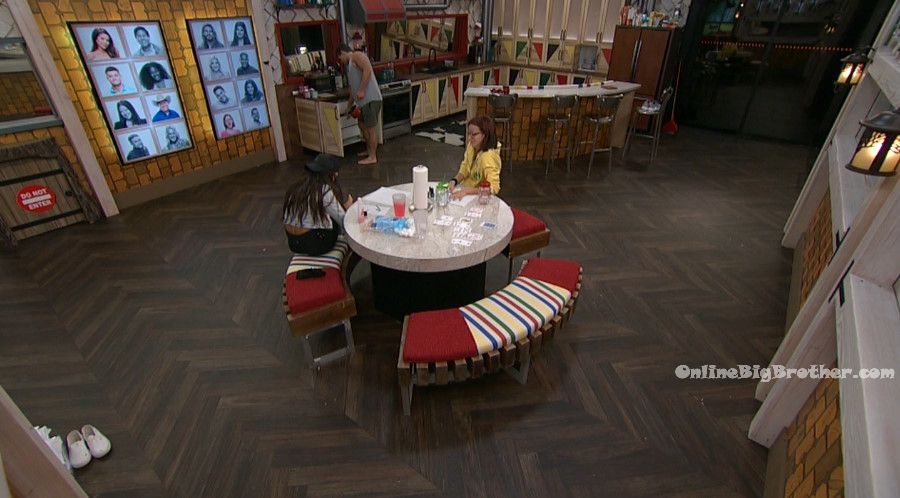 12:25am Holly and Nicole are drying their nails. Jackson is playing solitaire.
12:33am – 12:43am Bedroom. Jackson and Holly. Jackson – Half a million dollars. Its been on my mind for months and I am going to make a decision that is potentially going to jeopardize it. They're offering me a guaranteed seat at final 2. Offering that they will swing the jury against me if I don't take them. Will they keep it, I don't know. Would they keep it, couldn't tell you. Will they swing a jury against me? I don't know but its a chance I am willing to take because I am not going against you. I would be lying if I said I wasn't terrified. This decision regardless of which way it went would cost me 500K.