Head of Household Winner: Jackson
Nominations are: Tommy, Cliff Holly
Power of Veto Players are:
Power of Veto holder: Nicole
Power of Veto Ceremony: Nicole uses the veto on Cliff. Holly is the replacement.
Grab your live feeds —-> BB21 Live Feeds Subscription Link
Rank your houseguests —-> Big Brother 21 Ranking
8pm HOH room. Jackson and Holly.
Holly – I really did not see this coming. I really, really did not anticipate these two people.. Jackson – burning us. Holly – burning me .. I mean us but me. Jackson – just because I won HOH .. if it was the other way around they would have no problem doing it to me. Holly – and the irony to this.. the whole reason we wanted to work with them is because they're honest and trustworthy and straight forward… and we wanted to work with people that we respect. And the people that we respect are wanting to backdoor me on your HOH! Is there any faith left in humanity?! I don't know! I don't know! And Nicole was so upset by Kat and Jess and the comments they made about her making her family proud and she was so thrown off by that and I don't even want to say it but .. I wouldn't actually say this to her but.. Jackson – no, I know what you're about to say… don't even finish it. Holly – but these are the kind of things that ..like if I did that.. If I made that kind of game move .. would my parents be thrilled?! I am thinking not! Jackson – how do people work like this .. I have been unwavering-ly faithful to them. This is the fourth week we could have put them up. Holly – I know they wouldn't even be here. Holly – mean while Tommy has been targeting Cliff this entire game .. and he is about to turn around and take him to final four. I am not even mad, I am just disappointed. I thought they were better than tat. Holly – I am not every optimistic.
Bathroom. Cliff and Nicole.
Nicole – its not the fact that its Holly .. its the fact that they're still a duo. Cliff – I know .. and its the other side of that duo and the strength. Nicole – yeah. Cliff – as horrible as this is we could be the last surviving duo in this game.

9:30pm – 10:05pm, Kitcken. The house guests are eating dinner.
10:45pm Cliff and Jackson chess game. Tommy watches in silence…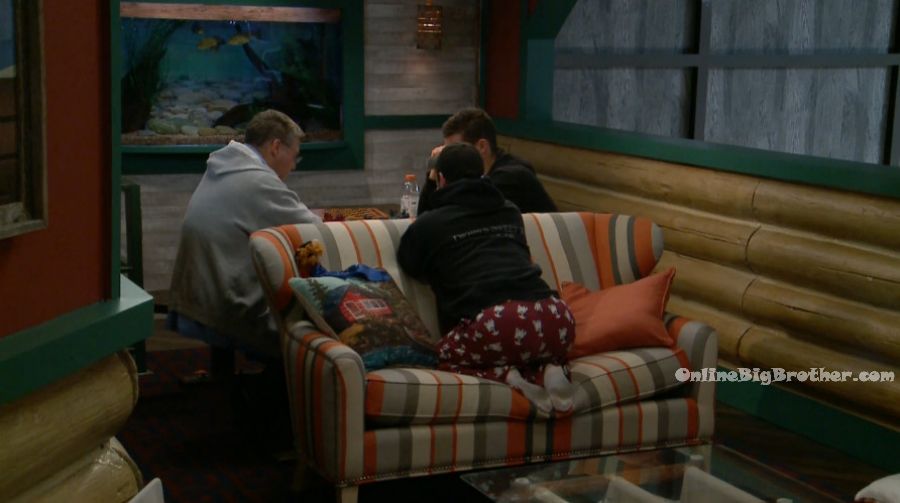 11:05pm HOH room. Jackson and Holly.
Holly tells Jackson about how she talked to Nicole. Holly says that Nicole is worried about if Holly stays and even if she doesn't win the HOH and wins safety ..then she assumed that Cliff or her goes home. Holly tells Jackson how she told Nicole that she is assuming how it would go. Michie and I are playing different games .. a lot more than people realize. Holly – you gave Nicole this room. Jackson – f**king Backstreet Boys! I f**king hate the Backstreet Boys! Holly – you got Backstreet Boys, you gave Nicole this room! Jackson – we had a final four. Holly – And granted you would have done that regardless out of the kindness of our hear. The fact that you would have done that regardless and then they turn around and stab you in the back!? Sucks! I don't know if you should try talking to them. Jackson – I will talk to them in the morning. If I win the veto I am going to pick Tim and Cliff. F**k wanting to sit next to them in the final 2 if its not you. If it wasn't you, I would rather sit next to Cliff. But now f**k it, if I win he is going to get vote to evict. Holly – aren't they worried that I am going to go to jury house? And try to swing the votes as much as I possibly can? Because how good does it look to everyone .. yeah I made a final four with Cliff and Nicole and then they backdoored me during Michie's HOH. It doesn't ..people play different games but they're going to lose heaps of respect. Jackson – its not a good look. Holly – would he do this to his own daughter. Jackson – I'm not bringing family into it.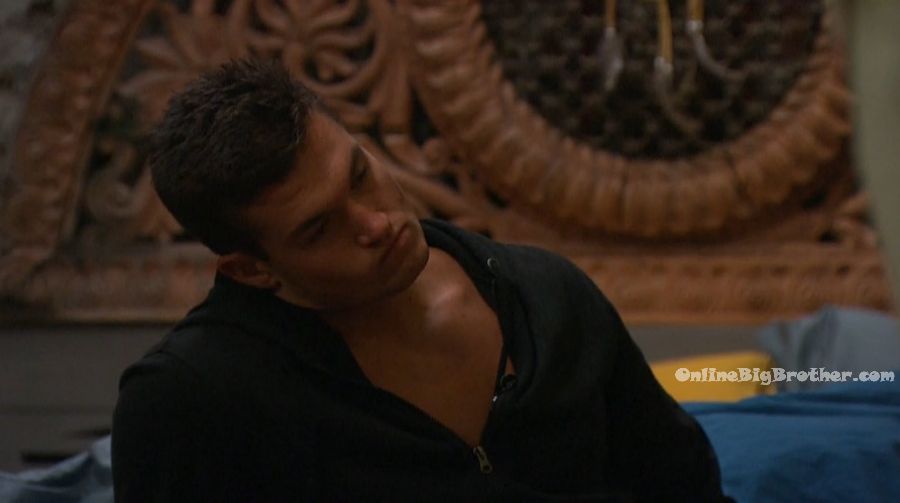 11:16am Havenot room. Jackson and Cliff.
Jackson – I know this is a game .. it just kind of hurts. From the moment Holly and I shook your hands we have been full swing. And Holly and I have had four weeks of HOH's with a lot of people offering deals and things to potentially go after y'all. We have got above and beyond to be unwaveringly loyal to you. I would be lying to you if I said I don't think you could beat me. I think I would lose to you. And I knew that going into a final four with you was a huge risk but when I shook y'alls hands, I meant it. I am very confused as to you being the game player with you keeping him over Holly. When we shook hands I thought it meant something. Cliff – it does ..and it did. It kills me when I am talking to Nicole and trying to figure this out .. and also knowing that I am potentially breaking a deal that I made in good faith and full intent. Part of me says I will do what is best for my game and part that says that's not how I want to play this game. I think if I keep Holly I am just about guaranteed final 3 with you and Holly. But then I am the third wheel. If you win, you take me out, if she wins she takes me out. From the other direction it makes it much more where it becomes a duo versus duo situation. Tommy is going to take Nicole. If Nicole has the choice she would take me. And if I win, I would take her. If you win I am hoping you would take me. I don't know but suddenly I am not a 3rd wheel in a two person alliance. Jackson – you came here to win and as much as I am a duo with Holly.. I know that we both can't win. Cliff – that is the same with me and Nicole. Cliff – I've got to talk to her. Jackson – Holly means the world to me but on a game level if it is my choice, I think that you and Nicole deserve to be in the final 3. And that is as much as I can say. Cliff – and that is enough.. that's what I need a little sweetener to sway some opinions. Jackson – that's been my opinion but I didn't want to have to voice it as explicitly not only to you but to them (live feeders) because that is not a good look. But I came here to win and I will do what I have to. If I lose I would much rather it be to you and Nicole. Cliff – thank you. Jackson – let me know if y'all want to talk later.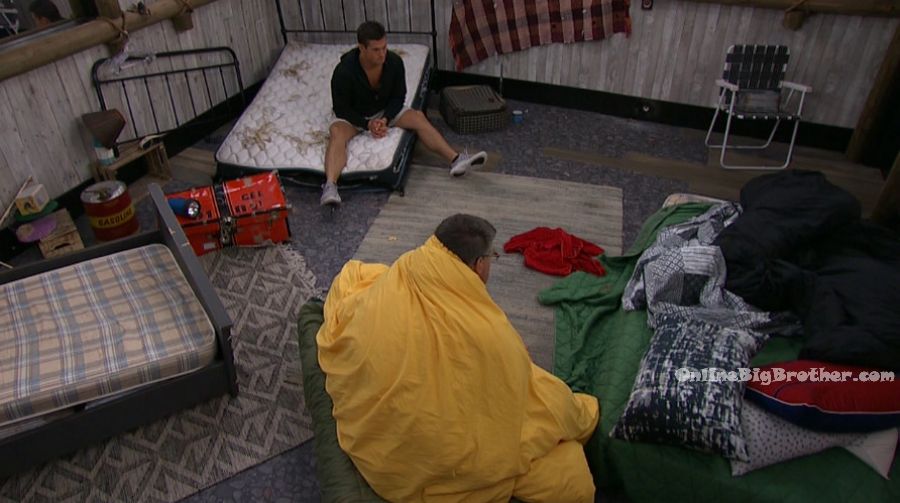 Havenot room. Cliff and Nicole.
Nicole – do we take out a huge threat in Tommy and go with our final four? Or do we get out the last remaining duo? And gun for the POV with the assumption that if Tommy won it neither of us go home. You and I might have a better chance at beating Holly. Tommy might have a better shot a taking out Michie. Or are we selling ourselves short. Cliff – there is no agreement beyond the final 4.. we obviously wouldn't tell him that. Cliff tells Nicole how Cliff would rather lose to her or him over Holly. Nicole – is he really going to be the guy that sends out his girl that he's been with all summer.. I highly doubt that.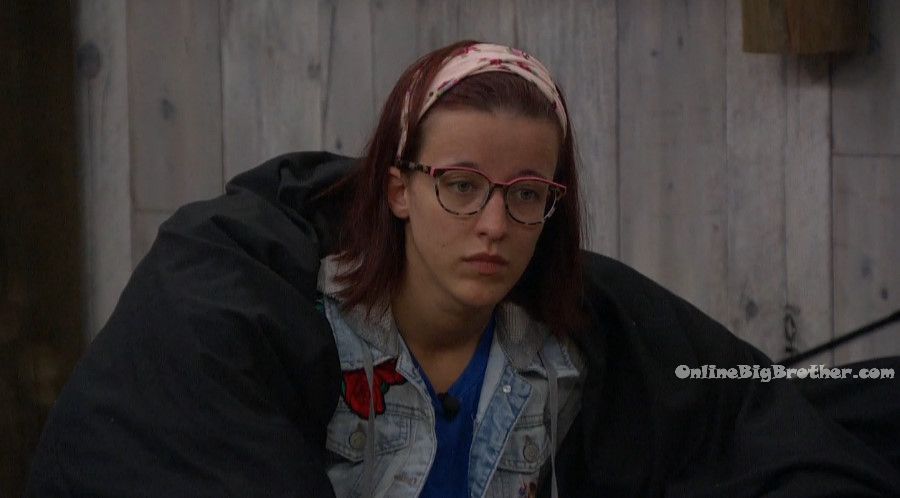 Tommy joins them. Tommy – if I was watching this at home I would be like there is no taking this guy (Michie) down. He is an animal. If you keep me, he can't play HOH next week and I can help you take him down.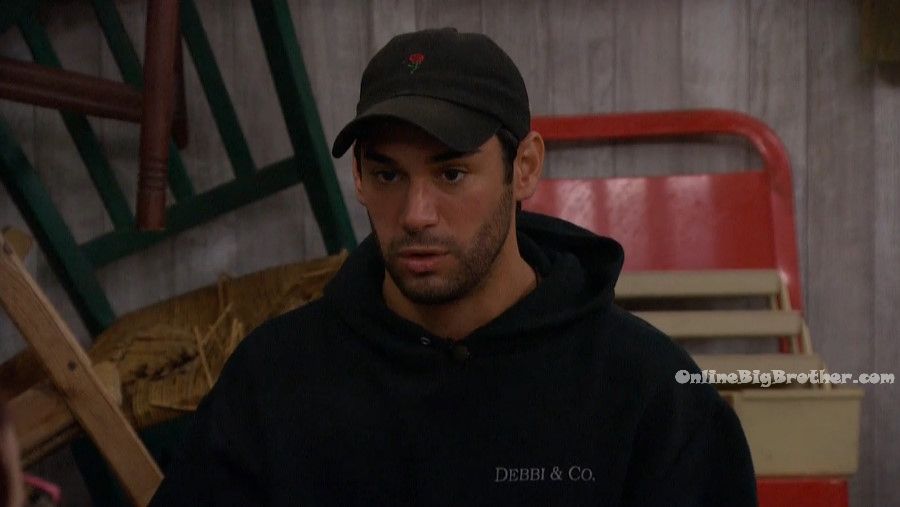 2:08am Bathroom. Jackson and Cliff.
Cliff – I don't know for certain what set her off. All she kept saying was I am tired of the bullsh*t. Jackson – I don't blame her. I think it has to do with what Tommy told you and her feeling like she's been played a little bit. And it might work out to your advantage. Jackson – I don't want the double sided sh*t. Cliff – I know and that's what she's tired of. I am too but I get it .. its a game. Jackson – is she mad at me? Cliff – no. its the information not the messenger. Jackson – I don't blame her. I am going to go in here. We will talk in the morning.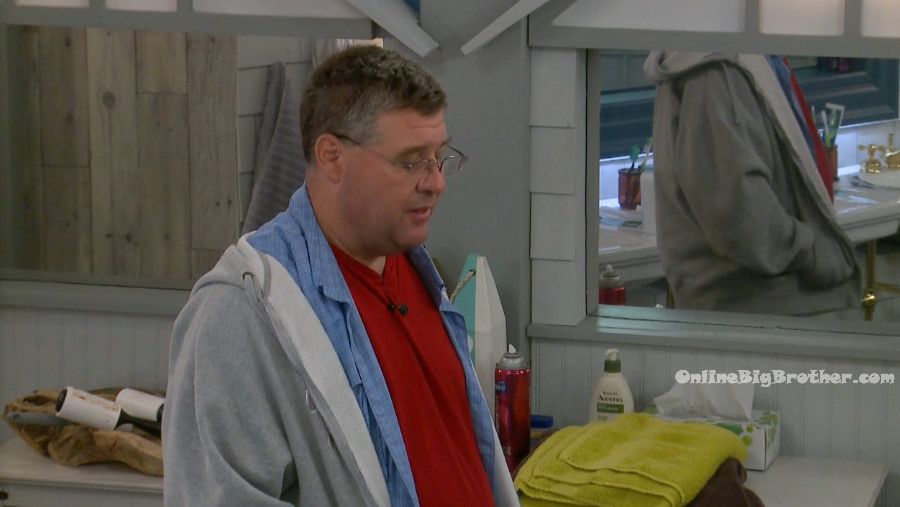 Show your Support for all the sleepless nights Simon and I have put in for the last 82 days straight. Help keep the lights on, this site costs us a considerable amount to maintain. As an added bonus we also wanted to give a little more to those that donate: Click here for more information.
Any amount is greatly appreciated! Thank you so much in advance!