Quick Big Brother Spoilers
Head of Household: Cameron
Nominees:
POV Players:
POV Winner:
Veto Ceremony:
Havenots: Everyone except for Cameron is a havenot this week. Everyone is on Slop, Everyone takes cold showers, and they all take turns sleeping in the havenot room.
Lock your ranks in before midnight
The Situation
10:20pm The live feeds return from being blocked for the live eviction episode where Red was evicted and Cameron won head of household.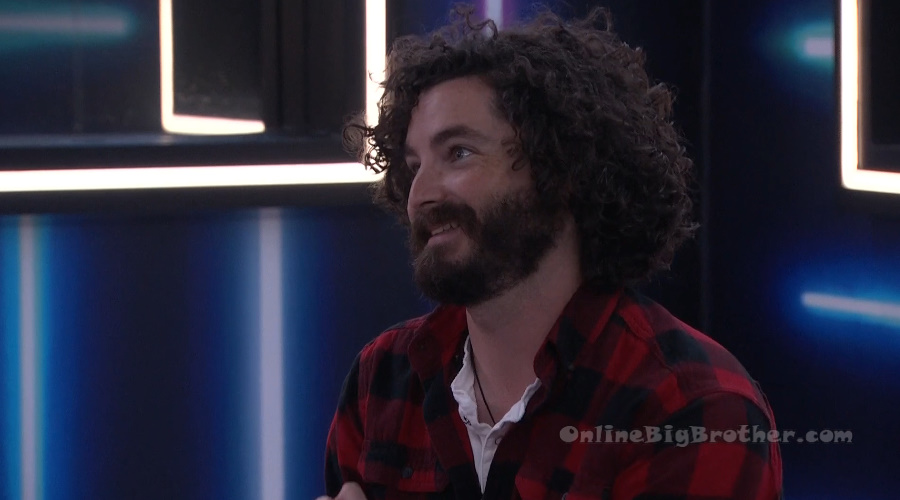 Havenot room – Bowie and Cameron.
Bowie – Cirie and I obviously voted. I walked past her and said it was you and me right? And she said I am so sorry and I said WHAT?! And I f**king stormed past but I've since chatted with her and its fine. Cameron – I knew that you were going to say that when you gave me the hug when I won HOH. I was like well looks like you and me were the two votes. You got that right! You got that part right. Bowie – yeah I don't want people to be scared that we're teaming up. Cameron – I'm HOH now so we have a reason to be talking. Bowie – we've got our bullsh*t team. Cameron – its not bullsh*t, I love the team. That's my family. I love them. Bowie – I love our team.. Its amazing. Cameron – yeah, Jag's got to go this week .. AGAIN! Bowie – its amazing how things always change in here. And I am also loving that everyone is Havenot. I can handle being it with the protein.. its the bed that's not idea. Cameron – you've only got to do one night. Bowie – easy. Cameron – when you've got to do 5-6 nights .. that's not fun. Bowie – this will be hard for some people. Cameron – Oh Felicia is probably going to collapse. Bowie – because of her sugar level because she is constantly eating twirlers. Cameron – once I put her up as a pawn. I'm not doing that. I wouldn't do that. I am not that big of a d**Khead. Bowie – yeah you wouldn't be stupid enough to do that. Cameron – no, I wouldn't do that. Bowie – whatever you do, don't say that I was happy that you won. Cameron – I don't know what you're talking about.. Bowie – whatever you do, don't be happy.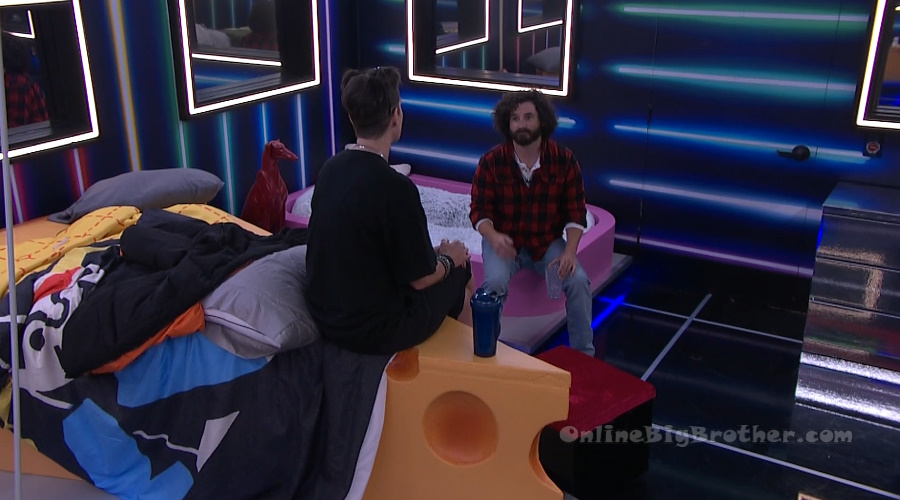 Games Room – Izzy and Cory.
Cory – it was really hard explaining to Cam when I didn't tell him (that he was voting out Red). I was basically like YO I don't think people loved how much I spend with you but if people found out .. they would assume it was me. I wish I could have told you and I didn't .. and I am sorry. Izzy – did he ask you when the vote flipped? Cory – He said when did you know? And I said I think it was up in the air for awhile and there was a lot of chaos this morning. Izzy – because that's just what we've been saying at least to be consistent in terms of time line. Cory – Basically what I was telling him was that even from the start I kind of wanted Red to go for personal reasons even when it was him and Cam on the block. I was talking about voting Red out and then with the replacement noms I wanted Red out. I said this was the outcome that I wanted but you also know that I am not the type to take a defiant stance. I am not in that position. And what he told me which is always f**king weird was like YO I think you're in a great spot, keep doing what you're doing. I was like thanks man for the f**king nod of approval. Izzy – I am not sure what to say to him when I talk to him one on one. I never know what to say to him because its all bullsh*t. Everything I say to him is bullsh*t. Cory – I think you need to figure out who to blame and who is believable. Here is the one thing that you have going for you .. he hell'a underestimates you and Cirie comp wise. He said that you and Cirie are in charge but that you're not the ones that are going to win a ton of comps. Izzy – and that is not getting him ahead. Cory – f**k that guy. But this might work out .. he might view you and Cirie as in control but he views Jag as a bigger threat because he thinks he can beat you guys in comps. And the reality is he might beat everyone in comps. But as much as it might kill you .. I think you need to play into that sh*t. Izzy – I am going to. Cory – you have been second in the last two comps. Izzy – three of the last HOH's I've come in second. Cory – if tomorrow at noms its Blue and Jag… we are f**king golden! And you're going to be stressed out and I will be too .. but we will be golden. Izzy – and of course its once a week where I hope I get picked (veto player picks). You know I hope my name gets drawn for veto picks because I am not going to get chosen as HG Choice. Cory – I hope I get that for myself so that I can keep the noms the same and then just vote out Jag.. perfect! Izzy – oh I know. Cory – because I really think at this point the people he trusts are me and Jared of the people that are theoretically against him. Cory – He (Cam) goes in the storage room and was like (excited) and I was like I was part of the eight. I think for a second he thought I was one of the two votes. I was like man, I think it was you and Bowie. He was talking about how he wanted to make jury from a financial standpoint. And I was like on a human level good for you. Izzy – yeah with your 2022 f**king Ram and your whatever.. You know?! Like I am going to f**king overdraft being in here. Cory – and then I was like dude I got to get the f**k out of the bathroom.. I can't be celebrating with Cameron right now.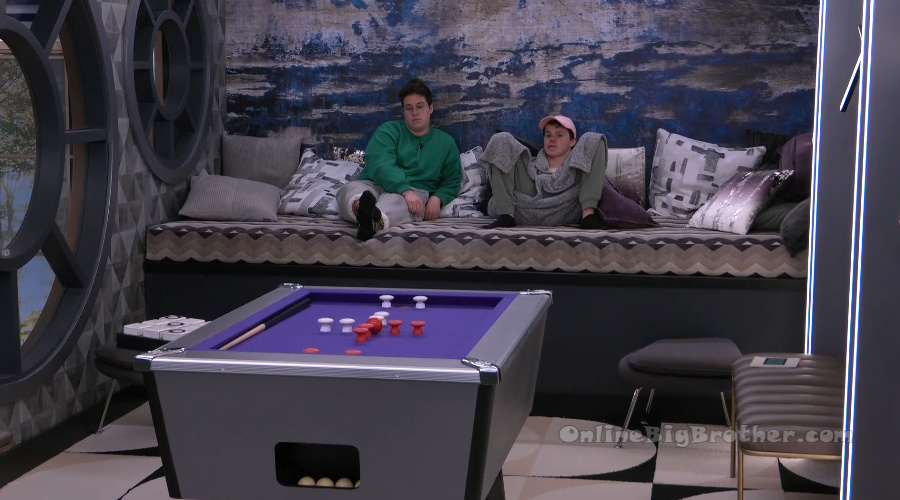 10:50pm Living Room – Jared and Blue.
Jared – how bro, how bro, how did we let this motherf**ker win. AGAIN! Blue – I know. Jared – Even beyond anything else he got to go! Because he is WINNING BRO! Like for a brief moment I was thinking about it .. like if dude stays long enough .. I could see him winning this whole f**king sh*t. Blue – yeah. Jared – great at comps, keeps dodging f**king bullets. BB switches the feeds.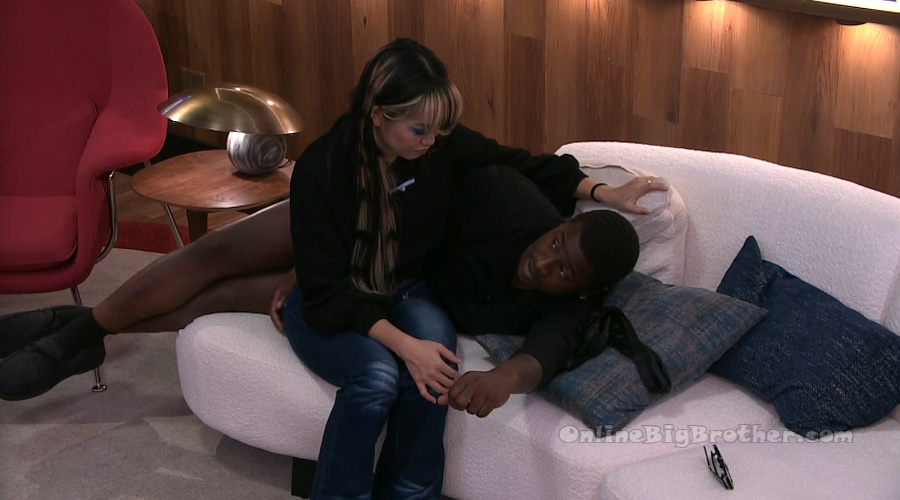 11:05pm Comic Bedroom – Felicia, Cirie, Meme and Cameron.
Felicia – I think Jag is worried. Cameron – wouldn't you be? I mean I did it already. I don't know what they expect. Felicia – well I guess we need a new name. Cameron – yup… can we sleep on it? Felicia – well I didn't say we have to do it tonight. Cameron gets called to the diary room. Cirie – lets go! (They think when he comes out of the diary room he will get his HOH room.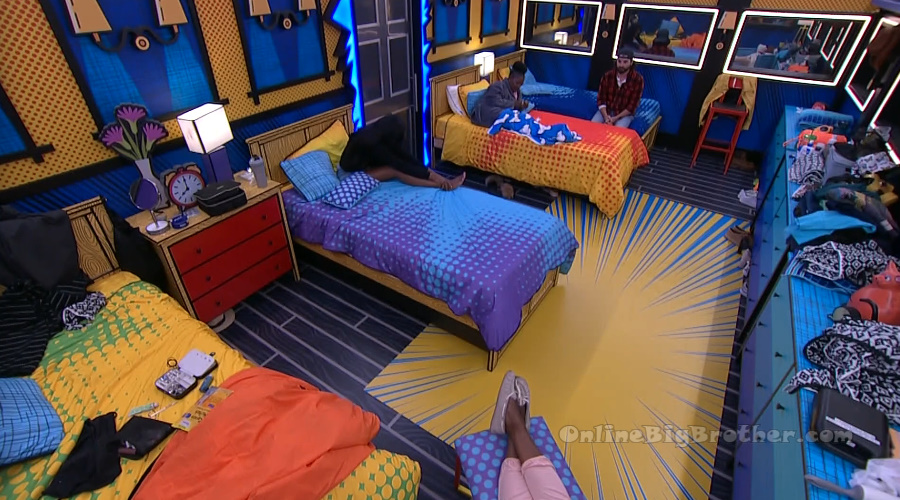 11:14pm – 11:20pm Cameron comes out of the diary room with his HOH key. They all head upstairs to check out his HOH room. his HOH letter was from his daughter Stevie who was going into 3rd grade.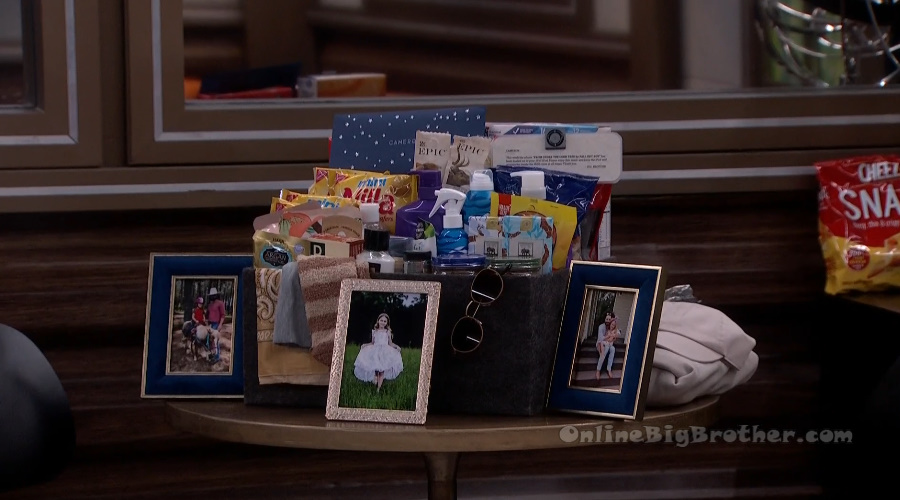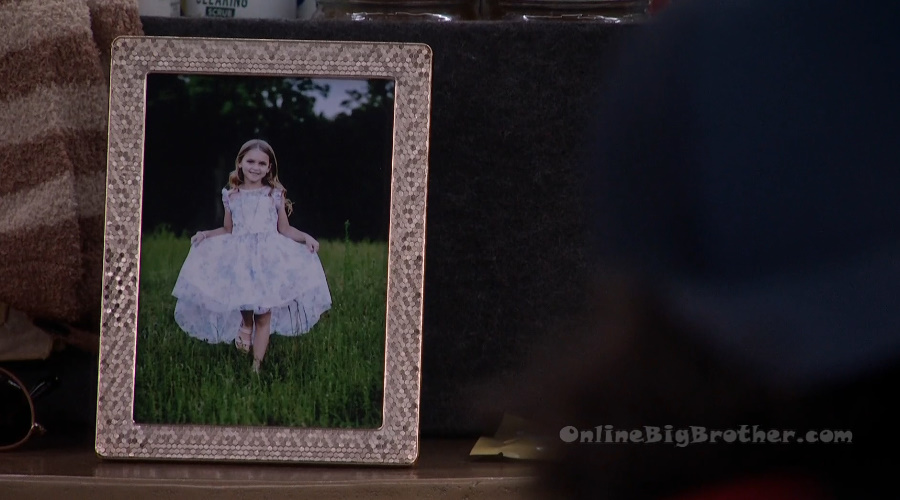 11:30pm Havenot room – Matt and Cirie
Matt – I think he thinks that Felicia is leading it but if he goes after her then everyone goes after him. I don't know. I'll see and talk to him more. But me and Jared were talking about it and it can't be the four. Cirie – now she (Felicia) is going to act even crazier… now that he is in charge and HOH. She is going to say all kinds of sh*t. We all… ain't nobody safe. She is going to throw everybody under the bus. Matt – that's what I am saying … I am just going to sit back because everyone else is going to start talking sh*t and.. Cirie – I am not. Thank god she didn't know about the power. I am just going to be normal. I am not going to do any talking .. especially to Felicia. Matt – she is painting a target on her back. Its not good for her game.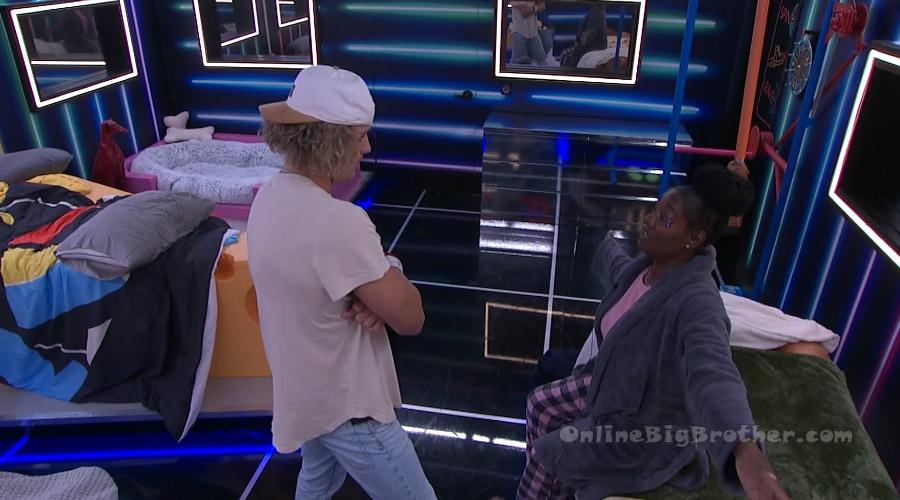 11:35pm Storage room – Izzy and Jared.
Jared – we would be better off making friends with him because he isn't going anywhere. Izzy – if he (Cam) presses me about oh well Red is saying stuff about America or whatever. I am just going to say .. like you know I haven't ..like that was personal about America. I will always support a woman that is being attacked personally and we got to admit that is true. I felt like that was a personal attack at me. I am not in a position to make any waves.. this was where the house was going. This is not about you. It was about my position. Jared – he also brought up the fact that ya'll told him to lay low. And he was like that is the same thing they said to Hisam. Izzy – I don't know who said that. That was probably Moms. Jared – I am going to push the whole Felicia and America situation as much as possibly because that is the best for me. They hug and leave the room.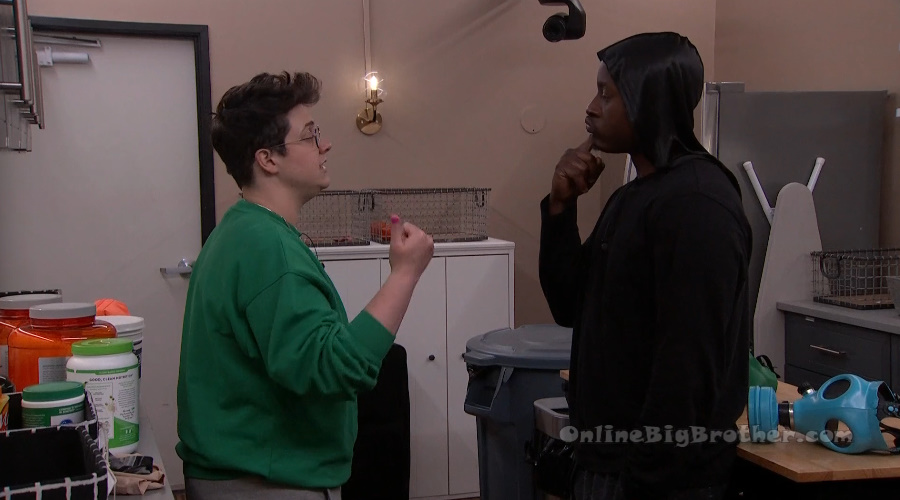 12:15am – 1am HOH room – Cameron and Blue.
Blue – I've been better.. since two weeks ago I've been navigating my relationships with people and it is still an up and down battle, right!? So the ups are I feel really good about people and then the downs are I actually don't know where I stand with people. Cameron – we're good. I am telling you that we're good. So if you're navigating our relationship.. we're good. Blue – right. Because for me I kind of want to lay it all flat right?! For me I really wanted to win an HOH. Clearly everyone else did too but I really wanted to win HOH because I wanted .. and you know this about me because I've told you this in the past too… I want to make a big move. I want to do something that will really set me a part from other people in this house. And I really wanted to start solidify my relationships with people here. And with that being said the past few weeks have been very eye opening for me in a lot of ways. Yeah. I am still trying to figure out where I stand with people. I don't necessarily feel good with everybody. I don't think anyone does but just trying to figure out where I stand with people.. yeah. Cameron – so what do you see? Blue – what do you mean? Cameron – well you say its been eye opening? Blue – yeah, I feel really good with two people. I feel great with them and everyone else I am still trying to figure it out. And even someone that I thought… well okay lets just say names. Cameron – yeah you said you were going to lay it out. Blue – I feel good with Jared.. obviously. Cameron – never heard of him. Blue – and the past two weeks I've been feeling great about America. Even with the nominations two weeks ago right.. I've been telling you I feel kind of iffy with people. With the rest of the house, I don't know where I stand because I feel good with people but after your last HOH, I've been hearing a lot. Cam – me too. Blue – and I felt safe .. I mean I can never feel too safe but I had you confirming I was good. But afterwards I found out that everyone was telling Jag that he was good too. Cam – that's crazy. Oh no I remember that.. they just wanted him to stop talking to them. Blue – oh.. okay well that's good. This last week I've had multiple conversation with people asking them.. not how do they feel about Jag but if they think I am putting more trust in Jag than he is to me. That really started because after last couple weeks, he's been throwing my name out there. I don't know if you've heard that. Cameron – he knows better than to talk to me because I don't trust him. Blue – yeah that's that too. But yeah he's been actively campaigning against me. From multiple people. I feel like given your HOH this week and you can't compete next week. Given if I get to play veto, I will do whatever you want me to do. Come next HOH, if I win I am not targeting you. Cameron – you are absolutely not a target this week. And I can almost guarantee you that you're not going home this week. Not my target, absolutely not my target. Blue – pinky promise. Cameron – people won't vote you out this week. Who would I put up next to you? Cameron – you do know. Blue – okay the… I feel less comfortable now than I did two weeks. Blue continues crying.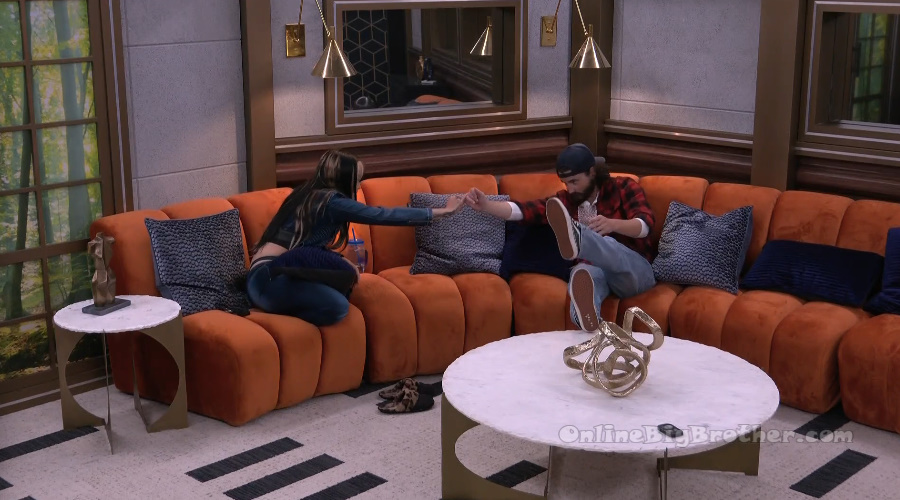 If you've enjoyed our updates this season so far and want to leave a tip you can do so through PayPal.
Any amount is greatly appreciated! 😉
(You can still donate through Paypal even if you don't have an account.)