Quick Big Brother Spoilers
Head of Household: Cameron
Nominees: Felicia and Izzy
POV Players: Izzy, Cameron, Felicia, Matt, Jared, Jag
POV Winner: Jared
Veto Ceremony:
Havenots: Everyone except for Cameron is a havenot this week. Everyone is on Slop, Everyone takes cold showers, and they all take turns sleeping in the havenot room.
Lock your ranks in before midnight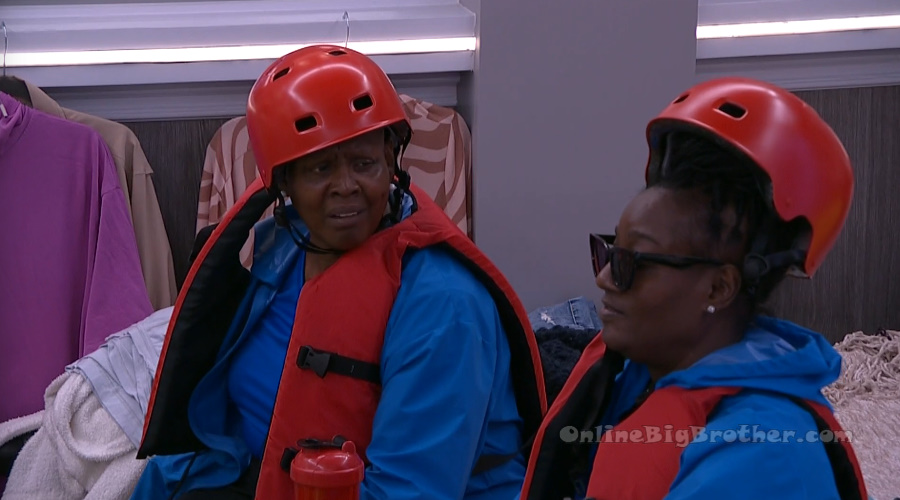 4:30pm Bedroom – Felicia, Meme, Cirie.
Felicia – I told you from the very beginning that he was going to align.. get that old alignment back. They are stupid! Cirie – here is the thing. Why if you want me so bad, why not just put us both up? Felicia – I think he wants to do the backdoor thing like we did to Red. But we didn't backdoor Red, Red was on the block. Cirie – that's right. Felicia – we backdoored Hisam. Cirie – which he was kind of pushing the train for. He said he hated Hisam. Felicia – the whole house wanted Hisam out. Cirie – including him. Felicia – we used him as a pawn to get Hisam out. Cirie – we should have got rid of the cockroach.. Cockroach Cam. Felicia – yeah when we had Cam and Reilly on the block .. we let the wrong person go. We kept doing that back and forth and we let the wrong one go. She didn't have nowhere near as much smarts as him and she was too emotional. So he is just going to do one, two, three and Jared. Four in a row. Cirie – oh that is a lot to do .. so he is going to have to do a lot of work. He would have to win every time. That's a lot to try to do. Good luck especially when you can't win every other one. Felicia – but if he has enough minions left in the house to do his dirty work for him to stay in the house. Cirie – That's the good thing about it, it just takes one, one time.
4:45pm – 5:15pm Bedroom – Jag, Blue and Izzy.
Izzy is talking all about her piggy digging challenge in the backyard. Izzy – like my shoulders are rock hard today. Blue – I think you guys had the worst punishment by far! Jag – its not even just that you had to do that.. now you have to wear the piggy costume the rest of the week so its two punishments in one. Blue – when you picked Cameron though I was dying! Jag – I didn't know who you were going to pick. Izzy – LOOK YO! I didn't come in here to campaign but I will f**king go to bat! Like lets f**king do this! I mean I guess Felicia hasn't said anything to anyone because she is all kayaked up. She laughs. The kayak is my favourite though. Blue – they're so funny. They needed help with their tea and started yelling.. HELP HELP! We're ship wrecked. Izzy – that is funny. Blue – next time I'm a let you sink. Izzy talks about why she picked Cam because he put her up and how they're all havenots and he isn't. Izzy – for me the way that he did noms this week and everything was like a testament to the fact that like he talks about his word and promises or whatever but that means nothing. Its all just lip service. Right because he was promising the whole house ..he was saying this is absolutely it, this is the plan .. and I am happy that you two are not on the block. That is not what I am saying. Its not about that. How could anyone ever trust what he is saying about how he is going to move forward is how he is going to move forward. Blue – he is so unpredictable. Izzy – I just think that is revealing. There was shock factor but I don't necessarily think it was smart for him to do it that way.. because I think it is more revealing how he will make moves moving forward. Blue – that's scary. Izzy – he must be talking to someone .. like he must be honest with someone. Jag – I don't trust him at all so I am like is he being honest with anyone? Izzy – I mean do you believe that he wants Felicia out this week? No right!? Jag – is that what he is saying? Izzy – I mean that's what he said to me but he told Felicia the opposite. Jag – if I had to guess I wouldn't believe that. Izzy – right, you would believe that it was me. He threw dirt on my BACK! Jag and Blue laugh. Izzy – that's savage! That is targeted! Like I am laughing now btu I was some kind of way! Jag – Maybe he was hoping it would turn into some kind of fight. Izzy – like that's what he wanted. Jag – but like what was he going to do after that like did you see how Izzy reacted!? Izzy – and that is why I couldn't give it to him because he could use that against me right. And like I can't say anything like why does he get to do sh*t like that .. like don't make a joke when we're talking about racism. Do you know what I mean.. like that is why he hates me. Jag – and if you did that to him he probably would feel something like what?! Izzy – the hypocrisy is exhausting!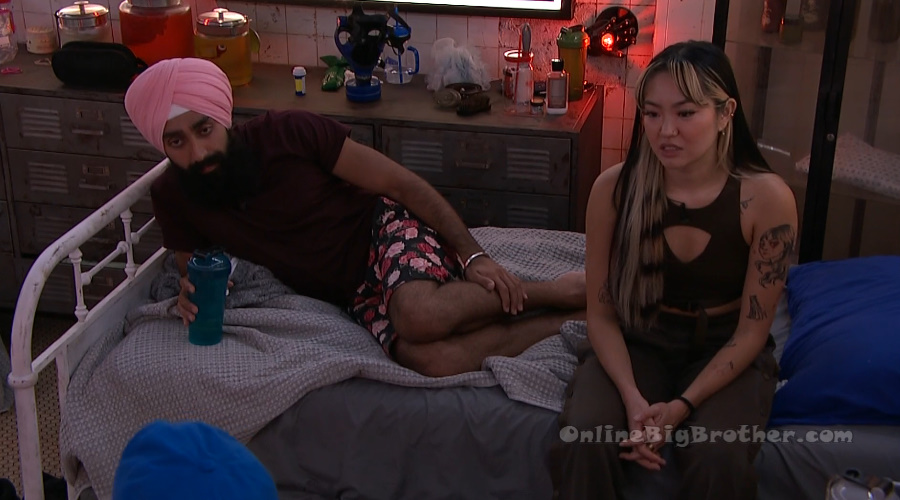 5:15pm – 5:30pm Bedroom – Jag, Blue and Jared.
Jared – Cam really wants me to use it now. Jag – he does? Jared – YUP! I think I might. I think I might. Jag – use it? Jared – yeah. BB switches the feeds. Jared – I am leaning more towards .. I don't know. Blue – I don't want to be in your position. Jared – make it fun a little bit. Jag – the other thing is.. the power is in your hands so whether Cam.. ultimately its your decision. Jared – yeah I don't care that he is adamant about it. He just brought up some good points. I just really wouldn't think its you (Jag) at this point .. I mean I know it ain't Matt. Yeah I had a long a$$ talk with dude. The Cameron.. the Killer Cam. Jared leaves the room. Blue – what just happened in the past hour?! Jag – wait .. he might use it!? Blue – what the f**k is happening. Jared comes back. Jag – what are you thinking.. did you want to talk to anyone about using it or not using it? Jared – we already discussed it yesterday. I am not nervous no more. I don't think it will mess with any of us. Jag – you don't think so? Jared – if he didn't put you up in the first place what the f**k would he do it now? Jag – he could put me up as a backdoor at any point. Jared – I don't see him doing that. I don't think he is worried about you at this point. I don't see him backdooring people. Jag – then why would he want to use it? Jared – um because I think he just had a good conversation with mama Felicia and it was inspiring and wanted to afford her some more time in the house.. she deserves it. Jared leaves again. Blue – I am confused. Jag – me too.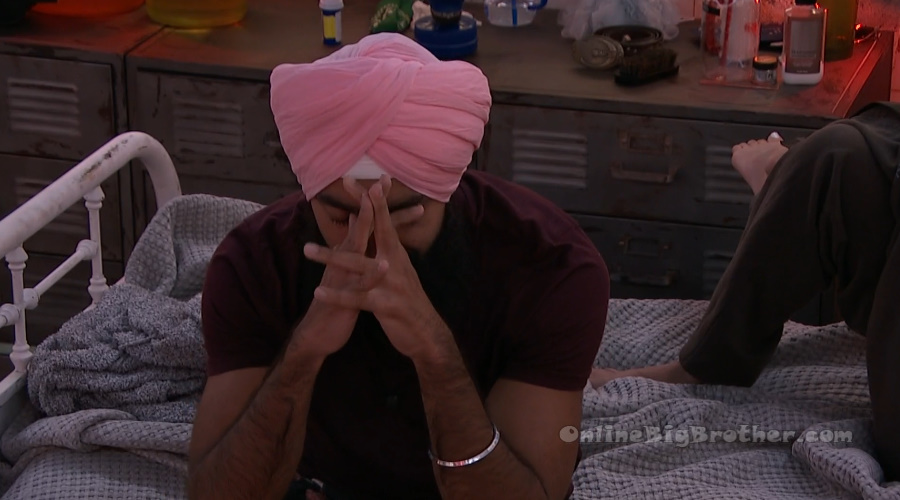 6pm Bathroom – Izzy and Jared.
Izzy – I said to them (Blue and Jag) the way Cam went about his nominations… you can't trust his word. Because I wanted Jag to be like you think he is going to honor your bullsh*t?! Jared – MMmmmhhmmm .. He already told me Bro if you want me to put up Jag.. I can just tell Jag.. like his contingency for not putting up Jag is I can't hear this come back to me. SO if this comes back to me, then you getting put up. So I'll put up Jag and just f**king lie and say it came back to me. So I was like this is who you f**king making deals with?! I was so pissed off just thinking about it bro. I was thinking about it and I was like that's what I am going to do… So I told him (Jag) I am thinking about using it. Izzy – I love this!! So now they're just going to keep panicking.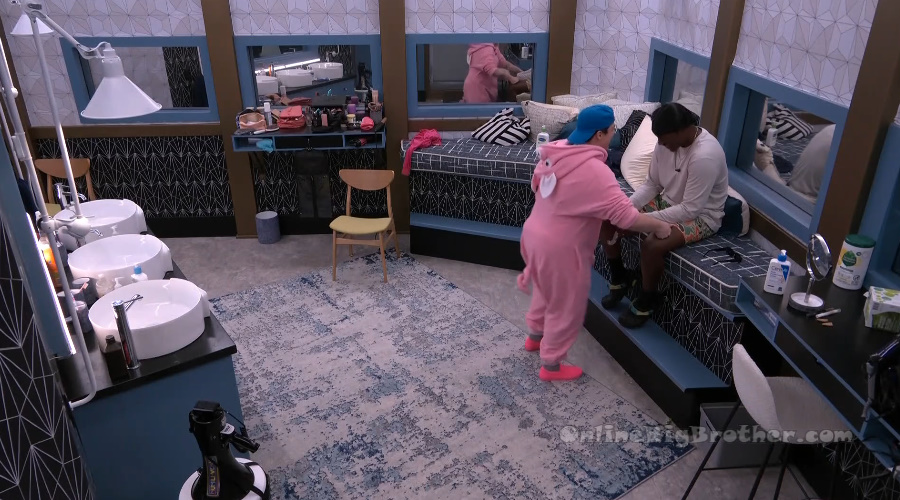 6:07pm – 7pm Bedroom – America, Blue and Jag.
Blue – while Jag and I were sitting down he (Jared) was like I think I am going to use it. Cam is really adamant about using the veto. America – what? What?! Blue – he said something along the lines of Felicia is convincing or something. Jag – inspiring. America – well you know what is going to happen right?! I think he is BSing. This is my theory. I think he is BSing about the Felicia thing. He is smart, he is not going to be swayed by Felicia. I think he is going to put up Cirie and Izzy. Is that stupid? Were ya'll thinking the same thing? Jag – I'm also just scared. America – its not you. After the whole stunt with the pies… HE wants BLOOD and its not ya'll that wronged him. Jag – I have no blood left. Jag – do you think he wants Izzy gone or Cirie. America – I don't think he cares, he just wants to hurt them. Blue – I don't think he is going to target after me, I don't think he is going to target after you (Jag). America leaves. Jag – I trust Izzy over Felicia every day. I think a lot of people choose Izzy over Felicia. Izzy is better at comps. Cirie is tied up with everyone. She has a really good social game. Izzy does too but its not as spread out as Cirie. I do feel good-ish with Izzy.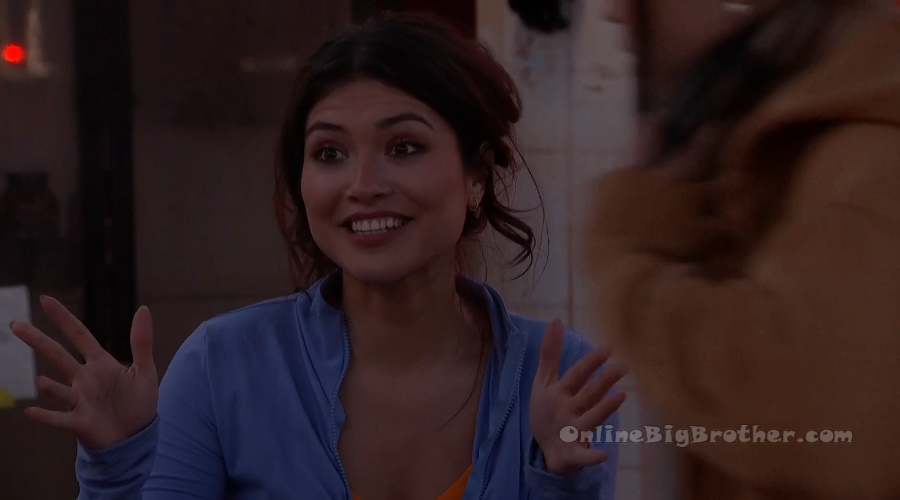 7:08pm – 7:40pm Bedroom – Blue and Jared.
Blue – I came in and started folding my laundry. Jared – no he came in first and you came in after bro. Blue – No, I didn't! Jared – Okay! Blue – you're going to tell me how .. what?! No I came in here. Jared – okay. Blue – what are you talking about? Jared – go ahead. Blue – no, what are you talking about? Jared – GO ahead! Blue – So I came in here to fold my laundry and he follows me in here and he was like so like .. what do you think Cameron said? Do you think Jared is actually going to use it? And I was like I don't know. That was my first time hearing about it too but I have no idea but I think we're okay. And he was freaking out a little bit. He was like what if its me, what if its me?? I was like I think we're fine. Then America comes in and we start talking about Red and sh*t. And so you know how Jag and America have been wanting to do a three thing with me .. And then Jag was like we think the veto is going to be interesting. And we said don't say anything.. And she said I won't. So then me and America were like Jag you're okay. We greed to this little thing where we will tell each other information but we cannot tell anyone else because then since you Cory and Matt are close if any of them find out it exposes us and it ruins our relationship with people.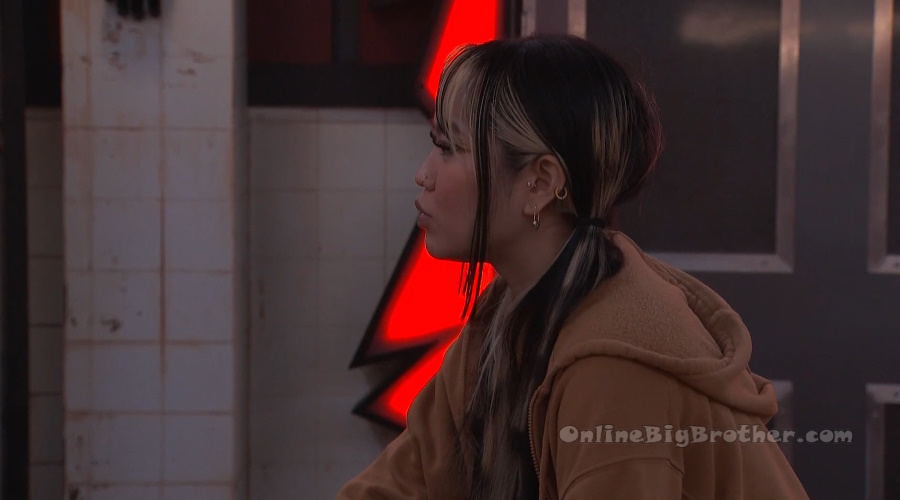 7:45pm Bowie has the BB camera – Bowie describe the season so far.
Cirie – We live on the hill, the big house on hypocrisy hill and the zip code is BB25 – Don't come visit!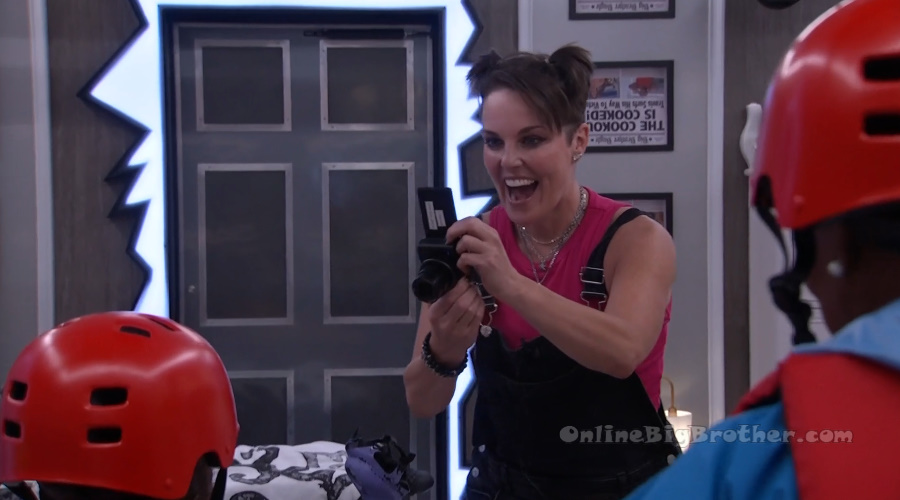 7:50pm – 8:18pm HOH room – Jared and Cameron.
Jared – I have been having some f**king fun down there BRO! Cameron – tell me about it? Jared – I talked to Mama Felicia first and said you know you really put on out there.. Cameron – stop! Jared – Cirie had to go to the DR so I had her alone for a second. I said thinking about our conversation last night I am really considering bringing you (Felicia) down because you do deserve it. And then I went to Jag and I was like .. yeah I don't know BRO, .. you know how I was going to keep it the same this week but you know I think it might be smart if I just use it. He immediately goes… Ah are you sure? You don't want to chat about it? And I was like we chatted about it last night. So he started f**king panicking. So America's been running her mouth saying Jared's been up there for 3 hours. So then I talk to Cory and I tell him that I am thinking of using it and he immediately asks Are we good!? I have been having a BLAST BRO! Cameron – this is what this game is! You've done everything that you were supposed to do.
Jared – F**king America went up to Jag and was like you're good. That's how much he was f**king panicking. Cameron – that means he told her. Jared – no I know he did but that is no surprise in my mind. Cameron – so if he comes up here to talk to me I am going to be like .. Jared – that's on you but that would be funny as sh*t if you scare him. Funny as sh*t if you scare the absolute f**K out of him! Cameron – I will. I am going to make him sh*t his pants. Jared – and then you know what will happen he will immediately run back to me and say I don't think you should use it. Cameron – I am going to make him sh*t his pants. Cameron – I am going to tell one person and one person alone that I am asking you to use this. Jag. I've been telling everyone else that I want you to keep it the same. So if you hear it around the house from someone else that I actually asking you to use it. Then we know where the leak in the boat is. Jared – now I'm going to go down there with a big a$$ smile.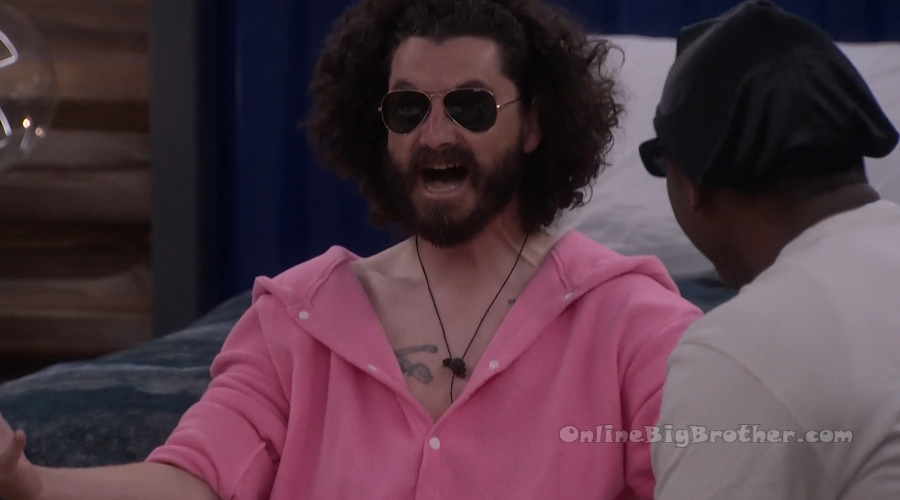 8:30pm Bathroom – Jared and Blue.
Jared tells Blue about his conversation with Cameron – I don't even like the dude but the funniest part is going to be next week when I win HOH and he don't win veto because I am going to be like Cam remember that fun we was having!? I am not done BRO! Get your A$$ up on the block! That's the funniest part about it! You don't even understand BRO what's coming to your a$$! Its been such a f**king BLAST BRO! Its been pretty f**king fun! Jag won't even look me in the eyes. Blue – he is nervous! Jared – he is freaking the f**k out and that's what I wanted. And I am not even mean BRO. I am not even an a$$hole like that .. I have just been so sick of ya'll BRO. Like every time I turn around ya'll be threatening my game.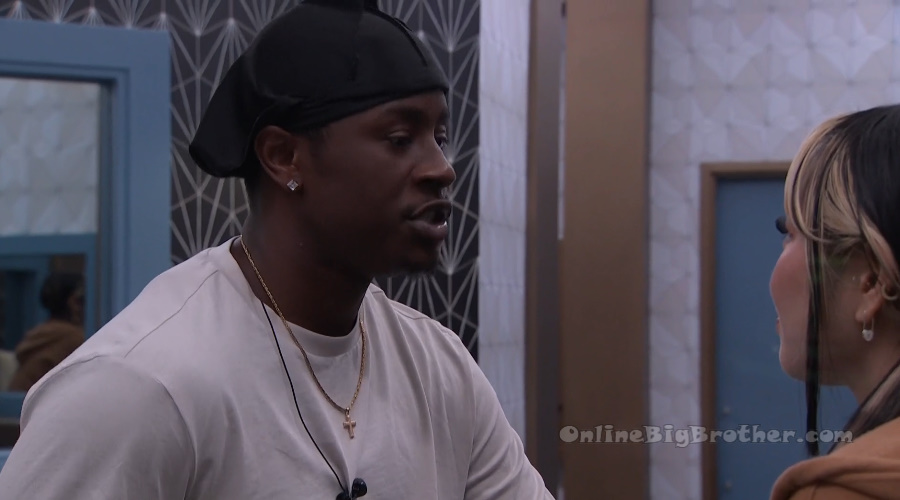 Show your support 🙂 Without your support this site and these spoilers wouldn't be possible.
Please consider a donation to keep the madness going.