The Situation:
Lots of bullsh1tting going on.
Jared and Cameron are living in the house as "Zombies"
No HOH, No Power of Veto, No Eviction. Jared or Cameron will get a chance to reenter the game.
Jared and Cameron compete in a 3 part comp to decide who gets to play in the puzzle comp to reenter the game
Jared lost the Zombie competition so Cameron gets to decide to do The puzzle competition to reenter the game
Lock your ranks in before midnight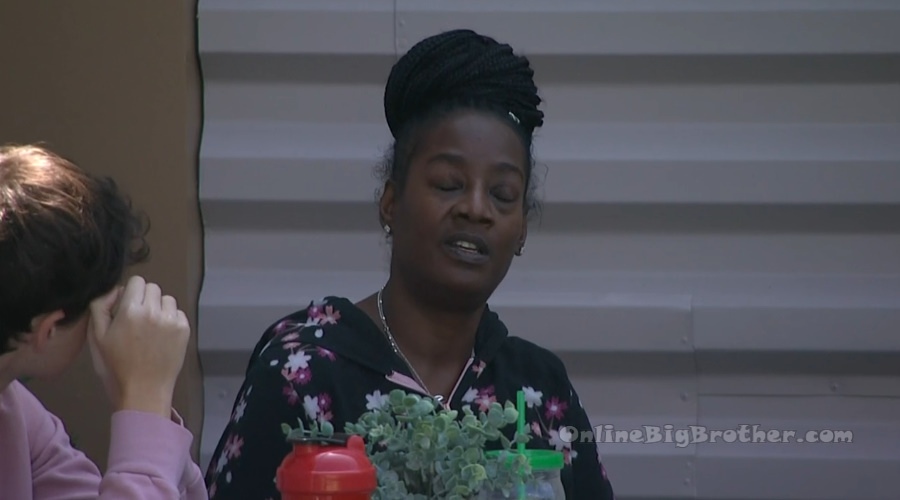 12pm Upper Level Backyard – Cirie and Cory.
Cory – I know this is the past but I do think this is important. Jared started lying to me about America… directly. Cirie – for what though?! Cory – He is not a big fan of America.. which is okay. That's fine. Its not like me and Blue were super close. But he started lying to me about things that she had done to turn me against her. Cirie – OOHHhhhh.. Cory – The weirdest thing that happened .. and he still denies it but I have enough that he couldn't convince me otherwise. This is that week that Cameron is HOH and Jared is getting really close to Cameron trying to make him do whatever.. which didn't really work because it was Izzy and Felicia on the block. Good try, good try. And Cameron pulls me in and says is there anything that you've told America about your outside life that you would be scared of getting out? Eluding to survivor .. like he is not saying it. And I sit there like a deer in headlights .. and he is like you don't have to tell me just be really careful what you tell her. The implication that America is spreading this information. Now this is where I was dishonest with you. I told America about survivor maybe a week before ya'll. Cirie – yeah I don't care. It didn't really matter to me. Cory – I told the three of you here and this information leads to Cameron. Later Cam told me that Jared basically went up to him and said there is some massive information about Cory's life that if it got out would be a massive problem for him. I don't even think he said it was survivor but he was basically annoyed that America knew before him. So he comes to me and says Cory, I think America is leaking your survivor thing.. AND I know it was him. And the survivor part doesn't even matter. This is so goofy what is happening here. And that bugged me a lot. Cirie – that makes a lot more sense. I didn't know what happened.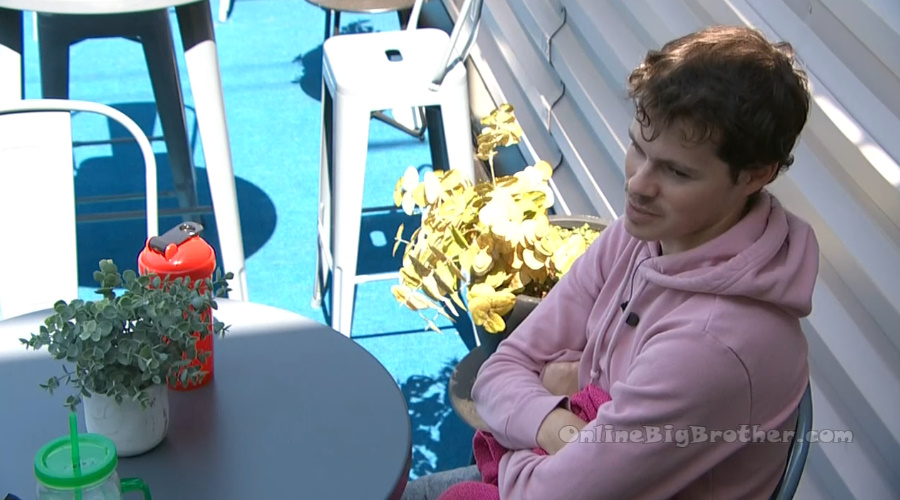 Bathroom – America and Cameron
Cameron – There is wind behind the sails. We're in motion and we're going to run. We're going to f**king run! I'm ready to go. No idea what that f**king comp is going to be but I'm ready. America – I know you're ready. If anyone is going to get that it is going to be you. YOU got this! I am rooting for you. I've been rooting for you. Cam you know how much I.. Cam – stop rooting me up, you're good when I come back. America – no, no, no its not even about that. Its not about how cool I think you are or that you're a bada$$ .. that I said to you in my goodbye message. I just want .. I want you to stay beyond next week. Cam – thank you for that. I want you to stay one more week. America – no no.. because people are already saying whoever comes back is the first to go. Cam – who said that. America – literally everyone has been saying that. Cam – okay. America – and I don't want that to be the case. Cam – who said it to you? America – ahhh.. I don't know everyone that you can think of.. like every name. Cam – so you're the only person in my corner? America – I am not saying I am the only one but I haven't talked to Matt and Jag recently. Or everyone I want to work with.. But that's the sentiment right now. Cam – so there is no piece of anyone that is like well maybe he could be beneficial? America – Maybe.. BB switches the feeds.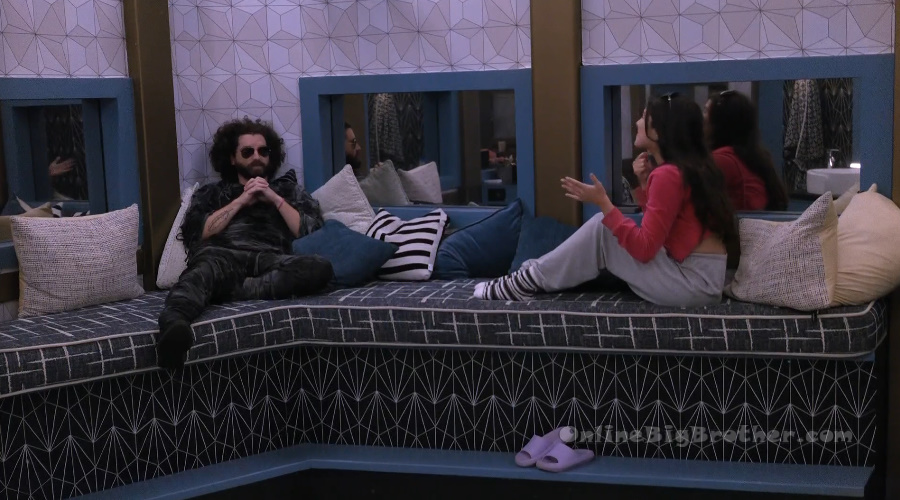 12:22pm – 1pm Bathroom – Jag, Cameron and Matt.
Cameron – what we have is a three person alliance with layers. So we have the three of us and Blue and she feels like she is super connected. Do you remember the Brigade? Jag – I didn't watch that season. Cam – it was Matt, the meow meow .. it was a solid group of 4 dudes and then Brittany. Because she felt she was in a 5 person alliance but she was the last person to leave the four person alliance. So where the layer would be here is it is just us three and we know that but Blue feels very connected because of our beginning together. She feels like she has a lot more say in the four person alliance than she really does… and we will keep her as long as we need to. I do love her but we both know she is selfish and will pick herself every time. So we got a 3 person, with a 4th person kicker. Then we stay close with Cory and America.. and we know what has to happen there. And we have Bowie ..that will do whatever we want. That is 7 people. So there are 3 other people that we all agree need to go before all the rest of us settle. Felicia, Cirie and Meme. And then we all settle on who we all agree need to go first. Felicia gets out of here. Then we got a good jury. But the very second, we know that Cory has got to get the f**k out of here. Jag – Blue is on board of getting Felicia out before jury. Cam – if Cory is as smart guy. If he is as smart as I know him to be .. right now he is thinking long game. He could be thinking about Jury votes. You know I am a f**king superfan. I love this show and you know if I am in that jury I will make a solid decision based on how they played the game.. not based on petty bullsh*t because you pissed me off during the game. If Felicia is in that jury house .. she makes things difficult. So if I am the one you think needs to leave first, you should probably reconsider. Jag – what we will do is wait for them to approach us. Matt – that's interesting that America said that .. because I literally said we shouldn't get rid of Cam. That is dumb, he will take the shot. We're not on his bad side, we're on his good side. But she probably has to do that I guess, I don't know. Cam – she is also Cory's puppet. So whatever Cory is thinking, she has to think it. She has to say it and agree with what he says. He is her ticket. Because once he leaves two weeks from now .. she is nothing. This next HOH .. I've had mine, its ya'll time. This is me trusting the two of you. And don't f**k me over because I will be really really mad at you. Matt – if we can't trust each other this will never work.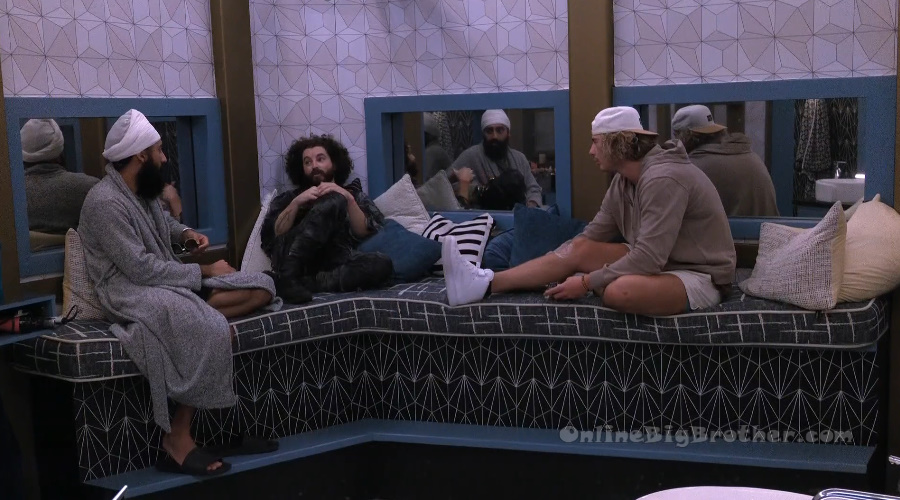 1:18pm Backyard – Cory, Jag and Meme play a game of pool.
Backyard – Jared and Blue.
Jared – I am hoping that if he wins instead of it being automatically I go home, he gets to become HOH. Maybe even I'm an automatic nom. Like kind of how the first week was like I am an automatic nom and he just has to put someone else next to me. Because if that's the f**king case it is going to be wreak less in this motherf**ker. And I guess that is us boasting it but if I stay I will not make the mistake and not take his offer and working with him. And I promise him, I am not coming after your a$$. And we get rid of all these motherf**kers. Blue – That's crazy. I was telling Jag and Matt last night if you told week and a half ago Blue that she was considering working with Cameron she would f**king smack your a$$ right now. Jared – Same for me. I was determined to get that motherf**ker out. Blue – this game is crazy. Jared – this game is very fluid. And anyone that doesn't understand that isn't paying attention.
1:55pm
Big Brother blocks the feeds.
2:04pm Backyard – Jared and Blue.
Blue – I am so confident that you're going to stay the way it is looking. The way that I hope the script is you know. Jared – yeah me too. I hope the comp is hard as f**k. Blue – I hope they rig it! Jared – I hope that sh*t is hard as f**k! Blue – yeah and its gonna be. Especially for something like this you're gonna have to compete! I think it could go either way.. the only thing that makes me feel like its going to be hard is the same reason why it makes me think its going to be easy because the fact that they want to give you an opportunity. Blue – yeah but when is anything in here ever easy. Jared – not easy but .. you're playing by yourself.. you have no pressure of beating someone else. You just have to worry about beating the time. Blue – but the pressure of it being your one last shot. Jared – I hope that motherf**ker roll an ankle. If he wins it though, I'm going to be like BRO you deserve it. Chalk that sh*t up to the game. Take my a$$ home. Blue – wait for me…. say it! Jared – I'm a wait for you baby. Blue – I give you a big fat kiss! But ya'll not getting that.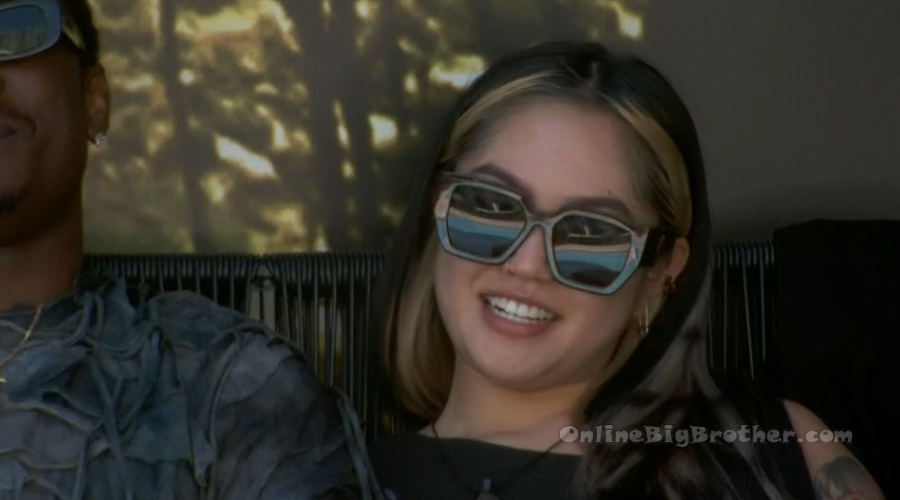 3:02 – 3:13pm Upper Level Backyard – Bowie and America
America – if Jared leaves it would be great for us. Bowie – it would be great. America – I talked to Cam this morning, he wants to join us. He said I see that you have something good going on and I want to be a part of it. Bowie – he thinks the four of you? America – I have no idea. He was like I see the group.. no one's name came up. Bowie – he might try to pit us against each other. America – he was like you guys are not my targets. I made it very clear during my HOH who my targets are. I took a stand against what I thought was my alliance. I turned against them because I saw how they were picking each other off and I don't trust them. Bowie – that was right. I wouldn't have had the balls to do it. America – he is right and I think his next targets are Meme, Felicia and Cirie.. which is good for us. And he is great at competitions if you can use him. You don't have to take him out immediately. We just have to build trust. Cam brought it up to me.. who do we want in jury? Or who do we not want in jury? I feel like Cirie would influence a lot of votes. Felicia talks but I don't think people take her seriously.