Quick Big Brother Spoilers
Head of Household: Cameron
Nominees: Mecole and MOMMA FE
POV Players:Mecole, MOMMA FE, Cameron, America, Blue, Matt (Jag is hosting)
POV Winner: Cameron
Veto Ceremony: Cameron did not use the veto.
Havenots: ?
Lock your ranks in before midnight
The Situation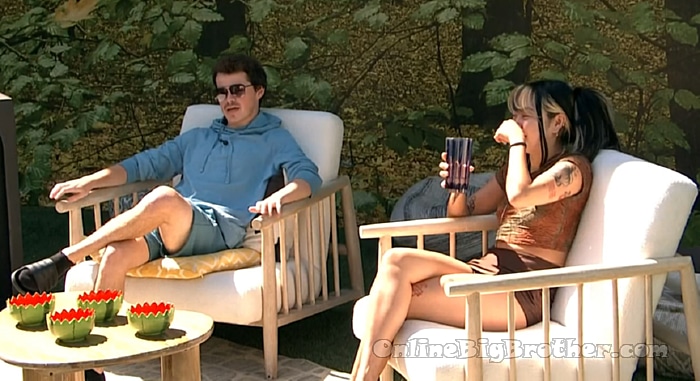 12:55 pm Blue and Corey
Corey tells her that Felicia was trying to get America to campaign to Cameron to get him up.
They talk about Felicia calling out Corey.

12:58 pm Matt, Bowie and America, Felicia, Cam.
Felicia is called to the diary room and leaves. Cam follows her out to the kitchen to make food.
America – what was the point of that other than making people feel uncomfortable?
Bowie – She (Felicia) said I have nothing to lose..
Bowie – She (Felicia) was coming in (HOH) fired up
Bowie – she's assuming she's going now. she feels like she has nothing to lose.
America – what is the point
Matt – She could have gone out peacefully. she would have a better chance surviving if she hadn't blown up. Now she's blown up and we're all GET OUT.
Bowie – Totally
America – I'm going to tell her if it weren't for me and Corey you wouldn't be here right now.
Bowie – I know seriously..
America – the Izzy week she was going home it was me and Corey that rallied the votes to save her.
Bowie – You should remind her. Without you rallying there was no way not after the week I was blindsided.
America – if she tries to talk again.
(Sounding like Felicia spazzed out on Corey and America)
Feeds flip
1:03 pm Cam getting mad at the camera again "HEY Don't you start with me"
Jag joins him.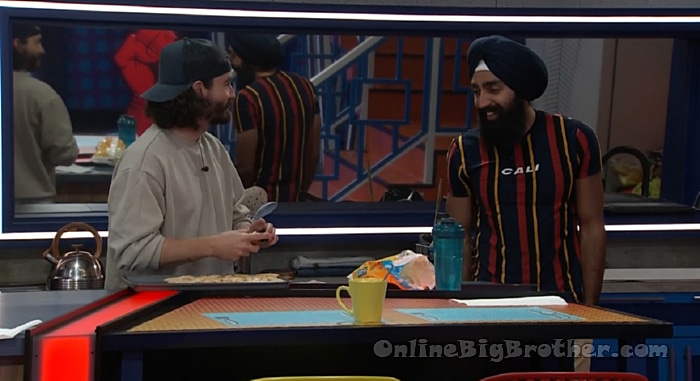 1:10 pm Jag and Cameron
Cameron mentions he met with Bowie about naming there group of four.
cam – I told her I wasn't going to be a swan
jag – a what?
Cam – she's all about he Sydney swans. her football team
Jag – that's funny..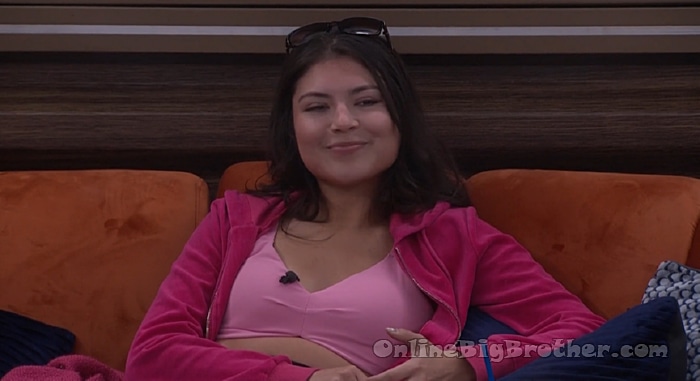 1:13 pm Feeds back to the HOH group. Matt, America and Bowie.
Matt – Jared was way way more dangerous..
America = she (FE) brought up the whole weren't you glad Cam left.
matt – you were like YEAH i was next to him
America – I was on the block next to him
Bowie – that was a silly thing to say
America – stupid
Bowie – she said we'll watch back the tapes.. Watch back the tapes we'll see you lying.
MAtt – you can go do it and let us know in two months.
America – you can roll the tapes back on Thursday night when you are home (LOL)
Bowie laughs "Ahh bloody hell"
Matt – she got too sloppy
Bowie – sloppy from the start
America – if anyone's been carried it's her
bowie – yeah 100%
Matt – she's been protected..
America – the whole 7 deadly sins was putting you guys in front
Matt – we were the protectors
Matt cays Cam told him he was being used by Felicia, Izzy and Cirie.
Bowie brings up Felicia saying "Changing your behaviour and going to speak to the HOH hanging there"
America – that was at you
Matt – ohh that was about you?
Bowie – yeah
America – they are shitting on you all the time
Matt – why would you hang out with them
Bowie – exactly.. I'm not going to hang out with the people that don't speak to me. I'm going to hang out with the people that speak to me.
Matt jokes "we Keep Felicia"
America – I DO NOT want her in Jury I'm SO GLAD she's going to be gone.
Matt – she'd be a VERY bitter juror
America – 1000% .. coming up with theories..
Feeds flip.. (Sigh the flips this year have starved us of all the juicy stuff)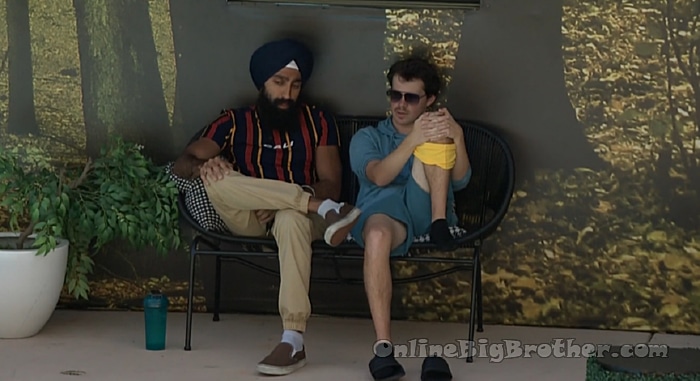 1:27 pm Jag and Corey
Jag says that Matt and him were fighting for his life in the HOH last night.
Jag says Blue is getting more bold saying Corey in the house isn't in her game. She also said Cameron.
Jag warns him about Blue.
Jag says that Blue was trying to get him to go for safety and Matt for the money during the HO on thursday.
Jag – straight up.. I was like NO. It's super f**ing weird if I went for safety.
Corey – it's hard for me to consider targeting anyone else other than Blue. that has to happen.
Jag – agreed.
Corey – I don't care about anyone in this house outside, you, matt and America. Cameron needs to go but I don't think it's next week.
Corey says one of the thoughts of getting Jared out was that Blue would come closer to them instead she's further away.
They agree it's "Horse sh1t" that MEME picked her for Veto.
Corey says he wasn't trusting Blue he wishes Jag would have told him earlier that she was targeting him.
Jag didn't want people to feel SUSS all of a sudden.
Corey says he appreciates Jag looking out for him last night with Cameron.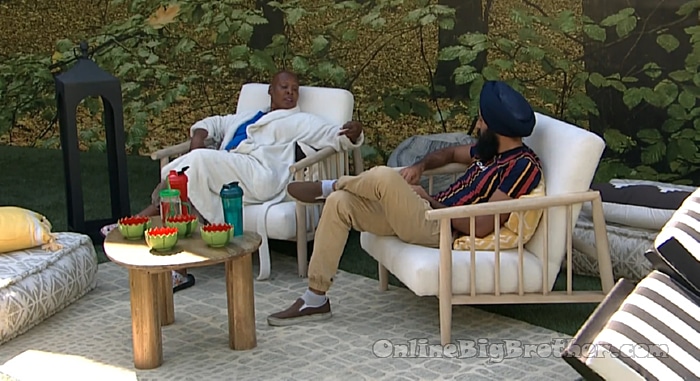 1:51 pm Felicia and Jag
Felicia going on about Corey.
Felicia – my game isn't over. I am blunt and very bold that is why I am here.. I can be a shield for you guys,.. Any moves your want made I can make it.
Felicia says she's good with Cirie now even though Cirie did "Stuff" to her earlier at the end of the say "You have to trust somebody" She goes on about trusting Jag, Cirie and Matt.
Felicia – what cameron is doing is fake.. when he's not HOH he's back to sitting in his room by himself.. THAT IS REAL
Felicia says Corey and America are just out for themselves "They will be feeding information trying to defect people away from them"
Felicia is pissed about Corey throwing competitions and not showing the world where he stands.
Felicia – he's played a low key game where he never shows his hand.. (LOL Corey's not on the block)
Felicia – if I leave be careful that's the game he plays he's used everybody else to accomplish what he needs to accomplish because he FEEDS LIES/ He lays in all these rooms and acts like he's sleeping.
Felicia – he not asleep (LOL )
Felicia – he's hearing every conversations and feeding bits and pieces to people. Guess what they said, Guess what they started, Guess what they did.
Jag – mmmmhmmm Yeah
Felicia – If I get you, Matt, Cire, Bowie jane I stay in this house and I will further your game. I won't make it to the end. I'm okay with THAT but I would like to make it to the jury house.
Felicia – I want to help take out him, America and F****ING Cameron. I don't know what alliances you've made with Cameron/..
Felicia – he's not going to let you sit next to him. he might let GOOFY head right there sit next to him thinking that the JURY won't pick him more than me.
Felicia – he's not going to let you or Matt sit next to him. (COrey is goofy head?)
Jag – I know that.
Felicia – that all girl sh1t.. that was brought up BY AMERICA in this backyard. (LOL.. FE's spiral is better than I thought)
Felicia – we looked at her and said.. 'you know you have to get rid of Corey' she's like 'I know… I think it would be so cool'
Felicia – now she's playing that off like I did that
Jag – ohh..
Felicia – mmmhmmmmmm
Jag – what a game.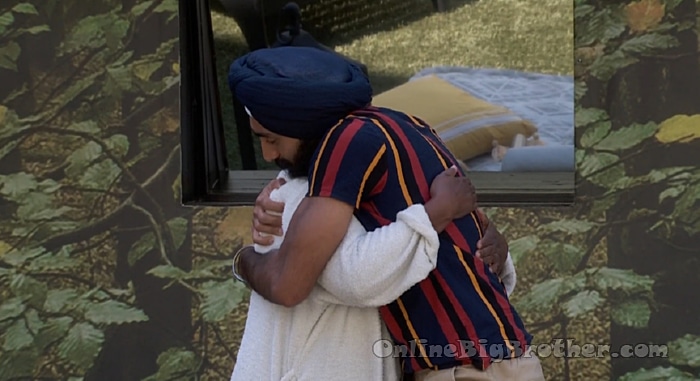 Felicia goes on for another 15 minutes. Finally she's called into the Diary room…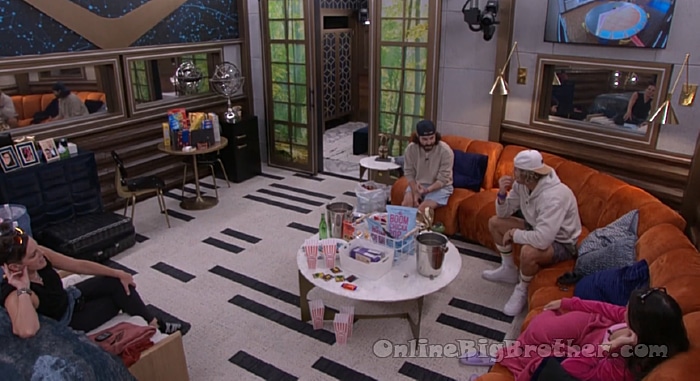 2:00 pm Cam, Matt, America, Bowie
Cam offers the HOH as a sanctuary.
Bowie – have you been called to DR yet?
Cam – no.. I don't really care I'm going to have fun like I normally do.
Feeds flip. when they come back
Bowie – She went hard.. Felicia..
Cam – that was ridiculous
America – I was not going to go hard.
Bowie – not fair that she got to say the last comment.
Cam – 'you all can not talk to me for the rest of this game' Proceeds to come up in our conversations (IN HOH)
Bowie – is that what she said?
America – she did at the end (MOMMA FE really went off)
Bowie – she goes.. "I'm going upstairs, I'm walking right into that room"
America – okay and?
They talk about Felicia storming around.
Cameron – if you are looking for a fight I'll give you a F***ing fight.
Bowie – I think she does want to fight
America – she clearly does
cameron – she's good now. She's calmer now. After getting whatever she needed off her chest. She went into the DR.. now she's starting to do one on one ands calm down.
Bowie – she's going to campaign
Cam – you are leaving this house how does it serve you to be put down everyone in this house particularly since you've been doing that this entire game.
feeds cut.. (WOW the amount of feed blocking to protect houseguest behaviour is notable)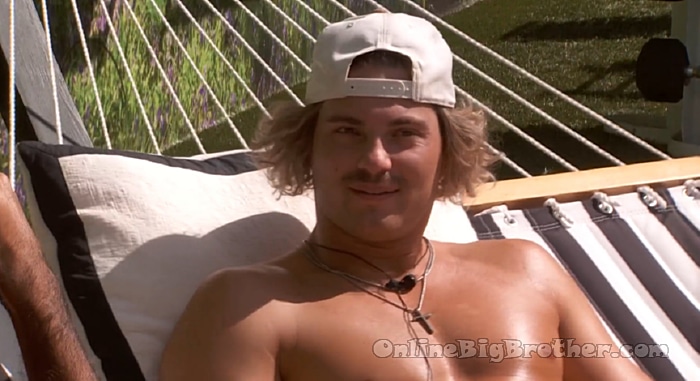 2:23 pm Jag and Matt
Jag – what would happen if we kept Felicia?
Matt laughs.. it's good for us
Jag – we have to talk to Cam about this.. it's good for us and it's also good for cam. Felicia is going after Corey, Corey is going after Felicia.
Matt – we get rid of her
Jagg – who can actually compete.
matt – who will keep her? that's the problem.
Jag – Corey wouldn't, Camerica wouldn't, Blue wouldn't, Would CIRIE?
Jag – Naw…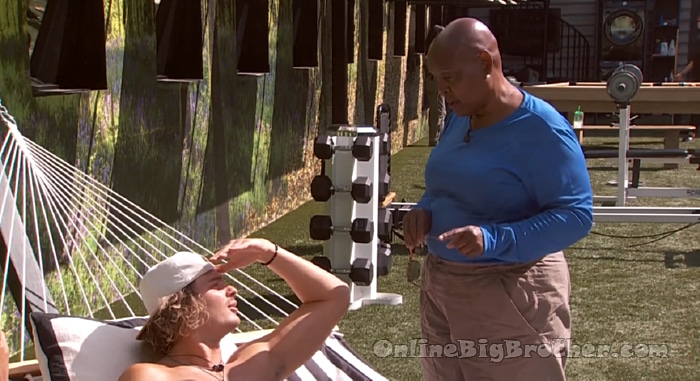 Felicia joins them. 'I know I said a lot today everything I said today was true"
Felicia goes on about wanting their votes and helping them "I won't vote against you two, MEME and Cirie.. "
Felicia – You cannot trust Corey and America. Bowie Jane is just floating around.
Jag – right..
Felicia – I don't want to see one of those guys that have never had to show their hand.
Felicia leaves..
Jag – low key we can't do that..
matt- why?
Jag – we would be going against Corey and America for no reason
Matt – it's just for the drama
Jag – yeah the drama
Jag – if MEME went home this week it would be a lot easier for us to win competitions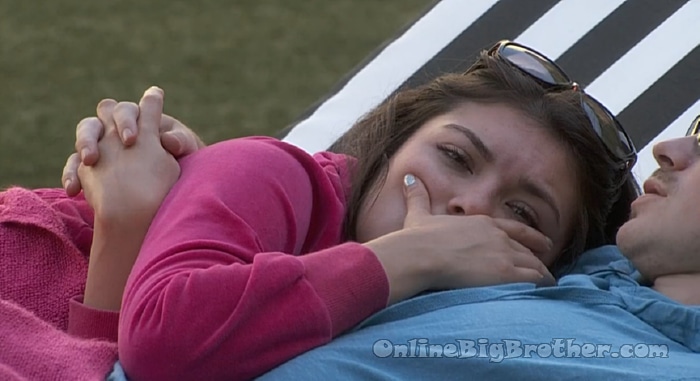 3:20 pm America and Cory
Corey says Blue's plan is to go after him and Cam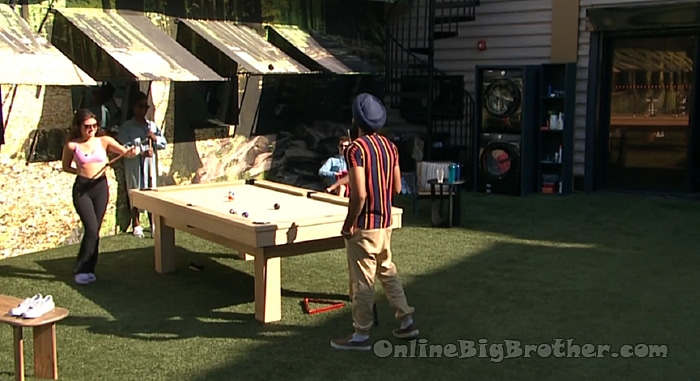 3:40 pm Pool game.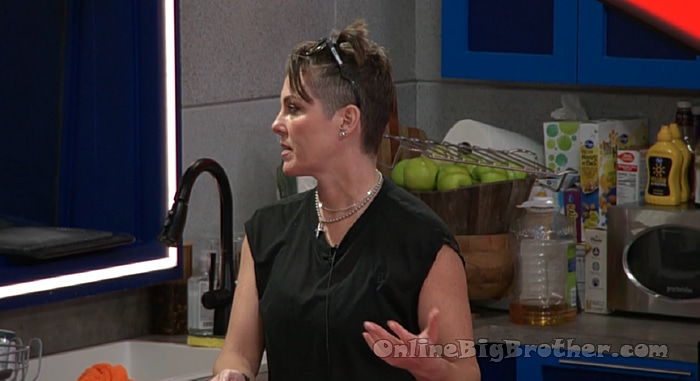 3:44 pm Jag and Bowie
Jag saying that Felicia can only go to Matt, Bowie and Jag for votes. "she can't go to Corey and america because she just blew up their game."
Bowie says she's going to go for safety and matt, Jag go for HOH.
Jag thinks that's the best play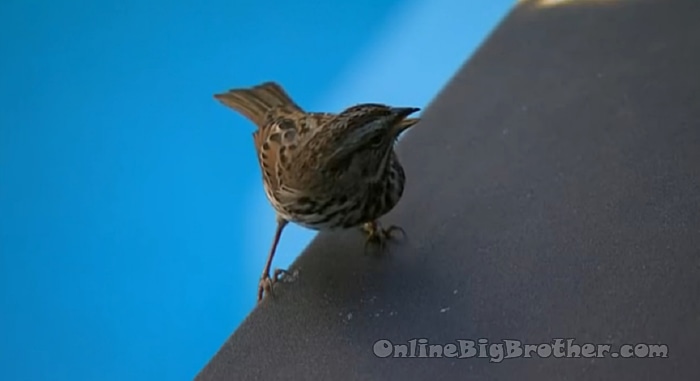 4:25 pm Backyard feed bird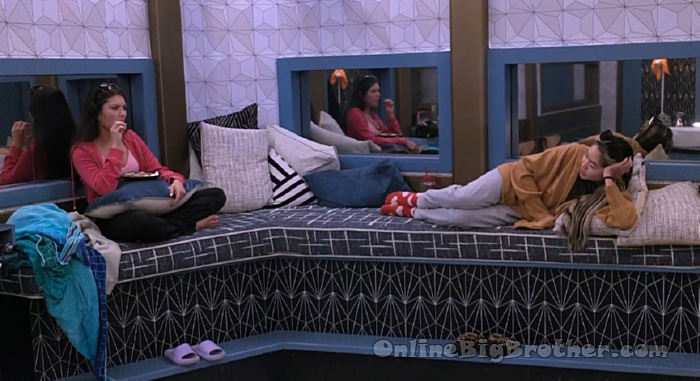 4:32 pm Blue and America
America – I have three days I don't even want to be here with her.
Blue – Cirie was telling me umm… she was like Felicia said it's not over yet she's going to keep blowing sh1t up.
Blue – Ohh brother ,… and then she said something along the lines.. I just need four votes
America – she just lost two of them
Blue – yeah, like for sure lost
America – mmmhmmmm
Blue – she's got to go this week
America – can you imagine her in Jury?
Blue – absolutely not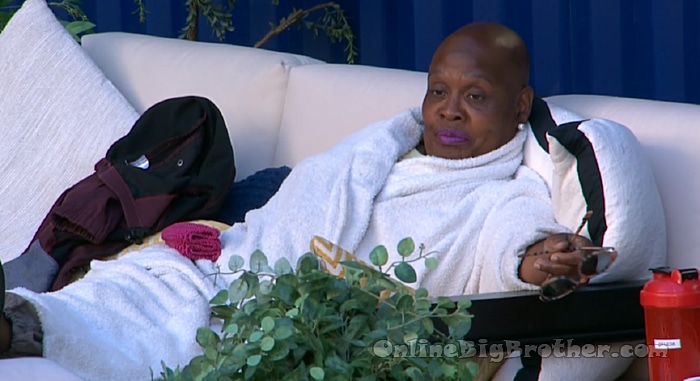 4:46 pm Felicia continues her spiral this time it's Cam that gets to listen.
Fe – I've been watching everybody in here all along watching their behaviour I've never had to ask somebody if I was leaving or going I could tell by their behaviour.
Fe – when they're with you they're in your face when they're against you nobody's in the room
Cameron – I've been watching it for 23 years
FE – it's human nature
Cam – this is the game..
Feeds flip .. when we're back.
Cam – my advice, soak up all of it. I knew when I was leaving and I stayed the same person tried to be the guy that told the jokes. I tried to be the same guy that I was in opposition right now. When you walk in the room people stop talking. It's not that they are talking about you. it's they are talking about next week
FE – ohh I get all of that.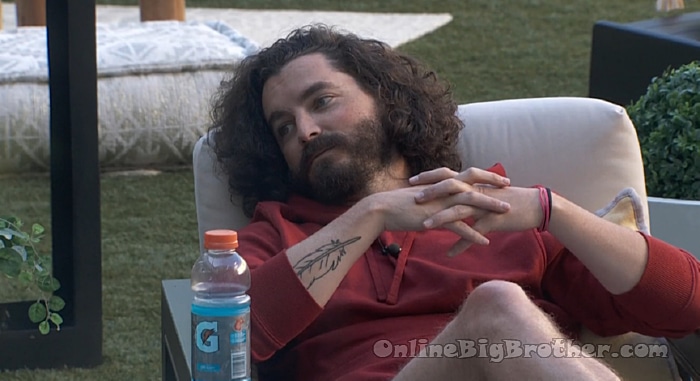 Cam – just try to be the same. People will always remember the cool stuff about someone. It only takes a few things to tarnish that. I much rather leave a lasting impression of what I want my character to be rather as to allow everyone to paint me as someone else . (ohh shit.)
FE – Ohh Well I know who I am.. my speech today that was all facts. They can tarnish me as much as they want to.
FE – I do realize this was a game. on the outside when you see me you will get the same Felicia. THis is who I am. All day long. People take me or leave me and I'm okay with that
Fe – I ain't gone yet.. I am not gone yet.
Cam – how do you campaign without campaigning against MEME (Ouch)
FE – what do you mean.. I'm never going to campaign against MEME
Cam – any campaigning at all is asking for MEME to leave.
FE – well yeah that's part of the game. I'm campaigning to stay.
Fe – how did you campaign against Jared?
Cam – against JAred? I beat him at a game I didn't have to campaign at all. I didn't campaign against REilly she was my friend and I trusted you guys. I didn't campaign against Hisam because it was the plan for the entire house for him to leave. I won myself off the block against red. I didn't campaign against America because I had the feeling I was going to come back into the house.
Cam – I didn't campaign I don't know how you will campaign .. it's tough road..
Fe – ohh I know
Felicia says she's not going to do anything disparaging about MEME but she's still going to try and stay.
Cirie joins them.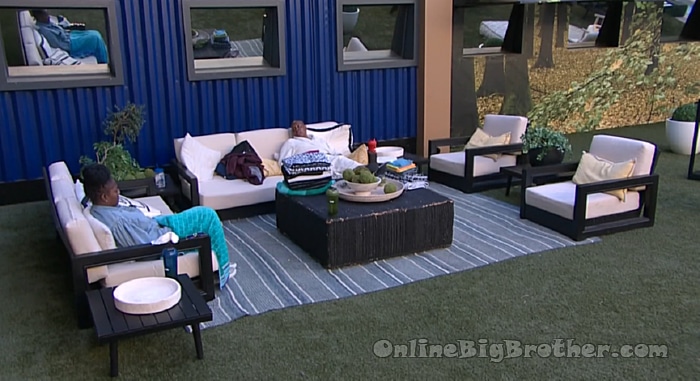 5:06 pm Felicia keeps the spiral going to Cirie. She betrates Cameron, Corey and America.
Felicia – if he was willing to help me stay in the house I might roll with him (her head is broken)
Fe – they are going to one by one..
Cirie- mmhmmmmm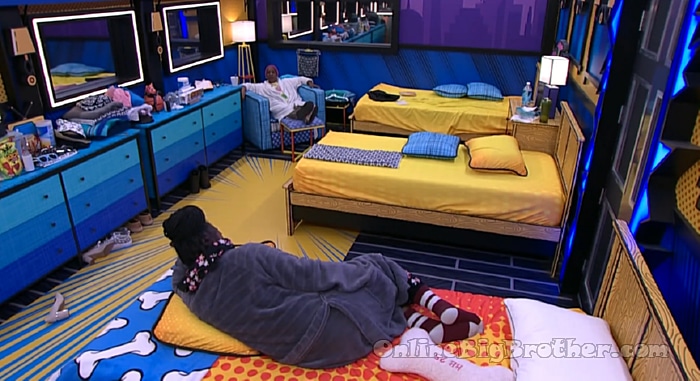 5:33 pm Felicia and Cirie The spiral continues.
Felicia going on about Corey and America spreading lies.
Fe – riding everyone else's coat tails. You don't try to win a comp. America lost the pressure cooker deliberately
Cirie – Mmhmmmm
Fe – that's two HOH they could have taken from him (Cam)
Fe – he's building his f**ign resume. Who would do that? They don't want to go up be the HOH and put somebody on the block.
Fe – they don't deserve to be here no more. (LOL)
Felicia says the only reason she's 'Still fighting" is to take out Corey and America. other than that "I'm ready to go home"
Fe – the thought of them sitting their a$$es out here and I am going home. That actually pisses me off.
Fe – Him telling me I don't want me in the jury house.. HA! you don't get to decide if I get to go to the jury house
You can overhear a bunch of people outside talking about meeting up after the Show.
Cirie – they ain't ever going to see each other again
Fe – no
Cirie – none of that nonsense.. maybe Matt and jAg. Who wants to go see Cameron.
Fe – nobody. Ain't nobody going to Georgia to see him
Cirie – once you figure out who she is you ain't never going to see her.. (America?)
Felicia says the only people that will meet up after the show is her, MEME, Cirie and JAred.
Feeds flip.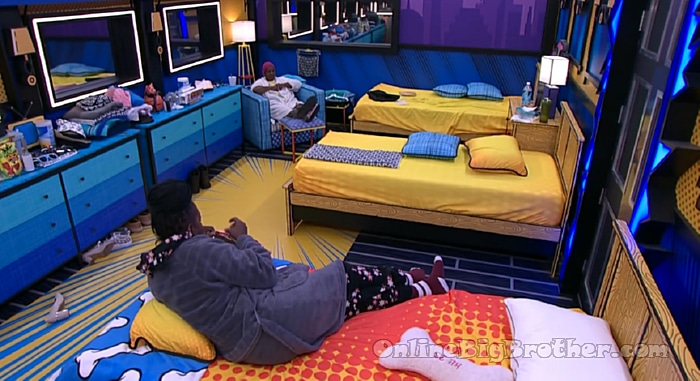 When the feeds come back to Cirie an Felicia. Cirie is drilling chips into her like Randy. Felicia is hoping that the HOH is Shuffleboard so Cirie can win it and shock the house.
Cirie – they be so shocked..
Chump chump
feeds flip… when we're back Cirie continues to chomp on the chips showing no mercy.
Felicia – they won't let me stay they're scared of me now..
Felicia – I got to get Matt and jag.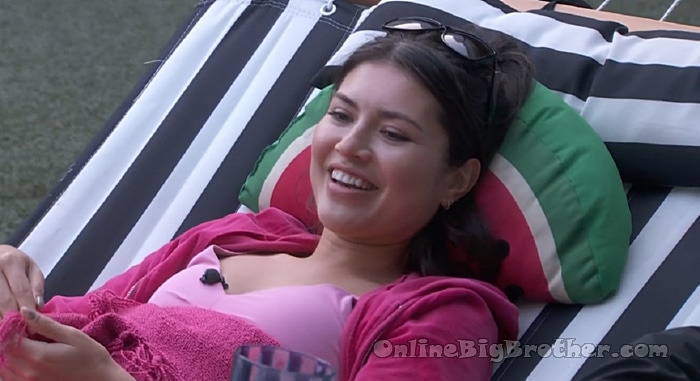 6:00 pm America and Mtt
America says Blue is sketching her out.
Matt says they have to take Blue out next week. He warns that Blue is really close to Cirie.
Matt – I know she's cut throaty.. she trust me more than Jag.
Matt – there's a war about to happen. we have the numbers.
America says Blue would spill information from her and Corey.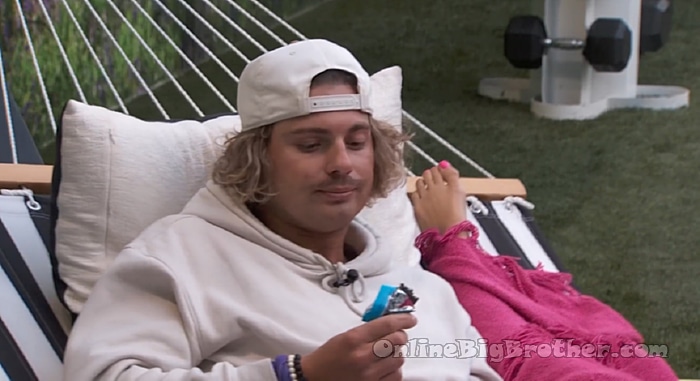 6:15 pm Matt drills a bar in. They talk about taking out Blue and MEME out. Cirie is a non threat.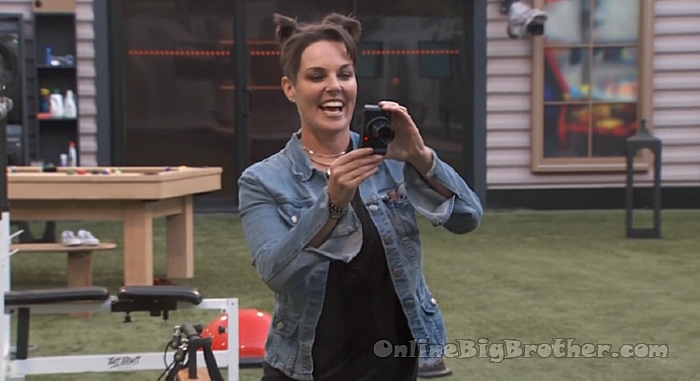 6:20 pm They have a fancy camera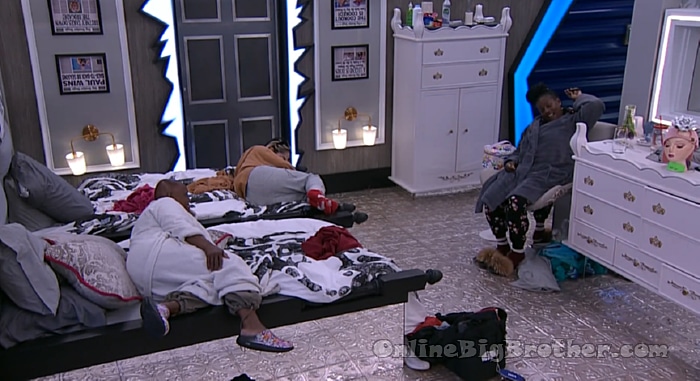 6:34 pm Cirie, Felicia and Blue
They're talking about how much they miss Izzy (Barf)
Cirie – shout out to you Izard.. I wonder if her and Jared got together. I'm sure they have.
Blue – I'm sure they have
Cirie – I'm sure her and jared got together already for some drinks or some greenery
Feeds flip.. (Production doesn't want us to know Jared and Izzy smoke week)
If you've enjoyed our updates this season and want to leave a tip you can do so through PayPal.
You don't even need a Paypal account to contribute. Any amount is greatly appreciated!