Quick Big Brother Spoilers
Head of Household: Cameron
Nominees: Mecole and MOMMA FE
POV Players:Mecole, MOMMA FE, Cameron, America, Blue, Matt (Jag is hosting)
POV Winner: Cameron
Veto Ceremony: Cameron did not use the veto.
Havenots: ?
Lock your ranks in before midnight
The Situation Cameron isn't using the veto. Felicia will likely be evicted but there is heat on MEME.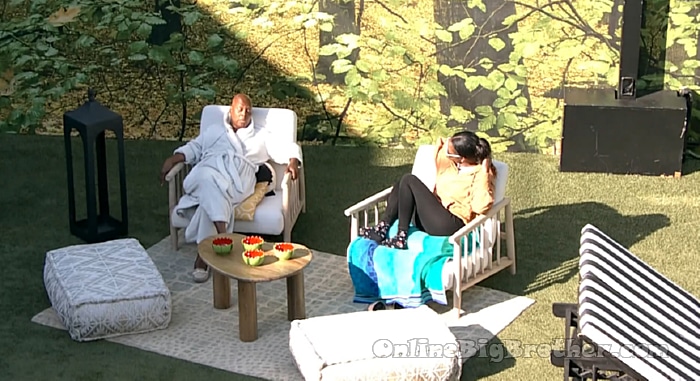 9:26 am MEME and Felicia
Being sad about their predicament
MEME is pissed at Corey for taking out Jared.
Felicia – he hasn't showed me genius yet just because you know Math and Science doesn't mean you are a genius
MEME – everybody knows Math and Science
America joins them.
Felicia – you sound like you have a cold.. or allergies.. you sound stuffed.

9:38 am Bowie, Jag and Matt
Bowie saying that soon everyone will be playing in Veto.
Bowie doesn't think it's smart to take Cam out next week. She asks if people are saying that?
Jag – I feel like it's always an option
Jag – he feels good with us for now.
Matt agrees says they want Cam around right now.
Blue joins them. Feeds cut. When we're back.
Blue says she wants someone in the scary room to win next week.
Matt says if it's slip n slide they will win it for sure.
Matt – You know for sure who can't win?
Jag – everyone else
Matt – MEME
They talk about strategy if it's slip n slide. Should one of them go for Safety and TWo go for HOH. The fourth person can go for the money.
Blue – should we do 2 HOH and 2 safety?
Bowie – should we do 3 HOH
Jag – that's what I'm thinking
Blue says Jag should grab the safety and the rest of them go for HOH. "They way this house has been played you've been scapegoat number two"
(They are just assuming the slip n slide comp will have a safety and cash prize component)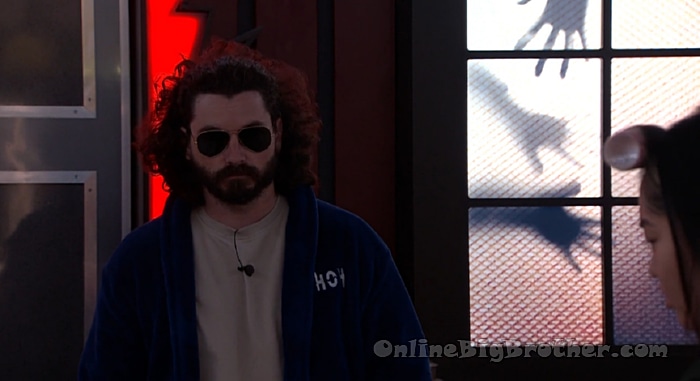 Cam joins them and they continue to talk about Slip n slide strategies..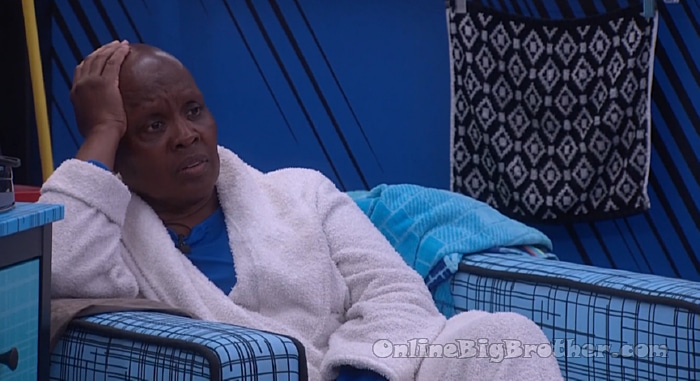 9:54 am Felicia is campaigning to America
Felicia pitches a woman's alliance, all female finale 4. Says they need to convince Cam to put up one of the strong male players.
America doesn't' think Cam will do that. The guys are too close.
Felicia points out how Blue's game improved now that Jared is gone.
Felicia – If we can get him to put up one guy it would flip the dynamic to the females and we would win.
America – I don't know what it would take to convince him. I don't talk game with him. He's very stern when talking to me.
Felicia – you don't think if you went to him and said 'listen Me and Corey are an island but that doesn't impact my game and if he would go I am OKay with that'
Felicia – and if I'm offending you say so . (LOL she's asking of America would try and get Corey nominated.. WOW)
America – First off .. I don't want to throw COrey under the bus like that
Felicia – just a thought.. This is just us the girls trying to figure out how to get to the end. When we had the dinner we said they've never had a final 4 with all females..
Felicia – I would love to see it happen.
America – he's not putting a guy up.
America says she hasn't talked to CAm she doesn't know what Cam is thinking. her assumption is Cam will keep nominations the same.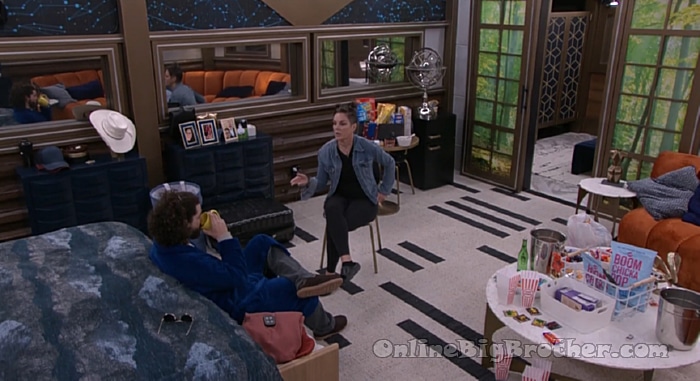 10:19 am Cam and Bowie
Talking about their final 2.
Cam warns her about Blue do not trust her.
Cam asks what they were talking in the scary room when he walked in.
Bowie says strategy for the slip n slide
Bowie asks if the noms are staying the same.
Cam isn't using the the veto. Says it got really close up until last night.
Cameron – The bottom line is I've decided not to use it because I am deciding to work with this group.. If I were going to work by myself like I have been this whole time with my back against the wall I pull that trigger today and he'd be gone. On the landscape of things if I get rid of him now it will shake up the house so bad we might not be able to hold it together
Cameron is going to talk to Corey and tell him that Blue is out to get him.
Cameron says there's things he only tells Bowie "You are my f**ing person Bowie..YOu are my person"
Cameron love's his crew buyt Matt and Jag have each other "we have each other"
Bowie – Let blue think she's a part of it.
Cameron agrees.
Cam wants a name for their group. "it's not going to be the swans"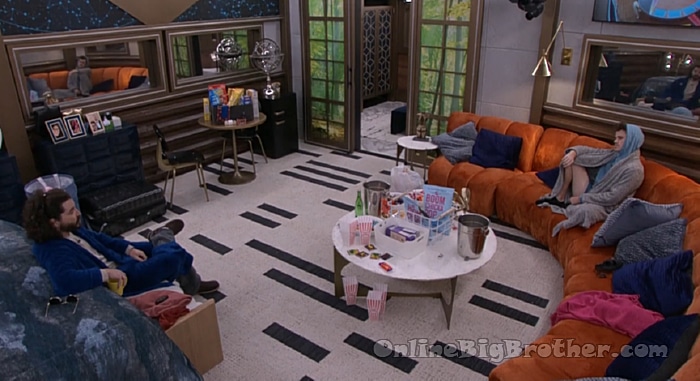 10:30 am Cameron and Corey
Cameron tells Corey that Blue is after him.
Corey says BLue is telling him her target is Cam.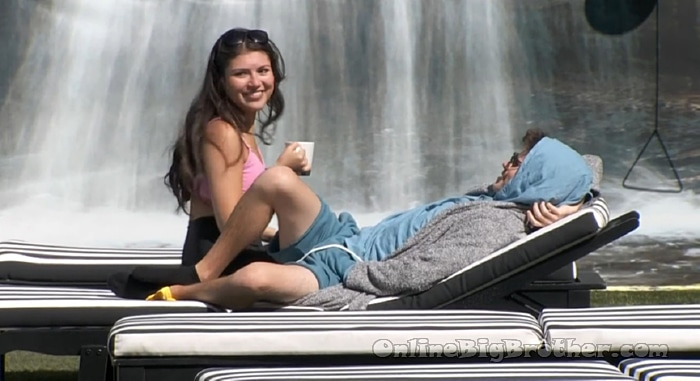 10:56 pm Corey and America
Corey – I got to talk to Matt and Jag about Blue again.
America – why?
Corey – she's gunning gunning for me. Cam alluded stuff.. She's been trying to see if the veto could be used.
Corey – my concern is Cam telling me this and MAtt and JAg did not.
Corey points out that Cam says he told Matt and Jag So Corey will talk to them today to see what is going on.
Feeds cut to pound.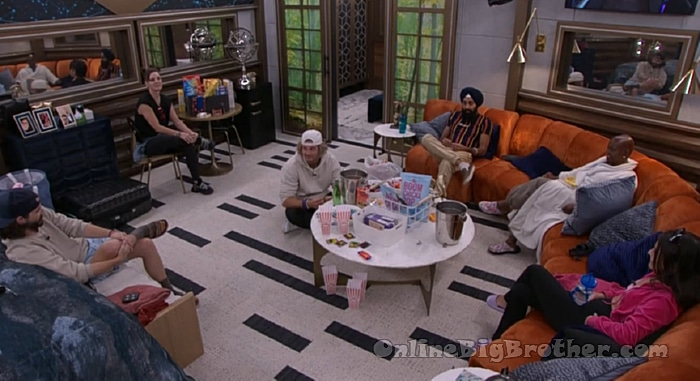 12:51 pm Feeds return. Cameron did not use the Veto.
If you've enjoyed our updates this season and want to leave a tip you can do so through PayPal.
You don't even need a Paypal account to contribute. Any amount is greatly appreciated!