Quick Big Brother Spoilers
Head of Household: Cameron
Nominees: Mecole and MOMMA FE
POV Players:Mecole, MOMMA FE, Cameron, America, Blue, Matt (Jag is hosting)
POV Winner: Cameron
Veto Ceremony: Cameron did not use the veto.
Havenots: ?
Lock your ranks in before midnight
The Situation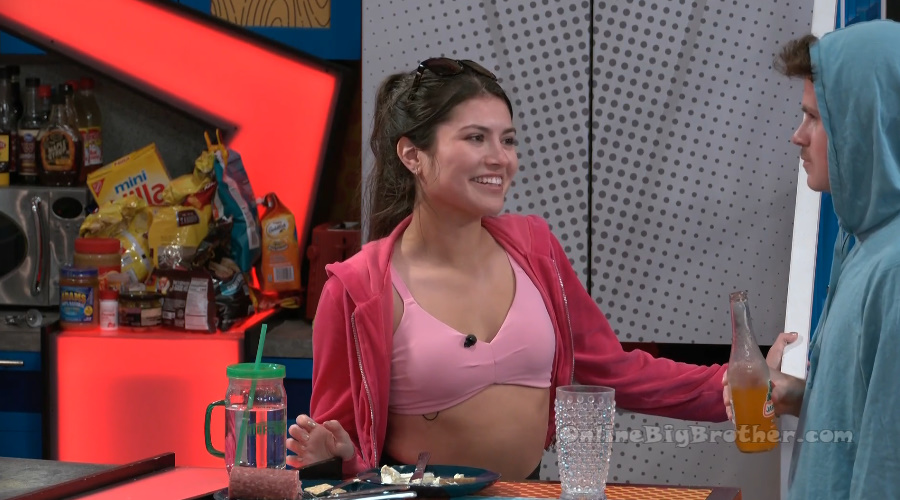 7pm Kitchen – America and Cory.
Cory – do you feel better? America – Yeah, I just wish they would have told us. Like right away because apparently it was going on last night. Cory – Cam told them theoretically but Blue's been telling me forever. America – Blue talked to them last night. Cory – the fact that they only said it last night.. that makes me feel better. America – what do you mean? Cory – Because Blue's been floating the for awhile but if she only said this is what I am doing last night .. that makes me feel better. America – yeah the last time she mentioned it was yesterday .. and before. Cory – yeah I don't know about that. America – before "We Come in Pieces" she pulled him in the scary room she said she wanted you out. And Matt just told me that him and Jag were like f**k we have to pull Cory aside so that he knows but then we got called for the competition. Cory – yeah they told me that too but why didn't they tell me any time between then and now? America – I know exactly. Cory – the truth is they're telling me now mostly because they probably feel pressured to which is fine… better than.. they have to be committed one way or another. Is it annoying? Sure but what the f**k are we going to do about it? America – you have to stop acting so nervous. You're always so anxious. Cory – where am I supposed to hang out right now? They're all just sitting in the scramble room and Matt is outside.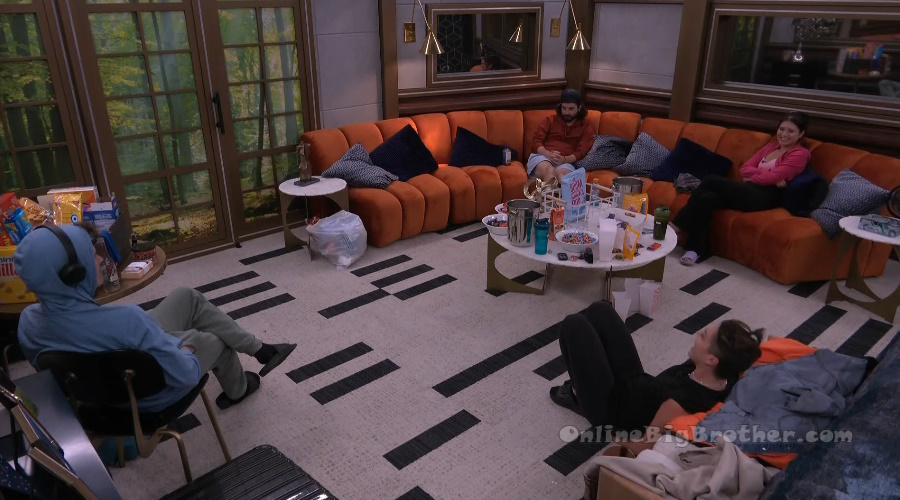 7:35pm – 8pm HOH room – Cameron, America, Cory and Bowie.
Cory – why do you think she (Blue) wants to get rid of me before you (Cam). Cam – Jared. America – its a personal thing. Cam – not just Jared but how much Jared talked about wanting you gone and the fact that she wants you gone too and that you are a direct threat to her, Cirie, Meme and all that stuff. Cam – I am a big player, I got it. She feels like she can work us. She doesn't feel like she can work you. Cory – I feel better .. I feel like I was being gas lit about the whole Jared thing last week and I never bought it the entire time we were talking about it. But Jared probably would have put up me and you (America) again. Cam – Mmmmhmmm. Cory – so I glad that worked out. I guess the whole thought for me is like damn the sh*t right now is pretty weird but its pretty good overall but probably didn't make any wrong decisions leading up to this in terms of like the big picture .. who is going to be nominated, who are we going to vote out like it all kind of worked out. You coming back in the zombie thing worked out like we really should be in probably a worse spot honestly. America – and we don't need to think about that .. we're here now. Cory – yeah. I have never seen a cast strategize more about future competitions. Cam – you hold the majority of the pie chart for us. I have spoken very directly with both of you about my intentions. I have thrown all my chips in and if you guys are seeing what I am seeing .. and it looks like Blue and Meme next week. I mean lets burn up a f**king HOH, can I finally get a god damn week where I can hang out with you guys and not be in jeopardy? Or F**King people in my face because I'm HOH. Can I get a week where I am hanging out with you guys and lets f**king mow some sh*t down together. I want a week where I am not dying! Please! America – you got it! Cory – it could have been this week if you had let Matt win. Cam – I didn't even look up. I am trusting you guys. I haven't been able to trust anything this whole time. Cory – well and I think you had every reason this week to be crazy suspicious of me and I am sure you were to a certain extent but instead of acting on it you were straight up with me and I really appreciate that. Cam – I had a MOUNTAIN of bullsh*t evidence and that is why I was waiting to talk to Matt and Jag. Cory – I feel like so much has been tested in the last two days and it worked out instead of becoming the classic sh*t show it that you would expect it to be.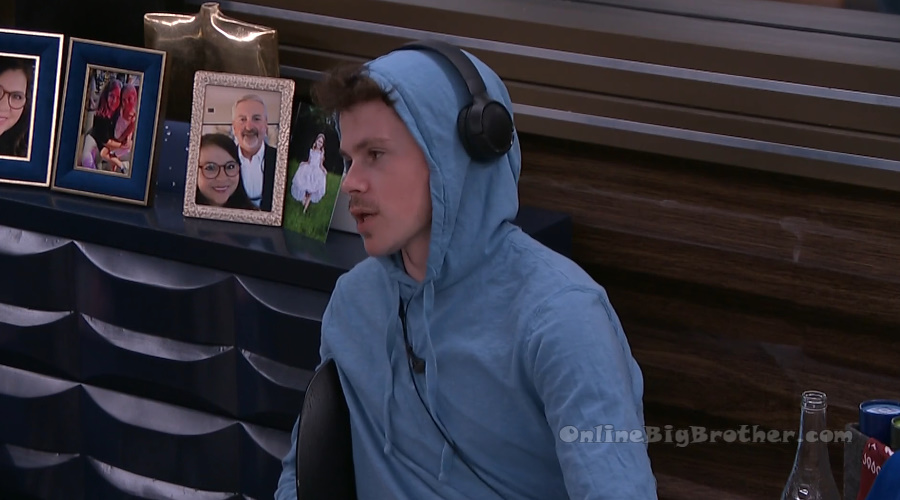 7:37pm – 8pm Backyard – Matt, Jag and Bowie.
Matt – Cam wants to meet all four of us. Bowie – yeah. Jag – that's fine. Bowie – I think that's good. Matt – to touch base on everything and moving forward next weeks plan. That's really it with today's drama. I think we know who the next four will be.. well three I guess because Felicia is going. Bowie – yeah.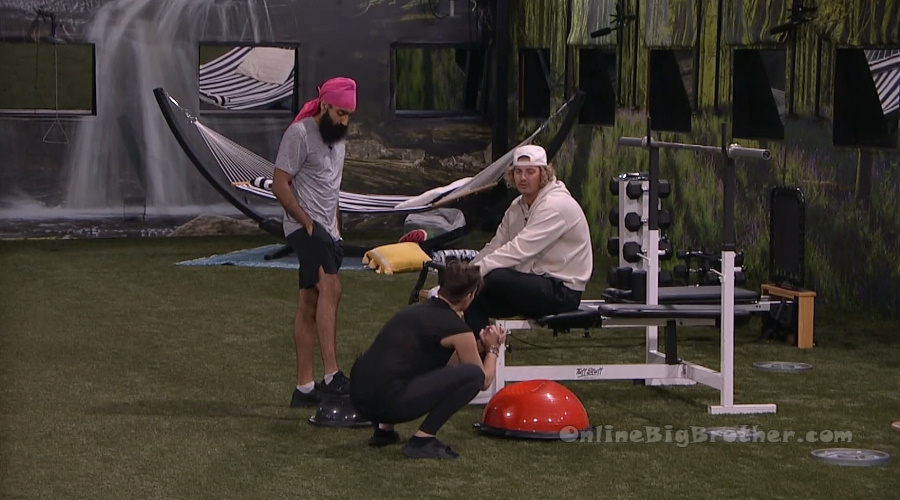 8:07pm Bedroom – Felicia and Meme.
Felicia – They can take it however they want to. If they don't want to speak to me anymore, I don't care! I told a couple people when I get out of the house I can't wait to see who everyone really is… that speaks volumes to me because if you all are so different from yourselves in here .. then you're faker than I could even imagine! I said the same Felicia you get in here is the same Felicia you gonna get out there. You won't see a change in me because this is who I am but that is me.. but that clearly isn't who you guys are. And that's why you have a problem connecting with people because you're not genuine and they can sense that. You're trying to fit in, instead of just being you. I DON'T GIVE A F**K IF NONE OF YOU SPEAK TO ME AGAIN. All of ya'll have been fake as hell through this whole damn thing. America's been lying since day ONE!
8:19pm Backyard – Jag, Matt and Bowie.
Matt – who would Felicia target? Jag – Felicia would target the same people as Meme. Meme is going to target Cory and America or Cam. Bowie – Oh yeah Felicia would definitely target Cory. Felicia would target the same thing but Meme has a better chance to win. Bowie – seriously. Jag – the other part of that, that we need to think about is if we take out Meme can we get Cirie on board? And Blue on board? Bowie – have we not got enough? No? Do we not have enough votes? Jag – no we do have enough votes but then it is going to be drawing a line again .. where if Blue or Cirie wins they're just taking a shot at us. Matt – if we say that we will see how much they panic about it. Like no no don't get rid of Meme. Supposedly Blue isn't supposed to be working with them. If she says no no don't get rid of her .. that means she's working with her. Jag – we would have to talk to Blue ..and be like YO Cory and America feel pretty close to Meme and they feel like Meme might take a shot at you. Then we say should we just get Meme out beforehand and we see how it goes… or maybe not .. I want to think about it more before we pitch it to anyone. Bowie – your you could just get America to go around and do all the dirty work. Jag – even if America does the dirty work it has impacts on our game.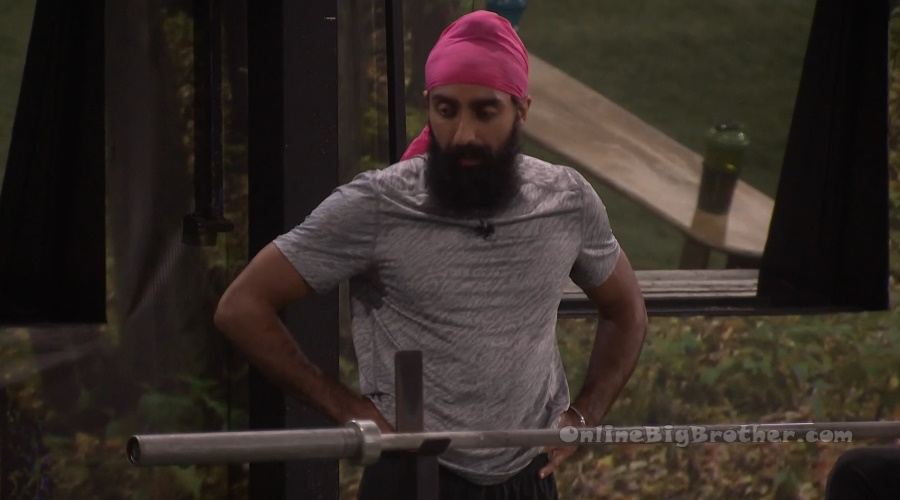 8:50pm Backyard by the pool – America and Jag.
America – that feels good and I feel really good with you guys. I was telling Matt, I am glad we had this conversation because I've been feeling sketched out by you two. Jag – I know.. because I felt weird myself not being able to say anything because if this sh*t gets out of hand its Cory's a$$ on the line. America – and that was my reaction. I was like why the f**k didn't they tell us anything. Jag – I was like I know they're going to probably feel sus but I would rather be like see it got handled .. and they'll have to be fine and if they're not fine then f**k it. America – Felicia today.. WHAT THE F**K?! Jag – I didn't know what she was going to say today. America – I clenched my booty hole. Jag – I was like oh f**k!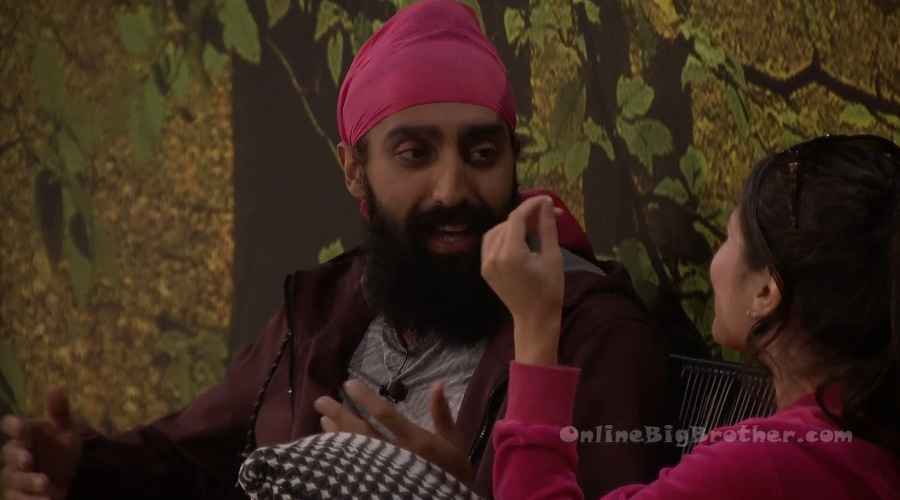 9:15pm Pool – Matt, Cory and Cameron.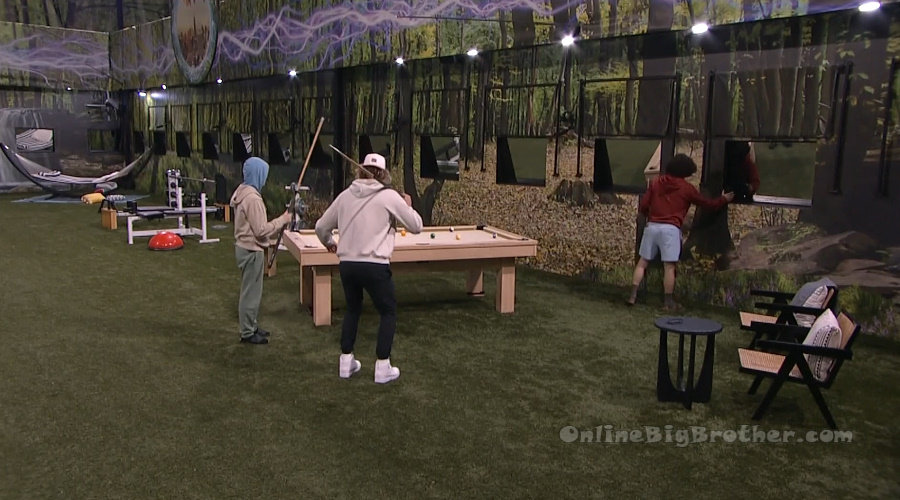 9:40pm Bathroom – Cory, Cameron, Matt and Meme chatting. Matt is talking about his swimming races. Meme – tells Matt that she wants him to teach her kids how to swim. Cory – You got to teach America to swim. Matt – yeah I will help her. A couple people in here can't swim. America joins them. Matt and Cory – we were just talking about you. America – that I look pregnant. Matt – I'll right I'll teach America's kids to swim too. America – please teach me! Matt – yeah we were just saying that. Cam – America's pregnant? Cory – I've got a lot of questions!? America – like wait a minute .. how did that happen? Matt – you've only been here for 2 months.. Cory – that's not the problem.. America – No that's not the problem. I could be pregnant but I haven't had $ex. Cory – she shouldn't show any signs for at least a couple months. Matt – Oh you're a virgin? Cory – that's not the problem either. What the f**k is wrong with you? Cam – this is getting fun! Keep going .. more questions!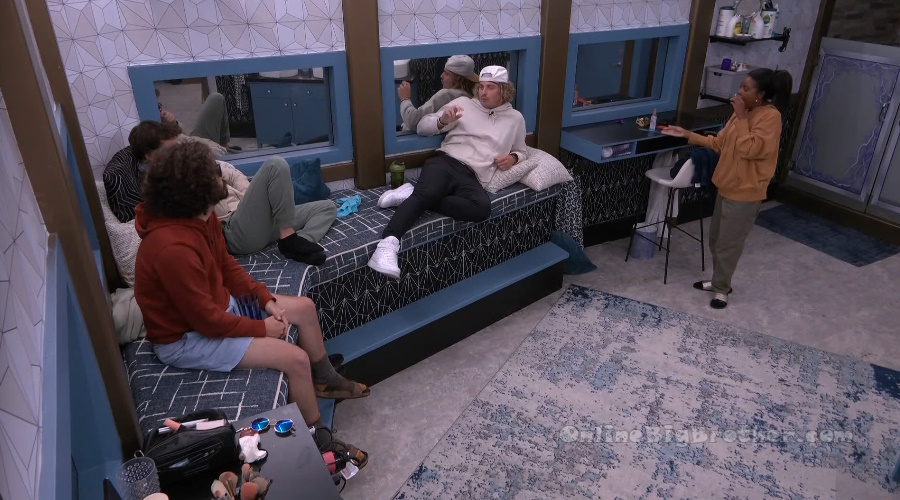 10:20pm Comic Bedroom – Cirie, Meme and Felicia.
Felicia – I told Cory and America we will chat tomorrow. I said its best we don't chat today but I'll give them sh*t tomorrow.. And I am going to talk to them separately because I am going to ask America what made you feel like you needed to say anything to me because my whole conversation was really geared at Cory. So why did you think you needed to come at me and attack me, that's why I went at you because this conversation really wasn't about you. All I was saying was what I said to you. Then you felt the need to go on the attack, I guess protecting your man that clearly didn't protect you. And all I am going to say is girl you don't ever get to come at me like that because I didn't come at you like that and everything I said at Cory is true. He's been lying, cheating and stealing and listening to the walls this whole season so what was the point in you saying anything to me! Girl you know I don't give a F**K about these nimwads. Cirie – the fact that she doesn't even say it right.. she says nimwads.. its nimrods.
10:46pm Bathroom – Blue and America.
America – Felicia came in and was like .. tomorrow. And I was like sure. Whenever and then she points.. Blue – what do you mean tomorrow? America – like a talk with me and Cory. Blue – oh god okay. America – she was like I know you're probably irritated. Or I can tell you're irritated. Cory was like you don't have to talk to her. And I was like I thought you wanted to talk to her!? I am just going to let her speak. Blue – maybe she just has somethings to say and that's it. Maybe she will just apologize? Because honestly like that was rude! America – it was mad disrespectful. Blue – And just to come at him like that for no reason. Its not like he is even on the block. America – exactly! Blue – its not like he put her there.
11pm Kitchen – Cory and Jag.
Cory – this might be me being selfish. I think I've got Felicia's jury vote locked up! Jag – I mean she thinks you're the best player here! Cory – I am going to be in there like .. she revealed that I am the puppet master. IF only I was the puppet master I would be able to get out of this situation.
11:33pm HOH room crew all hide from America as she searches the house to find where everyone went.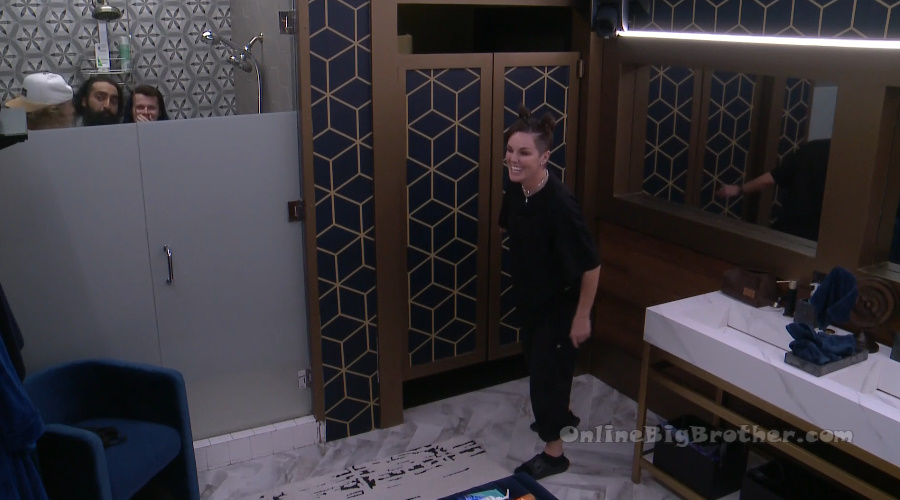 12am More hide and seek except America never comes to find them.

12:30am Kitchen – Jag and Meme are making french toast.
If you've enjoyed our updates this season and want to leave a tip you can do so through PayPal.
You don't even need a Paypal account to contribute. Any amount is greatly appreciated!