Quick Big Brother Spoilers
Head of Household: Cameron
Nominees: Mecole and MOMMA FE
POV Players:Mecole, MOMMA FE, Cameron, America, Blue, Matt (Jag is hosting)
POV Winner: Cameron
Veto Ceremony:
Havenots: ?
Lock your ranks in before midnight
The Situation – The flip is off.. Corey staying Felicia now the target.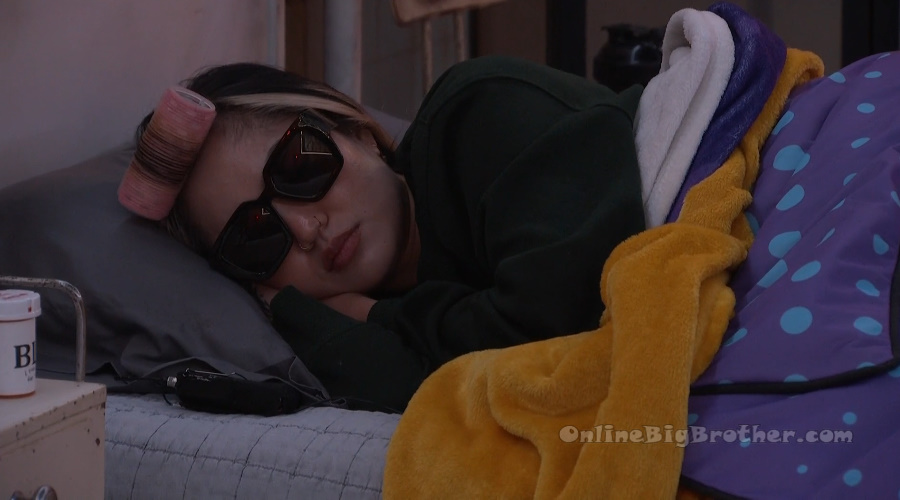 5:56pm Bedroom – Jag, Matt and Blue.
Blue – I was basically like here is my perspective. I said I feel better about Felicia being in this house. I was like Cory is my obvious target.. like he's basically my target. Here are the reasons why.. he got out POO. I said I think I can get Jag and Matt on board. They're already feeling a certain type of way about Cory because of what he's been saying. So we'll see what happens tomorrow but I am not holding my breath. Jag – even in the room with the four of us .. the way in which he was talking he was like there is nothing to do it kind of is what it is like it was very much leaning heavily towards one way you know what I mean? Blue – yeah, I know it was a long shot but hey still got to take it. Jag – I wonder when the movie is going to be. I am excited for that. Blue – me too. me too! Jag – low key even if he doesn't go for it (Cam putting up Cory as the replacement nom).. its not that terrible for us because as long as he is in Cam takes a shot at him before anything.. you know what I mean? And I am pretty sure Cory doesn't take a shot at you. Or me, Or Matt.. you know what I mean. I don't know if he (Cory) is ballsy enough to take the shot at Cam but I mean everything would have to line up for that. He might just do the least amount of blood shot .. or I mean who knows what he does. I don't see him being ballsy enough to be like I am taking a shot at Jag and Blue. Blue – right. And if one of us wins next week, what do we do? We have time to figure it out. Jag – and I think right now it is hard to say because it depends on this week. Like if conversations go really well with Meme and she is good for our game ..or lets say they go really bad which it probably won't go to any extreme with her.. just using her as an example. Like pissing our Cam as a pawn hold different weight than.. Blue – Meme. Jag – yeah so that's just different things to think about.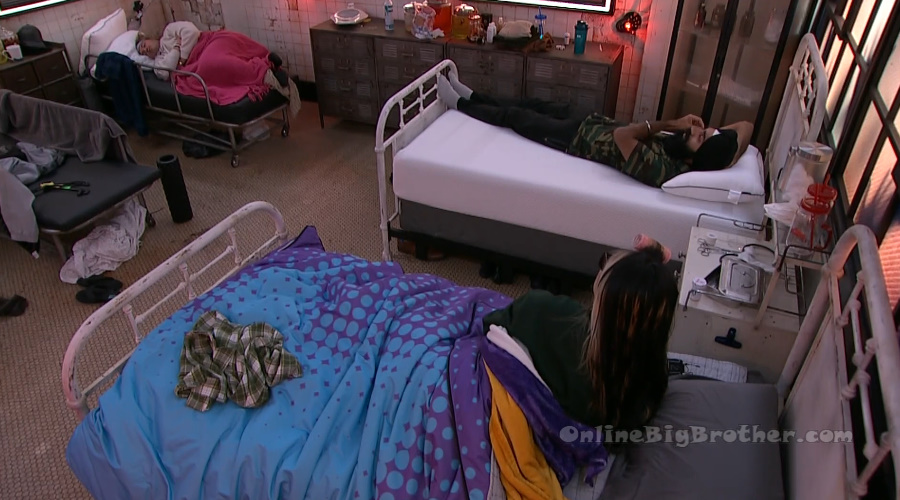 6:05pm Dinner time..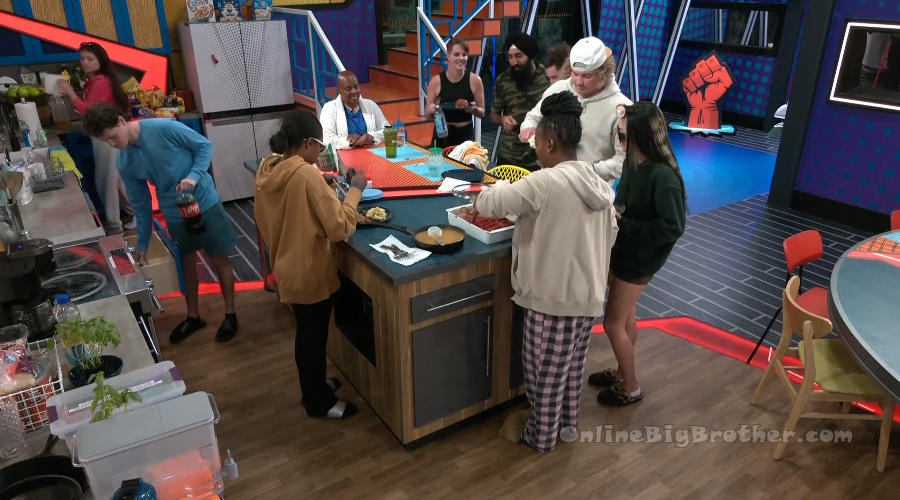 6:28pm HOH room – Cameron and Matt.
Matt – I think Jag is still worried about it. Cam – he is not worried about it, he has something going on. That's how I feel. Matt – yeah.. he also did bring up a good point I would agree on is.. you take this shot.. Cameron – Cory was talking to the whole group about me last night. Matt – what group? Cameron – the whole group down there last night .. he had to have said something. What did he say? Matt – I am trying to remember. Cory is obviously worried about you. I haven't been around Cory that much yesterday or today but I know he is f**king nervous. He is nervous that you, me and Jag are getting close and that me and Jag are getting close to you. I still need to talk to him. Cameron – he has got to go! Matt – yeah. Cameron – he has got to go at some point and we've got him in the crosshairs right now. Lets pull the trigger. The only thing holding us back right now is if Jag has some sort of a deal with him. Jag is working angles. He is a smart guy. That is why we want to play with him. I would do the same if I were Jag. Matt – he (Jag) was saying if you take that shot, that everyone in the house is going to be mad and they're all going to gun for you next week. Cameron – they're gunning for me next week regardless. If I get Felicia out, the rest of the house is gunning for me. BB switches the feeds. Cameron – period. I am no stranger to being the number one target. I don't want to piss off Jag. I want to work with him but this is telling me a lot about him. I am done spinning in circles. I am going to take this shot and it is going to be the best thing that ever happened to us. Just like Izzy. I just don't want to piss Jag off. Matt – I don't think he would be pissed.. he would just be like sh*t. He isn't going to go anywhere else. Cam – You heard the exact same things that I am feeling. I know you heard him last night. You're riding the fence on what to tell me.. I get it. Cam – That motherf**ker has been plotting against me. Its so obvious. Its so apparent. That it is going to happen next week. And then the three of us are screwed because you're back to just the two of you. I would go on the block and if I didn't I would get backdoored. Everyone would be behind the vote for me again. I am here to do every f**king thing I can and I am going to take out the biggest f**king player in this house! Mentally. I am going to take out our only opposition. He is gone.. we roll the rest of this house. Me, you, Jag and Bowie! Even Blue would be so over the moon ecstatic.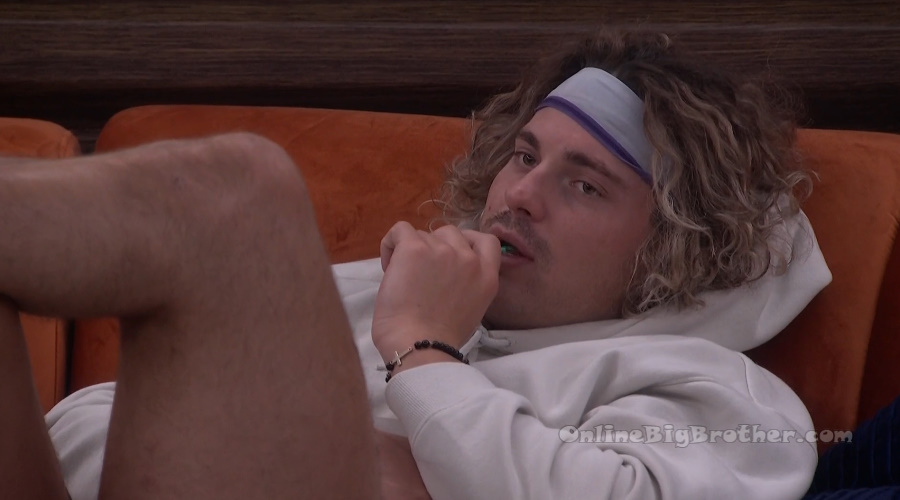 6:45pm – 7:07pm HOH room – Cameron, Jag and Matt.
Jag – if he (Cory) goes this week, who is next to go? Cameron – Felicia, Meme, Cirie.. I don't care. Jag – not from us though.. who is next to go if Blue wins or America wins? Cam – I am telling you right now the dude is going to gun for it regardless. And I don't trust that Blue has the balls to go after him (Cory) next week. That would mean that she would have to win the HOH first. Secondly, she is afraid she is going to mess up her relationship with America. She is not going to take that shot. Cory is not going to take a shot at Blue, he is going to take a shot at something bigger, something that the entire house agrees on. Blue says she wants to take big shots but I don't think she has the stomach for it. The guy is in the crosshairs right now and he is nervous as sh*t because he knows he has a hand in everyone's pocket right now. Everyone, Everyone! It is Izzy 2.0 and the guy thinks he is covered the f**k up. He is building the army against us and I can't let him lead it. I am not one for adjusting fire once I've planned a mission. I want Felicia but it is clear to me that we have an imminent threat right now. And if we don't come out of this door and shot the biggest gun pointed at us we just shot our chances all to hell. That is the bottom line and that is as clear as I can make it. This is the one dude that is going to stand in our way. IF we don't take a shot right now it looks suspicious. He is not going to band with us. Jag – here is the way I see it .. if he is in this house next week that is a clear one more week for the three of us. He takes a shot at Blue. Cam – we're saying completely different things.. he takes a shot next week .. it ain't Blue. Jag – I think that is where we disagree. Cam – what world does he take a shot at Blue and think now its smooth sailing. No. I don't get what you're buying. Whatever he is putting out there I ain't buying it. He is not nervous right now because of Blue. You know it! Jag – I actually don't. I truly think he takes a shot at Blue and she takes a shot at him. Cam – so if you win HOH next week who do you take a shot at? Jag – Meme and someone next to Meme. Cam to Matt – you win HOH next week who do you take a shot at? Matt – Felicia goes this week? Cam – yeah. Matt – Meme ..next to her would be.. Blue.. Cam – I am not hearing Cory.. that's what I am saying here. Why?! So who takes the shot? Jag – the way I see it.. Blue wants to take a shot at Cory and America. Cory wants to take a shot at Blue. If we nominate them we clear their path for the number one person they want out. Cam – lets win HOH next week and put up Blue and America. And then f**k it we just kill out all of them. Cam – I am putting my money on the two of you for HOH (Next week).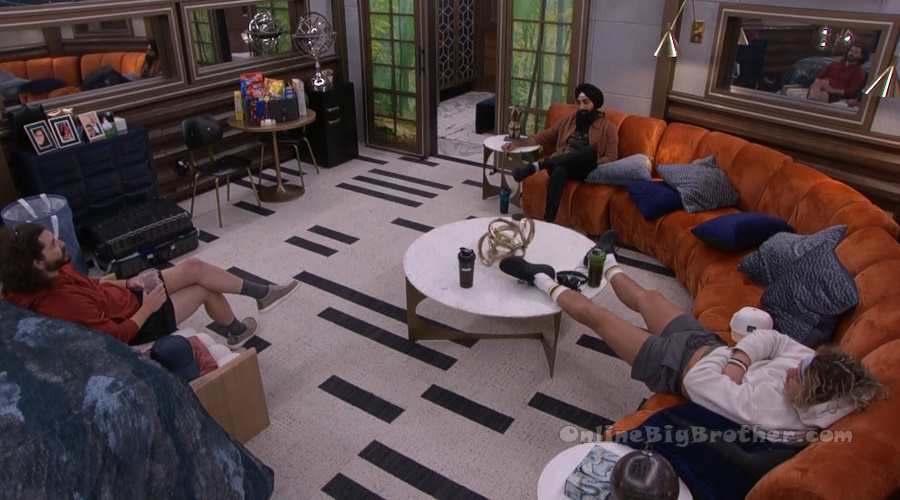 7:10pm – 7:20pm HOH room – Cory, Jag and Matt.
Cory – I had a talk with Cam. Matt – how did that go? Cory – every time I have a one on one chat with Cam it is good. I feel fine, I just want him to feel better. I was like I'm sure you're uneasy because you're unable to play next week and you're Cameron but I got your back. When we get down to small numbers I am willing to take those chances because I like those odds a lot better, than the odds of everything going into chaos tomorrow. And honestly I am just f**king down. Matt – I know me and Jag were talking yesterday about just knowing you're good with him and we're good with ya'll. Cory – and I think America is back to liking Cameron but that will be an up and down thing. I am down to just chill for a bit though. We just keep talking about the same two decisions for a week straight. Matt – so if one of us wins next week what do we do, Meme? Cory – For the four of us Bowie is great for all of us. Meme is most dangerous for you two. Blue I feel pretty good about Blue but I think she is more dangerous for me than you two. Cameron I think is equally dangerous for all of us. Obviously, next week he can't play and if ya'll are confident that if he wins at final eight he wouldn't go after any of us .. I am down. I am just not certain.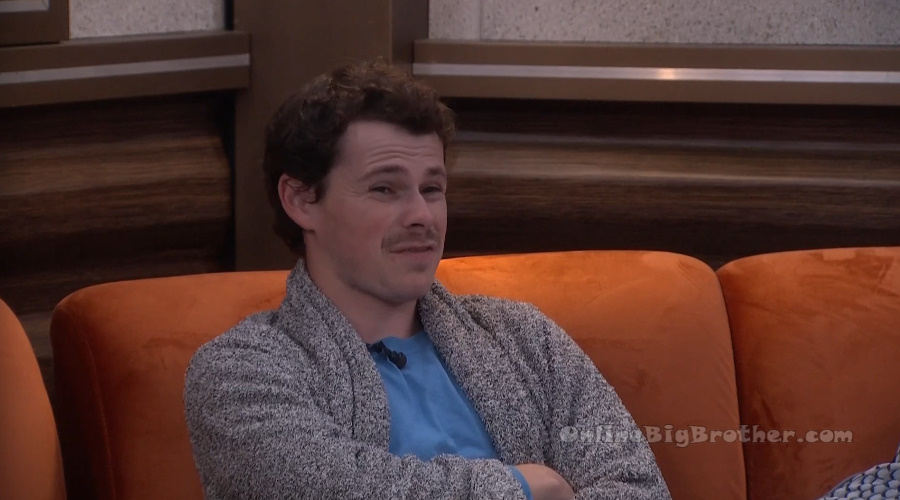 7:20pm The live feeds switch the the pound cams..
9:09pm The feeds are still blocked.
9:51pm Still blocked.
10:06pm The live feeds return to Cirie, Meme, Blue, Felicia, America and Bowie sitting out on the backyard couches talking about Celebrity Big Brother. America says its 2 weeks long. Felicia says she thought it was 30 days. Cirie says that she signed up for the wrong show.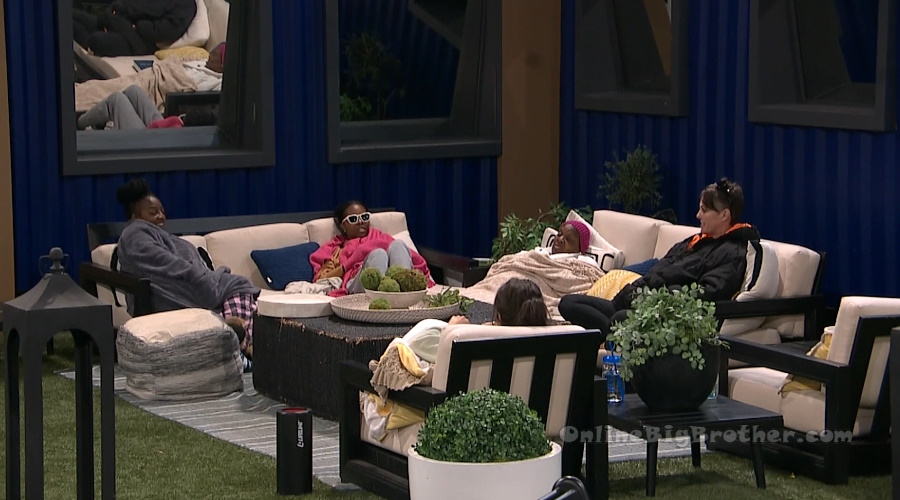 10:17pm America to Matt – How was it? Matt – it was good. (The live feeds were blocked for the movie that Cam won to watch with a couple other house guests.)
10:32pm All four cams on Cirie sleeping.. BB doesn't want us to hear about the HGs talk about the movie they watched.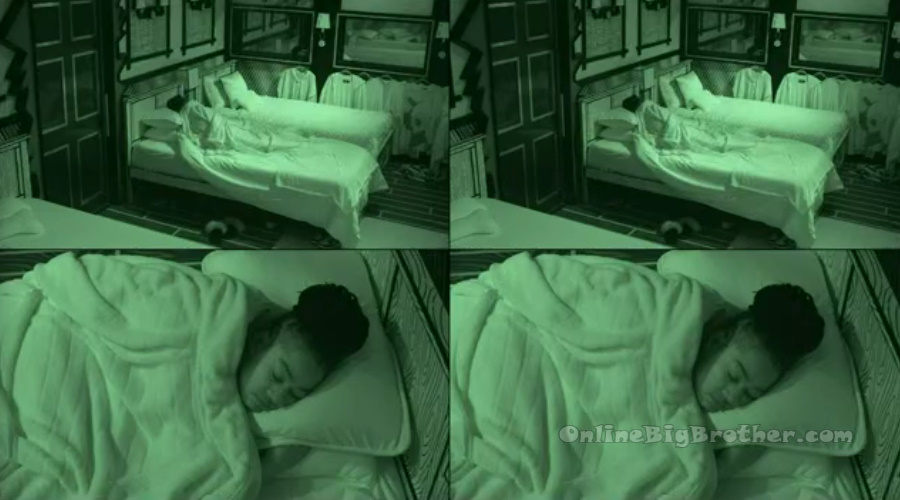 10:42pm HOH room – Cory, Blue, America, Cameron, Jag, Matt are all sitting around talking about the movie.
#BB25 Pinkies Up @bigbspoilers pic.twitter.com/PUQdMbdRYa

— Dawg (@DawgsBigBrother) October 2, 2023
10:48pm HOH room – Jag – I really don't have much to say about the movie. They can tell me what to say. But like I've pretty much said everything I want to say.
10:59pm HOH room – Jag, Matt, America, Blue and Cory.
Cory – Cam asked me about you today. Blue – Cam asked you about me? What did he say? Cory – Just what do you think about Blue? Blue – WHY?! What the F**K did he want to know? Cory – he was pretty vague. We weren't that close at the start of the game but we're talking a lot more. I feel pretty comfortable with her. That was basically about it. Blue – WHY he asking about me?! Cory – it wasn't more that that. I was like I feel good about Blue. We're talking more and more. The Jared this is a little awkward but with Blue its better now than its ever been. Blue – should I be nicer? America – you're going to be blindsided tomorrow. Blue – BRO.. Cory – it was more that he was seeing what I would say than anything. He wanted my opinion.

11:38pm – 11:55pm Backyard – Cory talking to the cameras.
Cory – I do think that my position is so much worse with America. And at this point if I did actively try to separate myself it would look f**king ridiculous. Right like no one would buy that sh*t. I need to keep rationalizing so that I can keep cuddling with her. But the way I see it, that ship has f**king sailed. The benefit we have is we have proven ourselves f**king useless. We can't win competitions. The downside is we've proven ourselves to be useless, so why the f**k does anyone want or feel the need to buddy up to us .. the same way as Matt and Jag dictate that. People feel like they have to go to them. They can hold court. Right now I don't think my shelf life is horrible. I think I can make it a couple more weeks. But I do know that if the status quo stays the same, I am f**ked! What I need is Blue and Cameron gone. If Matt or Jag go that is good too. But Matt and Jag here does prevent me and America from going on the block. The last thing I want is to be played by Matt and Jag. Matt has proven himself to be able to play people. And people really seem to be choosing not to see it. I like Matt a lot.. human wise he is my third favourite person besides America and Bowie. But lets be real, Jag would need to go before him. I am truly not scared of Matt, I am scared of Jag. It is also frustrating being on this cast where everyone thinks that Cam is a good f**king player. I am not saying I am a good f**king player but that guys is a f**king mess! I don't know if this season has been good, its been interesting from the inside at least. 100 day season is dog sh*t though. As a viewer I would hate this but the actual game and cast has been interesting .. at least so far. It would be nice to have some different f**king HOHs though.. holy sh*t like.. its f**king Cam, Jared, Cam, Jared.. we had one female HOH .. Felicia.. COOL! And I think that will probably change. I am trying to win these things but to actually make it happen is hard.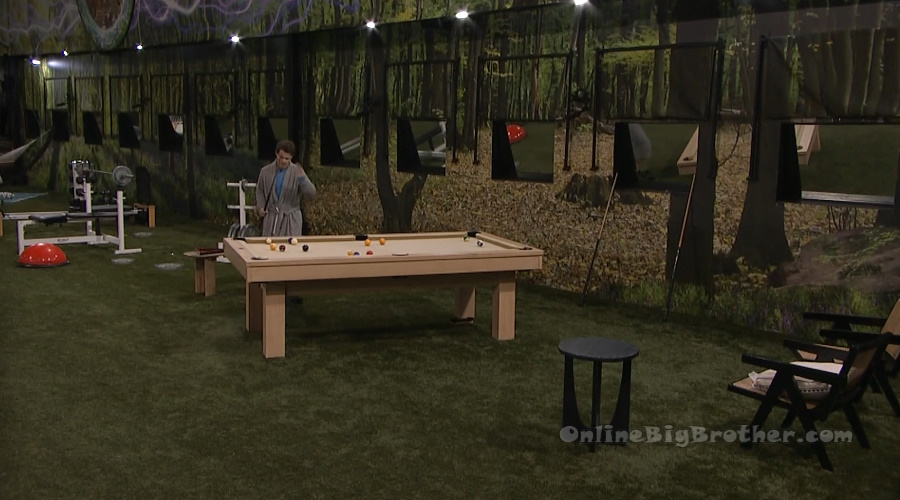 12am HOH room – Matt and Blue.
Blue – I hope Cameron f**king puts Cory up tomorrow! But I don't think he will. I don't think he will. Matt – Perfect world Cory this week and Cam next week. Blue – I think Cam is smart .. as soon as we get Cory out he is next so maybe he wants to keep Cory. I don't know!? Matt – if we get rid of Cory and Cam then everyone will go after us. Blue – yeah but anything can change. Matt – I know Felicia is a big threat to my game. Blue – what do you tell Cam about Cory. Matt – I just tell Cam that Cory has been very nervous. Blue – just have to make Cory feel comfortable this week.
12:17am – 12:30am Backyard – Jag and Cory playing pool while America, Blue watch.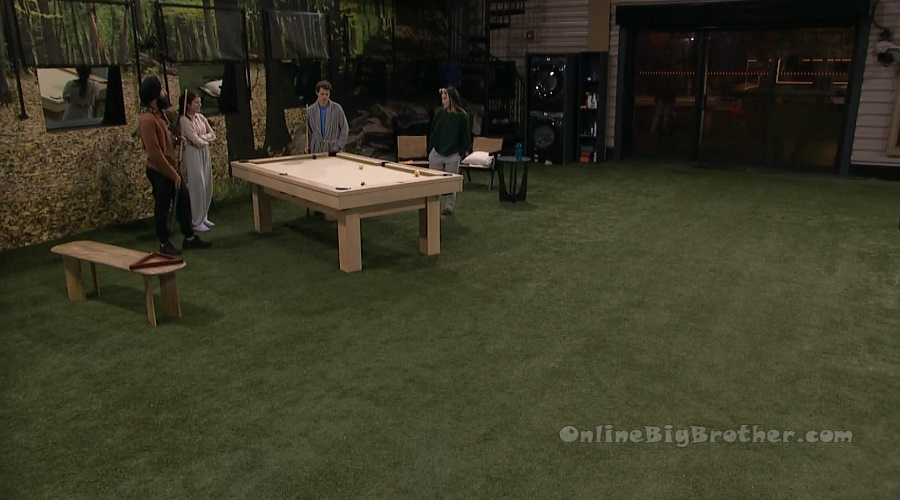 12:33am Quad cam on sleeping house guests.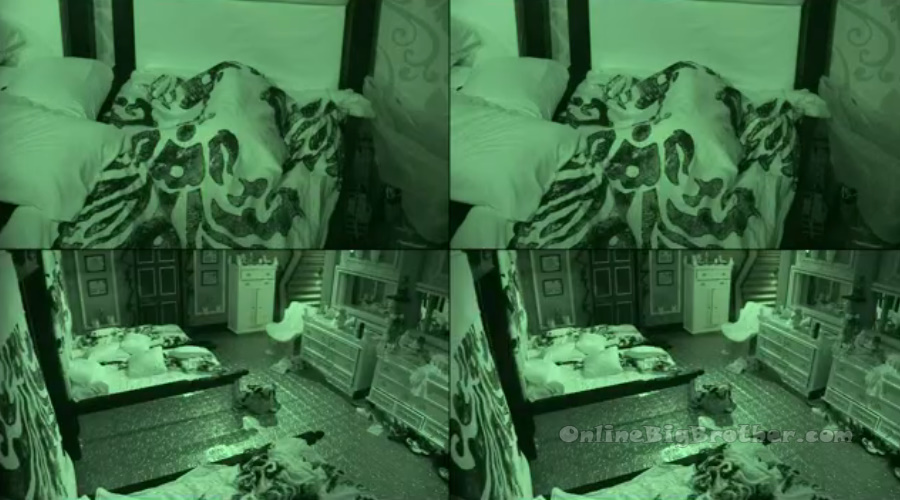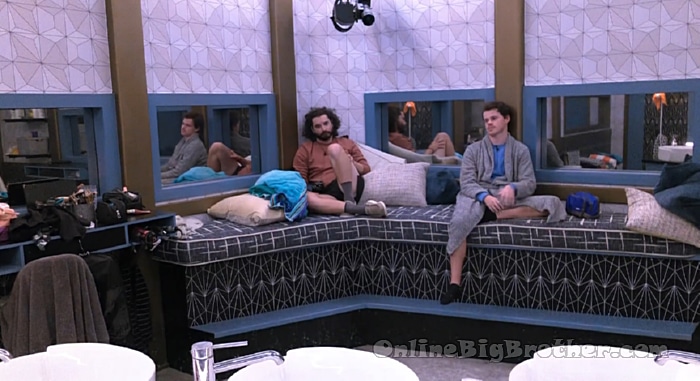 1:11 am Corey and Cameron
Cameron asks Corey why he's going after Cirie and MEME and not Blue next week.
Corey – Blue would be a partial strike at Matt and Jag.. I don't want to do I really trust them.
COrey – I trust Matt and Jag they are incredibly important
Cameron – so you feel if you take a shot at Blue it's like you are taking a Shot at Matt and Jag.
Corey – The truth is I feel slightly uncomfortable throwing out her name to them because I don't know what they will tell her. Not a dishonestly thing.. sometime people say things they are supposed to right.
Cameron says he gives America and Corey the credit for getting Izzy the votes to evict but had he not stepped up to the plate and put them on the block "we would not be where we are"
Corey – you were in a position where they were targeting you anyways. I was in a postilion where they were protecting me for while.
Cameron says taking him out is not a BIG move anymore, I'm the likely move.
Corey – no one thinks you are the big move
Cameron – F** off.. listen i'm the guy everyone is going to throw into a conversation from here on out. All of them.
Corey – you will be a discussion
After Cameron leaves.
Corey to himself "I'm just glad to keep the lines of communication open that dude is F***Ing nuts"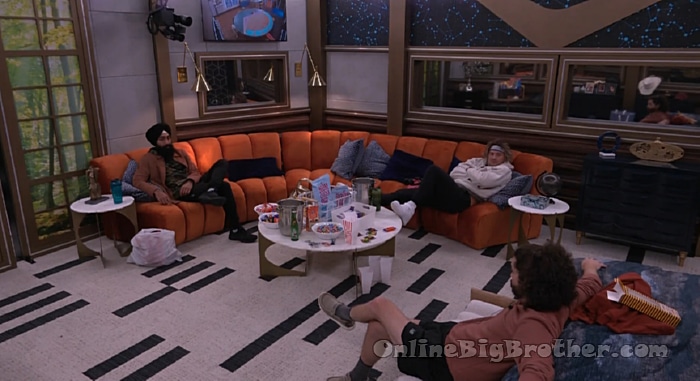 1:30 am – 2:30 am Jag, Cameron and Matt
Cameron says he's been a target all season and is a bit apprehensive putting all his trust into Jag and Matt but it's what they want.
Cameron says the only way he knows to make this work is if he "Put my shield down" and go forward with taking out Felicia
CAmeron – that's a scary move for me cause I have the Mother f***er I know is the largest mental threat in this game. I know he said my name. Has said my name in public recently.
matt – I think we can get Corey to go after Blue before he comes after you
Cameron – that's my only prayer.
Matt says Corey won't take a shot at Cameron without him and Jag's blessing.
Jag – he's too smart of a player to do that without support from us.. He doesn't get our support her doesn't make the move.
Jag – I truly think Corey doesn't go after you next week.
Cameron asks them if Cirie or America win HOH what will they do? "I think they will go after one of us"
Jag – agreed. I think that is why who would I put up? MEME is someone for sure who is next to her I don't know.
Cam – do you think we have Corey's support if one of us is on the block
Jag – yes
Cam – that's a long yes
Cam asks when do they cut Corey.
Jag – 2 weeks from now.
Jag and Matt talk Cameron out of wanting to Backdoor Corey
Cameron says he trusts Jag's and Matt's perspective. "if we want to the that alliance that people talk about for season to come it's gotta be f**ing for real"
Jag – yup
Matt – for sure
Jag says he is in fully with this group. "I see this as the path forward"
They agree as long as MEME and Cirie don't win HOH next week they are going to be safe.
Cam – next week HOH is tie breaker. next week is an important HOH
Cameron – FINE you have talked me down off the ledge I am now completely invested This is all we have guys. This is our path.
Jag – next week. I want to delay the moment we have to be in the position where you are on the block I win Veto and use it on you
Matt – that truly reveals it.
Jag – next week we might not have to reveal it. The following week it's too f***ing late for them.
Cam – when do we pull Bowie in and let her know she's part of a four person?
Jag – I chat with her every day
Cam – I want her to feel important and connected with us because she is.
Jag leaves..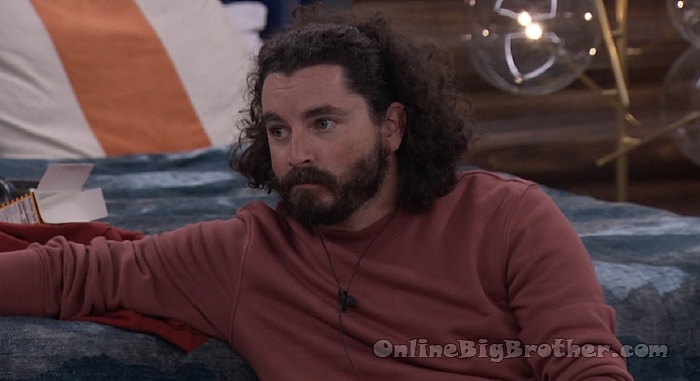 Cameron – now that he's gone I'm using it..
Matt – what
Cameron – I'm f***Ing with you
Matt -Damn ..
Matt continues to work on them not using the veto.
2:37 am camera zooms in on Cameron
Cameron joking around with the camera as it zooms around the room "do we need to fight.. you look me up and down you know what it does to me.. I'm sick of it now."
6:00 am zzzzz
If you've enjoyed our updates this season and want to leave a tip you can do so through PayPal.
You don't even need a Paypal account to contribute. Any amount is greatly appreciated!