HOH: Xavier
SAFE: Christian, Alyssa and Sarah Beth
HAVENOTS: Claire, Kyland, Tiffany
WILDCARD Competition Winner: Tiffany
Nominations: Brent & Britini
Power of Veto Players: Xavier, Brit, Brent, DF, Whitney, Christian
Power of Veto: Christian
Power of Veto Ceremony:
Big Brother 23 Houseguest Rankings – – RANK THE HOUSEGUESTS –
View the previous day ranks on the – Ranking Grid
Big Brother Spoilers – Veto won't be used Brent will be evicted. Looks like the next week has already been planned LOL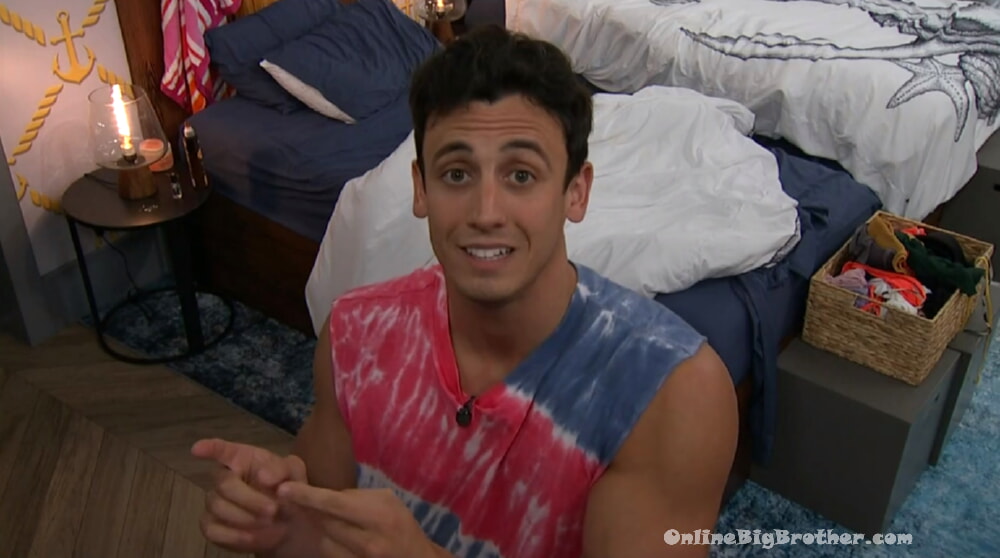 12:15 am Brent talking to camera
Brent – on more time, I'm in the mafia that's Kyland's team and my team I don't want Xavier to use that veto cause I know he's going to use it take Britini down, put up DerekX. I'm going to have Kyland's team go up there and try to betray me and keep the nominations the same they are going to go up there and say they're voting me out. We actually have the numbers. The Mafia will win the vote. Basically keeping the nominations the same keeping the alliance strong. When that happens X can no longer compete in the HOh we have the numbers to win. We win we take out everyone in the competition. Put up Christian and Xavier let them pick at take out one of them then control the house.
Brent – I cannot allow them to use that Veto I need Kyland to pull through and make them believe that they will be able to vote me out if they keep the noms the same.. fingers crossed stay tuned.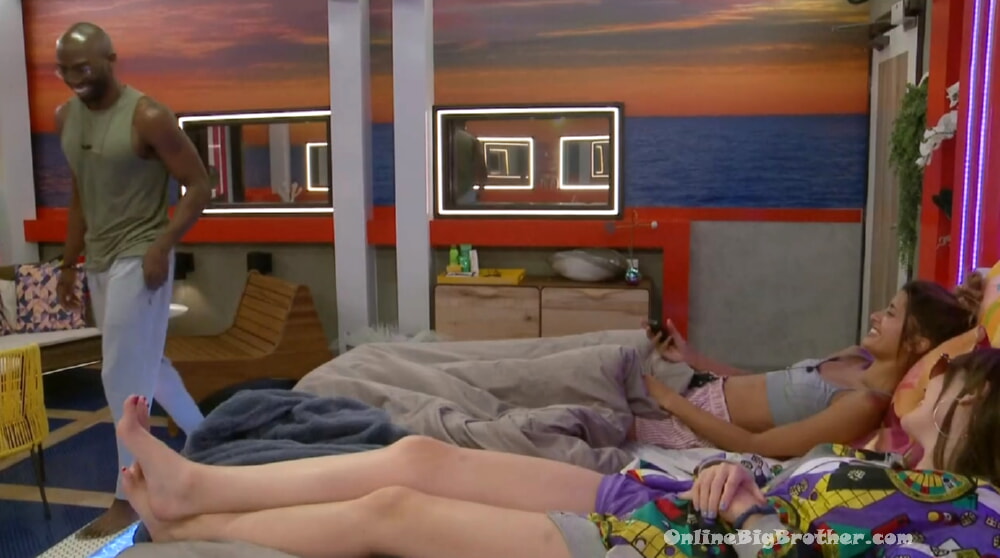 12:53 am Kings
Chatting about trying to call out showmances
SB says she's been trying to get DerekX and Hannah
Alyssa – so I'm starting to say the DerekX and Hannah thing and the Whitney and Ky thing
Alyssa – more so it's you and whit.. she's all over you bro
Christian – she's all over you bro (Xavier)
XAvier – She's cool and cute.. just no..
Alyssa – you never know it's only week 3
Xavier – Oh my gosh I do know.. Look if I get lonely that means I have to come up here and use that shower.
They talk about "actually" wanting the DerekX and Hannah showmance to happen.
1:11 am
Xavier – here I'll show you who I will get in a showmance with him.. (Kyland) if not him I'll let this guy rock my world (BIGD) if not him he's going to work with Tiffany.
THey laugh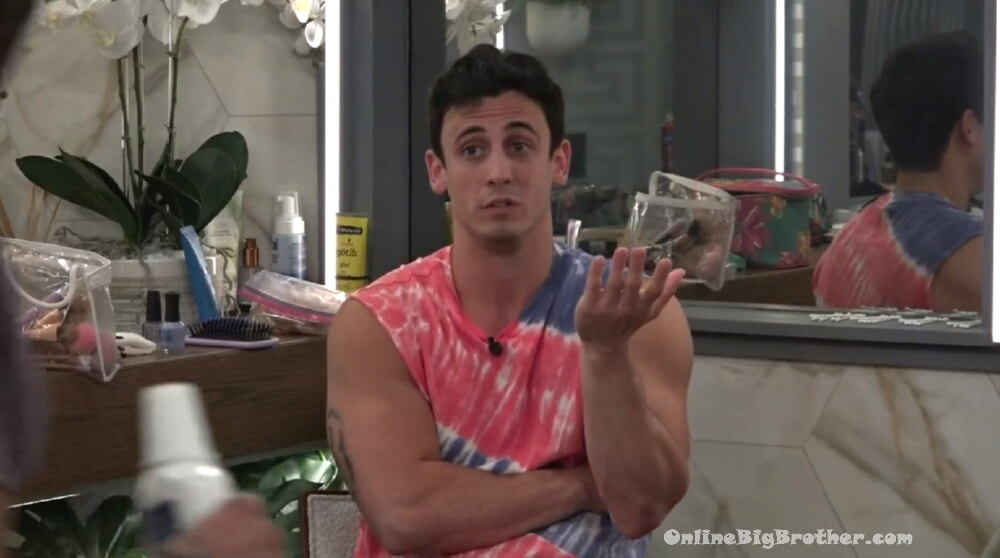 12:57 am Brent, DX, Tiffany and Kyland cam 1
Brent telling them what they should say to Xavier so veto doesn't get used.
Brent – just say he (DX) saved your a$$ his loyalty is more to him than me. that's all you have to say
Brent – you kinda have to act paranoid that you don't trust he won't go after your team as the replacement.
Brent – just be like.. Keep it the same we'll align with you to get Brent out. Then obviously Mafia votes to keep me. X can't play in the HOH we win we put them up we take over the house.
Ky – we'll see how it goes. We'll make it work.
Brent tells Tiffany – Just nod your head follow his (Ky) lead don't try to ask any questions
Brent – this will work this might actually f***ing work
DX – I thin kit will
Bren t- I want you guys to make up a fake alliance name
DX – alright..
Brent leaves..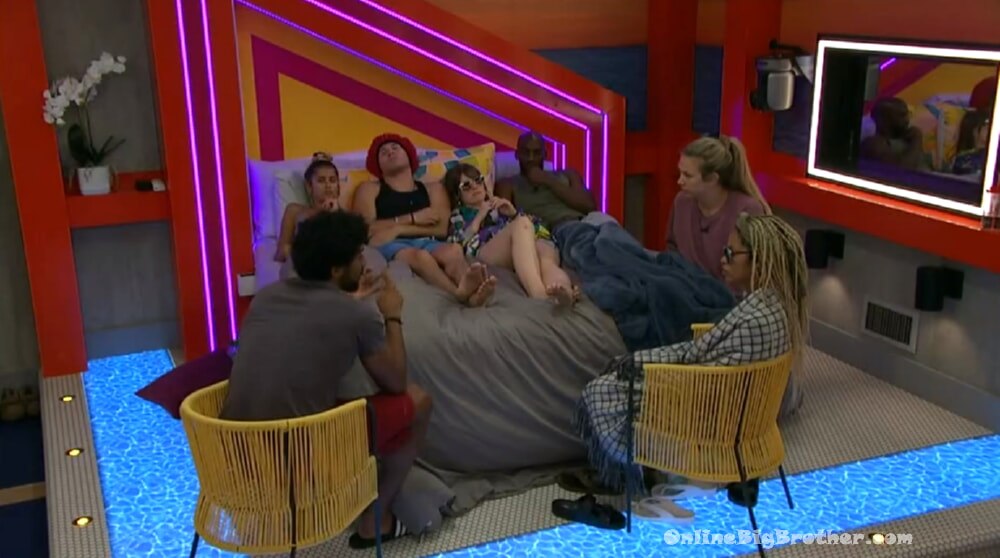 1:35 am Royal Flush meeting
They go over the Brents plan and what they are supposed to be saying to Xavier so the veto doesn't get used.
Ky says he came up to him and said "I have an idea you three the kings go up to the girl's the queens and tell them .. make sure that we're willing to vote Brent out only if you're willing to keep noms the same"
Ky – and then he said I know you and Derek are tight he's like you can just say
Ky – and yo know I'm in tight with Alyssa so if Alyssa tells me about this meeting
Alyssa – Ohh so I have to tell him tomorrow
KY – You tell him tomorrow that the queens threw him under the bus that we'll vote.. but you have to say like we are serious
Alyssa – Brent told me he wants the noms to stay he thinks X is plan is to take Brit off and put someone like Derek, Hannaha, or Whitney up that way his team has to choose.
Alyssa – he said the best thing X can do for his plan is to remove britini and put DerekX up so he wants the noms to stay the same because he thinks he has the votes.
Alyssa – he thinks that's X's plan.. 'if X was smart'
Alyssa – he thinks he has the votes.. so the queens came up and offered X a deal that they will vote out Brent if the noms stay the same
Tiff – you care what some 'chick' said and he was your friend
X – wait what did I do?
Tiff – If Britini was really your target you would put Azah up but. You care more about some chick than your best friend Brent
Xavier – he said that to me
Tiff – you know he told Derek 'i don't need to talk to Tiffany she's voting for me'
Xavier – you are, and I'm dumb and all this is happening because he wanted it. At this point, I just want to make his a$$ look stupid
Kyland – he's just making it happen we don't even have to do it
They summarise the story. Brent planned for them to meet and convince Xavier not to use the veto. Brent wants to make sure Alyssa is loyal to him so he will ask her about it tomorrow
Kyland – he said this will be the biggest blindside on the show
Xavier – on me? sneaky sneak. he's a mastermind
Tiff – he thinks he's staying here
Xavier – he's a mastermind
Kyland – apparently when he told Hannah 'it's a pretty good plan I don't know how I came up with it. It's just a great plan"
Xavier – I wish I had come up with a plan like that.. you see why I did what I did I knew he would do some sh1t that would make everyone vote him out.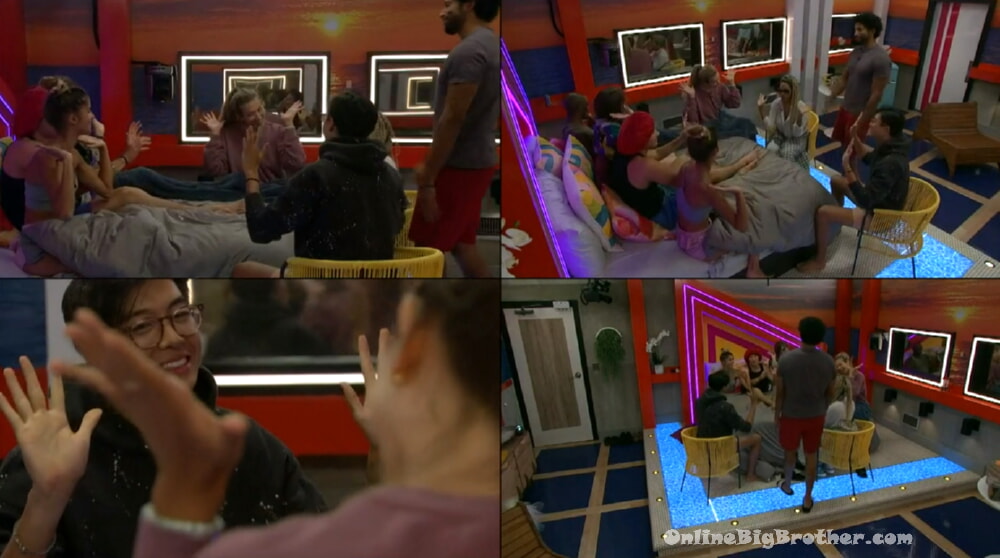 DerekX joins them. They confirm RBetn gets evicted. They'll play along with his plan until Thursday. Alyssa mentions how Brent wants a final 2 with her called "the sewer rats"
Kyland says Brent thinks the worst case for the vote will be 6-5 for him to stay.
Xavier sarcastically- I'm the only one that doesn't know what's going on..
They start speculating about next week's targets.
Alyssa says Whitney isn't coming after the girls, She's good with BIGD and she doesn't want Brit to go through being on the block again. She thinks DX has Hannah. "I would put up Whitney and for me it would make sense Azah, I have never spoken game with her once."
Alyssa says Azah is an emotional player and she doesn't want her in jury. Whitney is the pawn but if someone comes up she's fine with either one leaving.
Tiffany thinks Whitney is targeting the queens. Alyssa wants Azah to go over Whitney.
Tiffany – I'm cool with that I agree with what you are saying it makes sense I'm not disagreeing..
They talk about how Whitney is confident throwing the HOH. SB wonders who is making her feel that safe. Tiffany says she's the female Brent.
DX – what are we debating right now. one who wins HOH and two who to put up
Alyssa – yeah .. no one wants to win it but if I'm volunteering to do it if it's one that can be thrown I want to make sure everyone is on the same page.
Dx says this next HOH the people he sees that can win it are Alyssa, Hannah, Whitney or someone from the Jokers.
Dx says Joekrs is the worst case and going by what Alyssa is saying he's thinking Alyssa is the most viable option.
DX says Hannah won't be pissed if Alyssa targets Whitney
Xavier – even if she is upset with you she has no backup
They continue to talk about throwing the HOH and who is best to throw it to and who to target. Sound like Whitney is who they're wanting evicted next week.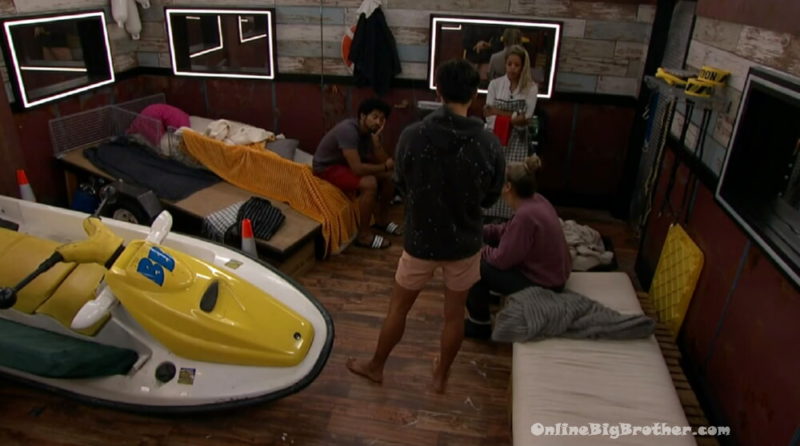 3:00 am DX, Claire, Tiffany, Kyland
Dx asks if they are going to roll with the kings to the final 8.
Claire thinks they should go for it.
Dx – if that's the answer we need to start setting it up NOW.
Claire – that's what we are doing
Ky – are you not doing that
Kyland laughs.
Feeds cut when we're back Tiffany is talking about if they are going final 8 with the kings they need someone to take a shot at the kings that's not part of their group. They want to avoid the Kings taking the first shot so they are down to 3.
DX mentions all the other teams will be down to 3
Tiffany – who will take a shot at 3 when there's a four
DX – exactly
Kyland says their 8 isn't going to win back to back HOH so they let the game play out for these next weeks and that will be when someone takes a shot at the kings.
DX points out the people on the target lists are Whitney and Hannah, "You leave BIGD and Azah yo think they are going to win?"
Kyland – they win all the time.. it happens all the time.
Kyland mentions JC winning a HOH. DX says that was final 4 he had a 25% chance to win
DX – I'm saying while there is a lot of people the odds are in your favour that one of them can win. Why would we throw this to Alyssa?
Ky – we have to get to 8
Tiff – now its contradictory.. (you're telling me.. GO to bed)
Tiff – you're saying we get to 8 or we're riding this thing as far as we can?
Claire says odds are they will turn on them before 8 and they will turn on the kings before 8
DX – here is the reason why I think Whitney and Hannah will ride with us, they think you three and us three is locked. They think this alliance is a real thing. The mafia this is their game. I didn't want to say anything in that room.
DX – that's why Hannah feels safe, That's why Whitney feels safe because they are riding with you three. They want to ride this to 6
Tiff – they will take the shots we don't want to
DX – exactly we can mobilize that to our advantage so why are we throwing it Alyssa to take out someone that has our back 100%?
Ky – for me I trust Alyssa more than Whitney
Tiffany asks what does Whitney mean when she says she wants to make a BIG MOVE
DX – "THE KINGS THE KINGS"
DX – it's not you guys..
Kyland says there might be a person on the kings that can help them.
DX – on the jokers who do you think is most likely to come after you can you rank the three
Kyland – Britini, Azah. Then BIGD
DX – here's to compromise What I would personally feel comfortable with is Whitney and Hannah stay safe next week. They can take a shot at the King's later on.
DX – the compromise is we can still throw it to Alyssa but change her target so it's not Whtiney
Tiff – she didn't want her target to be Whitney we changed her target to be Whitney.
Claire – we can change it back
DX – we have so much time (Yeah you still haven't had the veto ceremony for this week and you're planning on who to evicted next week)
DX – Honestly whoever we collectively least safe about on the jokers we should make that person the target. Me personally that would be BIGD, I talk game to Britini and Azah.
Dx – it's 33% for all of them. I think those three people are less likely to win a comp so they won't be able to take a shot in the future. Whitney might win a comp.
DX – BIGD isn't going to win a comp
Tiff – he's not a threat either
DX – we need someone to be a pseudo threat to take out the kings
(LOL every couple moments one of them gets up to check if anyone is listening in. At one point Tiffany tells Kyland "STOP ain't nobody there" She then apologizes)
DX – he's not a threat and he's not an assest.
DX says brit and Azah could be assets.
Tiffany and Kyland low key are pushing to keep BIGD and Azah safe. They try to convince DX that there will be competition BIGD can win.
feeds cut.. when we're back DX is still trying to keep Whitney safe next week arguing she has a good chance to win the HOH and use it on a KING.
Tiff – where does her loyalty lie she pretends to be Brent's best friend to his face
DX – you're doing that. you're doing that. you're doing that.
Dx keeps telling them that Hannah and Whitney are riding with the three of them. They are making decisions based on what is best for their game and that is what is best.
DX if the final 8 isn't the "Royal Flush" they shouldn't be taking a shot at the other four.
DX asks out of the jokers which sides will they go with
Britini ?
Tiffany – us
CLaire – Me and Sarah Beth, she has pinky promised.. she told me I feel good with BIGD, Azah, SB and me.
Claire says Brit is very upset at DX and Tiffany about the wild card. "she still likes you she's not going after you"
Tiff – she was staring at me all day today I was like Oh my god
Azah?
Claire – either way
Tiffany says Azah will go with them there are more people she likes on this team than the other team.
DX – I want to keep Azah
DX – I feel BIGD is with them
Claire – BIGD and X are tight.
Tiff – BIGD as a whole for the group he likes me, he likes you (DX) you're right he likes Alyssa and X
TIFF – if we got Azah we got BIGD
DX – if we have X we have BIGD
DX points out that X knows Christian and Alyssa will each other over him at the end of the day. "Sarah Beth know the same thing"
They agree X does not want to go final 3 with Christian and Alyssa.
Kyland mentions that SB is still mad that three of her team was in an alliance without her.
Tiff – SB has some very strong opinions.
KY – STRONG
DX – I've never seen her that vocal
Ky – ohh bro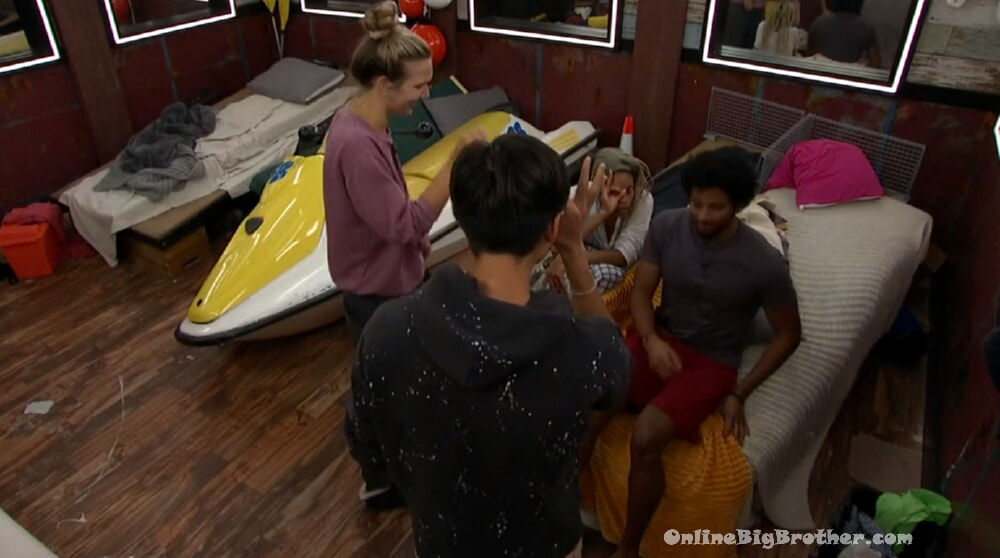 They form a new alliance called the detectives.
Tiffany does a 6 symbol next to her eye (See image)
Tiff – we spot out sh1t…
Claire – isn't that potentially a white power symbol
Tiff – IS IT!
Ky – don't do that
Tiff – why didn't you tell me!
They laugh
After much thought, they decide to do this as their alliance symbol
6:43 am ZZZZZZZZZZZZZZZzzzzzzzzzz
If you like these spoilers please consider a donation to keep the madness going. We accept donations via paypal How to support OBB