James- I trust you since the beginning of this game, you are the only person I know that hasn't thrown me under the bus
Ross – I saved ya..
Ross – Shannon pissed a bunch of people off.. things she told Keshia that Omarossa said that people don't know are true .
Ross says Shannon is playing too hard
James says Shannon is mopping around..
Ross says he believes it will be James and Shannon on the block.
Ross – be nice to everybody, win the veto…
James says if they put him on the block they are going to make any enemy out of him
Ross tells James he doesn't want to be the go between with him and Brandi.
James – Brandi, there's never been a justified reason for her to be upset with me
Ross says "I swear on my life" after Ari won the Head of household he told her Metta and Omarosa
Ross – it's no my HOH
James asks if brandi and them will know Ross will also be mad at them.
James – they're making an enemy out of you, and whoever of us stays.. they are making an enemy outta Meta and the majority of the house
Ross – I've heard from a lot of people that they want Shannon gone, She's the biggest threat.
James – if she gets herself off (off the block 😉 ) than I'm going
Ross – you've come back from way,…
James – I understand you want to get rid of a big player.. If I'm not the target don't put me on the block
Ross – there's no one harder to beat than you after Shannon
James now saying it's better for him to be on the block because at least he'll be able to play for Veto.
James and Ross agree James has the votes if he's left on the block against Shannon
Jam es- if Shannon pulls herself down and Mark goes up..
Ross – you're fine.. wait no..
Jame s- I dunno
Ross – yes.. do the recon at that point
Ross tells him not to talk to Shannon about this conversation
James – I can't talk to Shannon anymore.. it sucks.. they just blew up the 4 of us
James says he can only talk to Ross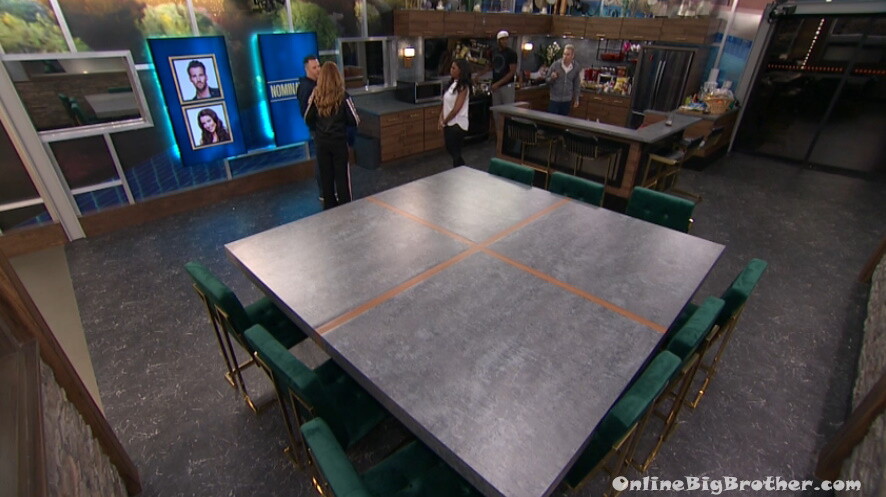 5:40pm Feeds back Nominations are James and Shannon.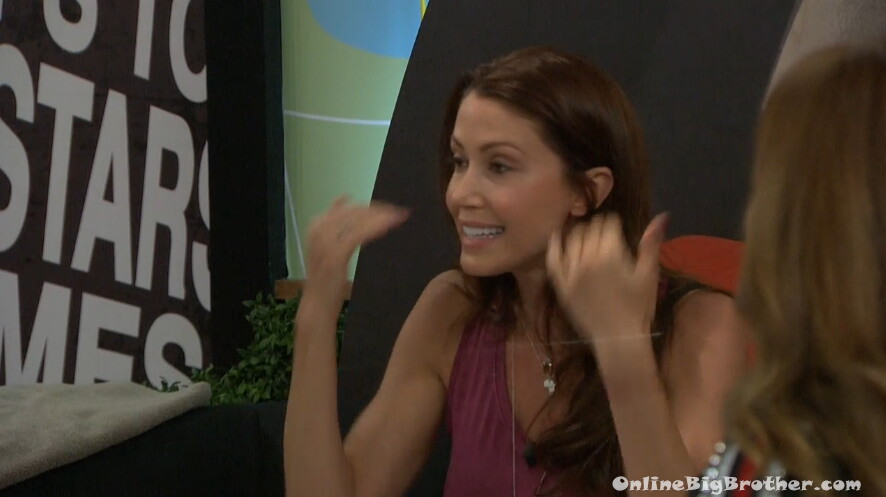 5:41pm Brandi, Shannon and Marissa
Shannon is going on about how she's never gone after Brandi.
Brandi says James and Shannon are Strong players.
They start talking about who are teh super fans in the game. Brandi says Shannon has the most knowledge of the game. Shannon disagrees.
Ari and Ross join them..
Shannon says they all threw her under the bus today.
They disagree
Shannon says them not sticking to the plan.
Shannon says it's obvious what is going on with none of them looking at her in the eye.
Marissa says she wasn't avoiding her.
Shannon – I don't see why I'm the biggest threat..
Brandi – you've won the most competitions, you know the game the best.. everyone saw you as a target from the get go
Shannon says that means she'll always be the target so why not keep her.
Brandi goes on about how strong James and Shannon are.
Shannon says Metta is stronger than her.
Shannon – it's not fair I've had all your backs this entire time.
Brandi says they all love her as a person.
Marissa says it wasn't only Ari it was a group decision, "no backdooring"
Shannon – I'm glad a final four means something to you guys… I don't know what I would do without
Brandi – this game is about being manipulative and not always telling the truth.. it sucks but that's the game.
Shannon says that Metta and Omarosa got in their heads.
They deny
Shannon – ok whatever.. there's nothing else to be said..
Brandi- If anyone else would have gotten Head of Household.. . even people in your alliance.. it probably would have went the same way.
Shannon- Good to know
Try the Live Feeds FREE for 7 DAYS! Click here for your: FREE Trial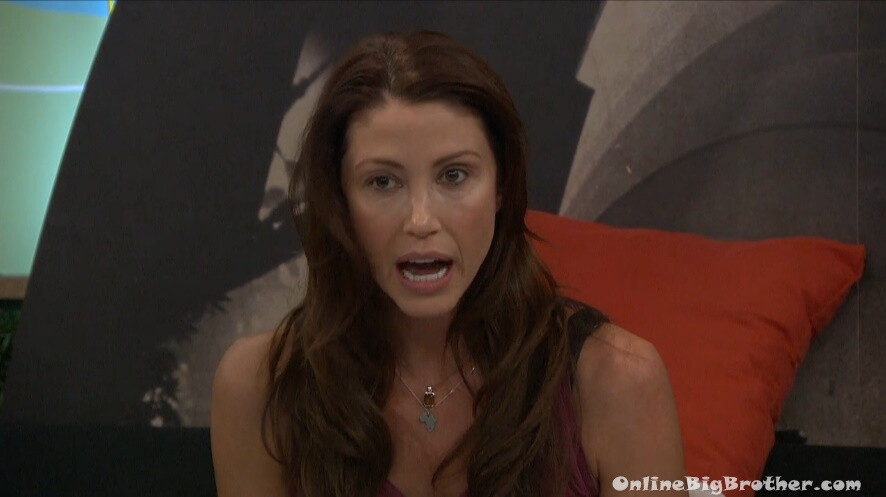 6:02pm Shannon, Brandi, Omarosa, Ross
Omarosa says Shannon started gaming Omarosa when she was coming back from the hospital
Shannon to omarosa – the things you said to me in the room that night was very very hurtful
Omarosa – what was it I said to you, You were playing the mean backstabing person?
Omarosa – that's true
Shannon – you said things that was completely inappropriate.. I haven't talked game with you once since you've been back
Omarosa – that is not true
Shannon – let's hear another lie.. Let's hear it..
Omarosa – when I was on the block I was gracious and respectful
Shannon says what she told her was not gracious and respectful
Omarosa – allow me to speak .. Shannon I was on the block.. I got flipped..
Brandi – you did have your moments of being pissed and said things below the belt.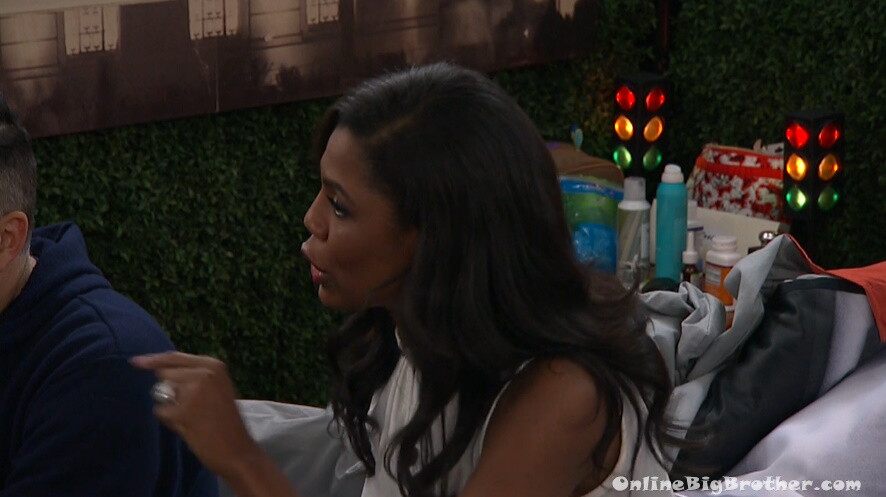 Omarosa – below the belt is like going to Keshia and saying ohh she misses her baby I should use that as part of the game.
Shannon calls her out for having an alliance with Keshia. Omarosa goes on and changes the subject.
Shannon calls her out for it.
Omarosa – Shannon… your not even letting me finish..
Omarosa – after I took 2 puffs of my inhaler you went to everyone of these people and said pick her. You saw my vulnerability you saw my weakness..
Shannon – I wasn't watching you with an inhaler..
Shannon again says what Omarosa told her was completely wrong and below the belt. (no idea what it is)
Omarosa – i'm not going to contribute to the stress you are having
Shannon – You're lying
Omarosa – you are the most brilliant player to play Big BRother, if someone can figure it out you can.. (LOL a bit of s stretch )
Shannon says she's been playing a upfront game from the beginning.
Shannon – you can roll your eyes and make little looks with your face I don't really care..
Shannon – in the end you'll all go out and see.. I haven't done anything behind anybody's since the whole flip
Shannon says Omarosa was going behind her back.
Brandi says that is part of the game.
Brandi – every single move you've done in here has been to benefit you
Shannon – and the group
Shannon tells them they are giving her too much credit in this game.
Brandi goes on about how good Shannon knows the game.
Shannon says Omarosa, Marissa and Ross know the game.
Omarosa says she doesn't know the game.
Shannon smiles "Bullshit"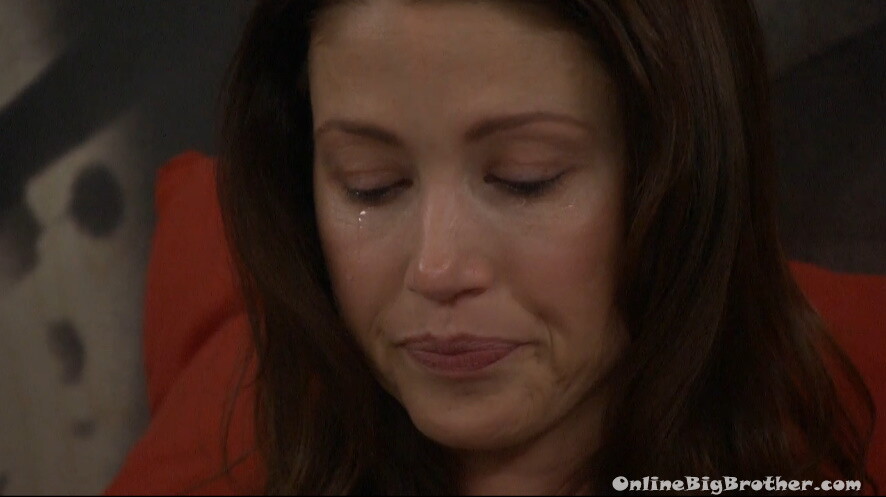 6:10pm
Shannon bawling
Brandi – I don't like seeing James play
Marissa says she loves seeing Shannon play
Brandi says Shannon is the best player to have ever played this game.
Omarosa leaves to grab tissue..
Brandi – everyone loves you here.. I don't like James but I would never say that about you
Marissa – it's been exciting and fun playing with you..
Brandi – we are in awe… it makes us nervous
Brandi – it's just game not personal
Shannon crying – I just wanted to stay here with you guys…
Shannon – it doesn't matter what I say because whatever I say everyone thinks I'm so sketchy
Ross – nobody here is making it personal
Ross – I'm sorry
Shannon says she never had a 2 deal with James or Mark. Mark came to her.
They go on about how James and Shannon are the stronger players.
Shannon says James hasn't won anything. Shannon reminds them that they were on the same side.
Brandi says she thought maybe Shannon was producing this show "you know the game so well.. Maybe you should not have let that be known"
Shannon says she was trying to help them her friends.
They go on and on about how awesome shannon is and how they all want to be her friend afterwards.
Brandi – give me a hug… and I don't even like to hug
Mark who I didn't think was in the room appears to give out a hug..
They do a round of hugs.
Shannon – if you guys don't have anything else to say just go..
Mark stays..
Shannon – I just didn't need them here staring at me.
Mark – tell me if you want me to go
Shannon – no no no they're the traitors.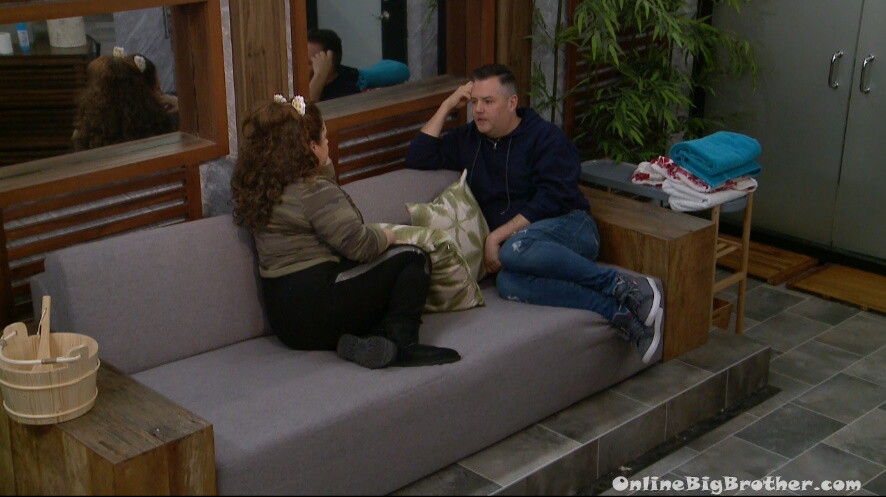 7:28pm Ross and Marissa
Ross – I have a lot of empathy for people… she can't make people feel that bad because of a game
Ross – Shannon is being the victim right now.. the truth is she kept stuff from us for more days than she's told us the truth.
Marissa agrees says BRandi and Ari aren't going to lie.
Ross wants them to tell Shannon that she's lied to them more than tell them the truth.
Marissa says James would have put up BRandi and Ari he wasn't putting up Metta and Omarosa
Marissa – or you and me.. well maybe not you and me..
Marissa – my alliance with Meta is stronger than yours