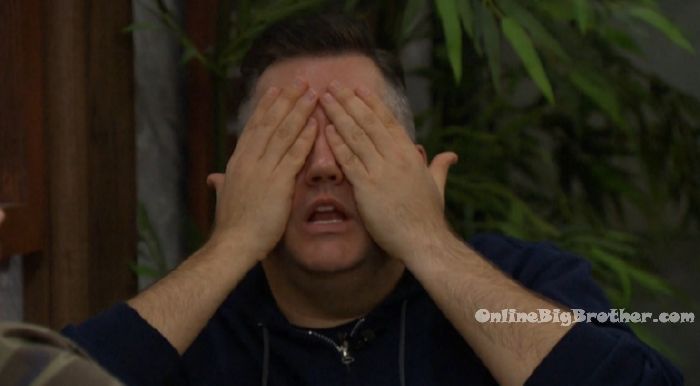 7:30pm Bathroom – Marissa, Ross and James. James is getting ready to shower. Ross – I'm not looking. Marissa – I am. Ross covers his eye and says – tell me when its over. I'm not watching so you need to tell me what's happening. Marissa – I need to go home and be with my husband. Ross – tell me what's happening. Marissa – he took his hat off. He scruffed his head. Now he's taking off… Ross – WHAT?! WHAT?! WHAT DID HE TAKE OFF?! Marissa – he took off his shirt. I signed a waiver. I'm allowed to sexually harass him. He took off his pants. Ross – what's happening now?? Marissa – he's in the shower. Marissa tells Ross to look. Ross looks in the mirror and then runs out saying I'm not looking.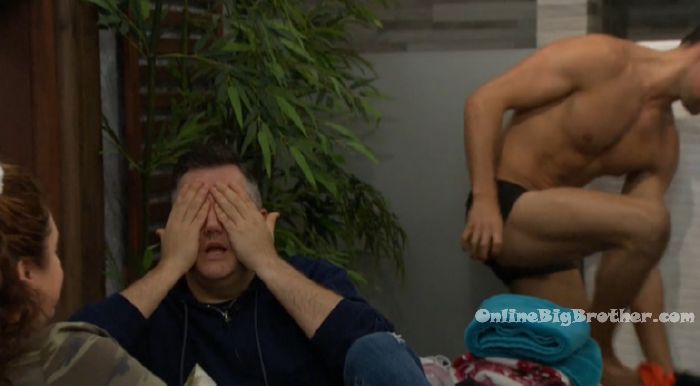 Try the Live Feeds FREE for 7 DAYS! Click here for your: FREE Trial
Shannon update..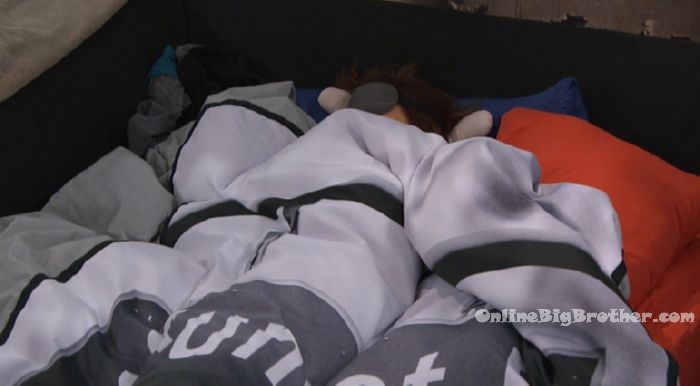 8:02pm – 8:40pm Big Brother blocks the feeds.. When the feeds return – all the house guests are in the living room watching / feeding the fish.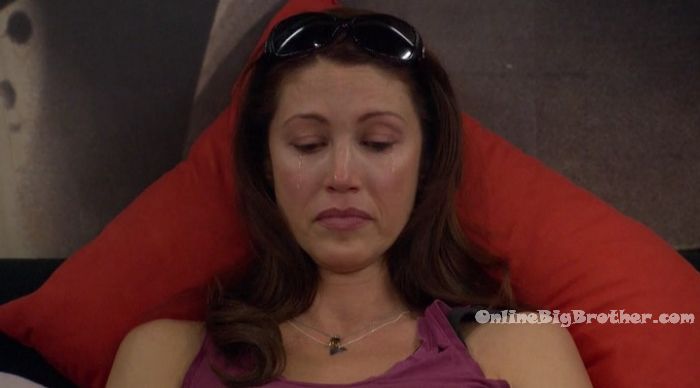 8:53pm Bedroom – Brandi tells Shannon – I don't want you to ever feel like you don't have someone because everyone loves you. And James is a nightmare. And he is a ____ little guy that got co*ky. I just can't stand him. Don't give up! I love you. Brandi leaves the room. Shannon has tears running down her face. She wipes her tears and sits in silence.
9:05pm Big Brother opens up the backyard.
9:35pm Backyard – Ari, Ross, Marissa, Omarosa and Brandi. Brandi – Omarosa – maybe we should just keeper her and all the drama will end. Marissa – no one will notice. Brandi
10:10pm Bedrooom – Ross, Marissa, Brandi, Ari, Metta, Omarosa. Metta – James is tough. He's hungry. Omerosa – I want Shannon out. She knows this game so well. Metta – she's taking this personal. Omarosa – if she wins HOH, she is coming for vengeance. Brandi – he (james) is quick physically but his ego is in his way. Omarosa – if he becomes HOH at lease you can reason with her. If she becomes HOH there is no reasoning with her. You have to make a big move to win. She will look for a big move. Brandi – big moves, money moves. Mark joins them and tells them that the light is out in her (Shannon)'s room. Omarosa – she flipped the whole house and got Chuck out. You know how hard that is. I'm going to play hard for the veto and try and win it. If I do, I am keeping the noms the same.
11:15pm – 12am Kitchen – The house guests are still around chatting..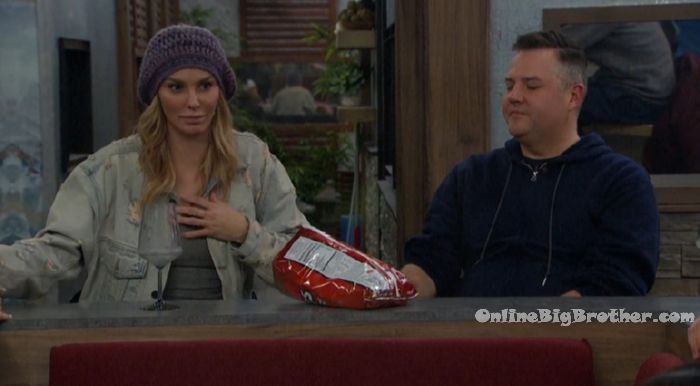 FLASHBACK and watch everything you missed: Live Feed 7 day FREE Trial!
Time to start ranking the houseguests on Celebrity Big brother. Nothing has changed with the ranking system since BB19. If you forget how it works here's the skinny.
You apply a ranking from 1-5 to each houseguest using one of these two pages: Voting (with images) and Quick vote (without images)
You have until the end of each day to "Lock in" your ranking. Each day the rankings are compiled and viewed on the grid.