Quick Big Brother Spoilers
Head of Household: Jared
Nominees: Corey and America
POV Players: Corey, Jared, America, Bowie, Jag, Cameron
POV Winner: Jag
Veto Ceremony: Veto was used on Corey. America and Cameron nominated
Havenots: ?
Lock your ranks in before midnight
The situation -> Veto will be used. Cameron will go up. Cameron VERY likely to go home.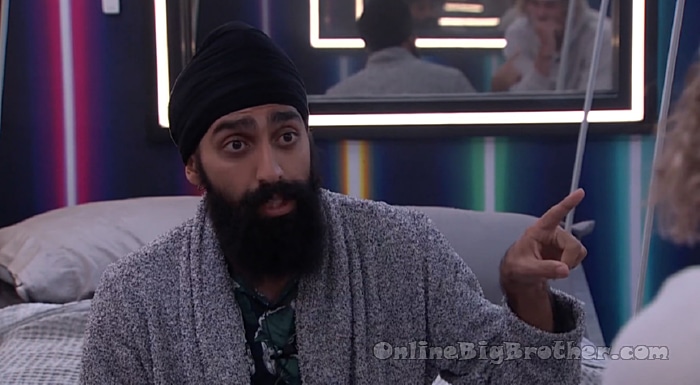 9:35 am Jag and Matt
Jag gives Matt a debrief from his conversations last night with Felicia and MEME.
Jag says Felicia is "SUSS" about Jared and Cirie "The said there were people that told me straight up I had their votes. I was lied to"
Jag says Matt needs to talk to MEME "Personally I feel like Me, You, MEME, COrey, America We're all burned by the same people"
Matt – yeah yeah yeah yeah .. I just don't know what I can tell her. Maybe that's why I haven't talked to her I don't want to f*** up the conversation
Jag – DOn't tell 7 deadly sins Met again.
Jag says if things go good with MEME this week then "We don't necessarily don't have to throw it."
Jag says If THey can get Felicia and MEME then they'll have Bowie's vote.
Jag adds that if they can secure MEME and Felicia's votes "You straight up put them up.." (Cirie and Jared)
Jag – straight up put them up and we will have the numbers to get them out.
Matt – Okay
Jag – this week it's about who we can trust.. WE need to expand beyond you, Me, Corey and America. If one of us wins it's only three votes.
Jag – right now we trust Blue but I don't trust she would vote Jared out
Matt – yeah
Jag – we need another person we can trust, Is that MEME, Bowie, Felicia I don't know.
Jag – this week Chat with MEME, Bowie, Felicia, Corey and America
Jag – really chat with everyone
Matt – Chat with Cameron in case there's a twist
Jag stresses they need to add one more person at least they can feel solid with.
Matt wonders if they can just put a pawn up to backdoor Jared.
Jag explains if they do something like Cirie and Bowie. Cirie gets houseguest choice picks Jared to play veto. He wins veto uses it on Cirie, "We just f***ed up the whole week"
Jag – now Bowie Jane has to go or Felicia.
Jag – we're only gunning after two Jared and Cirie.
Jag says someone eventually will take a shot at them "The way that Cirie is running around saying for real for real is real… "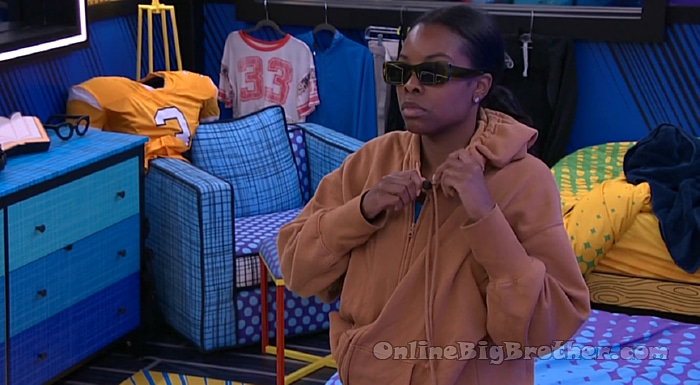 9:45 am Felicia and MEME
Felicia – Cirie is out there with F**ing Bowie Jane now. It's
Felicia – She's out there lifting weights with Bowie jane at 9:30 in the morning. She wanted to get out there early before everybody else so she can talk to her. I told Corey and America you guys have to get close to Bowie Jane. We have to pull bowie jane that gives us 5 people.
Felicia – I honestly believe based on how those two guys are acting we can get Matt and Jag t push over and drop Cirie and Jared. They saw what they did last week. They already know they can't be trusted.
Felicia says Cirie and Jared were going to be the reason for her demise and they were grinning at her all week.
Felicia – I'm done with that sh1t .. for what? I haven't done nothing for either one of these fools. I've been in my head protecting them.
MEME – same.
Felicia – I don't know how we're going to do it but me, You, America, Corey, Bowie that's five. There's 5 on the other side. If I can get matt and Jag Blue, Cirie and Jared are going home.
Felicia- one of us has to win HOH this week. I'm going to go out there and shut that conversation down then I'm going to talk to Bowie Jane
Felicia says Cirie and Jared lied to her about the vote last week just like they lied to MEME during REd's eviction.
Felicia – Cirie and Izzy were lying through their Teeth
Felicia – that might be what the hell they did on Survivor and that sh1t worked. This game is too long she said out there they don't talk here they talk all day long.
MEME – MEME all day
Felicia- your lie will come to the surface and it done floated up.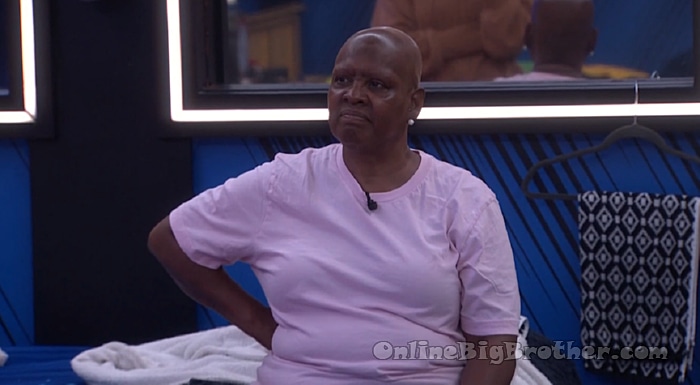 Feeds flip. When we're back Felicia is talking about being betrayed and what she will say in a conversation with (Bowie?).
Felicia – those two people slapped me to my face.. trust me in two weeks they're coming after your a$$
Felicia – Bowie, Corey, America are the names they're coming after.
Felicia – If I win HOH I'm putting Cirie and Jared on the block and they are going to look at me like I'm f***ing crazy and I'm going to say this is for the fact that the two people I trusted the most lied to my face.. Made me believe they are trying to help me and they are the ones throwing me under the bus.
Felicia – the rest of the house saved me not you two. I trusted them.. I would have never had done that to you
Felicia says her GUT was telling her that Cirie is working against her to sabotage her game and she didn't know why "Three times I had felt that last week I got confirmation.. I knew I wasn't crazy"
MEME starts going over all the lies over the last 3 weeks from Cirie, Jared, Izzy.
Felicia – Jared, you won't be able to win this game. You've lied on everybody. To make up sh1t.
Felicia says she's going to lift some weight outside "Figure out what else they MADE up about me."
Felicia – I'm so pissed..

They hug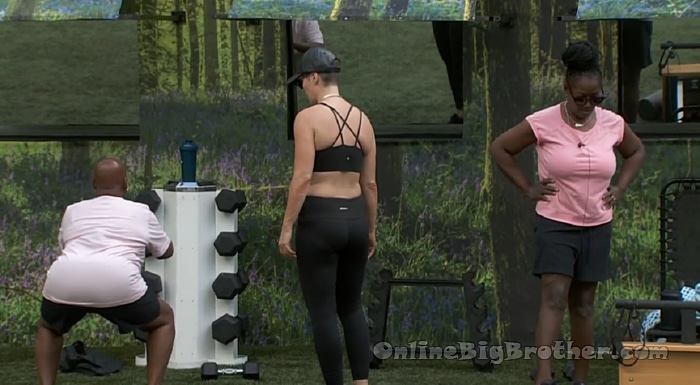 10:03 am Felicia starts working out with Bowie and Cirie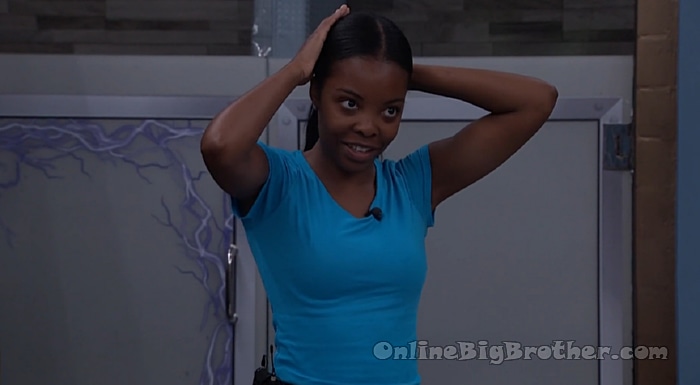 10:17 am Meme and America talking about all the Cirie, Jared, Izzy lies and how events went down on Thursday.
America – the fact that their lies almost worked is scary
MEME – scary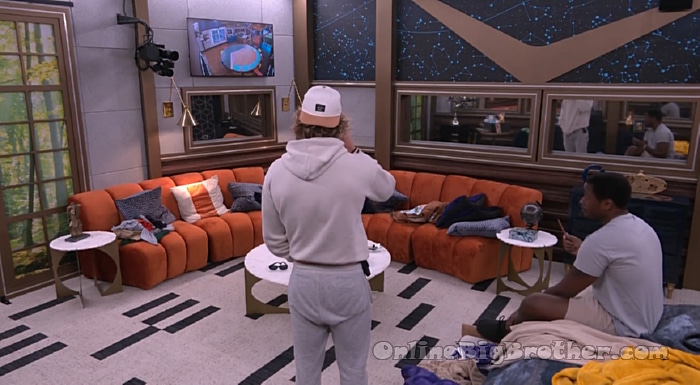 10:25 am Matt and Jared
Chatting about how they have the numbers to vote Cameron out this week.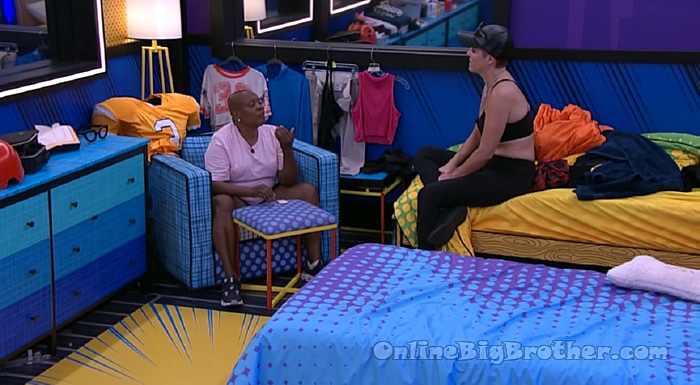 10:30 am Felicia and Bowie
Felicia – I've had a lot of conversations this week, remember when I said I have MEME, Cirie and Jared?
Bowie – Yeah
Felicia – I found out that Cirie and Jared were the two campaigning the hardest for me to go. The argument upstairs (THursday before the show) Started jared got pissed at Corey because Corey was the one after some conversations were held with IZZY. He found out that she told a whole lot of stuff and Corey was the one that flipped and said we are keeping Felicia Because you guys (Cirie, Izzy, Jared) are the ones starting all the chaos.
Felicia- jared was mad at Corey because they had everyone convinced that I had to go. The WHOLE week they are telling me I had their vote no matter what.
Felicia – When I say I am disappointed I am so disappointed I have trusted Cirie and Jared like Family. To hear that they just got on board because the house had already decided they were keeping me. They didn't want me to stay.
Felicia- Izzy was the one that would go gather all the information and bring it back to Cirie and then she would feed it to JAred. They wanted her to stay because she was the intel person. That is what got out, Izzy was the one that told them about the 7 deadly sins She was the one feeding the information to Corey no realizing Corey was telling.
Felicia – cirie and Jared are manipulating conversations it's really hard to know who is doing what. I have totally trusted Cirie.
Bowie – they were lying through their teeth
Felicia says she's trusting Matt and Jag more now.
Cirie joins them.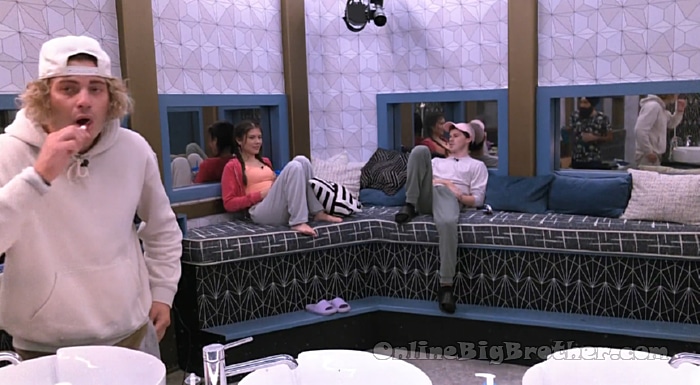 11:00 am Corey complaining that the backyard gets closed tomorrow at 7am.
11:10 am Feeds go down for Ceremony
Without your support this site and these spoilers wouldn't be possible.
Please consider a donation to keep the madness going.