Head of Household Winner: JACKSON
Havenots are:
Nominations are: Tommy & Cliff
Power of Veto Players are:
Power of Veto holder:
Power of Veto Ceremony:
Grab your live feeds —-> BB21 Live Feeds Subscription Link
Rank your houseguests —-> Big Brother 21 Ranking
5pm – 6pm
Jackson sleeping on the living room couches. Meanwhile in the bathroom.. Cliff is chatting to the live feeders. Cliff – I am proud that I've been a shoulder for people to cry on in here and maybe the voice of reason and sanity in a crazy house. I think its just the benefit of experience in life. I've got a lot more years on these people to have figured out what is really important to me. And this game is fun, its a once in a life time experience. I don't want to waste it but in the end if I go home on Thursday of if I walk out of here with a big cheque. Either way its not as important as what I've got back home.. and I wouldn't trade it for the world. I've already won. I've already got the prize waiting for me back at home. This is just a fun little diversion.. a chance to maybe generate a little cash that will allow me to make things a little more comfortable at home.. but I'm already a winner. And I will put my prize up against anyone else and I will come out on top..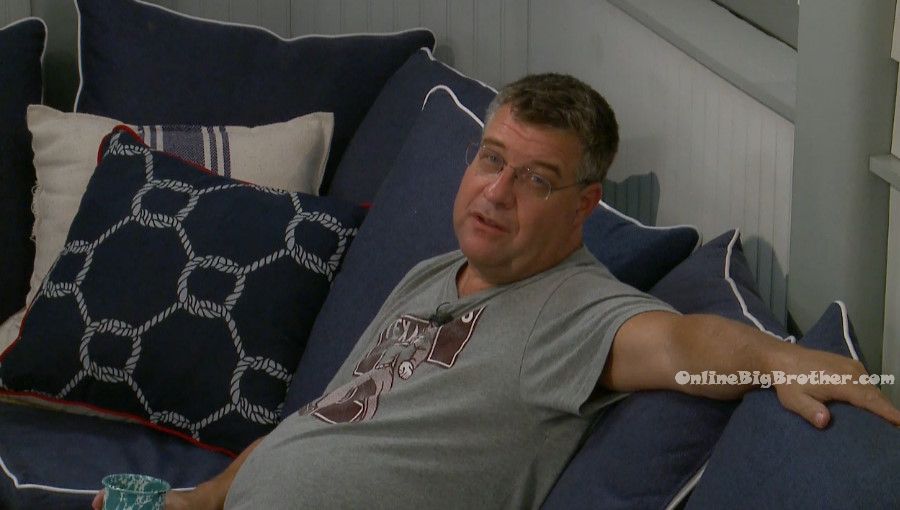 6:02pm – 6:43pm Big Brother blocks the feeds for the nomination ceremony. Cliff – so this is the first time you've seen your face up there. Cliff – so you've actually been nominated two days in a row.. how does that make you feel? Tommy – yeah, I've been the only one that's been nominated two days in a row. Cliff – two times in 24 hours. Congratulations. Tommy – and this week it really just comes down to the veto. Its about tomorrow. Cliff agrees.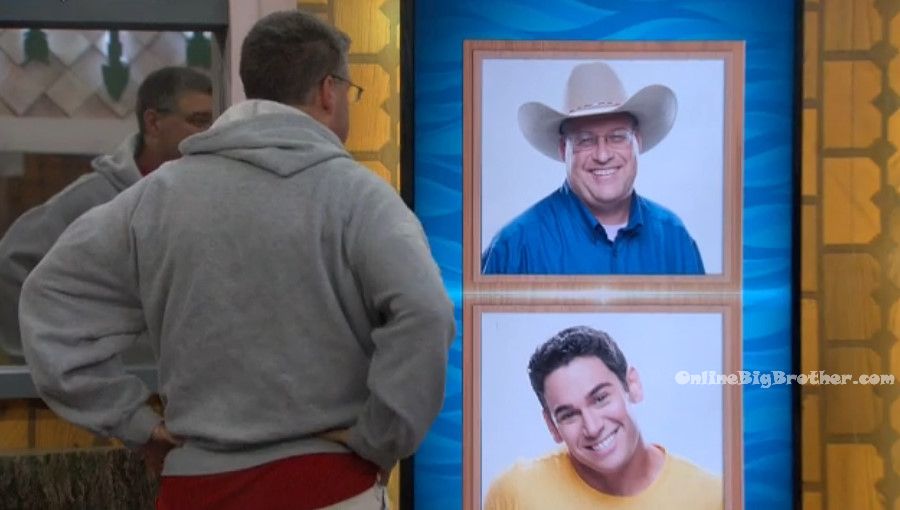 6:45pm Storage room. Holly and Jackson. Holly – congratulations! I'm proud of you! Jackson – I can't compete in the next HOH. Holly – I know. Oh sh*t really!? Jackson – MMMmhhhmm. Holly – I had a feeling.. no pressure, no pressure, no pressure. Jackson – yeah bring it home. Holly – please let it be physical. I flopped on this one. I just went slow because I was afraid of getting them wrong. Me wishy washy before I make the right decision .. no..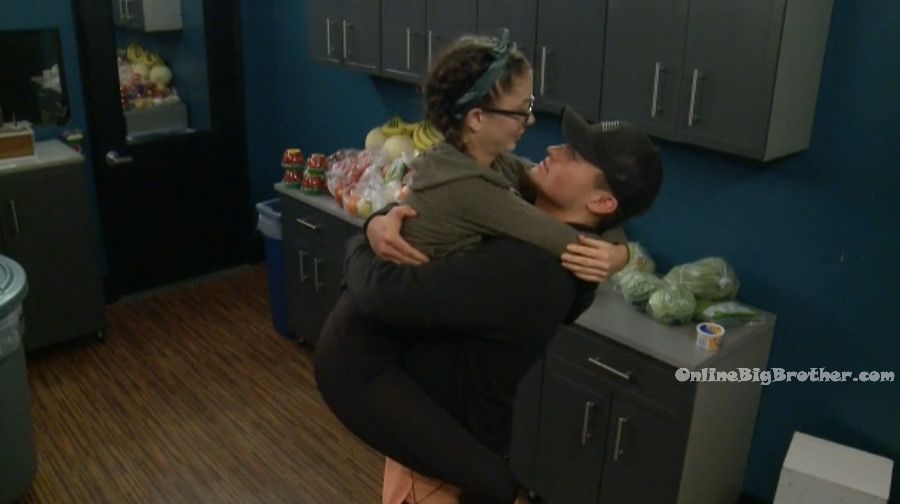 6:50pm – 8:55pm The house guests are making dinner. Jackson – Christie's black and white picture freaks me out.. every time! Her eye's follow you ..like the Mona Lisa. The house guests eat dinner, play backgammon, and chat. Jackson explains to Holly what the BB comics veto is like. The house guests continue to sit around reminiscing about past events of the season.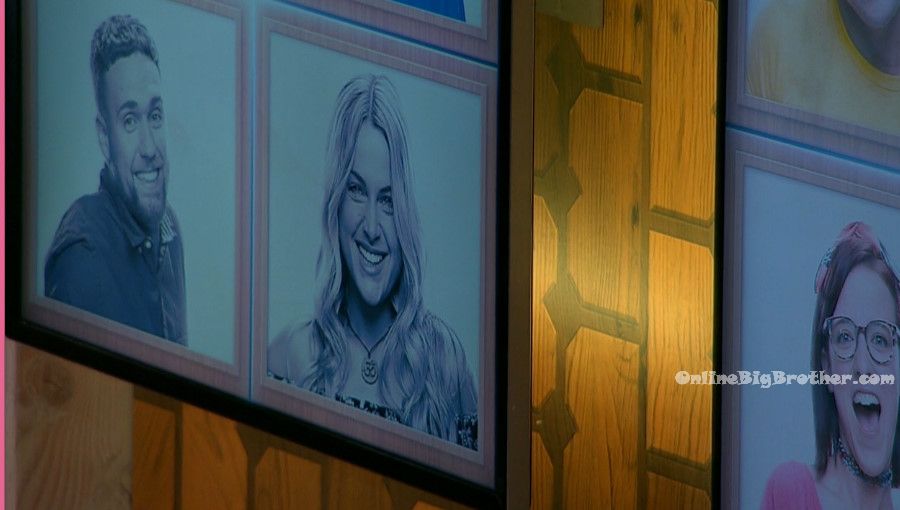 9:45pm Jackson asks Nicole if she is sleeping upstairs. Nicole – I don't know. I feel weird. Jackson – Nicole you won HOH ..I am only here because of you. Nicole – maybe! Really?! Really? Maybe I will. That's so exciting. Jackson – you deserve it. Take your pictures up there. Nicole – okay! Thank you!

10:30pm Tommy alone in the havenot room. Tommy – wow! What an emotional roller coaster the last 24 hours have been! I am so glad to be here. I am. I have a lot of emotions right now. I was genuinely blindsided by Nicole putting Christie and I on the block. Congratulations Nicole for successfully landing a blindside. Am I bitter because it was against me and because I feel for it or am I upset because I just didn't think it was a good move. I don't know. It doesn't matter. I am here and all that matters is moving forward. Tomorrow we have a competition. And if I win that veto I can take myself off the block and I can be here another week and then I have more time. I have till 86 but I need to 93 .. that's the next number to get to. I am going to freaking kill it! OMG I am going to be a freaking animal! There is a four person alliance left in the house and I am the fifth. I saw it for weeks and I didn't get the shot to take them out. I still have hope ..and tonight I am going to get the best night sleep. I've won OTEV, I've won Hide And Go Veto… these iconic BB competitions.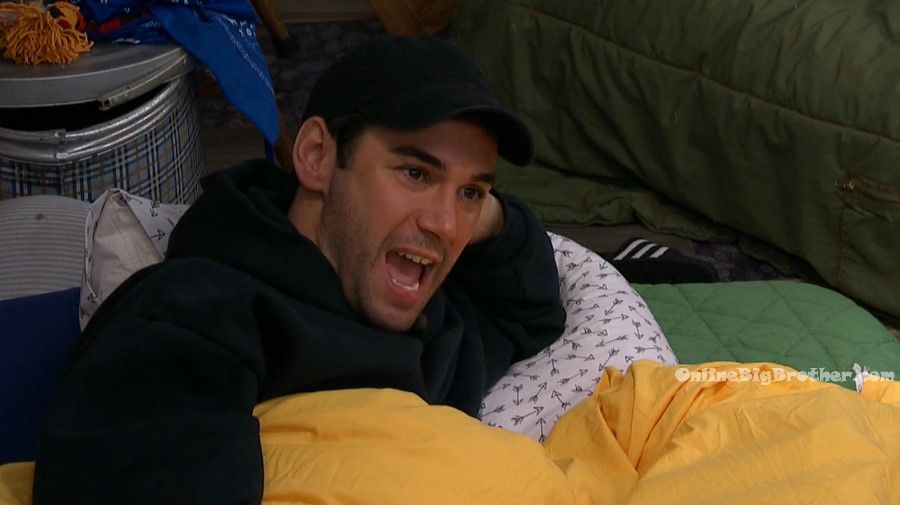 11:15pm – 11:50pm HOH room. Jackson, Cliff, Holly and Nicole.
Jackson – I was telling Nicole .. obviously today nominations today was nothing personal. Cliff – it really doesn't matter. What happens today doesn't matter. Jackson – I am gunning for that veto as if I was on the block. Cliff – I appreciate it. Jackson – because I shook y'alls hands on a four and just because I am guaranteed safe I do not want either of you going anywhere. And I will be damned if I am going to sit there and sluff just because there's a key around my neck. I want both to keep it the same and make this happen. Cliff – I appreciate it. We've all fought for each other. They talk how stressful the double eviciont was and how they kept it together. Cliff – we were all lying to each other and we all knew we were lying to each other. Jackson – my loyalty was to y'all. Cliff – same. And that's why we have four against one now. Nicole – I know America could have watched that and said you idiot .. no offense… why did you not put up Michie and Holly! But I want to leave this game with no regets and I would rather die on this sword, than that sword! Jackson – same! If I am going to lose to anybody, I want it to be someone in this room. Cliff – we all made the call a while back. Jackson – we all want to win but I can lose to y'all. I am not going to be happy about it. But I am lay my head down at night and be happy at BB21 winner. Cliff – and I can be happy that I helped get one of y'all there. Jackson – my one last thing was to outlast Christie. I am no complacent but at least I can lay my head down. Nicole – everyone felt the same way. They all finish up chatting. Jackson and Holly get ready for bed and leave to let Nicole have the HOH for the night.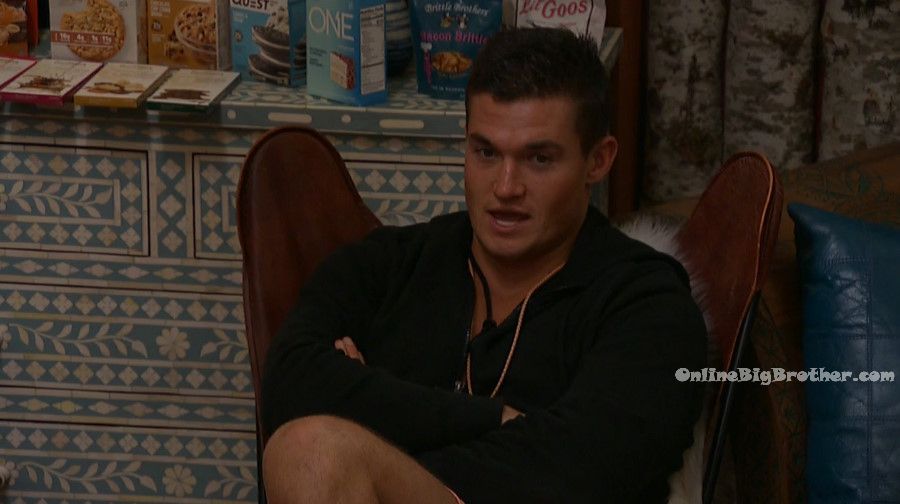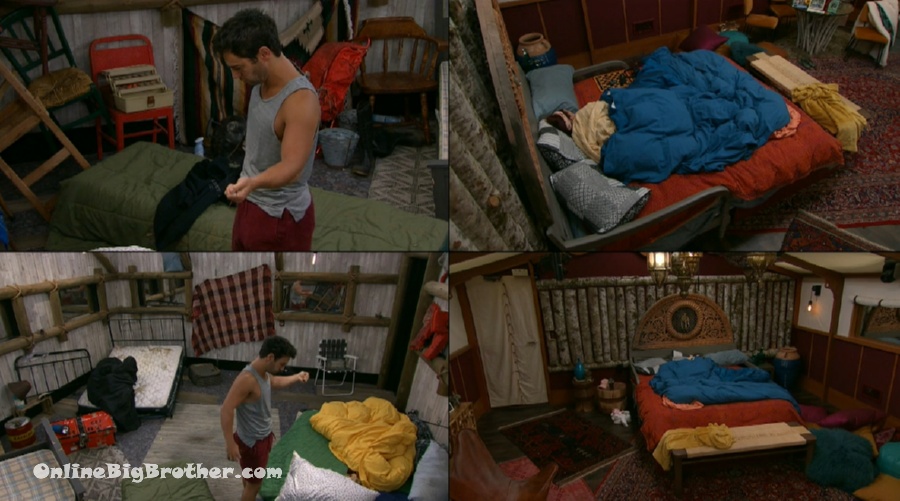 9:26 am lights on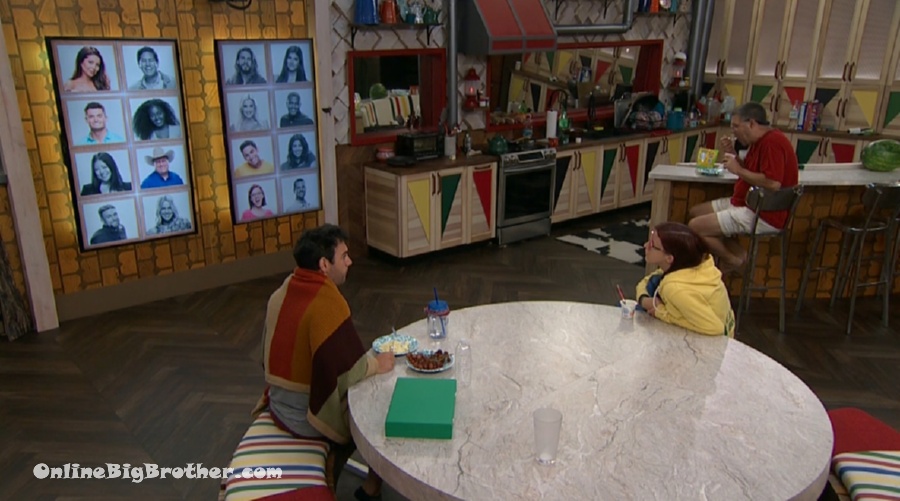 10:25 pm chit chat studying the memory board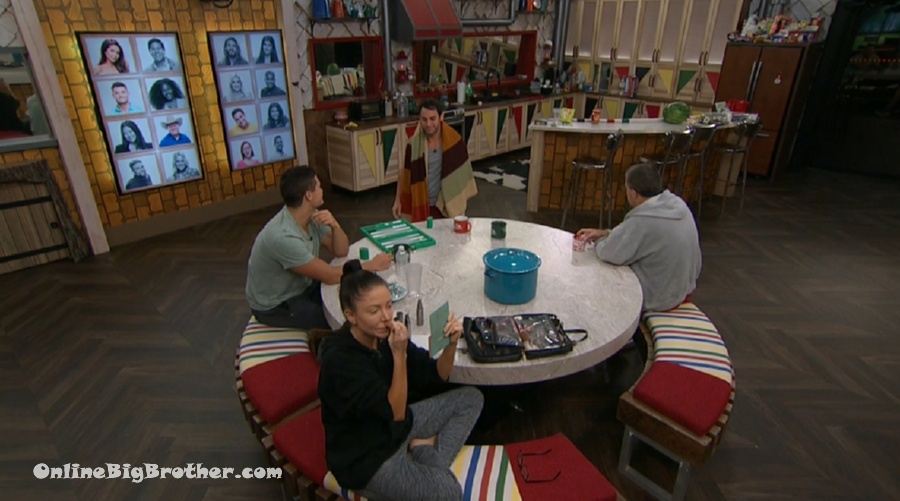 11:24 am
12:32 am Nicole and Cliff
C – If I don't win today I'm going to make sure I leave everything I got out there it's all I can do
C – I'm not keeping anything in the tank
C – this is a big one
N – extremely. You're on the block I don't want ou there I'm going to win this thing
C – if he wins we're both on the block
N – i know
C – I want to beat Tommy. I want to win the whole thing
They talk about Strategy they will take for BB comics.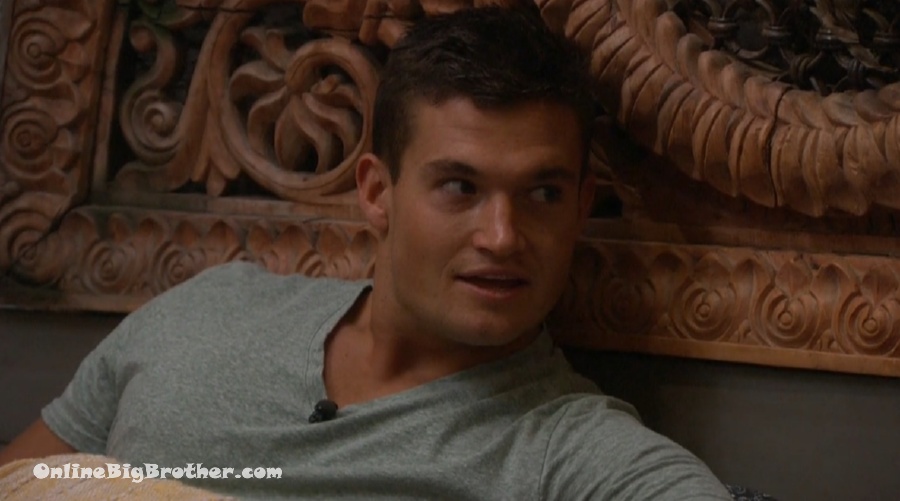 1:11 pm Tommy, Holly and Jackson
They're talking about Christie "she was all over the place"
Tommy – I want to tell you guys something. I knew Christie before coming into this house
J – really?
T – please keep this between us
H – oh I'm so sorry I've been such a … I'm sorry.. UGH.. I'm sorry
T – No no
J – You're good
T – her ex-girlfriend is my aunt
Feeds cut
When we're back.
T – I had to go with it because of who she was..
H – I'm so sorry Tomm y
J – Are you ok
T – Yeah ..
They hug
Feeds cut..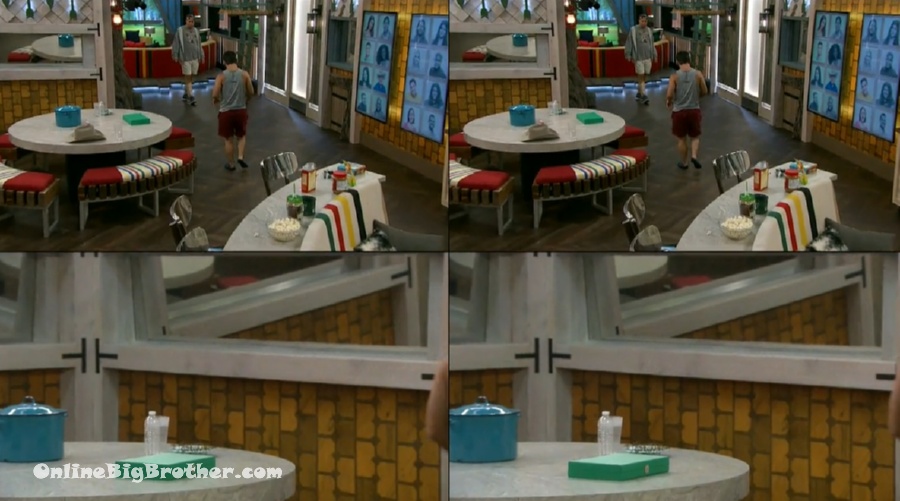 1:45 pm Waiting for BB Comics to happen
2:08pm Kitchen. Nicole and Tommy.
Tommy – I am just ready to go. Nicole – Ugh, I'm just ready. Its scary, three of us are playing for our lives. Tommy – Yup! No matter what happens 5th place is pretty great to me. Nicole – this is true.
2:13pm Big Brother calls Jackson to the diary room. Big Brother blocks the feeds. The veto competition has started…
4:28pm The feeds are still blocked.
6:44pm Still nothing..
Show your Support for all the sleepless nights Simon and I have put in for the last 76 days straight. Help keep the lights on, this site costs us a considerable amount to maintain. As an added bonus we also wanted to give a little more to those that donate: Click here for more information.
Any amount is greatly appreciated! Thank you so much in advance!