Quick Big Brother Spoilers
Head of Household: Cameron
Nominees:
POV Players:
POV Winner:
Veto Ceremony:
Havenots: ?
Lock your ranks in before midnight
The situation Sounds like Felicia is the target But MEME could also be in trouble.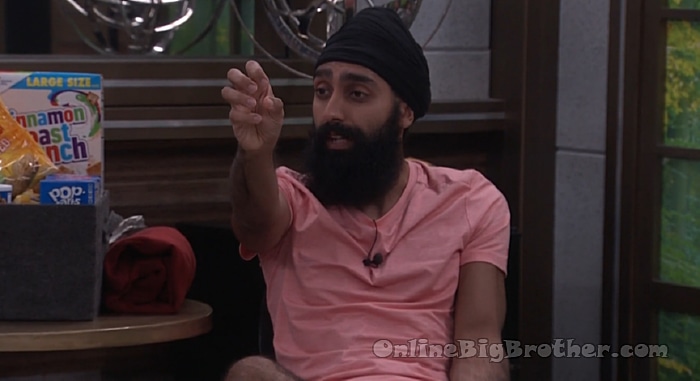 1:00 am Matt, Jag and Cameron
Matt – you get rid of Corey only America comes after us
Cam – not really
Matt – HUH
Cam – she would come after us the same way that MEME is going to come after us next week.
Matt – we wouldn't want Blue and America teaming up.
Jag – you get rid of Corey, Blue and America do team up.
Cam – yup
Matt – but have they won anything?
Jag – if you get rid of MEME.. out of everyone MEME is least close to us. She's closer to Corey and America.
Matt to Cam "I feel like you could pull America in if you got rid of Corey"
CAm – I could but I wouldn't trust that. She would still be pissed
Jag – I wouldn't trust that either
Cam – you are right when you say.. This whole time I'm thinking that Corey would be the immediate threat first BUT.. If we keep him with us for the next couple weeks.
Matt – what I saw this week.. he's good at rallying everyone.. Corey
Jag – yeah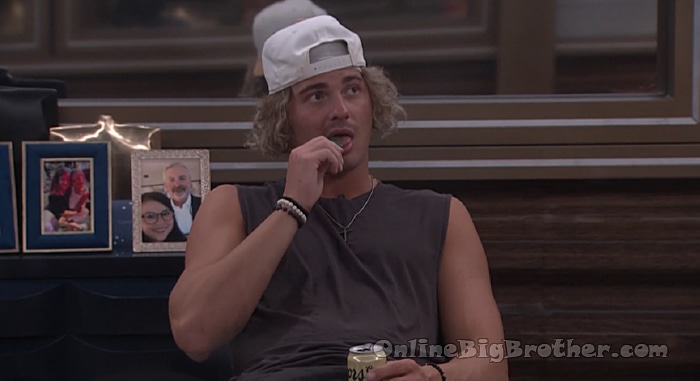 Matt – look how he rallied everyone to take Jared out. He rallied this week to make us look like bad guys remember?
Jag – Corey is someone we need to take out. It's just when.
Matt – What was your point that is what I missed.
Jag – the point is.. we have to think about who we want out not who is the most dangerous.
Matt – right right the consequences..
Jag goes on to explain they take out Corey America and Blue get closer. they take out Felicia MEME and MEME joins with Blue and it's them vs us.
Jag – Cirie goes wherever.. If we get rid of Blue nothing changes as much. If you get rid of MEME nothing changes PERIOD. We still have Blue that wants to take a shot at Corey.
Cameron – if we would make an actual list it would look like Felicia, MEME, Blue, Corey, America, Cirie, Bowie.
Jag – it's not all about us taking shots on a list it's how do we set it up in a way that people are still here that is falls in a way C-merica and Blue thing is interchangeable.
Cameron – I think you are onto something about MEME going next.
Jag – On a Blue HOH I don't see MEME going..
Jag see possibly Corey going on a Blue HOH.
Cameron tells Jag he's got a real good idea "Corey does need to go next BUT it would create an army against us I don't think it's a good move right now.. you got a good idea there dude"
Cam – if we go MEME Blue stays in after Corey
Matt says he's gunning for the next HOH but would it be good if Blue won next week and took Corey out.
Matt – Makes America mad at
Jag – Blue
Matt – America mad at Blue..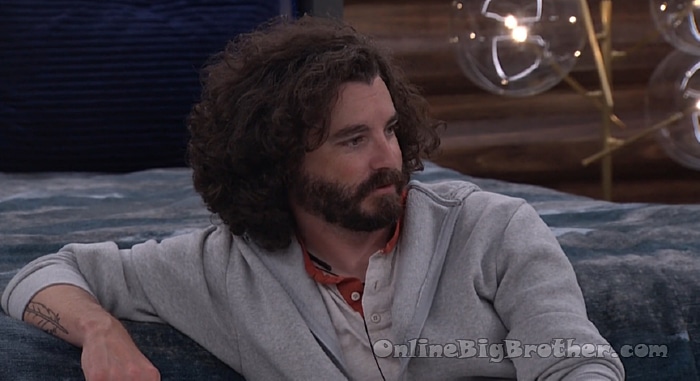 Cameron – whatever happens on this HOH Felicia is going.
Jag to Matt – you are saying next HOH
Matt – YEAH
Feeds flip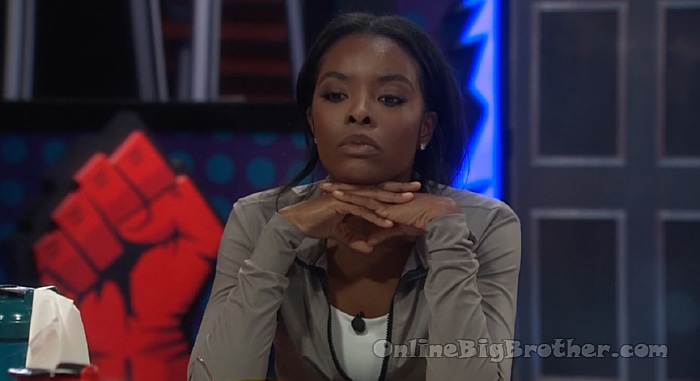 Corey – I know Felicia doesn't feel great about this outcome which I understand
MEME – mmmmhmmmmm
MEME – honesty I just think she's had a rough day
Feeds cut..
Feeds come back to the HOH.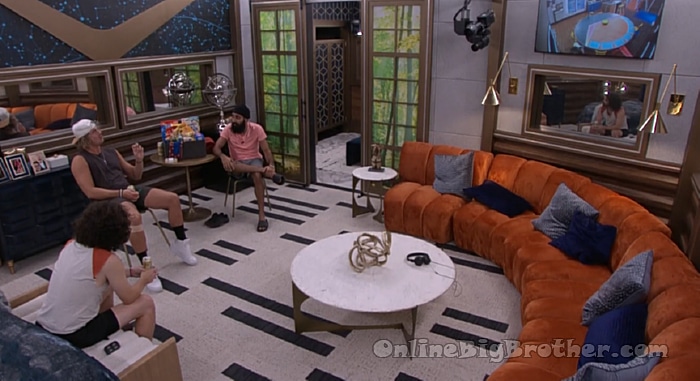 Jag – what do we want to say what we are up to here..
Cam – trippie redd
Jag – we had a beer.
Feeds flip again to Blue and Bowie whispering in the scary room. Finally flips back to the HOH.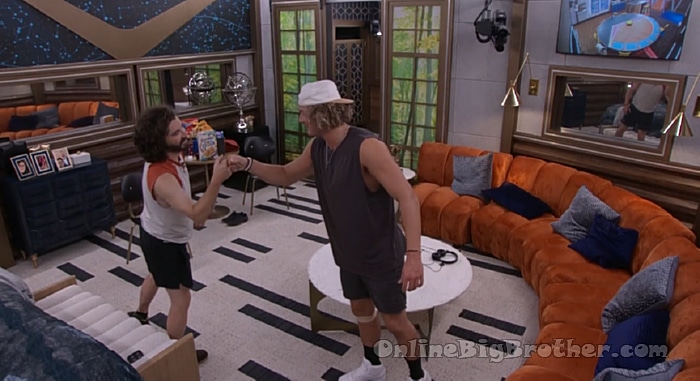 Cameron is going on about how unstoppable the three of them are.
Matt – you can't play next week but you got me and Jag. PLUS we got the layers..
Cameron – we got this we just gotta stay smooth.
Cameron – this week is about planning. we play and have a good time. We know what needs to happen we make it happen. We get ready.
Matt leaves
Cameron to the camera "Daddy's home"
1:31 am
Corey and America
Corey says wasn't her plan to lay low until Jury then Explode?
Corey – it gets to the point I want to make a BIG move, Matt and Jag.. you know. We'll get there.. I just want to make sure we get there
They are listening in on the scary room conversations.
Corey – that's funny, Bowie says it's fun in the scary room cause there's no rules
They laugh then start kissing.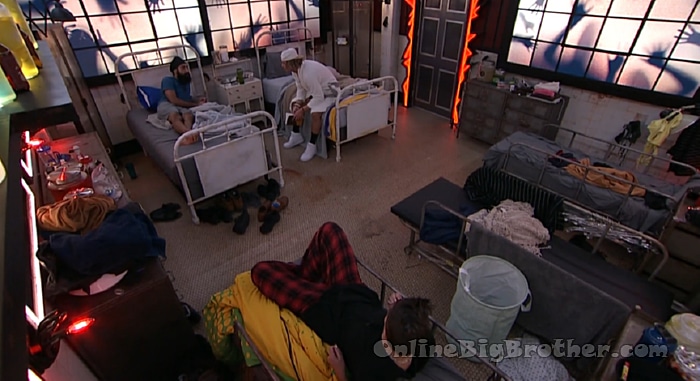 2:36 am Bowie, Matt and jag
Jag – She (Bowie) said that Corey and America are working with everybody
Bowie – it's a bit scary
Jag – me, you, her are the three .. we'll need to figure out how to navigate who we are all working with. There's corey and America who we are kidna working with.. Now there's Bluie that is with us
Bowie – and Cameron
Jag – Cam is working with us. At some point the three of us should talk and figure out what we want to do. what would that look like? Not today.
Matt – tomorrow.. tomorrow there will always be two people up (In HOH)
MEME joins them and they chit chat about Trippie Red.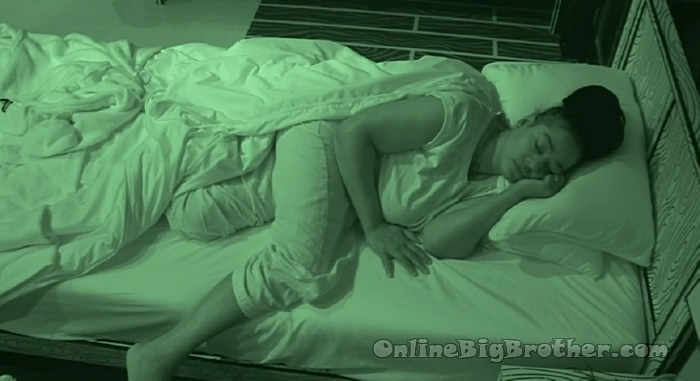 2:44 am Zzzzzzzz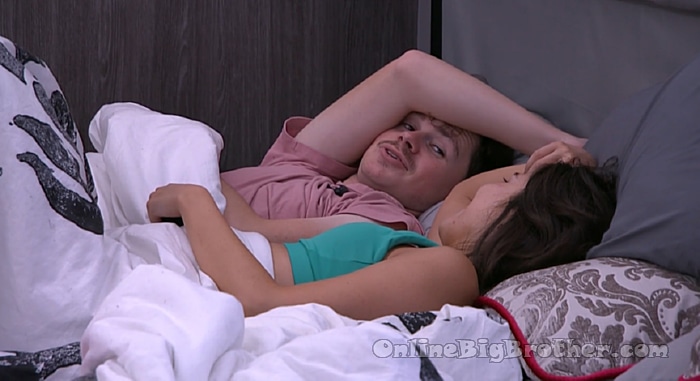 3:04 am Corey and America
America – no one takes Felicia seriously
America – Jag probably thinks his final 2 with MEME is real. MEME and Blue have been talking a lot.
Corey – I'm down for MEME to go I don't give a sh1t
America – she is more likely to win competitions
Corey – I'm starting to not fear either of them. I'm really starting to NOT fear MEME as a competitor. We have a really f**ing competitive cast. WE've already got rid of HISAM and Jared. We still have some f***ing dogs
America – Will MEME go after them? NO! it will be Felicia.
Corey – neither of them will be able to do anything
America – MEME's social game is stronger than Felicias
Corey – yeah that is why MEME is going to stay she's a better player than Felicia. Everyone thinks they can do something with MEME going forward
America – that's bad. wouldn't it be better to keep the person they think they can work with?
Corey asks her could she really get MEME out this week without Matt and JAg?
Corey – it would be a weird line to draw in the sand.
America – I think we can talk to them about it. Weighing the options like we always do
Corey – wait for things to settle
America – this is a Monday conversation.
Corey – it's interesting I want to think it through.
Corey – it's pretty cool right? I think we made Jury on Big Brother it's pretty cool. In a 7 person Jury
America – Yeah.. I think so
Feeds cut.. then flip and we're back on Cirie sleeping and Felicia snoring in the comic room.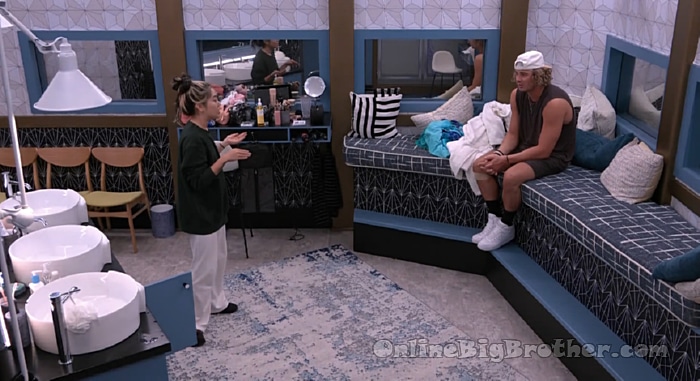 3:20 am Blue and Matt
Blue going on about how Cameron has got to go.
They talk about how close Matt was to winning the HOH.
They talk about how the assumption was America and Corey would do well in the HOH but they didn't.
Blue – America and Corey are not that smart. They're not. I don't know where people are thinking America is that smart because she really isn't. (I mean she appears to be middle class and did go to a Ivy league school for a science degree)
Matt – what does she do?
Blue – her job? She's a receptionist ..
Blue – it was because during the first competition she did the puzzles fast.
Matt – she went against Bowie, Meme and Jared
They laugh because Jared wasn't a "Puzzle guy"
Blue – I don't think they're that smart.
Matt – we give them more credit
Blue – WAY more credit
Matt – Corey is safe with everyone
Blue – Yes and no
Blue thinks she's not a target at all. She thinks so is Matt but he might be a bit more of a target because he is with Jag and they are seen as a couple.
Blue thinks MEME will ask her to play in the veto, "Maybe she'll ask Jag cause they're kinda close right?"
Matt – only 4 people don't play
Matt wondering if they take Cam out next week.
Matt points out that Cam can't play next week but if Cam wins again he will take Corey out.
Feeds flip to Felicia and Cirie snoring in the comic room. When feeds return they are talking about potential competitions coming up. "the slip 'n' slide one the quiz about the house one.. the days quiz"
Blue – that's why we gotta get Corey out. Cameron is going to be good at that too. It's hard (I thought you just said Corey was dumb)
Jag joins them.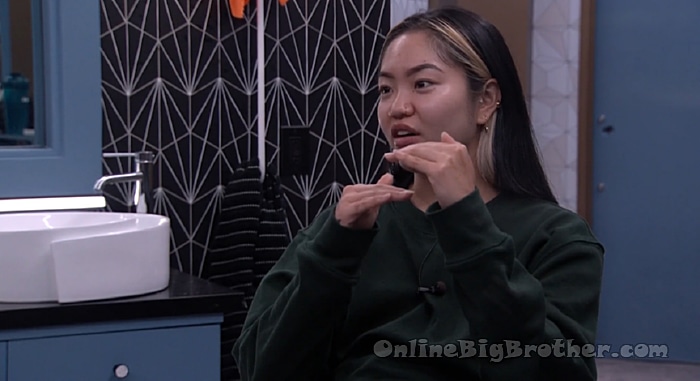 Blue says her order would be. Felicia (only because it's Cam's HOH), Cameron (cause he can't play HOH), Corey, America, MEME, Bowie.
Blue – then Me, you, Cirie are kinda wherever
They start talking about how they need to study the days. "Corey and America have been studying since day one.. They are superfans"
Blue – they make me nervous when they are together.
They start going over days and realize they need to study.
Matt called into the Diary room.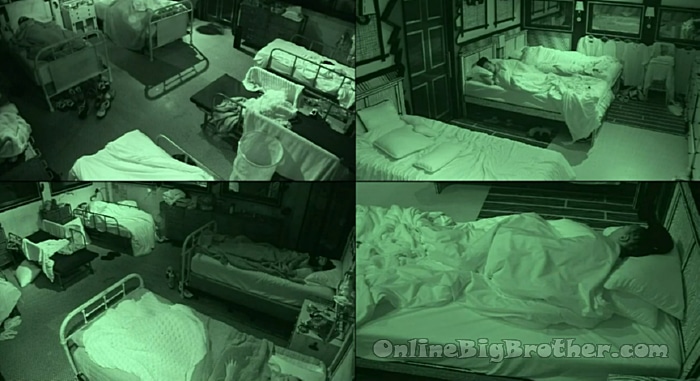 4:00 am zzzzz
Without your support this site and these spoilers wouldn't be possible.
Please consider a donation to keep the madness going.