Quick Big Brother Spoilers
Head of Household: Cameron
Nominees:
POV Players:
POV Winner:
Veto Ceremony:
Havenots: ?
Lock your ranks in before midnight
10:33pm The live feeds return from being blocked for the live eviction episode.
CAMERON WON the Head Of Household Competition!!
In the kitchen – America and Blue are cooking a pizza. Cirie joins them. Cirie gets annoyed when America tells her that Jag mixed the different kind of milks. Cirie – why would he do that!? I want to fight Jag now! I'll try it, what's the worst that could happen.. I could be on the block. America – don't tell him I told you.
America, Blue Matt and Jag talk about pattern the HG memory wall has with the evicted house guests. Blue – The pattern is patterning.. Jag – And the reason I put you on the block is the pattern.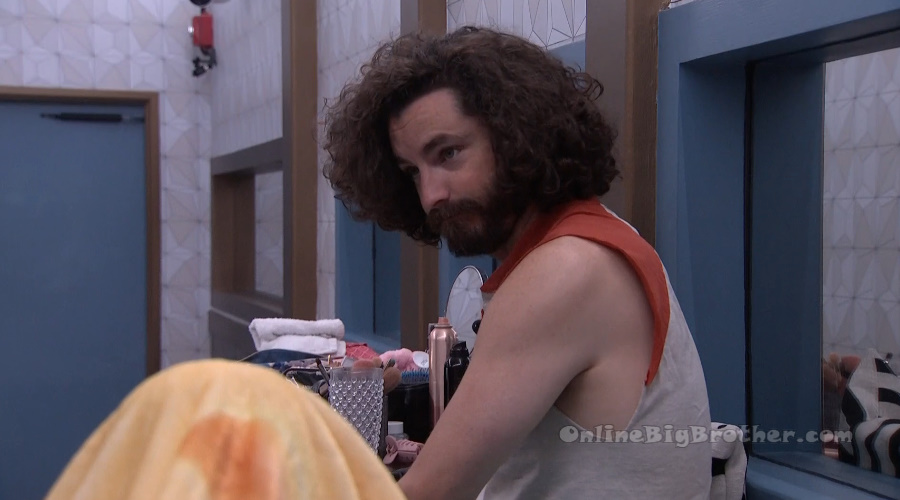 10:52pm Bathroom – Cameron, Cory and America.
Cory – Dude, its becoming routine me coming up to your HOH asking what's happening. Cameron – basically yeah and I'm like yeah we don't need to be here. Talk to you later. Cory – Dude I love the HOH conversations. I feel like that is the most big brothery big brother stuff. Cam – yeah. Cory – I didn't expect it to be as much.. like everyone waiting in line. Cam – I think we're just so cool with each other. America – Congrats! Cam – thank you! America – it must feel really good. Cam – it hasn't sunk in yet. America – it will when you're upstairs .. again. Cory – I just feel like a jacka$$ the last time you won HOH and I came up and said congrats you just made jury. America – that's why I haven't said anything to you. Cam – there is just no way .. what are they going to do it at 5!?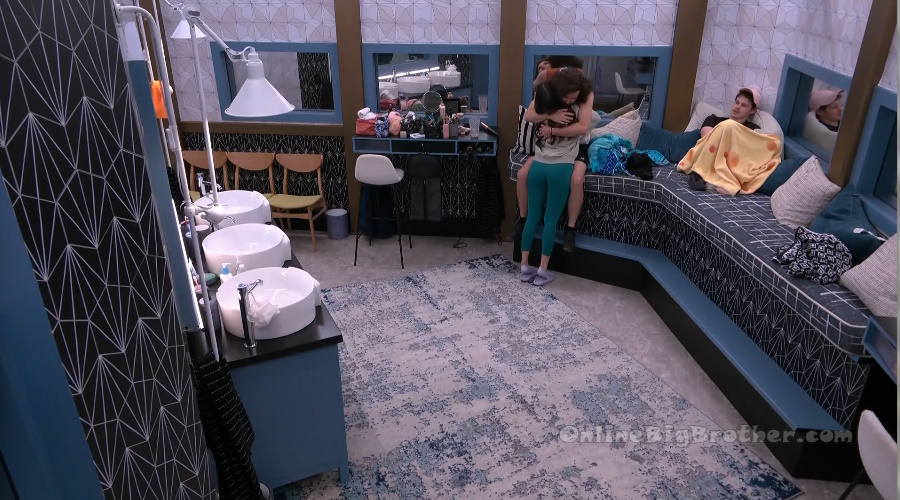 11:12pm – 11:20pm Bathroom – Jag, Matt, Cory and Bowie.
Cory – as long as things don't go off the rails this is best case scenario. Next 8 people total are playing and its 5 of 8. And the next likely person to win a comp is Cameron and he is not playing which obviously him winning is not that bad. We have a great, great shot. Bowie – I am looking forward to next week. If we get to play. If we're still here. I just realized I was talking like that. Jag – you're good. Matt – you're good. I think he is going to stick with the plan. It doesn't make sense for him to change the plan because everyone is going to go after him. Cory – I talked to him already.. Matt – the plan is the plan. Cory – what did he say Felicia then? Cory – I don't know, I think he'll share that tomorrow in the conversations if he wants. Bowie – yeah.
Cameron moving into the HOH room for the 3rd time.. He might as well leave his things in the HOH room for the rest of the season. #bb25 @bigbspoilers https://t.co/sLQeY1KjzC pic.twitter.com/ZuQ9LqzPHQ

— Dawg (@DawgsBigBrother) September 29, 2023
11:30pm Comic Bedroom – Blue and Cirie.
Blue is upset about Jared leaving. Blue – I hope he (Cam) does a big move. That isn't regarding us. Cirie – I know. Blue – fine print. Cirie – I don't know, even though he is saying Felicia. I feel like he would feel its a wasted move with Felicia. Blue – right!? But even when he was talking to Jared he was on the Felicia train so.. BB switches the feeds. They speculate on who Cameron will put up. Cirie – we'll see tomorrow. Blue – We'll see to more.. but I got you.. 100%! Cirie – Bowie Jane told me this morning that Felicia was saying me and Cameron. So I am sure she is telling Cameron that. Blue – you and Cameron what? Blue – that, that's who she would put up. Blue – you and Cameron? Cirie – She was like DUDE! Blue – she told you she was going to put you up? Cirie – No Felicia said that.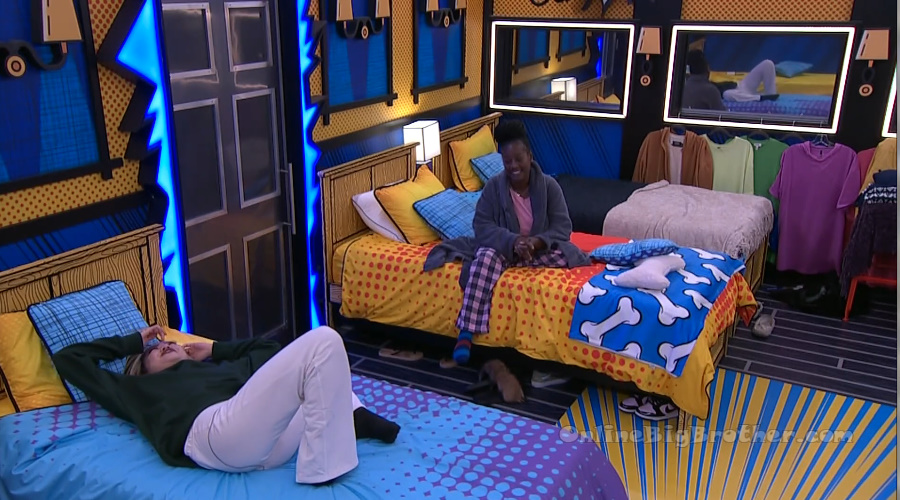 Cirie – I just hope this fool don't go after Matt and Jag. Blue – I don't think he is going to .. not now.. Its too risky. Its way too risky. He is big on it you know.. like he is big on risky moves but at this point he made jury. He could keep going, like this isn't the end all be all annoyingly enough. Cameron Roach lives again! Cirie – isn't that crazy.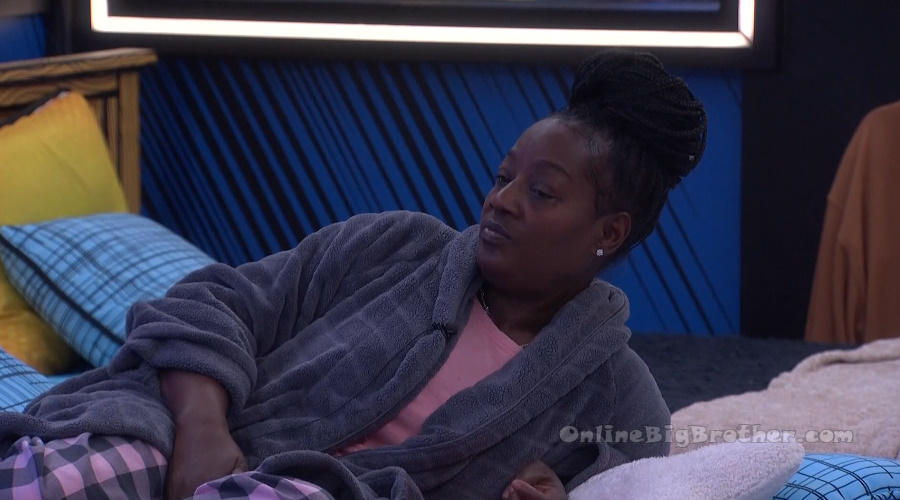 12:06am Kitchen – Felicia – he might put up a Cory and a Blue. Matt – maybe. BB switches the feeds. Felicia – you got one coming though. I can feel it! Matt – I know .. before the challenge I was in game mode and then when I saw that it was a puzzle I was like ahhh.. F**k!
12:13am – 12:25am Cameron comes out of the diary room. Cameron – HOW WANTS TO SEE MY HOH ROOM!! All the house guests head up to the HOH room. The check out his basket / HOH photos. He then reads his letter from his mom. Cameron offers everything in his basket up to whoever wants it. Felicia asks for a beer to split with Cirie.

12:26pm America – hey what time is it? Cory – after 12am. America – HEY, HAPPY BIRTHDAY!!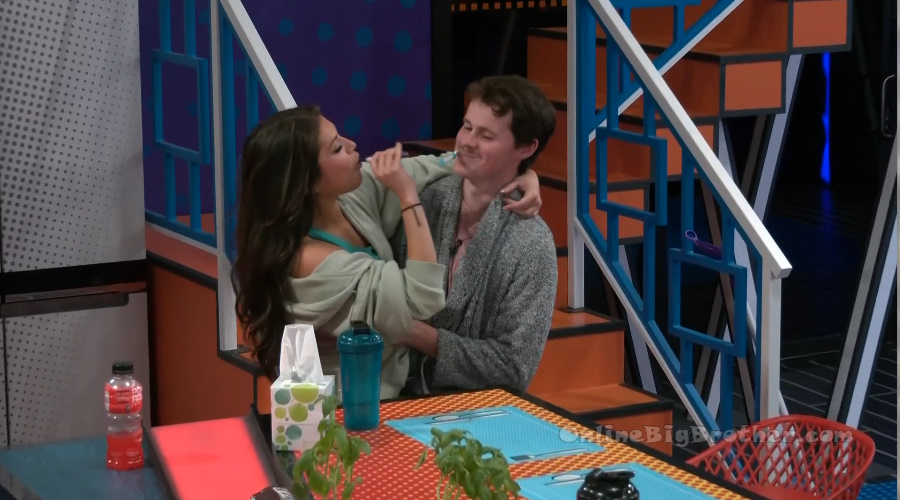 12:27am – 1am HOH room – Cameron, Matt and Jag.
Jag and Matt congratulate Cameron on winning HOH. They talk about the comp. They cheers. Jag – the f**king fugitives! Cameron – it starts here and f**king ends here. Cameron – the next thing that will happen is they will try to drive us all a part. Matt – I bet they will pitch you to put us up I bet. Cam – No I think everyone knows what's going on this week. Matt – I am prepared for it to come soon though. Cam – people are going to try and put us against each other.. and I am not saying a f**king word against ya'll.. or for ya'll. Jag – same. Cam – they will try but we know where the f**k we're rocking. Matt – I think Felicia will try. Cam – America deserves this. Jag – America (US). Cam – after all the sh*t we've been through this season.. and people yelling at their TV screens "GET TOGETHER!" This whole time. Jag – The f**king Fugitives! The gunslinger! Bounty Hunter right behind him. The Outlaw behind him. Cam – you can't catch us! Matt – think about all the vetos. They talk about all their veto / HOH wins. Cam – What do ya'll think for next week. This week is easy. This week is Felicia. Matt – next week could be Meme and Cory. Cam – and that's what I wanted to see where ya'll head was at with Cory. Ya'll both know I love the guy. Like day 2 me and him clicked. But he is f**king dangerous from this point on. And I am not pitching him to ya'll this is a collective understanding. Whatever ya'll think is best. Jurt starts next week. Matt and Jag congratulations. Jag – say Felicia leaves next week. Cam – they all got to go .. the order doesn't matter. Jag – if we're going to have a 4th person.. Bowie Jane. Cam – F**K YEAH! Bowie is the MAC! F**k YES! I am glad you said that, Bowie is solid. Jag – and the other 5 are Cory, America, Cirie, Meme and Felicia.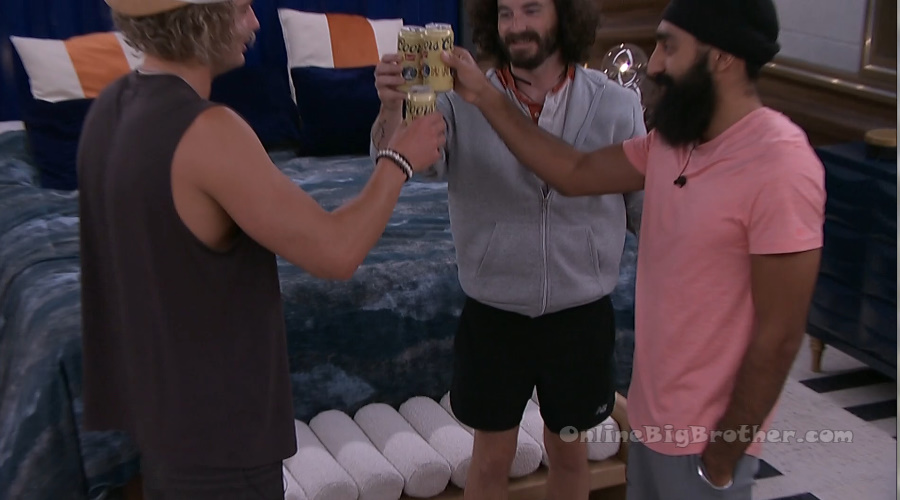 Show your support 🙂 Without your support this site and these spoilers wouldn't be possible.
Please consider a donation to keep the madness going.