Head of Household Winner: JACKSON
Havenots are:
Nominations are: Tommy & Cliff
Power of Veto Players are:
Power of Veto holder: Nicole
Power of Veto Ceremony:
Grab your live feeds —-> BB21 Live Feeds Subscription Link
Rank your houseguests —-> Big Brother 21 Ranking

12:18 am Tommy, Nicole, and Jackson
Going over the BB comics. Saying how Christie called Jacksons "Dr. Jacksion and Michie Hyde"
Nicole says her BBcomic had her hands like little Trex hands because that's how she talks (see image)
Jackson brings up they showed "Kemis' lazy eye"
Tommy – I do believe this is the best reality show ever made. it's so real
They talk about wanting to see the episode when they're done. Jackson goes on about a part of him doesn't want to see it. They reminisce about the season. JAck and Bit of Christie. Jackson says he's a competitive person but had to keep that all in during the first couple months of the show. Tommy says the type of competitor Jackson is now they never say early one.
Nicole says it took her a while to become herself in the house. "big Groups of people BIGGER perosnalilties. Oh my gosh I don't fit in with these types of people."
Tommy brings up regretting calling Bella a Bully because he knows she's not "I hope that didn't show up and I hope she's OK when I see her"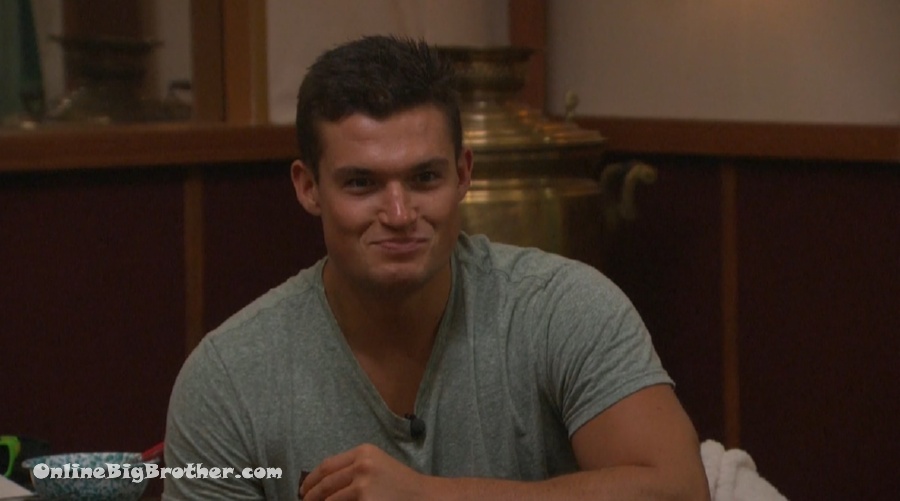 12:54 am Tommy and Jackson
Jackson says he's going to let "her sleep up here, I'm going to at least offer it wheater she takes it or not"
T – final 5
J – who do you think if all the 6 shooters made jit who would be the first to go?
T – depends. I couldn't get rid fo Christie ever and I would have had to vote for her to stay but that's not to say everyone else wouldn't want her gone
T – when her and Sis were on the block it seemed like Sis was staying and HCrsitie was going and so I had no problem jumping on board at that point but the next week when my vote really mattered I couldn't be the deciding vote to send her home.
Tommy bring sup when Nick was on the block with Christie and he had to promise Christie his vote and couldn't tell Nick.
Jackson – he'll understand when you tell him. How you did it man I'll never know. that is hard. That's a different struggle than anyone else has to go through (What knowing Christie in the real world?)
T – there will be some other things that will come out for sure.
Jackson says he's speculated that Nicole and NIcke knew each other
T – no, the way he…
J – it was more Bella than him
T – that's true
J – Nick was in a tight spot with Bella..
T – they both work with kids
Tommy says once he arrives at the Jury house he'll have to tell Christie they have to tell everyone "they'll do a segment about us telling them. then I'll tell her I told you guys"
Tommy says he doesn't want anyone else to find out yet.
Jackson says he'll keep it a secret "Unlike Jack". Jackson brings up with Jack told Christie right away that Holly knew Kat.
J – Instantly
T – he saw something in her he loved her (Jack to Christie)
J – He really did. they are similar in the fact that they see souls. I think he was in love with her and he told me on an emotional level Christie was it for him but on a physical level Sis did it for him.
T – She had told me she had something for him in the beginning too
J – Christie?
T – yeah, It's so funny. In the beginning, she was like Oh oh .. Coul dyo imagine! How it would have been.
J – Talk about a tangled web
J – Sis saw it too
T – Yeah she would talk about it to me too
They laugh that it's fun to talk about now because it doesn't matter.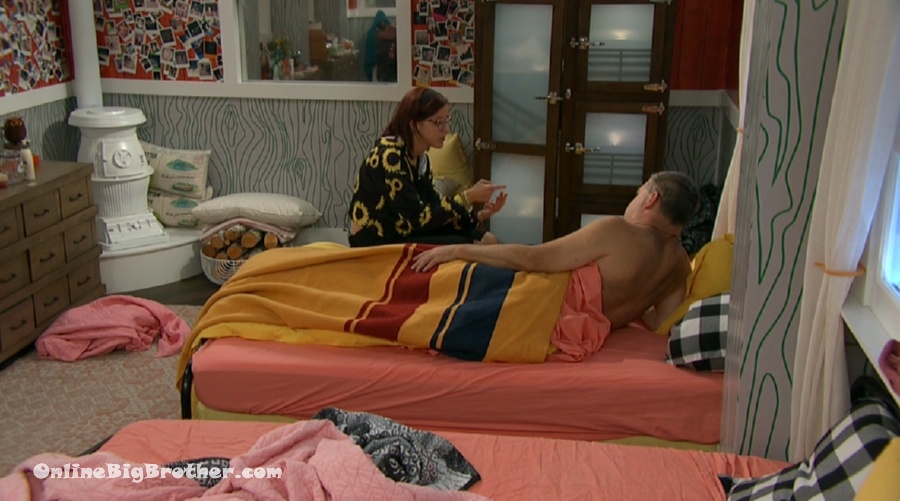 12:55 am Cliff and Nicole
Nicole says Tommy wants to campaign "it's tough cause I kinda agree with his plan. I fear the two of them together. that's a done deal"
N – Tommy was telling me If I stay my goal will be to get Michie out next. he goes he shouldn't be in the final 3 none of us will win against him.
Nicole – there's 2 duos and a single person. I won the POV I take you down. me and You are the only two votes so we do have the possibility of breaking the other duo and we'll be the last duo against to singulars.
C – okay well, we'll think about it
Nicole brings up seeing Jackson look at Tommy after the veto in a suspicious way "I wonder if they were going to take the shot first because they could have voted you out"
N – Michie was talking in the HOH room yesterday and he said.. I break the tie.
N – I have no idea what the hell he was talking about. He said Ohh Nicole I don't want to see you on the block but if you do go on the block I will break the tie
N – I was like what tie
C – I think he was talking if Tommy had won, Holly voting ot keep me Tommy voting to keep you and then Michie voting as the tiebreaker
Cliff says he's worried about keeping Tommy in the game playing in the HOH "As opposed to Holly, I think Tommy is much better. if you and I are competing against Holly I almost feel like one of us can win HOH then it comes down to the veto. Tommy just worries me compares to Michie"
N – If I wins HOH and Holly wins Veto you're gone. If I win HOH and Tommy wins Veto your still gone.
Cliff says he's able to separate personal from Game.
Nicole – it's not like something we have to decide and tell them tomorrow. Monday I use the veto she goes on the block
N – it's not like he can really hold a grudge he already wants Tommy out of the game
C – it's an option. We have to do what it has to take to get to the final 2. If that's what it takes you do what you have to do
C – you deserve to have the right to do that you won the veto
N – if one of us wins the HOH that's great but if Michie wins the veto .. say Tommy wins the veto he's keeping one of us over Michie I imagine.
Cliff says they have to get Tommy to swear he would go in that direction "Why wouldne he agree to that"
N – IF Tommy wins the HOH one of us has to win the veto
C – I Know
N – If Tommy doesn't win the HOH we should be good
C – it has to be me, you or Tommy to win the veto to make sure Michie goes home. Worst case Tommy wins HOH, Michie wins Veto and one of us goes
Cliff says they have to balance out all these scenarios with how good Tommy will be in the competitions "Faces and Times"
N – that's the thing Holly may be easier for us to beat but Tommy might be more difficult for Michie to beat
C – we need to him to swear absolute if we do this he's putting Michie up no matter what. You won so you have the power to control it
Nicole says during the double they broke up one pair and "Now the universe is like the second availablility"
N – going into next week Holly would be fighting for us, Tommy would be fighting for us
C – I've talked so long about honoring your agreements and when it comes down to the end we do what we have to do
N – I don't think they will have any problem getting rid of one of us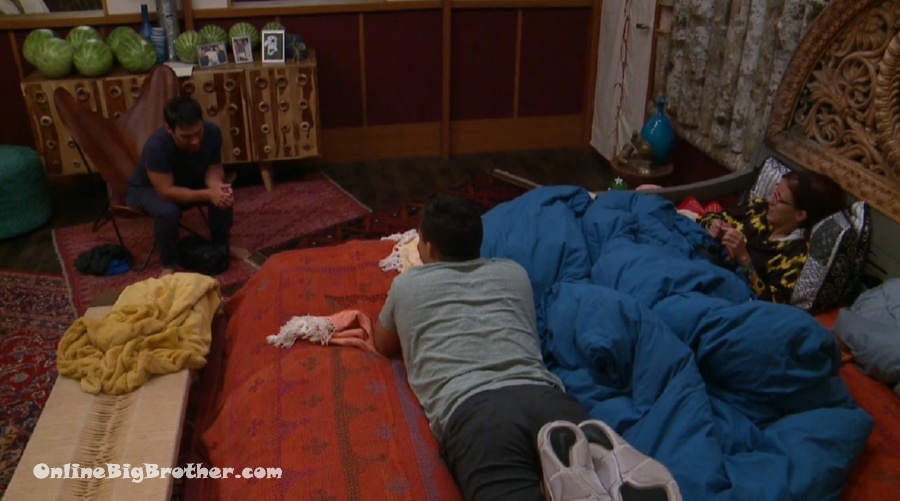 1:00 am – 2:30 am Tommy, Holly, Nicole, Jackson
Chit chat about the season, Competitions, anxiety, life, family, etc etc etc. (Look at those Watermelons)
2:21 am Nicole says Kemi and Kat were the first two women she say coming into the hose "I was like Holy crap.. Kat was like I'm Kat Meow and Kemi was like OH MY GOSH she's gorgeous"
Nicole – I was like damn I'm going to stick out like a sore d1ck
Holly – Did you just say Sore d1ck
Nicole nods
(OH my god that's the funniest saying..)
They laugh.
Nicole – that's a saying
T – I've never heard that either
They laugh
T – that['s was great
H – damn Nicole you stick out like a sore d!ck
N – My parents use to always say it.. You know You stick out
H – usually sore d1cks are hidden. you tuck those things away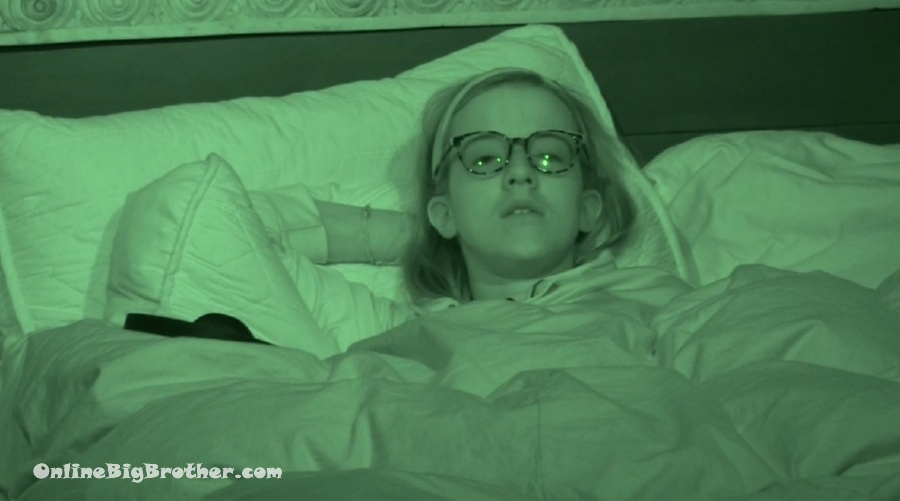 2:46 am Nicole alone trying to figure out if getting Holly out is best for her game. Jackson has let her sleep in the HOH tonight.
Nicole says she's going to use the veto on Cliff and Holly is going up.
N – the final 6 was 3 duos. Christie is gone, Tommy is an individual with no train to hich his wagon to.
Nicole goes on about her and CLiff having the power to break up the first duo and the second duo
N – I won the veto I am safe. Cliff is safe, Holly is on the block there are two people voting this week and they're names are Cliff and Nicole
N – When I look at this from Nicole's navigational stand point. I've navigated this game since day one I've always said I'm not a floater I'm a dragonfly right above the water and I can fly away whenever I see fit to go hover somewhere else
N – I view this game in chunks. When there was that final 8 I navigated between the couples to cause Fissures and breaks. that's why when the final 6 happened with Nick, Christie, Tommy, Sis and Me and Cliff it didn't sit well with me I knew none of those people would benefit me or Cliff's game.
N – So what did I do? I told Jess. I told Jess why? Well we were going to talk about it but we got distracted then Jess ran to Michie and Holly before I got a chance to explain
N – next week if Michie wins that Veto Holly's not going home and if Holly wins that Veto you best believe Michie's not going home
N – If Tommy were to stay and Tommy wins the veto. Michie can still go home. Michie wins the veto maybe it's Tommy that goes home. we don't know
N – it's the assumption that the target is Tommy.
Nicole has second thoughts that Michie and Holly were really going to Get Rid of Tommy over them. "Those two are very smart they say they are playing chess not checkers. I wouldn't have been surprised if they would have taken out Cliff or myself this week so to move forward with indiviuals chich I'm planning on doing "
N – with that being said if me and Cliff get rid of Tommy Holly stays. 3 people play in the HOH, Myself, Cliff and Holly. and yes you can argue that Holly hasn't done very well in some of the comps. Cliff and I may have a better shot but yo don't know that.
N – In addition, the'rs a veto to be played and then again there's 4 of us and you could argue that Holly hasn't been doing very well and me and Cliff have a better shot. However, Michie can't play HOH. If Holly wins the HOH and puts up me and Cliff and she wisn the veto. Michie would decide who to send home he would probably send home POssibly Cliff.
N – If I win the POV send home Michie If Cliff wins the POV send home Michie. So it's 2 versus 2
N – If Cliff wins HOH he nominates Michie and Holly
Nicole goes over all permutations of winning HOH and POV based on if Holly ot Tommy stays this week. She thinks Michie and Tommy would be the targets still going into next week if they get rid of Holly this week.
Nicole says if it's her up against Tommy and Jackson won the veto it's not as bad as her up against Holly.
N – If CLiff wins HOH and Michie wins Veto. me next to Tommy gives me somewhat better odds than me next to Holly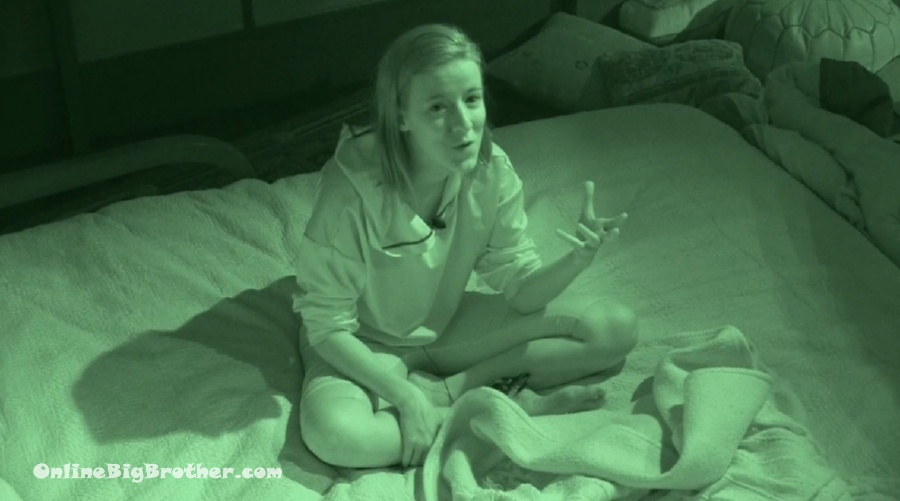 3:33 am Nicole has been going back and forth about what to do.
Nicole – I'm going to sleep on it I know the girl from Long Island Strong Island is saying DO IT!
N – If we get rid of Holly me and Cliff are the last duo standing of BB21.. the last duo
Nicole says she wants it to happen this way there's only one person she needs to convince and CLiff is a smart man.
N – I worked hard to get here I busted my a$$
Nicole finally goes to sleep.
(is Nicole doing the right thing?)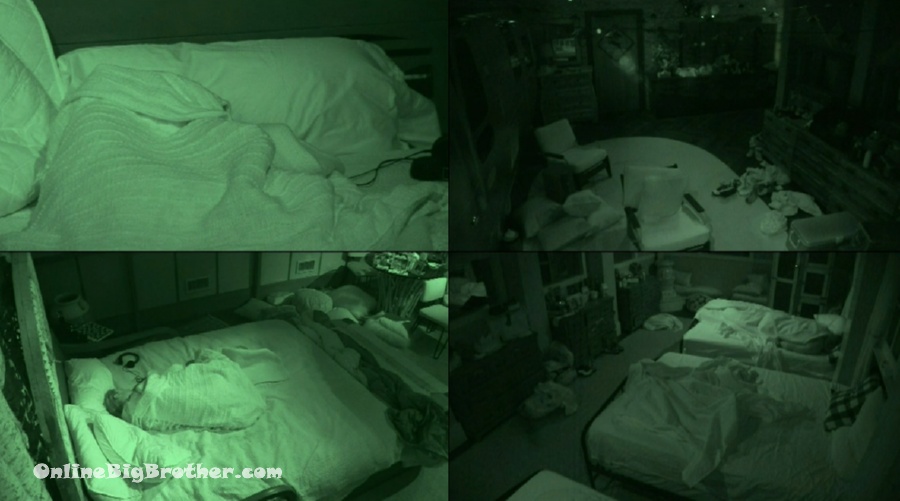 5:40 Am zzzzzzzzzzzzzzzzzzzzz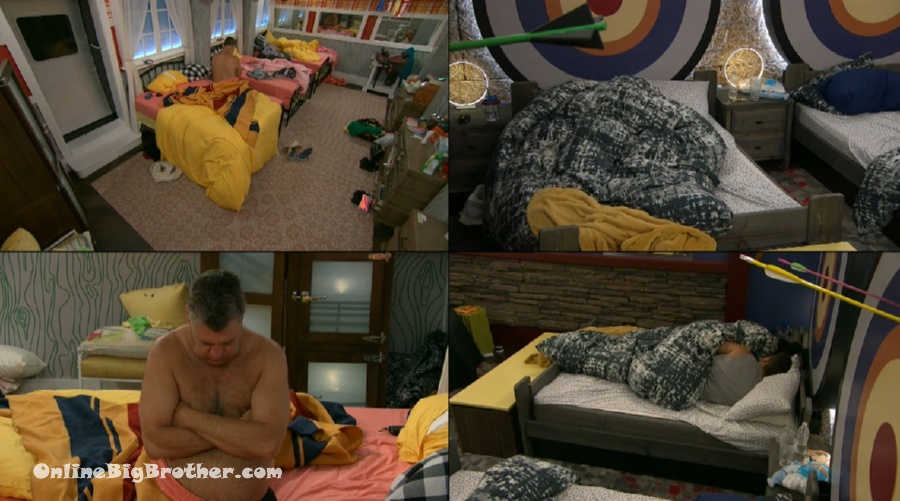 10:17 am waking up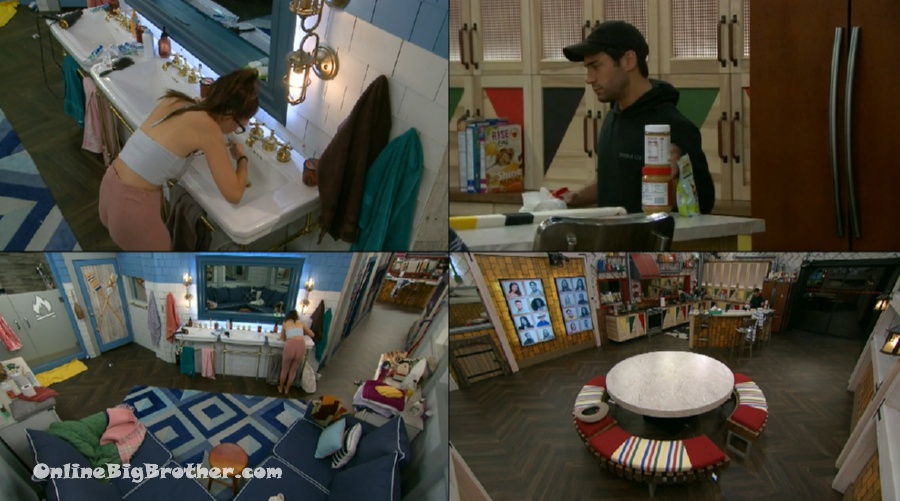 11:15 am still waking up
Holly really needs to get rid of those pants.
OnlineBigBrother Donations
If you enjoy this site and the type of content we produce Please consider a donation.