Head of Household Winner: JACKSON
Havenots are:
Nominations are: Tommy & Cliff
Power of Veto Players are:
Power of Veto holder: Nicole
Power of Veto Ceremony:
Grab your live feeds —-> BB21 Live Feeds Subscription Link
Rank your houseguests —-> Big Brother 21 Ranking
12pm – 1:35pm The final 5 house guests are hanging out in the kitchen chatting. They talk about seeing each other after they get back out into the real world. The conversation turns to reminiscing about past events of the season and about the BB comics veto. Nicole and Cliff leave the kitchen. Tommy, Jackson and Holly talk about the features of each of the house guests faces and what would stand out for the face morph competition. Tommy and Jackson sit down to play backgammon. Jackson to Holly – I love your butt in those pants! MMMHHHHmmm!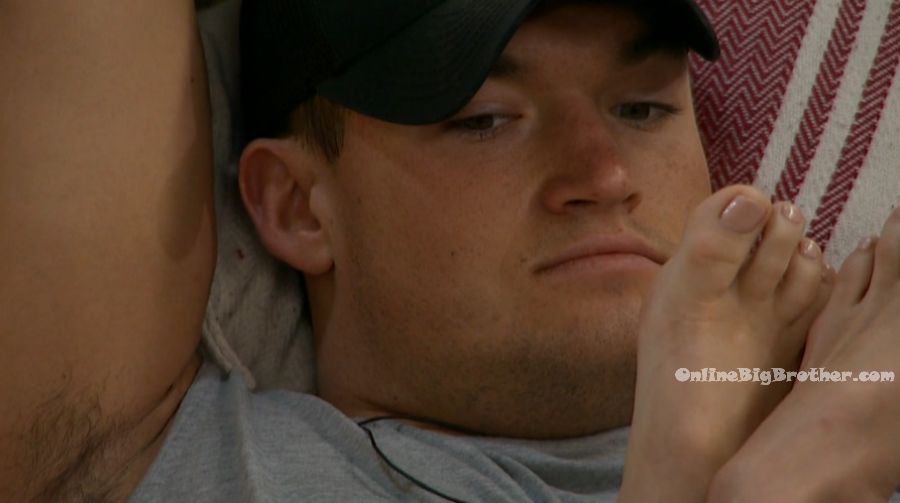 1:48pm Bathroom. Nicole is cleaning the bathroom. Cliff, Holly and Jackson are talking about how the final 3 part HOH works. They talk about Nicole winning BB comics. Holly – and not just winning it. Winning it with a legendary time too. Cliff – day 82, 17 days left!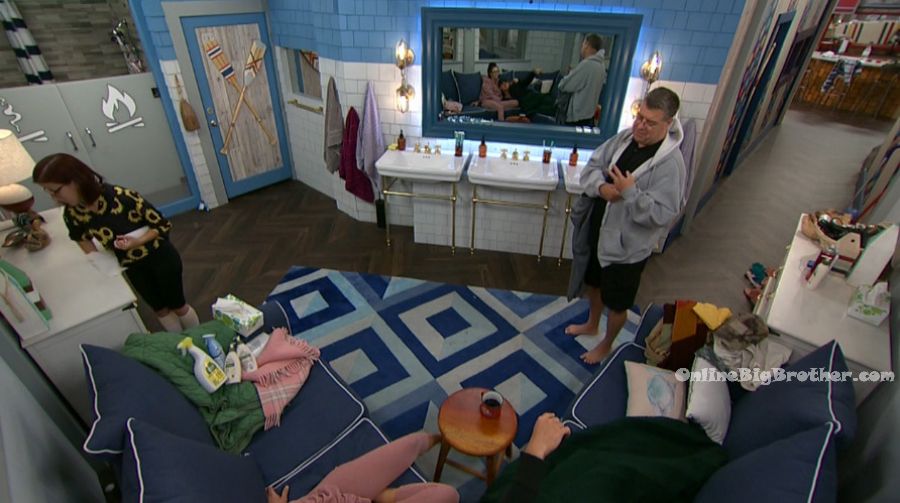 2pm Big Brother opens up the backyard for the house guests.. Nicole heads to the hammock. Nicole – WOW America! WOW! I don't know why but I am really appreciating it today. Final 5 in the big brother house .. that is absolutely amazing! And I won the veto so I am final 4 in the big brother house. Four! Final four! WOW! I am so proud of myself (for winning BB comics)! And that's not something I say often. I am so frickin' proud! I have such a fire lit under my a$$. Double eviction night something switched in me and I was so sick of everyone point guns at each other. That was my fire! And I am ready! I am so ready to win this thing. I can't even believe I am in four. I can but I can't!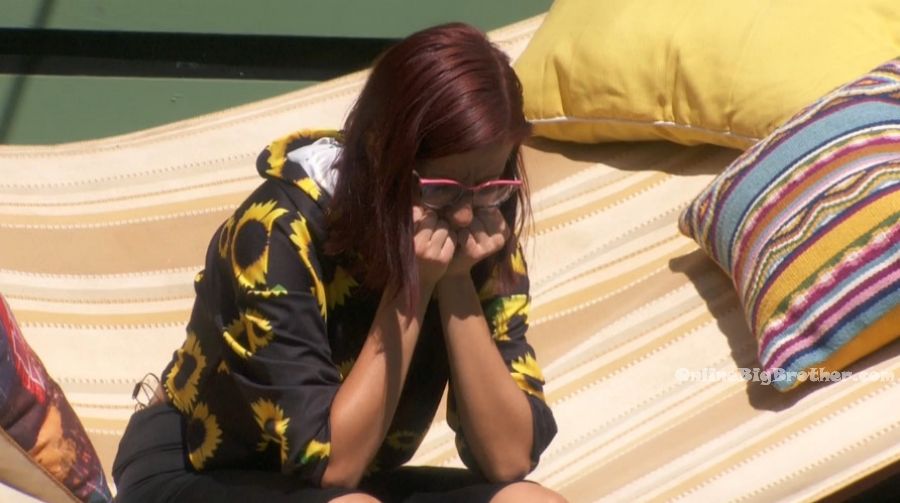 2:20pm – 3pm Backyard. Holly and Jackson.
Jackson – what are you thinking about? Holly – like if Tommy will campaign against me and how he will do it. Jackson – he will. Holly – I wonder what he will say, you know? Jackson – I think he will say about splitting you and I up. You know. Holly – MMMhhhmm. Jackson – and then if he won he would take the other one (me) out. Holly – but it doesn't even matter, it all comes down to the veto. It doesn't even really matter. Jackson – I know but if it is 3 v 1, better chances than 2 v 2. But they're not going to do it. I trust them. They're good folks. I truly trust them. Holly – yeah. I am going to make a campaign brunch. Jackson – I am so nervous for next week. In a good way though. Holly – me too. I keep thinking about next week too but I don't want to get ahead of myself. Like I know I have to plan ahead but I get so nervous .. just about this week. I don't know, Tommy could try and drop some bomb. He really could. He could tell them the Christie thing. Jackson – I don't, that is very risky for him though. Holly – I just don't want to even play like that. I just don't want to go home. They talk about their sleeping arrangements and where they started. Holly – we were just cuddle buddies in the beginning. Jackson – then I shot my shot and you were mad at me. ($ex) Were you mad that I did it or mad that it was on tv? Holly – both. Jackson – seriously?! If it was in the real world without camera's and mics would you still have been mad at me? Holly – No but.. I would have .. its different in the real world. I would have preferred a different setting. I was at least make it cute! That was a long time ago. Tommy joins them.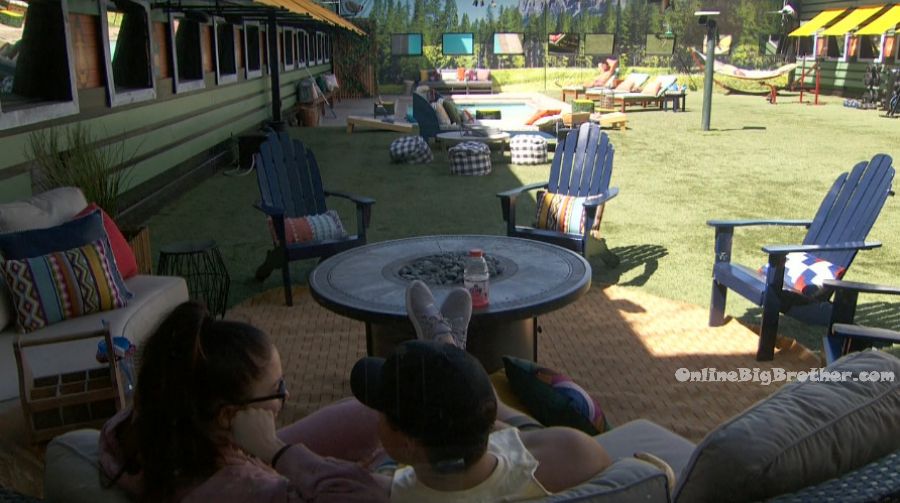 Jackson and Holly. Jackson – I sure hope we make it to finale night. I want nothing more. Jackson – you have a 50% chance. Holly – I don't, you do. Jackson – you're not going anywhere. Holly – so much could happen before Thursday. It scares me so much. Jackson – I trust them and I trust you. Holly – I do too.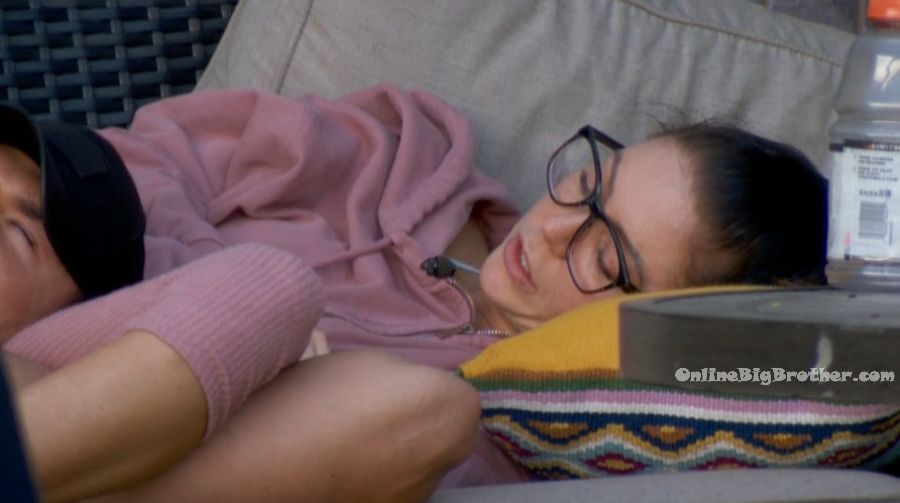 3pm Suntanning by the pool. Tommy to Cliff – are you okay Cliff? You seem a little stressed. Cliff – I am, its just the house. Its the stress of making these decisions. Its the stress of being gone from family so long. Its just a bunch of stuff. Tommy – I don't want you to… if it has to do with me. I don't want you to stress this week. I want everyone to. I am at peace. I really am. Cliff – I know. And I will be honest with you.. it could be but if it did, it wouldn't have to do with you. It would be about my own game and ways to go and all that. Tommy – I get that. I know. I just feel at peace. I just want you to also. I can tell you're stressed. Especially this week. If its my last week here, I don't want anyone to feel like that. Cliff – and I get it because I feel the same way. Its never been a lie when I told you how I feel about you. I think you're such a wonderful man and I am really glad I met you. Tommy – you too. Cliff – I think it was just the stress of this past week and last night I just wanted to go sleep and not deal with stuff. Tommy – I get it, I do. Its tough at this point. Cliff – in someways it is and some ways it isn't. We've all been here so long. Its not like I'm sending someone home week 3 or something and you're thinking I'm destroying their dreams and all. Tommy – yeah, and its less about the social game now and more about ..its very straight forward. Cliff agrees. I will give it a day or two and then we'll talk. Tommy – yeah and I will of course campaign. Cliff – I would expect nothing less. Tommy – I respect the game and I really have no expectations. I understand both sides.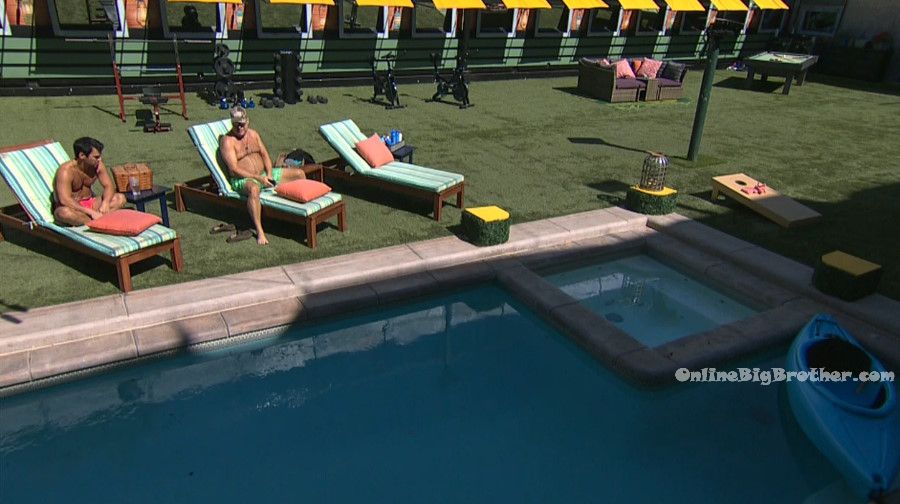 3:12pm Storage room. Tommy and Nicole.
Tommy tells Nicole about her conversation with Cliff about how he is stressed. Nicole – I was talking to him last night about everything and ummm.. I said what I wanted to say and he seemed very receptive. So me and him are going to.. Tommy – yeah, there is not time, no rush. Nicole – I want you here Tommy. Tommy – I want to be here. I really do. Nicole – I know you do and that is why I am pushing for it. Tommy – and I appreciate it. Nicole – its the smart thing to do. (vote out Holly and keep Tommy) Tommy – I think so too. I really do. Nicole – like come on, you know this game .. why?! Why the showmance? This is the opportune moment. Tommy – I know. I see pros and cons though. I really do. Nicole and Tommy head up to feed the fish. Nicole – you know you work so hard to this point and you don't want the wrong move to f**k it. Tommy – I get it, I really do.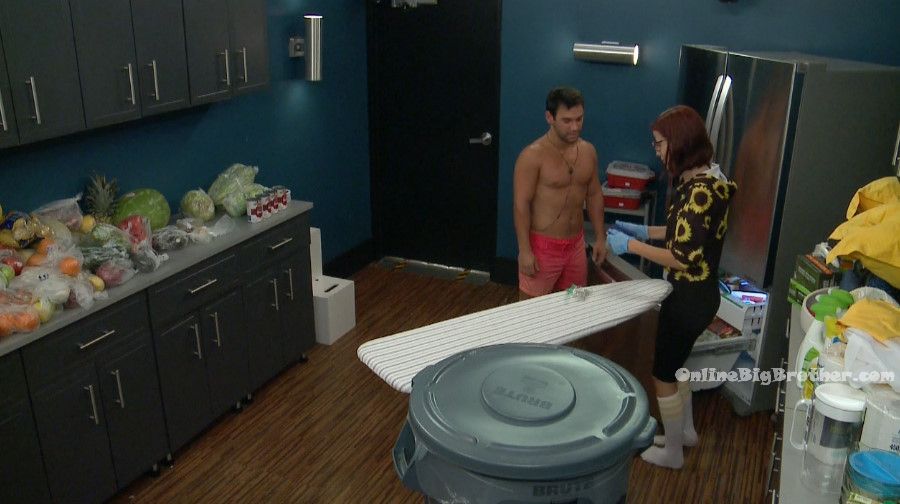 3:30pm Jackson getting a little R&R…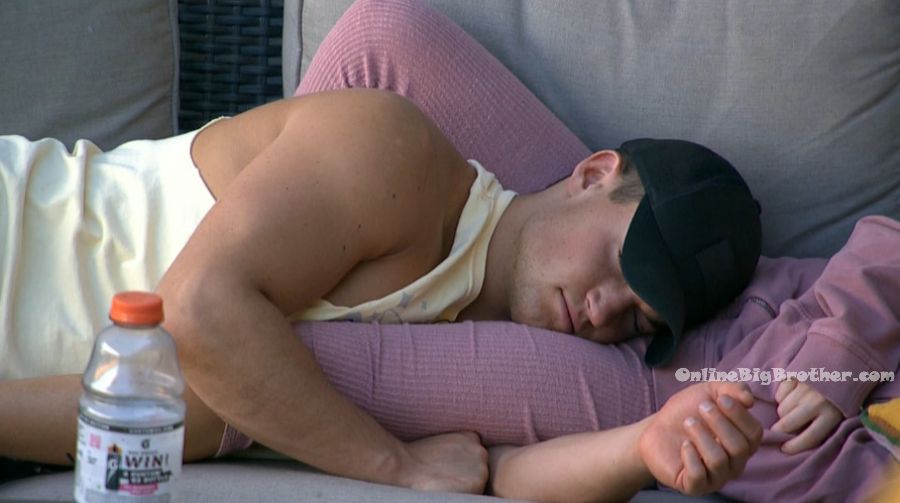 3:37pm – 3:48pm Jackson and Holly head up to the HOH room to "shower". Jackson brings the stool in to help "shower". Big Brother switches the feeds when Holly sounds like she is working hard at "showering".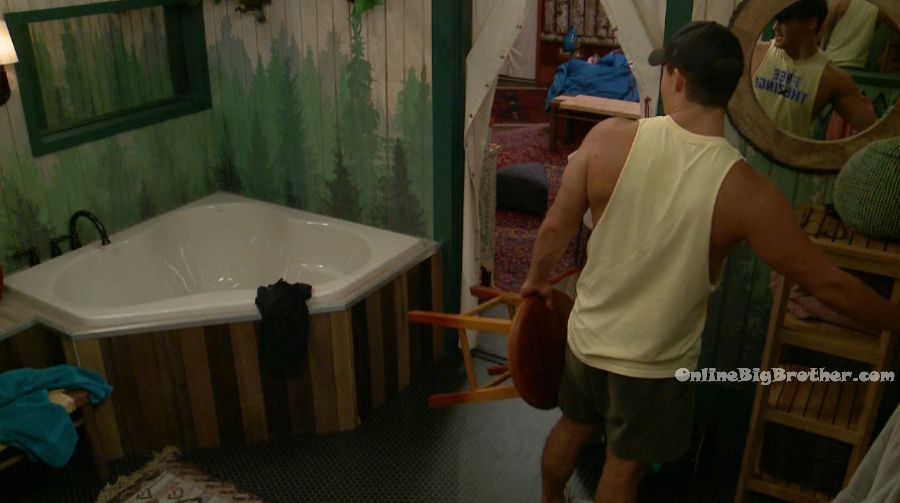 Show your Support for all the sleepless nights Simon and I have put in for the last 82 days straight. Help keep the lights on, this site costs us a considerable amount to maintain. As an added bonus we also wanted to give a little more to those that donate: Click here for more information.
Any amount is greatly appreciated! Thank you so much in advance!