Head of Household Winner: JACKSON
Havenots are:
Nominations are: Tommy & Cliff
Power of Veto Players are:
Power of Veto holder: Nicole
Power of Veto Ceremony:
Grab your live feeds —-> BB21 Live Feeds Subscription Link
Rank your houseguests —-> Big Brother 21 Ranking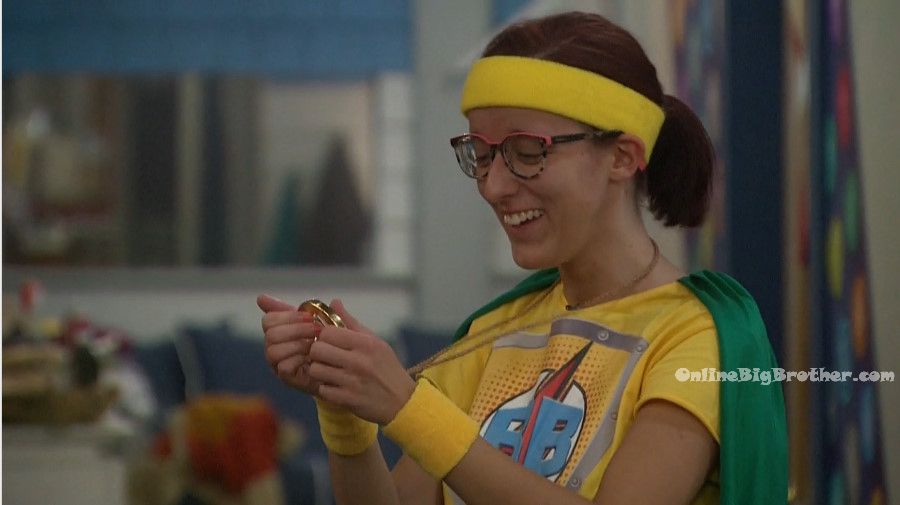 Power Of Veto Winner: Nicole
2:13pm – 6:56pm The live feeds return. All the house guests are in the kitchen talking about the BB comics veto. Tommy – amazing! Jackson – 10 minutes 58 seconds! Tommy – YAY you won an HOH and a Veto! Jackson – The Double brought something out in you. Nicole – OMG I love you all! Cliff – you are the Champ! Nicole leaves the kitchen. Tommy – fifth place sounds good. Its good to me. I did my best! All good. She deserves it. Game changer for sure. Oh you'll go up if she uses it. Holly – oh damn I will. I didn't think about that. I wanted to at least have that claim to fame.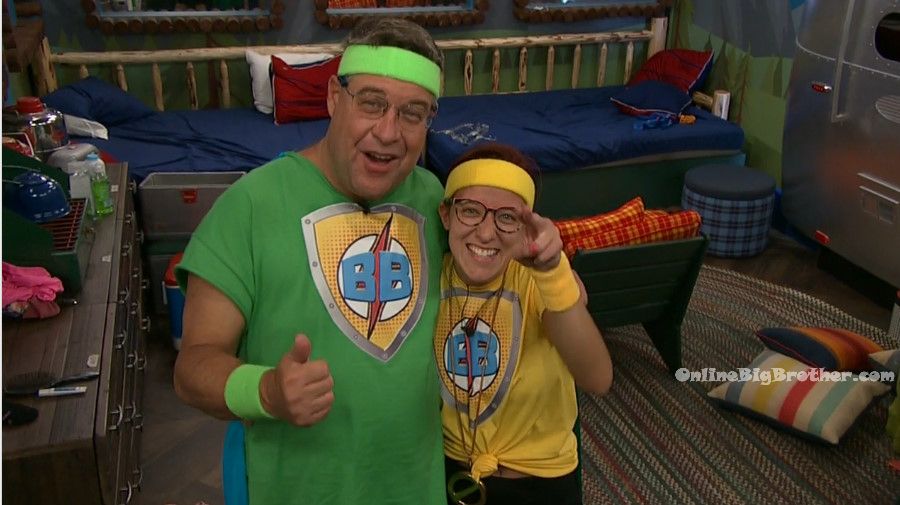 Nicole heads to the bedroom to celebrate alone. Cliff joins her. Cliff – do you know that we are final four because of you! Nicole hugs Cliff. Cliff – I have always been proud of you. You are building your resume. You didn't have to win these for me to be proud of you. Think of the people back in the jury house when they see yet another day / eviction that you controlled. Nicole – you're not going to be on that block come eviction night Cliff. Cliff – oh well we will talk. Its doesn't matter, we control it. Nicole – you don't chance it. Nicole and Cliff say they love each other. Cliff – friends outside of this game.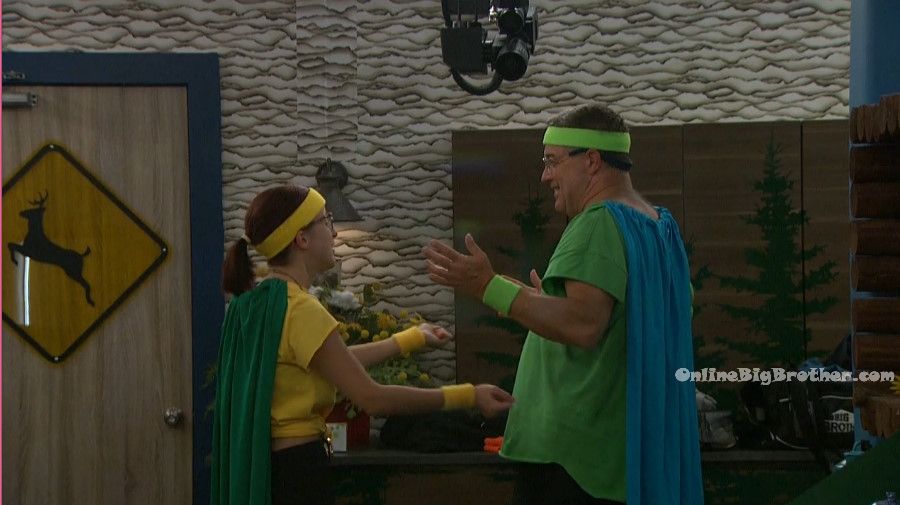 Cliff – its tough on Tommy. He knows what's going to happen. You took us to final four. When we see family videos or whatever else this week .. we know we're safe. You have come into your own. I may have told someone how much I was excited to see you conquer the world and you're doing it even before we leave. Its incredible you didn't just beat it by 4 or 5 seconds. We would still be celebrating but you won by over 4 minutes! That's like 35% – 40% you beat him by! You are a beast! Jackson – BLOWN AWAY! That was so impressive! DUDE you .. 10:58 .. are you kidding me?! Cliff – you made your mark. People will talk about that for seasons to come. Jackson – with that you are in a strong running for AFP (America's Favorite Player) .. you too (Cliff). You didn't just beat us .. you SMOKED US!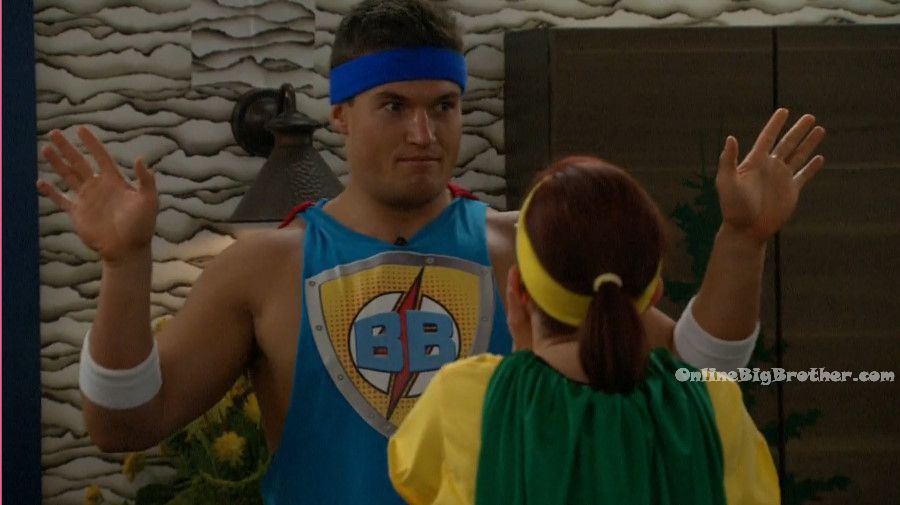 Nicole and Cliff go into the storage room to do a happy dance. Cliff – Fellowship of the ZING! Cliff leaves. Nicole soaks it all up. Nicole – I won a VETO! BB COMICS! Nicole holds the veto up and says this is for my family and Cliff's family! I AM TAKING CLIFF OFF THE BLOCK!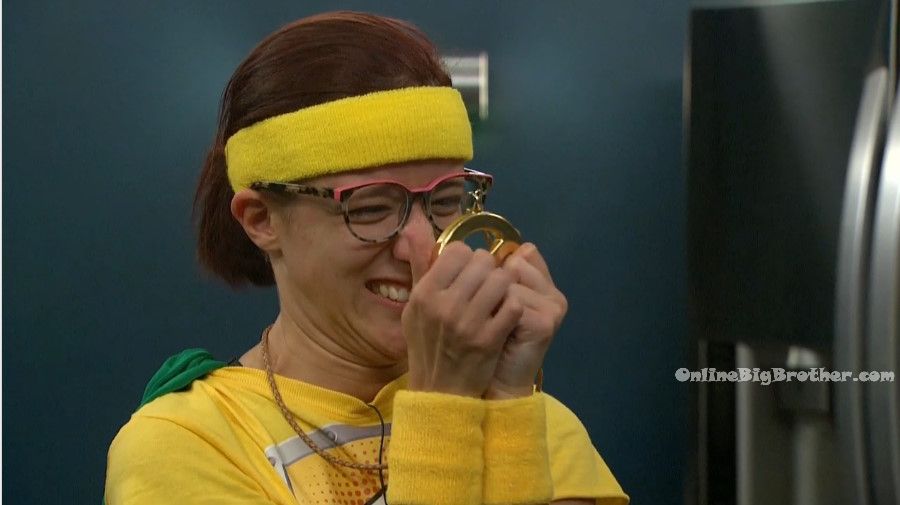 "Fellowship of the ZING" happy dance #BB21 @bigbspoilers pic.twitter.com/0ouL0DTAG7

— Dawg (@DawgsBigBrother) September 8, 2019
7:20pm – 7:53pm HOH room. Holly and Jackson.
Jackson – you don't think they're going to use it on Cliff and backdoor you do you? Holly – backdoor me?! Jackson – because if she uses it on Cliff and you go up .. that means those two vote. Holly – I know. I know that I go up. Jackson – and not by choice. And neither one of us vote. And they could easily split us up this week .. pull in Tommy and I can't compete in the next HOH. And it could be them two and Tommy. Holly – they better not. That would be so sh*tty. Jackson – I don't think they ..but we need to foster this and make sure they don't do it. Holly – I want her to not use it.. Jackson – I know … because if she does do it to protect her plus one, my plus one goes up and I can't compete in the next HOH. And they would be in final 3 without either one of us. Holly – is there anyway to convince her not to use it. Jackson – if I am putting myself in their shoes why would I want to go against Michie and Holly .. when I can compete against Tommy. Take Holly out this week, compete in the next HOH because he can't .. put him up .. Tommy comes with us, votes on our side.. and then its us three sitting in the final 3. I am not trying to freak you out but on a game level its the smartest move. I don't think Cliff would do it. I am not trying to freak you out but we need to.. Holly – I wish I had thought about it before hand. Going into it I didn't even really want to win (WTF!?). Jackson – didn't want to win?! Holly there are 5 people!? Holly – I know. Jackson – I was gunning for that f**king thing! Holly – I wouldn't have won anyway .. I f**king sucked at that. Jackson – our hands are tied. Holly – would Nicole do that? Cliff would. Jackson – I don't think either one of them would but this is a game and the light is right there. Its either everything stays fine… or we take 5th and 4th. I don't want to talk to them about it because I don't want to plant the seed. On a game level this is their chance to really increase their chances of winning. Holly – I am a freaking idiot… for so many reason. I failed in that comp. I am so dumb. Jackson – you're one of the smartest people I know. Holly – no I am not. Jackson – I don't think they will ..we just have to be aware that they could in theory do it. Holly – they're the only two voting. Is there any argument to her not using it? Jackson – I would use it because what if we were two timing them with Tommy? Holly – I know. Jackson – Tommy will have 5 days to campaign and get close to Nicole. Downstairs Cliff was like its us four! I don't think they would but we don't need to make any assumptions. Holly – should I talk to her? Ask if I am going up? Saying it doesn't matter either way. Jackson – I don't want her to feel like we're pressuring her. Holly – we could bring it up to her and phrase it as what are WE doing. Either way we're going to final four. Jackson – yup.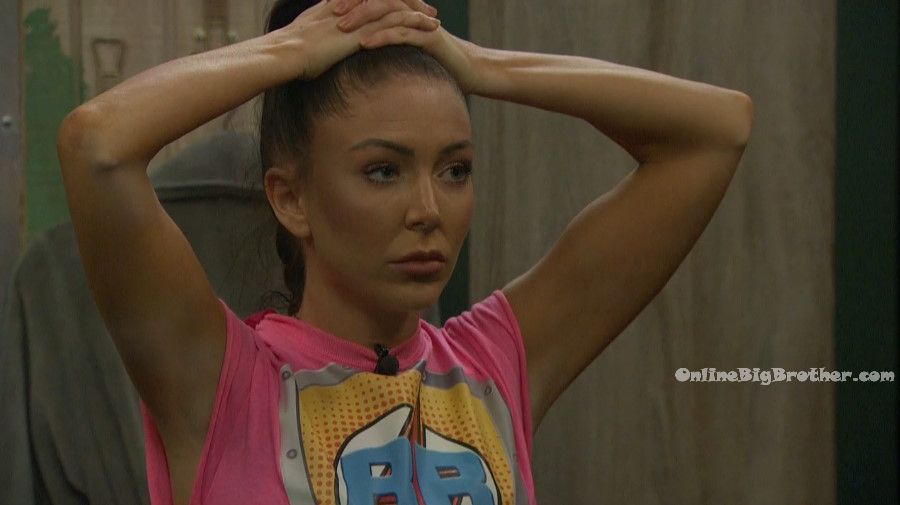 8pm Cliff alone in the bedroom talking to the feeders. She made final 4 possible for both of us. Otherwise one of us wouldn't have made it. Which means she has also made final 3 possible. One of us WILL be final 3. One of us will have family sit in the audience on finale night. One of us will not go to the jury house. I am so proud of her. I want to win this game. She is not making it easy with these victories. But if I don't win I would love to vote of give that cheque to her. WOW! 3 of us compete for HOH on Thursday. 4 of us compete for veto. Veto winner decides who goes home.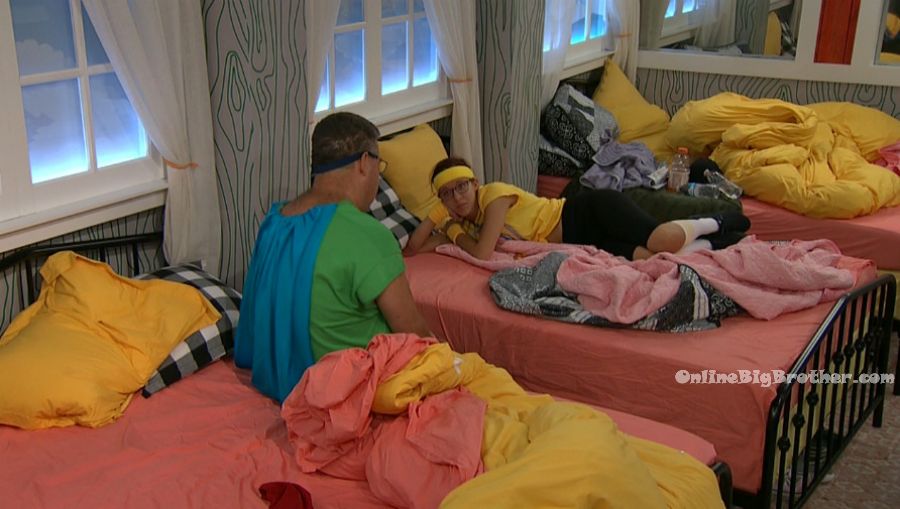 8:17pm CLiff comes to talk to Nicole. Cliff – you guaranteed us final 4. That means one of us is guaranteed final 3. Nicole – oh my god yeah! Cliff – worst case one of us is the last person into the jury. And we compete on Thursday and Michie can't compete. Doesn't really matter because it all comes down to the veto. We can beat Holly. Nicole – that's the thing I was thinking.. do you send out Holly because they're so close? But there's no point? They're so strong. Cliff – I think you've got to send Tommy. Because Holly .. I don't think she is that good with Days, Faces, or anything! I mean look at her everyone of these competitions she's not done that much. Nicole – yup. Nicole – we should map out next week. Cliff – whoever wins HOH ..is safe. Whoever wins veto picks whoever else is safe and who goes home. BB blocks the feeds. Cliff – what an amazing week! Cliff – if we both make it to the final 2 we can talk about how we honored deals and we fought hard even when it didn't benefit us. If only one of us makes it would be one hell of an argument. We gave nothing less than a 100% in this game. When Jack offered me 4 weeks of safety .. that would have gotten me so far but at the expense of everyone one of y'all. What are the chances that one of us gets voted out and gets back in and we were the bottom feeders. We've had a final 2 forever.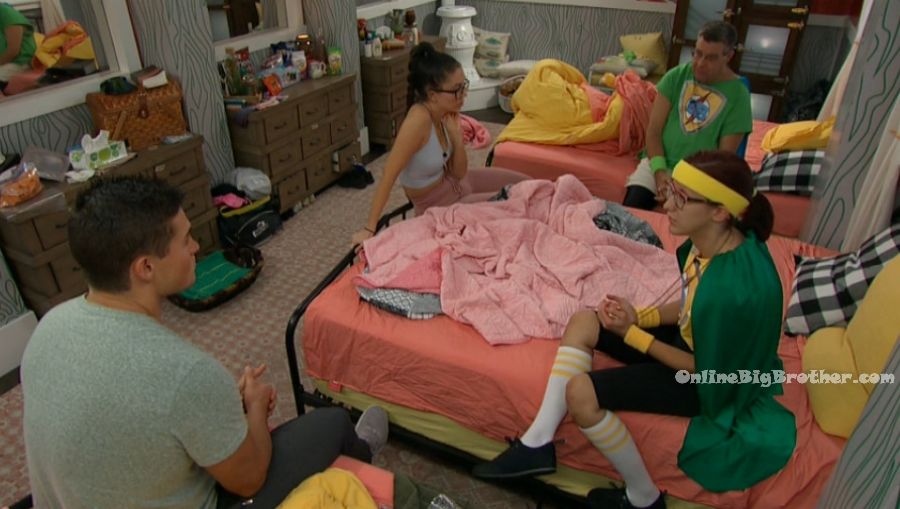 8:38pm – 8:50pm Bedroom. Cliff, Jackson, Holly and Nicole.
They talk about Nicole's veto win. Nicole – I did it for us. All four! I would like to tell you, my veto I would like to use .. but there is no funny business going on. Promise! Cliff – we're on board. Nicole – we did it! Jackson – top 4! Holly – I am so proud of you. Nicole – I did it for us. Cliff – people will talk about your veto win forever. That is the kind of thing where you would come back to host BB comics. We're getting rid of Tommy before the face mash or dates and stuff because he would have it down. Holly agrees. Jackson – I can't even imagine doing it (veto) in under 11 minutes. I maybe could have shaved off a minute or two. You had 40 seconds for each one. Nicole – I told you guys I was going to haul a$$. Jackson – I almost want to drink tonight. They agree to wait for the backyard and to let Tommy grieve. Cliff – I expect he will come to us to see if there is an opportunity but we just need to shut it down. The others agree. Jackson – it is the week of Nicole.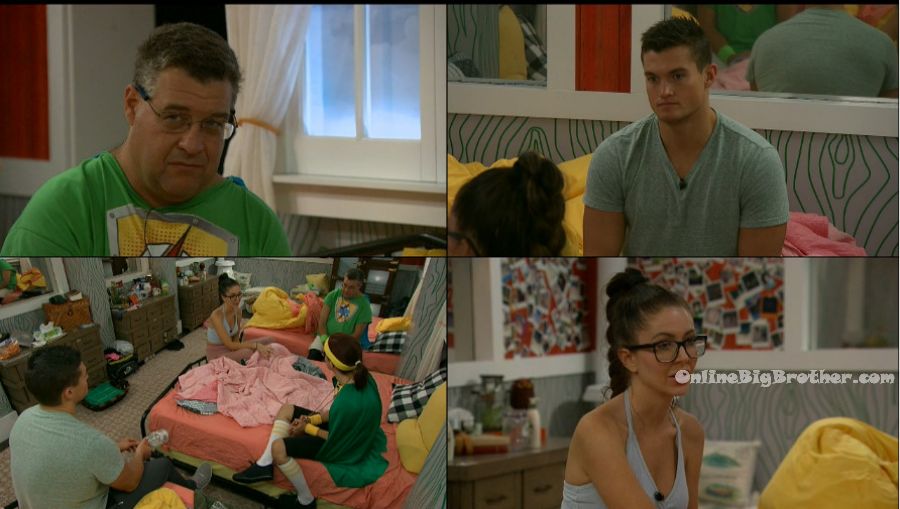 9:10pm – 9:40pm Bedroom. Jackson, Holly, Nicole & Cliff.
Jackson – sorry but I am putting you up on the block this week. The irony of her going up the week I am HOH. Holly – but I trust you guys. Cliff – someone from this room will get 500K. Jackson – well we're all getting another boost. (More stipend) Holly – the next boost will get me closer to paying off some of my debt. Jackson – same. Nicole – I told the DR that I wasn't bullied as a kid but somehow I was an adult. Cliff – well you get the last laugh. They continue chatting about past events of the season.
10:10pm HOH bathroom. Cliff continues to talk about being safe for another week. He does another happy dance.
10:35pm – 11:10pm Kitchen. Tommy cooking dinner / the house guests eating. After dinner the backgammon tournaments start…
11:33pm
Tommy is cleaning up after dinner. Meanwhile Cliff is in the storage room talking to the feeders again.
Show your Support for all the sleepless nights Simon and I have put in for the last 76 days straight. Help keep the lights on, this site costs us a considerable amount to maintain. As an added bonus we also wanted to give a little more to those that donate: Click here for more information.
Any amount is greatly appreciated! Thank you so much in advance!