Quick Big Brother Spoilers
Head of Household: Matt
Nominees: Cirie & Felicia
POV Players: Everyone
POV Winner: JAG
Veto Ceremony: Veto was not used
Havenots: No more havenots
Lock your ranks in before midnight
The Situation: Cirie is the target. Feeds are filled with past events this season, Studying and a tiny bit of sh1t talking.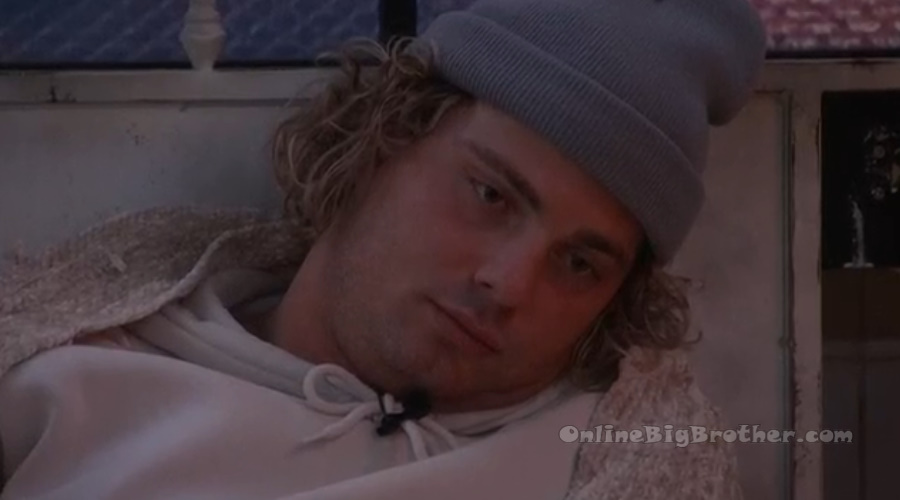 7:30pm Bedroom – Matt, Jag and Bowie Jane are hanging out and studying the days / events of the season as well as counting what is in the scary bedroom. Around 20 baby heads. 7 jars. 6 jars of spiders, 12 spiders, 2 are red, 1 each of black. 3 jars of eyeballs, 1 labeled with red. There are a lot of eyeballs. 1 brain, 1 heart, 15 hands, 3 scissors, etc.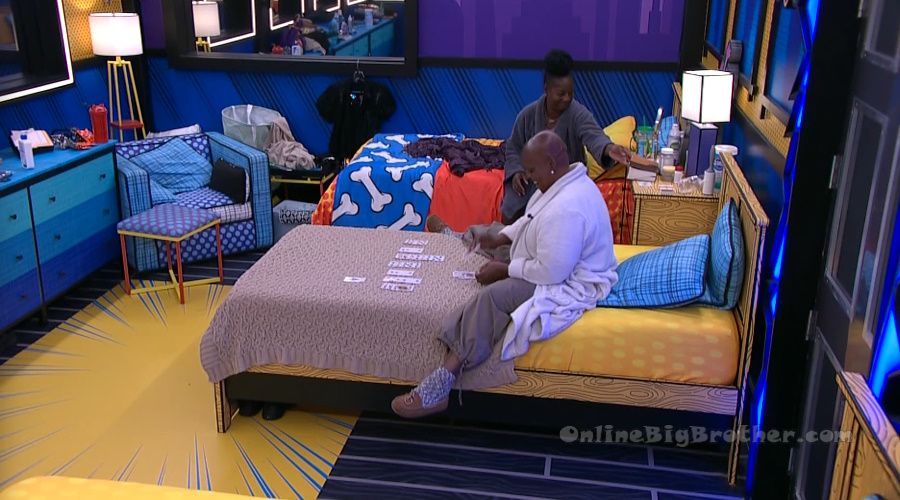 7:50pm Comic Bedroom – Felicia and Cirie.
Felicia and Cirie get ready to go make dinner. Cirie – we ain't calling nobody down. Felicia – we're going to eat.. No, so here is what I want to do. See we can't be ugly. So we are going to cook, we're going to eat and then we're going to bring our a$$ in here. They can come down and get whatever they want, I don't care. Cirie – no yeah they can go but I am not saying HEY come down. Food is ready. Felicia – No, no I am not doing that. We're just going to cook, get our plates and come in here and leave the rest on the counter. Cirie – I haven't seen them all day!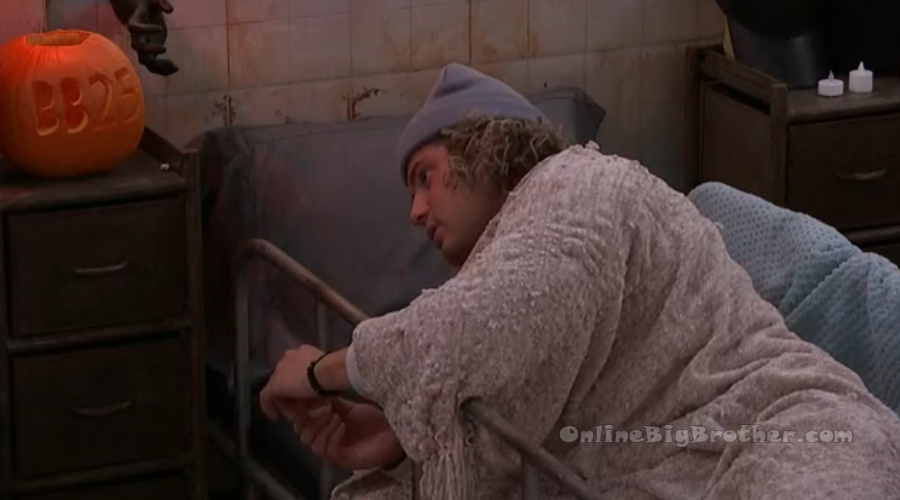 8pm – 8:48pm Bedroom – Matt and Bowie
Matt – I would vote Jag out .. that's what she wants me to say. Bowie – yeah. Matt – and then she goes if you win the three's, you would take me right? And not Bowie? And I was like… because I obviously would in that situation and she was like you know you would take me over Bowie right?! Because I hesitated and so she was like why would you take Bowie? You got to take me. Bowie – Oh my gosh! Matt – and she was like you would be stupid to bring Bowie because… and it was just funny… Bowie – she couldn't give a reason I bet. Matt – right, right.. I am like why would I not bring Bowie when we've come so far. Bowie – yeah, did you say that? No? Matt – no, I didn't say that exactly because we are obviously working in our three. She wanted me to say her. She was like I am so excited for us. Bowie – oh my god! I think she asked me a couple of days ago and I didn't give her answer. Matt – yeah, well that is kind of a tricky situation. If she were to win (HOH) and you win veto, then you would need to pick between me and Jag. Bowie – yeah that would be horrible. Lets just win the HOH. Matt – yeah, and not worry about that. And she was like oh you (Matt) would get all the votes .. but that is what she is saying to everyone. Bowie – because she would get all the votes. Matt – I know. Cirie would get all the votes… which is true. Bowie – yeah. But then if it was her (Felicia) she would. Bowie – that is why both of them have to go. Matt – I know. Bowie – I think Jag is pretty prepared, unlike me I'm at 80%. I recon he is at 100%. Matt – yeah, just keep studying. Bowie – its so funny that she expects anyone to take her anywhere when she has done the wrong thing by everyone. Like no one would take her to the final two, she's going to have to win to get there. If she was in the two, I think given we're all pretty hated by the jury, I think she would win. Felicia would win. She would have Blue's vote, Cirie's vote.. Matt – Cameron's, Cory's.. Bowie – I don't know. Probably America. Matt – then they would vote together. They start studying.
8:48pm – 9:57pm Comic Bedroom – Cirie and Felicia.
Cirie – I am trying to decide if I am giving hugs or not .. if I am giving a Meme! I cannot wait to see Jared and all of them. They all come back right? Felicia – well they should, the last couple years they didn't have the people before jury because of covid and all of that. I think they will this year. Those in the jury house are taking bets on which one of us is going to walk through that door.. they're over there saying its Cirie or Felicia. Cirie – because they know it. Felicia – You guys never leave. You don't think that he might want to be up there alone with his own thoughts. Cirie – well he should say it. Felicia – he should do.. he's got to have the gumption to do it. You guys mind if I have an hour or two by myself? Cirie – its my last night. Felicia – I mean literally they haven't come down stairs today but to eat. Cirie – maybe he don't want to be alone. Felicia – Day 93 tomorrow.. 7 days.. in one week someone is walking out that door and getting a cheque for 750K! Cirie – Yup, I would love for it to be me, you or Matt but I don't know. I was thinking my speech ..I might say and to the house guests whoever is left here please show a little more decency than you've shown in the last couple days. A little more humanity because that is not who you are .. or is it? I might I am thinking about it. I am cooking it. Felicia – I was thinking when people show you who they are believe them. Do you. I always say put yourself in the shoes of the other person and would you be okay. And its almost as if over night as soon as that veto got played they just flipped a script. They were only nice until the veto because they had to make sure one of us didn't win. Once he won and he knew he wasn't doing nothing with it.. No conversation. Cirie – that was it.. nothing. They both go to sleep.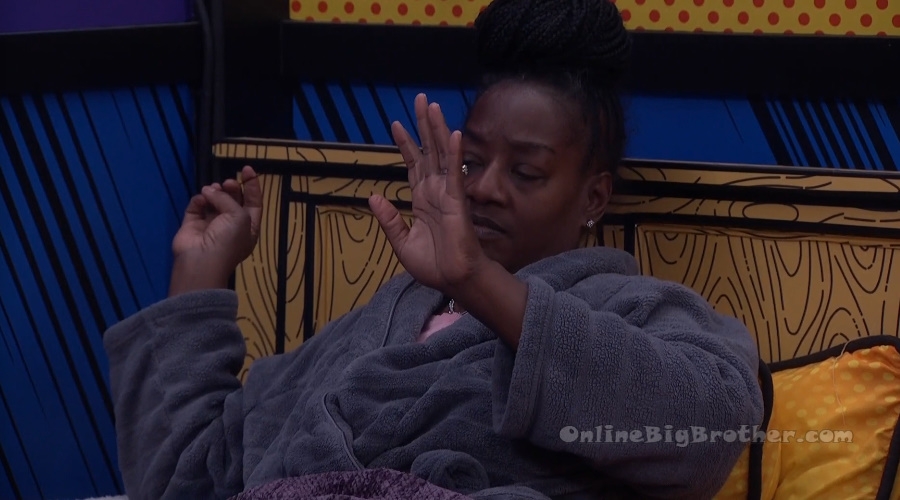 10:15pm – 10:50pm Outside the HOH room – Jag and Matt
Matt – I just want ya'll to be ready for tomorrow. If you guys need to get sleep then get sleep. If you need to study, then study. Jag – I feel like I am ready for tomorrow. I don't know if she (Bowie) is. I don't know. But you quizzed her right? Matt – yeah. Jag – I am going to reminder her to take the time. Matt – I know you can beat them. Jag – Yeah, I just have to be focused. If that's the comp, either way I just have to be focused. Matt – and if its you together, take her out. Like if its smack down. As long as you two win, we will be okay. Jag – we'll pull it off. Matt tells Bowie to Matt – I think they will be nervous tomorrow. Jag – the last 5 evictions we have executed perfectly. Matt – as long as we get to 3 we're solid. Jag – Once we get to final 3, one of us or both of us will be in the final comp. That is really good odds. Matt – That's what I am saying, one of us is going to be there.. and like I am picking you. Jag – I mean absolutely, that's what I am saying. Matt – I think we're really well rounded. They shake on it. Jag – we are one week away from executing. Matt – honestly if we're the last two we will get talked about for a long time. They reminisce about past events of the season.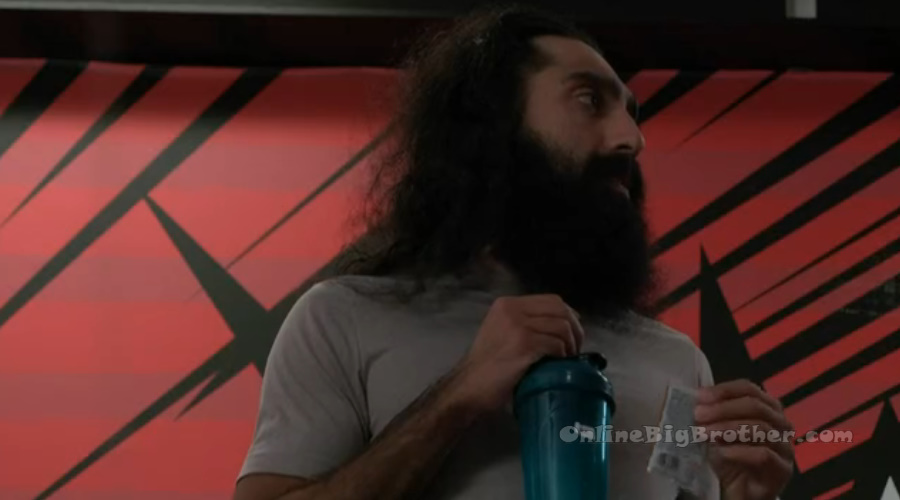 What to leave a TIP? Any amount is greatly appreciated!
Tips go directly to pay the site costs associated with running this site.
Thank you in advance!