Veto players are Hira, Brooke, Maddy, Vanessa, and Carol.
Hira wins the power of Veto
Rank the houseguests here
View the Ranking Grid here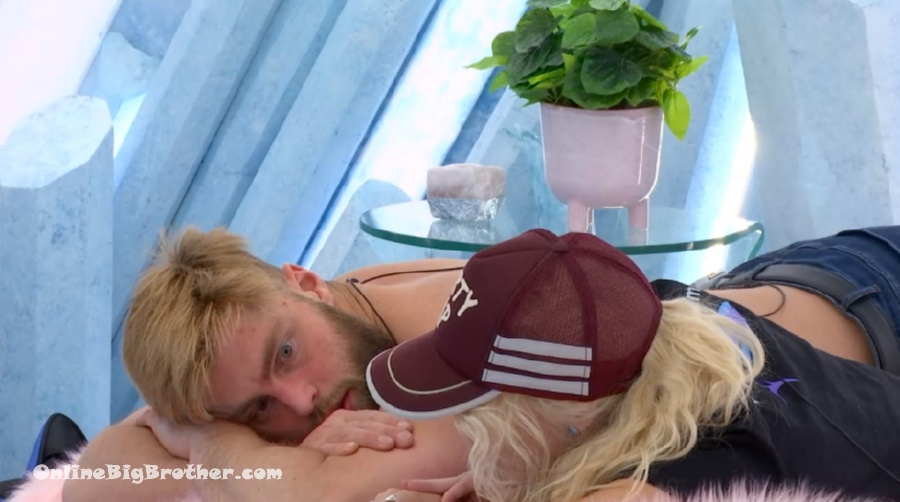 Chris tells Vanessa to GUN for it.
Chris – I've convinced everyone to use it.
Vanessa – Hira or Brooke?
Chris – If a girl wins it Brooke
Chris – we told Brooke we would take her off.
Vanessa – Carol will take off Brooke
Chris says Brooke is easier to keep
Vanessa – what if it's Michael and Hira and Hira goes home
Chris – that's bad
Chris – we have to leave Brooke. I want to take Michael outright
Vanessa – so if I win I'm taking down Hira
Chris – we have to, we have to make sure he goes home
Chris says, either way, the other side loses a number says that Hira is with the other side.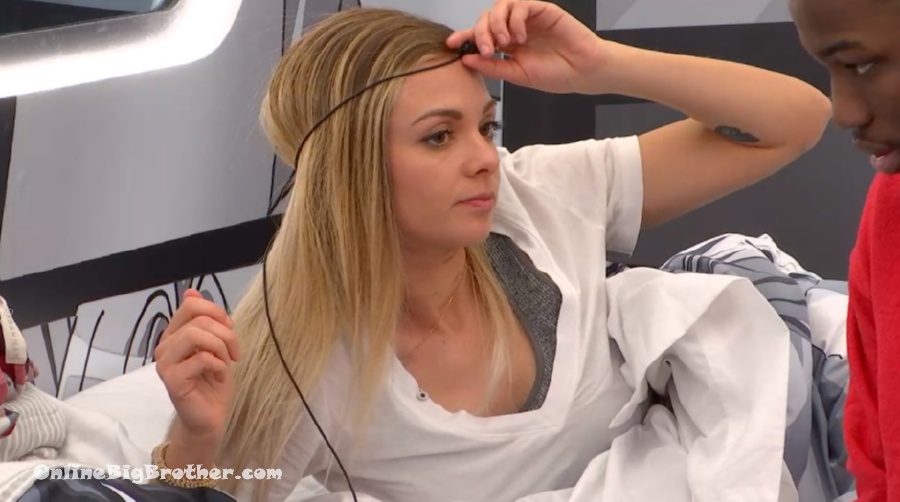 Maddy tells Sheldon she wants to use the veto but is worried about who would go up, " I would feel so f**ing bad"
Sheldon – the whole house plan including him is to backdoor Minh, Minh is scared.
Sheldon says Chris' closest people are Kyle and himself "the two wendy's boys" (Chris took them to wendy's)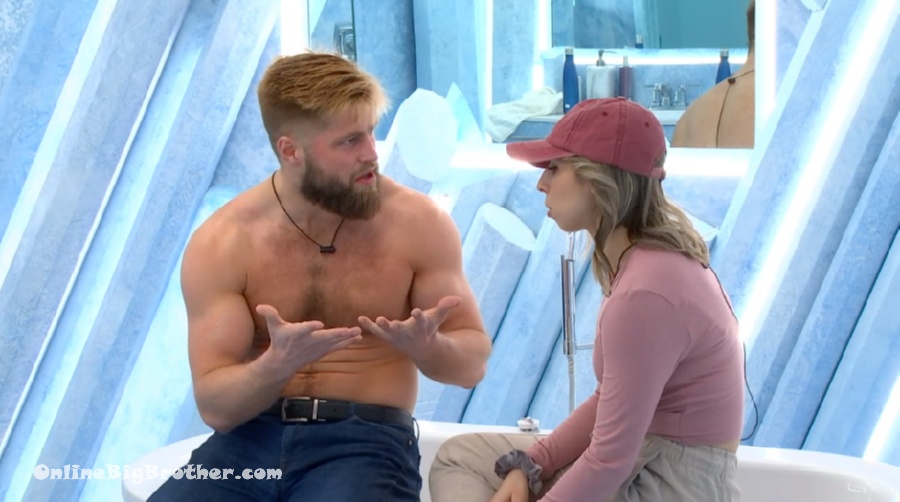 Chris going on about how everyone in the house is on their side
Chris – it's TEN people
Sue – we have the hose
Sue says she never talks game to Maddy and Kyle
Sue – I'm going to play stupid.
Chris says the vote will be unanimous to evict Mike as long as Brooke is beside hime.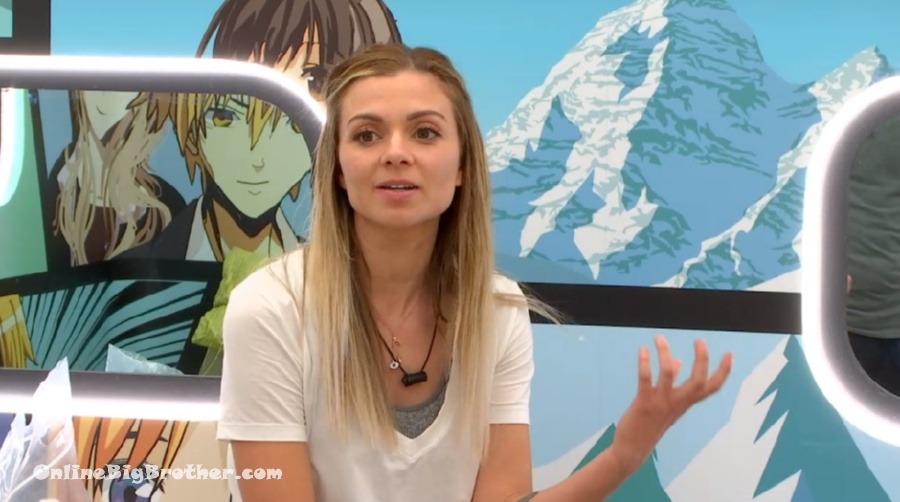 Jamar and Maddy
Talking about the Veto feeds cut in mid-conversation.
Jamar – you gotta win veto first
Maddy – I know to get Minh out
Jamar – Look what happened to me everyone wanted me to win HOH and the guy I was going to put up won.
Jamar says Carol isn't going to win the veto.
Jamar – Vanessa, she's kinda tired and acting like she can't move so I don't know if she is winning it Hira and Brooke are going for it regardless.
Hira joins them. Maddy tells him if Brooke goes off the block Minh is going home.
Jamar – Minh is going up but still GUN for the veto..
Maddy – I just hope Chris is good to his word.. I would use it if I won. I want to use it.
Jamar says they all just want to make sure the replacement nomination is Minh.
Hira – If everyone goes to Chris.. lets say you won the whole house one by one and says Minh if he doesn't put Minh up he's done next week.
Maddy – I agree.. I just worry what if I took Brooke off the block and he put someone else on the block that is not Minh what if. I would be worried if you went home and honestly, I don't want you to go home I really like you
Hira – I'm going for the win
Maddy – you have to
Maddy says she'll throw the Veto to him if they are head to head.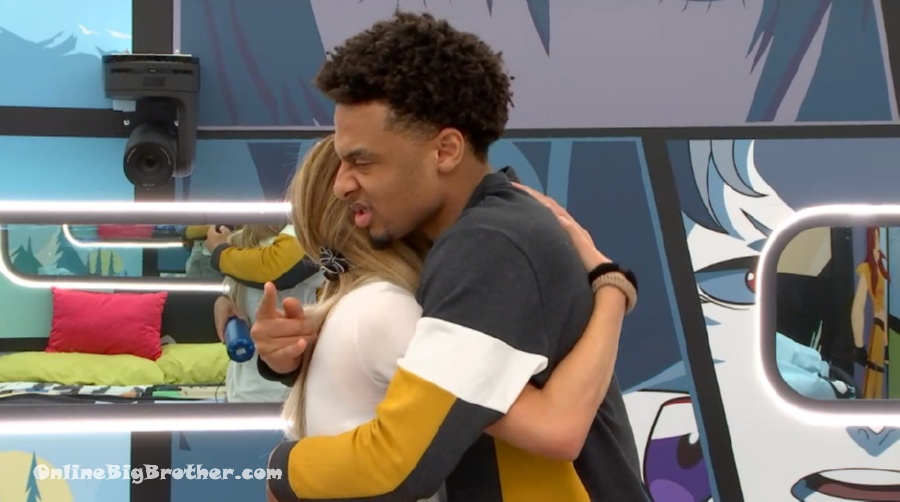 Maddy and Jamar hug it out..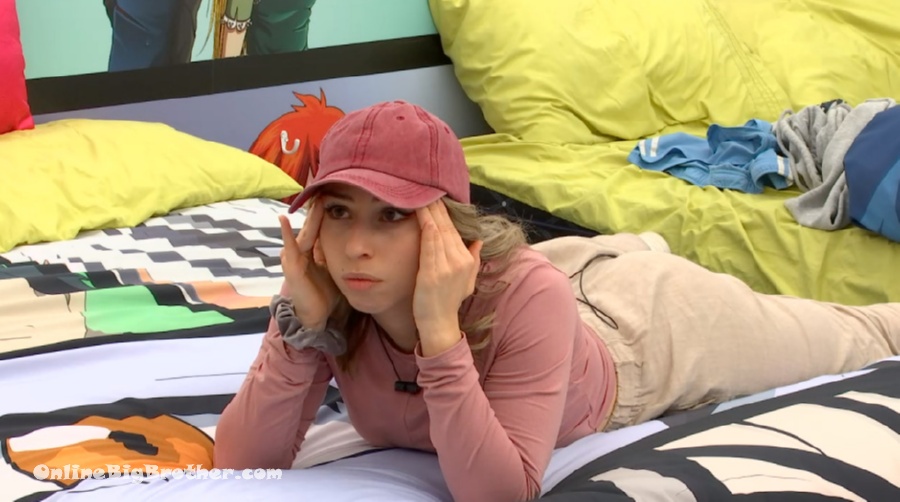 5:50 pm Jamar and Susanne
Jamar – don't trust Kyle and Vanessa don't tell them nothing..
sue – I don't but what happened.
Jamar – they are trying to work with the four
Sue – no their not
Jamar – yes they are. listen .. listen to me
Sue – Ok
Jamar – Maddy just told me that they were downstairs.. Ok so you know how the plan is to backdoor minh.. apparently everyone is saying that right?
Sue – Yes
Jamar – so basically Sheldon told Mike for them not to use the veto. Tell Maddy not to use the veto right
Sue – why
Jamar – he's just saying .. not to go for it. Shells (Sheldon) is telling Kyle and Vanessa that he wants a big Target out..
Jamar – Kyle and Vanessa is telling Mike what SHell is saying
Sue – how do you know this
Jamar- Maddy just told me .. why is Kyle and Venmssa going to Maddy and telling them what SHells is saying. Why
Sue still doesn't understand
Jamar – Kyle and Vanessa is telling the four group what Shells is telling them.. You know hoe Shells wants Brooke to stay
Jamar keeps reiterating what happened to Sue.. Sheldon telling Kyle and Vanessa. Kyle and Vanessa telling Maddy and Mike
Jamar – if Kyle and Vanessa re trying to get the four out why are they telling what shells say.. SHells is with me
Jamar – Shells doesn't want Minh out.. He wants a big target
Sue – Kyle and Vanessa are telling the four that Shells wants a big target out
Sue – Maddy told you that
Jamar – yes ..
Jamar – Kyle and Vanessa
Sue – rated us out
Jamar – Miek is pissed off at shells and the reason is Kyle told Mike what Shells said..
Sue – I thought they were on our side..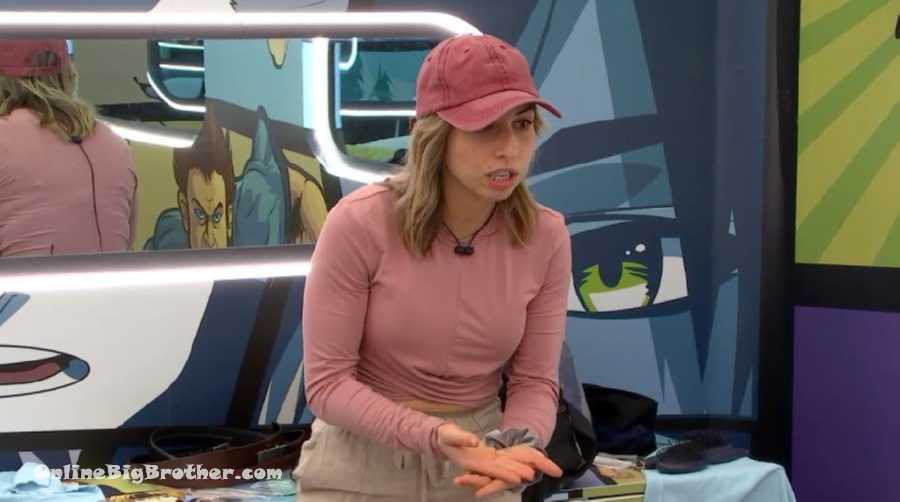 AFter some talking Sue thinks that Sheldon was the one that f*ed up not Kyle/Vanessa (The fake plan is for the veto to be used and minh to go up the real plan is for the veto to get used and Mike to go up)
Sue – Shells slipped.. he should have never said the veto was being used.
Jamar – why is Kyle and Vanessa going …
Sue – to Convince.. to make sure the veto is used.
Jamar – why not go to Shells first..
Sue – you don't know .. talk to shells.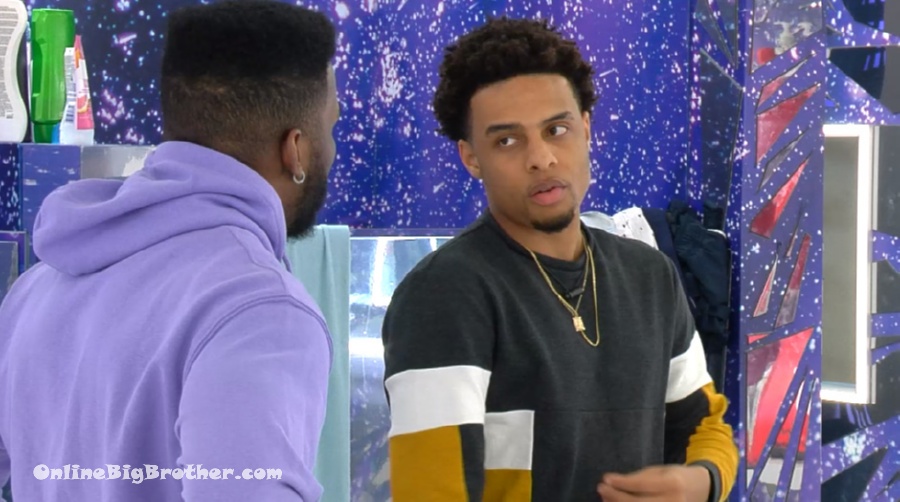 6:00 pm Jamar and Sheldon
Jamar – what did you tell Kyle and Vanessa, about this upcoming veto
Sheldon – what do you mean .. what did I tell them? I'm confused.
Jamar – listen whatever you told Kyle and Vanessa. They told Mike
Jamar – Mike is pissed off at you. Rianne is watching us right now so I don't want to say too much
Jamar – you feeling me.. But Mike is pissed off.
Jamar – Apparently you told Mike something and you told Kyle and Vanessa a different thing
Sheldon – what the
Jamar – it's pissing me off. Kyle and Vanessa thru you under the bus in a way
Jamar – apparently you told Kyle and Vanessa that you want the veto to be used for a bigger target as in the four
Sheldon – yeah
Jamar – apparently you told Mike that you don't want the veto to be used.
Sheldon – I told mike I'm scared of one of us getting backdoor
Sheldon – I don't trust Chris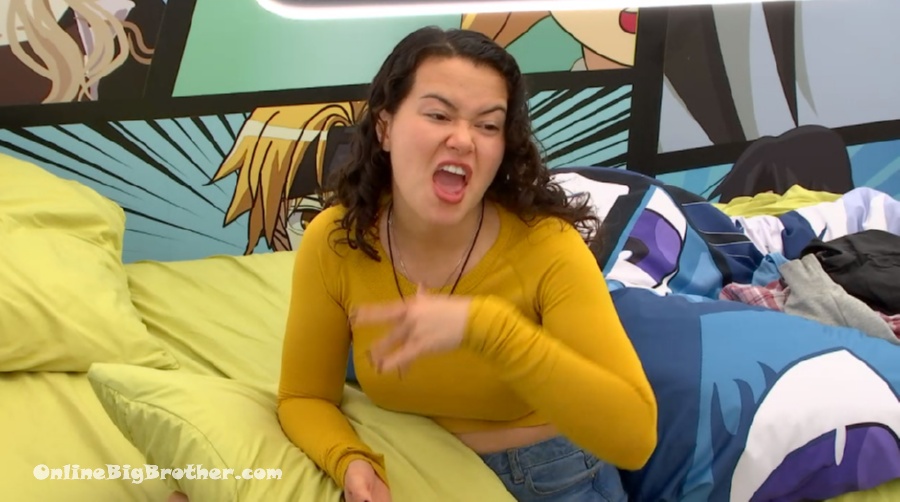 6:30 pm Vanessa nd Minh-ly
Minh – "Im scared but I woke up and I feel better now"
They start talking about the plan being to Backdoor Minh.
Minh – Sue is working with Jamar
Vanessa – ohh 100% they are very close
Minh – me, you, Kyle, Chris, and Sue had a thing the other day .. was that fake. Was that a fake alliance
Vanessa – Sue's playing
Vanessa – there are people playing everybody but I'm not
Minh says Kyle came to her this morning and said she's doing good playing sick.
Minh – If I get put the block I'm f**ing airing everyone business I don't give a shit. I will destroy everyone's game before I leave the house.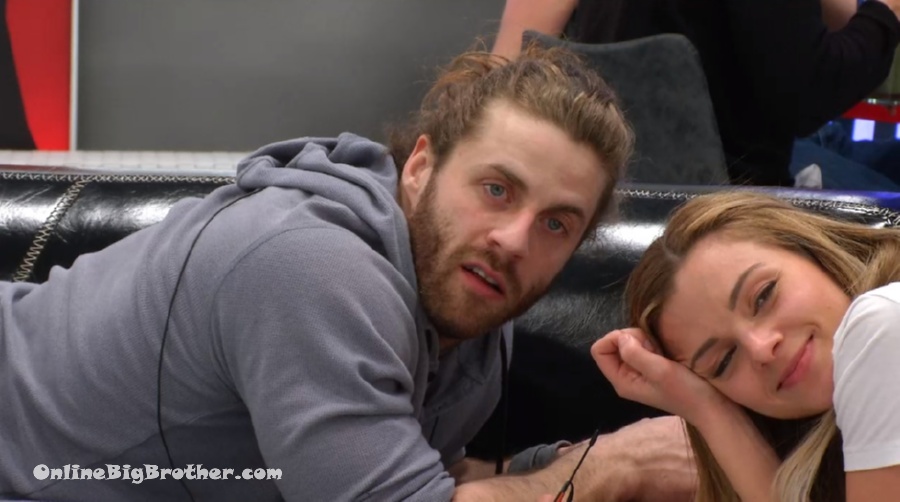 Feeds cut to Madey and Kyle then off for the veto..
9:00 pm Feeds still cut
11:00 pm feeds still down yo
Feed leak of the Power of Veto competition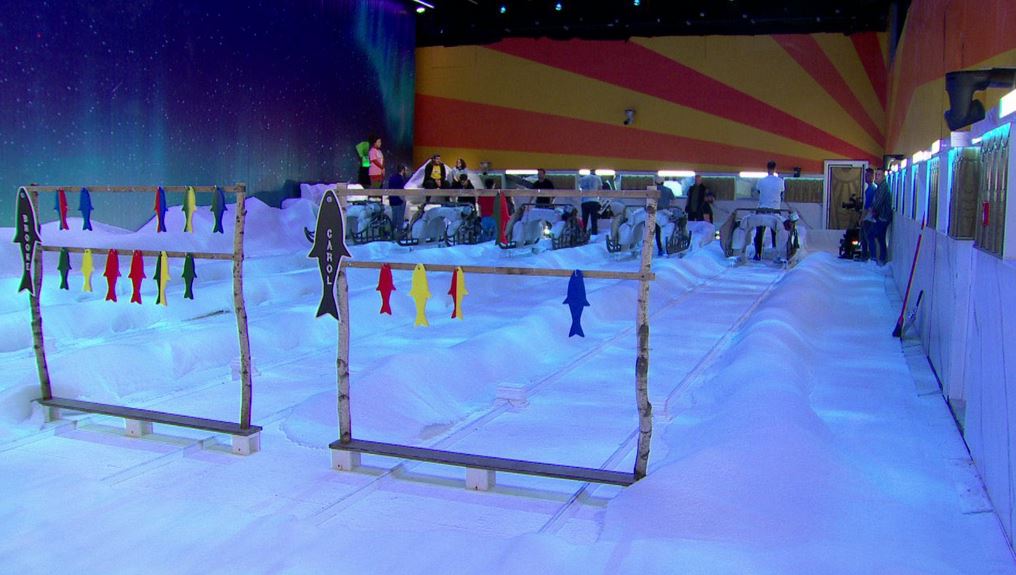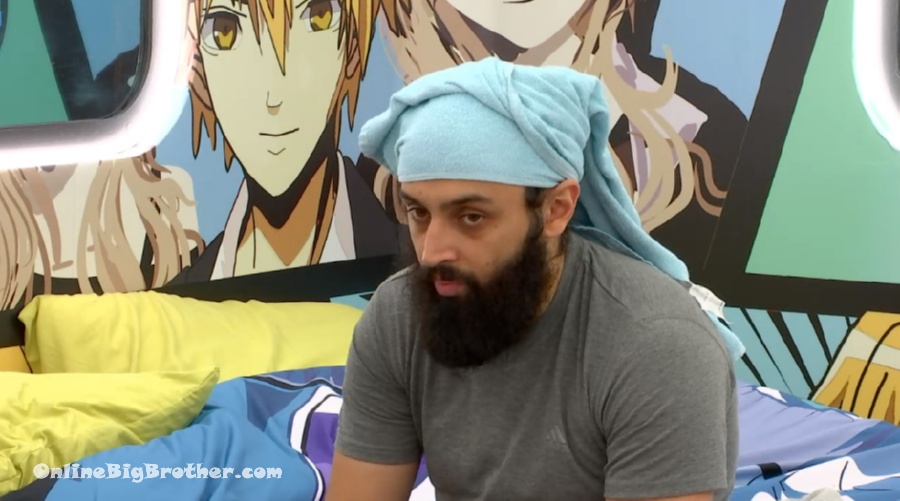 12:34 am Hira wins the POV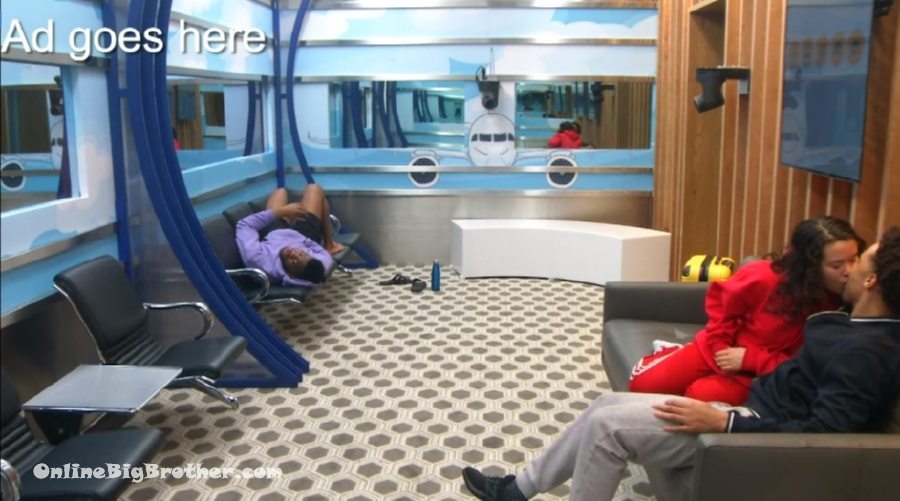 Minh-Ly and Jamar waste no time.. (minh-ly rocks)