Veto players are Hira, Brooke, Maddy, Vanessa, and Carol.
Hira wins the power of Veto
Rank the houseguests here
View the Ranking Grid here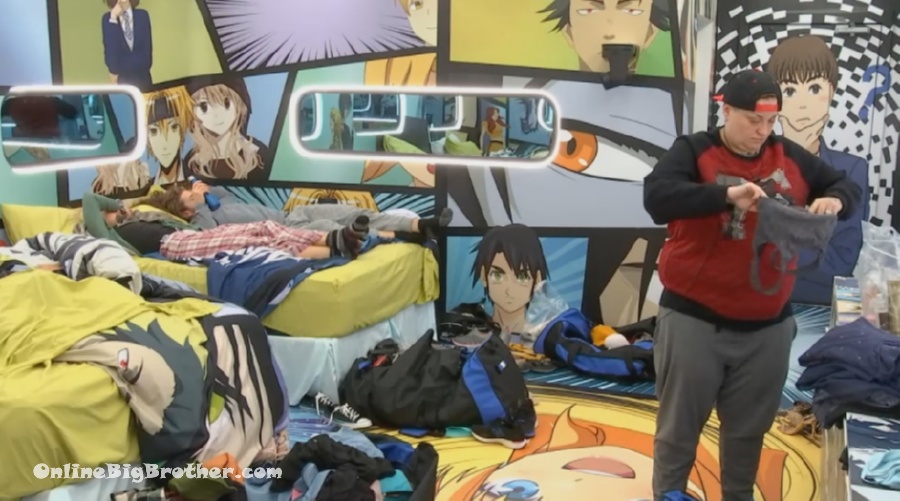 This morning Carol waking up
"Mentally I feel better it's just my body shutting down you know"
Hira tells her if she gets another day rest in she can be back at it
Vanessa asks her "Be real with me what do you think"
Carol – I'm going to talk to Erin
Vanessa – that's good and kinda go from there?
Carol – yeah \
Feeds cut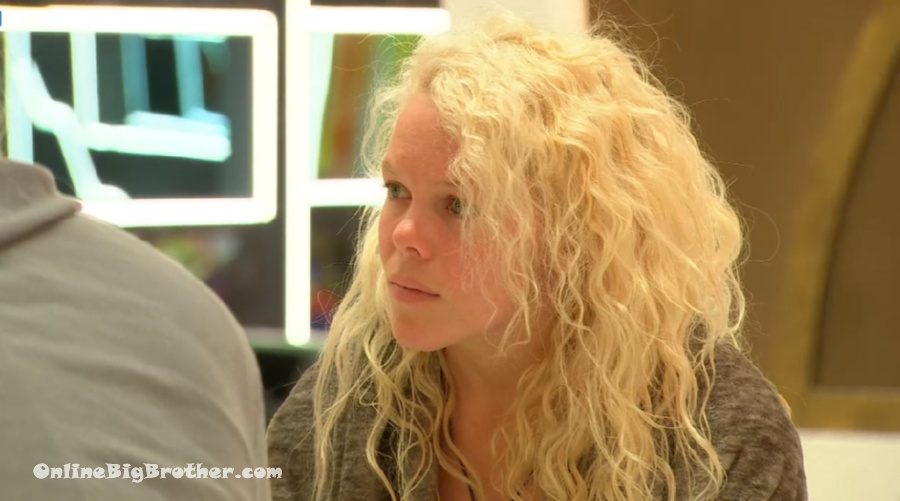 12:51 pm Kyle, Vanessa and Sue are talking about switching the fake plan to backdoor Minh to the real plan.
Sue – she just sat me outside and told me to throw next weeks HOH. She was like I want to put up John Luke and Angie and she's like it's better for me to win because I'm a shield for you. She told Vanessa that she's stupid Vanessa and me are like this..
Sue – we're backdooring her
Kyle – Change of plans we're telling Chris. We have to tell Chris this. he doesn't care he wants to get Minh out
Sue – you think this week it's the better plan to get Minh out
Kyle – Yeah .. yeah. can't risk man
Kyle – me and Vanessa will pull Chris aside. and I'm going to say that's what's happening and I'll need you to back me up. come up after.
Kyle – Be like this is what I heard she told me to throw the comp
Sue about Minh – I knew we couldn't trust her
Kyle – what I'll need is you (Vanessa) and I to talk to Chris cause you're the leader of the story. Then I'll need you (Sue)
Sue – She's Shady (Minh)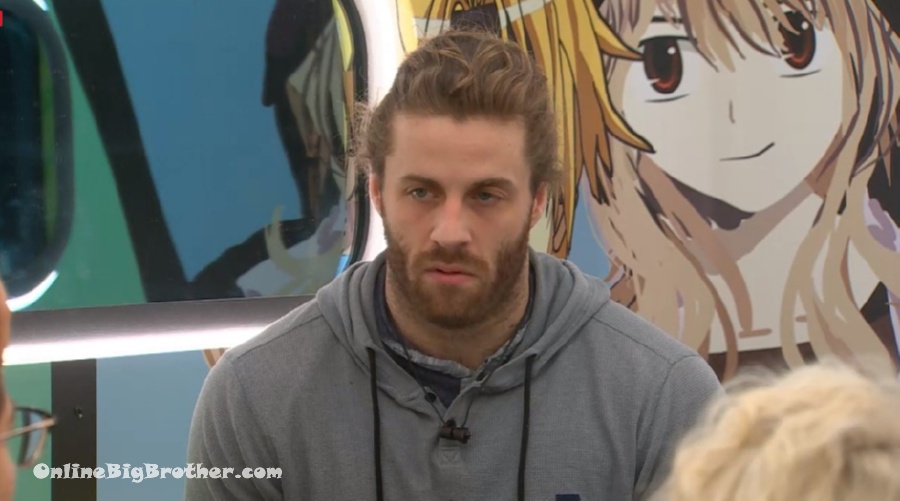 1:29 pm Kyle, Vanessa and Sue
Talking about Flipping the plan to get Minh on the block and evicted.
Sue – the threats to our game are the four and Minh
Sue wants to know how much pull Kyle has with the four. Trying to determine which threat they should get rid of. Kyle says it depends on which of the four wins HOH. If it's John Luke than he's going up. If it's Michael Vanessa is going up.
Kyle says he's tighter with Mike says he's an honest guy the only one he's worried about is "JL" but he still respects JL "It is what it is"
Kyle – with Mike he is a bit more honest.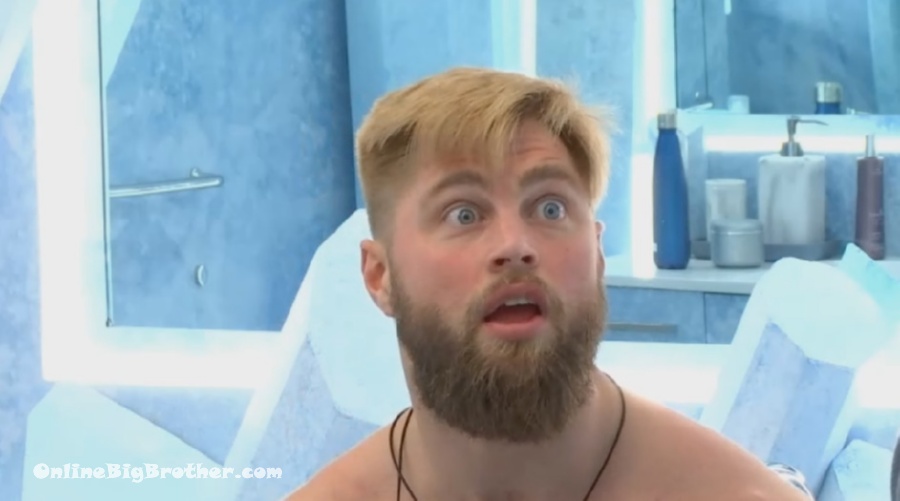 1:33 pm Chris, Sue, Vanessa and Kyle
Vanessa filling Chris in on Minh-Ly coming to her saying "we need to backdoor Kyle". They're starting the conversation to flip and evict Minh-Ly instead of Michael
Chris – When
Vanessa – yesterday before the comp at some point. she was talking Don't you want to win build up your resume. he's going to win this game.
Vanessa – she asked me you want to do that to right?
Vanessa – I played it off.. saying hmm.. no that's not what I want. She was like rea you kidding.. are you kidding.. This and that.
Chris – here's my thought process. we have our soldiers.. and if we have the numbers it doesn't matter how is in power we have the numbers..
Chris – we have us four. I have Angie and Carol HUNDRED PERCENT locked down. That's six.
Sue – Carols Leaving.. She told me..
Feeds cut ..
When we're back
Chris – I have Angie I have Jamars 100 percent in my pocket. I have Sheldon and Brooke. that's nine people.
Kyle – there's more moving parts than votes she can go around and f*ing spread sh1t
Chris – Next week I'm going to reveal it was all Ming's idea she came to me and said look i'm going to fake the whole drama thing cause I want you to back door Mike. I'm going to tells it to the blondies I'm going to tell it to John Luke.
Chris – Ming is not going to win HOH next week
Chris – They have four. Those people have four they're scared shitless of me they're scared shitless of you. They shake when they're talking to me man
Kyle – right.
Chris – you don't shake unless you are paranoid
Chris – with this move this week we have Rianne come over I don't trust Madeline but she has no choice than to come to me
Kyle – not with John Luke still here
Chris – we still have nine or ten
Chris – and Shelly (Sheldon) he's as nervous as can be he finally talked to me and Kyle he's not going to go against me at this point in the game cause if he does he knows I'm going to take his a$$ out
Chris – you see what I did to Micahel this week.
Chris – so the next target will be Minh because she's the wild card but we destroy their f*ing alliance this week. I'll let the secret about Minh go next week.
Chris says John Luke won't beat him and Kyle in a competition "We're mentally tougher"
Chris – John Luke is going to be scared sh1tless after I take out his boy Micahel
Chris warns them to keep all the serious game talk away from Borrke and Sheldon they just need them to relax sooner or later they'll have to take them out.
Chris – let's take the head of the snake out this week. Get them scrambling then we blow up mid next week..
They disperse agreeing to stick with getting Michael out this week.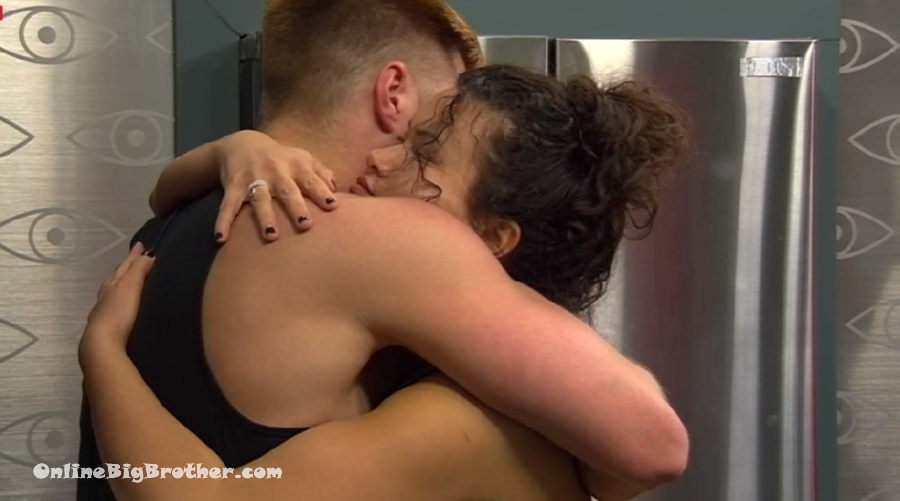 4:37 pm Feeds have been down for hours at first I thought it was from Carol trying to quit.
When they come back Chris is reassuring Minh she's safe this week says that everyone is pressuring him to backdoor her "Everyone up there wanted you gone"
Minh tells him if she wins HOH he's not going on slop and he's not a nominations
Chris – and you'll put up someone that's a threat to us
Minh – 100 percent
Chris says he trusts Kyle more than anyone.
(Carol hasn't left yet)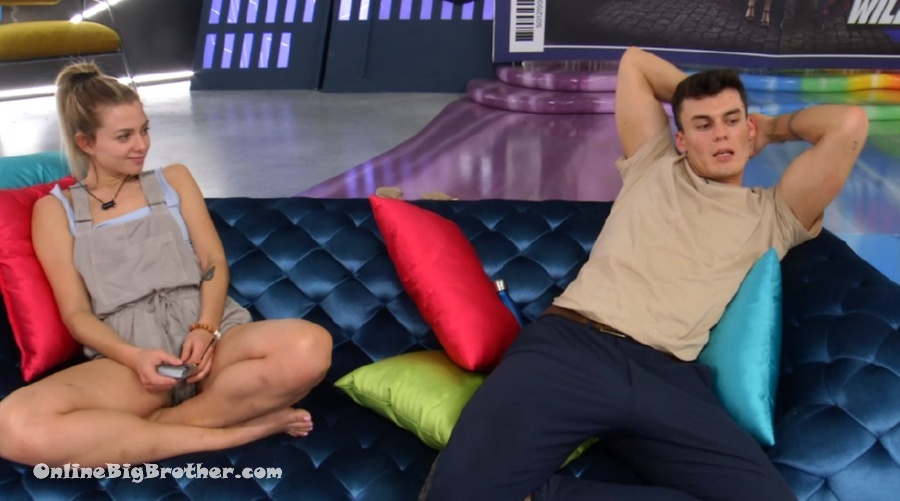 9:40 pm Sheldon, Mike, Maddy and John Luke
Talking about Minh-ly.
Sheldon – people have tried to be nice and make amends with her on multiple occasions so ..
John luke – and I know she thinks I have a shit personality
they laugh
Maddy – she did say she'd put us on the block.
Maddy – she said (Minh-ly) I know we aren't going to be friends outside this house..
Maddy – ugh that was rude
Mike – it's weird to say in general
Maddy – well Seeya never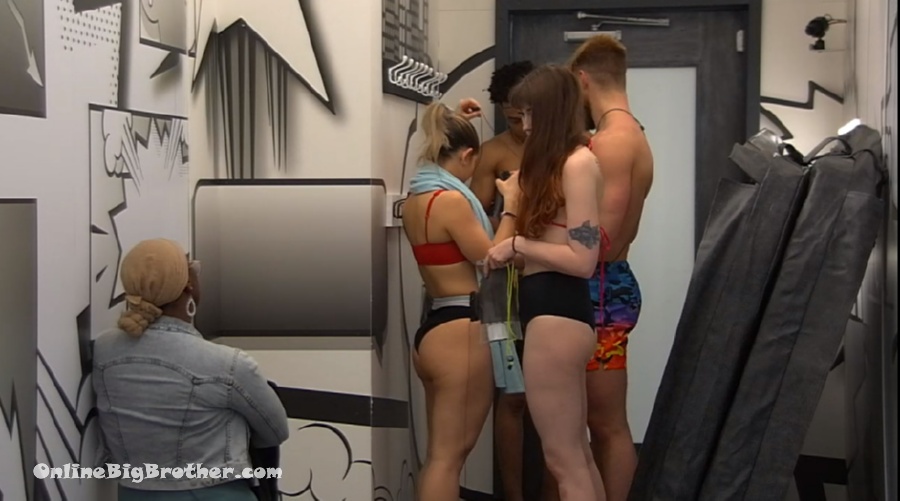 10:00 pm Hot Tub time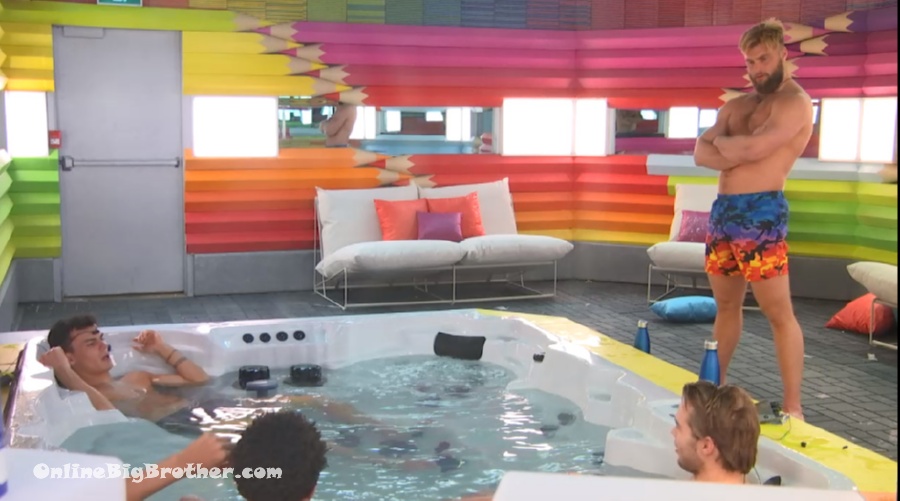 10:47 pm Bro talk, Jamar, Chris, John Luke, and Michael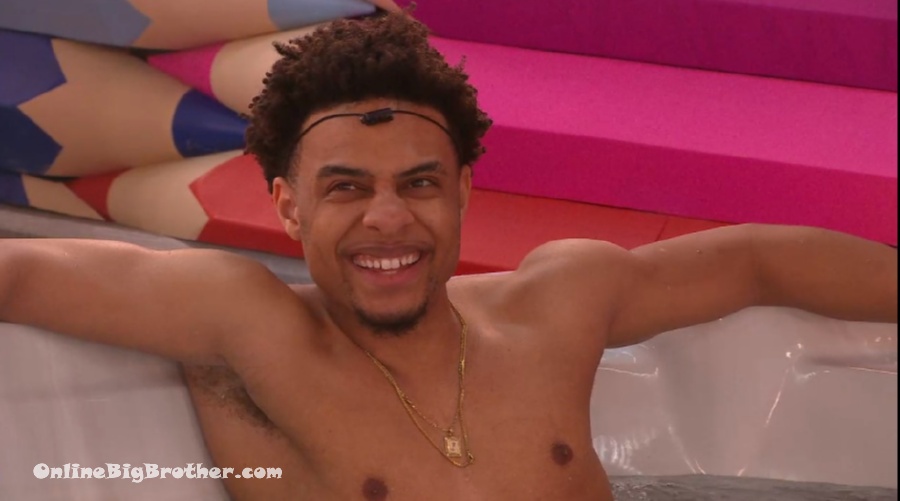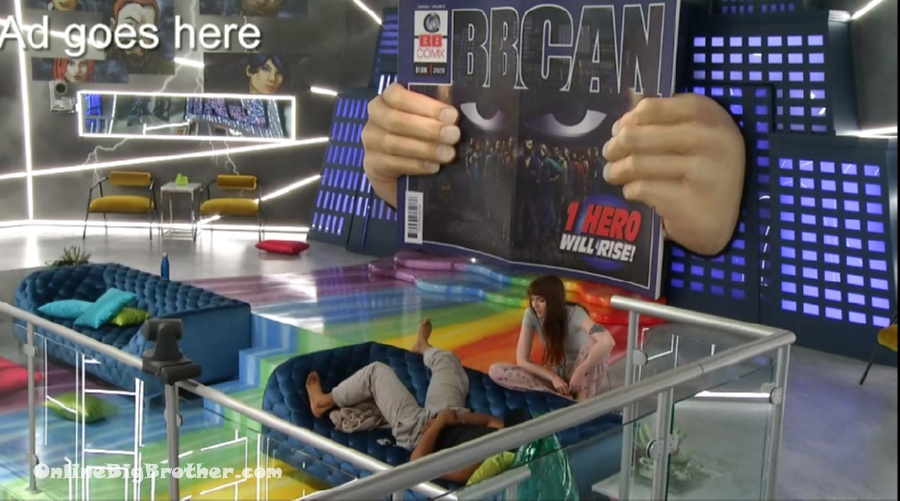 11:09 pm Brooke and Sheldon
Brooke says the silver lining of being on the block with Micahel is she doesn't have to against Micheal.
Chris joins them for a minute. they talk about how tomorrow will shake out when Michael goes on the block. Chris says they'll (other side) try to get Brooke out but they have the numbers.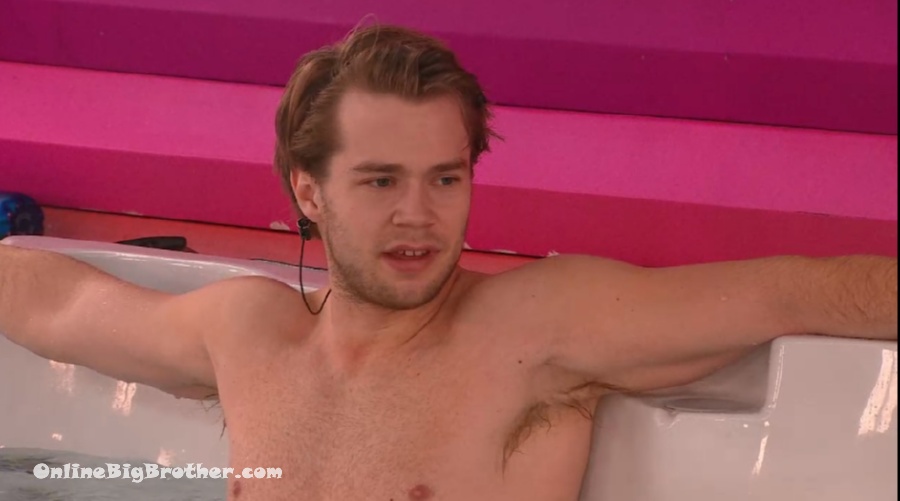 11:16 pm John Luke and Michael
JL is saying that Chris is adding to their army
They mention if this week goes good for them they'll keep Chris safe next week.
JL says Kyle is f***ed if the HOH is an endurance competition.
Mike says it's amazing Kyle got no backlash for screaming at Minh as he did
JL points out how good of a game Kyle is playing
Mike – that quick day two
JL ASks why nobody has even talked about how intense that was. He wonders who many people Kyle is with.
JL – I've seen him talking to everyone. I don't know if he's talking game
Mike – or just talking
JL – exactly
JL wants some jury deal with Kyle but as soon as they get to jury they take the first chance they can to take him out.
They talk about how Carol has pissed everyone off in the house and has made herself the target.
Mike – the only one that wasn't pissed off at her was me ..
Mike – she's (carol) checked out
JL – she's done
Mike – that Keto diet isn't going to do it
JL – She's got muscle relaxants hard .. she took two she's feeling it.
JK – if I was on muscle relaxants I would stay in this house forever
Mike – it's dangerous though if she gets addicted (LOL)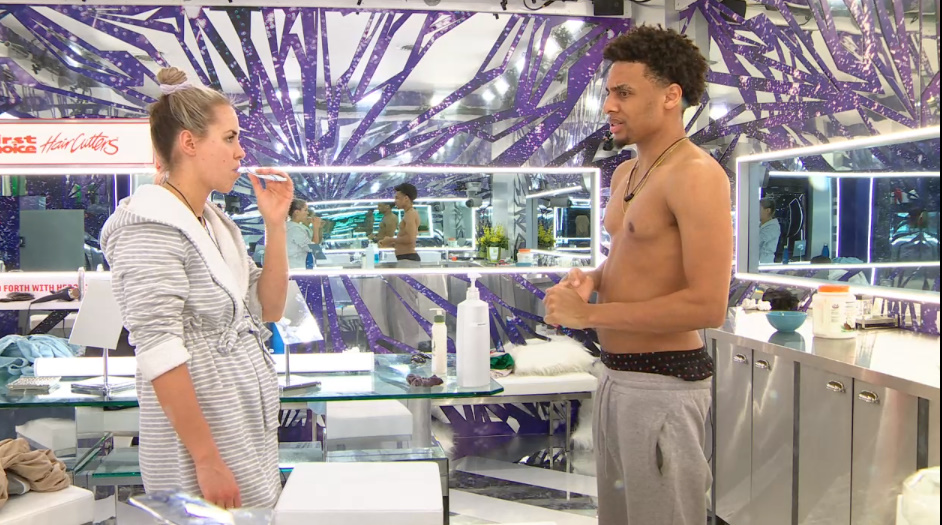 11:35 pm Rianne and Jamar
Jamar telling her if he wins HOH he's going after two dudes
Ria – I would go for people that are floating
Jamar says you keep floaters
Ria – I would talk to you and probably do what you want me to go Jams.
Ria asks him if he's not worried about one of the guys coming off the block and gunning after Jamar.
Jamar – that is why you have people that support me.
Jamar wants Ria to support him.
Ria now saying she wants the final 10 to be big players, "I want the jury to be big players that know what's going on"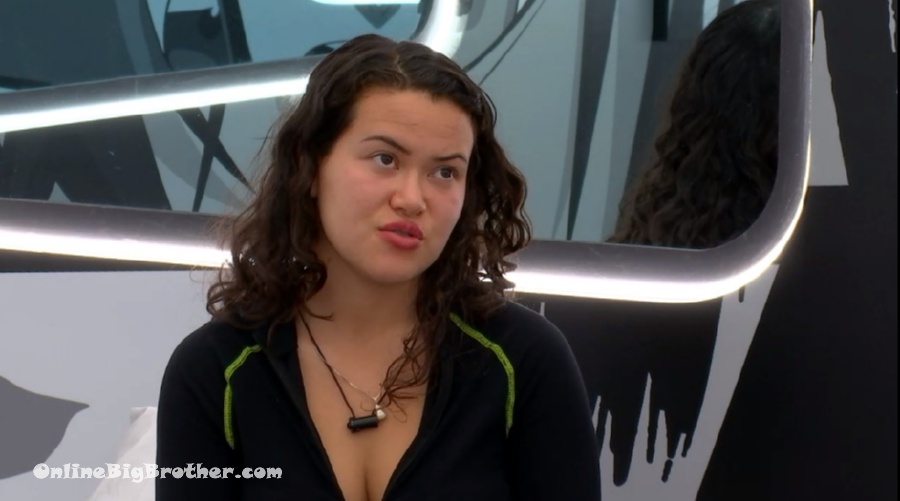 11:42 pm Minh-Ly and Brooke
Brooke tells her she's nervous to commit to something with Minh. "Things have come up"
She adds that she's not sure that it's because Minh has been 'Scrambling from the bottom" since the beginning
Minh says there's been a campaign against her.
Minh – I started playing the moment I walked in my a$$ was on the line theirs wasn't. Look how Nico behaved when his a$$ was on the line look at Chris..
Minh – I'm not going to sit here and promise you the moon ..
Brooke – I will promise you this If I would win power next week there's no way you are going up
Minh – Same there's no way you would be on slop or on the block. Cause I'm tight with you
Minh – you know about the plan
Brooke – Chris told me