Part 1 Final HOH = Jackson
Part 2 Final HOH =
Part 3 Final HOH =
Check out the rankings from this year —-> Big Brother 21 Ranking GRID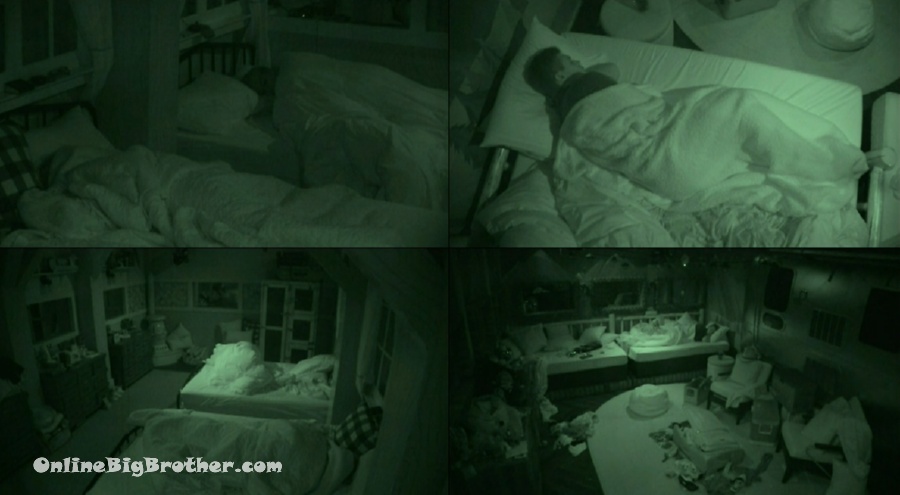 8:56 am Everyone still sleeping.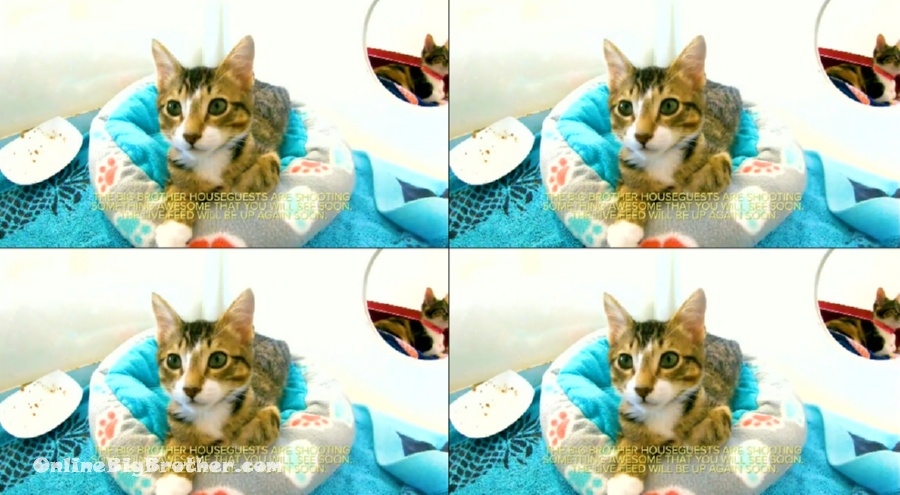 Wake up at 9am fish then pound kittens until 10 am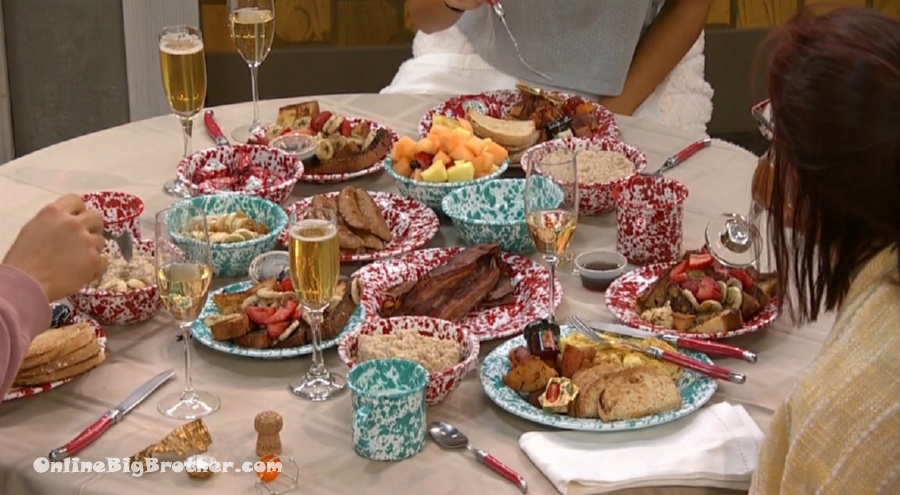 10:10 am Final 3 Champaign breakfast
Nicole mentions how she didn't do "that Great" in the Competition last night but says it was an amazing set.
J – That was an experience
H – that was one of the most fun things I've ever done in my life
N – like when in your life will you jump from rotating pilers
N – It was very nancy drew, Indiana jones-esic and I love it.
H – I felt like Laura Croft
J – you looked like Laura Croft. I say that to you all the time
H – I know. I was told that in the before that I was a country Laura croft
Nicole says they are the "bionic woman and man" adds that they looked like they were moving in "fast motion" and she was in "slow-motion"
N – they're not your average people. I don't know what the f* they are some kinda robot people
Jackson – we made it y'all. that's a lot of black and white on there
H – it's only our faces
H – wow wow wow wow wow

Holly and Nicole go on about how "it just makes sense"
N – what's the one thing you'll miss
H – always having people around. I'm ready to get back to silence but it's really nice always having people around.
N – I'll miss the voice over
J – I'm going to miss being off the grid
N – oh my god they're going to hand me my cell phone. OKAY what do I do with this
H – I don't remember my phone works
N – I'm trying to remember how I text
Holly says she has the IphoneX
Big Brother tells them "Big Brother loves you" and they freak out ..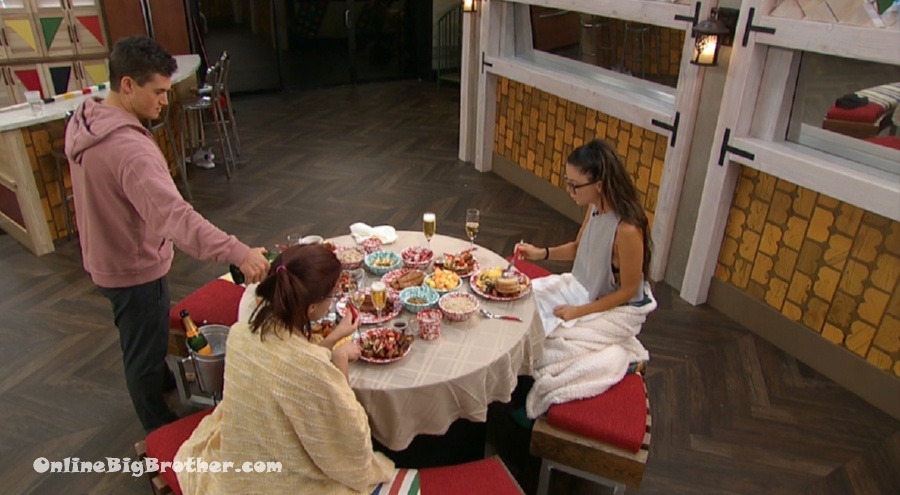 They start talking about past events. Of Course, Christie comes up and how she would say "I manifest it" They tell Nicole all the things Christie agreed to the week Sis was evicted.
Nicole says she had no idea about Sis' opinion of her.
N – I respect Jack a lot because he didn't blow smoke (ZOMGS)
Nicole explains that when Jack was on the block he never offered her anything to stay. SHe respects that instead of him feeding her Bull sh1t.
N – He was a straight shooter about it so I don't really know what he thought of me
Jackson thinks that the second competition will be Tomorrow.
They also speculate that tomorrow will be special visitor and part 2 competition will be Monday.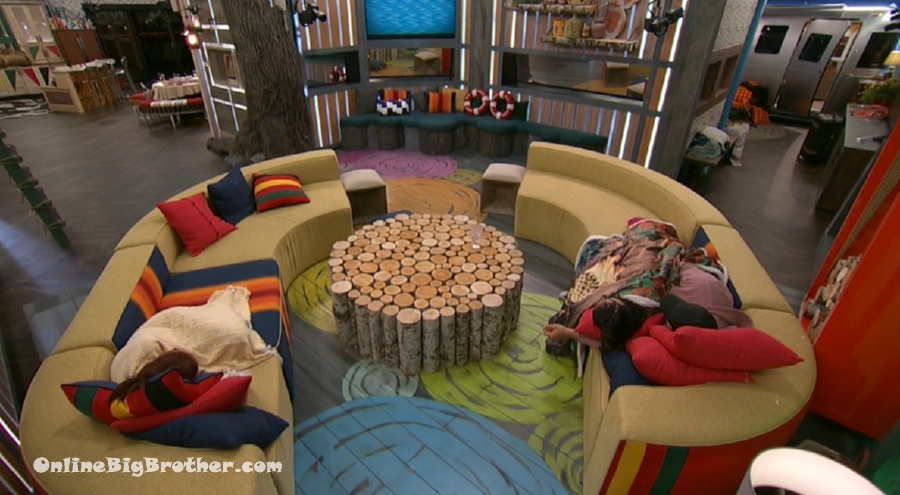 11:00 pm Snuggling and Chit chat
J – 5 days
N – it's 6 .. 5 and 3/4ths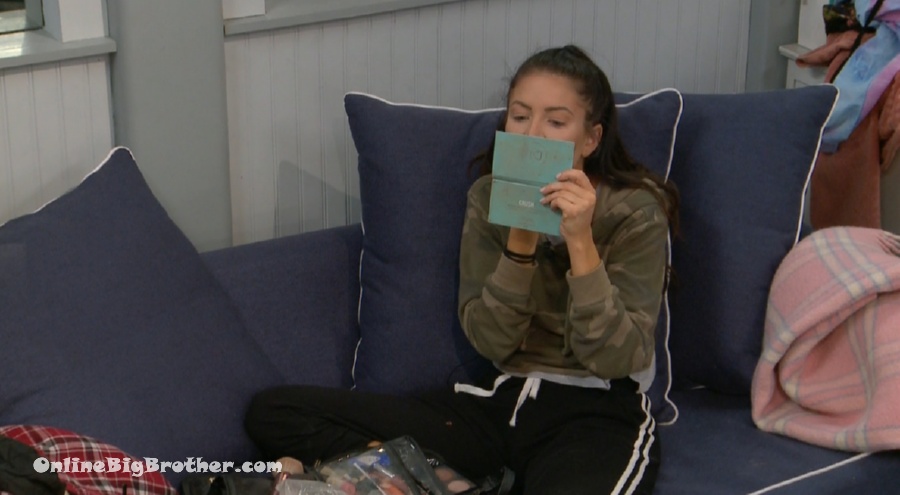 11:41 pm 89.3% of Holly this season
12:00 – 1:30 pm Pound Puppies
12:48 pm Feeds come on for about 15 minutes. They got to see videos from home. Holly talks about seeing some dogs ones called Levi
12:36 pm Jackson video brought some emotions. He cries but hides it under his hat. Says I'm sorry momma.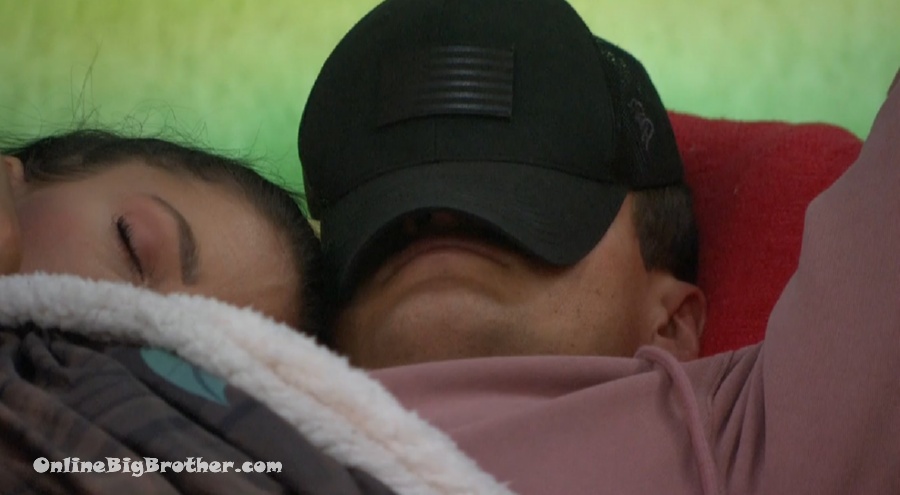 1:33 pm Zzzzzzzz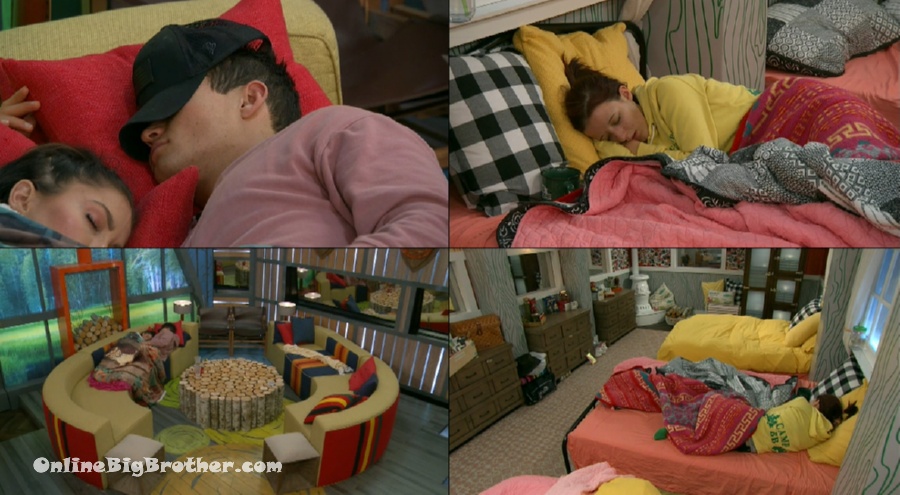 2:51 pm zzzzzz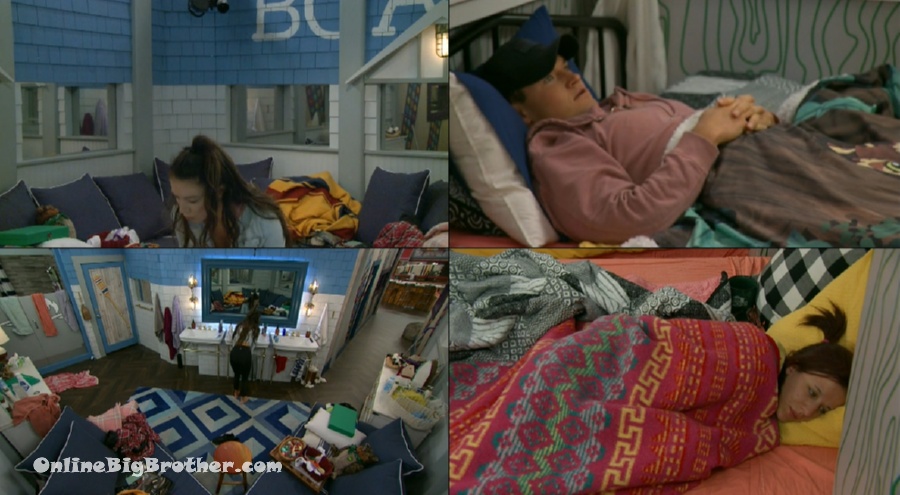 4:30 pm Jackson suggests to Nicole they make the Curry and Chicken.
J – if you want some I would be happy to make some for you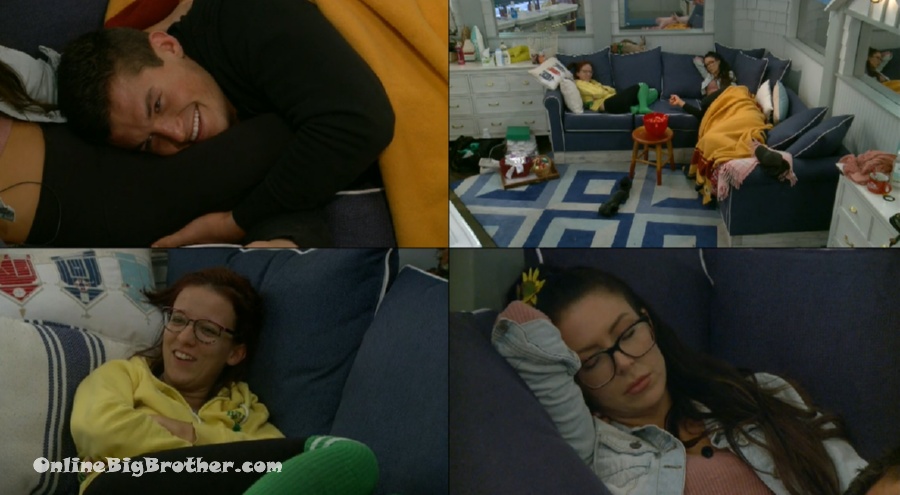 6:51 pm Drinking Kraken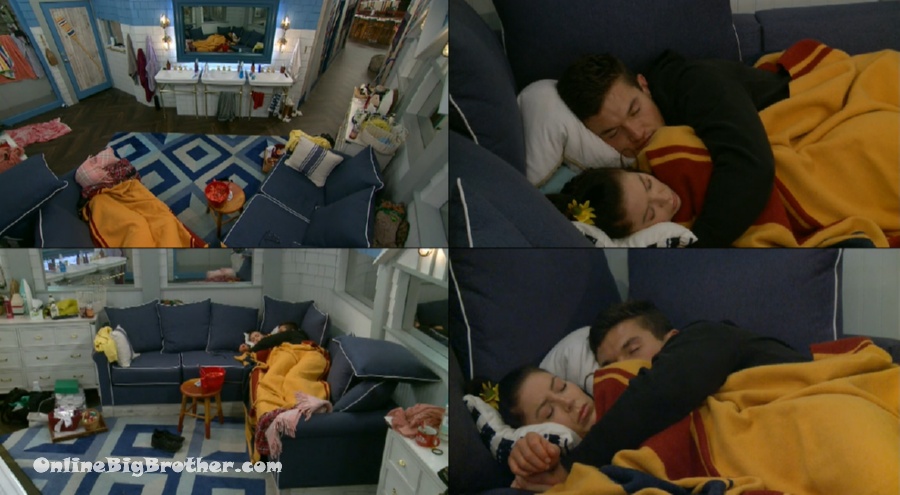 7:50 pm
5pm – 5:20pm
The camera operators are getting bored.
5:50pm
Nicole, Holly and Jackson play card games in the bathroom.
7:10pm – 7:55pm
The final 3 are all laying / sleeping on bathroom. couches.
7:56pm Jackson's playing cards.
8pm – 9:05pm Holly cooking. Jackson and Nicole playing chess. Jackson heads down to help cook.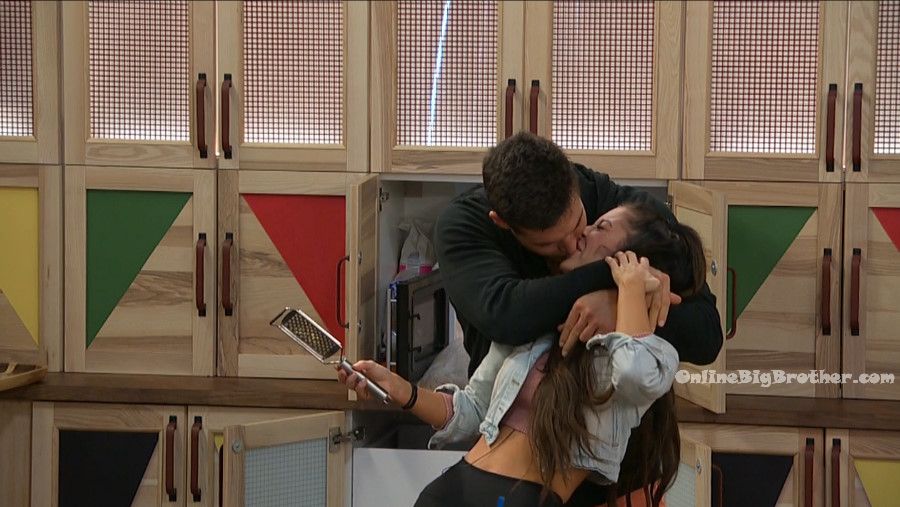 9:13pm They sit down to eat and cheers to being final 3. They reminisce about past events of the season.

10:22pm 11pm
The final 3 in the living room. Nicole – I was just saying to the cameras today.. I am the sole survivor from the RV. Michie is the sole survivor from the target room. And you the sole survivor of the backyard room. We were all from the first group. Its amazing!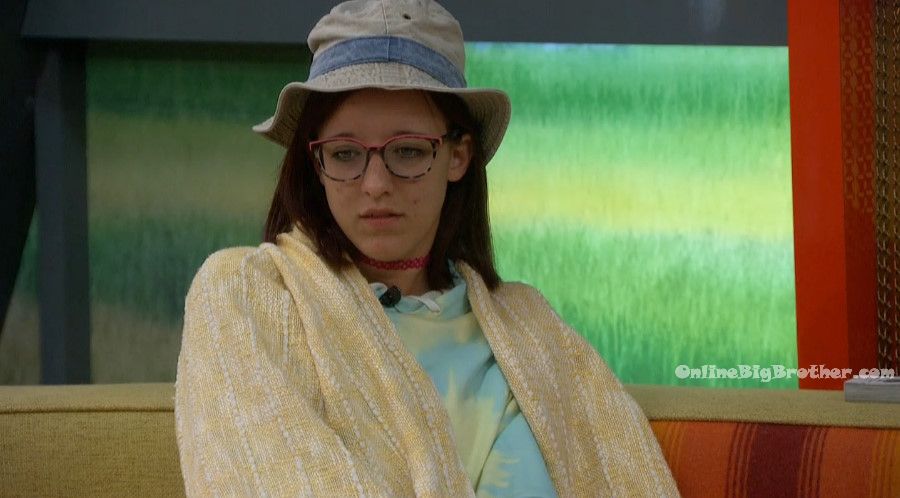 11:50pm Jackson playing solitaire. Holly's in the diary room. Nicole is sleeping.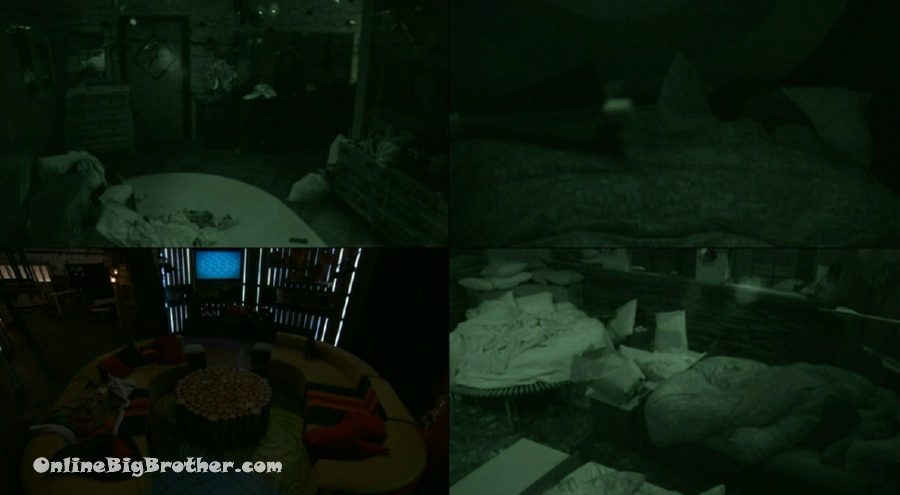 6:11 am ZZZZZZZZZZZZZZZZZZZZZZZZZZZ
Noon Feeds on fire until HOH part 2.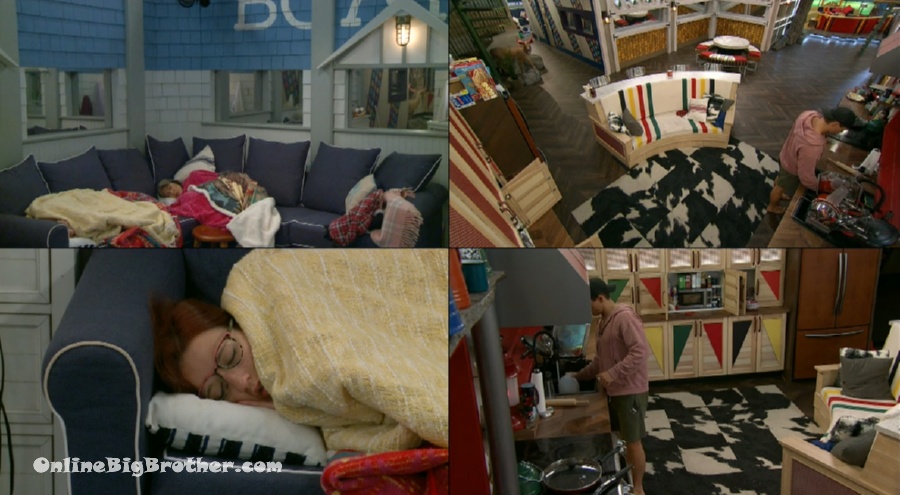 1:20 pm
2:58pm The final 3 are still waiting around for the HOH part 2 to start.

4:53pm – 5:12pm The house guests are doing their tie dye tshirts & socks. Nicole was tired of waiting for the HOH comp.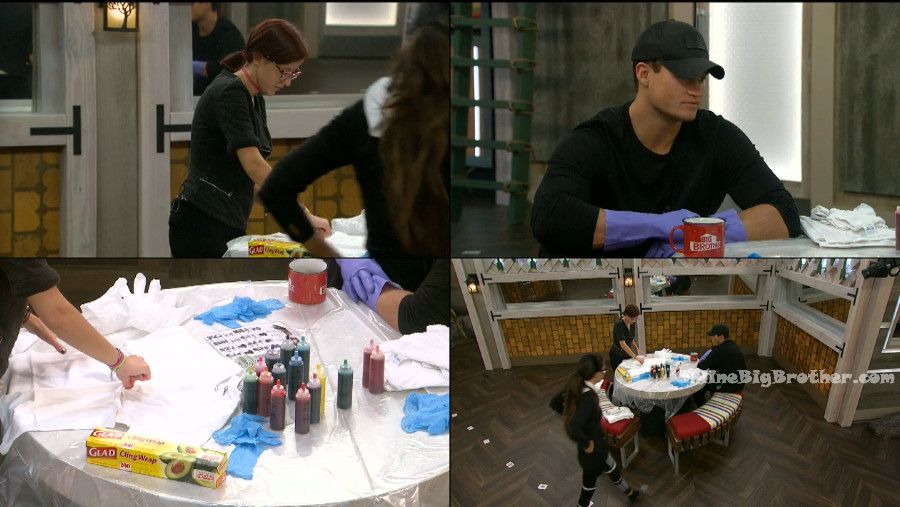 6:35pm Still no HOH comp yet
6:44pm Big Brother blocks the feeds. Part 2 of the HOH competition has started..
8:55pm Nothing yet..
9:53pm The feeds are still blocked..
For good times
Jackson pissing #BB21 pic.twitter.com/zcFBf4TE7F

— OnlineBigBrother.com (@bigbspoilers) July 26, 2019