HOH Part 1: Jackson Vs Holly Vs Nicole
Part 1 Winner: JACKSON
HOH Part 2: Holly Vs Nicole
Part 2 Winner: ?
HOH Part 3: Jackson Vs Part 2 Winner
Part 3 Winner: ?
Grab your live feeds —-> BB21 Live Feeds Subscription Link
Rank your houseguests —-> Big Brother 21 Ranking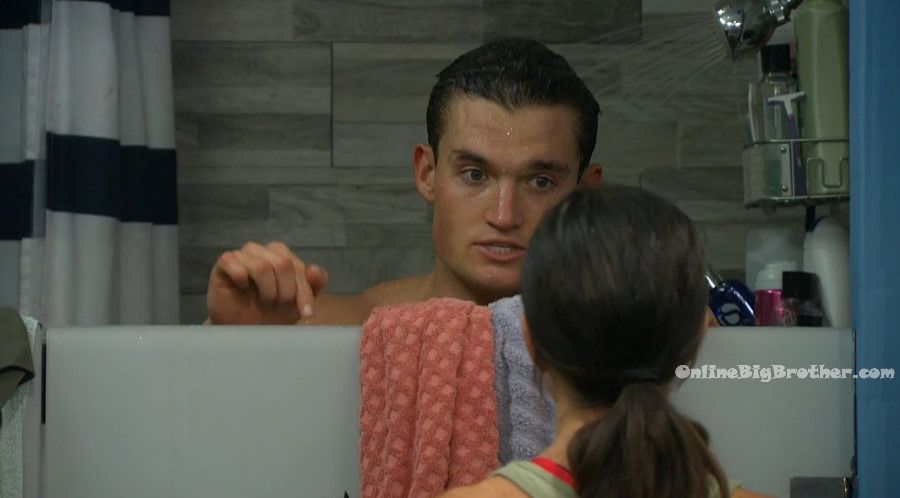 9:40pm – 10:08pm The live feeds return to Jackson in the bathroom showering. Holly joins him in the bathroom. Jackson – that puzzle was really hard. Holly – so hard. They talk about the competition. Holly talks about a squishy rock by the treasure chest that she used to jump up on to get back onto the platform. Jackson – I didn't know. I was jumping up without it the hole time! I'm an idiot! That was exhausting. That was hard.. 25 trips. Holly – That was a full body workout! That was a really fun comp! Like that is a comp. That's the kind I want to compete. Physical, mental, strategy. Jackson – the next one (HOH part 2) will be physical. The last one will be mental. Holly – if its mental.. Jackson – its not, stop saying that. Holly – I know.. I just make a face. Jackson – stop! You need to stop doubting for you and for us. Holly – I know. I want to prove to people that I deserve to be here. Because there are probably a lot that think I don't. Jackson – I disagree. Holly – just my worry. I am trying. That was a fun comp. Jackson – I feel like a piece of sh*t. Holly – don't! Don't let me win things.. we're competitors. Jackson – its also strategy. Holly – I know but we don't know what is coming. Jackson – what was it called? Holly – Raiders of the.. Memory is not my forte. Holly – day 1… the very first two people I saw were you and Nicole. I think that is weird .. of 16!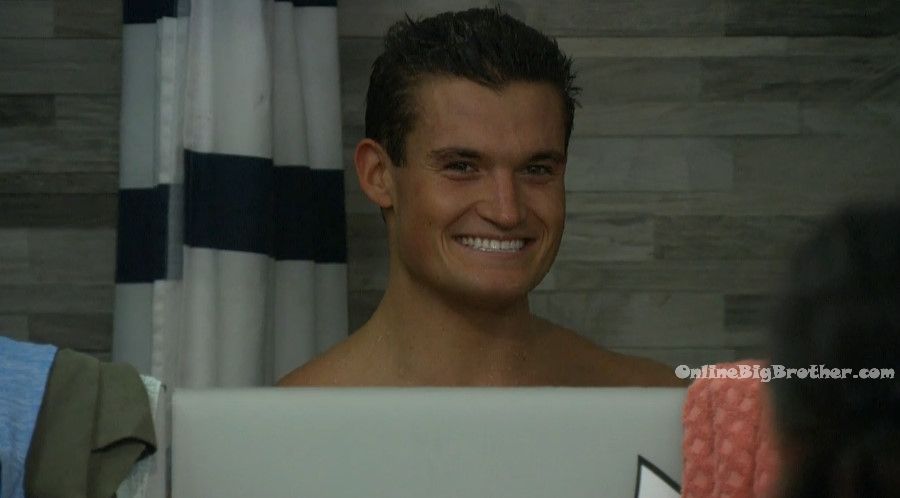 Nicole heads into the storage room to get painkillers. She sings – Oh I really hurt myself because I'm an idiot! I'm an idiot! Nicole heads to the bedroom. Nicole – Tis but a game. A game that Nicole is not very good at. That was embarrassing. Nicole climbs into bed and lays in silence. Nicole – America, Nicole is disgusted with herself. That wasn't my comp! That's for sure! Tis but a game! I am disgusted with myself! Holly – I really wanted to beat that f**ker! I really wanted to beat that guy.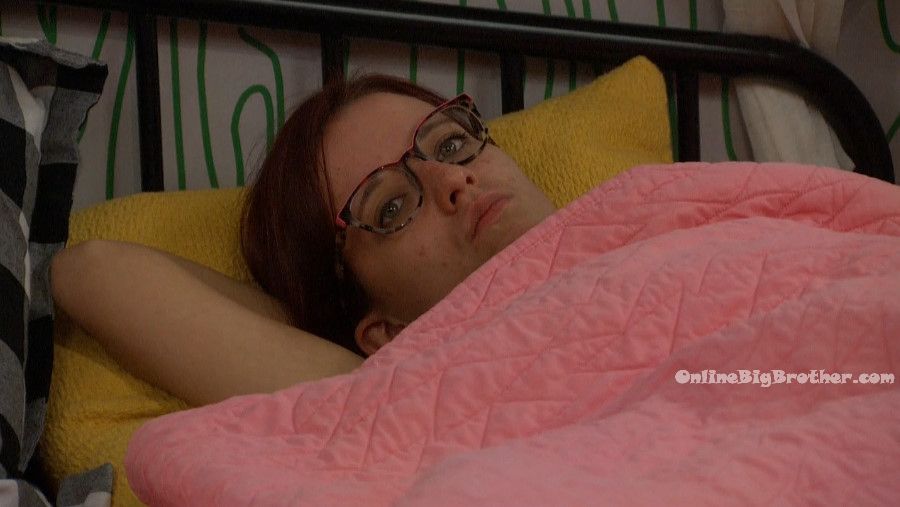 10:10pm Bathroom. Jackson and Holly.
Jackson – we need to make sure she (Nicole) is okay. She is very upset about feeling like a third wheel. Holly – I know. That's why I let you kind of do your own thing too. You guys can do your own thing. And she and I have been doing girly, goofy sh*t. Jackson – we've got a job to do. You need to bring up a win on this one. Holly – I know. Jackson – then we're good. Holly – I know, I am going to try my damnedest. Just hope its one like today. I am surprised we both finished our puzzle. Jackson – I finished mine first. I'm not as bad at puzzles as people think. I was a f**king hard puzzle! Holly – that was so hard! Jackson – that was the best all around competition. Usually the puzzle pieces are so durable ..those weren't .. they said if you break one it might prevent you from finishing. Big Brother blocks the feeds. Jackson – You have to listen in this next comp! Holly – I know I try. I have such ADD. It will be more than just push a button. I have faith in you.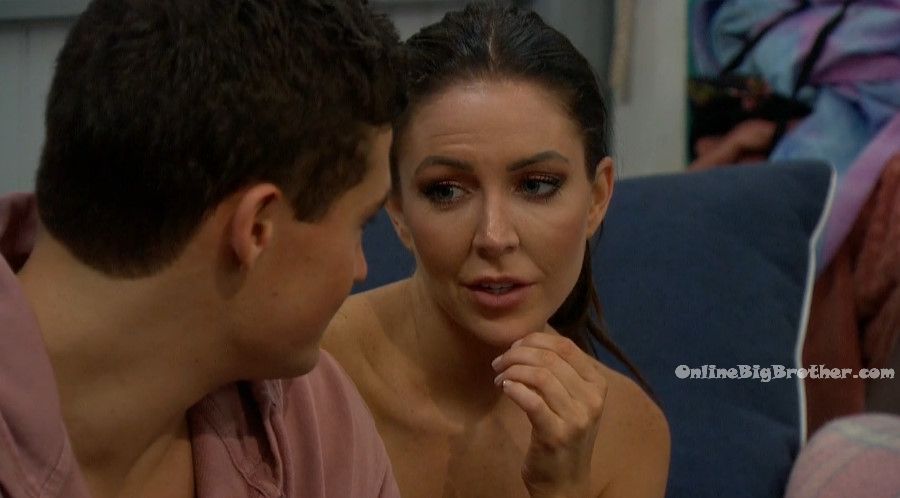 10:23pm – 11:28pm Bedroom. Jackson and Holly join Nicole. Nicole turns the other away and says she just needs time to herself. Jackson – You know I'm not going to leave you alone tonight. Nicole – No thank you. Jackson lays no Nicole and kisses her head. Nicole – that was laughable! Jackson – you know what was laughable!? Jackson says that his performance was laughable in some of the comps this season. Jackson tells her they will give her space. I don't not want you to feel like you're alone. Please come out when you're ready. Nicole – I just don't want to be that person in final 3 that people are like oh god how did that person get there!? Holly – I have the exact same fears. Nicole – I am just disgusted with myself. They talk about the comp. Nicole – its a game and I am the least butt hurt person you'll probably ever meet in this game. And I am okay with the expectation that you guys are going to take each other. Don't pity me. Holly – I don't and I respect the hell out of you. First of all who knows how this week is going to play out. Nicole – just please consider me. If it was me making the decision who to take to final two I would consider both of you. Holly and Nicole reminisce about past events of the season.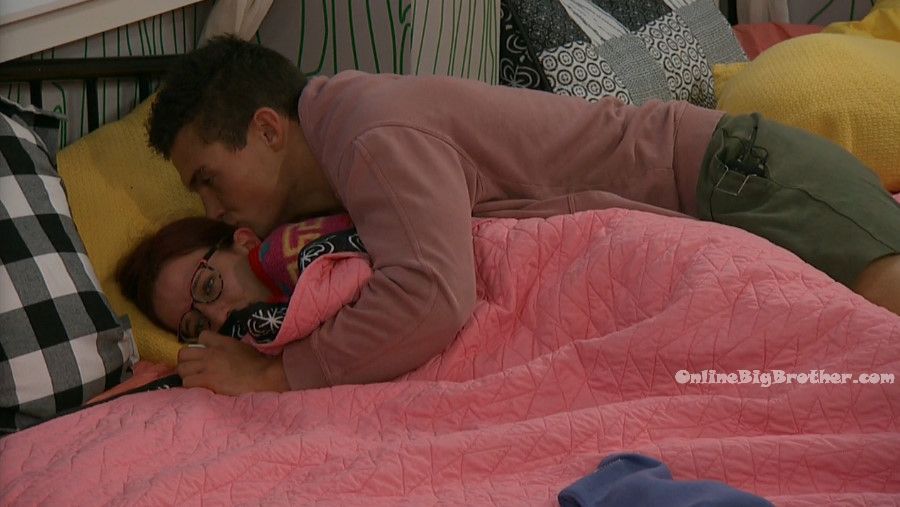 11:44pm Kitchen. Nicole and Jackson.
Jackson – what did you mean when you said you're good? I need to know. Nicole – You're good! Jackson – what the f**k does that mean Nicole!? Nicole – You're just very good at this game. Jackson – how so? Nicole – You have all your little duckies in a row and you sniped them one by one. And that was very well done. I am impressed by you. Jackson – give me some examples. Nicole – you have the plan and then you have the comp wins to back it up. Step one disarm a lot of the people in the house. How did you do it. Jackson – Sis. Nicole – yup.. then? Then? Jess? You disarmed everyone flawlessly. Jackson – not flawlessly. That wasn't the goal .. the goal was to just to survive. Nicole – you get rid of Sis .. you technically disarm Christie, Tommy and Nick. Jackson – and Holly but I had to do it. Nicole – then you get rid of Nick. That's disarming Tommy, you could argue its disarming me. And then you get rid of .. Jess and that's disarming Christie and Tommy. Then we get rid of Tommy. And then we get rid of Cliff. Jackson – you're making it look like it was a plan when it was not. Nicole – maybe it wasn't a plan but in hindsight 20/20 it looks really good. Jackson – it doesn't matter what's happened, its how people feel and that is what I feel will cost me. That is what could put me in second. Nicole – I am not going to blow smoke up your a$$.. it could very well cost you. Jackson – if I am up against either you of .. especially Holly .. I will lose. Nicole – I hear you. Jackson – and I look at you .. you won the double, you won BB comics, you got out Christie in the double. Jess loves you, Tommy loves you, Cliff loves you, Nick loves you, Christie respects you, Sis would respect you, Jack respects you. Kat doesn't but she's the only one.
3:35am Big Brother says Big Brother loves you. Nicole and Holly – AWWWW! Nicole – That's the first time he said that. We're final three. Holly – you got it once before right? Jackson – yeah when they were sobbing their eyes out. Nicole – guys, big brother loves us! Big Brother I love you more! Good night you guys. Holly & Jackson – good night! Nicole – top 3!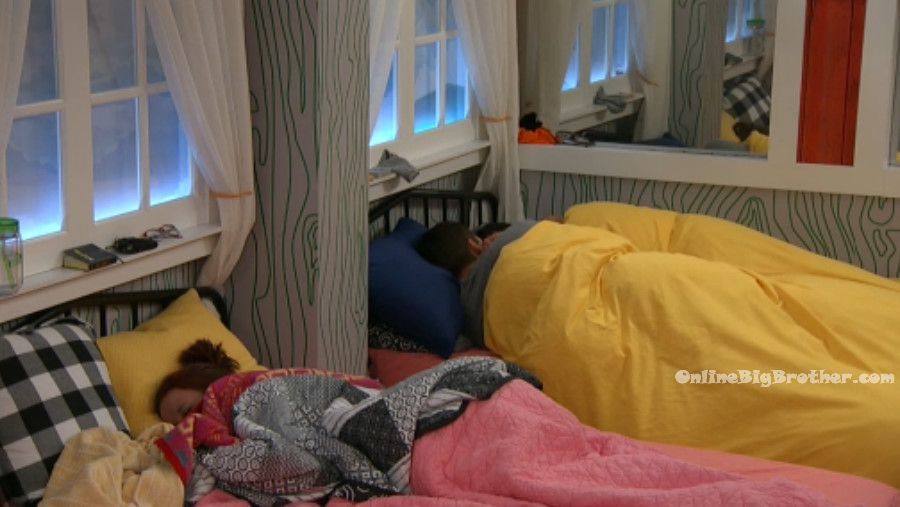 If you would like to leave a tip to show your appreciation for all the live feed spoilers this season, please use the link below.
Any amount is appreciated!
THANK YOU!