HOH Part 1: Jackson Vs Holly Vs Nicole
Part 1 Winner: JACKSON
HOH Part 2: Holly Vs Nicole
Part 2 Winner: Holly
HOH Part 3: Jackson Vs Holly
Part 3 Winner: ?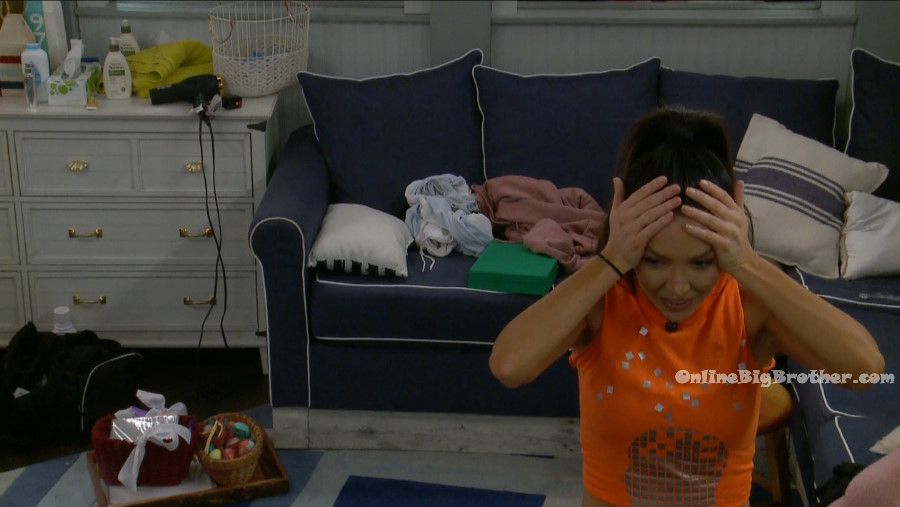 HOH Part 2 WINNER: HOLLY
6:44pm -10:29pmBig Brother blocked the live feeds for part 2 of the 3 part HOH competition.
Holly – I thought I did it in 12 minutes. Why did they make us wait forever?! I was like is Nicole taking 40 minutes.. what the heck!? Jackson – I'm going to be sick. Holly – they made me wait for an hour after I came in. Jackson – I am literally speechless. I am without speech. Holly – that was a hard comp. Jackson – everything happens for a reason. If we saw these two on paper, I guarantee you I would have said you should have won the first one and I should win this one. And I would have bombed that! Holly – do you think?! Jackson – I never would have gotten out. I am so proud of you. I need to go talk to her because I need to cover her. They stand up. Jackson – we're final two!!!!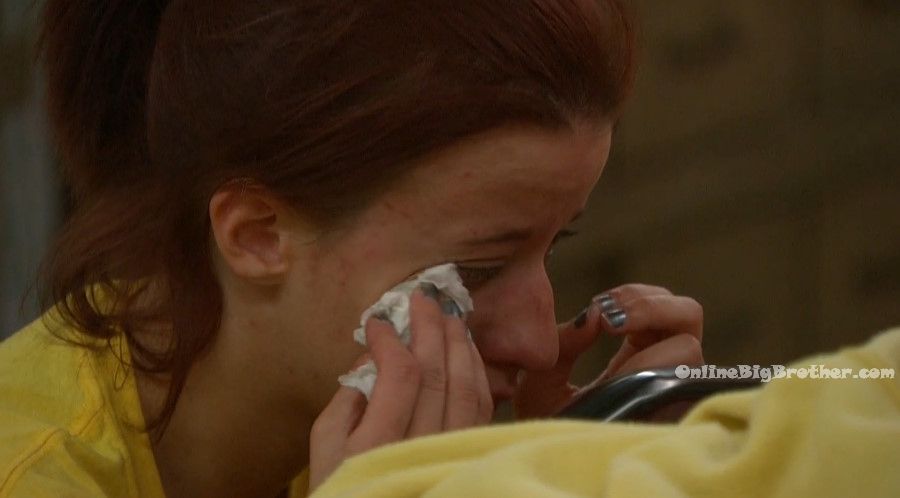 Nicole in the bedroom crying. Jackson comes to give Nicole a hug. Big Brother blocks the feeds.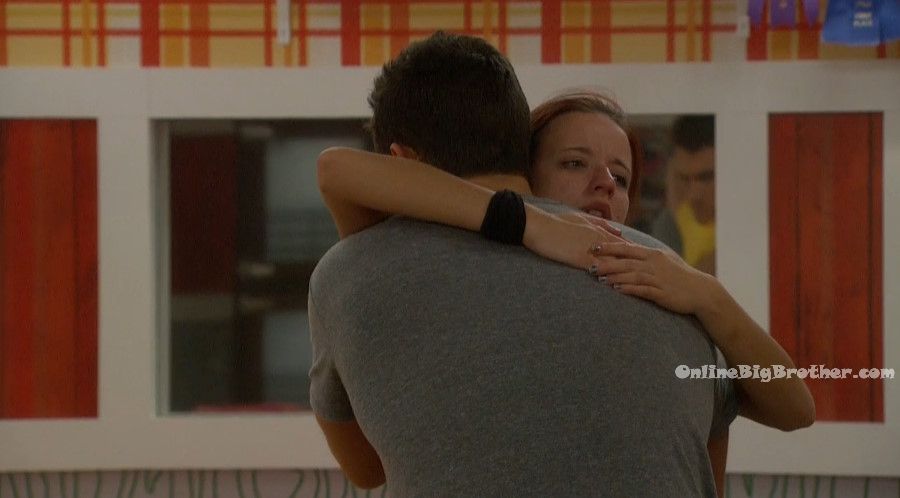 11:05pm The live feeds are still blocked..
11:09pm The live feeds return. Jackson – we have a 50% chance of winning half a million dollars. Holly – I know. I know. I am very aware. Jackson – you promise you're taking me if you win? Holly – OHHHHhhhh… how the tables have turned. Jackson – no just because you said that earlier and I thought it was kind of a given and then you said that. Holly – because you guys are so close and it made me nervous. Jackson – baby! Don't ever question that. Holly – I know. Jackson – we're walking out Mr & Mrs Smith! We made it to final 2! Holly – has a showmance ever done that?! Jackson shakes his head no. They hug. Jackson – you had a job to do and you CRUSHED IT! Holly – that's what I said right before I went out.
11:25pm Jackson – I am not blowing smoke, I would have lost that comp. You and I will never campaign against each other … only as the final 2 to the jury. We will never be a part of jury. Holly, you and I are both guaranteed 50 grand! 60 for me. Holly – yeah f**ker! Jackson – we are final two! ARE YOU SERIOUS! The second part was most important and you did it. The first part regardless one of us were going to win it. No offence to Nicole. Holly – the second I saw this one I was like damnit Jackson, I should have won the first one. Jackson – Holly you KILLED IT! BABY GIRL! I am so impressed! The pride I have to you is unmatched. Jackson – we never had a final two deal. Holly – I kind of don't want to just to say we didn't. You had a final two (Jack) and I did (Sis). You just better not win and pick her. Jackson – why are you!? This happens with my .. every single one .. they accuse me of something they are doing. Are you going to take her?! Holly – No, no, no, no, no .. and this is not a final two. They shake hands. Holly – its just scary. We are going to be standing on the scales together. Jackson – I can't believe it. Holly – when we walk out can we walk out.. Jackson – hand in hand. Holly – regardless of which one. Jackson – yes.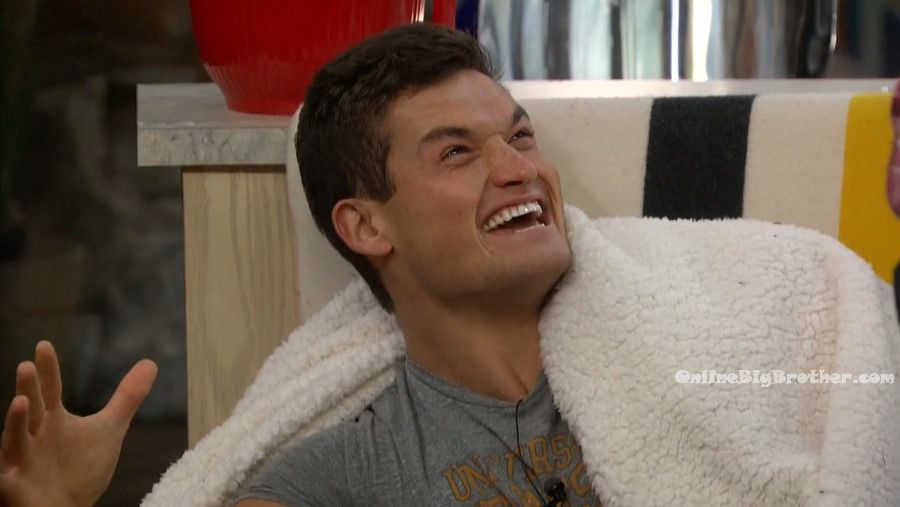 11:40pm – 12am Holly – he (Cliff) said he wouldn't. Jackson – he (Cliff) said if you're up there he is going to vote for you because you kept your word and I stabbed him in the back. Holly – no, babe. He said he's not going to do that. Jackson – but even then it will affect his vote. It will affect Nicole's too. Holly – I don't think it will. Jackson – even though we both had the intentions of doing the same thing, I was the one that did it. Holly – I really don't think he will. Jackson – I think the last weeks will cost me half a million. Holly – I don't think it will. You and Cliff are the same only 30 years a part. He made a point of saying he was going to vote on game. Jackson – you had a job to do and you did it! Christie is going to be like I f**king knew it! Holly – she pointed at us and said you guys are going to win. Everyone says don't get in a showmance, it will ruin your game. Jackson – you kept me so psychologically sane. You picked me up when I couldn't compete. You had my back. You were there for me. I don't think I would have been able to do anything as close to win these comps if I didn't have you by my side. And I wouldn't have been safe the weeks that I couldn't compete and I wouldn't have the relationships with other people if I didn't have you by my side. We are looking at the person that is going to win this game. Can we get a lock down?! (Oh that poor stool!) I am bursting with pride! I can't believe I am walking out with my best friend in the house. Jackson – that's it, its out of our hands.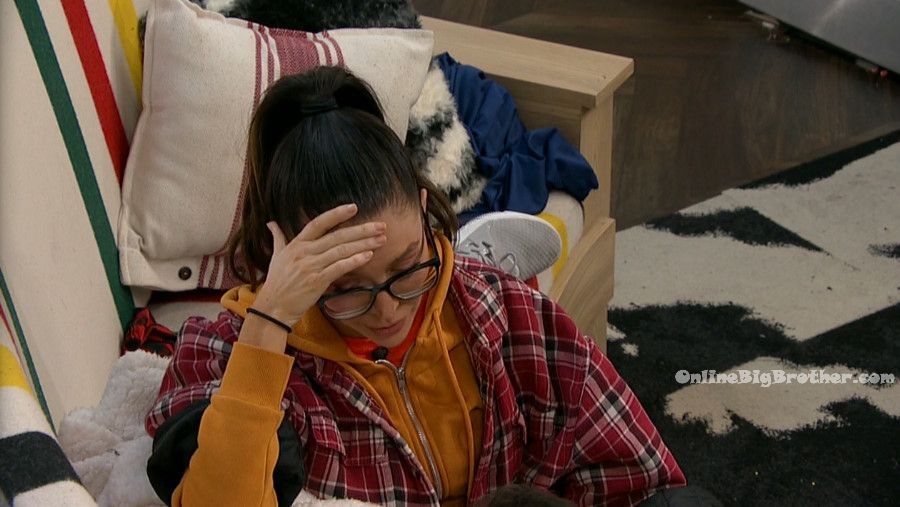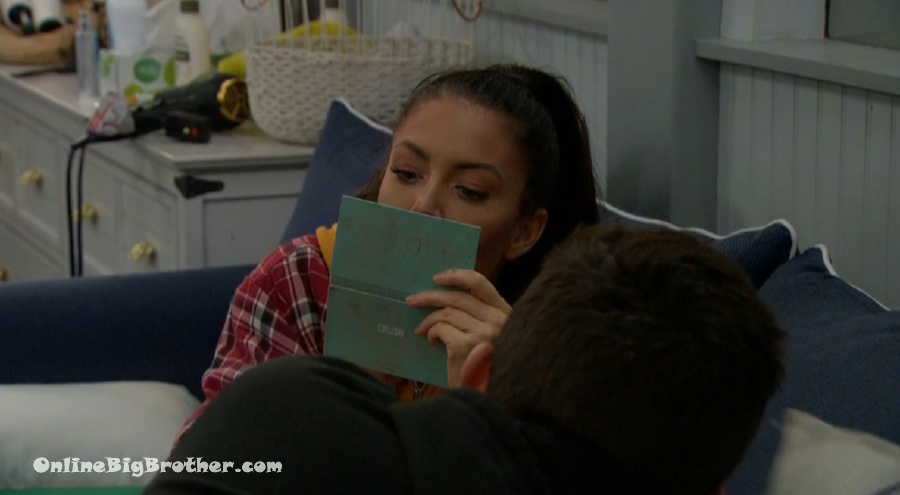 1:20 am Holly and Jackson
Jackson going on about never going against Holly once, "I'm so proud of you"
They mention how Salty the jury will be "Chrisite, Tommy and Sis"
Jackson – I'm so proud of you.
Jackson going on about a showmance never making final 2 before.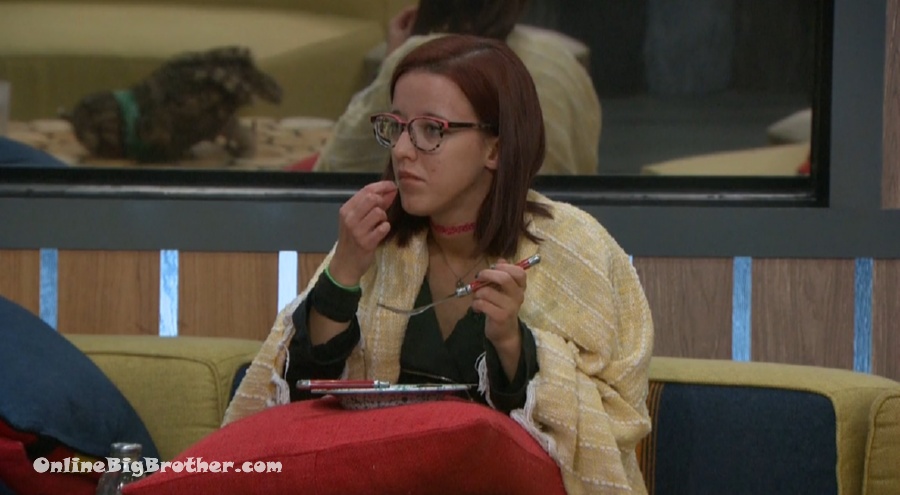 2:30 am Nicole and Jakcson
Nicole says she has a nice speech perpraed if she had won it.
Jackson – I'm proud of you
3:05 am
Nicole crying. Jackson goes to comfort her .
N – I've worked so hard. that's what sucks. I just think of everything the whole process to get here.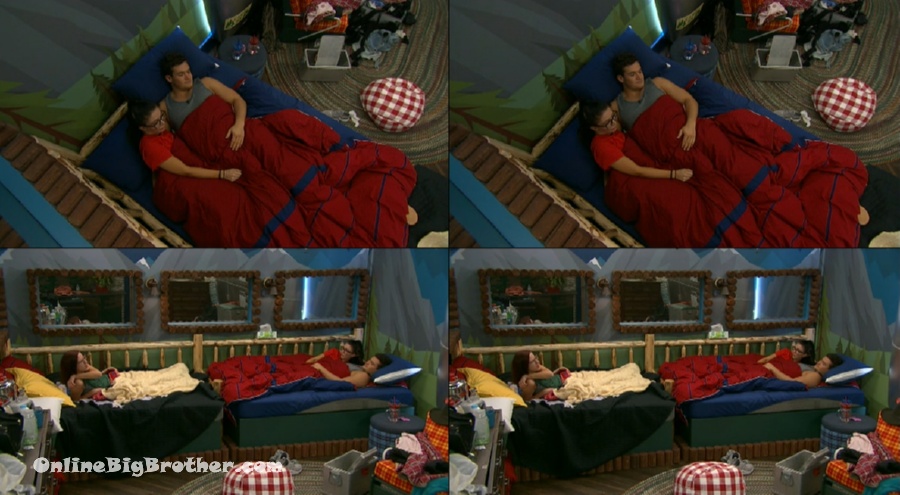 4:20 am Chit chat..
N – I miss the hammock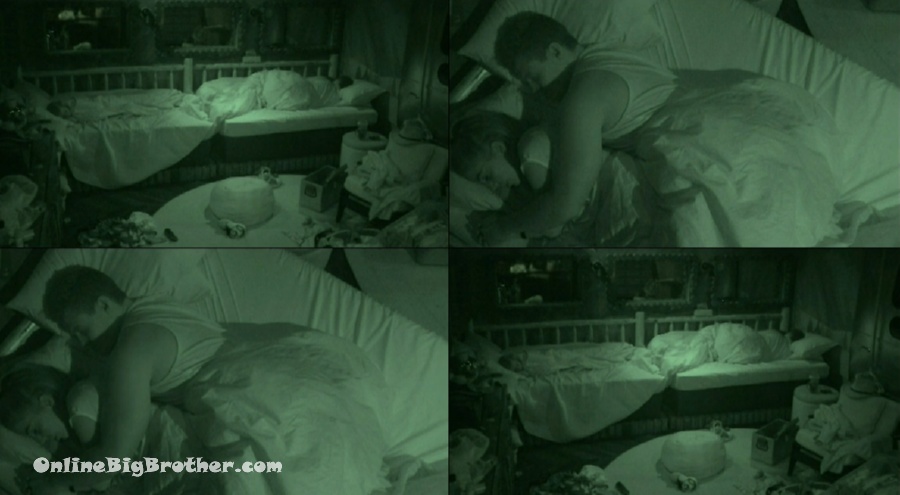 4:30 am LIghts off.
5:30 am Zzzzzzzzzzzz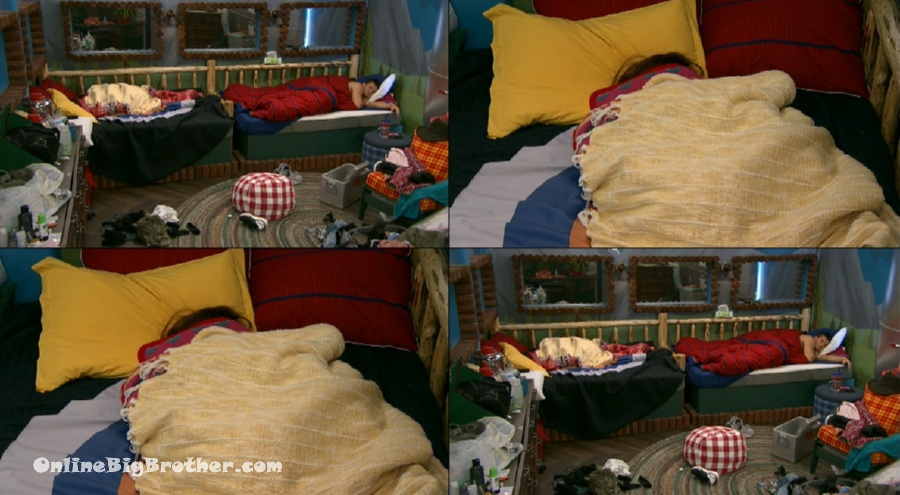 11:00am – 4:10pm ZZZzzzzzz
4:20pm – 5pm Holly makes them all breakfast for dinner. Jackson – you know what I can't wait for .. in 4 days we can say whatever we want to each other. Holly – and everyone else has been talking and saying whatever they want for a long time. Nicole – I am not going to lie I woke up very disgusted replaying the footage from the last few and the footage of yesterday…. and I am fine again. Regardless, I know that I will be okay. Its not that my family won't be okay.. its that my family is going to think that I am not okay… so they're not going to be okay. Jackson – that's how my parents are. Nicole – Especially if America is like you should have kept Tommy. You did it to yourself. I just don't want to look stupid. Nothing against you guys.. just from a game stand point. Holly – I have that same fear people thinking that I'm an idiot for a lot of reasons. Jackson – insert me. Holly – I have fears of that same scenario with Tommy and me being the villain .. like why why f**k is she still here. Nicole – I'm worried about people being like how do you feel about losing to them two. I would be like fine, they're good people. They head out into the backyard.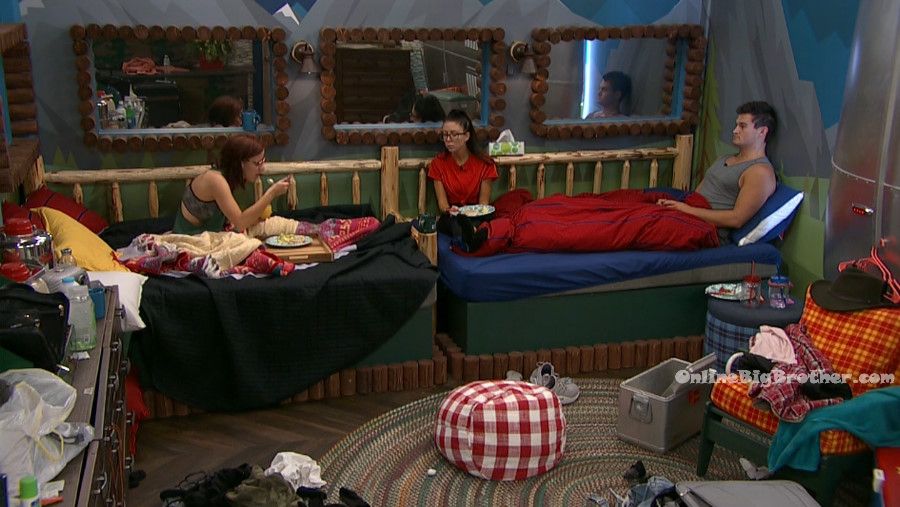 5:15pm – 6pm They talk about giving each other their phone numbers once they get out and can rip their mics off. Holly heads inside. Nicole and Jackson talk about what the final HOH questions are like regarding the jurors.
6pm Jackson tells Holly that he wants to watch the season back with her and only her. You were my person and I want to watch it back with you.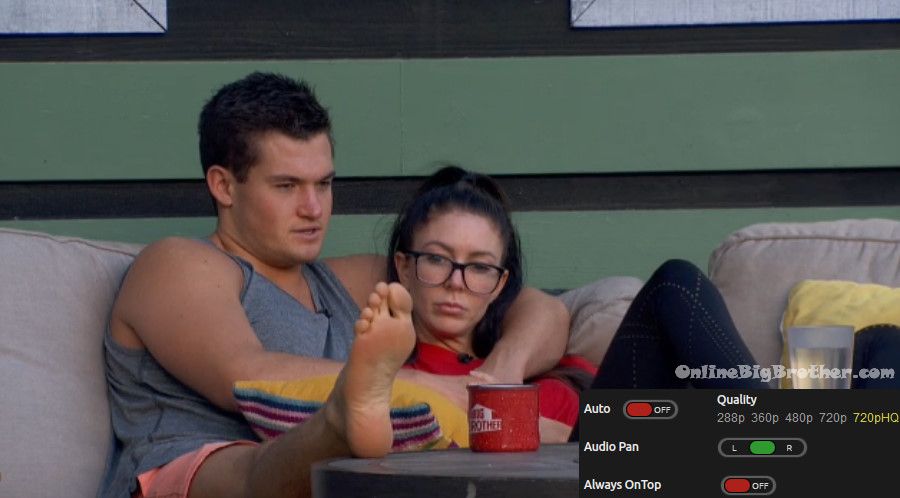 Nicole, Holly and Jackson hang out on the hammock chatting. Nicole – regardless of how this goes this week if I am the last juror I am going to walk out and Julie is going to be like how do you feel and I'm going to be like I am so mad at them. Well how do you feel? I love them. That's what's frustrating.. that conflicting. I f**ked something up along the way! They reminisce about past events of the season.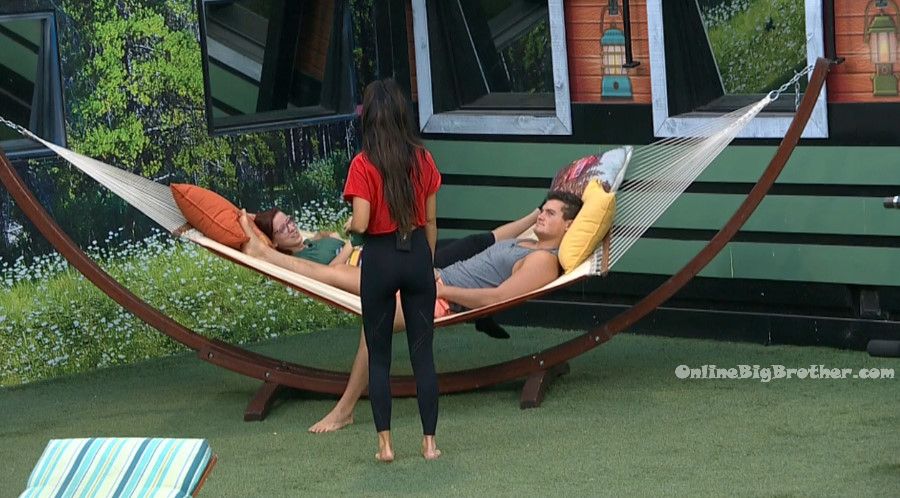 8:15pm Nicole and Holly play pool. Jackson tells big brother that all the lights aren't on in the backyard. Nicole – what the hell Michie!? (They don't want big brother to shut the backyard down to fix it.)

10pm Jackson is working out and drinking champagne.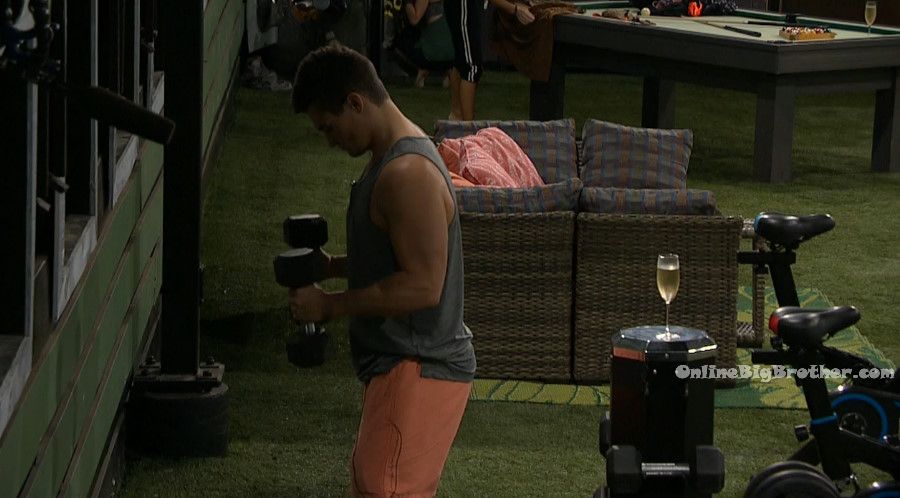 10:35pm – 11:15pm Backyard. Jackson and Holly. Jackson – she's already campaigned to me a couple times. Holly – oh really?! When?! Jackson – I don't know what she said to you but she said that she will literally campaign for me to win if she is sitting next to me. Holly – what?! Jackson – which is a tough argument. Holly moves back. Jackson – I am kidding she didn't campaign to me. Holly – stop that. You can't do that kind of stuff now. Its not funny. Nicole joins them and they chat about past events of the season. Jackson heads inside. Holly talks to Nicole about a a friend the attempted to commit suicide.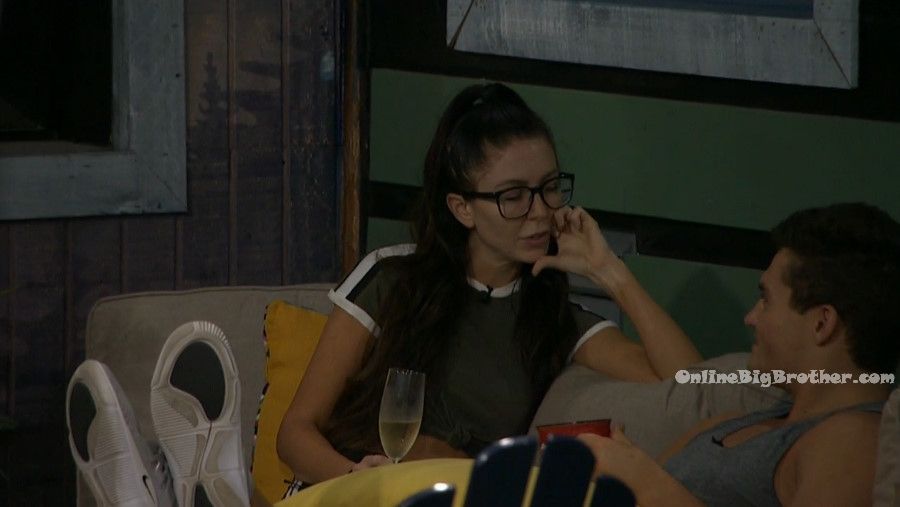 If you would like to leave a tip to show your appreciation for all the live feed spoilers this season, please use the link below.
Any amount is appreciated!
THANK YOU!