Head of Household Winner – Jackson
Have note are:
Nominations are: Jess and Christie Cliff
Power of Veto Players are: Jackson, Christie, Jess, Nicole, Cliff, Tommy
Power of Veto holder: Tommy
Power of Veto Ceremony: Tommy used the Veto on Christie. Jackson put Cliff up as the replacement.
Grab your live feeds —-> BB21 Live Feeds Subscription Link
Rank your houseguests —-> Big Brother 21 Ranking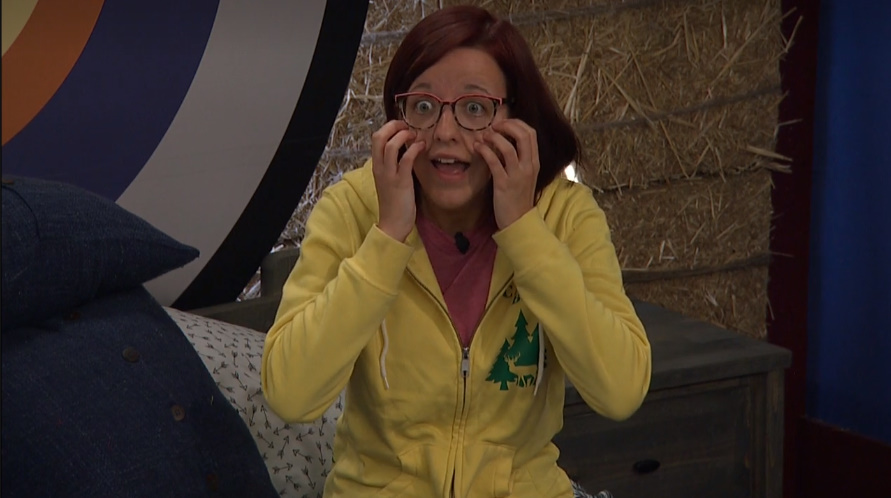 2:40 pm Nicole and Cliff
N – I am very scared moving forward you're my guy and that's why the way it's always been
C – I appreciate it. Tomorrow you're vote and Holly's vote
Nicole brings up talking to Christie and she was told "it's all up to you Nicole you decide"
Nicole confirms with Cliff she's with him the entire game and she's not changing now.
C – I've always said you gotta vote the way your game needs it
N – I don't know what's happening next
C – say this is a double eviction and say you win which way do you want to go?
N – I was thinking yes, Michie and Holly are HUGE competitors I can put them up BUT I think Christie and Tommy are capable of a lot to
C – how I know
N – put up CHristie and Tommy and if one of them come down
C – that's what I thought in the end if you win it whichever way you go I'll support it.
N – what do you think is the smartest path? I know they are HUGE HUGE threats.
C – All four are dangerous there's a part of me that really hopes that Tommy and Christie will go that way Michie and Holly would go that way and we're safe
N – it's a no brainer moving forward with you
C – I'm going to try for the HOH tomorrow because I feel like I can't not try
They talk about putting up a pair if they win HOH.
C- I'm going to think about it some more
Nicole speculates that Tommy might put up Cliff and Michie "My biggest fear is Tommy winning"
C – we gotta win Comps and have a little luck on our side.
C – if you and I make it to final 6 tomorrow that means you will make it to final 5 at an absolute minimum probably more than that. I really think if it's 2 and 2 and you. They will go at each other.
Cliff says both duos will want Nicole to go final 3 with them if not final 2.
Nicole – oh my god my stomach (see image)
N – I want you there with me c'mon Cliff.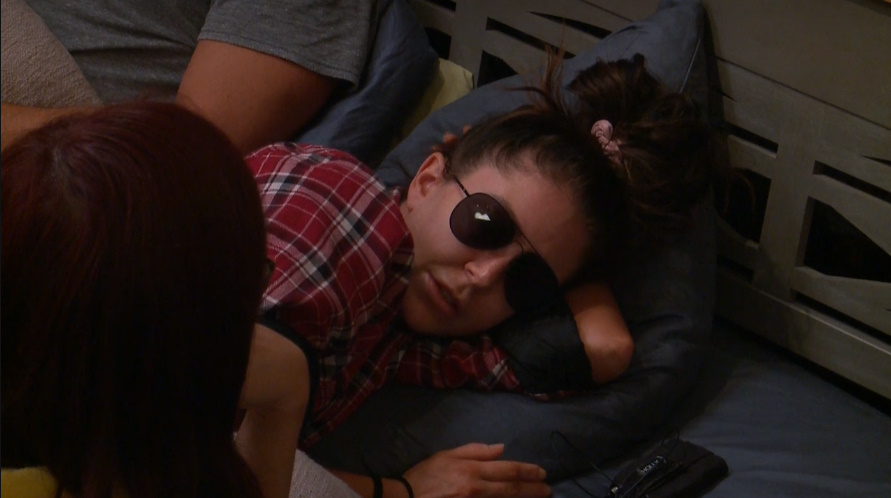 3:20 pm Nicole, Jackson, and Holly (Apparently Holly is sick)
Jackson says he doesn't know if Christie/Tommy what to win HOh and if they do what will happen, "I really think what they want to do is get you to take the shot at us because they don't… "
Jackson – as long as you know I am not coming after you and Cliff I will not vote against Cliff. I'm not going to let him walk out this week. We have two votes.
Holly and Nicole make comments about how C/T is talking about how Cliff should go.
J – I really don't think Tommy and Christie have it in them I think what they want since I'm not playing they want to throw it so they can both play in the next one. Let you or Cliff win get into your ear and have you take a shot at us. I really can see it because they've done it in the past.
Jackson beings up the deal C/T had before the slip n slide "the plan was to throw it to have you and Cliff take the shot"
N – why do you think the information got to you I knew it was a setup. We'll include Nicole and Cliff make them feel part of something
J – they are in our ear (C/T) take things with a grain of salt. what they are saying to you. They are saying the same thing to us about you and Cliff
Holly – I don't expect that shit from Tommy. Christie, Yes.
N – much more from Christie, Tommy he's vague, scared, very general, neutral
J – let's do the math. It's them two very you, Holly and Cliff. If you win take a shot (at Michie/Holly)
That leaves; Tommy, Christie, Cliff to play in the HOH "and one of us remaining. Because one of us will be gone and you can't compete in the HOH"
J – it went from 4 V 2 to 2 V 2 and both of them get to compete in the next HOH. So what they are doing are setting themselves for success so they can both compete in the HOH final 4. Have one of y'all take the Shot and not compete in the HOH and pick you off
Holly – yeah
Jackson says C/T are vocalizing they want Cliff out they want Jackson/Holly out and they want Nicole for Final 3.
J – with all due respect they think they can beat you.
Nicole – I know
Holly – or they might want to take Jess to final 3
Jackson – I know who they don't want to take to Final 3 me, Holly or Cliff. I know that much
Nicole brings up Jessica telling her she's the one person in the house she can't trust.
N – she started crying saying I can't trust people and that person is you. I was like holy shit. So I was trying to talk her down from that. yesterday during her campaign she was like Nicole you've been the one person I can trust. I'm like WHAT.. I looked up at the camera. Three days ago I got a lecture about how I'm the worst person in this game.
Nicole is certain Christie and Tommy are in jess' ear. Jackson and Holly agree tell her C/T want Jess in the game so she will target Nicole and form a trio with C/T
Jackson – Jess would pick Christie over anyone
Jackson – Christie will pick Jess because she knows she can beat Jess
Holly – Jess is going to have such a wide awakening when she gets out of this house. (I really don't think Jess will understand anything)
J – Christie is manipulative
Holly – she's snake, she's been a snake
Jackson says if they had evicted Christie 2 weeks ago he wouldn't be here right now.
J – my loyalty is with you and Cliff..
Tommy joins them.
Holly talking about not feeling well, Getting chills then hot flashes.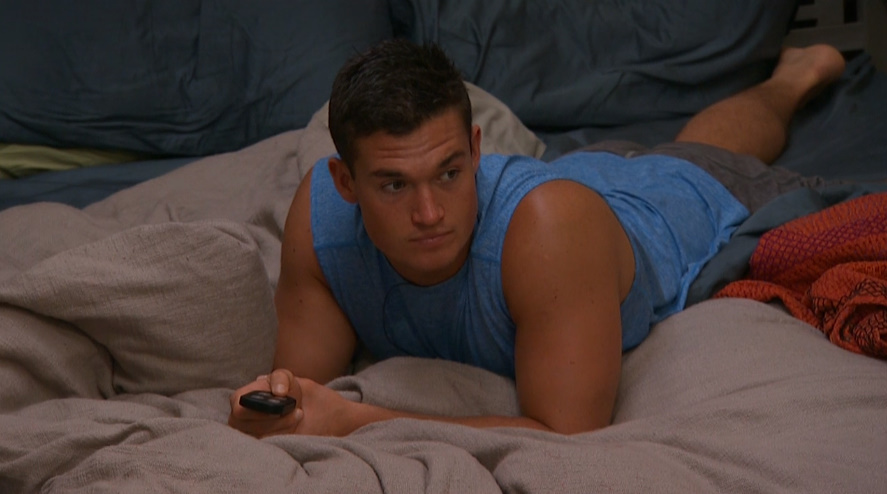 5:05 pm Jackson and Holly
Going on about how they've laid out the pairs.
Holly mentions how Christie has a hold on Jess there's no option to keep her, "I don't know how Christie gets a hold of so many people"
Jackson – neither do I
H – I will not understand that I do not get it. I don't see how people didn't see through Nick and I don't get why they don't see through Christie. I just don't get it
Holly says she did eventually respect Nick can't understand how Christie has everyone
J – Bamboozled
H – STILL
J – I truly don't think C/T know we have a final 4 with Cliff and Nicole
H – I don't think either
J – they are trying to beat us to Cliff and Nicole so it's them 4 vs us 2
J – either way it will be 4 v 2 in some fashion.
J – essentially it's me and you versus Tommy and Christie. Who gets Cliff and Nicole
H – If Cliff and Nicole go back on their word to us that would be really rotten.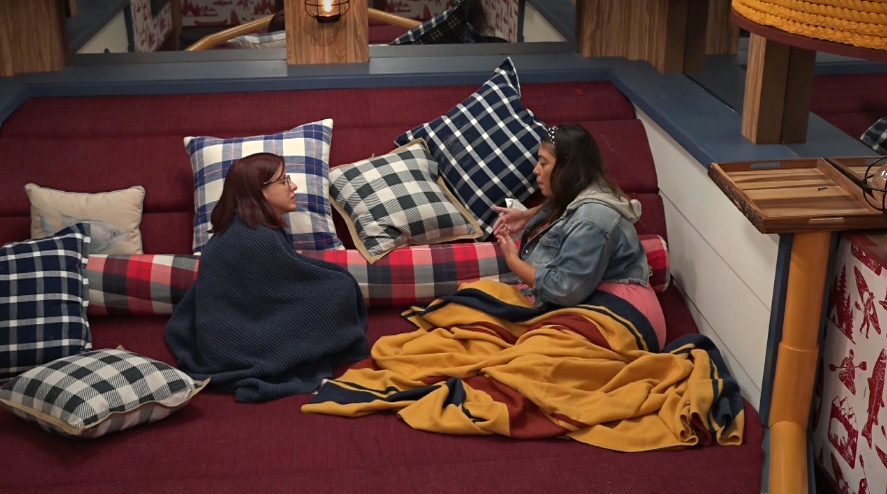 5:33 pm Jessica and Nicole
Jessica campaigning. Nobody wants to hear this. Here's a taste
Jess – I played a very impressive game in my eyes to myself.
Jess – it doesn't matter what other people think of my game and wheater or not I did good. I'm not a comp beast, I'm not good with Chess, I'm not good at checkers. I'm not a strategy person. I might not see the very very end and the very very beginning. That is not my strategy. I come in here THinking I'm going to do a hail marry and hallelujah and hope that the decision I make I Can live with the rest of my life.
jess – I believe and trust in my gut that is something I can offer somebody.. like,… because like that's who I am.. Like I don't want it to be a lonely number of one but like that's how I feel I've been playing but I haven't I haven't been playing this alone.
Jess – I'll give myself credit I don't suck but.. I don't know man I think the fact that Michie doesn't play next week. He's been playing off his smarts. He's a smart cookie. there's no way he's as dumb as he comes off to be.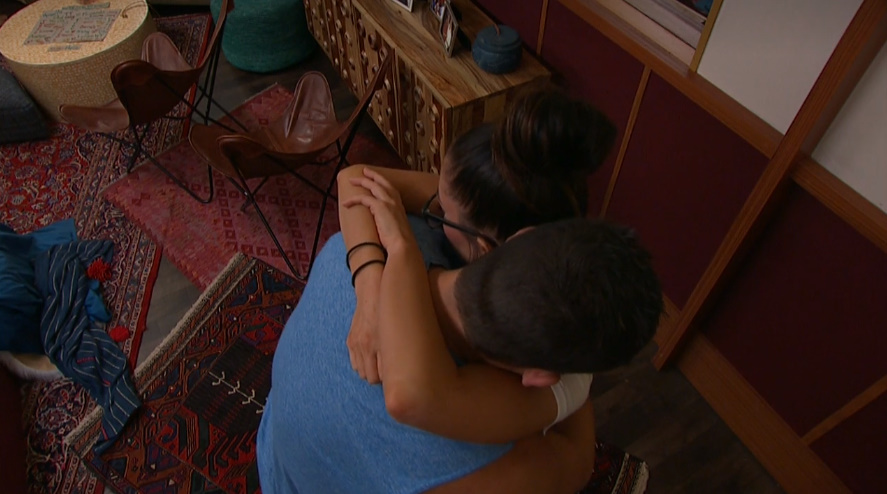 6:15 pm Holly and Jackson
J – they (c/T) are trying to do what we did. Me and Christie are so freaking similar. They're trying to set themselves up. If we can go along with it and make them think they are safe. If they feel safe with Cliff and Nicole. Throw it and let them take the shots. They don't know us four are planning on taking a shot at them.
H – I hope Nicole doesn't waver. She's done this from the beginning.
J – This week now more than ever we need her to stay true
H – She can single handly can screw 3 of our games.
H – SUcks because C/T have been playing on her heartstring. It's so inauthentic UGH! Just because they know she has a big heart.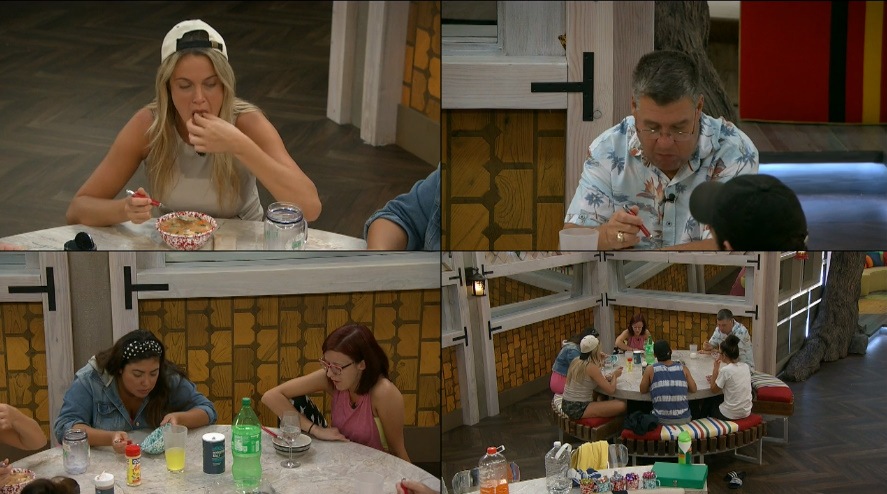 6:23 pm eating.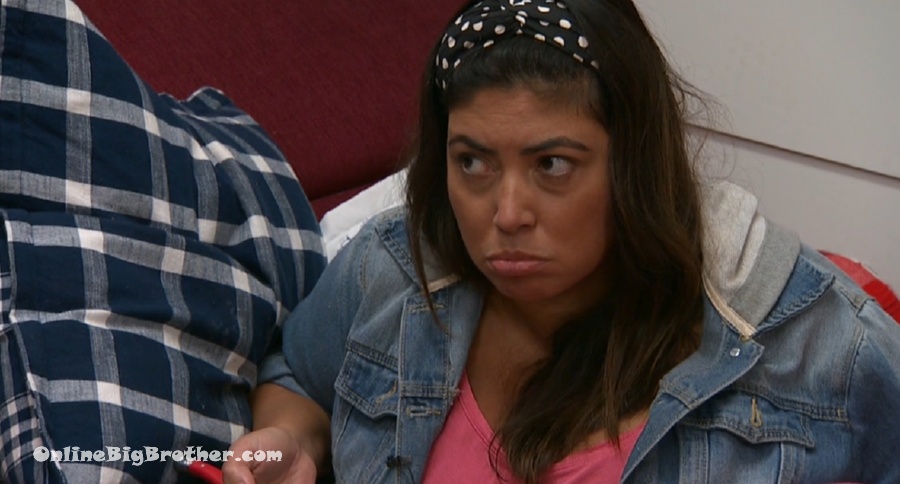 7:30 pm Jess and Christie.
Christie – one of them has to f*ing give. I think if one of them give. It will be unanimous (Nicole, Holly)
Christie says that Nicole is really weighing it out to keep Jess or Cliff.
Christie – seriously Holly play your own f*ing game vote the way you want to vote.
Christie says Nicole probably wants to talk to her and Tommy again before making her decision. "Nicole's smart. Nicole up here is more like us more than some of the other girls that have played this game"
Jess – I wish I had more of an appetite.. they're so good. I also remember I had a cookie
Christie says she's going to have more banana bread "And milk cause I am a savage" (HAHA)
OnlineBigBrother Donations
If you enjoy this site and the type of content we produce Please consider a donation.
Share it YO!!
Tweet