Head of Household Winner – Jackson
Have note are:
Nominations are: Jess and Christie Cliff
Power of Veto Players are: Jackson, Christie, Jess, Nicole, Cliff, Tommy
Power of Veto holder: Tommy
Power of Veto Ceremony: Tommy used the Veto on Christie. Jackson put Cliff up as the replacement.
Grab your live feeds —-> BB21 Live Feeds Subscription Link
Rank your houseguests —-> Big Brother 21 Ranking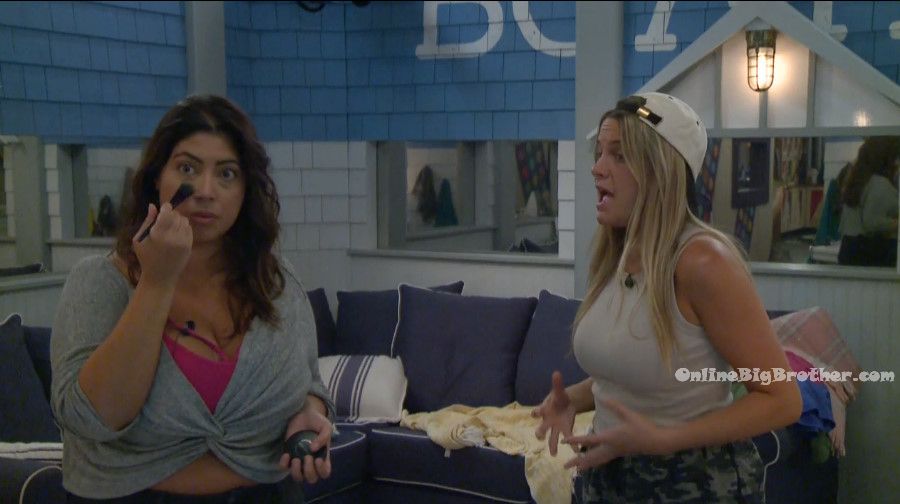 8pm Bathroom. Jess and Christie.
Christie – I will straight up, f**king hand on the bible, swear on my sister that if I win HOH, I am putting up Michie and Holly. Its all I talk about. Its all I talk about! Jess – he put you up. Even if you guys were working together Tommy wouldn't feel the need to take you off. Christie – I want that so bad. I want that on my resume. I literally .. I want him out. I've wanted him out since day 33! Jess – my relationship with her is really complicated. Christie – as long as she knows she has security. Jess – I told her .. I told Tommy and Christie that I want them to put me up as a pawn against Michie and Holly. If one of them takes themselves off you will be really safe. She was like yeah I want to think about it. Christie – okay, I'm going to talk to her.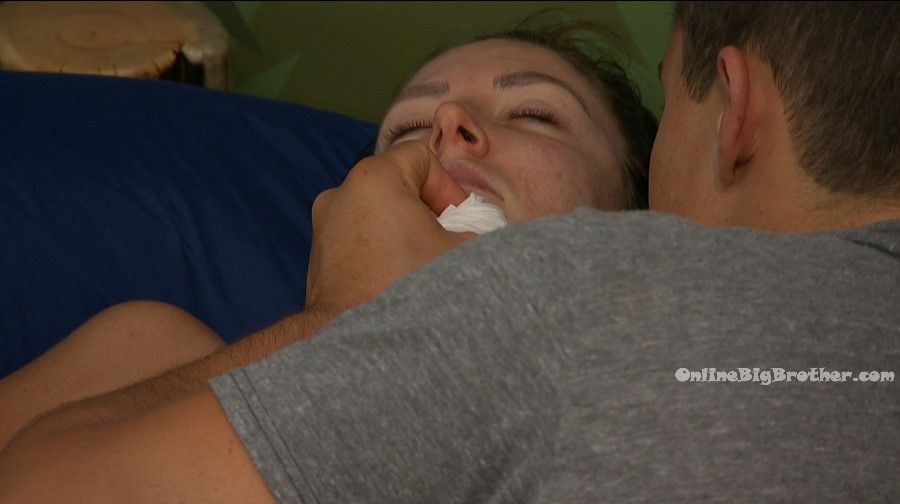 8:10pm HOH room. Jackson's popping Holly's face zits. (WTF?!)
8:20pm Taco Tuesday..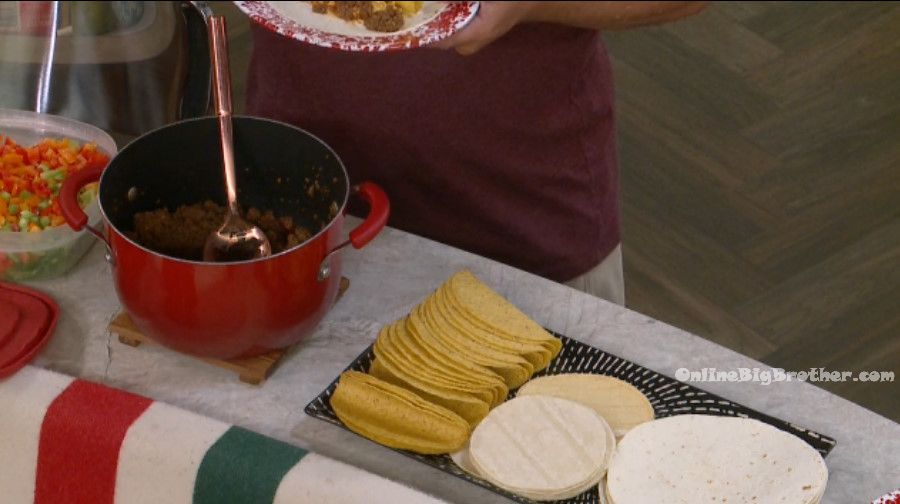 8:52pm Bedroom. Nicole talking to the feeders.
Nicole has a lot of thinking to do. Jess brings up a lot of valid points. Very valid. I need to navigate forward with Nicole and if I keep Jess, that is going to piss off Michie and Holly. And yes, Michie can't play but if Holly wins she is going to be really pissed at me. And whereas if I keep Cliff, that's my guy. And then Michie and Holly won't be mad. And Christie and Tommy already know how I feel about Cliff. If I keep Cliff…. Michie is happy, Holly is happy, Cliff is happy. Christie won't mind. Tommy won't mind. That is five Okay people with me. If I keep Jess… Michie is pissed, Holly is pissed. Jess will be happy with me. Christie will be happy with me. Tommy will be happy with me. And then there's me. So one is 5 happy people, the other is 3 and two very pissed off people. I am trying to think about what is best. The fact that the person next to Jess is Cliff… I can't do it. And I understand that Cliff is close to Michie… but that is NOT a final 2. Let me real! Michie's final two is Holly. Cliff is a smart guy, he knows he can't beat him. SO Cliff and me.. I can imagine unless I am getting smoke blown up my a$$ are like this (Fingers crossed)! And I understand where Jess is coming from and I love her with all my heart.. personally, in this game, and outside of this game.. but her argument is that I was always her person.. no I wasn't! I really wasn't. Her and I have always been close but her person was Kat. She said one day you're closer to Cliff, I'm closer to Kat. I know her and kat had a final two. And yes I would prefer if they both (Cliff & Jess) stayed because my final three but between the two I've been loyal to Cliff longs. I have been aligned with Cliff longer. And when she says to me I never questioned my you or your loyalty. But two weeks ago, you did.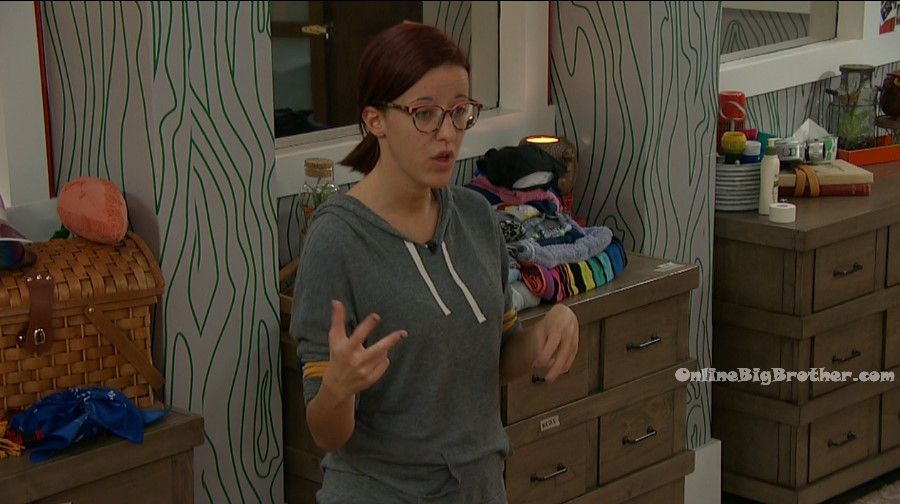 Bedroom. Christie joins Nicole.
Christie – I am 1 billion percent not working with Michie and Holly. I want to build my resume. Michie and I have been at it since day 31.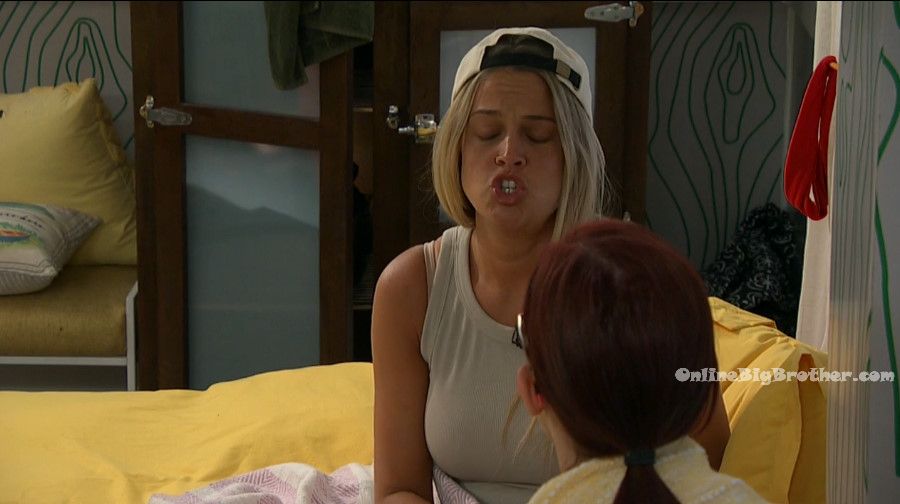 9:43pm Kitchen. Christie and Tommy.
Tommy looks at the pile of dirty dishes and says I can't, I can't make a dent. Christie – no. Tommy – why don't people f**king do dishes?! Christie – no, no… Tommy – it gets me. Christie – It gets me so bad Tommy. Tommy – we have to just keep doing people's dishes. Christie – no I am not going to do them ever again. Tommy – no, we have to. We have to do people's dishes. Christie – why!? Tommy – because if we make a stink about people's dishes they could come after us. Christie – Tommy there are only 7 people left. No, I am not playing this game. no more! I am not! I am doing my own dishes and that's it. They talk about how Holly and Jess don't do their dishes. Tommy – no one does dishes.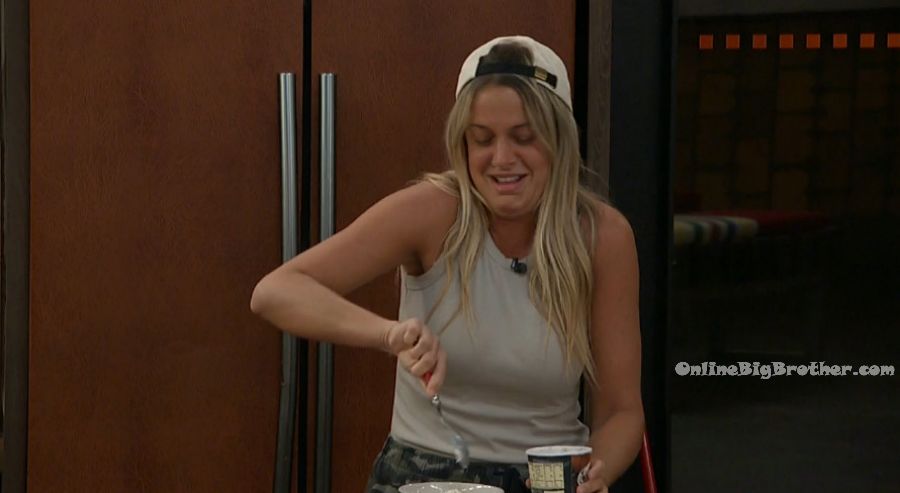 10:05pm – 10:40pm Bedroom. Nicole and Christie.
Christie – they (Michie & Holly) don't want us in rooms together… and I don't blame them because they don't want us to compare notes but I don't care. I don't owe anyone anything. I don't have a deal with anyone. I'm not on the block so I don't have to make any promises.. so I don't care. He can't play in the HOH. I'm not scared. I don't care. But I do want to talk to you because I have questions for you. I have a lot of questions for Cliff. Nicole – I have questions for him as well. They've been in power too long. When Tommy used the veto on me I was like I don't care. I want to be the one to get them out but I don't know your relationship. They are not taking me to final two, they're taking each other. And I want you to know, hand on the bible. It is scary ..he needs to go this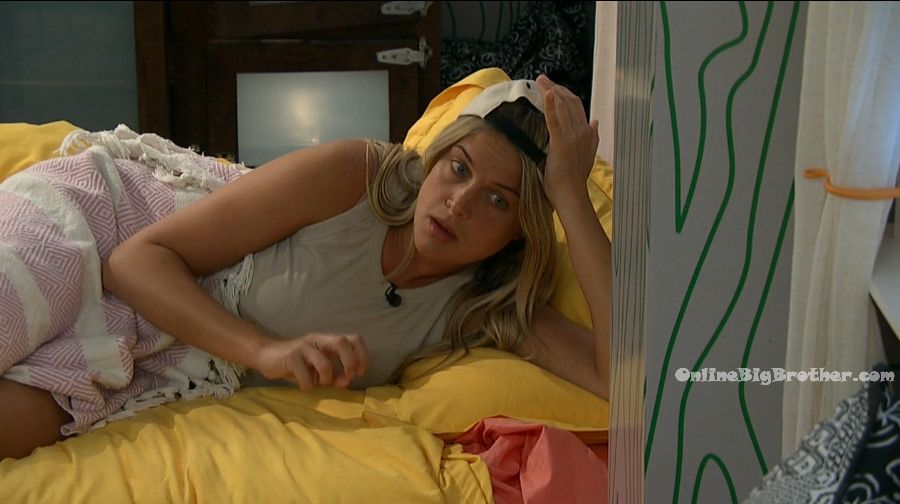 11:45pm Jackson and Holly getting ready for bed. Meanwhile, Cliff is in bed and Christie, Nicole, Tommy, and Jess chat about music.
1:50am All the house guests are sleeping..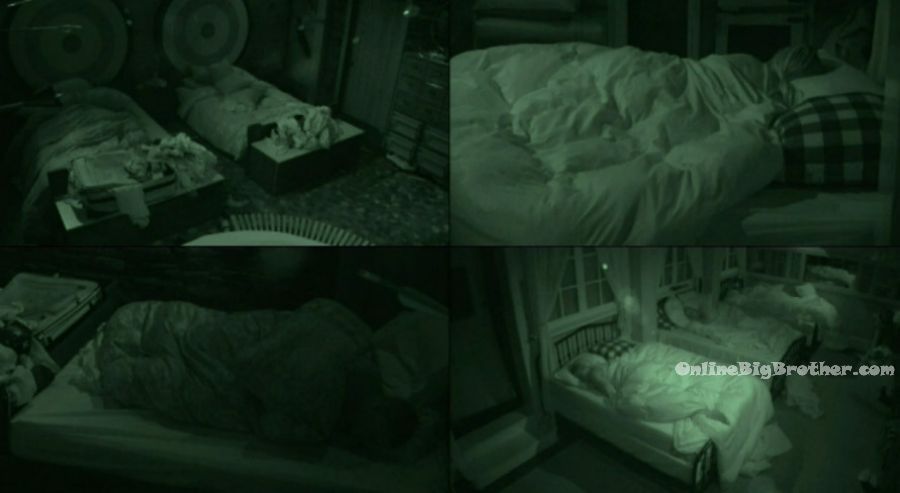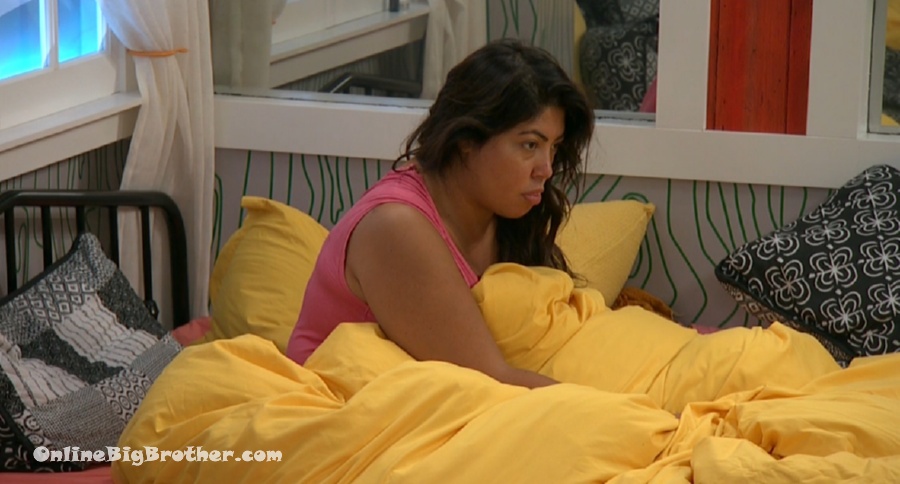 10:24 am Wakeup …
Jess conducting her standard stare into nothing for the first 1/2 of the day.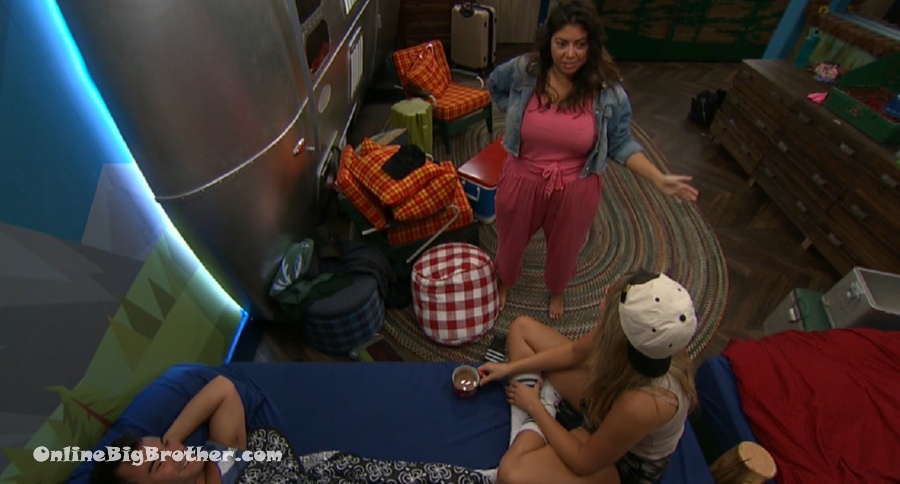 10:47 am Jess, Christie, and Tommy
Jess – at least if it's a double I'm ready.
Jess – I'm feeling really spacey
Jess – yesterday I ate like sh1t poor utter sh1t for breakfast I had popcorn, Coffee, and Brownies a Taco and More brownies. (Shock of the season)
Tommy and Christie go on about how she ate a lot of junk food but they were small portions
Jess – oh my god I'm craving those brownies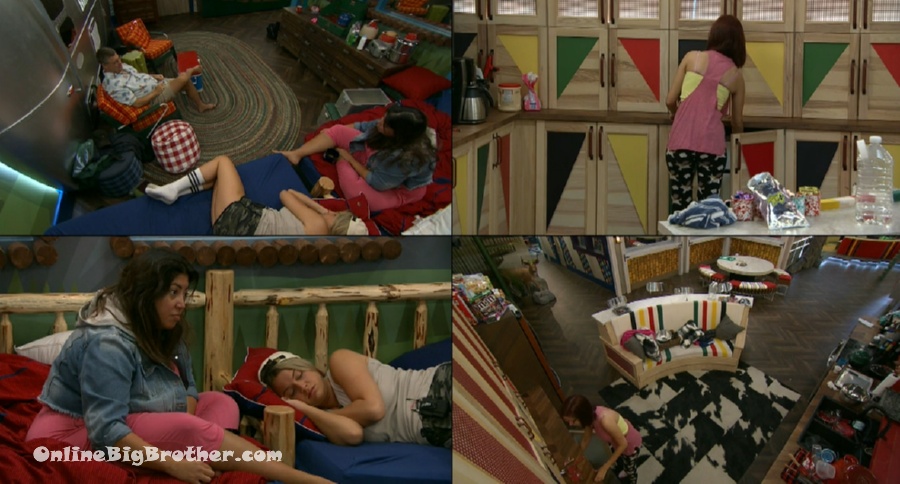 11:37 am Chit chat
Show your Support for all the sleepless nights Simon and I have put in for the last 77 days straight. Help keep the lights on, this site costs us a considerable amount to maintain. As an added bonus we also wanted to give a little more to those that donate: Click here for more information.
Any amount is greatly appreciated! Thank you so much in advance!