Quick Big Brother Spoilers
Head of Household: Jared
Nominees: Cameron Jag & Red
POV Players: America, Jared, Cameron, Red, Felicia, Matt
POV Winner: Cameron
Veto Ceremony: Cameron used the Power of Veto. Jared nominated Jag.
Havenots: 
Lock your ranks in before midnight
The Situation Red has more votes against him than Jag. Not too much flip talk going on.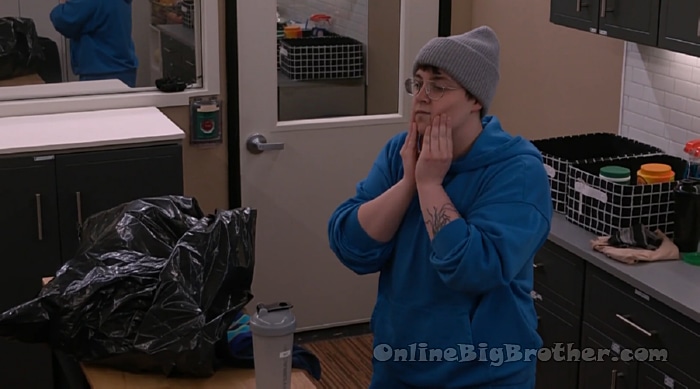 10:30 am Izzy alone
Izzy – Am I being Ben from winners at war? Am I putting Cirie and Jared above me winning? Not yet I need them I want them. Am I going to lose cause I'm putting them first or something? Page I promise.. baby I promise every step of the way I'm doing what's good for me to win and Also feel like I am playing the way I want to play that is important to winning. That is important to feeling confident to win. Sitting in those two chairs and talking to the jury and explaining why you deserve to win. You played the way you should have. I promise but damn I wish I could talk to you and find out if you are disappointed in me. I need Cirie and Jared I need them This house would be so lonely I love you baby..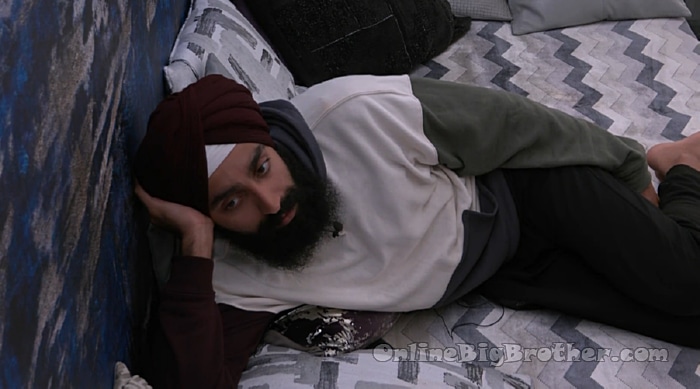 2:55 pm Jag and Corey
Chit chat about their families.
Cory asks him if he thinks he'll do well in the "WALL" comp. "Is it up your alley?"
Jag – I don't think it's up my alley but I'll do better than most folks.
Jag is hoping the HOH is a crapshoot.
Corey – might be a shuffleboard those are nice and random.
Corey wishes every competition was random.
They agree that America and Meme could do well in the wall competition.
Jag points out that Matt might also do well.
Jag says he's playing day by day right now. "Tomorrow is the big day"
Corey – when you are on the block it's really hard to look past the eviction.
Jag – I've been in that position for the past three weeks of the game.
Corey – Block, Evicted Block
Jag says he's been on the block more than off "it puts me in the mindset I can't even think"
Corey jokes that it's Jag and Cameron that have been the kings of the block.
They begin to study.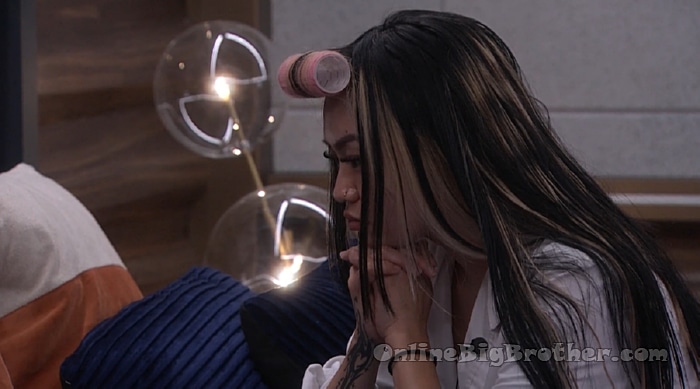 4:00 pm Jared and Blue (The cringemance)
Jared talking about how stupid it is to get married "Spend 100 of thousands of dollars for me it's a old tradition" (100's of thousands?)
Jared goes on about how he's not big into holidays he does like Christmas but his favorite is Thanksgiving.
Blue – I don't necessarily care to get married BUT I do want to party.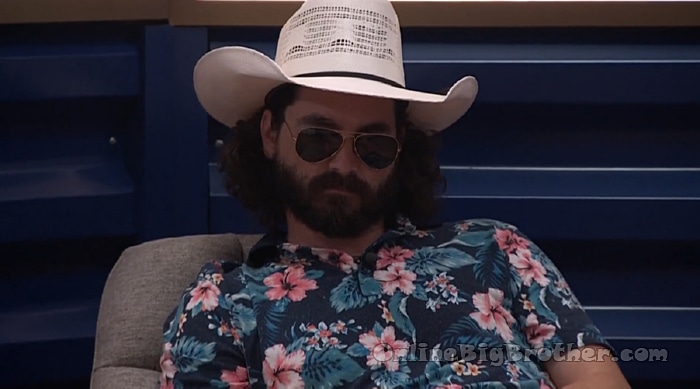 4:30 pm Chit chat around the living room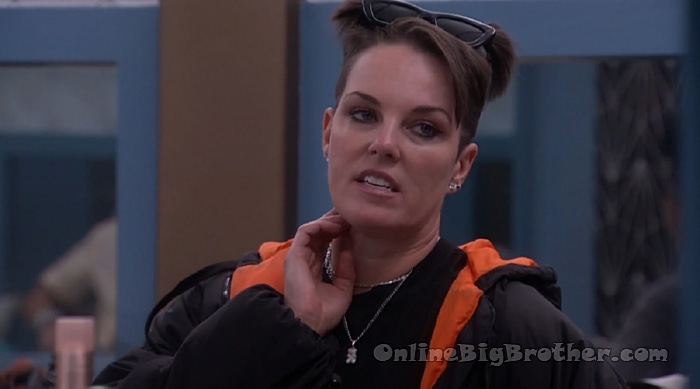 4:51 pm Bowie and Matt
Matt says he just was talking to Red to let him know he's solid.
Matt – even Corey and America.. yeah
Bowie – I'm not sure about that. Maybe
Matt – they told me they're voting REd
Bowie – okay cool. THey didn't indicate either way to me.
Matt – they are just waiting to see what the majority is they like waiting.
5:11 pm Izzy and Bowie
Bowie – Should be fine. We have extra competitors for next week. Cameron is definitely voting Jag out.
Izzy – you talked to him about it.
Bowie – Yeah just now
Izzy – how is he putting up next to Jag, Blue again? (Slip up)
Bowie – I don't know I didn't talk about next week.
Izzy – I see.. ohh right of course.
Bowie – next week?
Izzy – America and Blue?
Bowie – yeah Easy. If this weeks goes as planned we're in a really good position.
Izzy – no one is talking.
They agree that is a good sign.
Izzy – Less panic means plans that we know of are staying in place. There's no room for..
Bowie – ridiculousness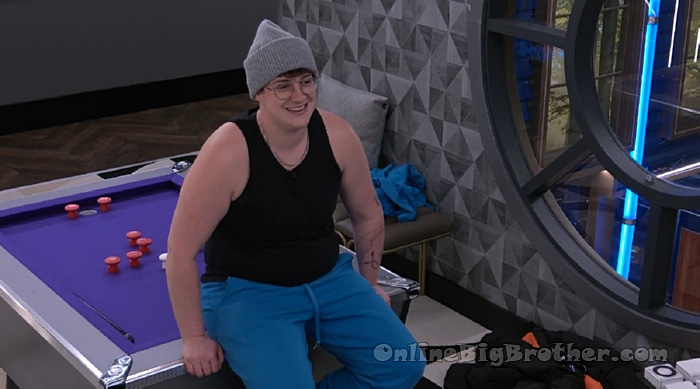 6:04 pm Bowie, Izzy and Jag
Mostly chit chat. IOzzy says she won't hold anything against them in this game.
Jag – if it crosses the line with being disrespectful then yeah
They talk about watching the episode and the intro segments they had to film.
Izzy – I'm so cringed about the first episode
Bowie – it'll be cringy isn't it
Izzy – I'm going to be SO CRINGED. I don't want to see my intro my intro is so cringe (They feeds are SO CRINGE)
Izzy – I had so much fun with it though.. but still like cringe
Bowie – That's why I am worried about the cringe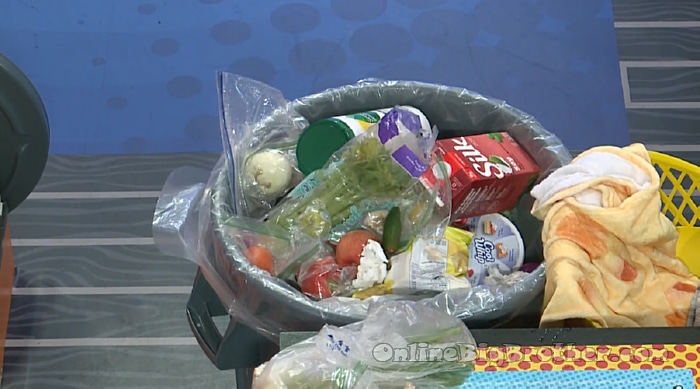 6:30 pm All feeds on the kitchen chit chat. MEME is cleaning out the fridge.
6:58 pm Jared, Cameron and Matt (feeds come to this conversation right near the end)
Jared points at each guy and says he feels more comfortable with them.
Jared – obviously we could really meet again this is obvious right now we got to start figuring out how we are going to advance in this game and move forward because dude I really see us being able to be able to say.. in the nicest way possible, Steam roll sh1t
Cameron – I don't think we gotta talk about a whole lot I think it's pretty simple
jared – yeah
Feeds flip
7:00 pm
MEME has been cleaning for hours. They're having another family dinner.
(There's no talk of a flip to evict Jag. The feeds cut and flip more than ever it is bizarre.)
Without your support this site and these spoilers wouldn't be possible.
Please consider a donation to keep the madness going.