Quick Big Brother Spoilers
Head of Household: Jared
Nominees: Cameron Jag & Red
POV Players: America, Jared, Cameron, Red, Felicia, Matt
POV Winner: Cameron
Veto Ceremony: Cameron used the Power of Veto. Jared nominated Jag.
Havenots: 
Lock your ranks in before midnight
The Situation Red has more votes against him than Jag. Not too much flip talk going on.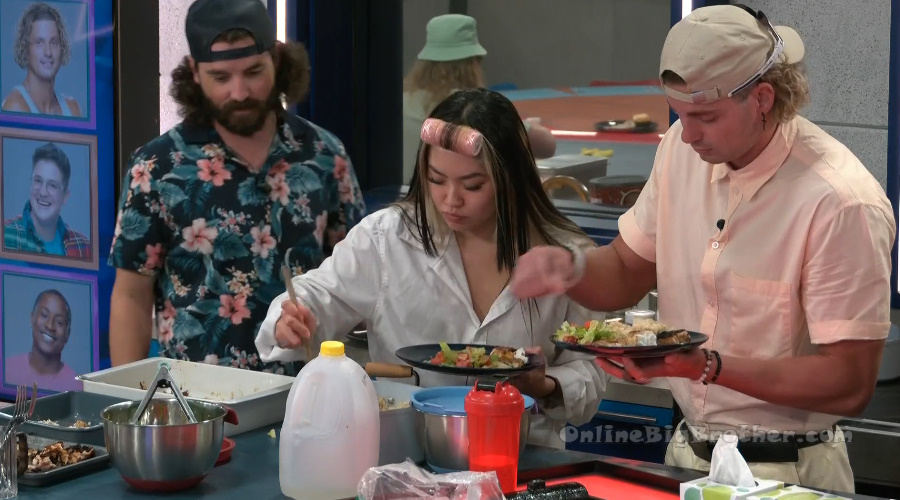 7pm Dinner Time..
7:35pm Comic Bedroom – Bowie, Izzy, Red and Cirie
They speculating on what tomorrows HOH competition might be. Izzy – Cory is leaning towards it could be Wall Comp but.. I just have this feeling like after Pressure Cooker .. like I know it feels like a long time ago but actually it was only two HOH's ago. So I think its too soon to do Wall Comp. I think maybe its going to be the first comp of jury. Red – it doesn't ever seem like I've seen it with more than 10 people on there. Izzy – yeah. I've seen one season that they did it in the beginning but we're past that ..we're in the in term. I think it is absolutely going to be during jury. Its going to be THE Jury comp. Like active but ultimately luck. Last week was the only week that I felt right about gauging it. Like I was like its got to be a quiz. I was like its got to be answering questions or an inactive thing .. and that's what it was right!
Red – I would like to say to all of ya'll while I have you here. Like it has been awesome being in the same room with you. I am particularly pleased about your (Izzy) efforts you know what I mean. Like moving forward we've gotten a lot closer. Izzy – absolutely! Red – I really appreciate each and everyone of you guys in here. Its been awesome of getting the luck to be able to choose this room with ya'll. Cirie – yeah, yeah. I think we've been lucky. Bowie – SO lucky! Cirie – we've been lucky. Bowie – so lucky that we've got all honest people in here. Cirie – oh exactly. Its been a pleasure. I've told you .. more than a pleasure. Its been an honour. To truly learn from you and spend time with you. Red – I've picked up something from each one of you in here. I am glad that we have you (Izzy) as our superfan because I am so lost. Invaluable. And just the love and care that you (Cirie) bring and you Bowie.. just your matter of fact type personality. You're a ton of fun. You can't not smile when looking at you. To sum it up I feel very blessed to be in here with you guys. Bowie – yeah. Cirie – so do we RED! They all hug.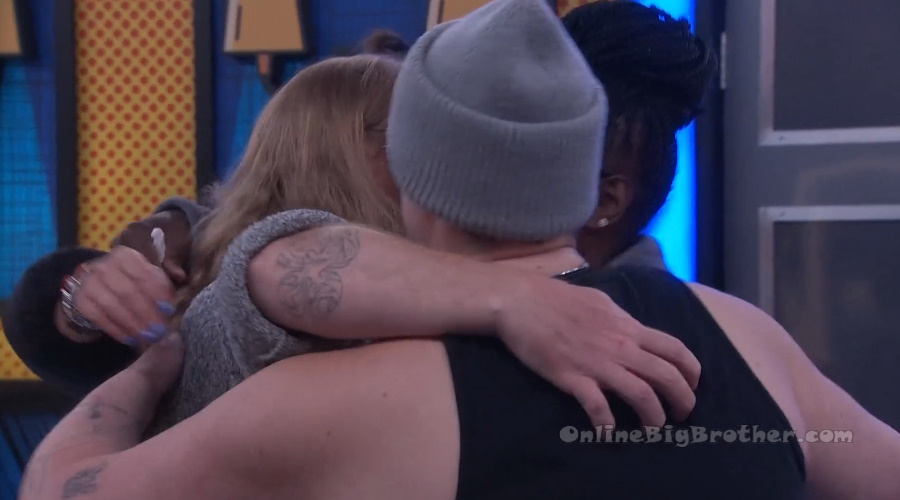 7:50pm Bathroom – Cam deep in thought..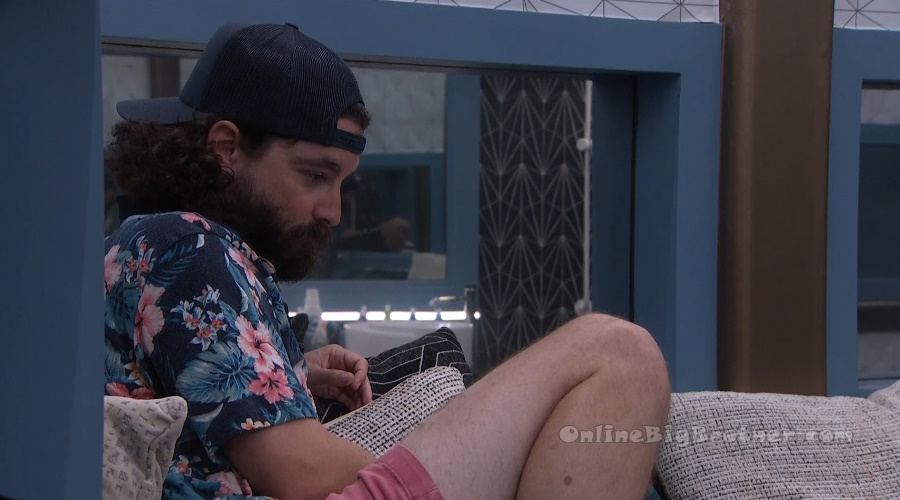 7:59pm The Feeds return to more house guests in the Comic bedroom with Felicia yelling oh my god. Cirie – if Meme can hide M&M's I can hide milk chocolate. (As she collects her stash off the bed. Cirie – There's another bag.
8:12pm Kitchen – Matt and Jared.
Jared – We gonna talk again tonight because remember we got to make him (Cameron) feel… we got to make him think that Cirie is upset about the votes. We need to tell him… (BB switches the feeds.)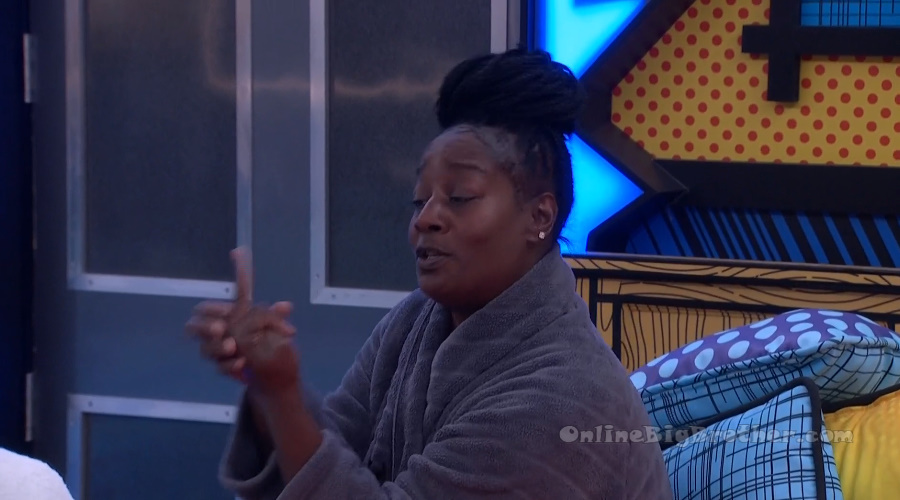 8:31pm Comic Bedroom – Cirie and Felicia
Cirie – So we've got 1/3 gone already .. we just need this one (holds up her middle finger) gone. Felicia – a lot of people are doing our work for us. Now its going to be harder to get out Jag after this. Cirie – MMmmmhmmm. I know. Felicia – Nobody else is going to want to get him out.. and so that is when one of us.. that's my next big move. I'm blindsiding his a$$! Cirie – YUP! Felicia – because I ain't giving him no chance to play in the veto. We're going to blindside Cameron, we're going to blindside Jag.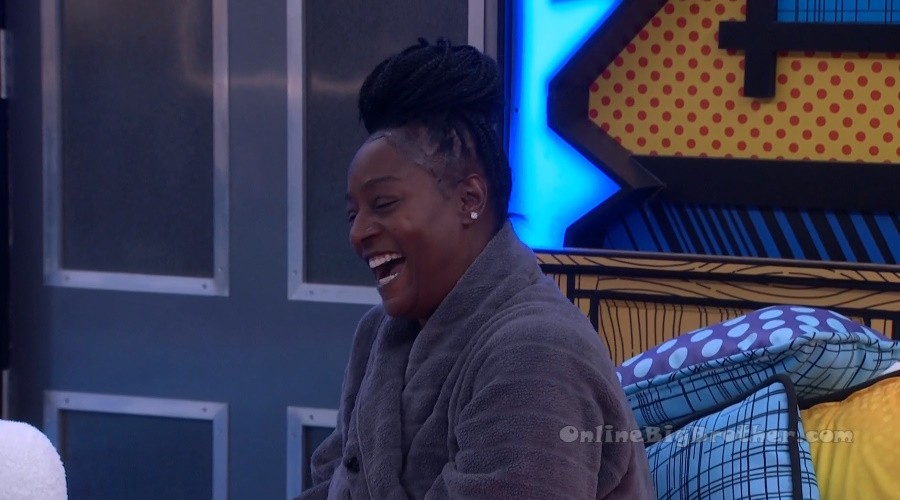 9:10pm Havenot Room – Matt, Cirie and Jag
Matt – Red feels confident which is good because we're doing our part. Cirie – it is but its crazy though. Matt – I do feel bad. Cirie – I know it is terrible but it is what it is. Matt – but we obviously know that he is going to target us first. Cirie – Mmmmhmmm. Its been weirdly.. everyone keeps talking about how calm today is. Like how quiet it is. Isn't it so crazy that both of ya'll are so confident. Jag – that's what I'm saying .. we're both like lets hangout. Cirie – I just talked to Izzy and we were both like why is nobody.. Jag – everyone is mad chill today. Its been nice. Today has been fun. Cirie – its fire! You know what's happening. Its just like weird that everybody is so confident. Jag – everyone is too chill though. Like might need to start some sh*t. Cirie – NO.. its easy and breezy. Jag – its good though. Cirie – I think that when this happens though.. this better bring like the seven together. It better stop all the bullsh*t. People need to sh*t the f**k up and link up. Matt – exactly. Stop being paranoid, stop freaking out. Jag – this really does .. like the best part of this to me is I think it like glues .. you know like solidifies. Matt – like if you see us talking to someone else, you know it don't mean sh*t. Jag – exactly. Cirie – exactly right. CAMERON is going to be MAD! Jag – I know. We all just got to .. whatever the HOH is that is the first step. Cirie – he going to be MAD! He gonna be Hisam MAD! Matt – and he would be gunning for it tomorrow. You got to be ready. The only person that cannot win is Cam.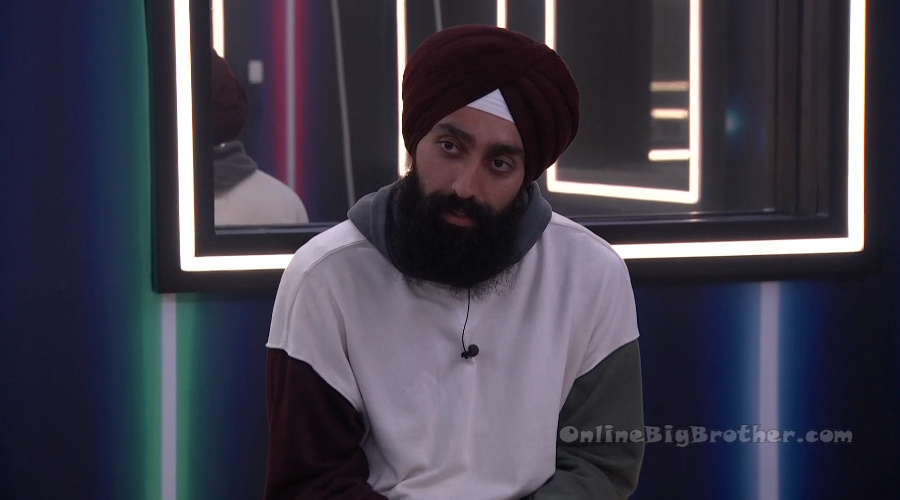 9:25pm Bathroom – Cory and America.
Cory – that's my dream f**king Red, Cam, Jag, Felicia and then I think we're okay because at that point we can actually start being aggressive going after like Matt and Blue because right now we can't. Matt is closest to Cirie. Problem is he is also leaking Cirie sh*t to everyone else and at least Izzy is telling you this sh*t. I think she feels better about you than Matt. America – Don't stress yourself out. Cory – I'm not, I actually feel better than I have in awhile at least about us two. America – That's good. Its fun right… I hate this place and want to leave but its fun. Cory – do you feel like you're more in the loop now? America – not really. Cory – I felt bad yesterday after we had this whole f**king meeting. There was talks about getting you in. And I was like should I go get her but you were with Blue. The problem is .. basically what that meeting was for was for Felicia to placate.. It was basically to placate Felicia because she thinks she had to placate you and me. The way she thinks is she is in these two big alliances. She thinks its her, Cirie, Izzy and Jared.. And they have Four Real For Real, and the f**king Professors bullsh*t with Red and Cam. And she wants to make sure you and me feel good about her. So she thought that meeting was to make me and you feel good but really it was.. America – Without me in it. Cory – she is not very good at this. America – neither am I. Cory – you're a lot better than Felicia. Also you're really good at this. I think you got in a sh*tty position and I think you've been working your way out of it. America – I don't know I feel like Jag doesn't trust me. He doesn't tell me anything. Bowie joins them and the conversation ends.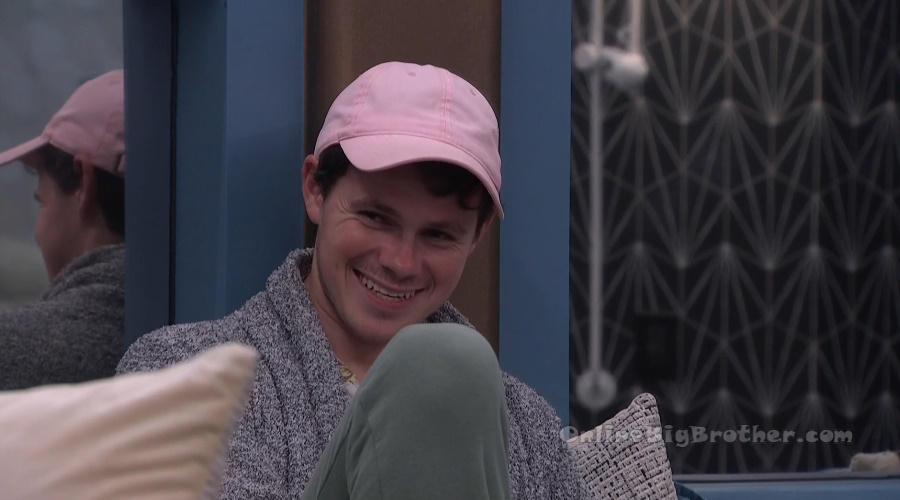 9:46pm Havenot Room – Jag, Blue and Matt.
Jag – obviously with ya'll its been solid. Blue – I can't wait to get Cameron's a$$ out. I can't wait to get Bowie Janes a$$ out. No offense I know you're friends but.. Matt – I know we're playing a game. I chose ya'll first. The whole reason for me going over there was to infiltrate and find out sh*t. And like that's what's happening. I know what their moves going to be. Now that you're here… it will probably be You two with the main target as Cameron. Blue – even if Bowie wins? Matt – I don't think Bowie is trying to win. Jag – at no point can two of us be up. Blue – put me and America, Jag and America.. Matt – yeah, and I hope Cameron does that but we're not going to let him win. Blue – yeah we need to f**king go tomorrow. Jag – they're going to ask me if I knew I was going to stay. So we just need to agree on what everyone else wants their story to be. Blue – I think you should talk to Cirie, Felicia and Izzy about it.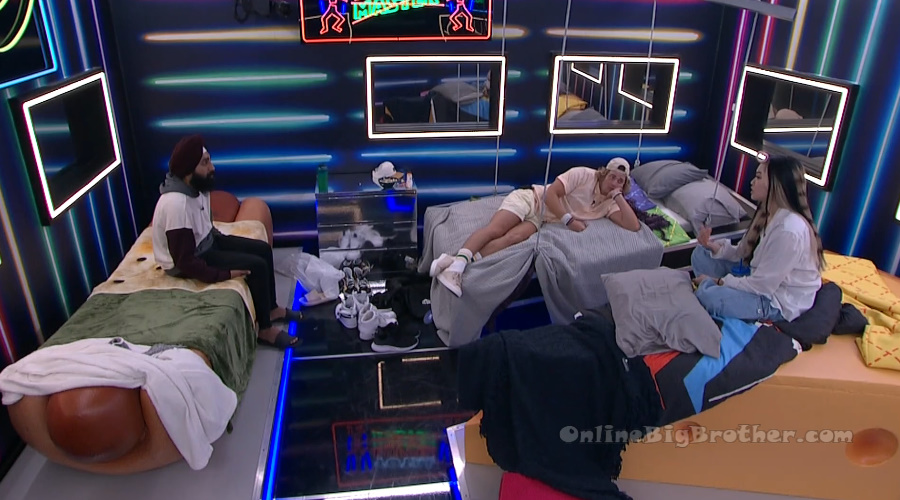 10:18pm Bathroom – Cory and America.
America – I really want to win. Cory – who do you think you nom? America jokes and says – Cirie & Izzy.. Cory – dude honestly if you're doing that .. just blindside me. Cirie / Izzy I've nominated both of you .. the plan is to backdoor Cory. America – I would do .. I mean got to get Cam out.. Cory – for me right now I would do Bowie and Felicia. Maybe Blue and Felicia. America – I could do Bowie / Matt. Cory – you think it would be dumb for me to nominate Blue right? America – yeah, you shouldn't. She's been telling me that she doesn't feel super close with you. But she was like I was vouching for you super hard all night with Jared. Cory – can vouch for me with Blue? America – no yeah I was like No, Cory would never nominate you.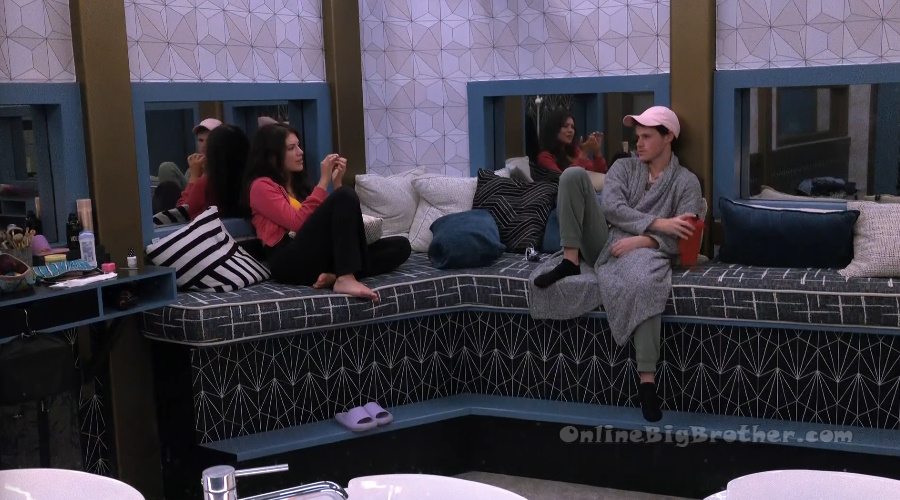 10:24pm HOH room – Matt, Jag, Blue, Izzy and Cirie.
Cirie – I can't go into my room because Red is talking with Meme. He's been talking to her for like 45minutes. First conversation in 36 days! This is the first time Red has had a conversation with Meme in 36 days!! And its like 40 minutes! Matt – he's trying to get that vote! Blue – do you think he is feeling it? Because he is comfortable in my opinion. Izzy – he just said to me that he wanted to just chat. Then he questioned whether or not he should have a chat with America … AND then he decided no. Cirie – you haven't talked to me in 36 days.. its probably best that you don't talk to me now! Like I feel like you're playing me now.
10:33pm Havenot room – Matt, Cirie and Izzy
They talk about how Bowie is always following them around and looking for them. Matt – she is looking.. Cirie – I am getting annoyed again. What do we even say tomorrow? What are we going to say? Matt – I don't know. Izzy – what I am going to say.. you ain't going to like. Cirie – what? Izzy – for me I am like .. is it time to tell the truth? I was never with Legend25. Matt – but you don't want to hurt your game because if he (Cam) wins. Izzy – of course but he coming after me anyway. I don't know what to say.. Cirie looks at Izzy. Izzy – no I am not going to say that. Cirie – okay. Izzy – no I promise but like what do I say? Cirie – so what do we say.. not that. Matt – he is expecting Jag to be gone and is going for Blue and America .. to backdoor either Felicia or you (Izzy). But now that he'll know Jag is here he will go for Blue and Jag. Cirie – we need to come up with an excuse for why we didn't do it. (excuse for voting out Red instead of Jag) Izzy – we could start chatter of the domino effect of who didn't want to do it. The problem is today was too calm to buy the fact that people were going back and forth. Cirie – we could say it happened last minute.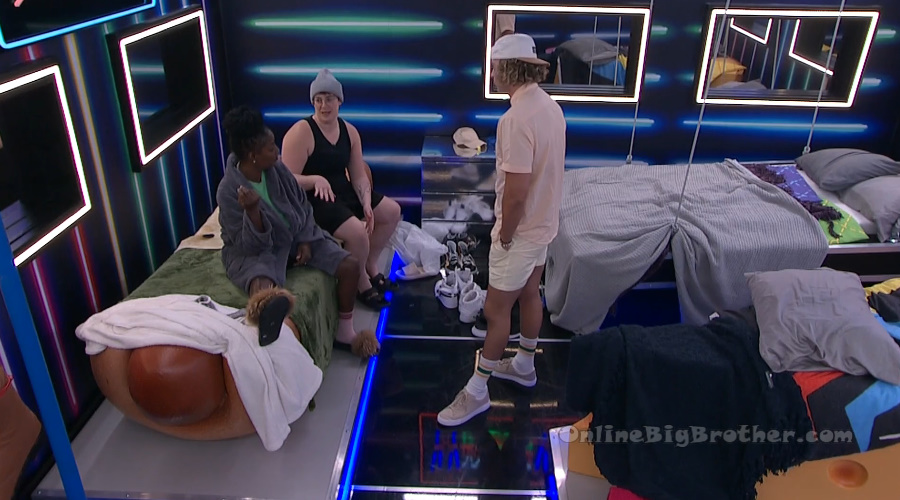 11:28pm Bathroom – Jag, Meme, Cory and America chatting and laughing about random things.

12am – 1:20am Kitchen – Matt, Jag, Cory and America making quesadillas. Jag and Matt then start joking around and taking selfies with his mic pack.
1:40am All the house guests are in bed going to sleep.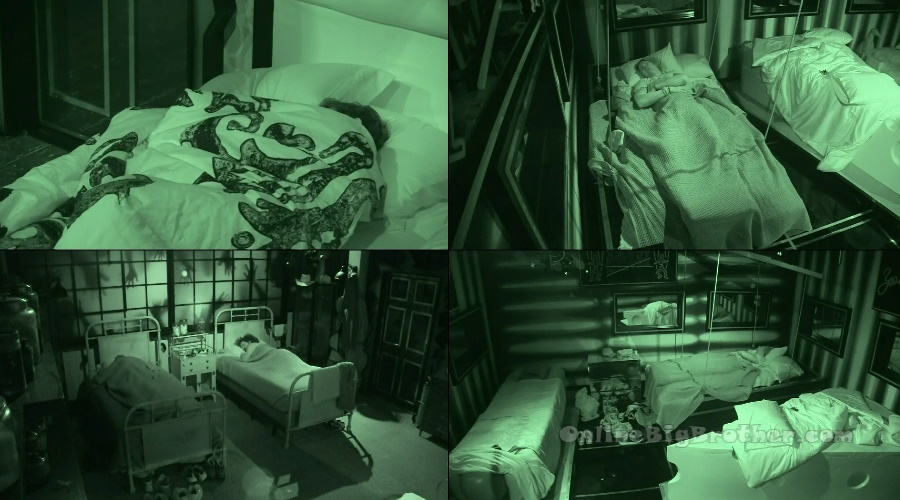 If you like these spoilers and read this blog regularly please consider a donation to keep the madness going. We accept donations via paypal How to support OBB