| | | | |
| --- | --- | --- | --- |
| POV: | Kaycee | HOH | KAycee |
| POV Used | No | Noms: | Sam & Haleigh |
Lotsa suntanning today..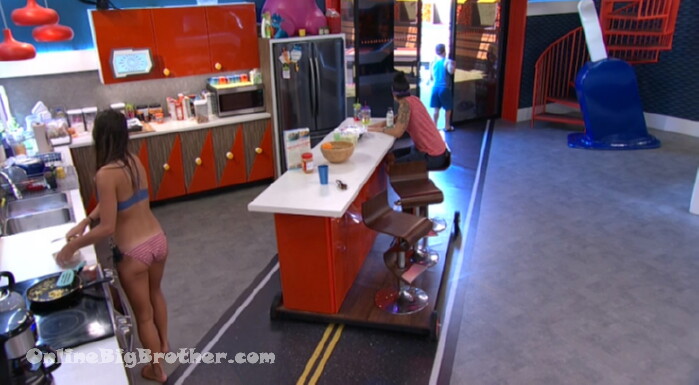 2:01pm Kitchen..
Tyler mentions something about Sam saying That FES was a highly intelligent GAy man
KC – Fes was very bi curious
A – you really think so
K – oh yeah, for sure
A – I have no gaydar at all
K – I have GREAT GAYdar
A – all of my best friends have been gay
K – I have amazing gaydar
Sam – I really thought there was a chance that FES could be gay
K – He's definitely BI Curious
T – who said Swoggy was gay
K – I DID I see him walk around flamboyantly
Angela apparently also saw this.
K – I saw it a couple times
KC – I swear he has to be some kinda bi curious
KC – he loved wearing that kimono around flamboyantly I saw him doing some weird shit.. there's a little bit of something in there.. I swear
Sam pipes in that Fes was really sensitive
K – he would fit in teh gay community for sure
S – yeah
K – he loves looking at himself
A – he does
S – that too
K – he's very into himself..
JC agrees that Fes is always looking in the mirror at his hair and face
S – he had female qualities.. it's stuff like that I pick up on
Tyler says he gets misunderstood as a bi guy all the time..
Kaycee – I think everyone in this world is bi curious dammit..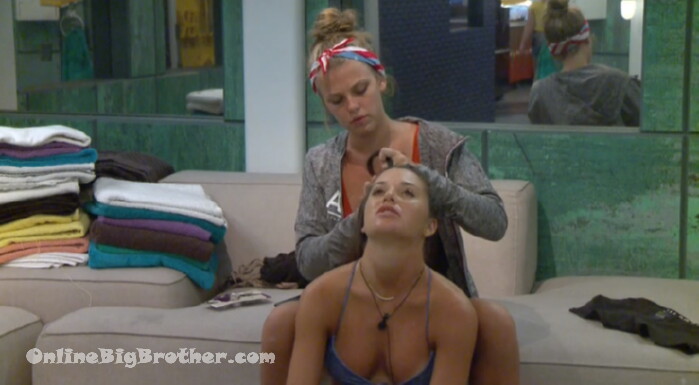 3:50pm Haleigh and Angela
H – I just don't know how to do this week..
A – when did you want to start talking to people
H – I don't know.. the only thing.. everyone knows how she is.. unpredictable, rash, up and down.. (Sam)
H – as far as jury goes she was the only one to keep 2 and rockstar thinks she kept her.. that's what Scottie said
H – I think I played the game and she's getting away with throwing comps siting back
H – she's throwing comps because she can get away with it
H – I think if she would have gotten in power you and I would have been in danger
A – she says I wouldn't be but.. mmmmmm
H – I'm with you.. you and kaycee.. I just want you all feel comfortable with what you all do
A – I think how things have gone down this week has kinda smoothed everything over.. we've all taken our shot
H – The house will be a lot more enjoyable to live in
H – I talked to Brett little bit last night .. obviously he doesn't want her to stay (Sam) .. he wants to see what everyone else is doing of cours e
A – I'm trying to find out from Kaycee what she wants to do
H – She doesn't want to say it .. she's too nice to say it.
H – I know you've always been honest and open that's why I wanted to talk to you first
Angela makes it sound like she doesn't know what is going to happen "I've been trying to get a feel for what kaycee is thinking"
A – me and KAycee are in the exact same position.. you put me and KAycee up together and Sam has never done anything to me
H – exactly
A – Sam will retaliate towards her (Kaycee) Going to wait and see what Kaycee is feeling
H – that's fair
A – Kaycee might be trying to feel out the other two to see what they think
A – a lot of her decisions will be based off of that.. to make everyone happy..
H – you think I should talk to Tyler..
A – yea
H – he [JC] told me to stay calm don't lose my cool.. see how the week goes.. he has an Idea that everyone wants her gone
A – whatever it's going to be it'll be unanimous
H – I just think I can be more beneficial than her in the long run
H – I'm not just saying that I'm really genuinely thinking that for you
H – We've all taken shots now
A – the one thing Tyler would be scared about is he might think you would put him and me up again
H – I just don't know how to reassure that..
A – yeah, what can you do right now .. the only thing you can to is say..
H – I have nothing else.. just try and let him know..
H – AS of right now what is you read on him
A – I think if Tyler thought 1000% he wouldn't go up if you won HOH he would stand on one side of the fence over the other
H – I can stand here saying that I hope you believe me.. but.. I don't know..
A – I feel like me, Tyler and Kaycee are definitely on the same
H – page
A – the same page were all in the exact same situation because of the events that went down
A – like when you were HOH all of us got it like back to back to back
H – yeah.. It's kinda good it happened that way it's like…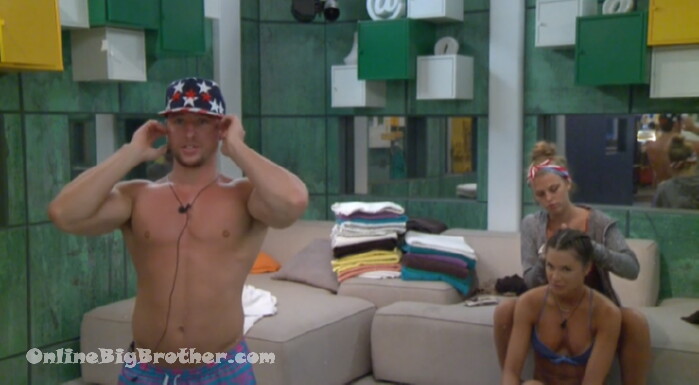 Brett walks in ..
A – I like you're hat
Brett – it's got a weird arc to it it looks like a circus hat..
(it's JC)
Kaycee joins them for a second says the hair looks "Totally bada$$"
Kaycee mentions they might be lockdown inside for 2 weeks.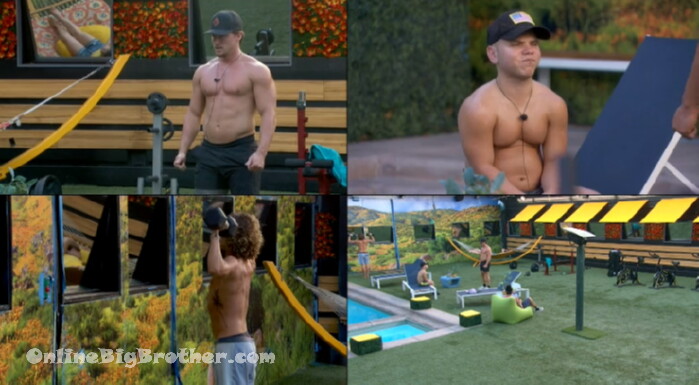 5:25pm Working out.. hanging out..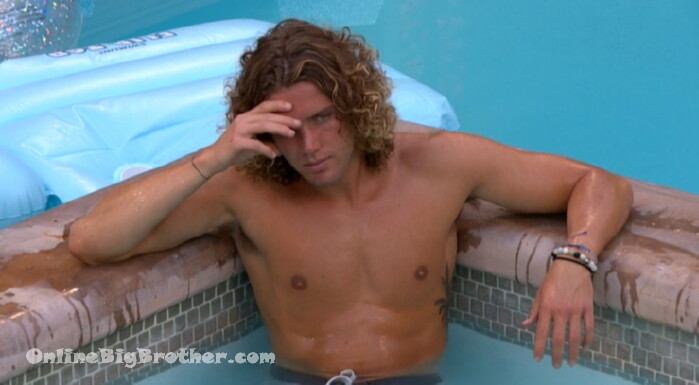 6:47pm Tyler and BRett in the hot tub..
This is Tyler's first time using it.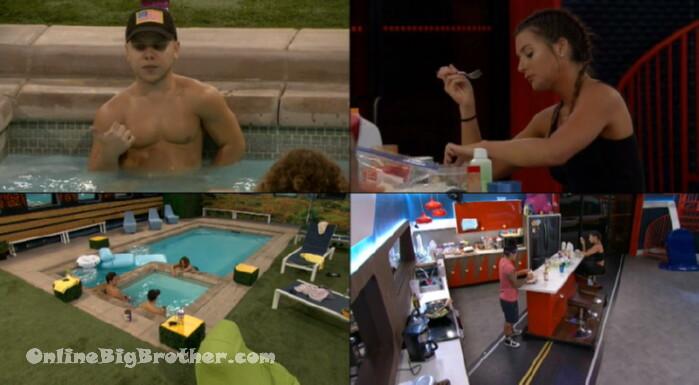 7:15pm chit chat and food
One easy way to support the site if you are an amazon shopper is to make your purchases through our link. You pay the exact same thing but we get a small % commission. It doesn't cost you anything and helps us out.
Amazon Canada
Amazon USA