POV Holder:
James
Next POV
Aug 1st
POV Used
?
POV Ceremony
Aug 2nd
HOH
James
Next HOH
Aug 6th
Original Nominations:
Shelli and Clay
Current Nominations:
?
Have Nots
Austin, Liz, Julia
It's been kinda slow on the feeds so I'll recap in a couple sentences. James won the POV, He wants Shelli out and doesn't plan on changing the nominations. Clay is going around to everyone telling them to vote him out and save Shelli. Everyone seems to play along with Clay but Shelli will be the one they vote out. (Still early so anything can happen, I couldn't stress that enough)
There doesn't seem to be plan in play to get James to use the veto. Shelli and Clay briefly talked about Steve going up but they mostly think this approach is out of their reach.
During the POV there were prizes and penalties. Vanessa got a penalty and it sounds like she will be Jackie's slave for a day, they mentioned cleaning Jackie's Armour. It might be a knight squire type of props. Shelli also has to do something 100 times every hour, sounds like it has something to do with a sword. The POV was medieval themed so the punishments reflected this.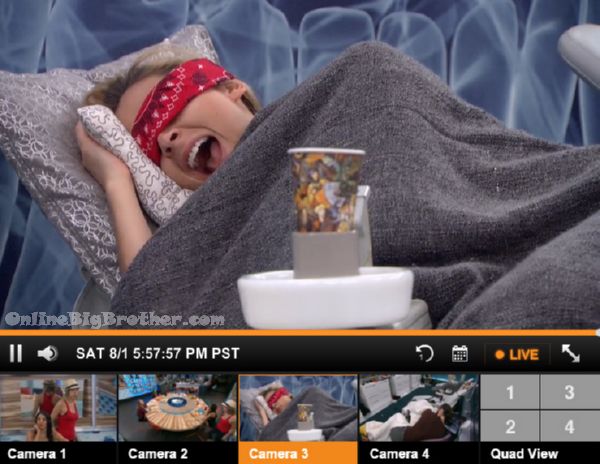 5:40pm Austin and the twins
Julia says she doesn't have a relationship with Clay she would naturally vote him out. She points out that Clay hasn't won anything so isn't as big of a threat.
They wonder who James wants them to vote.
Austin says it's a tough choice right now.
5:50pm Austin and the twins going to bed.
Julia in the green. Julia asks if Vanessa threw the POV. Austin doesn't think so but understands that Vanessa didn't want to win it. Liz says Becky threw it
Austin – ya
They feel bad for Shelli she was crying.
Austin – it's sad
Austin says if Clay lays down and does there's nothing James can do clay is going home.
Liz says James is scared because Shelli can win HOH and she'll put his a$$ up.
Austin – oh of course
Liz asks them if they would have taken the 5K or the trip to ireland.
Austin and Julia say they would take the money. Liz would at first but after thinking about it a trip to Ireland is a once in a lifetime trip.
Big Brother Calls all three of them out for not wearing their microphones.
Asution – my microphone is on mother fucker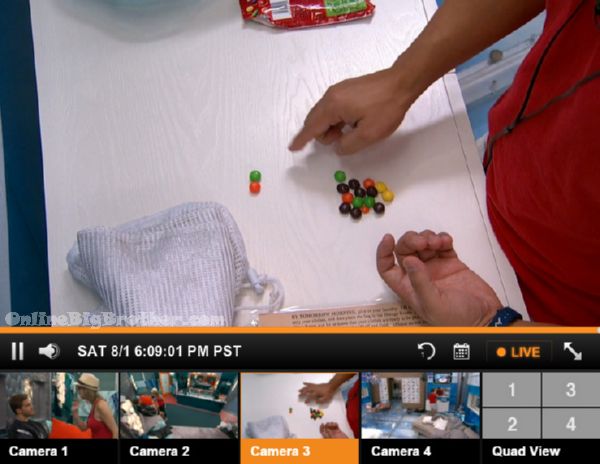 6:06pm James alone in the HOH candy gaming.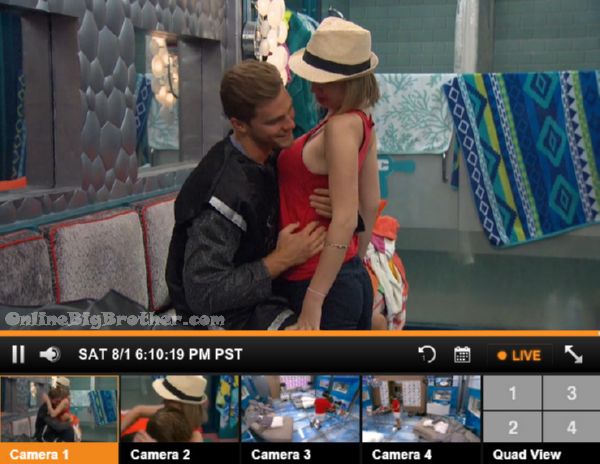 6:07pm Clay and Meg (Jmac and Meg appear to be drunk from the POV.. apparently they had to drink a lot of wine.)
Meg – I'll always have your back
Meg tells him if he's still here he's got her.
Meg – Clay you know how I feel about you
Clay wants her to vote him out, Meg says she can't promise him that.
Clay – if I stay i'm going to be reckless
Meg – I know you don't want to hear this but whatever of you stay your game will be better.
[envira-gallery id="125490″]
Clay going for the gold @bigbspoilers #BB17 pic.twitter.com/O4NKYe0GaS

— Dawg (@DawgsBigBrother) August 2, 2015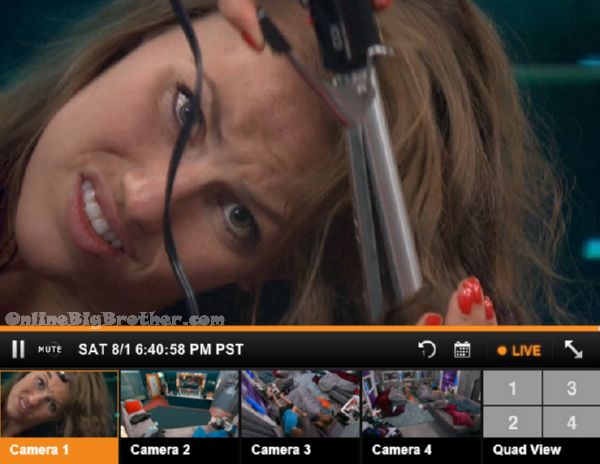 6:33pm Becky and CLay
Becky – I promise on my life Clay (She'll vote him out)
Becky tells him the house wants Shelli out because she is such a strong competitor
Becky – James really wants Shelli out
Clay tells her he's got Vanessa Austin and the twins to vote him out.
6:41pm bedroom Shellie, Vanessa and Clay
talking about her having to do 100 sword stunts per hour.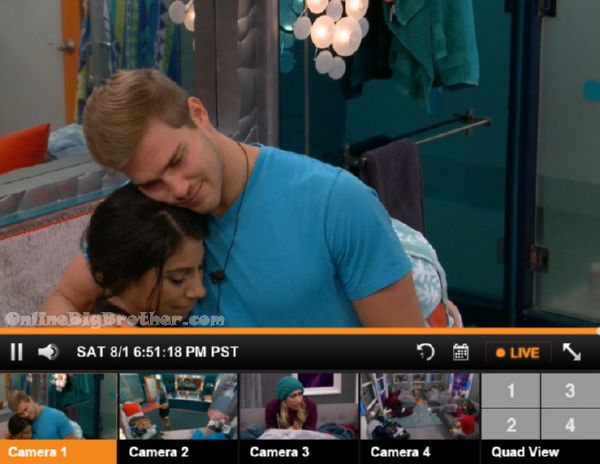 6:51pm Jackie and Clay
Jackie – I love you guys I really do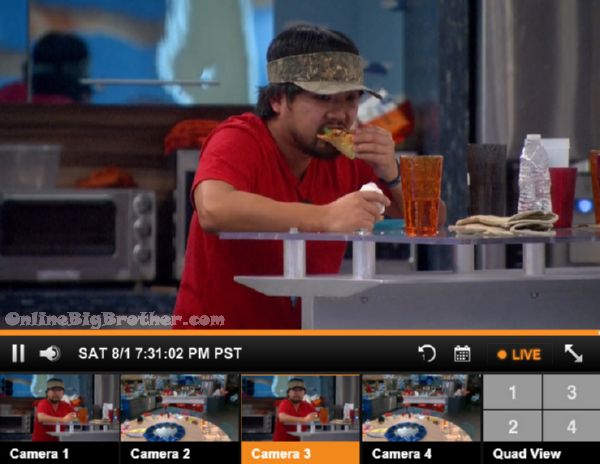 7:23pm Jackie and James
James saying he used to be able to Pound beer but now he just had a beer and he's flushed..
James says if they gave her 3 shots of liquor back to back she would be feeling it.
Jackie – Hell ya that would be awesome (Biam)
James says she's stressed for next week, "if clay wins HOH i'm fu*ked "
Jackie doesn't think Clay will win, "You have a lot of people on your side to keep you"
They mention how Steve has totally opened up to them since the show started, "He's totally different"
Jackie – If Vanessa would win would she put him up
James – probably not. I hate eating this pizza I want to eat the whole damn thing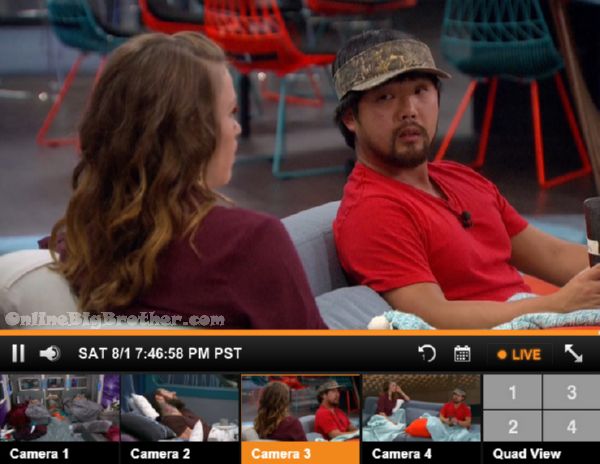 7:46pm James and Becky Booze talk
They start chatting on why Asians faces turn red when they drink. Becky had a friend that was 1/2 Asian and she turned red. James says she does even though this tolerance is good.
James explains that Alcohol is poison that is what your body takes it as. "That's what Alcohol is pretty much poison"
James – you're body tried to fight the alcohol OFF and that's what turns us red
Jmesa – I don't get as red as some asian but I do get red
Becky – i have a really high tolerance for alcohol.. I don't do shots.. If I take shots BAD NEWS.. it's too concentrated.
Becky – I can sit and have SO MUCH WINE
Becky – Vodka f****s me up
James- f**** everyone up.. thats what russian's drink
(It's awesome we're discovering all these other players in the house)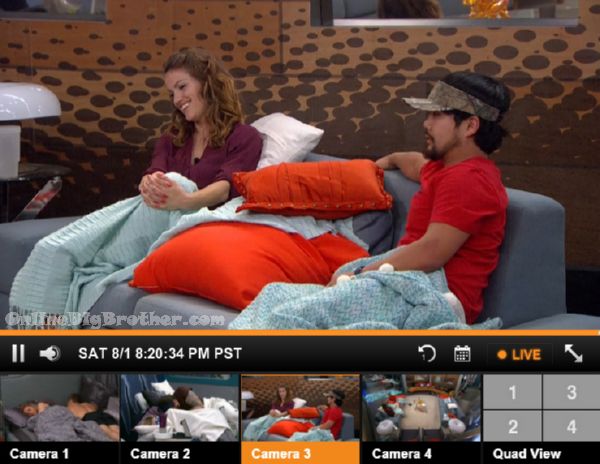 8:13pm Becky and James
Becky says she'll be outside with Shelli the entire time supporting her.
James says something told him to go BIG this week Gotta risk it to get the biscuit
8:45pm Feeds have been cut
[polldaddy poll=9004995]