The Situation:
Jared and Cameron are living in the house as Zombies. "One of you are resurrecting your game"
No HOH, NO Veto, No Eviction. Jared or Cameron will get a chance to reenter the game.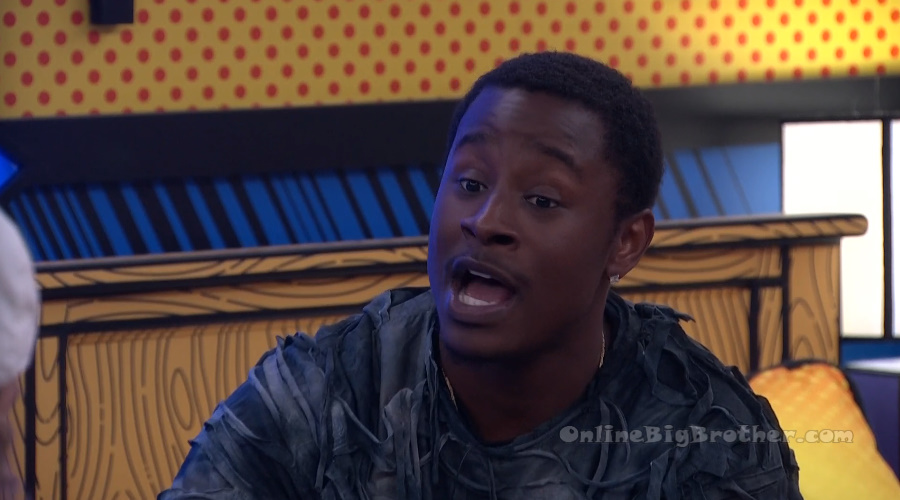 10:28pm Comic Bedroom – Matt, Jared and Cirie
Matt – when I told the other person it was for good intentions, it was not for a selfish move. Jared – yeah but what did I .. you were sus'd about me .. so listen to what you're saying. Matt – not that I was sus'd about you. I just didn't want people knowing about this power. Jared – I get it but you lied to me about it period! Cirie – we're just talking in circles so I just wanted to checking in and see like was it something I did or.. Matt – no but its not fair because you guys can't say I had mistrust because the only alliance I had was the Seven Deadly Sins. No I am not accusing you but you guys had alliances with other people. Jared – we didn't .. so look I never once said there was mistrust there. That is why I was blindsided. Cirie – no I didn't not trust you. Jared – I picked you to play in veto because I trusted you. Matt – no, I know. Jared – Then I came in here after and looked you in the face and said you my bro, you can trust me. I am not here to come at you. I just want to put it on the table because that's where we at now. Matt – I am just trying to play this game as loyal and honest as I can and this is why it is so f**king hard because everyone is playing different f**king games. Cirie – you're not the only one that its hard for, its hard for everybody in here. And nobody is judging you because I may have done things like that trying to be honest and not knowing where to turn when you get cornered with questions. That's not what this is about. I just wanted to see where I went wrong. If there was something that I did.. but not even that I .. Matt – you didn't go wrong because I still have faith in you and ughh. it was hard .. I just hear from everyone that you're still talking to everyone about The Four Real For Real is still happening. Cirie – all I would have wanted was for you to say hey, somebody said this… because since that conversation… I've been by myself. I am not having conversations. Nobody is really talking to me. I am not talking to anybody. SO that wasn't true. Matt – and then I hear that you and you and Blue have a 1, 2, 3.. so I am already left out. Cirie – no. Jared – I've been hearing so much that you and Jag have a final 2 .. don't care. It has nothing to do with me. Its so far down the line. Matt – people just assume we have a final two. Jared – same thing that happened to you.. people just assumed we doing this sh*t. But the only difference between us is that you acted upon it. We just let it rock. I never put you up even though I had the speculations about you .. I never attacked it because I always trusted you and because I always gave you a conversation first. ALWAYS! Why didn't I get that. And that is what upset me ..to make me feel like okay.. who is really a snake here? If we're talking about mistrust here.. I don't even want to use the word snake because I don't look at you like that. Cirie – no I don't either. Jared – but who really is mistrust? I had multiple opportunities to take shots at you and I did not. You had one opportunity to act on it .. and you did. That is what sucks for me. Matt – and I will take blame. Cirie – no don't take blame. Matt – no matter what we're f**king dogs. Jared – You're still my god. Matt – this is game sh*t. Jared leaves. Cirie – I love you Matty. Matt – It just sucks because I could have been a b***h and just thrown it so that I didn't have to deal with all this.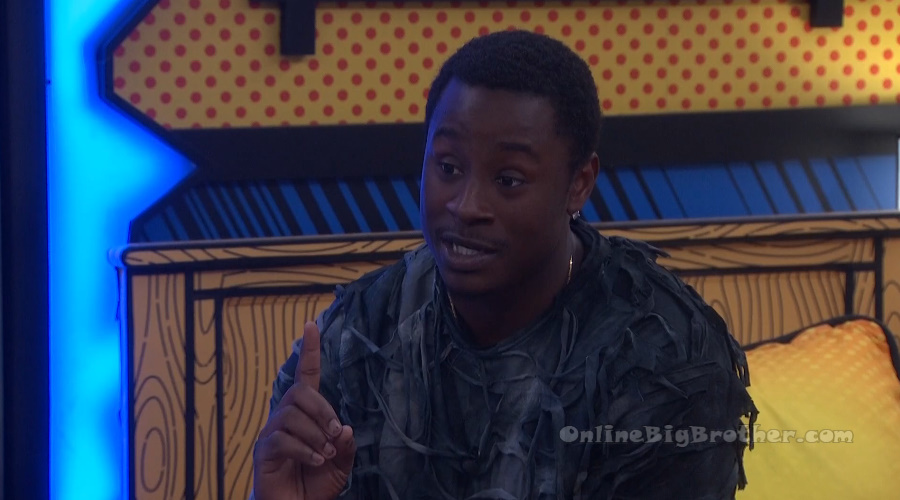 Games Room – Blue and Meme.
Blue – Even in my situation, if I had had an inkling that Cory was going to put me up .. b***h my first person would have been Cory. It would not have been Felicia. I just chose Felicia because I figured I could win. I had no idea that was going to happen. Meme – that was so crazy. I didn't know that was going to happen. I was shocked. Blue – this group is cryptic. Meme points at the cameras – are you not entertained?! The people are entertained. Blue – I didn't even tell Jared this much… Felicia came up to me and I never guaranteed her my vote. I told her that I was getting close to both Izzy and Felicia and that what it is. As a seven we met, we agreed.. you probably know that right!? Meme – yeah. Blue – even when that decision was made I did not feel like it was my decision to tell her that she was the one going home. Like I trusted you 100%.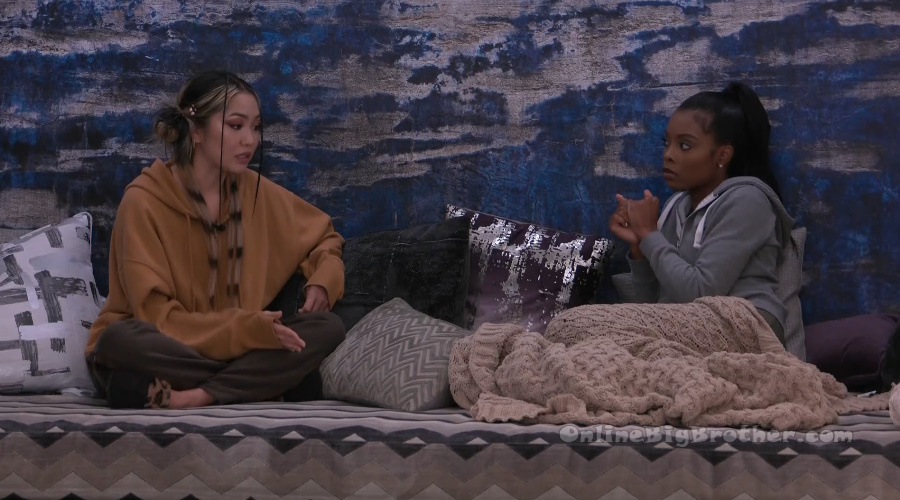 Bedroom – Jag and Felicia
Felicia – I want to believe that we're still good. Jag – that's why I wanted to talk to you. Because what ever happened .. twist this or that .. Felicia – I still want to believe that the Seven Deadly Sins is the seven deadly sins but I want to make sure everyone else is on the same page and that I am not just getting played again. Jag – yeah, I mean is that what they're saying.. that the seven is the seven. Felicia – oh yeah I know, I am not talking that Jared and Cirie. Jag – oh that's what I was confused about. For me that is fully.. like we clearly knew on of the two were going to go and I know my role in that. Jared is a competitor and he's someone that will be a target. Jag – The way I see it, if there wasn't a twist we would have been solid and so now there's a twist, why are we not solid. And definitely chat with Cory, Matt, .. whoever. But for me were good. Felicia – okay.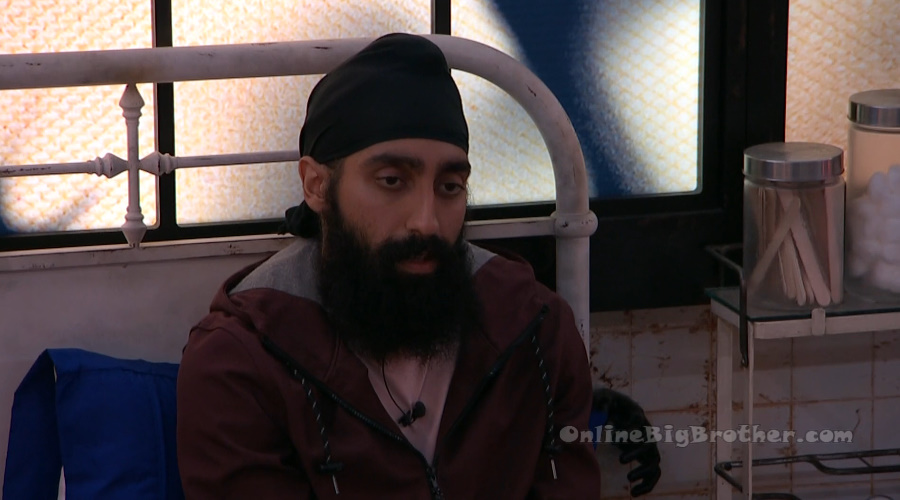 10:50pm – 12am Games Room – Jared and Blue.
Jared – help me understand why you wouldn't tell me that Jag was after me because once again if I knew Jag was after me .. I couldn't do nothing because Jag won the veto. But I would have known right then and there that I could not leave Matt in the house. One of them has to go. Blue – but why Matt? That's my thing? Jared – because that's his next closest ally. Why would I put up Cameron when its just a waste .. and leave Jag in here with somebody he can go after me with and that is literally what happened to me today. Blue – and this is what I thought right.. What I thought was that Matt was truly kind of playing the middle and I thought .. I was telling Matt.. Jared and Cirie really trust you. I was not telling Jag any of this. Jag doesn't know about this. So me telling you about Matt and putting Jag in danger was not going to be part of my plan. Jared – so you were just going to leave me out to dry. Blue – no, why? Jared – I didn't know that Jag was coming after me, I've been telling you this. Blue – I did not tell him that there was a final three. Jared – then why did you tell Matt. Blue – because.. I don't know. I just said, I don't know about Cirie. Cirie – has this, and that. Jared – Damn Blue. Damn. Blue – and he was telling me a bunch of other information too. Jared – aaaghhh.. this just sucks. Blue – it does.. this is literally how I was playing last week too. Jared – you says that you feel played but you played me. Blue – you played me too. Jared – I did not. The difference between me and you is when we had that conversation .. I told you everything bro. Blue – I really don't think so. I am sorry, I could only work with what I got. Jared – and I guess there is not point in keeping on pressing this. I just wish it wasn't in that manor because I really do feel like you played me. Blue – I really wish I didn't think that I could do this on my own. I thought what I was doing was working. And for me to keep working that I couldn't tell you those specific things. I really felt like I was doing the best for me and for you. I am sorry it came out this way, I really thought if I had one more week I could really turn the narrative around. Jared – so on a personal level you would leave me in danger just because you think you could handle it. Blue – not that I would leave you in danger. Jared – So what happens if I stay? You work with them again to get me out? Blue – no! Because that obviously solidified everything right!? Jared – as far as what? Blue – everything. I know where Matt stands ..I know for sure where Jag stands. Jared – as far as who me? That doesn't really answer the question. Blue – so then I would go with you. Jared – so you think as of right now you're not with them? Blue – that is why they want to talk. I have not talked to them because of my position now. Jared – I really trust you .. with everything.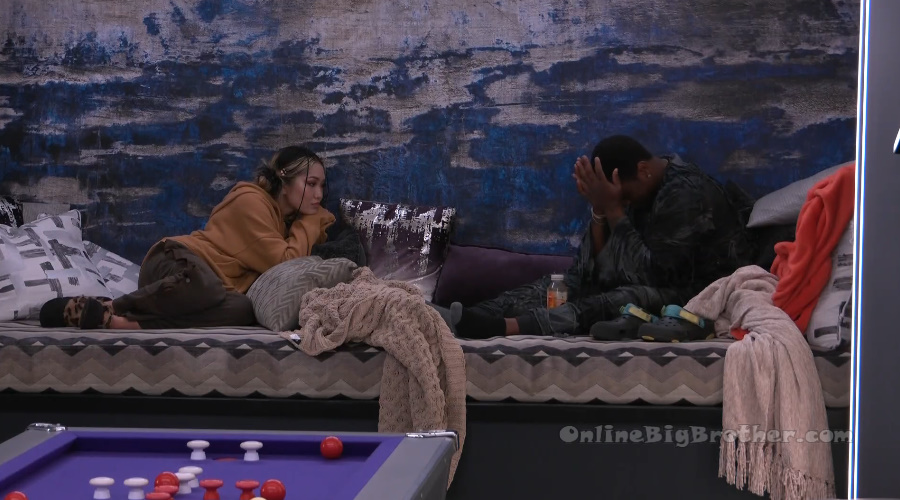 12:05am Kitchen – Jag and Cory.
Jag – we have to be really careful with what we say to Cam because Cam anything… Cory – I am not saying sh*t to Cam. I just recapped what the double was. But I am basically telling him that I want him to come back in the house. When I talked to Jared .. Like YO, obviously I lied to you and so did everyone else. You're a scary guy. To play an other HOH. You just nominated me. I was that simple. Sorry I had to lie to you like that but that is where I am at.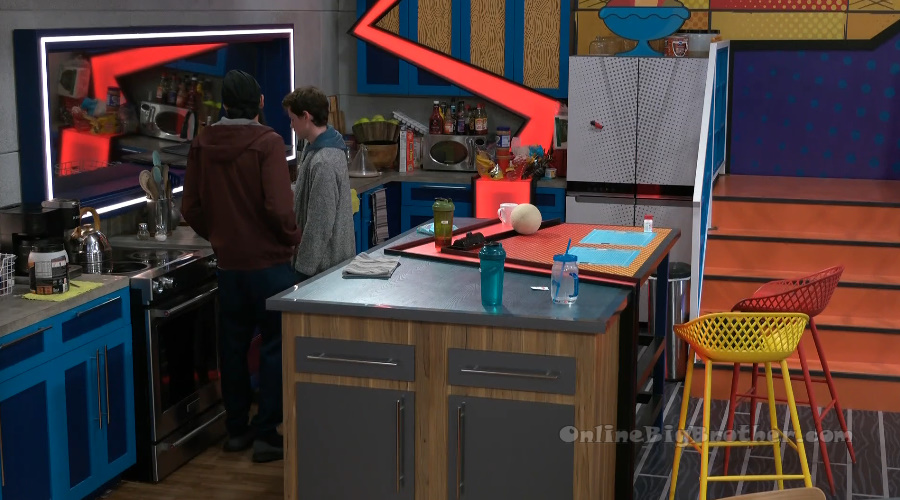 12:12am Games Room – Jared and Blue.
Jared – I literally when i get asked .. yeah, that's just my friend (Blue). I told you that. From the beginning, that's what I said I would say. Blue – yeah you said it in the beginning but even moving forward when everyone sees that we're a thing .. there is no reason to keep that up. I have had a few people tell me. Jared – tell you what? Blue – you down playing out relationship. And yeah that made sense in the beginning but where we are after a few weeks doesn't really make sense. Jared – just to be very clear.. one we never had a title. Number one. Number two, I have told you from the very beginning I don't care for titles. That is not a thing. Blue – that is not what I am saying. Jared – number three, I have told you that people will see what it is, I don't need to tell them what it is. I am not the type of person to tell people what it is.. that's why this is so funny.. that whoever you're getting that information from is telling you these things.. like that is news. I never told anyone anything we did. Blue – yeah but for people to tell you that you don't care I get out. That you would turn your back on me because we were never a thing. But again, ultimately you were downplaying our relationship. Jared – I caution who said that. Blue – do you what to know? Cory said it. Cam has said it. And Izzy said something else about it. But as you were saying .. we're not a thing. Jared – does that.. like is that news though?? Blue – if we decide that, that is that .. then there is no conversation to be had outside either. Jared – HUH, I don't get that. Are you saying in the game or personal? Blue – both.. whatever happens in this house, in the game, personally if we decide to not move forward. Jared – in the game is easy for me. I think you understand that. Blue – ok so personally too whatever happens in this house and what decision is made is going to be the decision outside the house. Jared – is that what you want? Blue – I am just saying .. if you say personal I cannot do it .. 50 days and nothing here, 50 days in Jury house nothing… what is there possibly to talk about outside this? All of a sudden we're going to start holding hands.. no. Jared – I get what you're saying. You want a decision in the house before I possibly leave. Blue – yeah, absolutely. And I am also saying this because you are going to stay. Jared – I have an uphill battle to climb. Blue – I think you're going to take it. So anyway think about it.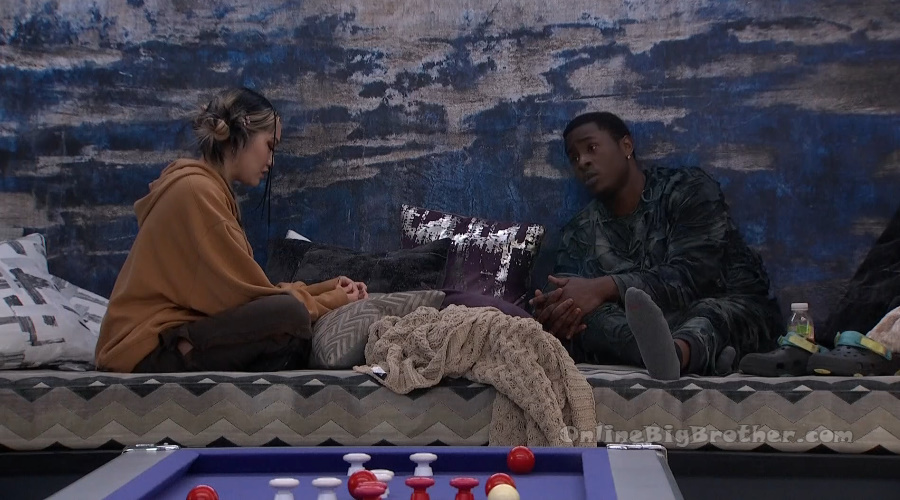 12:20m – 12:37am Cory gets his HOH basket and HOH letter in the storage room.
12:40am – 12:52am Bedroom – Jared, Cirie and Cameron.
Cirie – I said to him (Cam) yesterday .. I saw the writing on the wall. Do you think there is anyway.. Cam – now you've had two people Cirie .. tell you about me. And they're both gone. Two people now have proven me right.. that I'm a good dude. I love this guy (Jared), we had our differences but we see it as a brother thing. Cirie – I told you I was on an alliance and they just proved my island today. Cam – I've been on that island. Did you tell him what I said before the vote. Cirie – he said you don't have to be on an island by your self. He knows what it feels like. Cam – I've been fighting. We've been fighting. We've all been fighting. Jared – damn bro, I wish there was someway we could both stay here. Cam – I tried to make it happen before the veto last week. I know that you did what you had to do because if you had done anything else you would have been in hot water.
If you've enjoyed our updates this season and want to leave a tip you can do so through PayPal.
You don't even need a Paypal account to contribute. Any amount is greatly appreciated!