The Situation:
Jared and Cameron are living in the house as "Zombies"
No HOH, No Power of Veto, No Eviction. Jared or Cameron will get a chance to reenter the game.
Jared and Cameron compete in a week long comp to decide who gets to play in the puzzle comp to reenter the game
Lock your ranks in before midnight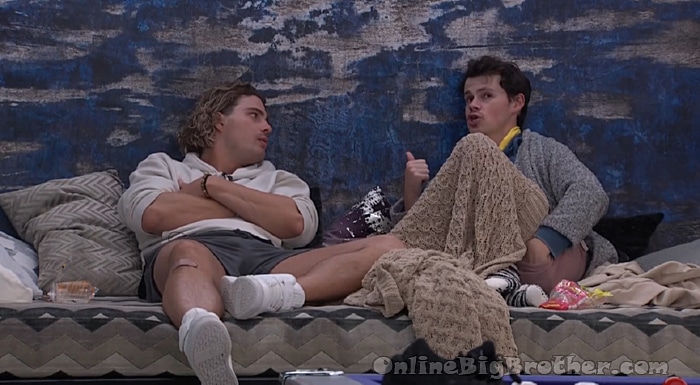 1:30 am Corey and Matt
Talking about this week keeping their relationships with Blue, Felicia and MEME.
Corey – if it's jared blue and Cirie all of them against us then we're in trouble if it's Jared and Cirie you know we have a good shot.
Matt – I hope cameron wins.. I'm scared for him
Corey – one more good competition outcome and we're in Jury
Matt – I know
Matt says during the veto one of the last stakes he didn't have to dig for he just saw it floating. He must have pushed it up when he was digging around the balls.
Matt says Blue was really trying to get him to use the veto. "She was begging me to use it.. I was like I'm sorry if it was you going home I'll use it but it's not you going home"
Corey – she said that then? I thought she said that before. She said that After the veto
Matt – it was after the veto.
Corey – I asked her after would you have used the veto on jared she said no. She thought he would stay against Cirie.
Matt – she wanted me to use it on her then Cirie would go up. She knew that was Jared's only survival.
Matt – when are we going to get a shot like this? I had to I had to keep it the same.
Corey points out that Jared would have picked Blue if she wasn't nominated.
Corey – he had just nominated me and America!
Matt – we have to get Jared out .. you, Me, America, jag..
Corey – Bowie
Matt – it can be so easy if we stick together. We've been in the same sh1t together we were always played.
Corey – we all voted out Jag
matt – we did
they laugh
Corey – f*** that guy
they laugh
Corey mentions that Bowie being trustworthy was a big deal "I know if she won HOH she would have put up Cirie and Jared or Blue, Jared, Cirie"
Matt – she knows she's been played by them. And she likes us. We're the first alliance that hasn't used her.
Corey – I'm going to keep hanging out and biking with her.
Corey asks Matt how mad was Jared
Matt – he was a boy he's like I love you bro.. THis is just game.. I lost trust in you gamewise.
Corey – he didn't seem mad at me.
Matt – he was like you lied to me Bro you lied. I was suss about you and I could have put you up this week but I didn't.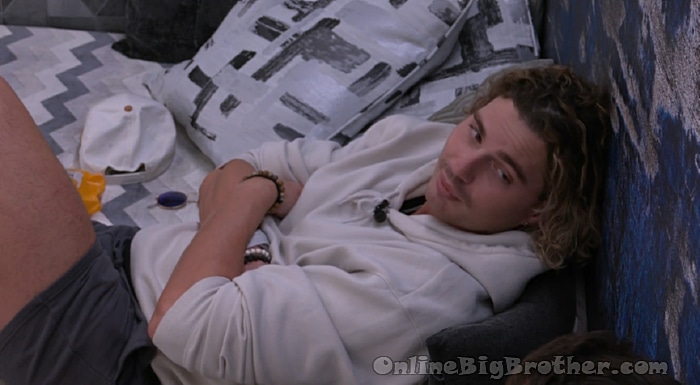 Matt – I was like yeah you put Cam up
Corey – it's not like he did you a favor.
Matt – he's using it like that. He's trying to paint me as a snake.
Corey – before the double he told me if I wanted you to go home I would have put you next to Matt.
Corey says if Cirie had won that HOH it would have been Jag and matt nominated. "After you guys clearly picked her"
Matt – for sure
Corey – I was so mad when MEME picked Bowie from the start.. she said it wasn't a big deal she didn't think about it. She was apologizing to me for picking me over Blue.
Corey – I told her it doesn't matter but I'm pissed.
Matt – Cirie feels really betrayed I feel bad..
Corey – she betrayed you like 7 times
Matt – I know I know but she's not admitting it that's what makes it hard. No one is admitting it.
Corey says when he use to work with Izzu, Cirie and jared they would say "Ohh we can bring Matt along until.. "
Matt – which is good means they trusted me. Here's the thing Cirie really did think I was her one-two-three
Corey – she had a final two with Felicia, Jared, Izzy,
Matt – she never admitted that when I called her out.
Corey – I hope Reilly is rooting for us.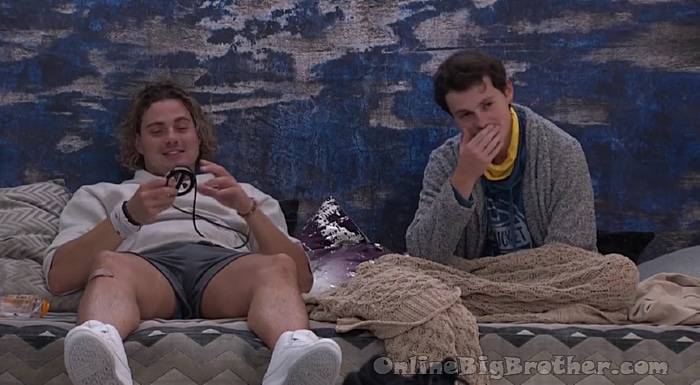 Matt says the Veto he won was made of wood not like the metal ones.. "it's cool it's Matte black.. we're this to the bars this is part of my chain"
Feeds flip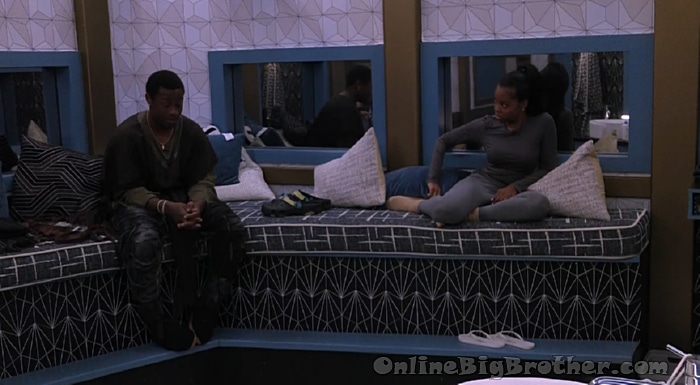 2:09 am Jared and MEME
MEME says Corey told her about the brown sugar babes and said Jared told him 3 weeks ago. Jared denies.
Jared going on about how Corey, Jag, Matt and America are going to take her out before they take out Cirie, Felicia and Bowie. "They are getting who is the competitor on the outside.. they are DAMN sure not going after each other before they go after y'all"
MEME – MMMMMhmmmmmmmm
JAred – the only thing you all got is if one of us stay you all go up next to us.. that's the only thing you got
Memem – mmmmhmmmmm
Jared – even for me I'm like sh1t staying is cool and all i'm going to be fighting every f***ing day I know what will happen
MEME – MMMMMhmmmmmmmm
Jared – I know what will happen. As much as I hate to say it it'll be right where we are today if for whatever reason they don't put two of us up again.. they have the numbers to send us home every f**ing week
MEME – MMMMMhmmmmmmmm
JAred – I will never give you advice in the game you are smart as hell. umm.. keep working your angle.
MEME – do you think I have an angle with these children?
JAred – keep them off of you
MEME – you think I have an angle with these KIDS please.
Jared goes on about knowing what will happen in the house next it's very clear in his mind.
2:15 am Corey and Jag
Corey – I'm so happy i'm not working with them anymore. (Cirie, Izzy and Jared)
Jag – the beauty of this thing is if we stick as a team we can get our a$$es to save each other.
Corey – one or two HOH's can be scary. We need one more good HOH outcome.
Jag – the last three comps were my veto, You HOH, Matt's Veto.. that's f**ing fire.
Corey – we were making fun that none of us can win and HOH. Well we won one more
Jag – we need a couple more.. here's the fact of it. Veto are to avoid worst case scenario. HOH are too get the best case scenario.
Corey – I don't want best case. I want Mid scenario.. I want Bowie Jane.
Jag – Bowie Jane winning.. so all of us can play the following week.
Corey – I am nervous I'll go up there and ask who are you putting up and she'll say I don't know
Jag – she needs a team to trust.
Corey – I trust the f** outta Bowie.. I've been saying Blue out Bowie in for a f***ing week now.
Corey – f***ing MEME bro! what is wrong with her? Dude she tried to f** me so bad twice.
Jag – what do you mean twice.
Corey – she picked Bowie immediately.. when I'm up there there's four people that I know winning that comp will be fire and Immediately Bowie is out and it's Blue that knocks out Felicia. Then you and Matt get slaughtered. All of a sudden I look around and i'm like f*** it's me, America, MEME, Blue and Cirie.
Jag – she had to cover her own a$$
Corey – I get the Bowie one but picking me over Blue shocked me. She's not like close to Blue she was literally I want jared to be safe.
Jag – yeah yeah
Corey – She's (MEME) is playing so dumb and I know how smart she is. it's so annoying. She's really a brilliant person.
Jag says playing a floater or playing the middle in Big Brother gets you far Bold players don't make it far.
Corey – I floated my way for 6 weeks and was never in danger and then the second I make a swing I've been in the sh1t every week.
Jag – why has MEME never been in danger? Why has Bowie Jane never been in danger?
Corey – even Matt.. Until today.. America has been kidna doing the same thing but people don't trust her.
Jag – everybody was floating. Jared was floating his ass
They agree MEME screwed them over and they still aren't targeting her.
Jag – target everyone else first and by then there will be a MEME HOH
Corey – Dude we got such a lucky HOH draw and we almost fumbled it so hard. Did you guess wrong or did Cirie guess right?
Jag – Cirie guessed right.
They agree the trick to the comp is rule out one first then guess out of the two remaining
COrey says if he hadn't won HOH he would have been going up during the double. "If Blue won it would have been me and Bowie"
They agree the veto picks were great.
Corey chose Jag and JAred picked Matt.
Corey – I thought he would pick Cirie cause it's one person he could beat.
Corey – thank god we put Blue up.
Jag – if Blue wasn't on the block and she won what do you think she would have done?
Corey – take Jared off 100%
Jag – Bro..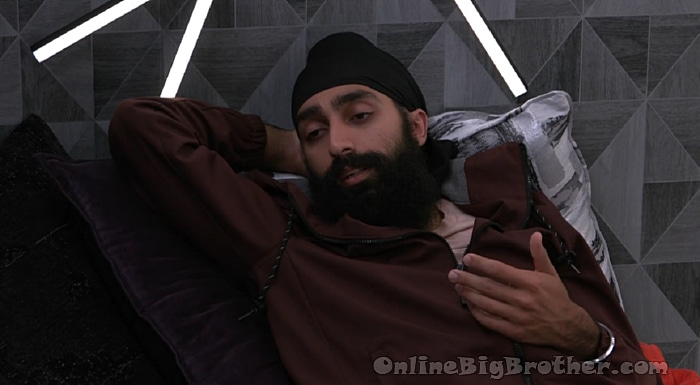 Corey – we would have voted out Cirie and Cameron would have came back.
Jag – then we would have made this big move failed to get him out and then Blue did that f**ing cam comes back. Jared is still there..
Corey – the one good thing Cameron would have targeted Jared. I don't think Jared targets Cameron though.
Corey – lets go Cam..
Corey – I think he'll beat JAred at this part.. He's faster at the beam.
Corey says Jared's strategy is "Kinda whacked"
(Sounds like they all get to watch in a competition JAred and Cameron do)
Corey – this is a classic comp.. this was the Caleb… it was Frankie was the one that ended up going home.
Corey talks about how boring that season was.
They both think the season they are on is on fire.
Corey – 19, 21, 22 all sucked.. 23 was pretty good. 24 kinda sucked but Taylor won which was cool.
Matt joins them. "I need Cam to win.. should He do the puzzle or no?"
Corey – it'll be a little tough for Jared.
MAtt – he get to choose
Corey – I trust that Cameron can do it. Jared might.. Cameron is good at this stuff.. Usually the puzzle is something you can easily do but the pressure is really hard.
Matt – I had a talk with blue.. it's good.
Corey says right now Blue is pissed at America and not a fan of Corey.
Corey points out that Blue is in a great spot.. the targets are Matt/Jag or Corey/America
Corey – all I care about is if she wins HOH we need to survive.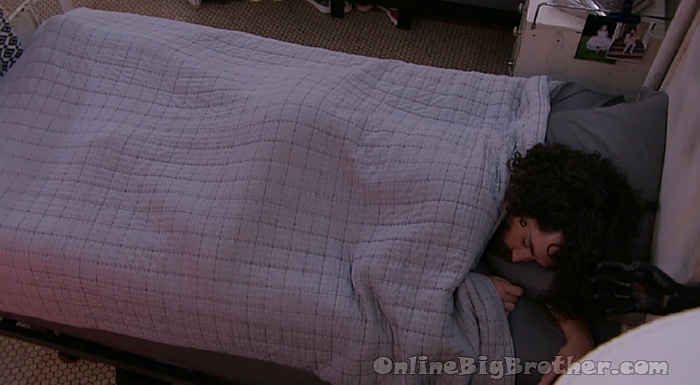 2:31 am Cameron sleeps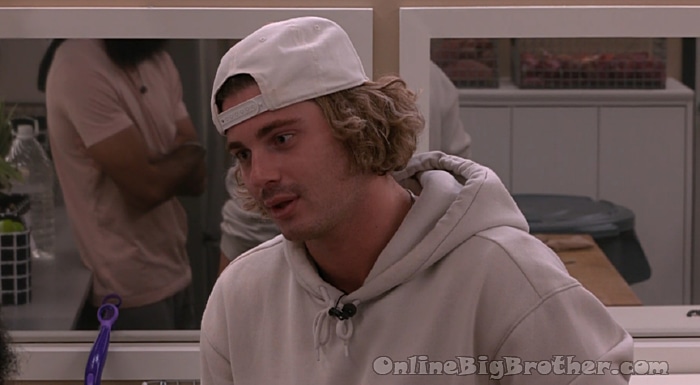 2:47 am MAtt and Jag (Jag is helping Matt bandages his knee)
Jag – Bro you bossed out hard
Matt – balls to the walls
Jag – what did blue say?
Matt – she says she understands. She said nothing bad about you she still wants to work with me and you. No One else.
Jag – she's not happy with Camerica? (Corey/America)
Matt – she's not happy with Corey and America but we can work on that.
Jag – If Jared stays is there any chance he would be with us?
Matt – I don't know
Jag – I talked to Jared .. Brother you lied to use we had to make a move.
Jag – any other updates?
Matt – with her nothing secretive.
Matt goes on about how he'll tell JAred he made the move during the double because of Jared's lying. "This was a house thing not only us, 8 people wanted this"
Jag – Dude I think Cirie doesn't want to f** with em at all after that conversation.
Matt – cause you are like I'm not telling you..
Jag – me, you and Cirie need to talk.
Jag says they need to ask Cirie if she told anyone about the super power if she say no they will know she lied. "I don't want to throw anybody under the bus but we know she has all these other alliances.. final whatevers.. it makes us feel expendable.. at the end of the day she will feel better about you than me"
They talk about the veto competition last night.
Matt – I was so in the moment I didn't pay attention with what was going on … I was BOOM BOOM BOOM.. I won a real Big Brother Comp..
Matt says JAred picked him for verto then he didn't use it. Adds that JAred feels betrayed.
Jag – he betrayed first.
Matt – that's the thing
Jag – you need to talk to Jared again and get into that conversation. Why did we choose not to trust him.
Matt farts and it stinks "Fart of a champion.. it's stuck in here"
Jag – Jared might say he's chill with us but there's no chance in hell he'll be chill with us. Jared will go after us..
Matt says there's people in this game that haven't done anything they've been playing a lot. 'MEME hasn't done shit she's just chilling all the time"
Jag – she hasn't done sh1t today.. she f***ing chose BOWIE JANE then she chose Corey!
Matt – I know..
Jag – what if we made an alliance with all the game players?
Jag – we get rid of Cirie, Felicia, Bowie and MEME.. it's just me, you, Corey, Jared, Cam..
Jag – we have to get rid of Jared..
Matt – we had them gone! we would have made it to the end.
Jag – we were good with Blue and Bowie after that the mommas and MEME.. that's it.
Matt – we just got to win this HOH we have to be ready for on THursday.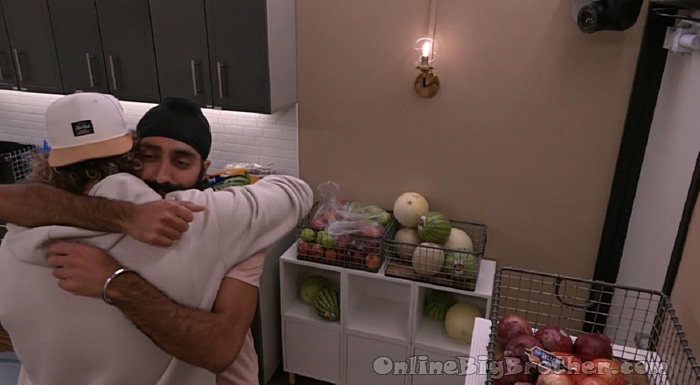 They hug it out.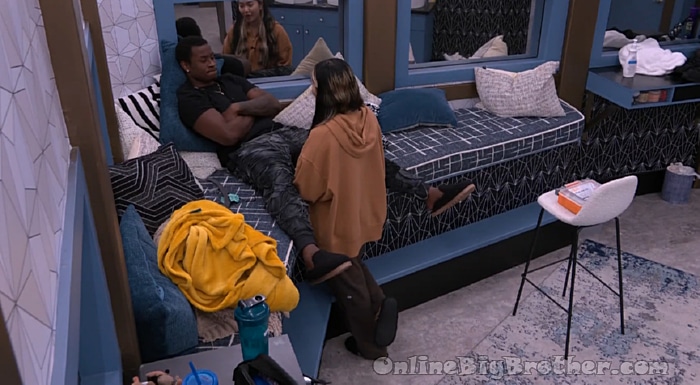 3:36 am – 4:52 am Blue and Jared are still chatting.
5:16 am zzzzz