Quick Big Brother Spoilers
Head of Household: Jared
Nominees: ??
POV Players: ??????
POV Winner: ?
Veto Ceremony: ?
Havenots: ?
Lock your ranks in before midnight
The situation – From what I can see Cameron is the target. Noms could be combinations of America/Cameron/Corey/Jag.
12:30 am Blue and Jared
Blue – can I trust Cirie? What was a point of a final 4 if Izzy was saying all this stuff
Jared says he had no idea Izzy was saying shit to Corey.
Jared – the only reason I knew Izzy was getting too close to Corey and America cause when I told they needed to go she damn near SPAZZED on me talking about they can't. I'm like BRO I told Cirie day one when Izzy went on the block.. The was the first day she came off the Kayak.. YO, I'm not going to lie Izzy did some sh1t last night that scared the sh1t outta me.. She told me she needed Corey and America for her personal game. Even though she knew America was saying she would put her up. That was dangerous.
Blue – wait sorry what?
Jared – The day before they came off the kayak me and Izzy had a conversation I said listen I do not f** with America I don't f** with Corey. She said YO you need to patch things up with Corey you don't need to be friends with him but just to keep him cool. BRAH i don't trust him I don't trust America AT ALL which is pretty evident at this point to EVERYBODY. Umm.. basically she spazzed on me she was like YO like like I need them. I was telling her like YO if I get a chance i'm putting one of them up especially America.. I'm definitely putting them up.
Jared – she was like YO you can't do that I need them. I'm like BRO you were literally listening to them saying they want to put up one of our final 4's and you telling me you want to keep them around for you personal? I'm like BRO that don't make sense.
Jared – the day Cirie came out of the kayak I said listen the one thing that spooks me out about Izzy is she knows America would put you up and she still wants to keep America around.
Jared – Izzy is not here no more BRO.. why are we still talking about Izzy
Blue – cause it just happened
Jared – she's not here any more
Blue – we can still talk about it
Jared – what are we going to get to talk about what Izzy said to America
Jared – I didn't know Izzy told Corey about the 7 deadly sins
Jared doesn't care about all the alliances 'BRO' he goes on about knowing about the professors and the Bye bye Bitches.
Jared – There's a million groups in here we can name groups for DAYS! there's Final 2's in here without name we can name for days.. there's final 3's in here we can name for days .. i'm just like BRO who gives a f*** like it doesn't f***Ing matter..
Jared – what i'm more concerned with is last night Jag knew he wasn't voting Izzy to stay. This morning he never said one f**ing word to me about that sh1t that's what I'm more concerned about. If that is what's happening it needs to be brought back to the table.
Jared says cameron is doing exactly what he wanted to do and everyone is losing their sh1t over it. "that shit is pissing me off BRO"
Jared – Who says what.. who is saying what I don't give a f*** As far as your relationship with America I've never done anything to compromise your relationship with America. I never said Anything to Corey or America about you. I've never said anything to Cirie or Izzy about you and America. I don't care that's you.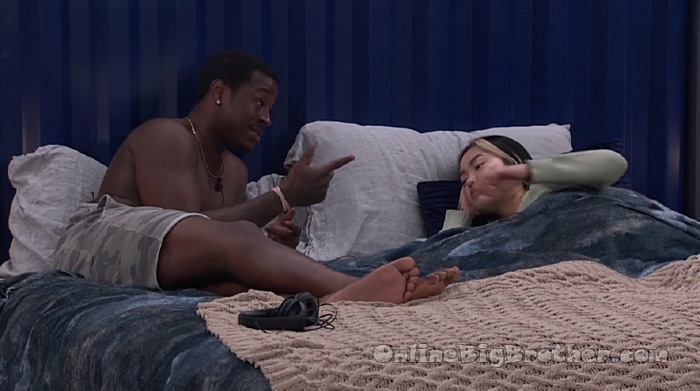 Jared – I'm going to cut America first chance I get period so this sh1t is starting to be too clear.
Jared – I expect America to come after me, I expect Corey to come after me I expect Cameron to come after me. that's it anybody else that's when I get surprised.
Jared – I told Jag the same thing I'm not going to lie I was rubbed the wrong way.. I didn't find out you were voting a certain way until after this whole argument. Last night you had this conversation that spooked you so much that you felt
Jared goes on about being sketched out by Jag flipping his vote on them last night. Jared says last night Izzy and Cirie came to him and said something funny happened. "I expected Jag to go the others no.. I need to talk to him tomorrow BRO you've been finicky as F**"
Blue – ok, that's all I needed. I'm not going to talk to America about it I trust you.
Jared – the guy that is adamant about not trusting America. the guy that is adamant about getting America out you don't got to worry about me saying nothing to America.. YOU DAMN SURE don't have to worry about me saying nothing to f***Ing corey. that's just that.
Jared – what's up with you and America now?
Blue – I don't know I just ended it with I need to talk to him about it.
Blue says that America told her a lot. America knew about the 7 deadly sins weeks ago and She knew Blue has been lying to her
Blue – She repeated everything I said to you Izzy and Cirie
Jared – about the group? what else?
Blue -she said she knew that I told everyone about our alliance and the fact that I was making out to be a target. Which I wasn't but OKAY.
Blue – America told Jag that he couldn't trust me anymore.. Yeah. I was loyal to the 7 and no matter what I was going to say it you three (Cirie, Jared, Izzy)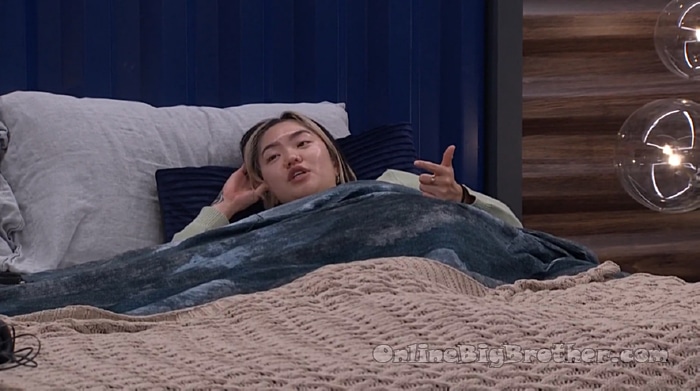 Blue – I said yeah it was ME.. I came clean. I was the one that told them. Yeah there's a 7 deadly sins alliance that's 100% too. I told her But I want to be real us getting closer that wasn't part of any deal. that wasn't part of some master plan I genuinely feel closer to you (America)
Blue – I said Even though you don't trust me gamewise I still see you as one of my friends here as someone that can hang.
Blue – I told you from the very beginning I didn't want to look stupid.
Feeds flip to Bowie washing her hands. When we're back Jared is talking about the meeting in the have nots earlier today.
Jared – I wanted to talk to Matt and Jag.. Cirie walked in on her own. Bowie was just there. my point is nobody got brought in and was like YO not Blue. I didn't even go get Jag. Corey got Jag.
Blue – Why did Corey flip in the first place if he was so close to Izzy.
Jared – That is what I've been trying to find out all day I don't know.. That's with all taht sh1t was about. According to Cory to him he says he's been given all this information about me targeting him obviously he knew about me targeting America and this is what I told Corey Bro you are really sounding crazy right now. because I am sitting here saying I did trust you I f***ed with you for a minute and now you are telling me now this whole time you were feeling safe with me because I was coming after America and that was somebody that was good for your game and you were protecting Jag because we were going to backdoor Jag.
Jared – I was like BRO what are you f***Ing talking about my BOY you are bumpy and s1ht where is all this sh1t coming from. Corey had a whole bit of animosity today like a whole bunch of animosity and I don't know where the sh1t twas coming from.
Jared – According to him last night they must have put it all together, Jag, Matt, Corey and America. I'm the problem for some reason and now we to flip and go the other way.
Jared rehashes the start of the have not blow out today. HOw he talked to Matt first then called Corey in. "from there it just went downhill"
Blue says she's happy Jared won the HOH so he can "execute his plan and get Cameron out"
BLue goes on about why she didn't go to him right after talking to America. She needed time to process the information she didn't want to come in "Hot and heavy" after he won HOH.
Jared – I'm a grown a$$ man BRO there is nothing y'all can say to me that will make me feel like I couldn't handle a intense conversation
Blue says she isn't very close to Cirie she was close to Izzy and through Izzy was good with Cire now that Izzy is gone she's got nothing with Cirie.
Jared goes on about Izzy getting too close to the wrong people.
Jared brings up the final four they had with Jared, Cirie, Blue and Izzy.
Blue – It's not that I don't trust Cirie it's not that I don't whatever but.. it's the fact I did feel closer to you two and now that she's gone I don't know what Cirie will do because I know Cirie is closer to other people in this house than she's close to me.
BLue – I don't question her loyalty if she says Blue we're the final 3 lets get it.. I would get it.
Jared – I get that point.. that I get that makes sense.. that has nothing to do with f***ing America.
Blue – told you I'm not going back to her. You said your piece and I believe you I'm leaving it alone
Jared – YOu approached me like I said something to America
Blue – No I was just asking you I just wanted to know your side of it. I stopped my conversation with America and was let me ask him first.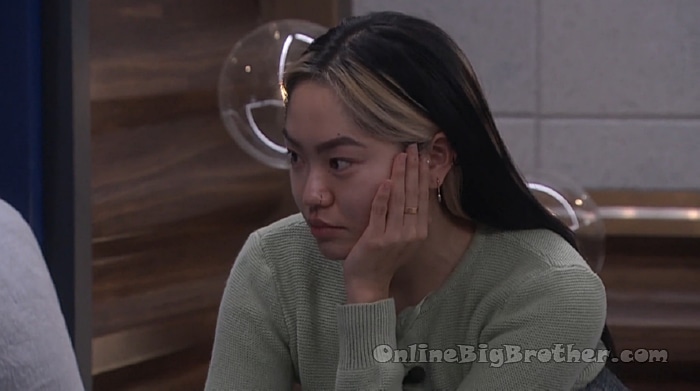 Jared – okay.. okay.. I'll let you talk to Cirie.. I can't let you talk to cirie I want you to talk to Cirie so you can have your own conversation with her but one thing I can tell you right now verbatim. No if ands or butts about it I'm pretty sure I know Cirie has no loyalty to anybody in this f**Ing house other than myself and you and Izzy. She's the only person that voted for Izzy PERIOD
Jared – you said she has loyalties all over the house. WHO?
Blue – she's closer to other people than me.
Jared – Felicia?
Blue – NO, she's closer to Matt than she's closer to me. She's closer to Corey.
Jared – NO she's not.
Blue – she goes and talks to him way more. SHe's never come talk to me.
Jared complains she wasn't happy when he won the HOH.
Blue apologies says she is happy he won "You winning HOH is better for me so you can do what you've always wanted to Cameron"
Long silence.. BLue called into the Diary.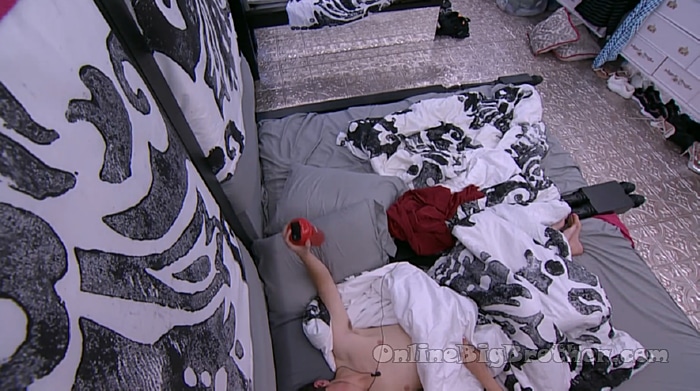 1:20 am Corey and America
Corey is saying he has one pair of clean underwear left.
Corey – you know what makes me feel better? Today Jared said yeah I haven't trusted you for two weeks. WEll that's what the f** have I been talking about.
COrey – for the REd/Jag move what they are saying the plan was always to vote out REd they never trust you and America so we're telling you the fake plan.
Corey – I said I know this is kinda a shit show but I love and respect all of you nothing is personal. I want to be friends with all of you after the show..
America – no you did not F*** All these people
Corey – then we fist bumped..
feeds cut.. then go to sleeping houseguests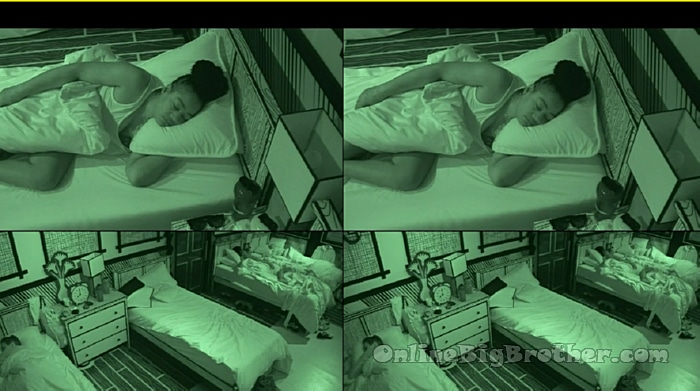 2:50 am zzzzzzz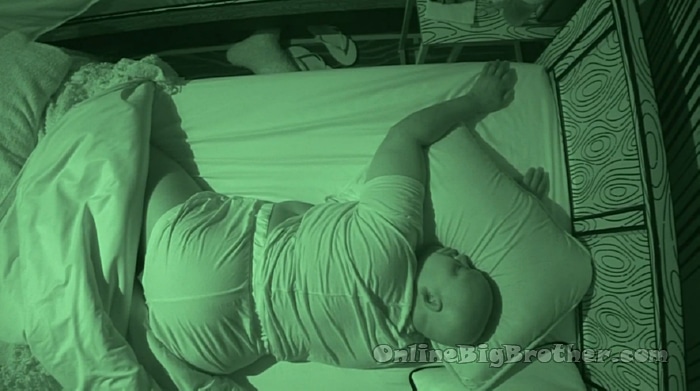 3:15 am zzzzz
9:15 am Houseguests getting up for the day.