Quick Big Brother Spoilers
Head of Household: Jared
Nominees: ??
POV Players: ??????
POV Winner: ?
Veto Ceremony: ?
Havenots: ?
Lock your ranks in before midnight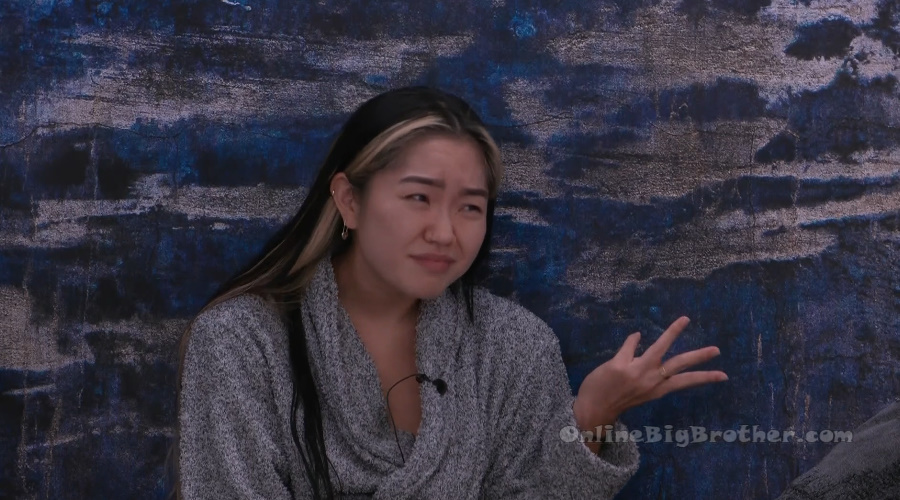 9:50pm Games Room – Blue and Cory.
Blue – I don't give a f**k about him at this point that bridge is burned. Cory – I got you. Blue – its gone… with that being said I think we're in a really good position because I still think overall his goal is going to be Cameron. Because he is the biggest target to him especially because he can't play next week. Cory – and because he doesn't think I can win a competition. Blue – exactly. Cory – so the way I think it has to be then .. like we know Jared. He is very headstrong he does what he wants. I think it would have to be a backdoor on Cameron. Blue – yeah, yeah. Cory – I think the reality is its me and Cameron on the block. So my guess would be me and America or Me and Jag. And me and Jag probably makes more sense because one of us probably have a better shot at winning the veto. Blue – I think it was going to be America and Jag.. but after what happened today.. Cory – oh trust me I am living in the present. Blue – Just so you're also aware at this point I am glad that I didn't win HOH even though I wanted it so badly like this week especially after finding out everything I wanted to win so badly but.. its nice that Cam is the target because next week POO can't play and its Bowie, Cirie and Felicia. So our chances are higher and if I get the opportunity to win HOH next week.. I told POO this before… time and time again I've always promised him it was going to be me taking his a$$ out. So next week if I can make that happen that is going to be my goal. Cory – Bada$$ Blue. Blue – but also just so you know .. I don't remember who Jag or Matt said that you mentioned that your brother was in survivor. Cory – yeah that was something I mentioned to people a long time ago like America, Jared, Cirie and Izzy. And then once this was all happening I had to go tell everyone. We just didn't get a chance to talk but its basically open information. Blue – I already knew, Jared told me a week or two ago. Cory – he was so on my a$$ about telling America anything and I knew he was telling you stuff. Blue – I know. I just wanted to have a quick conversation because moving forward…. Family Reunion is back. (Family Style) Cory – you know I am down. Cory – the only thing that I am going to try to do is me and America are going to try to buddy up with Cameron super hard. I want him to think we're a trio. Blue – and I will push it hard too.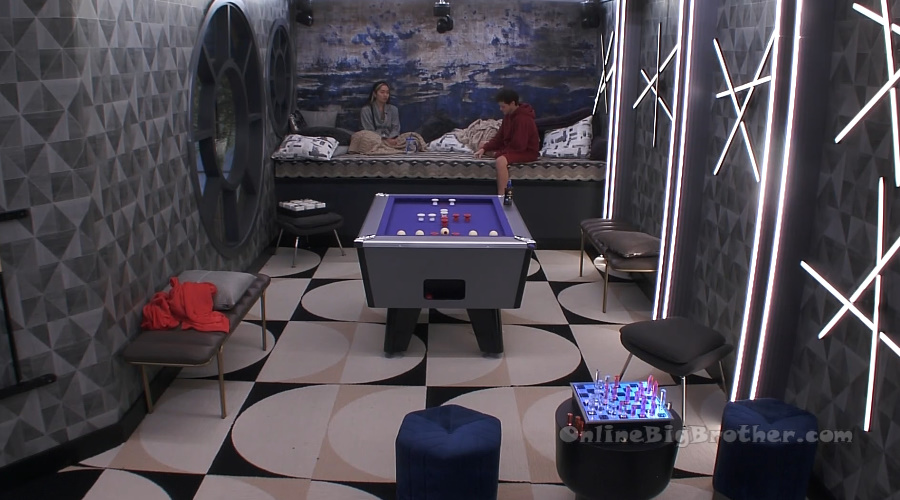 10:06pm Bathroom – Jared, Felicia and Meme.
Jared – as much as I don't like how Cory acted and all that sh*t… putting him up on the block is cool and all but what the f**k is Cory going to do for me? I don't think Cory is much of a problem. Even America .. I am really feeling like Jag. I think Jag is the one that needs to go up. Just so if Cameron wins, hopefully you take your a$$ down. But if Cameron f**king wins.. You can send your a$$ home. Thinking about the crew .. obviously Cameron is the all time high of that crew.. and theoretically next it would be Jag. America and then Cory. Tonight I've seen that America keeps all of them together. Felicia – I might do Jag and Cory and if one of them come down, put Cameron up. Jared – that's what I was thinking. That is what I was leaning more towards. As much as I would love to put up Cory and America.. I am also like Ehhh.. it really ain't worth it. I do want to show her a$$ that she could go up at any minute. I know she is feeling that .. and that is enough for me. Felicia – right. Jared – what I am just going to do tonight is getting everything .. EVERYTHING out of Jag. The moment he (Cameron) don't get picked (for the veto) I was already preparing to be like WHOOOOO! That's your a$$! That's your A$$! I'm going to say it right there before the veto. Bro, that's your a$$!! But I've got to prepare for the worst.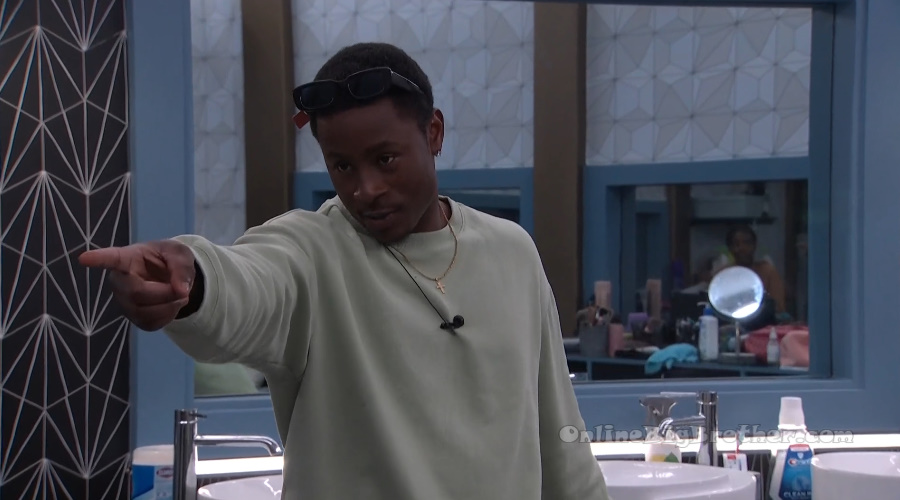 10:36pm Cory and America showmancing.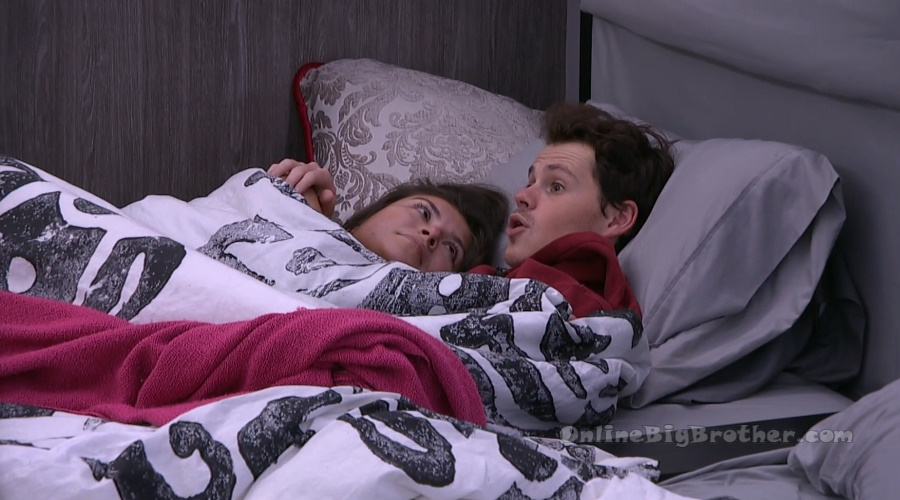 10:43pm Jared – who wants to see my HOH room!!! America – more pictures of his F**king dog .. YAY! Cory – yeah his dog is f**king adorable. I want you to get a dog. America – Ewww! Cory – you'll learn to love them.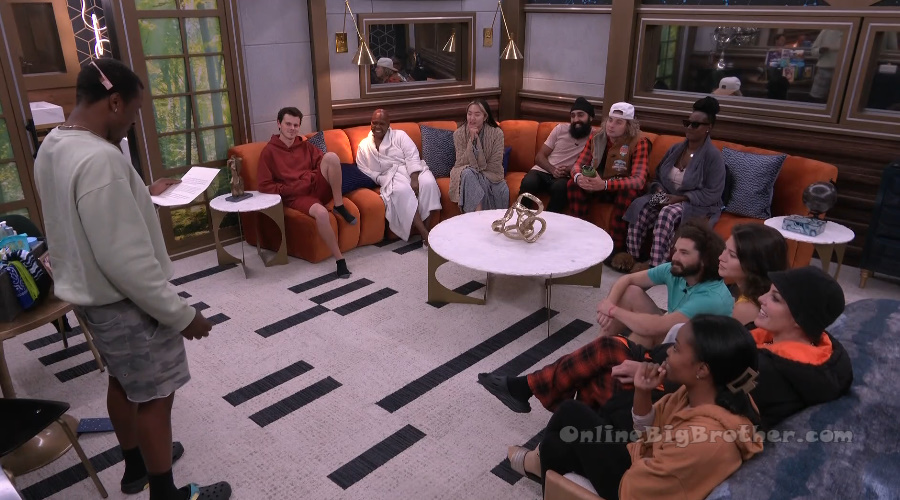 11:01pm Bedroom – Cameron, Cory and America.
Cory – would you consider me an alpha male or a beta male? America – after today.. alpha. They talk about the fight between Cory and Jared. Cory – Jared goes I'm a grown a$$ adult. And I said SO AM I! Cam – only kids say that.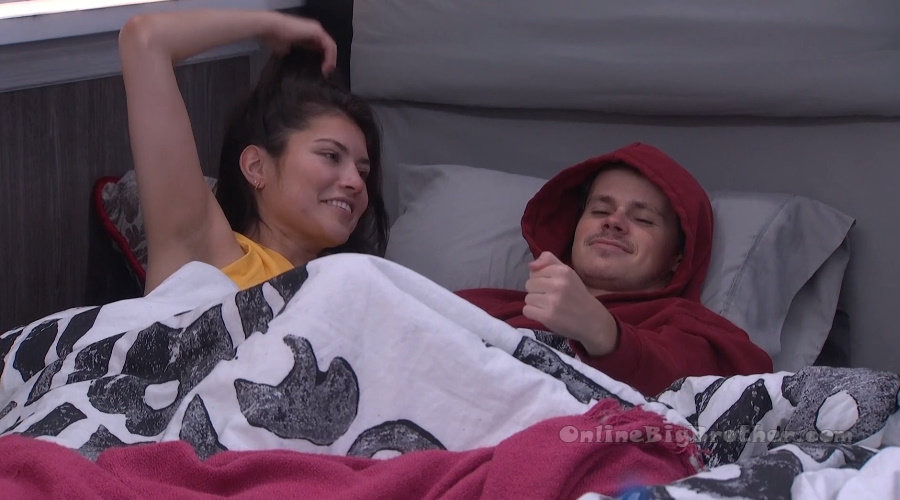 11:07pm Havenot room – Matt and Jared.
Matt congratulates Jared. They talk about the wall comp. Jared – obviously BRO I feel solid with you. Matt – oh yeah and Cirie knows that I feel solid with her. Jared – I feel solid with Cirie. Obviously I am super solid with Blue. But at this point bro that's really it. Matt – obviously this is your HOH but if it was mine I would do Cory and America and then if one of them come down, Cameron goes up. Jared – I am going to go off on him BRO! Here is the thing I know he probably told you. Not Cameron but Jag.. Do I keep Jag around BRO? Matt – I know I know .. what do you think. Jared – I don't know. And I don't know where I stand with Jag at this point. Matt – I would keep him around at this point and then toss him later. Jared – do you think he is someone I could trust? Matt – I think so because his targets would be Cameron for sure and America. He has not said you. Jared – I am just letting you know that my mind is not made up yet but it is definitely between those three (Cam, Cory, Jag). Cameron is the ultimate goal. Matt – and he won't make jury now. Jared – I was so happy about that. The moment he (Cam) doesn't get picked for veto .. I am screaming "SEE YA!" The moment he doesn't get picked for veto.. that's his a$$. That's why America and Cory are laying down there looking all f**king sappy right now because they know what it is. And America .. depending on how my conversations go with Jag.. she might be safe Bro! Between her and Cory ..she is predictable.. that sh*t (Fight between Cory and Jared) threw me for a loop today Bro!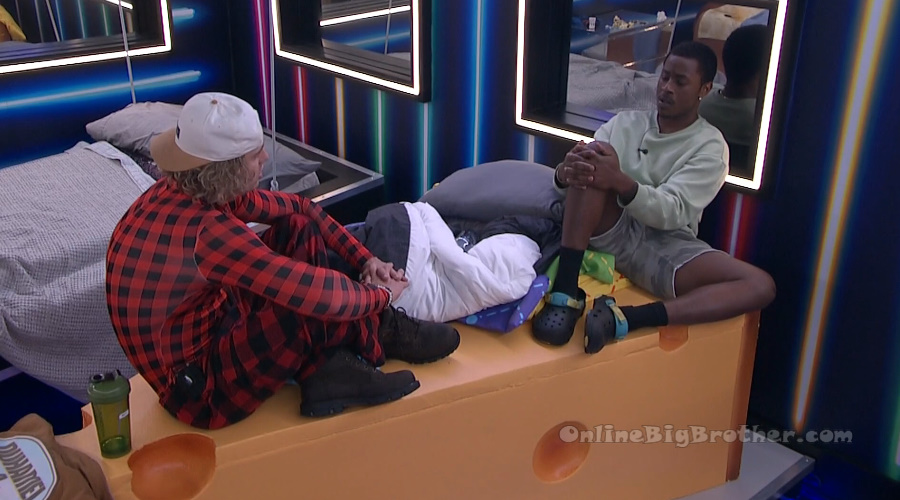 11:35pm – 11:50pm Bedroom – Jared and Jag.
Jared – how you feeling bro! Jag – I feel like what happened today was much needed. Obviously it was a lot of you and Cory going back and forth about like na na na… tell me if I am missing remembering this or not because this for me is huge. Did Cory or did he not say he knew 3 weeks ago and then America found out yesterday? Jared – yeah. Jag – he said that right? Jared – 100%. Jag – after America comes to me and says yeah .. I knew about it 3 weeks ago because Izzy told me. She says that to me.. that to me is laid out right there. That is sloppy. Jared – this is what I need to know from you. No I didn't want Izzy to go but it is what it is. Izzy at some point got way to close to that kid. Jag – I knew they were close. Jared – but not to that extent. Now that, that is out how are you feeling about the six or seven? Jag – we need to get everyone on the same page and bro we need to get together and no bullsh*t bro.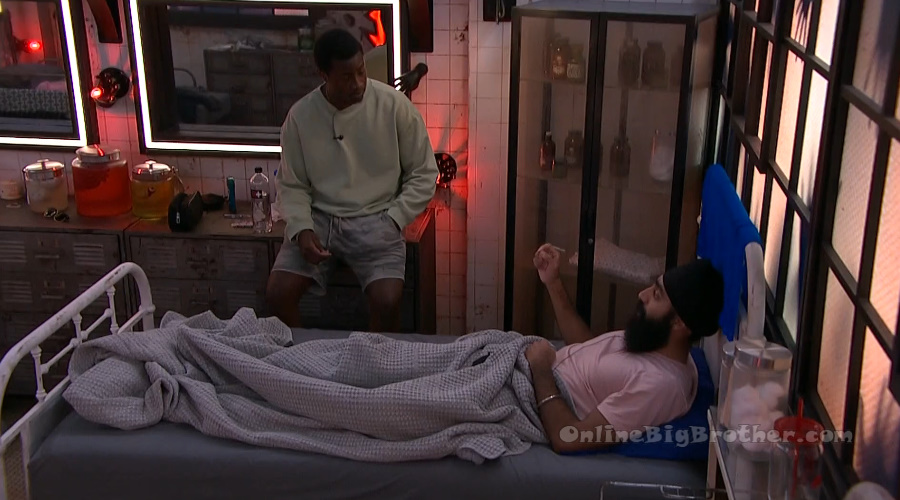 12:11am – 12:30amCory and America lip smacking …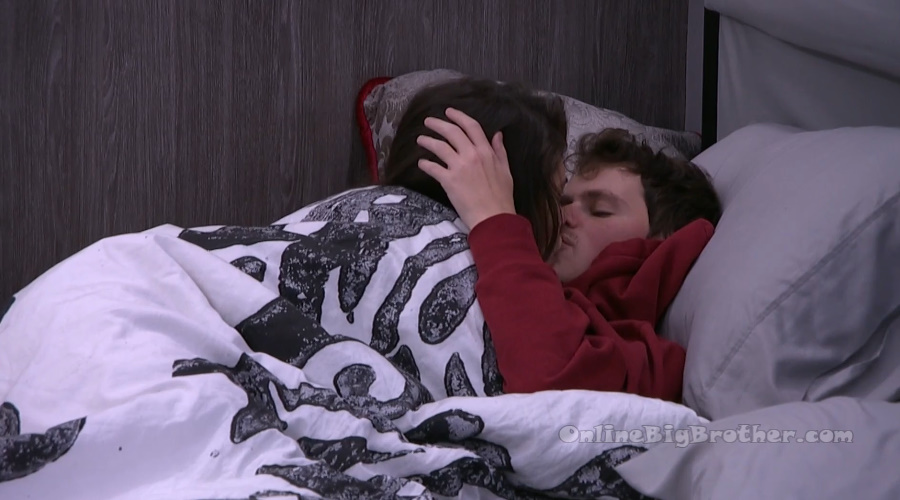 12:19am – HOH room – Jared and Blue
Jared continues talking about the fight with Cory earlier today.
If you've enjoyed our updates this season and want to leave a tip you can do so through PayPal.
You don't even need a Paypal account to contribute. Any amount is greatly appreciated!