Finale Schedule
Wed, 9/16- 8p = Eviction Episode
Thu, 9/17 – pre-empted by NFL = First of the Finale HOH played
Sun, 9/20- 8p = Second part of HOH Played
Wed, 9/23– 9:30-11p Finale = Winner of Big Brother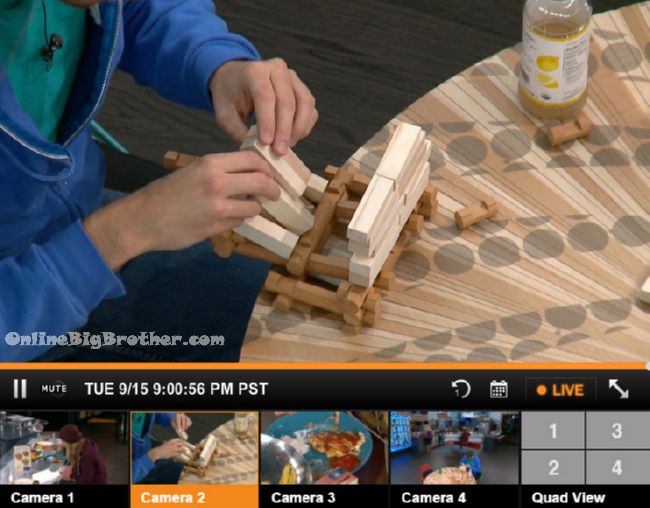 9:00pm Feeds back Everyone milling around the kitchen
Steve playing with toys. Liz bring sup Sling band. Steve doesn't know how to set it up. Liz say she does she took over as activities coordinator after Meg left.
Steve makes some eggs says he's not putting any Flavour in it (Franks red hot sauce?)
Steve – Some people don't like gluten I don't like Flavour
Vanessa heads to bed since the sling band game isn't starting now like she thought. 10 minutes ago she got Jmac out of bed to play Sling band.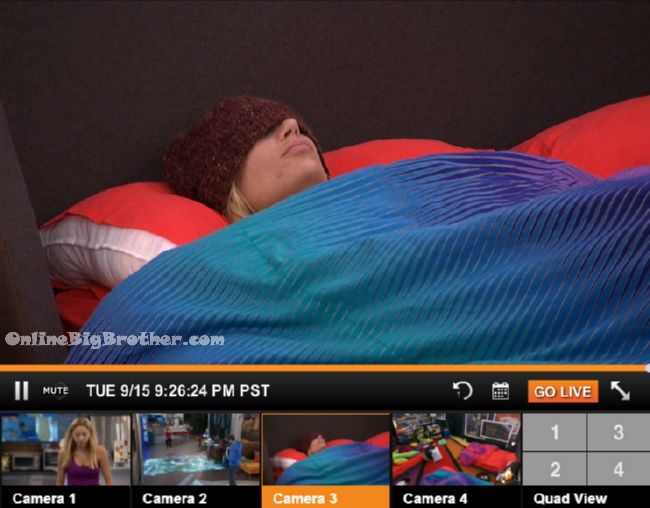 Vanessa and John were nominated
Vanessa wins the Power of Veto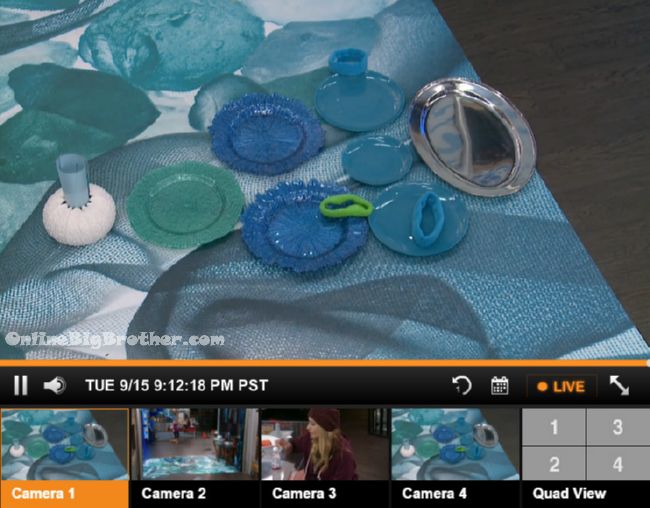 9:42pm They are all playing Sling band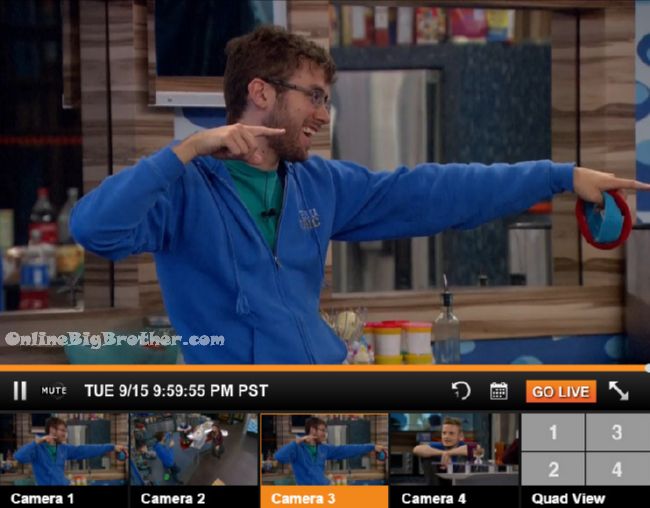 9:58pm They agree the "Glory Hole" is more symbolic with Sling Band because it's impossible to hit.
Vanessa wonders why they are so tired they slept in till 10
Steve – I did a lot of scampering
Jmac – I worked out
Jmac says his Austin butt work out is really helping he feels muscles now. Adds that he's never focused on the gluts before so when you start you make big gains.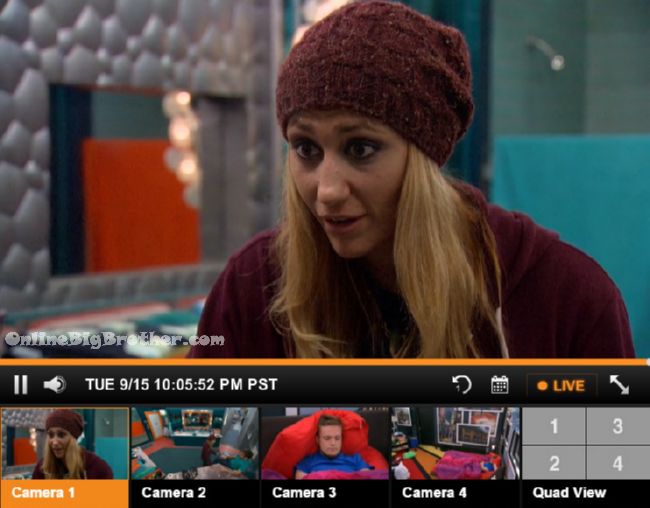 10:05pm Vanessa and Steve
Vanessa going on about how successful Steve is going to be in live because he's so smart and has such a good education.
Steve says he's exceeded everybody expectations nobody thought that someone like him with his social skills could make it this far.
Steve – I assume they both came to you already
Vanessa – not as much as you would think
Steve says he wants to earn some trust back with Vanessa, "I threw getting loopy accidentally.. it was me and Austin in the end I tried to answer wrong but I answer right"
Vanessa – right..
Steve – should I ask what your thinking or shouldn't I
Vanessa – Johnnymac is too hard to beat in rounds.. I think we can beat her.
Vanessa says they have a better chance of Beating Jmac in the final 2 but Liz really doesn't have a chance to get to the end. Vanessa says Johnnymac will take her to the end because he might win. Vanessa mentions how they find out tomorrow how good Steve is in an endurance comp.
Vanessa says Liz is better at balance and Speed but Vanessa is stronger, "Maybe if Johnny thinks we both would take him he wouldn't try so hard."
Vanessa says Liz fits the sweet girl mold, "I'm not sweet, i'm kind hearted but I'm not Sweet, I'm a better lawyer, Lawyers aren't sweet"
Vanessa says the incentives have to match the promises, She's going on and on about what to do.
Steve says the goblins and Shelli were close to Jmac.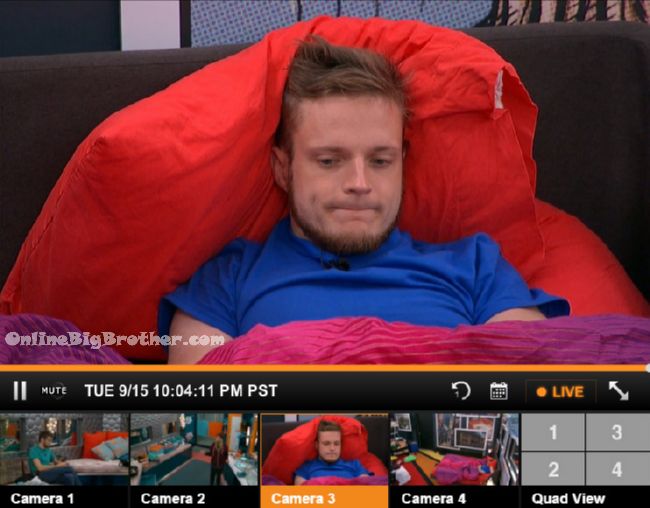 10:07pm Jmac Alone most likely going out tomorrow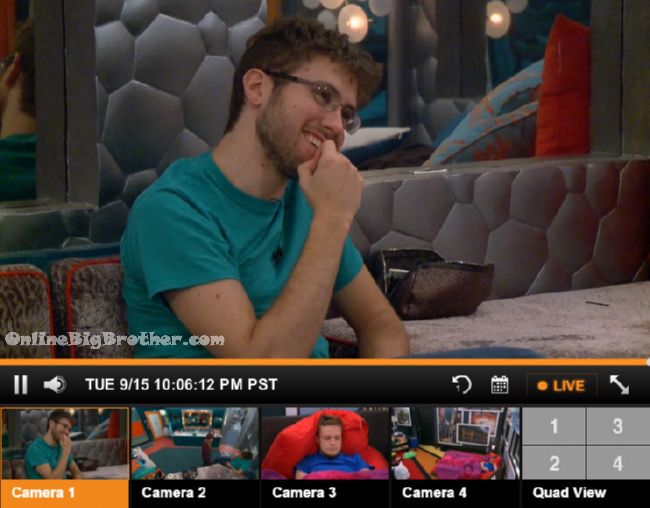 10:25pm
Vanessa says she will make it to the end but is fully expecting to come in second place
Vanessa says she has every thing she needs and most things she wants
Steve goes on about how this game is harder for him than other people.. says he's been fortunate all his life never felt hardship makes it harder for him to keep the game in perspective. He says he's lost all perspective.
Steve is surprised she scumbaged Austin. Vanessa says she adores Austin but he wasn't in a showmance when they first made their deal.
Vanessa – I connected more deeeply with you than him.
Vanessa says austin was in love with Liz.
Vanessa – I'm very proud how we played the game staying loyal to each other, You and I put a lot of thought into all our decisions.
Vanessa tells him they did more in the game than Austin. They laugh at how crazy this season was with a 5 person alliance.
They laugh at how foolish Johnnymac was in the game. Pointing out all that's left in the game now are recruits.
Steve says Austin let emotions control his game. Steve adds that he drilled in his head "no showmance no showamnce no showmance"
Vanessa laughs says it would be fun to see him try.
Jmac joins them. Jmac looks at Vanessa's teeth "you're a grinder"
Steve – I know what that means… hashtag music school
Vanessa – that's for gay men.. lesbian don't use that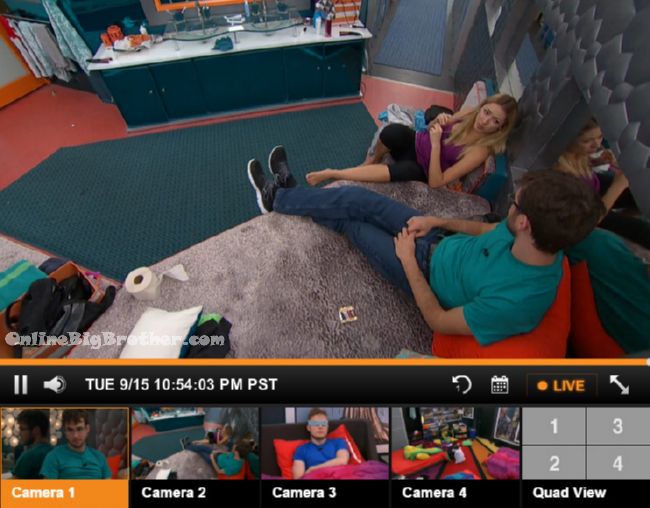 10:53pm Liz and Steve
Liz says she wants to know her fate she doesn't want to walk out there and get surprised like Austin.
Steve – do you want to keep a long distance relationship wot him
Liz – I don't knooooooooooooowwwwwwww long distance is really hard
Liz says she tried it once before when she moved to New Orleans and it didn't work. Lzi says she likes to cuddle
Steve says he wanted to cuddle with Julia
Liz gives him a pointer, "Work out don't look so puny, get some muscle"
Steve asks her if she's sleeping with Austin on finale night. Liz says it's been 90 days.
Steve says he's waited 22.5 years
Steve asks her when she lost her virginity
liz – 17, that's a good age
Steve – Mines not a good age..
Liz tells him he should just wait for the right girl.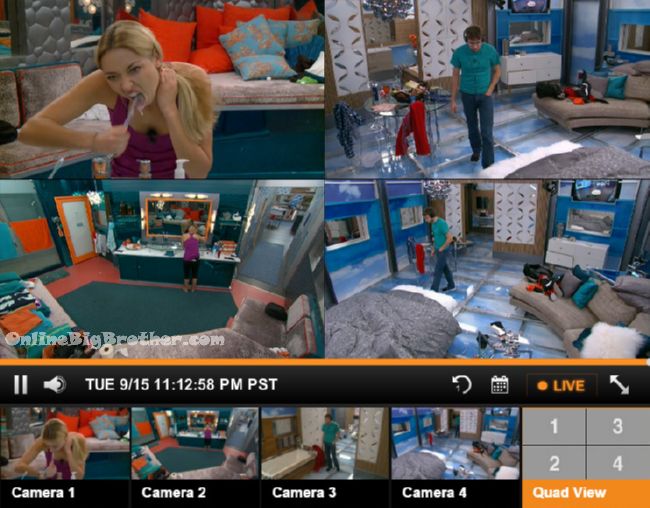 11:13pm
Either in bed, Getting ready for bed or in the Diary room.
If you've enjoyed the spoilers please consider a donation using the drop down box below.
[polldaddy poll=9063299]