3 PART FINAL HOH Competition:
Part 1 – Spencer Vs Andy Vs Ginamaie = GM WON
Part 2 – Spencer Vs Andy = Andy WON
Part 3 – On Finale night – Ginamarie Vs Andy = ?
FINAL HOH winner = ?
12:00AM Kitchen Spencer and GM
GM – "GM Green apple's not bad.. "
Spencer – "The skittle"
GM – "Ya.. I'm eating them by colour"
S – "Dude If I had 50K Marilyn and I would be set
GM – "Really.. if i had 500 thousand I would be set.. Oh my god.. oh my god.. it's like right there"
GM – 'I don't think … like.. I don't think Andy will take me solid.. that is why I need to win for myself to make sure I have a spot'
S – "you don't… I hope you do win for yourself.. if you do win I know you are not taking Andy you are taking me we're solid '
GM – 'ya'
S – 'even for yourself you've won 1/2 a million dollars.. period'
GM goes over her jury votes against Andy- 'If I had to pick over Andy.. I might have Aaryn.. JUDD I don't know.. Elissa is a toss up.. Helen will go with Andy.. Amanda who the f** knows.. she left being mad at Andy.. Obviously Candace he has.. Jessie who the f*** knows maybe me"
GM adds that McCrae will go to Andy.
Spencer mentions that Amanda was pretty mad at Andy when they left.
GM – "My only solid on is Aaryn.. that's it.. as long as Amanda told her no bullshit cause you know she will do whatever Amanda says'
S – "Look I know we are good.. you swore on Nick and you don't break your word.. I know you are good for your word"
S – "As paranoid as I am i'm going to ask you one more time before Wednesday… I'm not trying to harp on you. I'm not really a control freak but this is completely out of my hands"
GM – "I know.. I know"
S – "You want to play bullshit later a couple more rounds"
GM – "Ya I'm down for that.. i'm going to get my sheets"
Andy comes out of the diary room. Spencer asks if he wants to play some bullshit before bed. Andy says sure thing, 'Where is GM cleaning her sheets"
Spencer- "Ya"
Andy says that is the last thing he wasn't to do right now is wash his sheets, "Even if I poop the bed I'll just cover it with a towel"
Spencer laughs says he's the same way.
Andy – "how embarrassing if you poop the bed on the Big Brother live feeds"
Production comes over the speakers "You're one day closer to 500 hundred thousand dollars"
Andy – "YAAAA"
You can hear GM fom the other room screaming "YAAAAA"
Production comes over the speakers "House guests remember to enjoy yourself today.. these are the good old days"
Big Brother 15 N*de flashback times here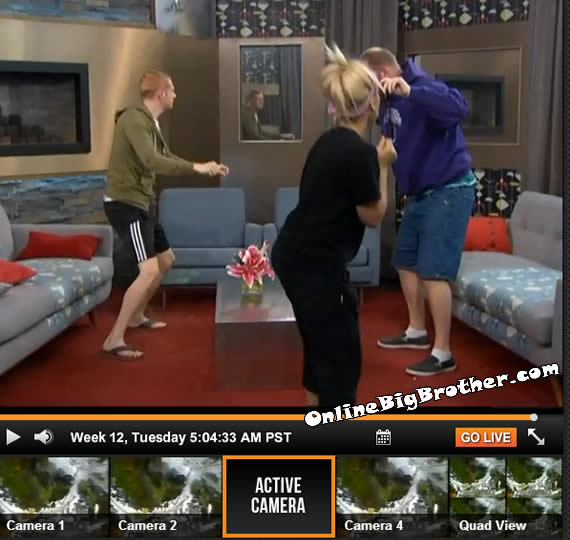 They start doing "JUDD squats" from when he was given exercise orders from the drill sergeant.
Spencer – "the drill sergeant I miss that guy"
Andy being sarcastic "Our strategy to get JUDD tired so he would blow the Veto"
Spencer – "So funny"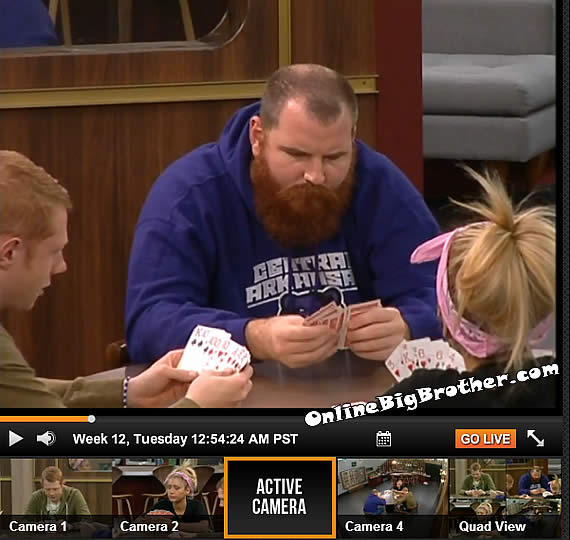 12:30AM -1:00AM Bullsh!t
1:20AM Spencer and Andy in the living room wondering of they will get to be in the HOH one last time. They think they might on Wednesday while production gets the house ready for the live show. Andy suggests that production might not care and let them hang out with the staff the last day.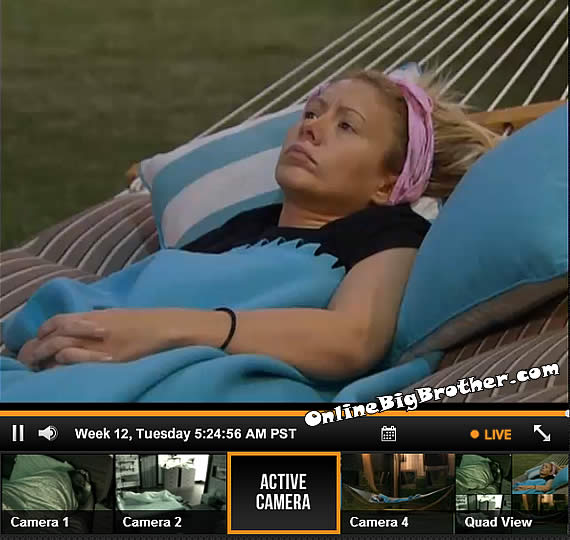 1:40AM GM thinking of the Jury votes while the two guys sleep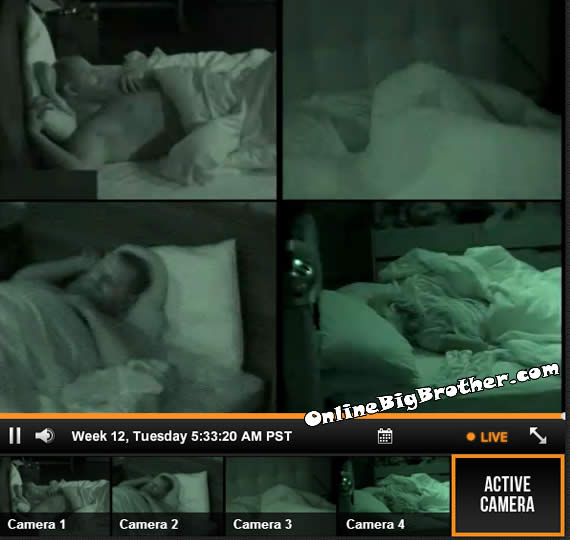 5:34AM Sleeping
8:56am Sleeping
10:13AM ZZZZzzzzz
Spencer rolls over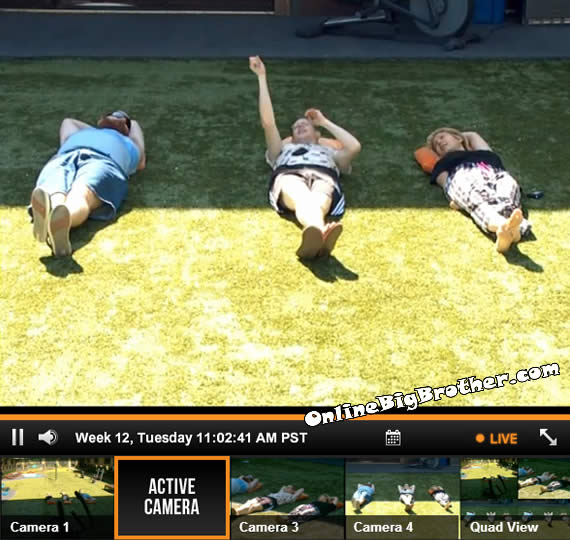 11:04AM Houseguests up enjoying the morning.
Chatting about the season's competitions.
Andy – "we were speculating do you think Elissa is full of shit and they will be having the wrap party in the backyard"
Spencer doesn't know he assumes that production can mix it up a bit but he doesn't know why they wouldn't use the backyard it's a perfect size.
They all agree the "seventh Generation" laundry detergent is crap. Spencer – "Bullshit in a bottle"
Spencer – 'When they said there was some good news I thought Elizabeth Shue was going to show up"
Andy = "what was the good news.. "
Spencer- "One song and we're closing the backyard forever"
They are joking around about how crappy Amanda was at competition. Andy points out that Amanda won the most difficult competition of the year the one comp where people needed medical attention.
Andy says he's looking forward to seeing the people in production that JUDD screamed at. GM – "That boy had no patience" Andy – 'He was a hot head"
GM tells them that the rest of the stitches come out today. Spencer- "That's amazing It seems like stitches stayed in for a month when I was a kid"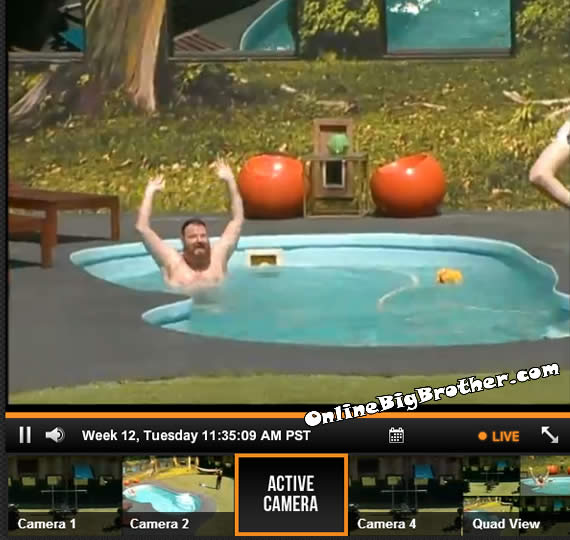 11:31AM They say goodbye to the backyard
GM gives the hammock one last go. Spencer tries the weights for the first time.
Andy and Spencer give the pool one more look. Spencer jumps in.
Produciton comes over the speakers "Houseguests this is a lockdown"
Andy – "Bye backyard"
GM – "Bye weight bench.. bye couch.. bye hot tub"
Andy – "Bye pool table"
11:40AM GM and Andy are planning on taking a nap. Spencer cruises into the shower.
11:50AM Everyone sleeping
12:30pm The Final 3 BB15 House Guests are sleeping ..
If you enjoyed the site this season please consider a donation.
Use the Big Brother Live Feeds to FLASHBACK to SEE what they can't show you on TV: BB15 N!p Sl!ps / N*des