Quick Big Brother Spoilers
Head of Household:  Hisam
Nominees: ?
POV Players:
POV Winner:
Veto Ceremony:
Havenots: 
Lock your ranks in before midnight
Hisam won the HOH and will be doing his HOH talks in the morning. Sounds like the primary target will be Cameron or Reilly with Matt being in danger as well. Pretty much anyone in the handfull is in trouble. Jared is locked in the nether verse and there's a twist of some sort getting dropped before Sunday's show. Reilly's side is going to try and push America and Cory as nominations with Corey being the target but this effort will fall flat.
12:43am The Live Feeds return from being blocked since yesterday after Luke was expelled from the house and after eviction episode aired tonight.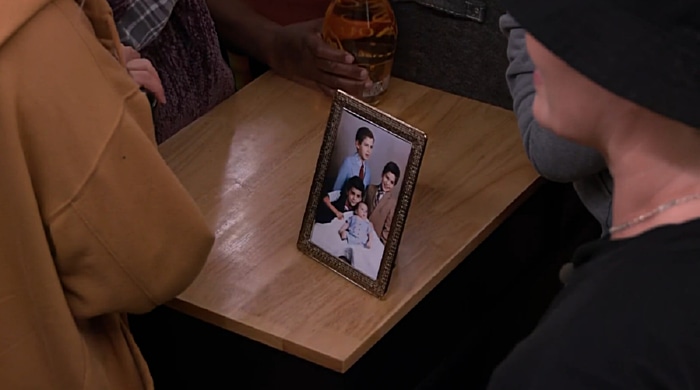 1:00 am Feeds return. Hisam wins the HOH. Jared is in the netherverse.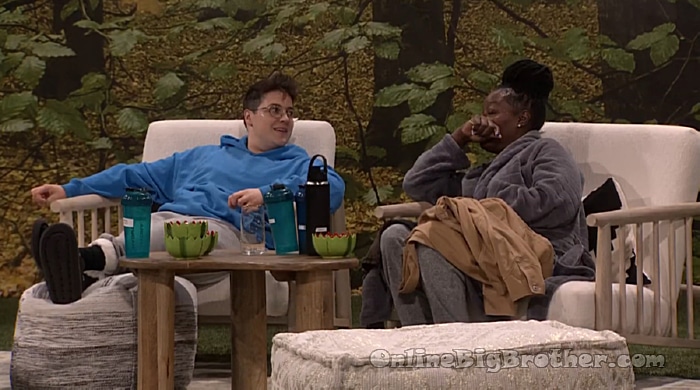 1:25 am Cirie and Izzy
Cirie – the perfect person won. I hope he backdoors Cameron
Cirie says Hisam never trusted Cameron his original plan was to put up Blue and Jag then backdoor him.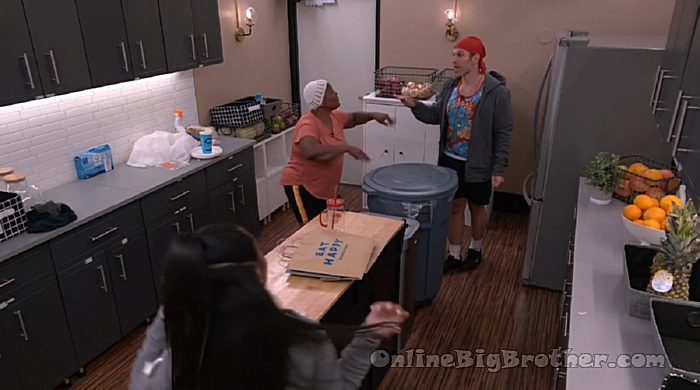 1:30 am Storage room Meme, Felicia and Hisam
Hisam – we have to make sure what we do as a group so the 7 of us moves forward. I'm going to do some investigating.
MEME – Cameron was….. when we were on the porch he was like 'this is some bullshit'
MEME – I was like wait did he lose? He was mad.
Felicia – he realized that the last six was all us.
Hisam – this week is so important to us. it will give us a number. next time the number are still in our favour. We can pull some people from their side over.
Felicia – Who do we pull over?
MEME – I do not trust AMERICA I know she's not an option. She's sneaky she was rolling her eyes the whole time she was in the backyard.
Hisam – when I watch them there's a little bit of contempt
Meme says Cameron is not happy Hisam is HOH "He was the one going around saying Hisam, Hisam, Hisam.
Hisam – he was the one?
MEME – I don't know if he was the main one he was part of them saying.
Hisam – before Kirsten left she told me all of them promised her their vote.
MEME points out that Kristen said all of the except Reilly said Hisam was next on their list.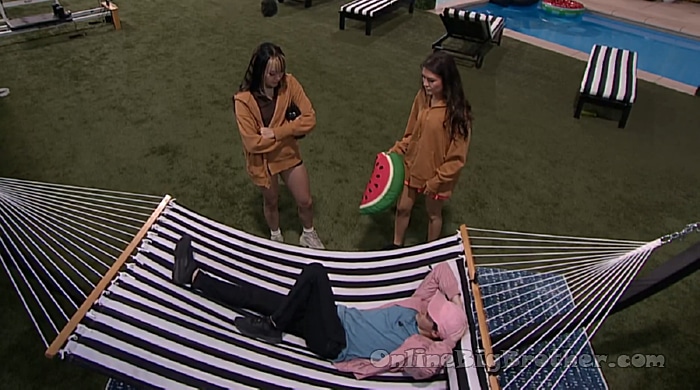 1:34 am America, Corey and BLUE
America – I'm concerned about them putting me up.. I'm not super close to them. I'm close to Felicia and Cirie like you know I don't know if they can vouch for me as well. It's tough I don't know who he will be after.
Blue – at the end of the day you gotta talk to him and he has a good heart.
Corey – you have to be open you can't bullshit that guy he'll see through it.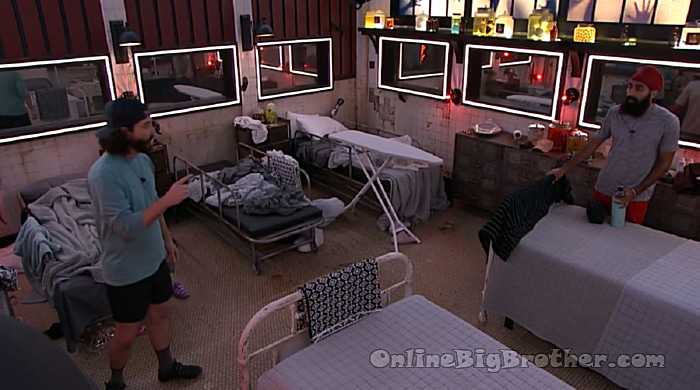 1:43 am Jag and Cameron
Jag – how you feel?
Cameron – I don't know. I as hoping for Jared.. I will tell you this. Two things. One we got to stop finding ourselves in the same room just by ourselves. Every time it was us 6 they were out there celebrating. And uh..
Jag – do you think there's anyway he doesn't put up two people from our 8
Cameron – it's going to come from this f***ing room. I just feel it.
Jag – how are you with Hisam?
Cameron – OKAY at best. You need to do work
Jag – me?
Cameron – yeah. .you need to sit down with him in the HOH room and open up to him. Tell him who you are, tell him what's going one and what's on your mind.
Cameron – he's a really good guy.
Cameron says there side was having too much fun hanging out together in the beginning that they didn't spend enough time with the other side. "They felt cut off"
Jag – I want to hang out more but now they are solid. Its' hard to.
Matt joins them. Cameron says Matt is fine this week.
Cameron thinks Reilly, Jag, America are in trouble but he's Okay.
Jag – you've put in a lot of work.
Cameron – I try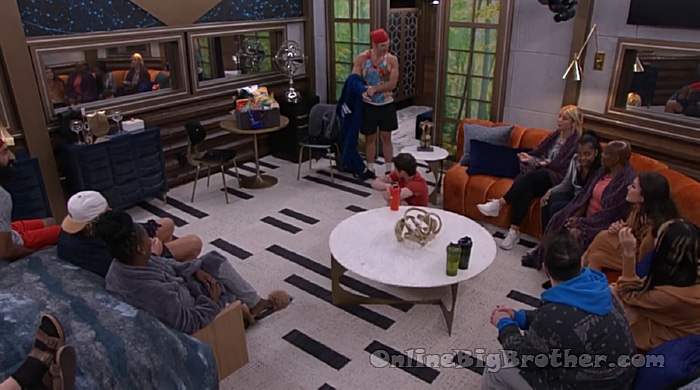 Hisam gets his HOH basket and pictures in the storage room.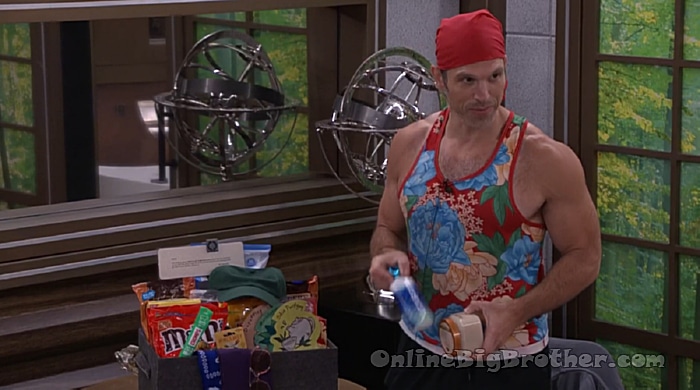 Shortly after he gets his room. He tells them he's going to bed early tonight. He offers the bath tub to house.
Hisam offers the goodies in his basket to the house.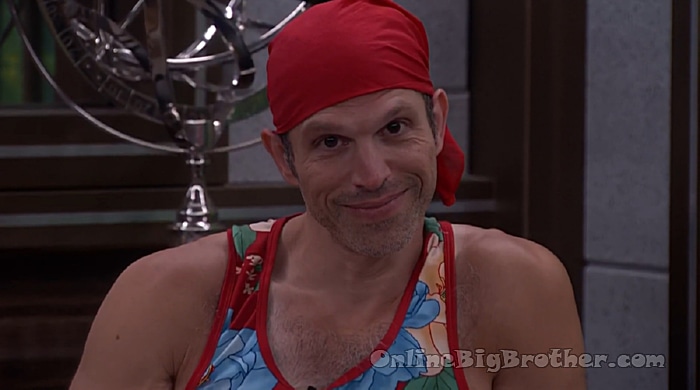 Hisam – honestly help yourself, I really do mean that from my heart like I do think the week has been hard he all deserve a little something. Please treat yourself as you feel fit.
Hisam says he's going to bed.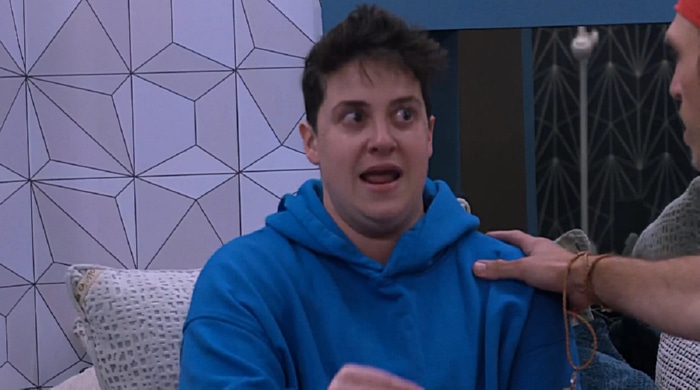 2:20 am Izzy, Hisam and MEME
Izzy going on about Red being mad at her. "Think about someone else for one f***ing second"
Hisam goes to give her a hug
Izzy – No you don't need to comfort me hisam..
Hisam – we are playing a game and we are going to let these things fall off our back there's bigger fish to fry. Theres a bigger game to play this sort of stuff that we would normal not do we're letting it go by.. Why>? we are playing smart. We are not going to get into arguments about little things that turn into Big Things right? It's not worth it.
Hisam goes on about how they will use the HOH to make people feel comfortable and get the information they need, 'We are smart players"
Izzy – I can't be the room with Cameron I need a break.. Like I am really struggling with it.
Hisam – we're going to think about it and come up with a plan so the 7 of us are safe.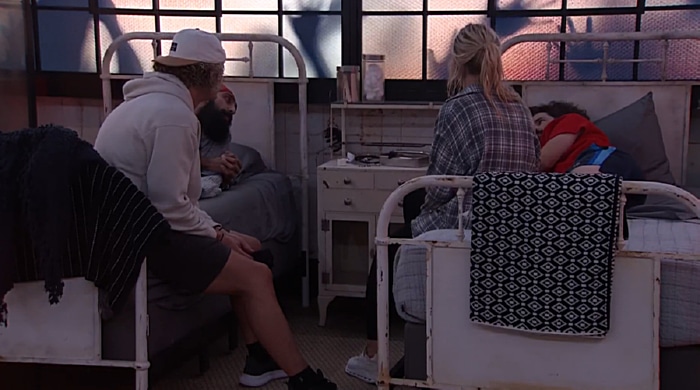 2:22 am Jag, Reilly, Matt and Cameron
Reilly brings up how there was an attempted vote flip last night 5 minutes before the eviction. (Didn't catch who started it)
Cameron – one of us is probably going up we're going to have to win the veto. One of us has to win it. That way two of us are safe. we secure the votes by throwing a hail marry.
Cameron – outside that we just got to play a good game.
The know there's a scary-verse twist coming.
Jag – at this point I want them to throw every wrench and twist possible good or bad
Cameron – this week try not to spend too much time together
Jag agrees
Reilly points out they are all in the same room this week.
Cameron – two can stay together maybe three.. just walk away. When all six of us are together they are together. There's alot more of them than there's of us right now. Bottom line
Reilly – is there?
Jag – Hisam, Cirie, Felicia, REd, Bowie, Izzy, MEME
Jag – that's 7
Reilly thinking they have 8
Cameron – we have to make sure Corey is the target this week.
Jag – is there any way Hisam puts Felicia again
Reilly – no chance.
Cameron – our only shot is to make Corey the target.
Cameron says Jared is good with the other side.. maybe they will put up Corey and America?
Reilly – hopefully he doesn't backdoor
Cameron – having met him I don't think he wants to create a volatile week. HE wouldn't do that this soon.
Cameron – we have to get on the same page with Corey.. not at the same time.
Reilly – Felicia and Cirie are close to a lot of us they won't fight for us but they will speak up.
Cameron – it could go similar to last week.. there's two people in this house that we will miss but we get them.
Cameron – not anyone in the comic room going up.
Jag – noms could be tomorrow at some point
Cameron – I doubt it..
Cameron – they know the f***ing 8 they don't know the 5.
Blue joins them. They talk about pushing Corey and America as targets.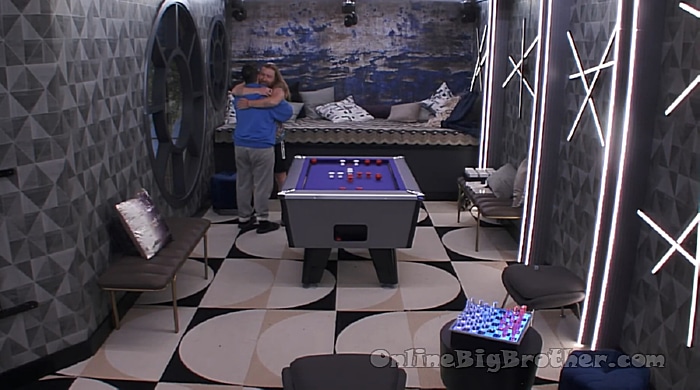 2:26 am Red and Izzy
they hug it out
Izzy – let me apologize Red.
Red – It look like you were looking at me..
Izzy – I wasn't singling you out..
Red – he had just told us to come in
Izzy – I know
Red – maybe we need to sit down and talk .. you might have reservations about me.. whatever
Izzy – to be frank I have trouble with Cameron. that not taking it out on you I have an issue with Cameron
Izzy – If I win HOH I don't want Cameron's ass on my sheets..
red – so it was more directed to Cameron
Izzy – I guess so.. it's a long day it's been a long day ..
Red says he has a connection with Cameron "on a southern level"
Red – He's on the other side of the house and he was the only one I felt comfortable enough who gave me a handshake that made me feel more comfortable with the other side.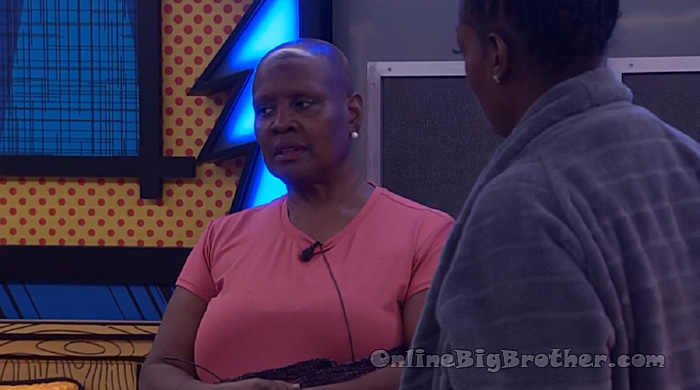 2:44 am Cirie, Felicia and Bowie.
Felicia says Hisam's targets are Reilly and then Cameron.
Felcia – he said after I talked to Red I don't trust Cameron I want his ass gone.. Reilly, Cameron and MAtt..for some reason he doesn't trust matt.
Cerie – Matt and Jag will do whatever she says to do.
Felicia – if we get rid of her the whole side will crumble
Felicia – I saw we get rid of Reilly then next week we get rid of Cameron. That would be on like popcorn
Bowie – what about blue
Felicia – they got no power nobody is listening to them.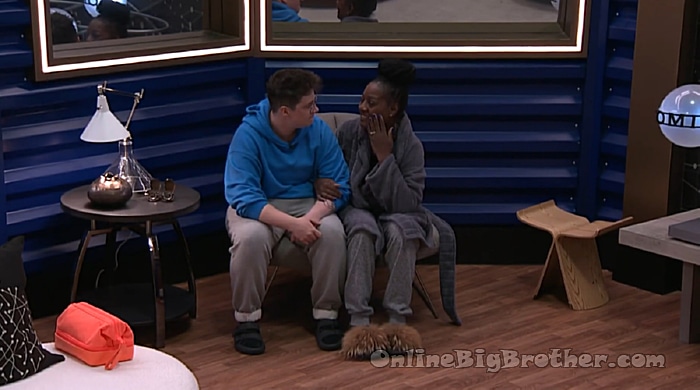 2:50 am Izzy and Cirie
Izzy complaining about how hard the game is. Missing family and having to interact with people that annoy them.
Cirie – I can't stand Blue
Izzy – I Know I can hear it
Cirie – that is why I check out. So maybe you need to check out when they get on your nerve because they get on my nerves too.
Cirie – I heard from Felicia that Hisam wants Reilly or Cameron. If Cameron goes Red will settle the f*** down.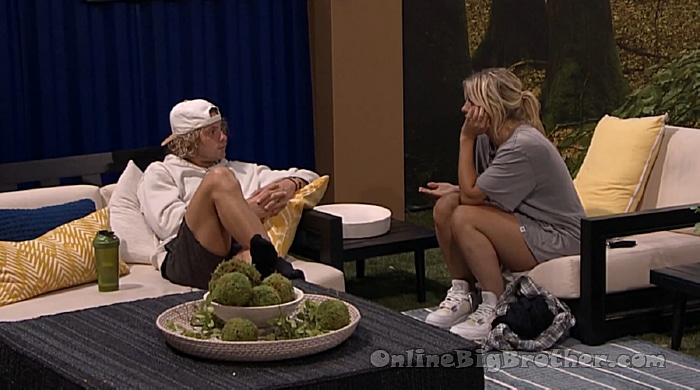 3:00 am Reilly and Matt
Reilly – this week we are going to lose somebody.. this sounds horrible but I'm just hoping that the conversations I've had with him and Izzy resonated and they want to keep me here. I flat our said I was gunning for them and they found out.
Reilly says he would take Jared of America for their alliance. "Jared has a good relationship with that side of teh house they won't put him up it will be either Cory or America"
Reilly – don't force it Hiam won't like that. You have to be very strategic when you talk to him. Don't shove ideas down his throat.
Reilly – I had the feeling he weas going to win HOH and this week is going to be bad.. we will lose a number. he'll never put hup anyone on that side.
Reilly – he's coming for our 8
Matt – that is why he's go to go soon. Next week he can't win.
Reilly – I don't want to be the one that does it next week I had a good conversation with him (Face palm)
Feeds flip.. when we are back.
Reilly – If it wasn't Felicia on the block I would have flipped it. I got WAY closer to Kirsten right at the end. She would have been loyal as hell to us.
Matt – I know that is why I brought it up with you last night. Bro she could be a number.. it's Felicia..
Reilly – it's not just Felicia it's Felicia and Cirie. I promised them I told them I would have their back until.. whenever.
Reilly – they love Jared.. Jared is like their son.
They start chit chatting.. Matt is bummed out because he's gained weight since being in the house.
Matt explains when he's at home he's swims 2 hours in the morning and trains for 2 hours in the afternoon. It's high intensity.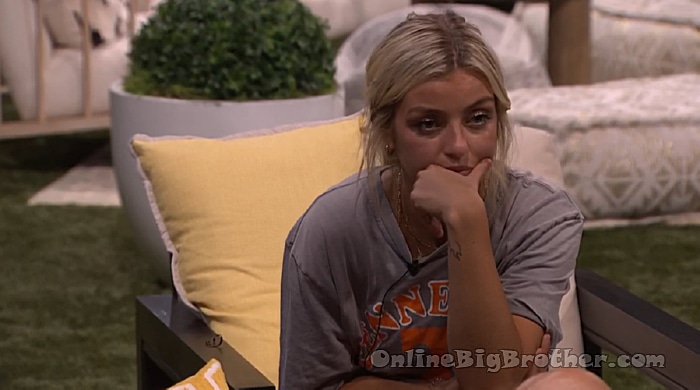 3:35 am Most of the house if off feeds sleeping. Matt and Reilly still chatting in the backyard
Matt doesn't think nominations are tomorrow he thinks they will get the have nots.

4:05 am all lights out zzzzzzzzz
7:35 am zzzz