POV Holder:
HEATHER
Next POV
April 26th
POV Used
Yes
POV Ceremony
April 28th
HOH Winner:
Jon
Next HOH:
May 1st
Original Nominations:
Heather and Sabrina
Current Nominations:
Sabrina and Adel
Have Nots
None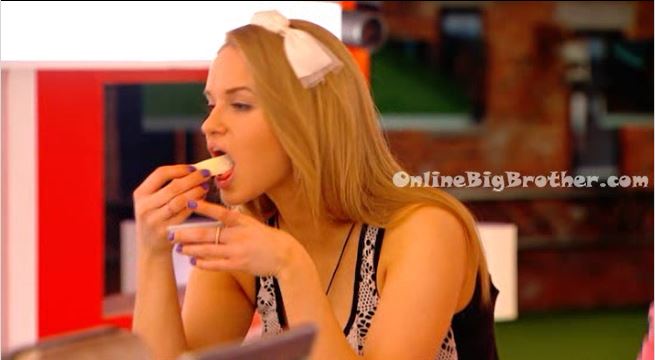 11:25am Neda, Heather and Sabrina are talking in the kitchen. Sabrina is telling them that its karma what is happening with Adel with his eye infection and having to stay up 36 hours straight. Sabrina says that she is happy how Adel is being treated. He really affects a person and that is how he really is. She says after the way he treated her he deservers it. She says no one understands how bad he treated her. Sabrina says imagine if it was you and your sister was sitting at home watching. Neda says yeah she would be pissed. Sabrina says I am not one to talk bad about religion. He is so rude! Heather tells Sabrina whoever makes it through this week .. it doesn't matter who has been mean to them, who has made fun of them, who has teased them, who has done horrible horrible things to them. I'm sorry but sucks to be you .. you got evicted and we're still here! So obviously we were able to take your sh*t and be treated badly and still be the ones to be final four in this house! And I'm happy its that way because the people that did those things aren't here and the people that took it are! If there were people still here that did all those thing, I would be furious!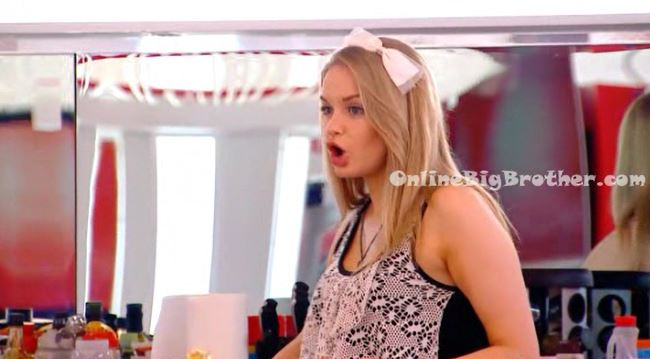 11:45am Adel talks to Neda on the couch.. Adel says as long as we're the final four (Adel, Neda, Heather, Jon) I will be happy. If I go after her (Sabrina) I will be happy. Adel tells Neda that she has his vote in the end no matter what. Neda questions it and says not against him (Jon). Adel says its 1 billion percent .. 1 zillion percent you. Adel says I will not let Arlie .. I will put it in his brain that it's a game. He would never vote for Jon. Arlie's bitterness is way more to Jon than you. Adel says I know for a fact that Allison will not vote for you. Adel says Jon and I have Canada's vote for sure. Neda says yeah. Adel says you and him are going to use the money for different things. He is going to use if for partying and you want to pay off debt and help your mom. Adel says it won't be you f**king Heather .. It will be me or him f**king her.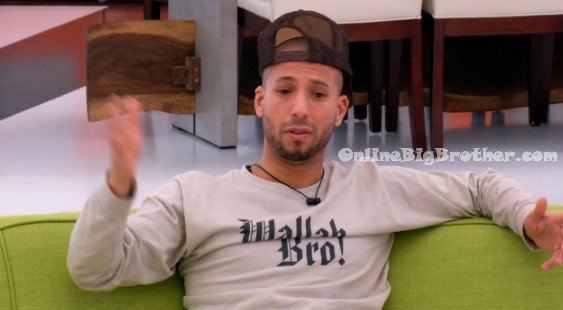 11:55am – 12pm Up in the HOH room – Jon is sitting around waiting to be let out of the HOH room. He says alright, let me the hell out of here! I'm over it! Jon says this punishment sucks! I am probably never sleeping in here again! Big Brother can I have a beer!?

12:30pm – 12:45pm The live feeds return after being blocks for the last 15 minutes. Adel, Neda, Sabrina and Heather are on bedroom lock down. Adel comments on how he was sitting up and just about fell over. He says isn't that crazy that your body can just shut down like that?! Neda tells him that once we get out of here you should run down and jump in the pool to shock your body. That will give you another few hours. Big Brother ends their lock down. Adel and Sabrina leave. Neda talks to Heather about keeping Sabrina or Adel. Big Brother blocks the feeds again..
Big Brother LET THE DAWG OUT OF ITS CAGE! @bigbspoilers #BBCAN2 pic.twitter.com/u1NYSLWwZt

— Dawg (@DawgsBigBrother) April 29, 2014

12:50pm When the live feeds come back – Big Brother has finally let Jon out of the HOH room. Neda comments that at least he had music. Jon says no, they took everything away. Jon asks how long Neda has to wear her onesie? Neda says for a week. Jon laughs at how easy all the other punishments are.. He says OH can't go in the HOH room!!? (Heather) lol Jon says that he would rather do all of the other punishments than be locked in the HOH room. Neda fills him in on everything that happened while he was locked away for 24 hours. Jon asks what, what is the day like out there?! Neda says its raining. You probably don't want to go out there! Jon says nope, I'm doing it! I am not being confined to any more spaces! He heads out to the hot tub room and says AHHh FREEDOM!! Jon heads back inside.


1pm – 1:20pm In the main bedroom – Jon tells Neda that he thinks we need to keep Adel over Sabrina. Jon says I can convince Adel to send Heather home over Sabrina. Neda disagrees. Jon says I can convince Adel that this is the final 3 (Jon, Neda, Adel). Jon says Sabrina isn't going to do f**K all in the veto .. It would be me and you against Heather in the veto. Jon says this would ensure us in the final 3. Neda says no it doesn't. Heather joins them. Jon comments on how he is wishy washy about who to vote out. Jon brings up how Sabrina's reasoning to send Adel first was that she could go to jury next and do damage control. Jon says that's just stupid why don't you go first and tell everyone how it is .. and then no one will believe what Adel says when he goes.. Neda says yeah Sabrina is horrible at campaigning. Jon leaves. Heather and Neda discuss who to send home. Neda tells Heather that Adel told her he would be a bitter jury member if he went out before Sabrina but that he wouldn't if he went after. Heather says I had Adel's trust until he said he was going to make a fake final 2 with me. Neda tells Heather that I know if I evict Jon he will never never ever get over it. He will hate me. Heather doesn't think so. Neda says hopefully he will get over it eventually.
[polldaddy poll=8001357]
HELP keep the spoilers coming.. Show your support by making a donation. ANY amount is greatly appreciated! Simon and I work 24/7 all season long to keep you updated on everything that happens inside the Big Brother house. Your donations go directly to paying the fees required to run this site.
Stay connected and interact with other Big Brother Fans on our Facebook page.
And Follow: @BigBspoilers and @Dawgsbigbrother on Twitter for the most up to date spoilers.