POV Holder:
HEATHER
Next POV
April 26th
POV Used
Yes
POV Ceremony
April 28th
HOH Winner:
Jon
Next HOH:
May 1st
Original Nominations:
Heather and Sabrina
Current Nominations:
Sabrina and Adel
Have Nots
None
8:11pm spinning around
Jon falls and hurts himself.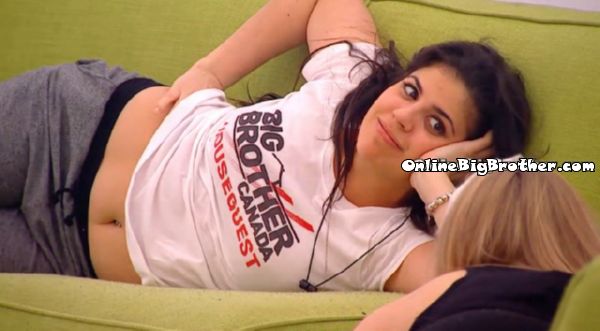 8:17pm Sabrina and Heather living room couch
Sabrina brings up seeing Heather and Neda talking. Heather says they were talking about the vote and whose best to take to final 2.
Sabrina says there always her.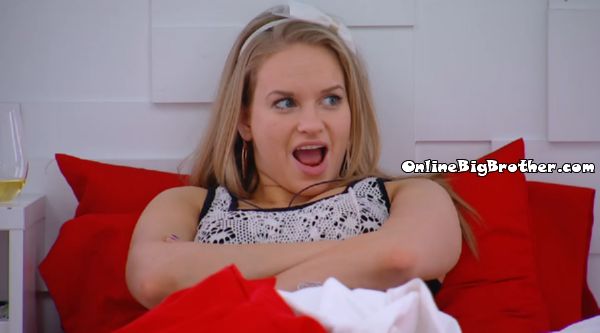 8:43pm Bedroom
Random chit chat and making fun of Adel. Heather says she's going to wear her onesie on Thursday as a show of support to Neda, "I'm a good friend"
Sabrina relizes today was Racehlle's Birthday. She freaks out and leaves.They calculate the days and find out today is not Racehlle's birthday today it's the 29th and her birthday is the 30th. Sabrina comers back says she thinks it's the 30th today. Jon says if it's the 30th the show ends on a Wednesday.
Adel – "Please end this f** challenge already"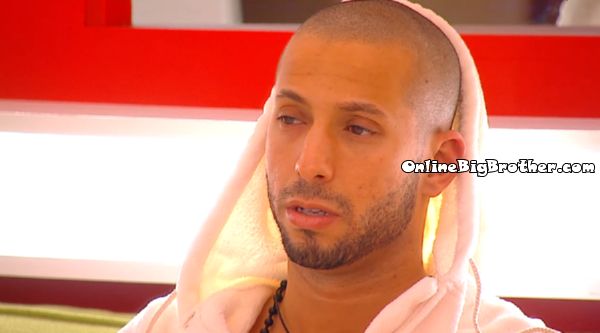 8:49pm Adel still up… barely
9:02pm Bedroom Jon and Heather
Jon asked her if they plan on telling Adel he's leaving this week.
Heather shakes her head.
Feeds cut
Heather says If Canada picks HOH and Sabrina is here it's going to be Sabrina.
Jon – ":Yup
Heather – "I'm just wondering if we should take the chance and keep Adel and just Beat him"
Adel enters the room
(The end of the video shows the conversation with Heather and Jon it's very short. The rest of this video is part of the conversation in the bedroom above. Contains talk about the date and laughs at Adel being a tired mess)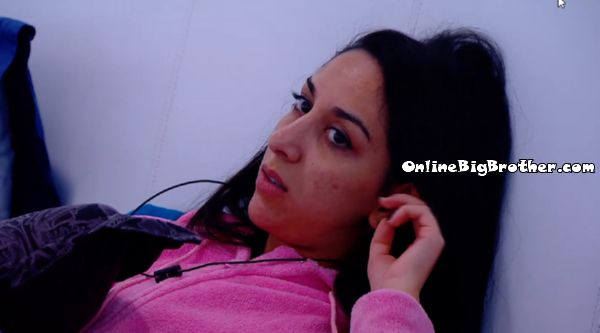 9:37pm Neda and Jon HOH
Neda says she feels more comfortable beating Heather in the next HOH than Adel.
Jon tells her if she loses the HOH against Heather he will have to win the Veto or he will go home.
Neda – "Having Adel here will not Ensure HEather doesn't win.. she still can win HOH"
Jon thinks Adel has a better chance to win it over Sabrina.
Neda says she doesn't think Adel will take her to final 3 she thinks it's going to be Heather and Jon.
Jon disagrees, "Zero zero zero percent chance"
Jon – "If you are thinking of us final two the best option is for Deli to be here"
Neda – "I dunno"
Jon says if Heather wins HOH, he wins the veto and Neda and Sabrina and Sabrina are nominated.
Neda – "That's worst case scenario"
Jon – "Best case scenario.. whats the best case then.. you win HOH and I win veto"
Neda – "Yes of course"
They agree Heather will beat Adel in a physical. Jon wants Heather gone and the best option to do that is use Adel.
Jon says having Neda and Adel competing against Heather is much better odds than Heather and Sabrina competing against Neda
Neda – "I feel much more confident beating Sabrina over Adel"
Neda doesn't trust Adel, Jon says he trusts Adel 100%.
Joni says if he didn't think it would mean they make it to final 3 he would not want to keep Adel.
Neda – "I know you trust him but I don't"
Jon – "I trusted Arlie and you didn't"
Neda – "Ya you trusted Kenny and you trusted Andrew I didn't"
Neda says Adel straight up told her everybody can Beat Heather in the end this is why Neda thinks Adel wants to take Heather. Jon doesn't think so say there's a lot of competition left to play in.
JOn tells her she makes it to final 2 she's going to win the game. Neda disagrees. Jon asks her to come up with one scenario where she doesn't win. She can't.
Jon – "If he f***s you I'm not taking him to Final 2 i've made that very clear"
Neda says in a final 3 with Heather and Adel, Adel knows Jon and Heather will take Adel.
Neda – "If Adel wins Veto he's taking me out"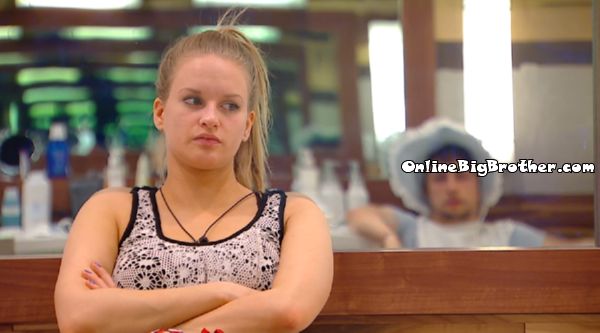 10:00pm bathroom Jon, Heather and Neda
Jon says Sabrina told him she had final 2's with Neda and Heather.
They start to study dates, Neda tells them to stop she's had enough "I'm over it"
Heather says Sabrina has memorised the dates a lot better than they have.
Heather – "Whatever choice we make i have a feeling it'll be the wrong choice"
Jon – "so if there was no twist you would say Sabrina for sure"
Neda – "I don't think we should play with the twits in mind"
Neda asks Who Adel will take to the end
Heather says Jon to final 2, "He might take one of us to the final 3 but not to the end"
Heather – 'Sabrina makes it to the end she wins the game…" Heather adds that really any of them could win the game.
Heather points out how Sabrain freezes during the challenges, "I really hope coming in to the HOH it's not a memory one… even POV could be memory"
Jon says Heather can beat Adel in physical, Neda in mental.
Jon agrees that Sabrian will be f****d if there is s buzzer competition, "Will there be another buzzer.. I highly doubt it"
Jon says if Sabrina wins HOH one of them three is going home.
Neda – "Same with Adel that is how final 4 works or are you saying Sabrina is going to win"
Jon thinks Adel has no chance of winning HOH but Sabrina has a big chance to win HOH.
Neda says she's 50/50 with who they should evict
Jon asks HEather whatever happened to her and Adel. Heather – "Ask Adel.. we got along up until he stopped needing me.. ultimately he is just playing a game and doesn't give a sh1t about anything… he wants to make paper"
Neda – "He wants to win that 100 thousand dollars"
Heather says she use to "Kid around" all the time but this past week he's been getting on her nerves.
Jon takes a pee and weighs himself.. says he lost 2 lbs.
They mention going to bed and Big BRother give them a "Stop that"
Jon leaves to check the time. ..
NEda – "I'm not listening to anything he's saying because it's obvious he's trying to convince us to keep Adel"
Heather agrees says she's in a toss up.
Jon comes back says they have 10 more minutes to stay up it's 10:20

(video coming it's super long)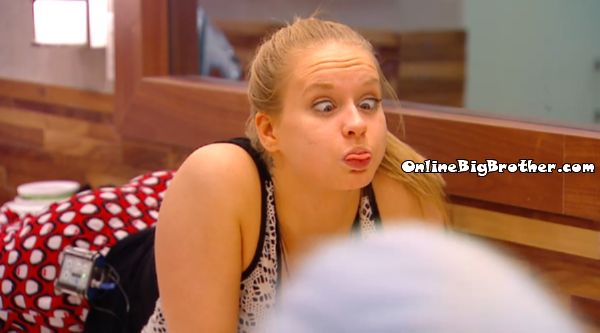 Gallery shows the camera person inside the walls and Jon's weight.
[polldaddy poll=8001357]